Helsinki, the beautiful capital of Finland, has plenty to see and do, but what are the must-sees if you're only in Helsinki for a short time? Here's how to see the best attractions in Helsinki in one day.
When I visited Helsinki, I was keen to keep costs down by spending only two nights in the city, which meant we only had one full day to visit the top sights. It's an approach that I've used before in the pricey Nordic countries – most notably in Norway where we crammed a visit to Bergen, a tour of the fjords, the Bergen to Oslo railway and a day in Oslo into a 3-night trip. While the Finnish capital has lots to see and do – easily enough for a longer trip – the must-see sights in Helsinki are easy to see in one pleasant, chilled out day.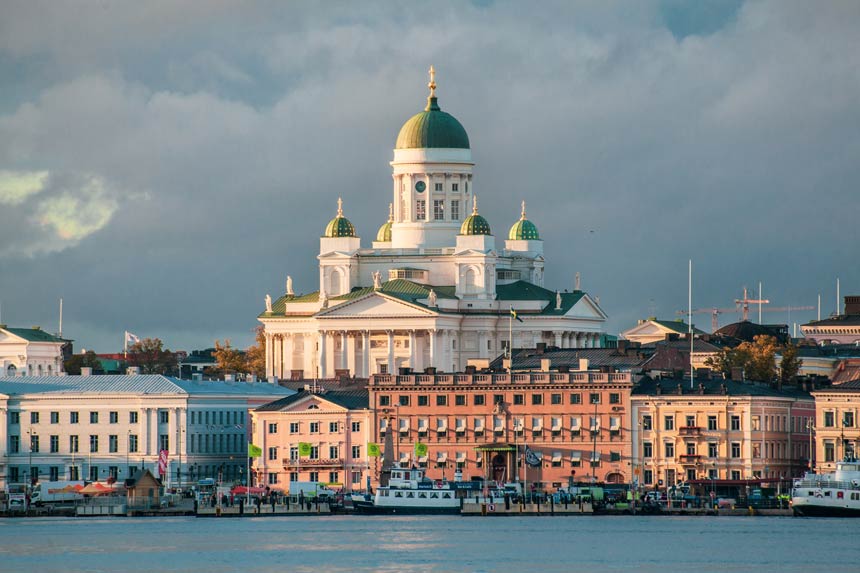 Helsinki is relatively small, and most of the city's attractions are within walking distance of each other. If you only have one day in Helsinki, here's an itinerary that'll help you make the most of your sightseeing time in Finland's capital.
This post contains affiliate links – all that means is that if you buy something as a result of clicking on a link in the post, I'll receive a small commission that helps me with the costs of running this site. Thanks!
Helsinki sightseeing itinerary in one day
Here are all the best things to do in Helsinki, and how to see them in the shortest time.
This guide covers:
The art nouveau Helsinki Central Station
Parliament and National Museum of Finland
Temppeliaukion Rock Church
HAM Helsinki Art Museum
Kamppi Chapel
Lasipalatsinaukio square and Amos Rex
Esplanadi park and shopping area
Helsinki Lutheran Cathedral
Harbour and archipelago boat tour
The waterfront
Allas Sea Pool
Uspenski Orthodox Cathedral
The ice breaker ships and Tar Island
More things to do in Helsinki
Helsinki railway station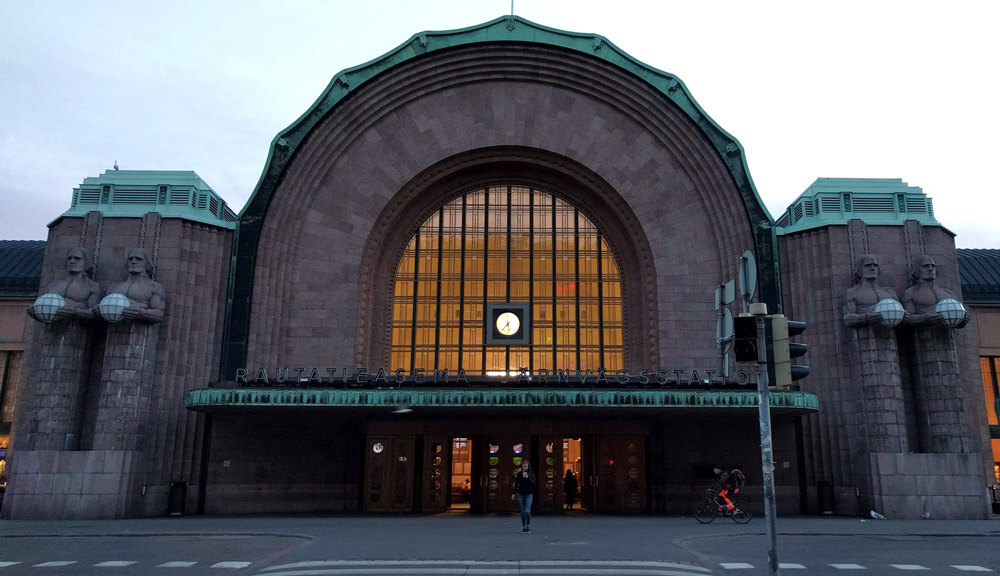 Start your day in Helsinki at the stunning Art Nouveau Central Station. If you've flown into Helsinki Airport, direct trains take you straight here. If you've arrived by ferry by Tallinn or Stockholm, it's just a short tram ride away or around 30 minutes on foot. If you haven't checked into your hotel yet or if you're just here for the day, there are luggage lockers available. Outside, the station is covered in pink Finnish granite and is tremendously impressive. Don't miss the clock tower and the huge "lantern carrier" statues at the main entrance.
Parliament and National Museum of Finland
From Central Station, walk north along Mannerheimintie, passing the imposing Finnish Parliament building and turn left at the National Museum of Finland. With only one day in Helsinki there isn't much time to visit these two buildings, but both are very impressive from the outside. When we visited Helsinki there was an interesting vintage market in the small park outside the National Museum.
From here it's just a few minutes' walk to the Temppeliaukion Rock Church, one of Helsinki's top attractions.
Temppeliaukion Rock Church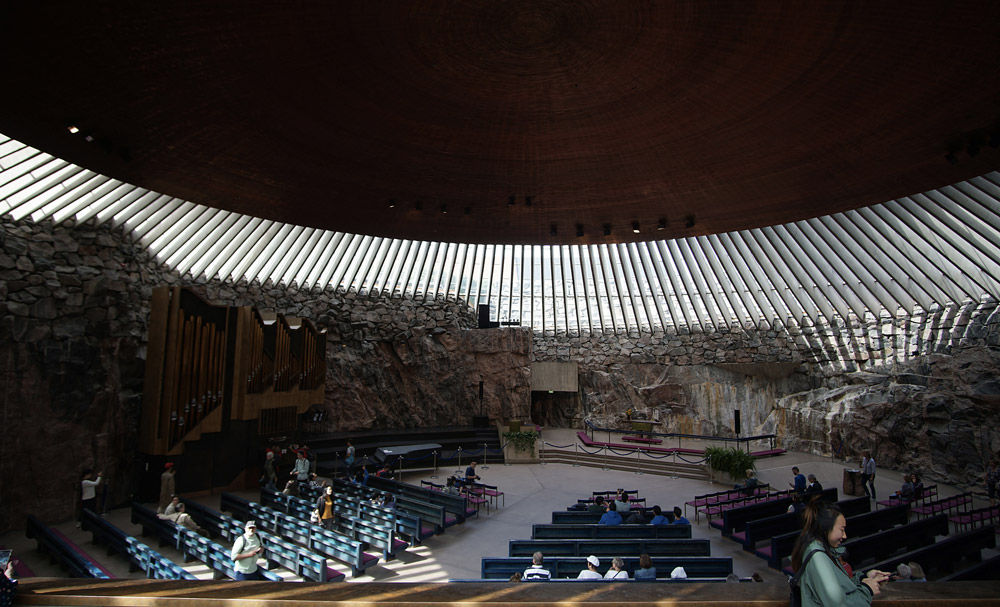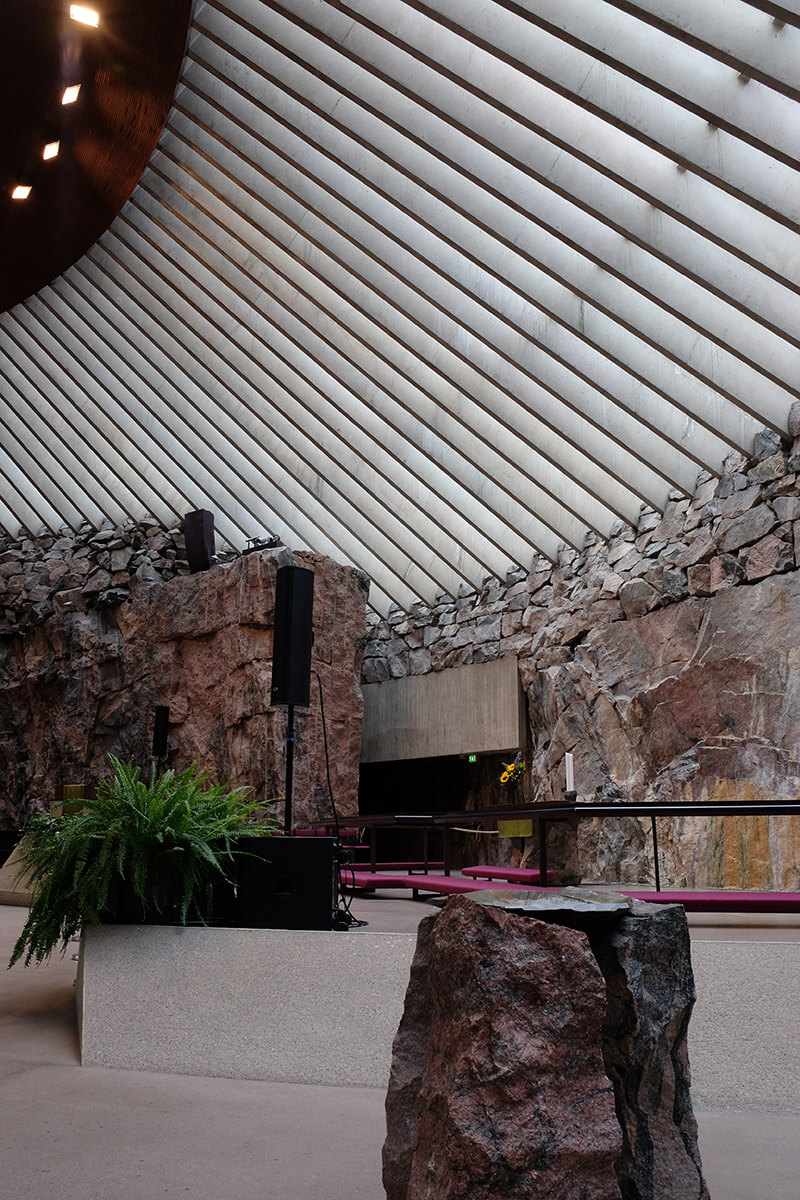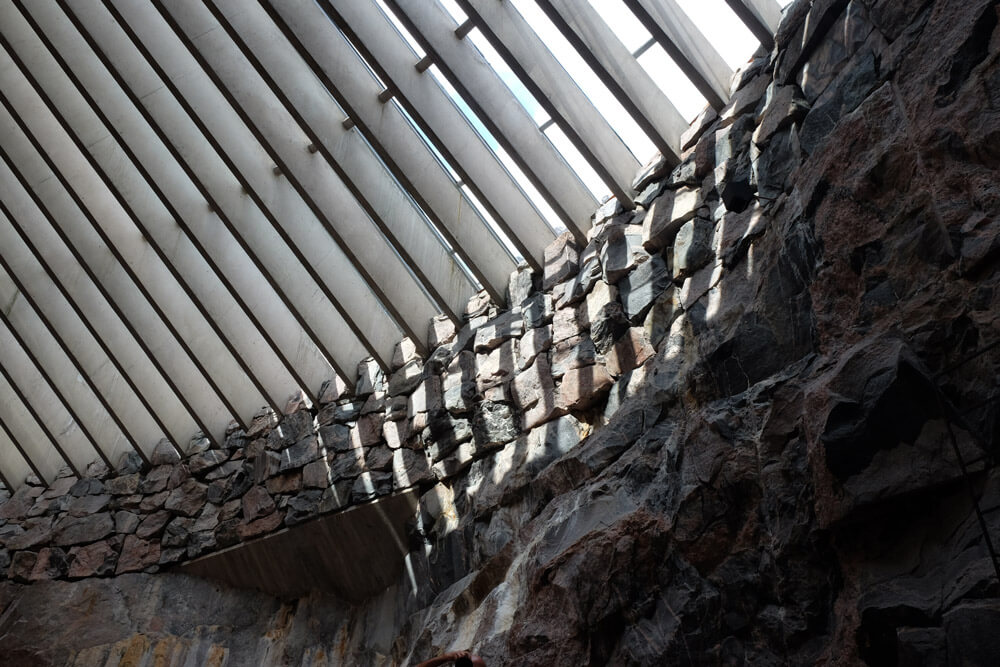 Temppeliaukio Church is also known as the Church of the Rock, or the Rock Church, and with good reason – the entire space the church occupies was dug out from solid rock in the 1960s. It's topped with a copper dome, surrounded by skylights which bathe the church in gorgeous shards of natural light.
The Church of the Rock is one of the most popular tourist attractions in Helsinki, and is at the top of most visitors' must-see lists. It's also a popular venue for concerts, thanks to its excellent acoustics, with several musical events each week. Tickets to visit the church are just 3 Euro – make sure you check opening times in advance.
From the Rock Church, walk down Fredrikinkatu towards HAM and Kamppi Chapel.
HAM Helsinki Art Museum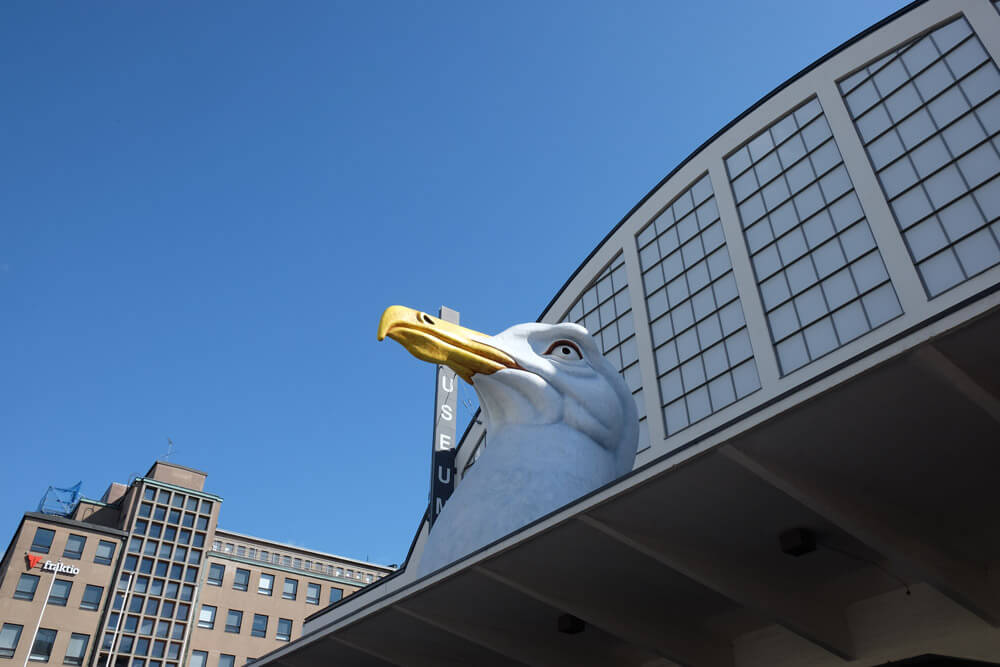 If you're interested in art, then a visit to HAM, the Helsinki Art Museum is a must. The museum and all the works inside belong to the people of Helsinki, plus a range of works that are on loan to schools, hospitals, libraries and other public spaces, so they can brighten everyone's day.
Even if you're not an art buff, HAM's building, the Tennis Palace, is still worth a look. It was built for the 1940 Olympics which were cancelled because of the outbreak of World War II. It did eventually host events during the 1952 Summer Games.
When we visited, there was a giant seagull sculpture on the roof of the Tennis Palace – a fun and quirky sight.
From HAM, take a left into the open spaces of the Narinkkatori shopping plaza to see another of Helsinki's most interesting attractions, the Kamppi Chapel.
Kamppi Chapel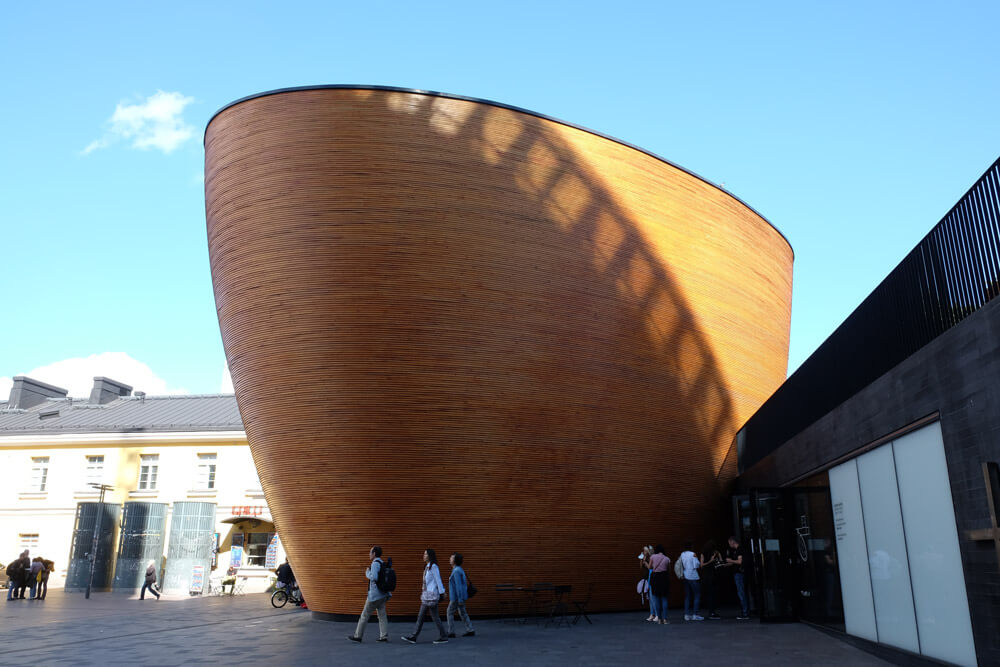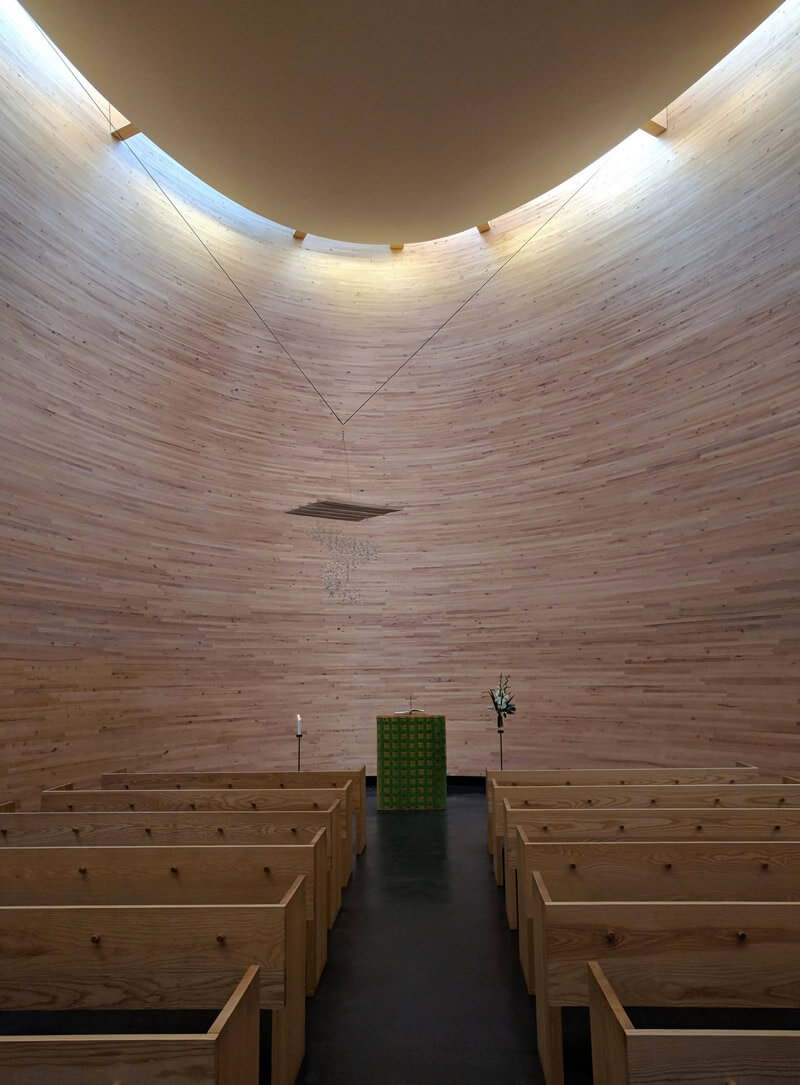 A shopping centre and a chapel designed for peace and reflection might seem like strange neighbours, but in Helsinki, they go together perfectly. Kamppi Chapel is a serene, wooden chapel, dropped into a busy square and open to everyone. The materials are simple, but the effect is very powerful.
The next Helsinki attraction is just around the corner in Lasipalatsinaukio Square.
Lasipalatsinaukio square and Amos Rex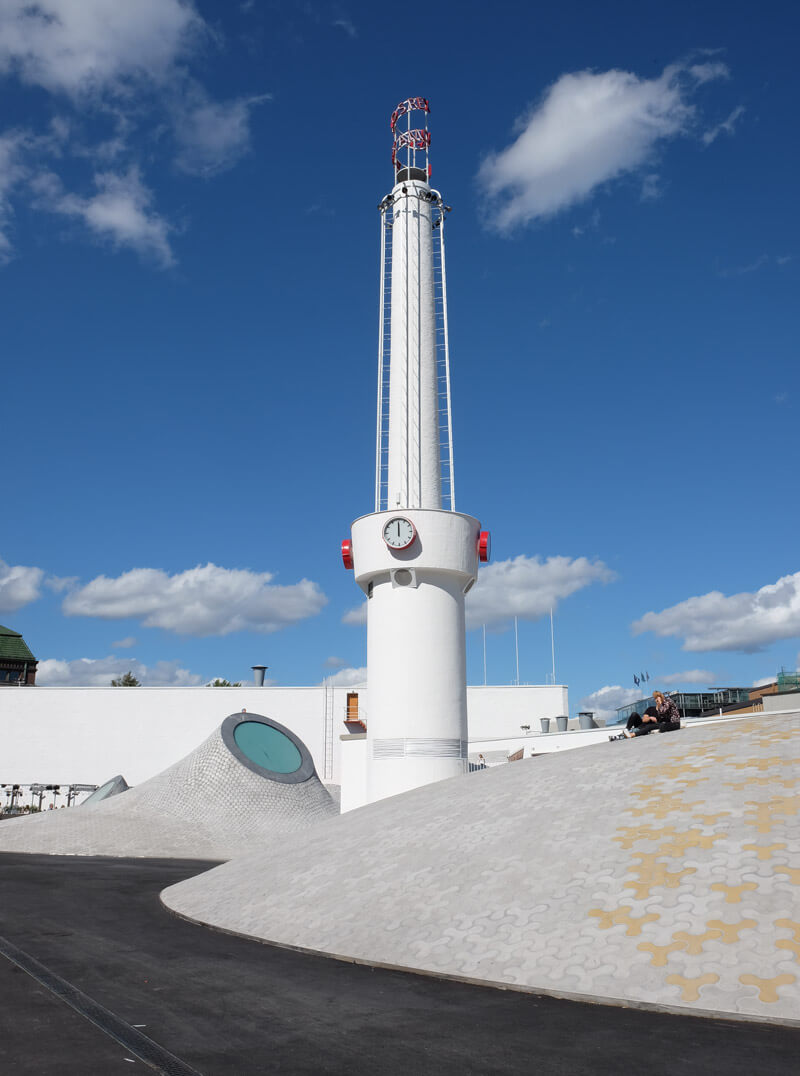 Lasipalatsinaukio is one of Helsinki's strangest attractions. The surface of the square is covered in paved mounds, which the local children love running up and down. These mounds are actually the roof of another art gallery, the brand new (and almost entirely underground) Amos Rex. The gallery hadn't yet opened when we visited in August 2018, but we did enjoy having a quick rest in the otherworldly landscape its roof has created.
Turn back onto Mannerheimintie street, and head for the large Swedish Theatre, which sits at the head of Helsinki's grandest street, Esplanadi.
Esplanadi
Visiting Esplanadi and enjoying the park, open-air events and shops of this elegant area is one of the best things to do in Helsinki, and even if you're rushing to see Helsinki in one day, it's worth pausing here for a moment to see what's going on. When we visited there was a pop-up food festival with interesting stalls lining the park's central avenue. The famous Marimekko design shop is just around the corner as well.
At the end of Esplanadi nearest the harbour, you'll find the beautiful Havis Amanda statue, depicting a mermaid rising from the waves, surrounded by sea lions. It was placed here in 1908 and is intended to represent the revival of Helsinki.
Before you visit the harbour and take a boat tour, double back on yourself and head up the hill to Senate Square and Helsinki's beautiful Finnish Evangelical Lutheran cathedral.
Helsinki Cathedral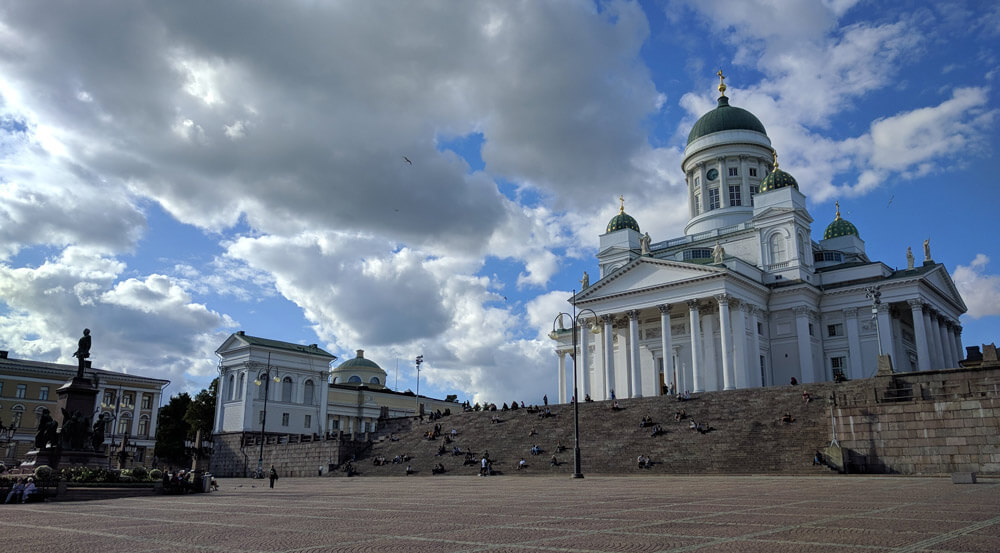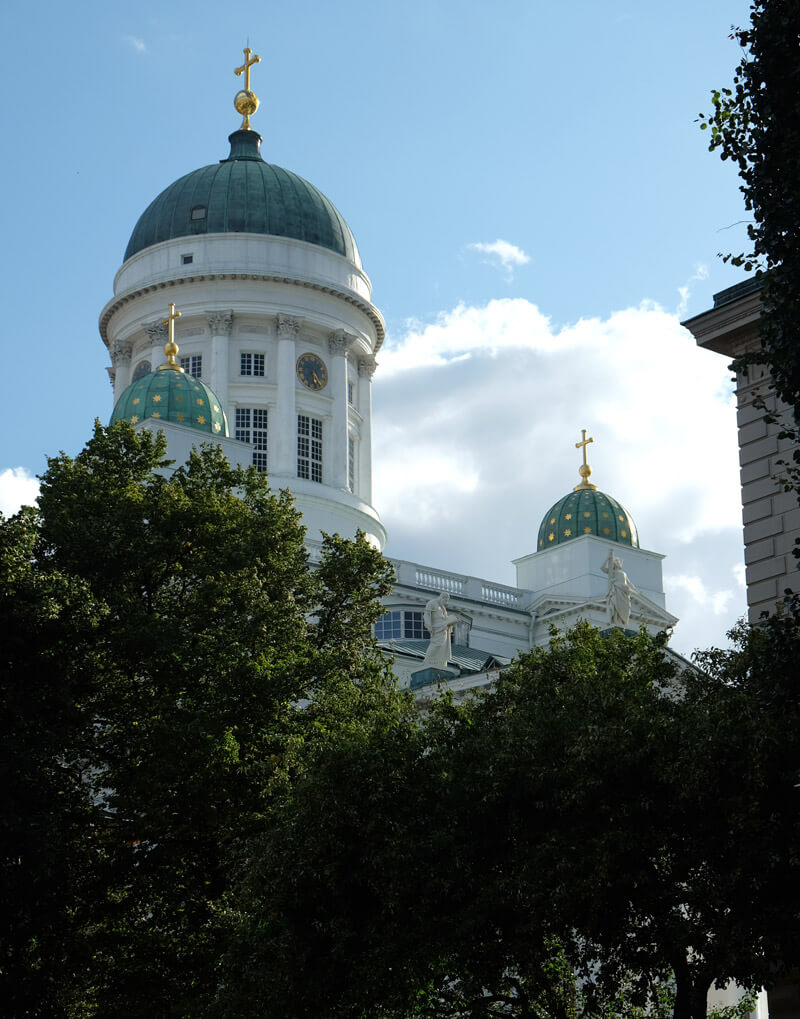 It's important to distinguish which cathedral you're visiting, as Helsinki has two – one Evangelical Lutheran, one Finnish Orthodox. The two stately buildings face each other across the harbour, and although they're very different, they're both absolutely beautiful.
The Evangelical Lutheran Helsinki Cathedral is a gorgeous white building, which at sunset reflects the colours in the sky. It's topped with five green domes, four of which are dotted with golden stars.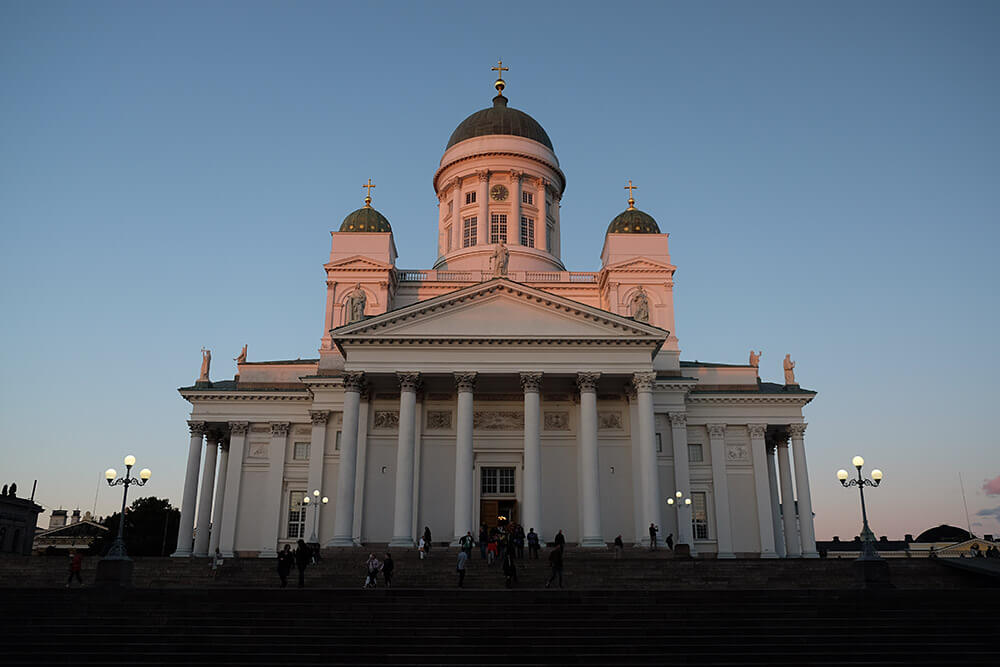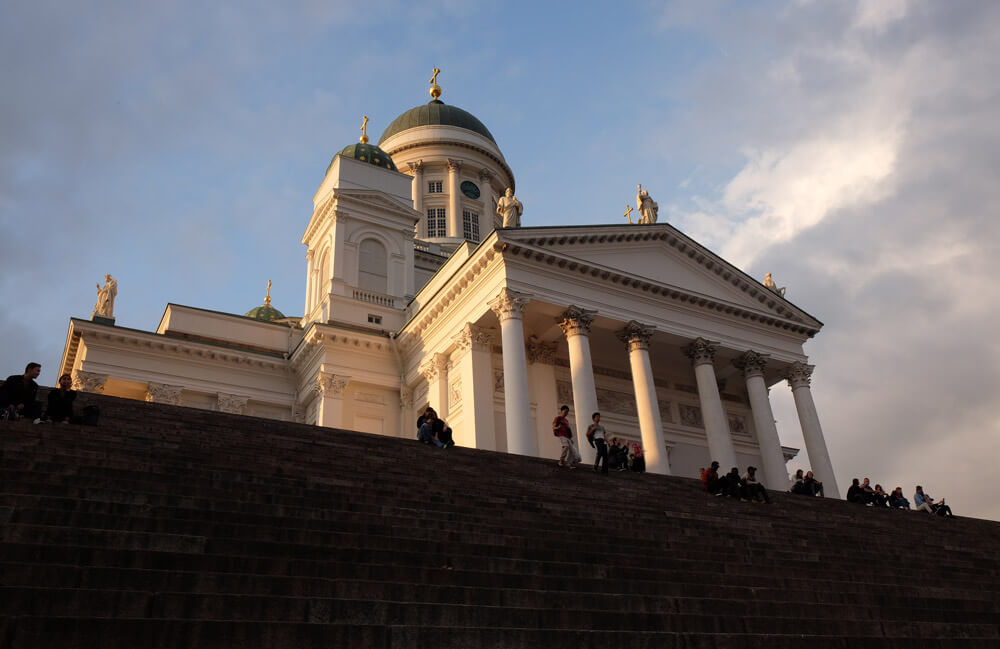 From Helsinki Cathedral, head back towards the harbour, and if you have time, take a boat tour of the harbour and Helsinki's archipelago.
Harbour, archipelago and canal boat tour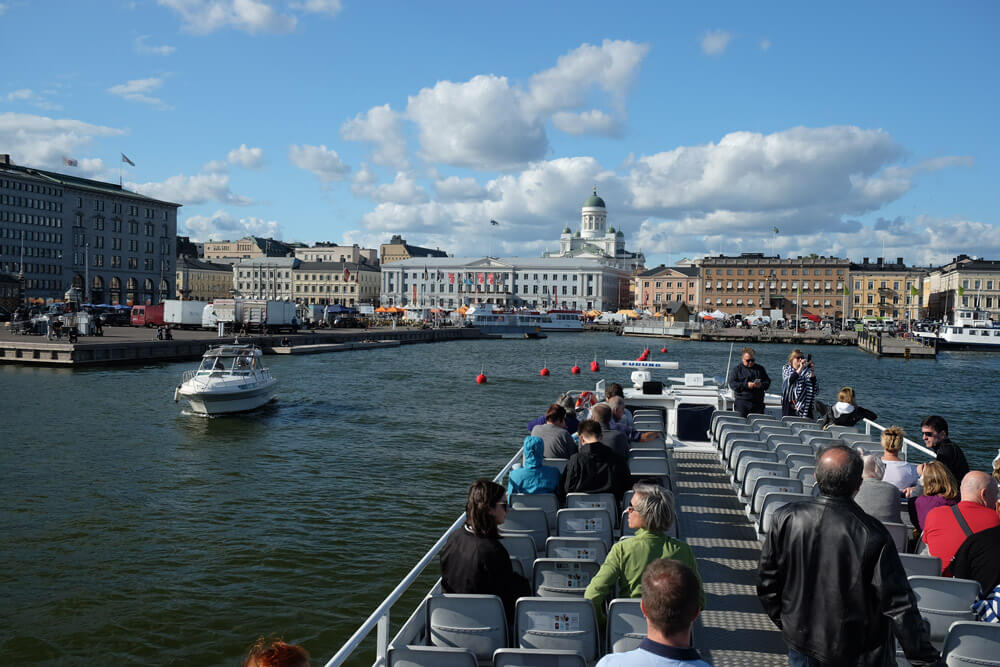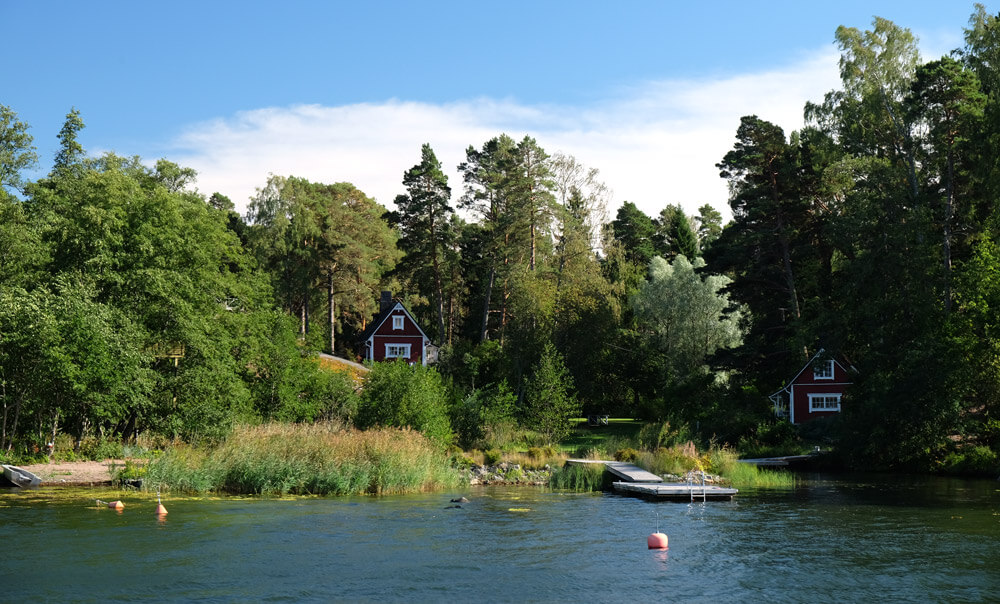 Like Stockholm, Helsinki is protected from the open sea by an archipelago of small, rocky islands, some of which have holiday homes, fishing cabins and summer retreats. They look so idyllic – who wouldn't want to spend time on a beautiful island with your own seaplane?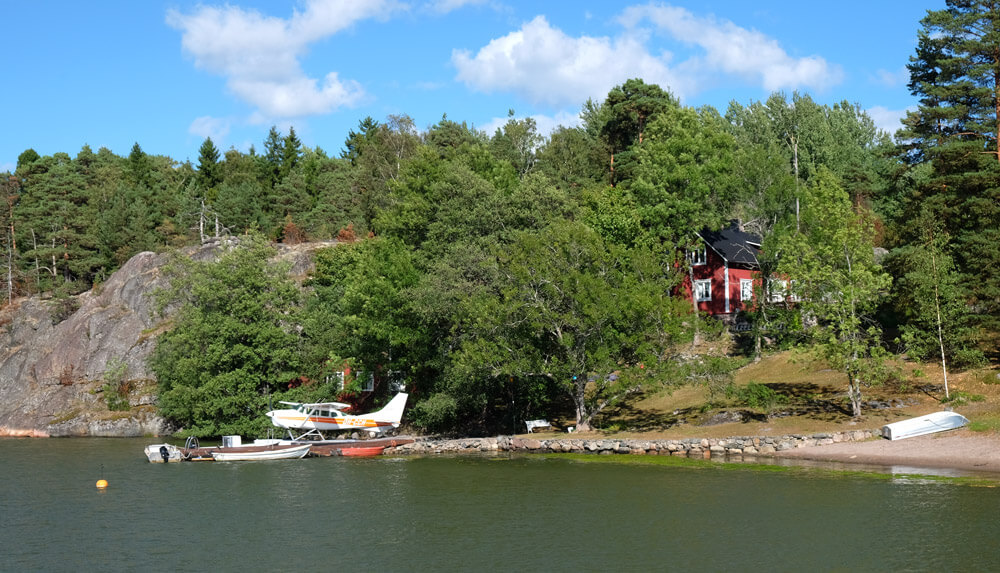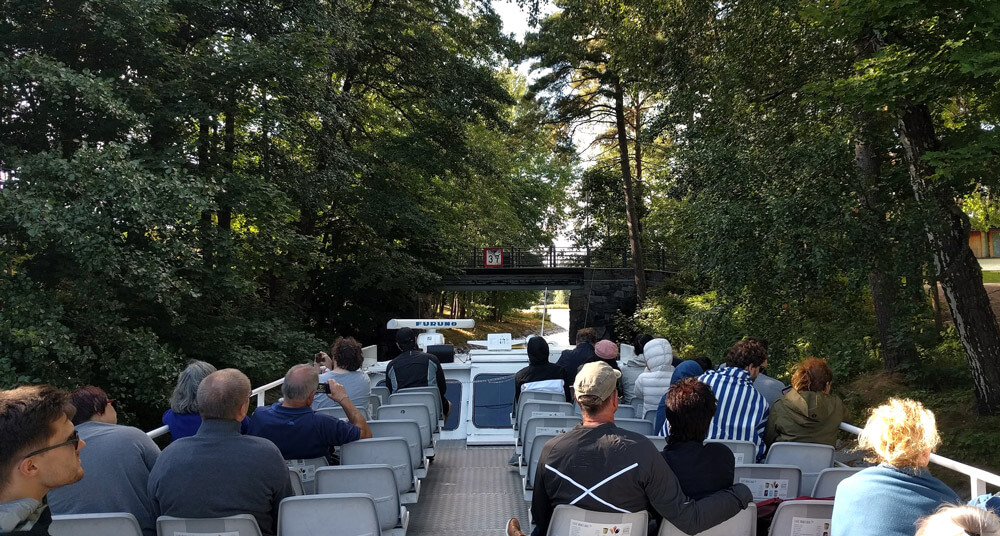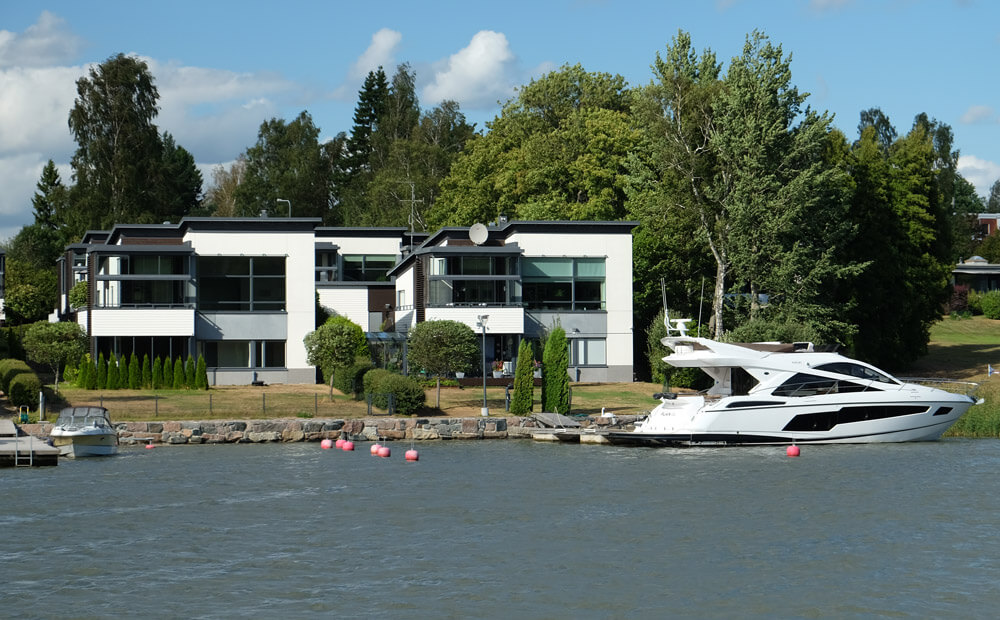 As we got closer to the city, the rustic cabins gave way to ultra-luxurious houses. Getting out into the archipelago is a fabulous way to understand Helsinki a little better.
Waterfront and harbours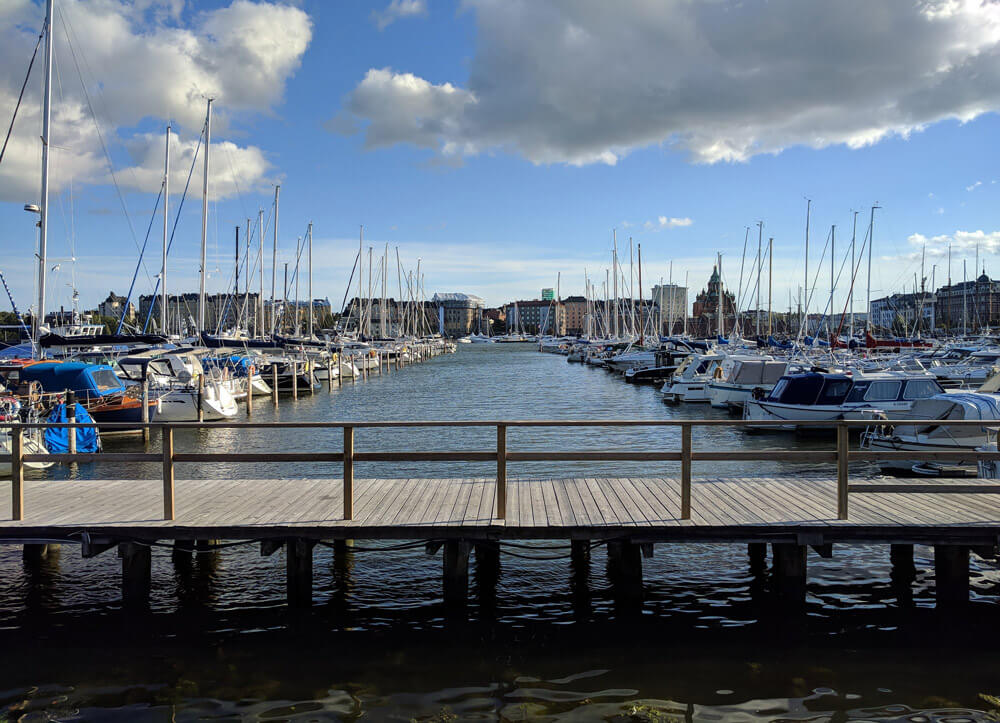 When you get back from your boat trip, take a walk around the waterfront area. Helsinki has a number of harbours – from the main harbour which is large enough for naval ships, cruise ships and ferries, to smaller inlets for fishing boats and yachts.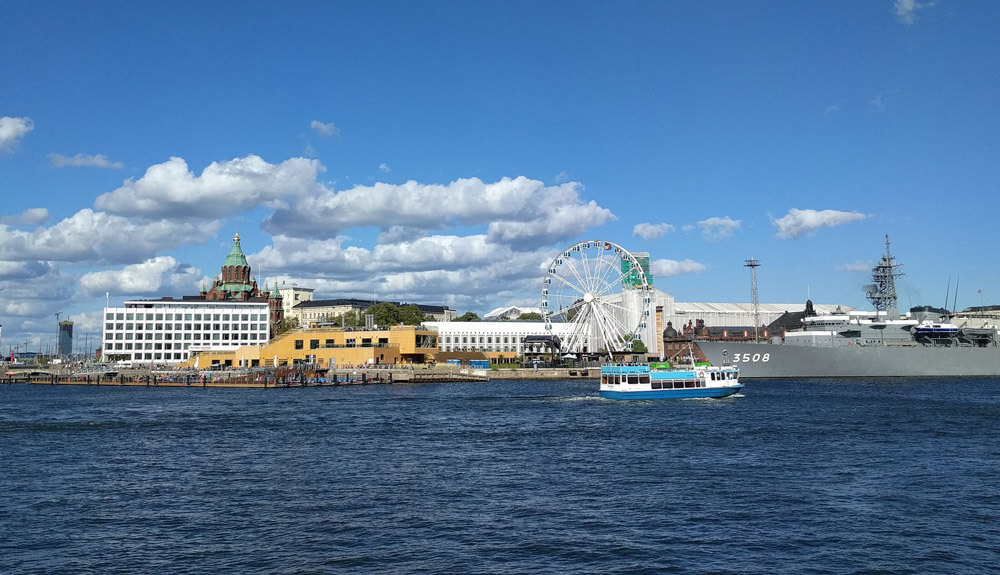 Allas Sea Pool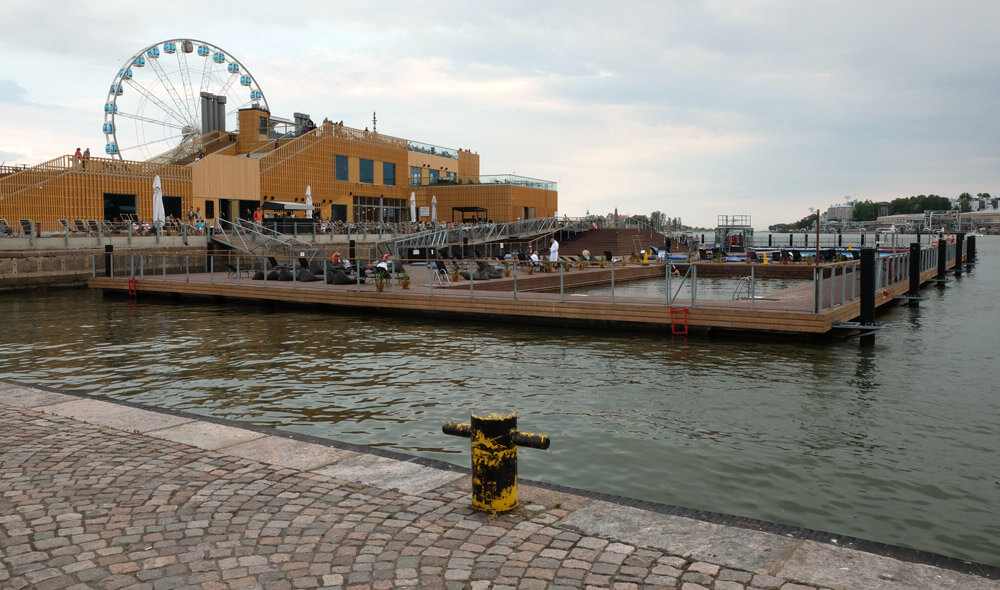 Enjoying a sauna and a dip in the sea is part of everyday Finnish culture, and Helsinki residents and tourists alike can take part in the tradition at Allas Sea Pool. There are three saunas and several pools, one of which is filled with sea water. If you don't have time for a dip, there's a relaxing cafe with a great view of the harbour, waterfront and the two cathedrals.
Uspenski Cathedral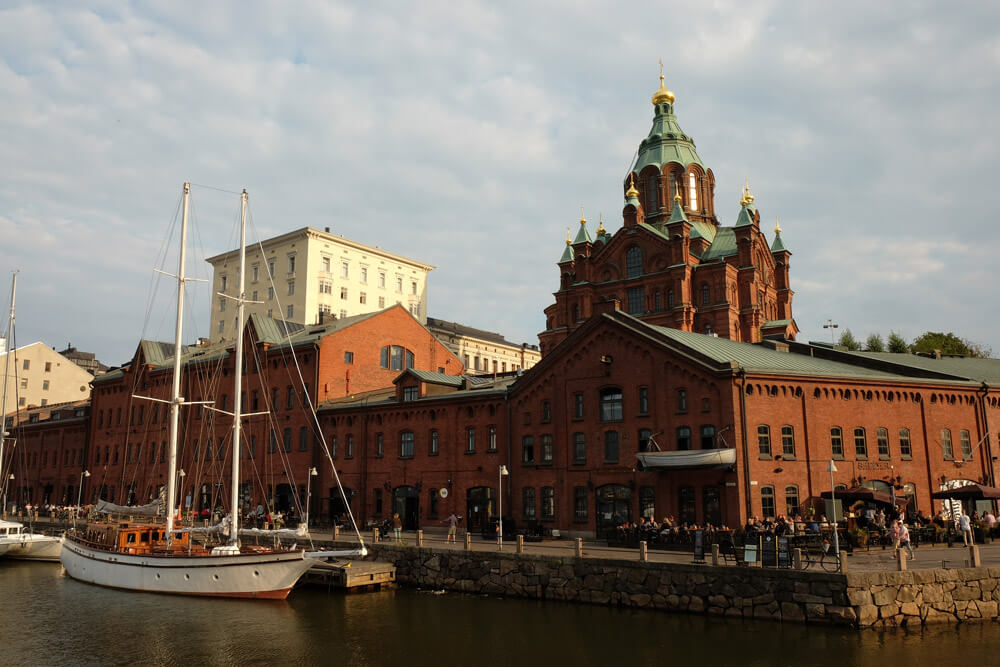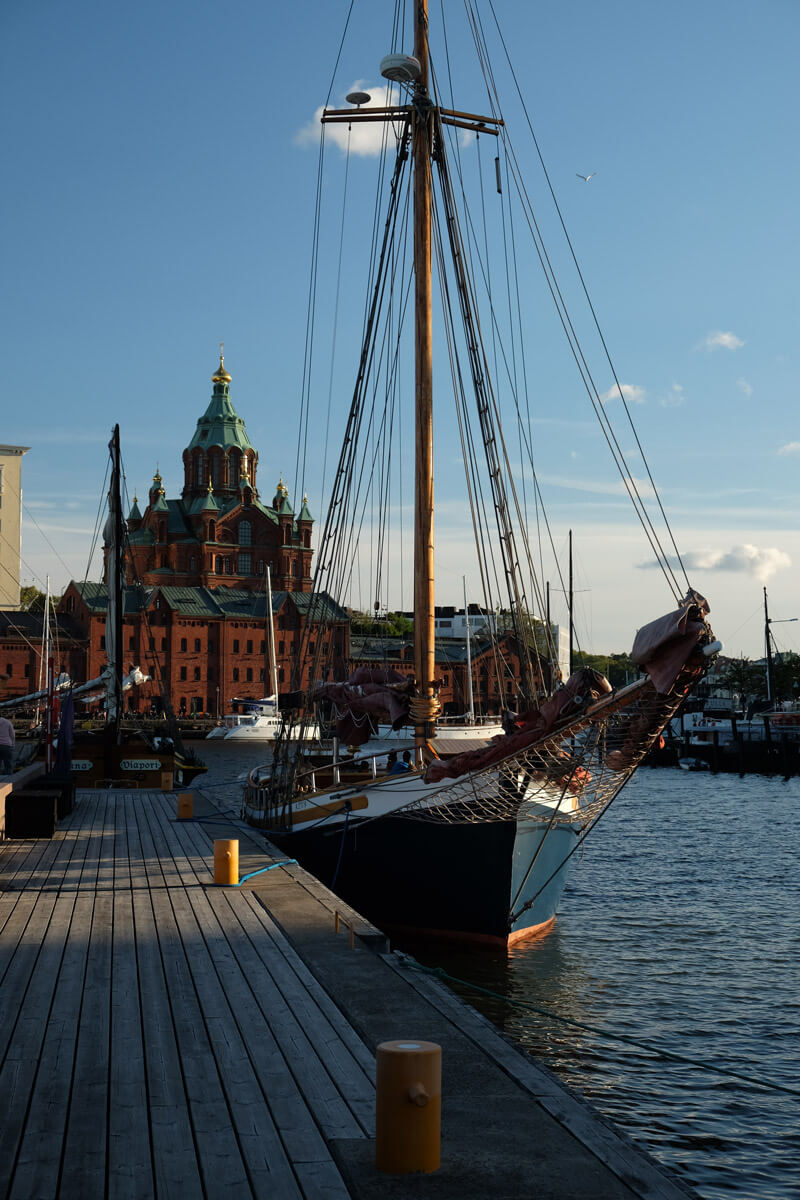 Helsinki's other cathedral is Uspenski Cathedral, the largest Orthodox church in Western Europe. Built with Russian influences from red brick, it has a very different style to the Lutheran cathedral across the harbour. The two beautiful churches face each other across the water, each on their own hills, rising above the rest of the city centre.
Uspenski Cathedral is free to visit, but be sure to check in advance that there isn't a service taking place.
Ice breaker ships and Tar Island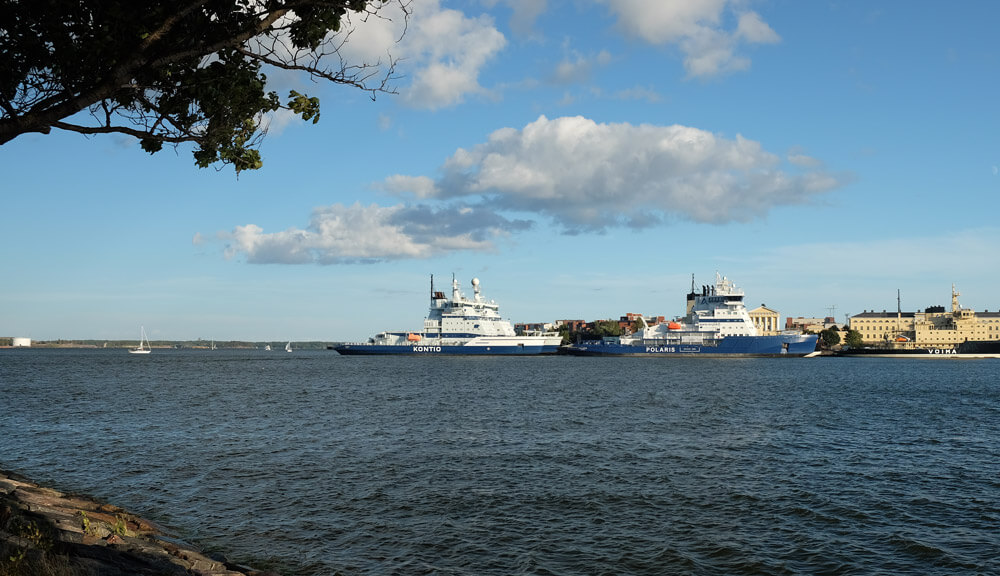 If you visit Helsinki in the summer (and it's a wonderful time to come, with long days for sightseeing and lovely weather), then you'll be able to see the Finnish ice breaker fleet. During the winter these ships play a vital role in keeping shipping routes open between Finland, Sweden and Russia.
If you are visiting Helsinki during the warmer months, you'll find the ships moored on Merikasarmin laituri. There's a really good view of them from Tervasaari (Tar Island), a pretty island park which also has lovely views of Uspenski Cathedral.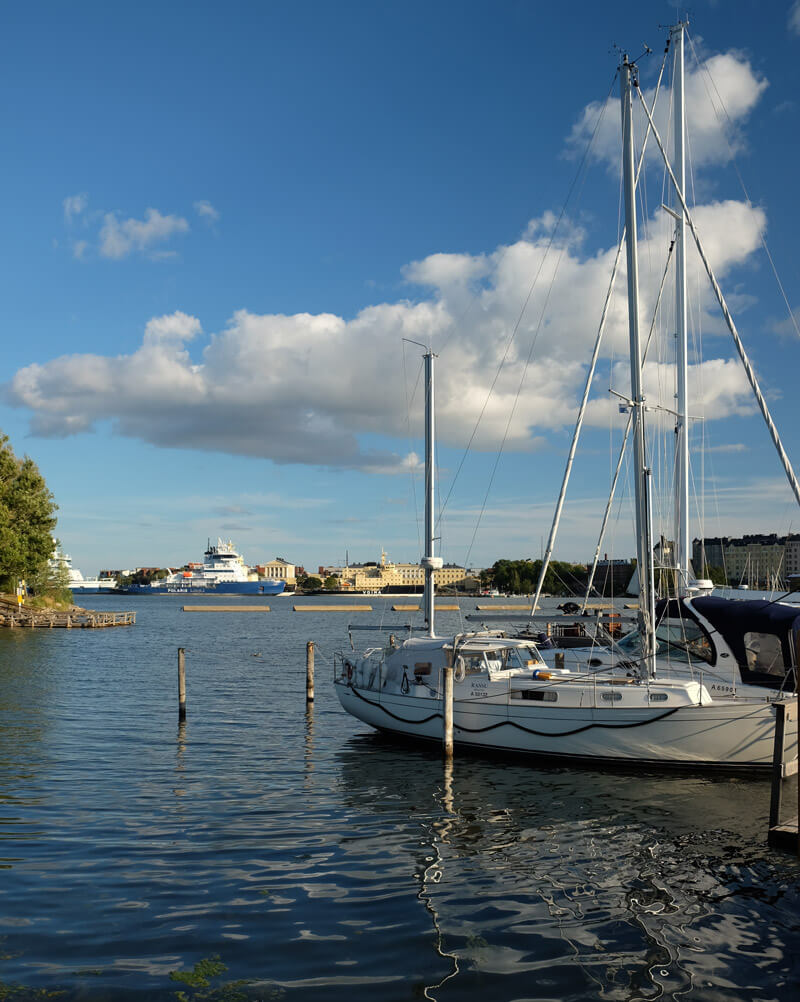 More things to do in Helsinki
If you decide to spend more than one day in Helsinki, two days would give you plenty of time to visit the Suomenlinna fortress, on an island in Helsinki's harbour. You could also visit some of Helsinki's attractions that are a little further outside the city centre, like the Sibelius monument, or enjoy a traditional Finnish sauna.
Three or more days in Helsinki would allow you to take a day trip to Estonia's capital Tallinn. Ferries operated by Viking Line, Tallink Silja and Eckerö Line make the journey across the Gulf of Finland in just over 2 hours, 12 times a day. Tallinn is one of Europe's best-preserved medieval cities and is well worth the trip.
Pin it for later!