Salts Mill and Saltaire is one of my favourite places to visit. The old mill and the village that surrounds it combines all my favourite things – history, impressive architecture, quirky shops and cute cafes. In this post, I'll give you some background about Saltaire and Salts Mill and tell you about all my favourite things to do in Saltaire.
Where is Saltaire?
Saltaire is a Victorian village in West Yorkshire, in the north of England. It's 12 miles west of Leeds and four miles north of Bradford. This whole area around Leeds and Bradford was once full of textile mills. A local businessman, Titus Salt, appalled by the pollution and unhygenic living conditions in Bradford, decided to move his mill outside the city.
Titus Salt began building his mill in 1851. The mill, which was ideally located between the canal and the railway line, opened in 1853. On its opening it was the largest industrial building in the world measured by total floor area.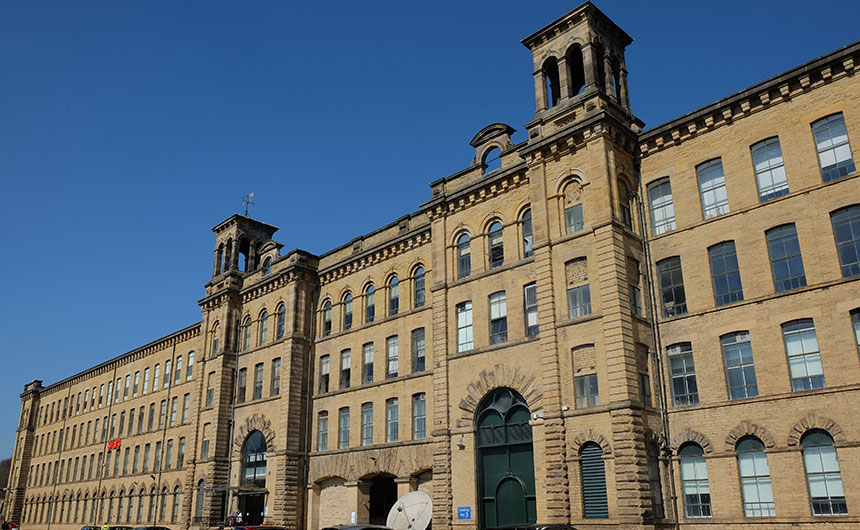 Salts Mill was soon surrounded by handsome houses, bathhouses, almshouses, a hospital and churches, all built to high standards and with the workforce's physical and spiritual health in mind. The model village was called Saltaire.
Salts Mill closed in 1986 but was bought by another local businessman, Jonathan Silver, and was restored and regenerated. Today it's a popular Yorkshire tourist destination and Grade II* listed as a historic site. In 2001, Saltaire was added to the UNESCO World Heritage List as an example of a complete and well-preserved industrial village.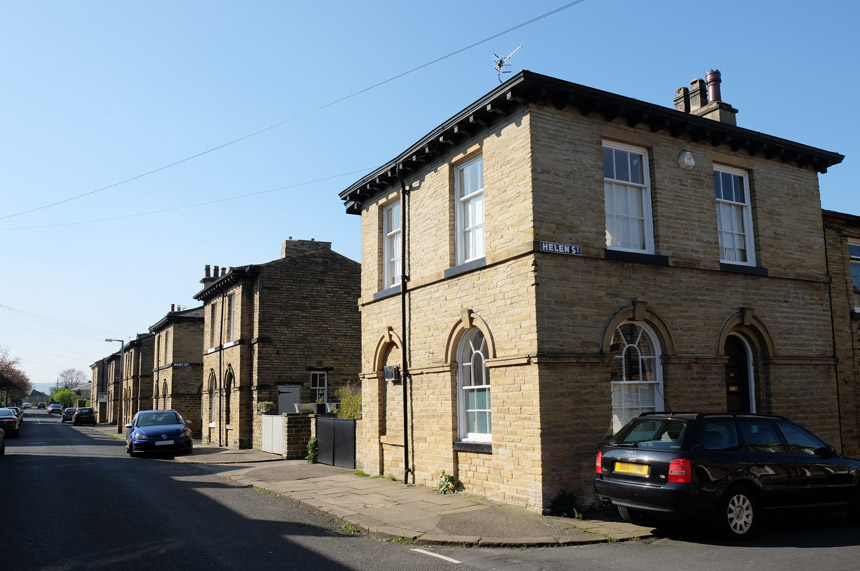 Visiting Salts Mill today
Salts Mill and Saltaire is an easy day out from Leeds, Bradford, Harrogate and Skipton, and only around an hour from York and Manchester.
Getting to Salts Mill is super-easy – there's a train station next to the mill with frequent services from Leeds, Bradford and Skipton. The mill has a large car park if you decide to drive.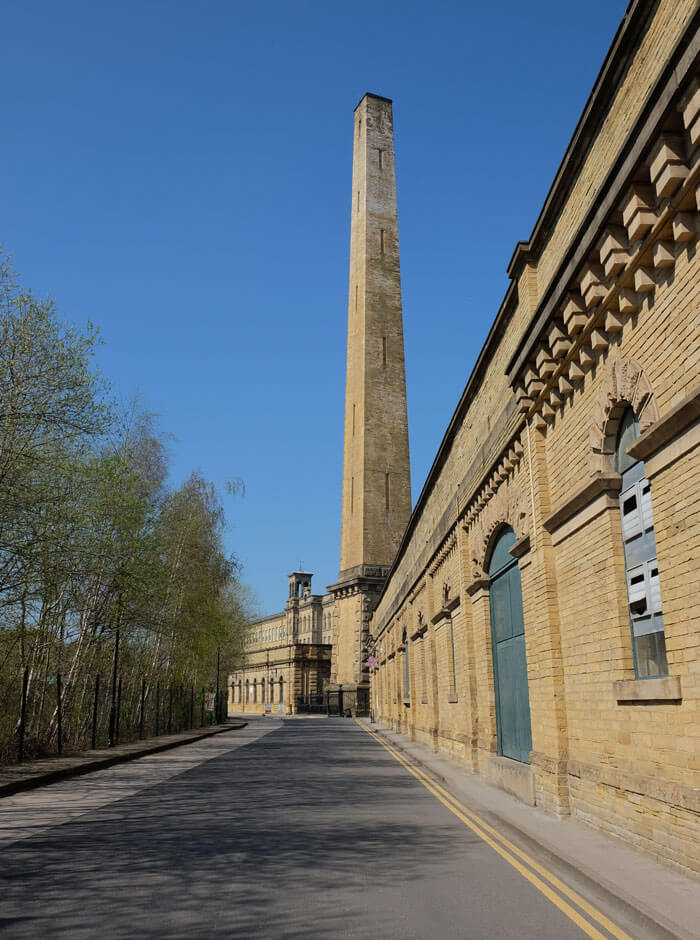 Lots of people want to know when Saltaire is open. It's just a normal village where people live, albeit an historic one. You can visit any time you like, but please be respectful to the residents.
Salts Mill is usually open 7 days a week from 10am until 5.30pm (6pm at weekends). Make sure you check the opening times before you travel though.
Things to do in Salts Mill
Large parts of Salts Mill are open to the public as an art gallery, museum and shops. On the ground floor there's a permanent exhibition by Bradford-born artist David Hockney – a lifelong friend of Jonathan Silver who resurrected the mill in the 1980s. There's also a range of art books, artists materials, prints and cards to buy, and a display of machinery from the textile mill days.
The ground floor is an enormous space, with a high, vaulted ceiling. While all is quiet and still now, it's easy to imagine what it might have been like with all the machines running at full pelt.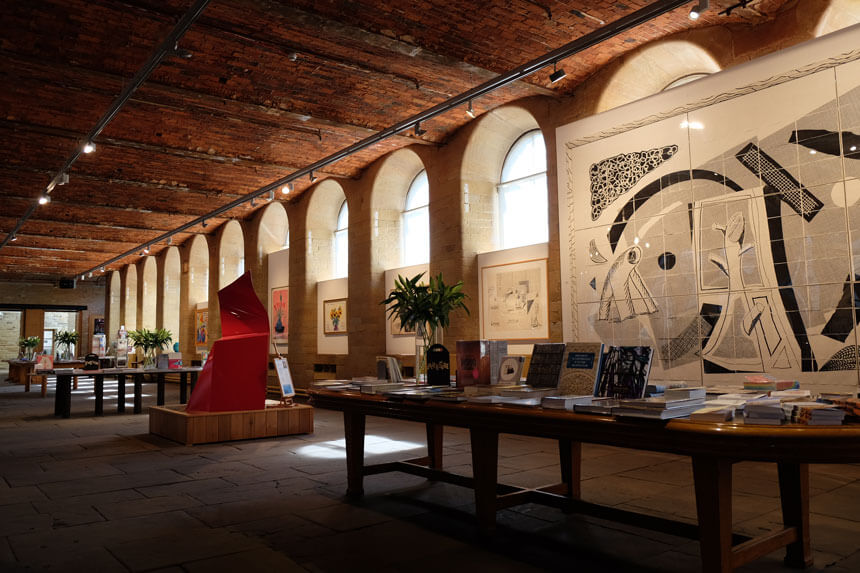 My favourite floor in Salts Mill is the second floor. Up here there's more light filtering through the large windows and there's a more airy feel. But the real reason I like it most is because it has one of my favourite bookshops anywhere in the world.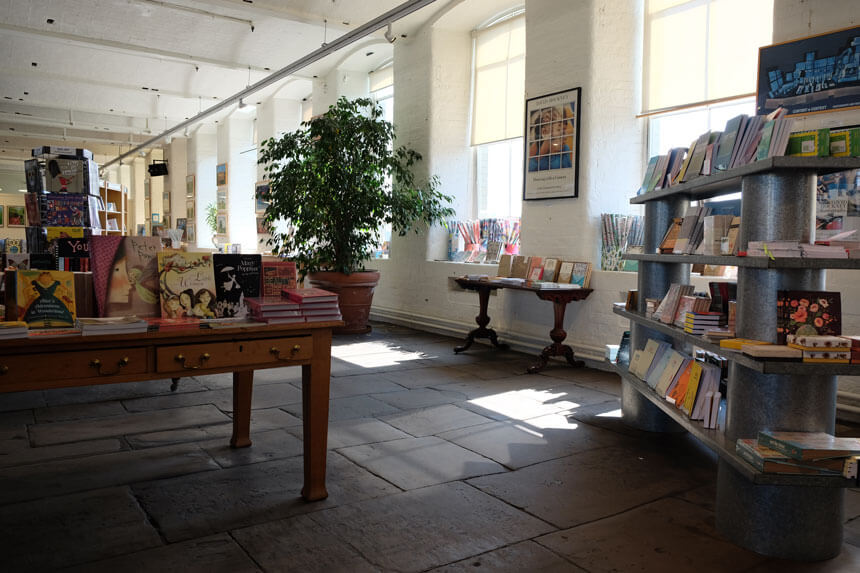 The books are beautifully displayed on old wooden tables and the booksellers' recommendations are top-notch. I never fail to come away without a new book that I'd never heard of but that I'm suddenly desperate to read. It's a really magical place.
Along from the bookshop you'll find Salts Diner, a casual restaurant that does great soups and has cute little David Hockney illustrations on the menus and napkins.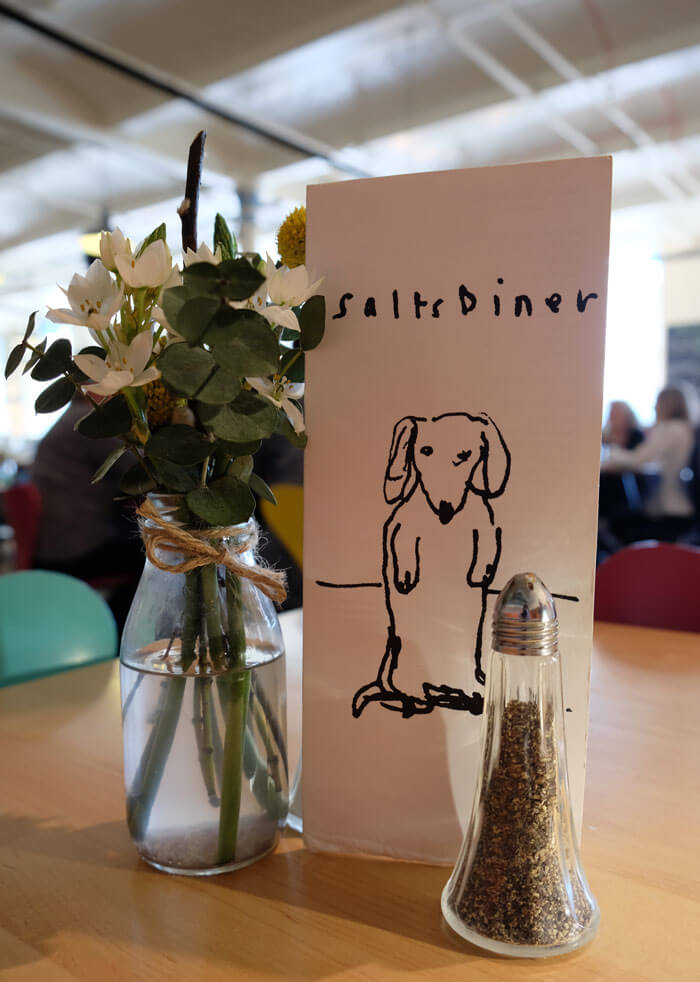 Also on the second floor there's a homeware shop which sells all kinds of interesting cookware and iconic furniture and is always worth a look.
On the third floor there's another restaurant, a couple more shops and a museum about Salts Mill, Saltaire and Titus Salt. Titus Salt served as Mayor, Chief Constable and Member of Parliament for Bradford, and was made a Baronet in 1869. He died in 1876 and is buried in Saltaire Congregational Church, just across the road from his mill.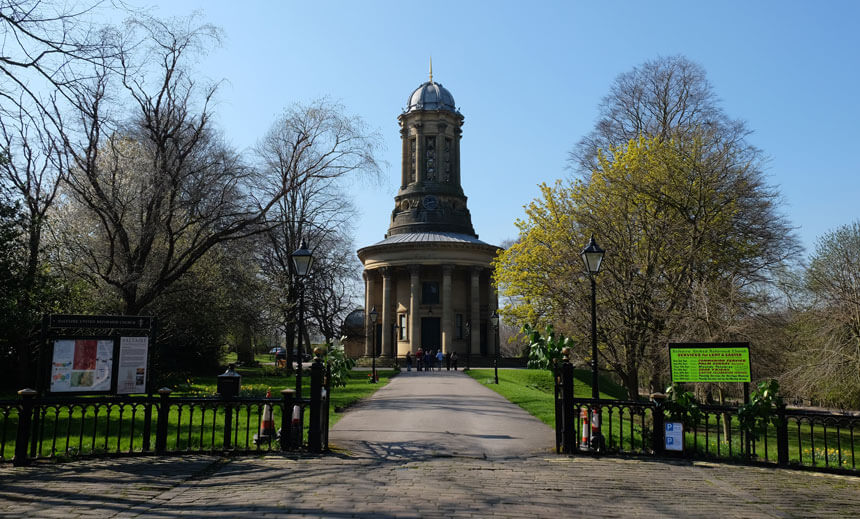 More things to do in Saltaire
See Saltaire's mill workers' cottages
One of the best things to do in Saltaire besides visiting the mill is just walking through the village streets. At first glance all the houses look the same, but if you look closer you'll start to see subtle differences in size and ornamentation to indicate the rank of the worker they were built for.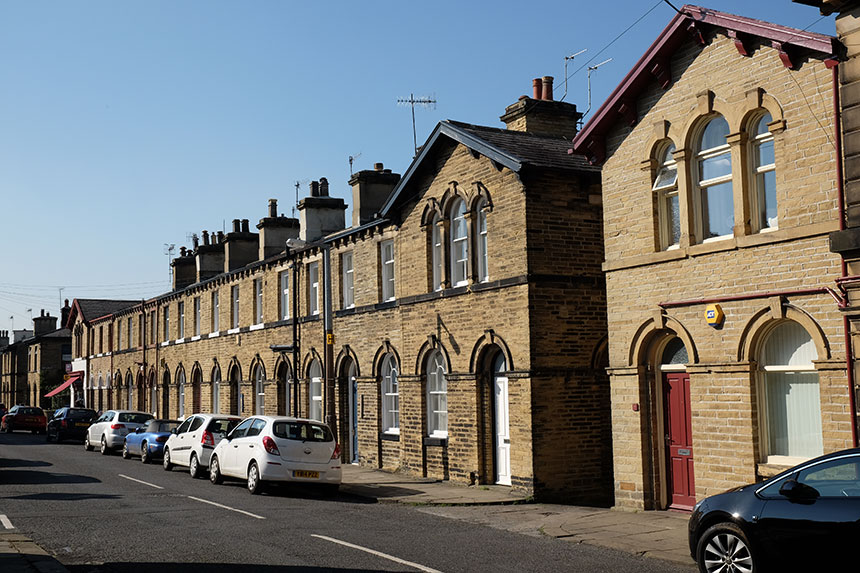 All the houses, even the smallest two-up two-down terraces had luxurious facilities for the time. Each house had its own water supply, gas and an outside toilet, and most of the houses have some kind of outside space. Houses in Saltaire are still very sought-after for their charm and the beauty of the village.
Take a walk around Roberts Park
Roberts Park is a quintessential English Victorian park, with a cricket pitch, a bandstand, pretty walkways and plenty of places to sit and relax. In the centre of the park there's a statue of Titus Salt, looking out over the mill and the village he built.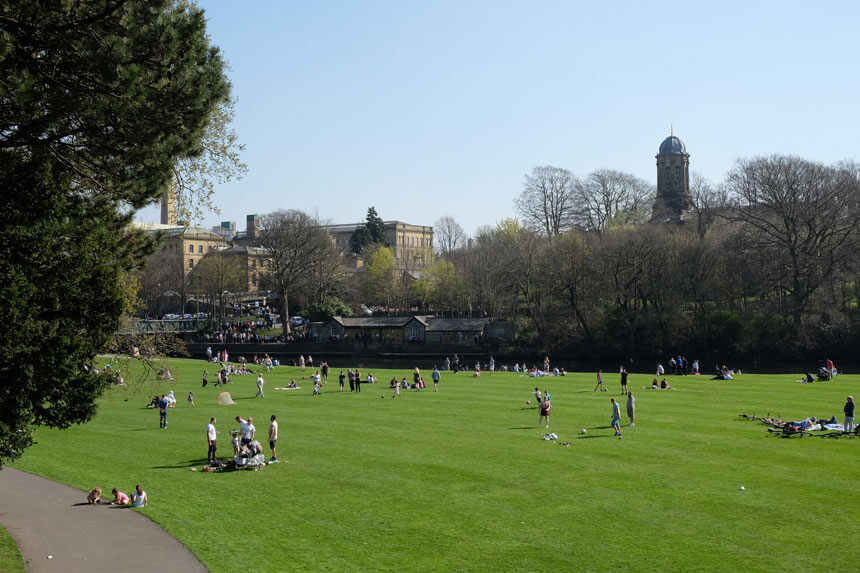 When the park was built, the river Aire was widened to allow for swimming and boating. I'm not sure I'd recommend it nowadays but it's a nice place to feed the ducks on a sunny day.
In front of the park's Half Moon Cafe you'll see a bronze statue of two alpacas. This might not make much sense unless you know that Titus Salt popularised the use of alpaca wool in Britain after finding a bundle in a warehouse in Liverpool. There is also an alpaca and an angora goat on the base of the Titus Salt statue.
Go to an event at Victoria Hall
What's now known as Victoria Hall was originally called the Saltaire Institute. When it was built, it provided for the physical and intellectual betterment of Saltaire residents, with an auditorium, gymnasium, library, reading room and even a laboratory.
These days it's still a popular venue for events, and there's a very good chance that there'll be something on when you visit Saltaire – whenever I've been to Saltaire at weekends there's almost always been some kind of craft fair, flea market or vintage clothing sale taking place in the hall.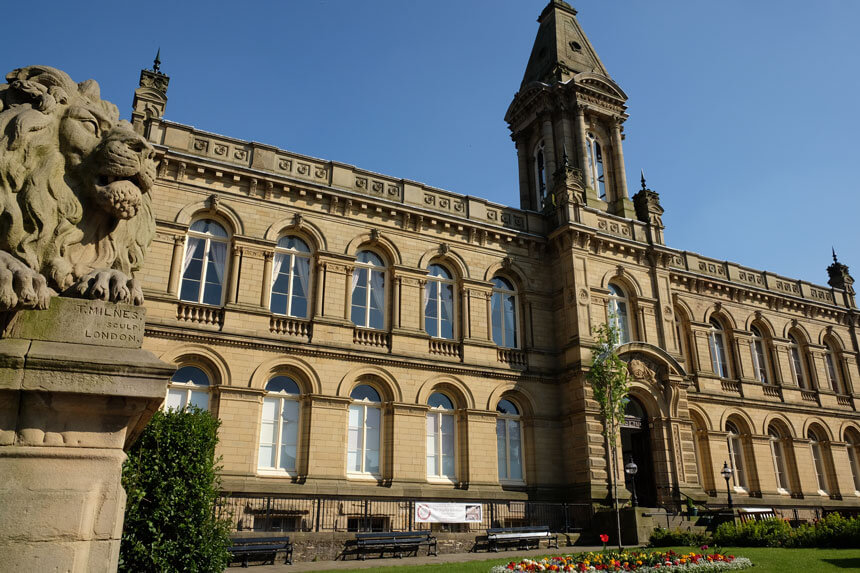 Go on a canal boat ride
The Leeds to Liverpool canal runs through the middle of Saltaire village, and taking a canal boat ride to see Salts Mill and the village from the water is one of the most popular things to do in Saltaire.
If you don't fancy a canal trip, why not walk a little way along the towpath to buy an ice cream from the canal boat moored near the park.
Read more: The best canal boat trips in the UK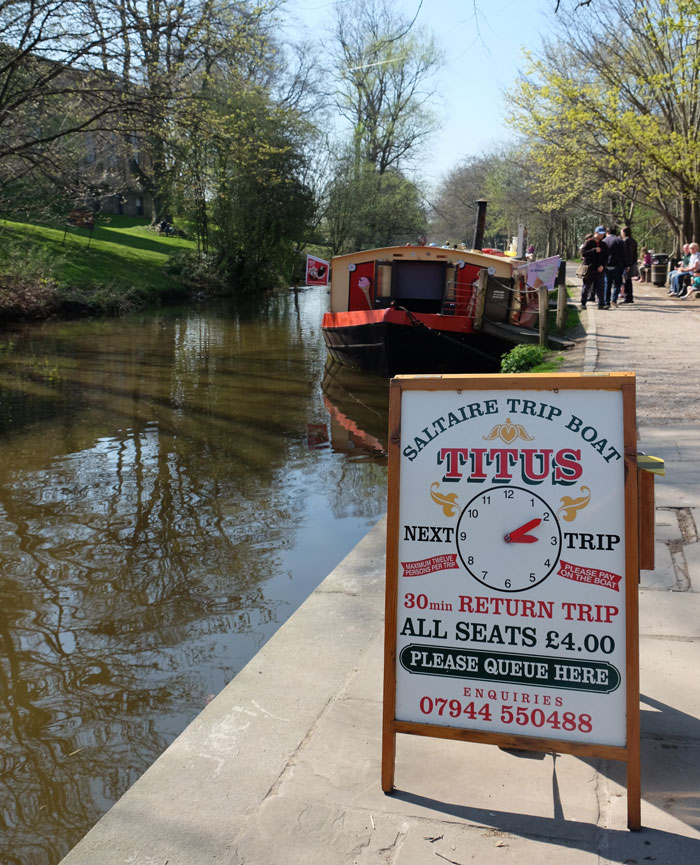 Visit Shipley Glen by historic tramway
Shipley Glen is a beauty spot and country park just outside Saltaire. There are pretty woods to walk through (they're full of bluebells in springtime), and at the top of the hill there are fabulous views over Airedale.
If you don't fancy the woodland walk, then on certain days you can take the Shipley Glen Tramway. It's the oldest working cable tramway in the UK and opened in 1895 when Shipley Glen was a really buzzing day out. The funfairs and attractions of Victorian times have all gone now but it's still a very pleasant place to walk once you've seen all the other things to do in Saltaire.
To get to Shipley Glen, walk through Roberts Park, cross Higher Coach Road and the tramway is just behind the car park next to the school.
Places to visit near Saltaire
Keighley, just seven miles up the road (or three stops on the train) is the start of the Keighley and Worth Valley Railway, one of the prettiest heritage railways in the UK.
The K&WVR stops at Haworth, where you can visit the Bronte Parsonage Museum and see the house where Charlotte, Emily and Anne Bronte lived and wrote their famous novels.
A little closer to Saltaire is Bingley, where the Leeds to Liverpool canal that flows past Salts Mill climbs the steepest flight of locks anywhere in the UK. At the Bingley Five Rise Locks the canal ascends 18 metres in a distance of under 100 metres as it heads towards Skipton.
Did you like the sound of these things to do in Saltaire? Pin it for later!