Ischia is an idyllic small island off the coast of southern Italy, around 18 miles from the bustle of Naples but feeling a whole world away. It's only around six miles wide, but manages to pack in an amazing number of attractions. Here are 9 of the best things to do in Ischia – I promise you won't get bored when you visit my favourite Italian island!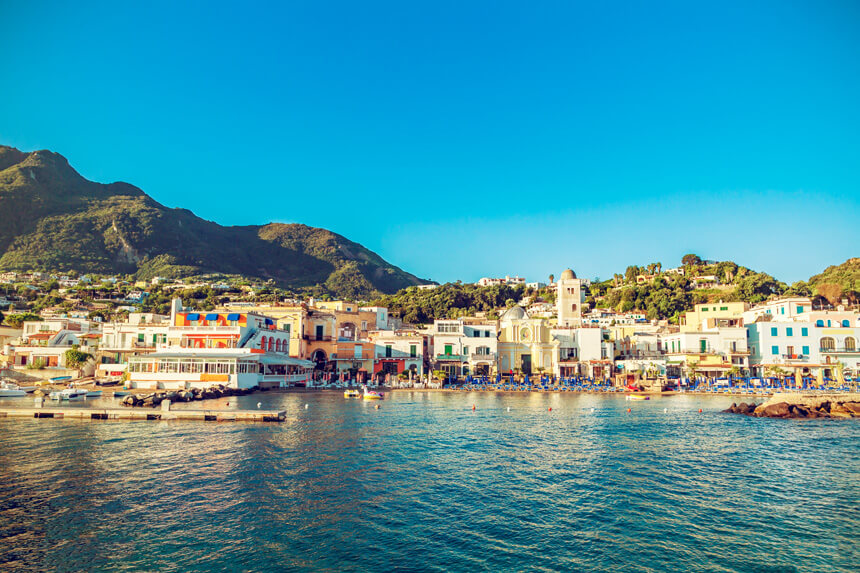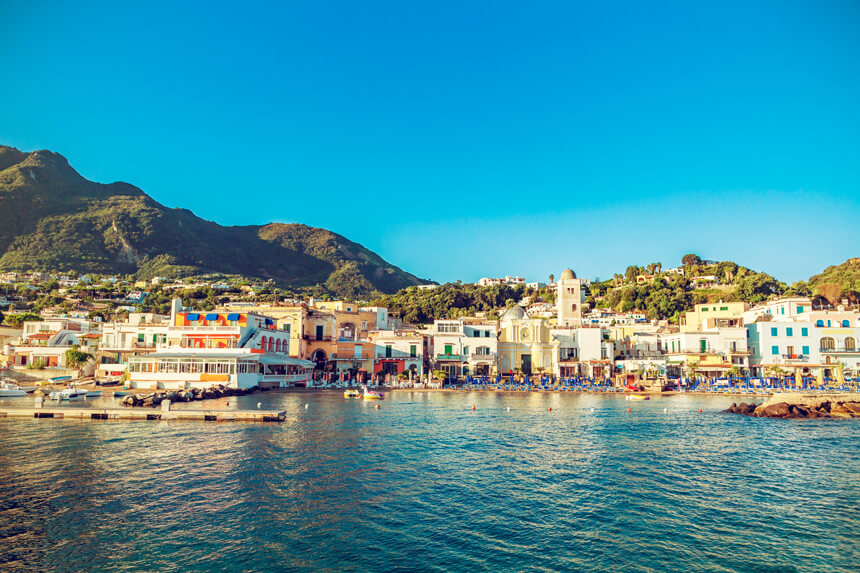 Is Ischia, Italy worth visiting?
Ischia is the perfect destination for a relaxing island holiday. During the day you can visit thermal spas, beautiful gardens, picturesque villages and stunning beaches, while in the evening you can enjoy some of the best food and wine you've ever tasted.
I loved Ischia because the scenery was gorgeous, there was something different to do every day, and everything was really easy to get to by public transport. I'd very happily go back tomorrow!
The best things to do in Ischia
1. Ischia Ponte and Castello Aragonese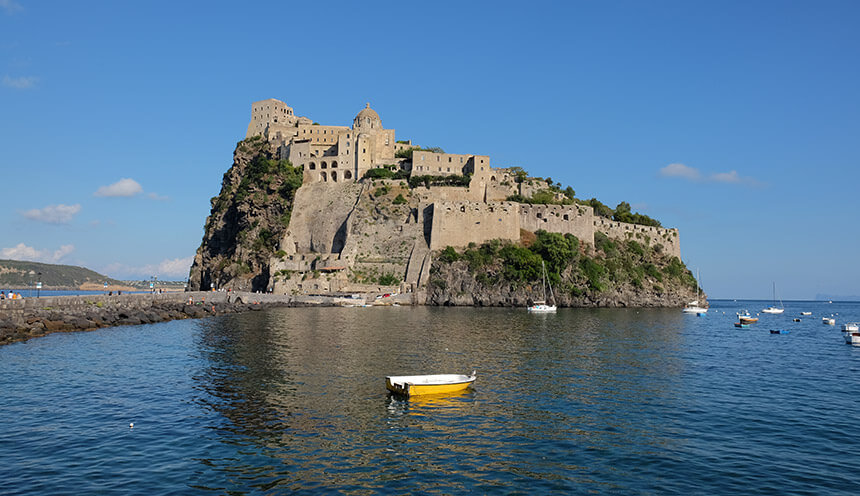 It's the view that's prompted a thousand holiday bookings, including mine! Looking out from the ramparts of Castello Aragonese over the town of Ischia Ponte is a must-do when you visit Ischia, putting it right at the top of my list of things to do in Ischia island.
Castello Aragonese is dramatically located on a small, rocky island, linked to Ischia Ponte by a narrow bridge. It towers over the town, looking both menacing and picturesque.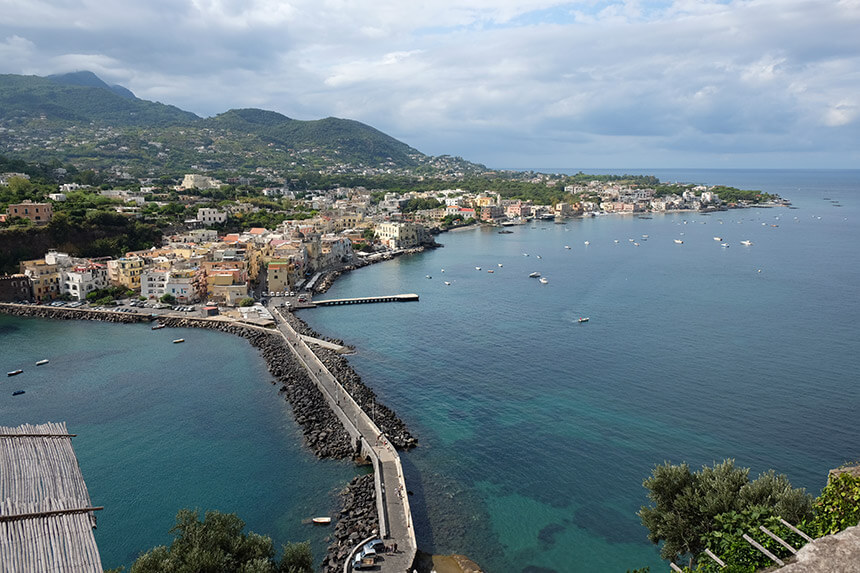 Visiting Castello Aragonese will take at least half a day; once you've taken a lift through the centre of the rock to the main entrance, you'll be able to explore a surprisingly large area. Things to see at Castello Aragonese include chapels, wine presses, a prison and of course, those stunning views.
The main attraction – if it's not too ghoulish to call it that – is the cemetery of the Poor Clares. The Poor Clares in Ischia were a religious order of nuns whose bodies were propped upright after death until they fully decomposed. You can still see the room where dead nuns would be seated around the walls. If that all sounds too grim, just stay outside and enjoy the beautiful gardens and views towards Capri, just a few miles away across the Bay of Naples.
Once you've toured the castle, walk back across the bridge to the small town of Ischia Ponte. There are a range of interesting shops, a small museum about Ischia's relationship with the sea, and plenty of restaurants. I recommend Garden Fruit Ischia, a gorgeous little spot that's 70% the most Instagrammable fruit and veg shop you've ever seen and 30% restaurant serving simple and delicious bruschetta, salads and fruit juices.
This post contains affiliate links – all this means is if you buy something as a result of clicking a link, I'll make a small commission that helps me run this site. There's no cost to you.
2. Thermal springs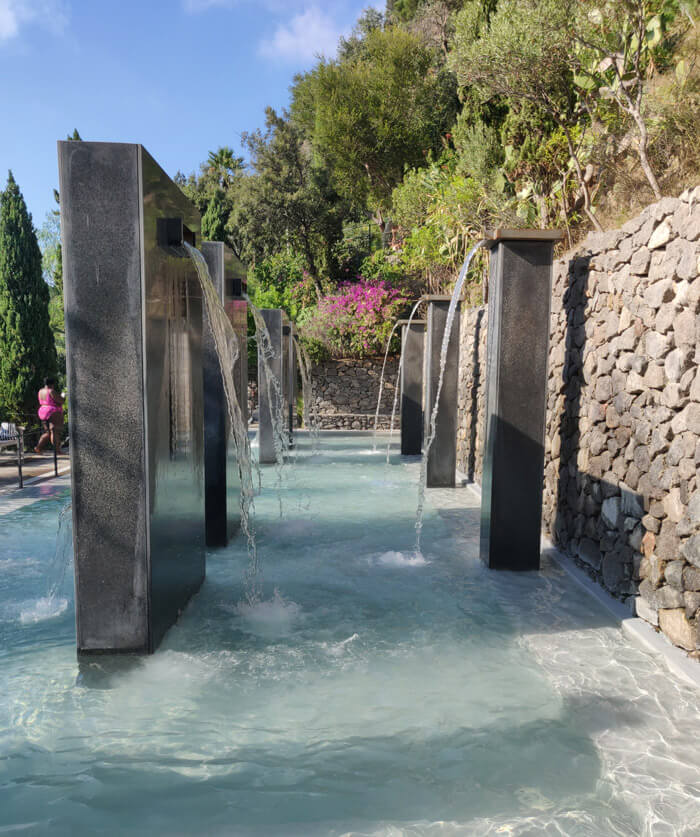 If it isn't the views and the picturesque towns that prompt you to visit Ischia, it'll be the hot springs. Ischia is a volcanic island and boasts over a hundred thermal springs with water that's reputed to have therapeutic benefits.
Visitors can choose from a number of places to bathe in the volcanic waters, from luxury spas to gorgeous water parks like the lovely, garden-like Negombo thermal baths and the Poseidon thermal park. I absolutely loved the day I spent relaxing at Negombo's thermal gardens, lazing about in all the different pools.
You can visit the Terme di Cavascura and bathe where the ancient Romans did, or you can visit Sorgeto beach and relax for free in thermal springs that bubble up in the sea.
The thermal springs are one of my top things to do in Ischia, and even if spas aren't normally your scene, you should try one at least once during your trip to the island.
Read my review of the Negombo thermal spa with tips for your visit
The thermal waters are so widespread in Ischia that many hotels have their own supply. Check out my travel guide to where to stay in Ischia for information on the best areas to stay and a list of hotels with thermal spas.
3. Ischia Porto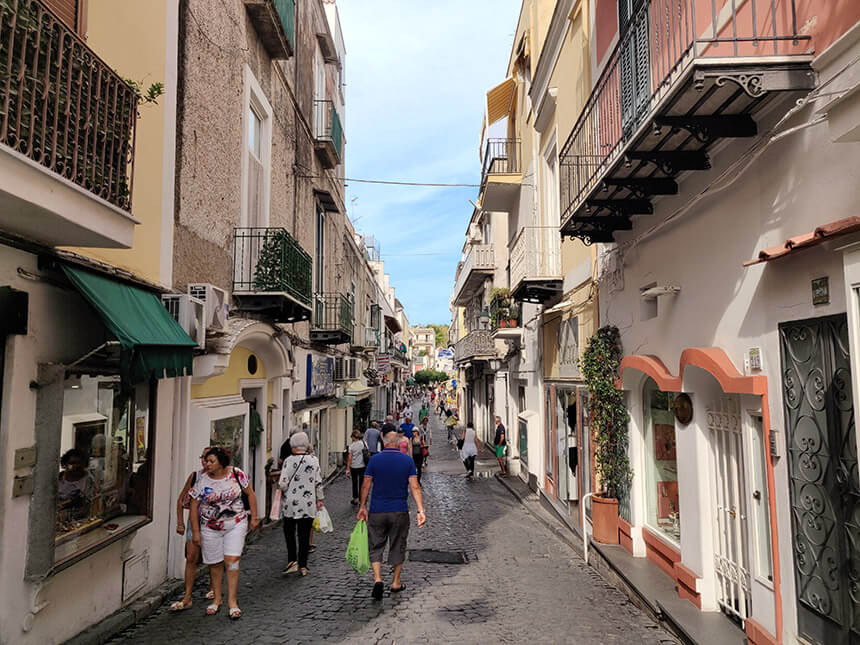 Most visits to Ischia will start in the town of Ischia Porto. As the name suggests, Ischia Porto is the main port on the island, and this is where most ferries from Naples to Ischia arrive.
The town of Ischia Porto is a popular base for visitors as it's close to lots of things to do in Ischia. The area between Ischia Porto and Ischia Ponte a mile away is packed with low-rise hotels, many of them right on the lovely sandy beaches that run along this part of the island's coastline.
Read more: where to stay in Ischia
Ischia Porto boasts the island's main shopping street, the charming Corso Vittoria Colonna, and it's a lovely place for a stroll, a drink, some dinner and perhaps a gelato on a warm summer evening.
4. Visit the Chiesa del Soccorso in Forio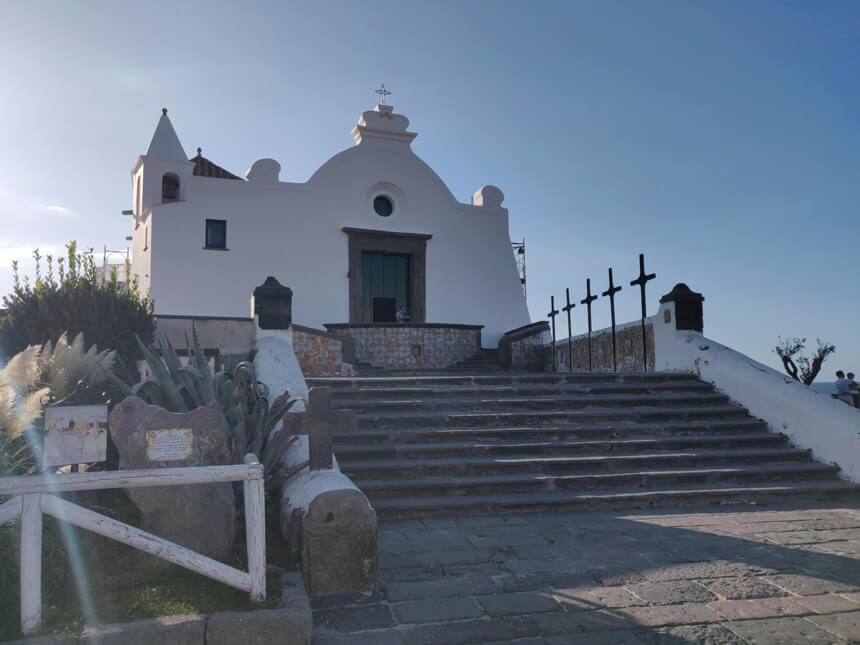 Another landmark in Ischia is the Chiesa del Soccorso. Perched dramatically on the cliffs above the Tyrrhenian Sea, this bright white church has ancient origins and is a cherished symbol of protection on the island.
A legend says that the wooden crucifix inside dates back to the 1400s and was found in the sea by some sailors, stranded in Ischia during a fierce storm. The sailors took the crucifix into the church for safekeeping, and when the storm passed, they tried to take it out again, only for the door of the church to disappear every time they tried to leave with the cross. They decided to leave it there, and there it stays, protecting the island and all the sailors who pass by.
5. See the sunset on the west coast of Ischia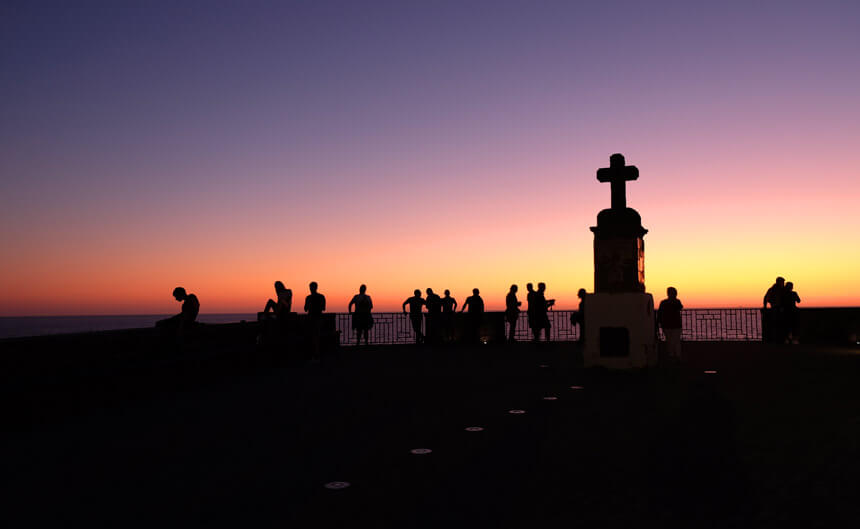 The Chiesa del Soccorso is one of the most popular sunset spots in Ischia, but you really can't go wrong anywhere on the west coast of the island. Ischia is on a very similar latitude to Ibiza, and on the west coast you can see sunsets that rival the best of the Balaerics. Watch the sun sink into the ocean, then stick around for a beautifully intense light show of pinks, oranges and purples reflecting on the waves.
6. See beautiful Sant'Angelo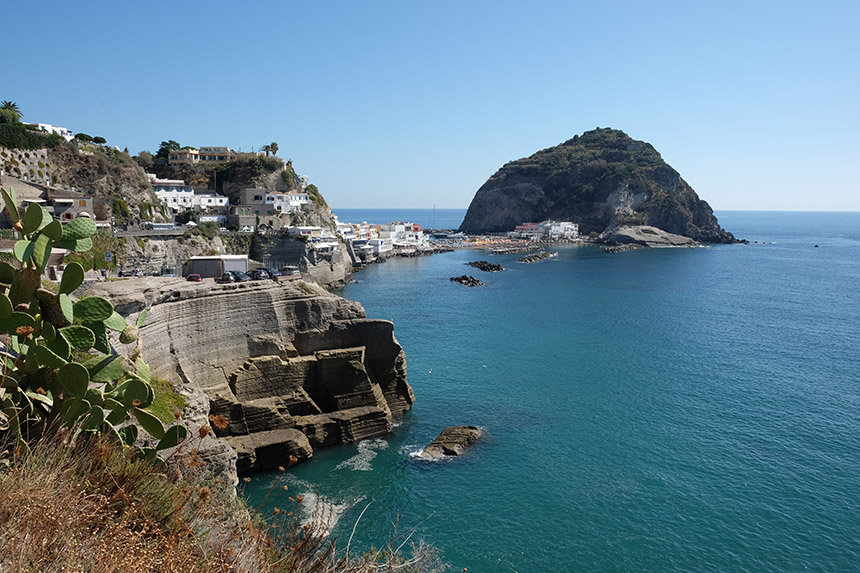 Sant'Angelo is a little fishing village, blessed with the most beautiful setting. A huge rock, a little like the one at Ischia Ponte, is connected to the mainland by a narrow causeway with beaches on both sides and crystal-clear water.
The streets are so narrow that the entire village is car-free, giving it one of the most relaxing atmospheres you'll find on an already laid-back island. Unsurprisingly, visiting little Sant'Angelo is one of the most popular things to do in Ischia.
From Sant'Angelo you can take a taxi boat to the thermal springs at Baia di Sorgeto, or to Maronti, one of the best beaches in Ischia. For incredible views of Sant'Angelo, drive or take the bus up the steep hill to the Belvedere di Serrara in the village of Fontana. Up here you can enjoy perfect vistas over Sant'Angelo and its gorgeous setting. I actually did this by mistake because I got on the wrong bus, but it was a very happy accident!
7. Hike Mount Epomeo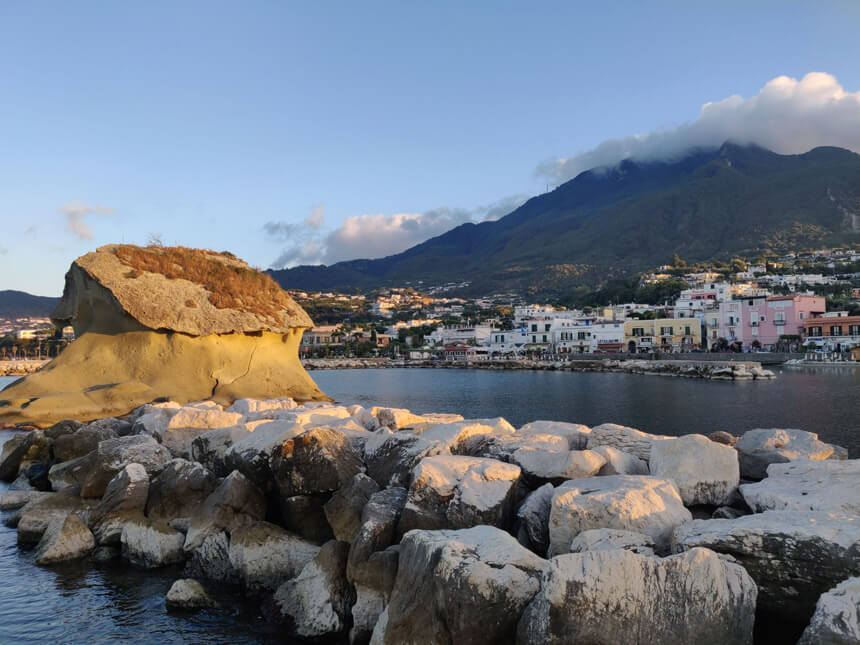 Fontana is also a starting point for one of the most popular trails leading up the island's highest mountain, Mount Epomeo. Ischia is popular with walkers, and has many beautiful hiking trails. The climb up to the top of Mount Epomeo is strenuous, but if you put in the effort you'll be rewarded with stunning views.
8. Go to the beach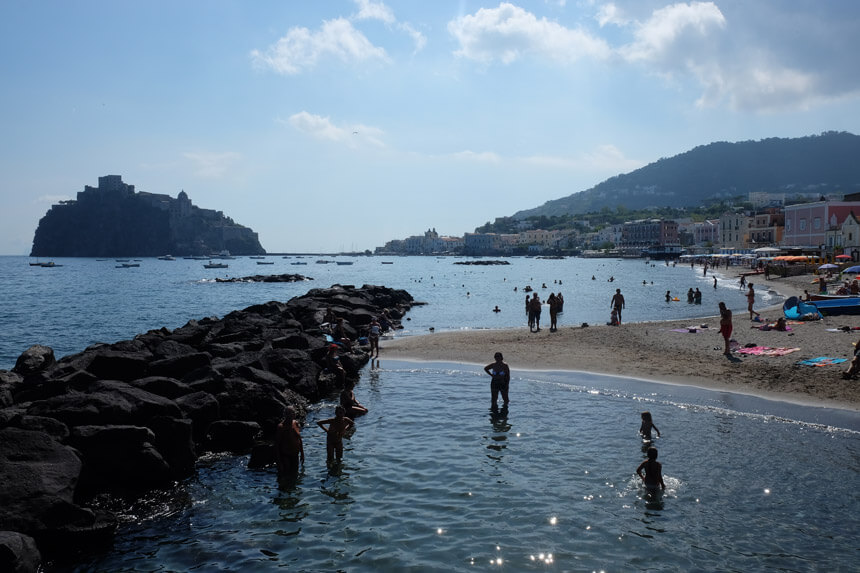 After the exertion of climbing Mount Epomeo, you'll definitely deserve a beach day. Maronti beach, near Sant'Angelo, is one of the island's most popular, but my favourite was Spiaggia dei Pescatori (Fisherman's Beach) in Ischia Ponte, which has the Aragonese castle as its backdrop and loads of passing boats to watch.
Another beautiful beach is San Montano, which you can visit as part of a trip to the Negombo thermal spa – there's a free area if you're on a budget.
There are beaches in or near most of the seaside villages and towns on the island, including Forio, Lacco Ameno and Casamicciola Terme, so wherever you stay you won't be far from a beach.
Finally, you shouldn't miss the unique experience of bathing in bubbling hot spring water at Sorgeto beach, also near Sant'Angelo. This unusual attraction is one of the top free things to do in Ischia. During the summer the bar at Sorgeto serves aperitivo drinks and snacks on floating rubber rings so you can enjoy an Italian tradition while relaxing in the thermal pools.
9. Visit world-leading gardens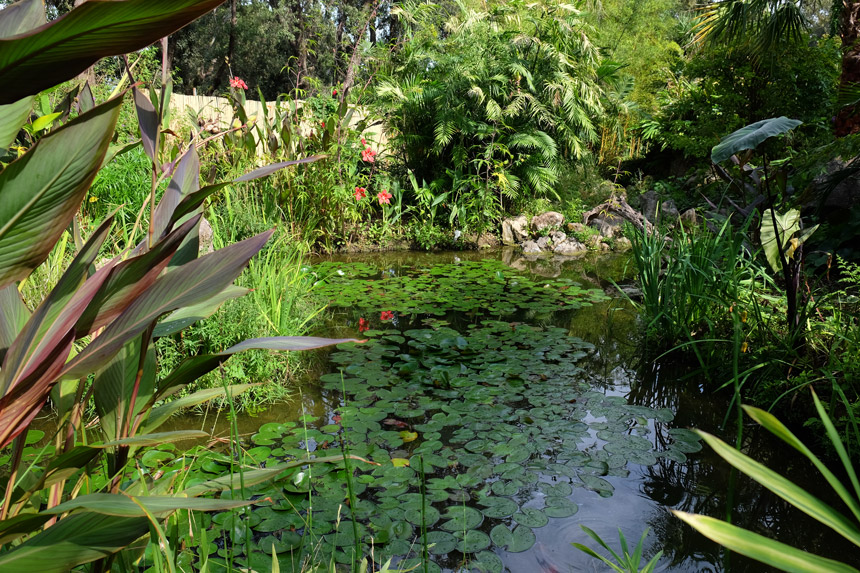 In Ischia you'll find two world-famous botanical gardens, and both are lovely to visit even if you're not a gardening buff. Giardini La Mortella is the most famous, and is one of the most beautiful gardens in Italy.
Created by the English composer William Walton's Argentinian wife Susana in 1958, La Mortella is a beautifully lush garden. It's built into a volcanic cliff face near Forio, and is partly humid and subtropical in the lower area, and Mediterranean on the upper levels.
The upper part of the garden also has an outdoor amphitheatre which hosts concerts in the summer in tribute to the couple's love of music. There are also amazing views over the sea, a very sweet tea house, a Thai style pavilion for quiet meditation and a mock ancient Egyptian temple with a water garden inside.
Ischia's other famous garden is the Ravino Gardens. At Ravino you'll find one of the largest collections of cacti and other succulents in Europe in a magical setting. Don't forget to visit the café for a cactus cocktail!
Day trips from Ischia
There are so many things to do in Ischia that you could easily fill a week, but if you do want to take a day trip off the island there are lots of options. The area around Naples is rich in world-class sights – most of them doable as day trips from Ischia.
Procida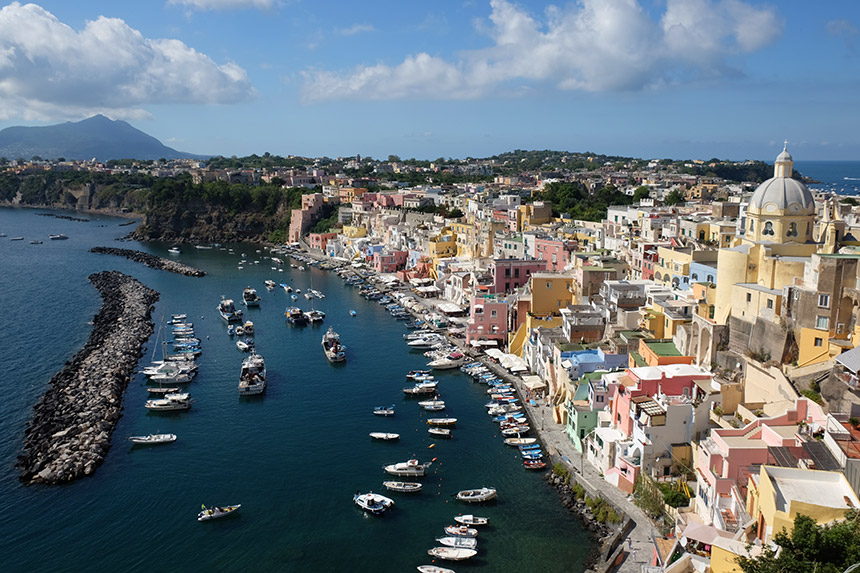 The nearest island to Ischia is the much smaller island of Procida. Taking a day trip to Procida from Ischia is really easy. Ferries to Naples often call at Procida on the way, and the journey takes only around 20 minutes.
Once you've arrived in Procida, take a walk across to the opposite side of the island and Marina Corricella. Ice cream-coloured fishermen's houses tumble down the steep cliff to the working harbour below, watched over by a medieval fortress.
Read more about things to do in Procida
Capri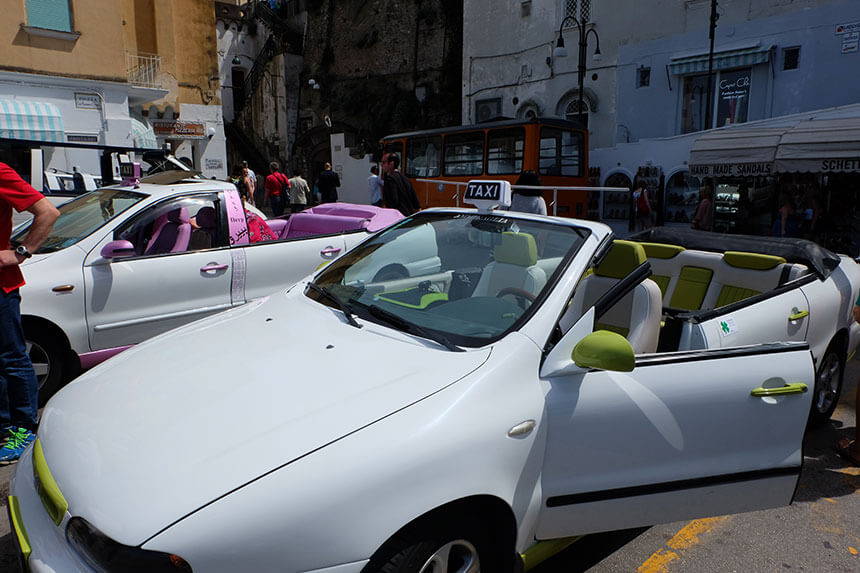 Ischia's glitzy sister island is an hour away by hydrofoil. Ischia is much cheaper, calmer and less crowded than Capri, with more to do, so I'd definitely recommend staying on Ischia and doing a day trip to Capri. When you go to Capri, don't miss the chair lift up to the top of Monte Solaro – the views are to die for.
Pompeii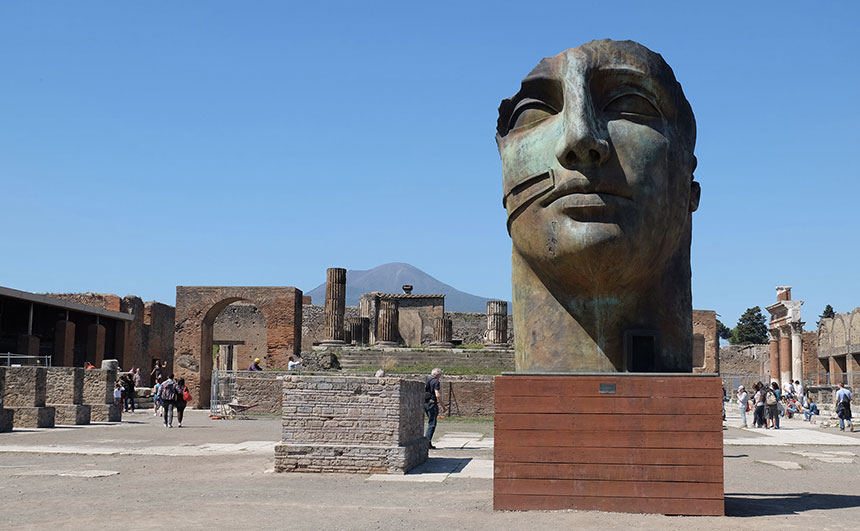 Visiting Pompeii from Ischia will involve taking a ferry, a bus (or taxi) and a train, but isn't one of the world's most iconic archaeological sites worth the effort? To get there, catch a ferry to Naples, then head towards Porta Nolana station. From there it's a quick hop on the Circumvesuviana local train to the ruins. You'll be rewarded with a fascinating day exploring a surprisingly large Roman town.
If you enjoy Pompeii, then you may also want to climb Vesuvius, the volcano which destroyed it, to see the still-active and smoking crater. The ruins of Herculaneum, another Roman town engulfed by the volcano, are also nearby.
Sorrento and the Amalfi Coast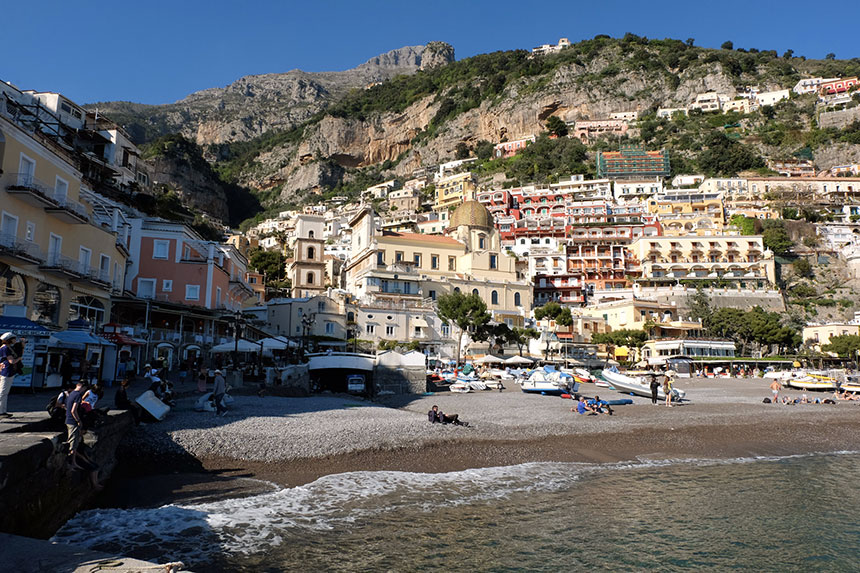 A morning hydrofoil from Ischia Porto across the gulf of Naples puts the pretty resort town of Sorrento on the mainland within reach for a day trip, although you may need to return via Capri or Naples.
From Sorrento, it's possible to take a bus or boat trip to the legendary Amalfi Coast. I recommend doing at least part of this trip by boat; Positano in particular looks especially stunning from the water.
Naples
Naples has a reputation for being busy, scruffy and dangerous, but it's not entirely deserved, and the city has an awful lot of interesting things to do – not least the world-renowned National Archaeological Museum in Naples. If you're craving a bit of city life on your island break, Naples will definitely satisfy.
Tips for your Ischia trip
How many days do you need in Ischia?
Ischia is a popular destination for short breaks, and long weekend trips or stays of 3-4 days are a popular choice. On my recent trip to Ischia I stayed for a week and didn't get bored. With so many things to do in Ischia, even a ten-day to two-week stay would be really lovely and would allow plenty of time for relaxing.
Can you do a day trip to Ischia?
You can do day trips to Ischia from Naples or Sorrento, but it'd be a very full day. For a one day in Ischia itinerary, I'd recommend starting at Castello Aragonese in the morning, eating at Garden Fruit in Ischia Ponte for lunch then heading to the Negombo thermal park in the afternoon. This way you'll get a taste of Ischia's history, some of the lovely scenery and gardens at both the castle and the thermal spa, plus you'll have some beach time at Negombo and you can relax a little in Negombo's thermal pools.
What is the best month to visit Ischia?
The best months to visit Ischia are May, June and September. The island is warm and sunny, all the attractions are open and ferries are running to a more frequent, summer schedule. After the beginning of October, while the weather can still be lovely, attractions like the Negombo and Poseidon thermal parks either reduce their hours or close completely and it can be more difficult to get to and from Ischia by ferry.
How to get to Ischia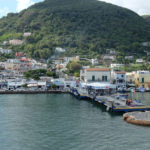 There's no airport on Ischia, so the nearest airport is Naples International Airport, which has flights to lots of destinations all over Europe, plus a summer connection to New York with United Airlines. It's well-served by budget airlines like EasyJet, Ryanair and Wizz and is close to the centre of Naples. There are two ferry ports in Naples, both of which are served by the airport bus, and the crossing to Ischia takes between 50 minutes and 1 hour 45 minutes, depending on the type of ferry you catch. I have a full guide on how to get to Ischia which is linked in the related posts section below.
Can you get around Ischia without a car?
Yes, and I did! There are two main bus routes around the island, the CS (Circolare Sinistra) which goes anti-clockwise around the island, and the CD (Circolare Destra) which takes the same route but clockwise. Easy! The buses can get a bit full, but they run regularly. You can buy a multi-day pass at the bus station in Ischia Porto. We got around by walking when it wasn't worth taking the bus, for example from Ischia Porto to Ischia Ponte, from Giardini la Mortella to Forio and from the Negombo spa to Lacco Ameno.
Related posts
If you enjoyed this post, you might find my other posts about things to do in Ischia and more places near Naples useful:
Pin things to do in Ischia for later!