I've been to Amsterdam three times and I love it – those gorgeous canals and iconic sights! But I'm not sure I would have described it as a beach city – that was until I visited Zandvoort and IJmuiden and fell in love with Amsterdam beach.
Amsterdam might not be internationally famous for its beach, but Dutch and German visitors have been enjoying the beautiful nature, fantastic food and fascinating sights here for decades. It's time for the rest of the world to discover the hidden gems of Amsterdam beach!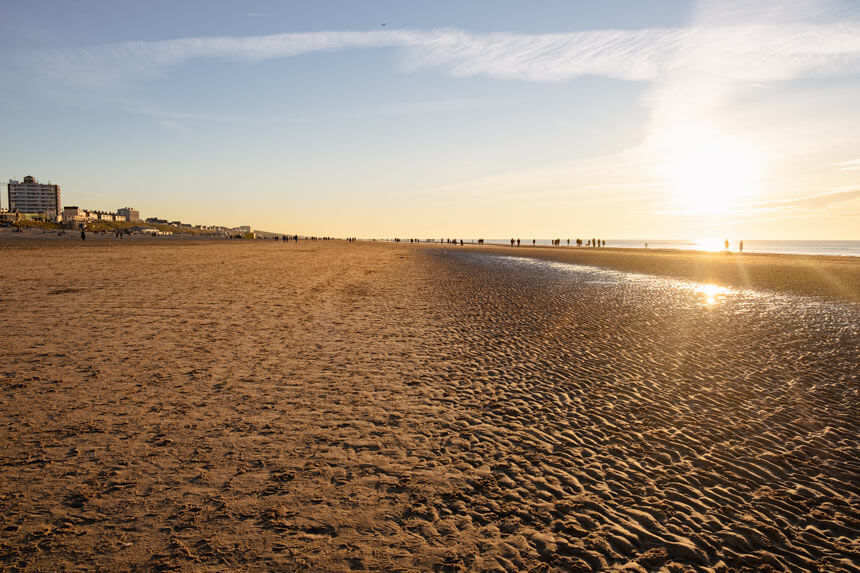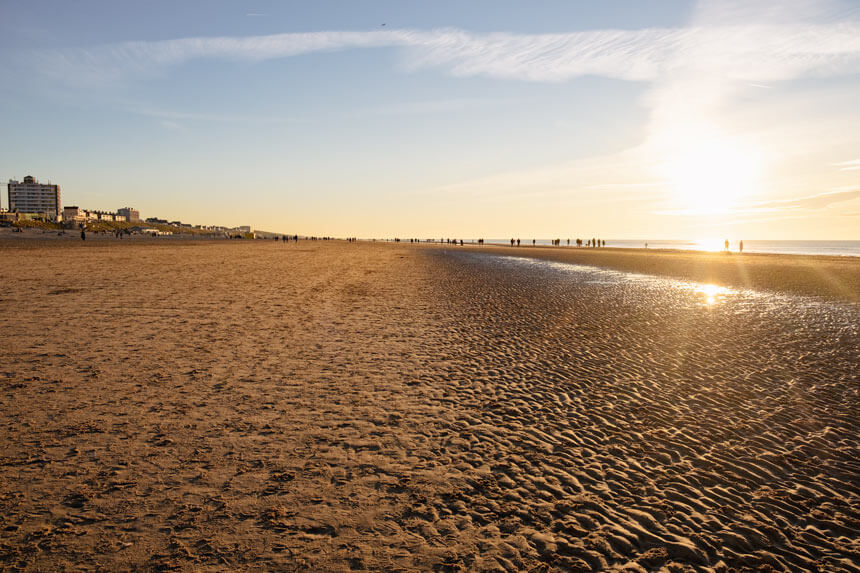 Where is Amsterdam beach?
The best beaches near Amsterdam are on the North Sea coast, to the west of Amsterdam. The main beach resort near Amsterdam is Zandvoort aan Zee, a former fishing village with a pretty town centre, an absolutely stunning wide sandy beach and loads of facilities for visitors. Zandvoort is surrounded by nature, but a trip to Zandvoort is nothing if not exciting; it's also home to the Dutch Grand Prix!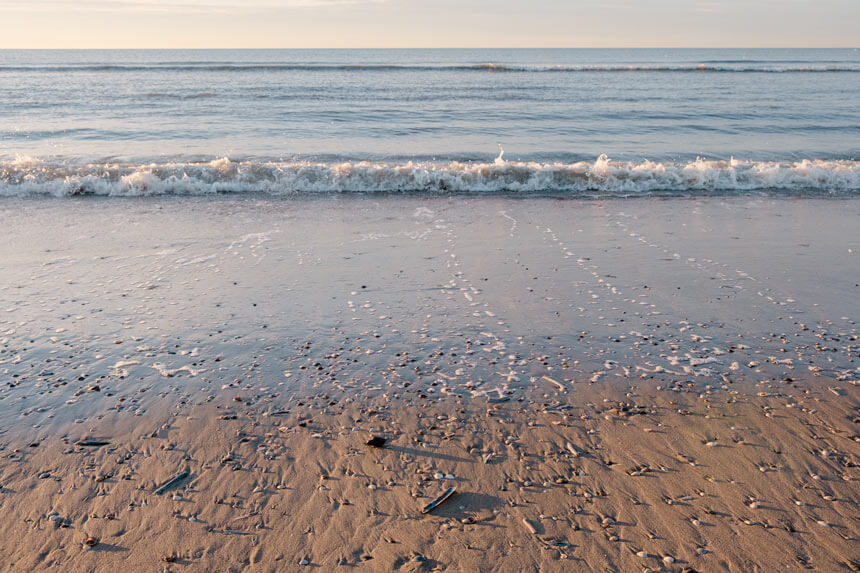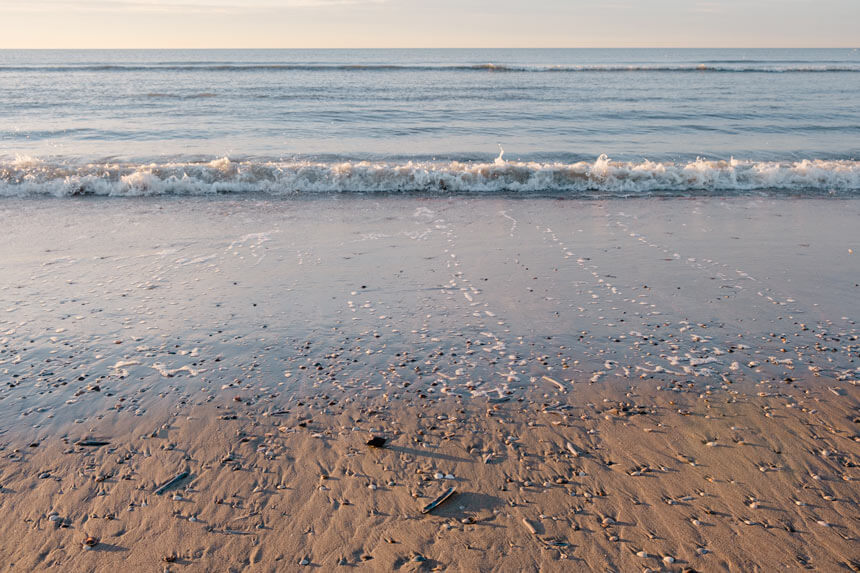 Just up the coast, you'll find IJmuiden, Amsterdam's port town that prides itself on its raw beauty. The sea powers everything in IJmuiden; it's here where ferries and cruise ships dock, where you'll find the freshest fish and where you'll find a history of defending Amsterdam against would-be invaders from across the sea. Today, IJmuiden is using its fantastic beach and North Sea winds to power a new industry; windsurfing, sailing and blokarting.
In this post I'll show you why Amsterdam beach is worth visiting, and the top things to do on your visit. I hope you love visiting Amsterdam's beach as much as I did!
I visited Amsterdam beach on a press trip organised by amsterdam&partners. As always, the opinions in this post are my own.
Reasons to visit Amsterdam beach
The amazing beaches
Of course, the main draw of Amsterdam's beach is the beach itself, and it's a stunner. Wide, sandy and safe, the beaches along the Netherlands' North Sea coast are exceptionally beautiful. And because they face west, the sunsets here are to die for.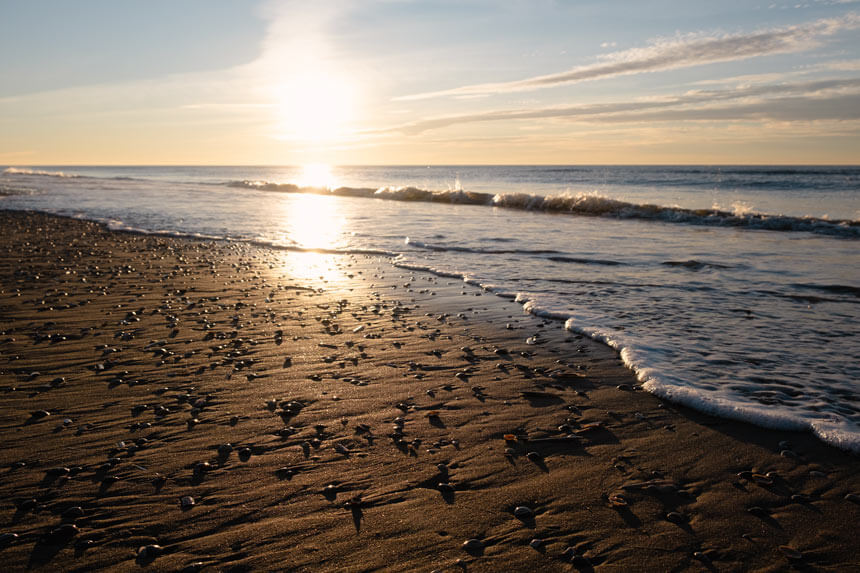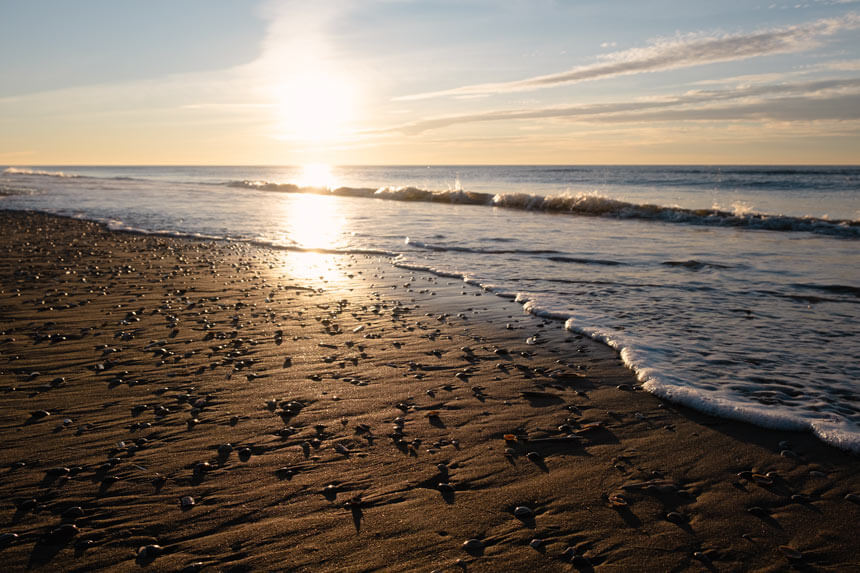 Zandvoort beach
The beach in Zandvoort is Blue Flag accredited for its cleanliness and safety. During the summer, the sands are full of people enjoying the sunshine. In the autumn and winter, residents and visitors alike enjoy uitwaaien, a Dutch word meaning to walk in the fresh air on a slightly cold day, blowing the cobwebs away.
The beach in Zandvoort is backed by a wide promenade and lots of beach pavilions, some of which stay open all year round. During my visit to Zandvoort, I had dinner and drinks at Club Nautique, where you can either stay cosy indoors and watch the waves, or sit outside in the fresh sea air. Other beach clubs in Zandvoort which are open all year round include Nius Beach House, which has an inviting open fireplace, and Thalassa, a family-run restaurant which prides itself on the quality of its food.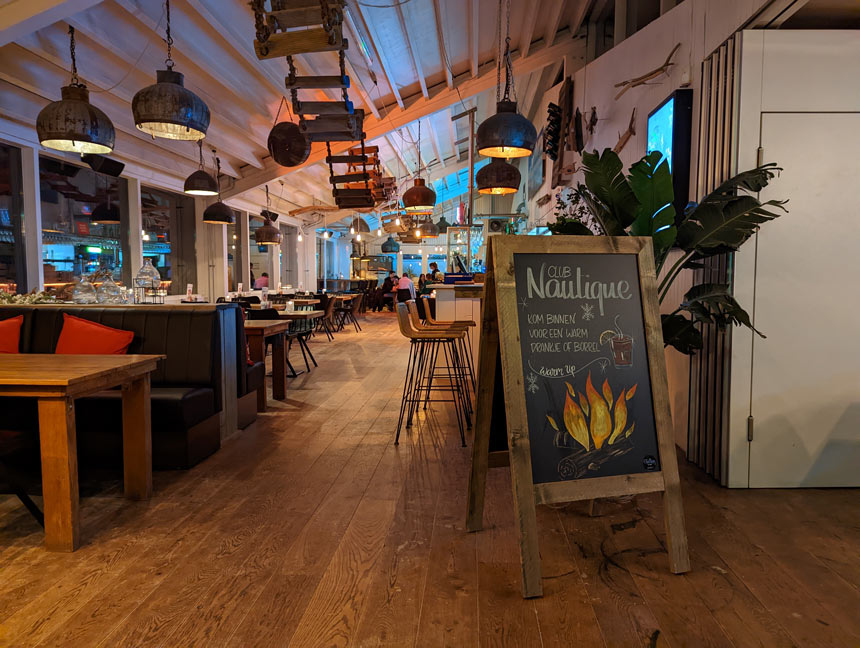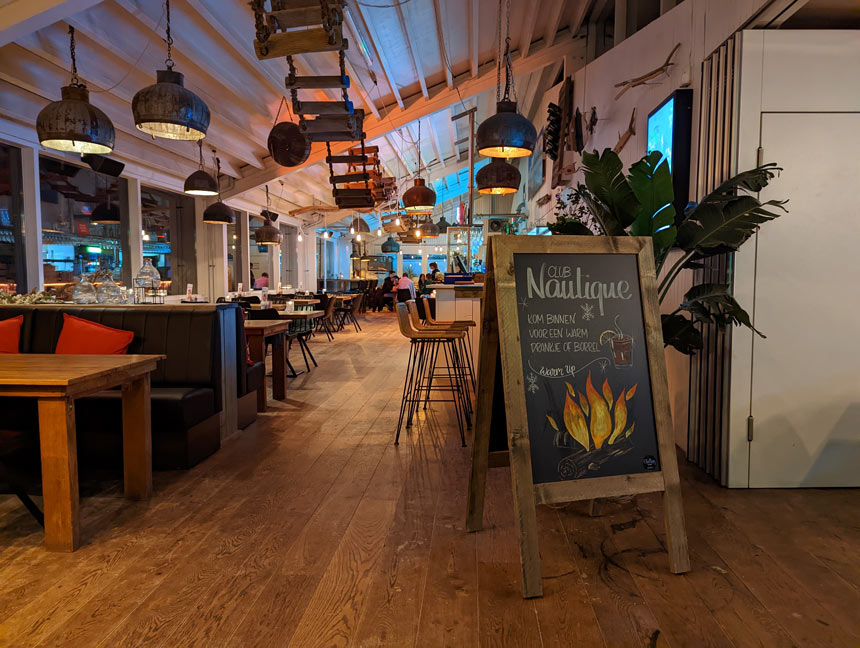 IJmuiden beach
Amsterdam's beach stretches from Zandvoort to IJmuiden in one continuous sweep of sand. For much of that distance, it's backed by the Zuid-Kennemerland National Park. At the northern end of the beach, in IJmuiden, the sand gets even wider, meaning there's plenty of space for activities. If walking on the beach isn't quite exciting enough for you, at IJmuiden beach you can learn how to surf, kiteboard or sail, or try blokarting, which is simple enough for complete beginners to pick up easily.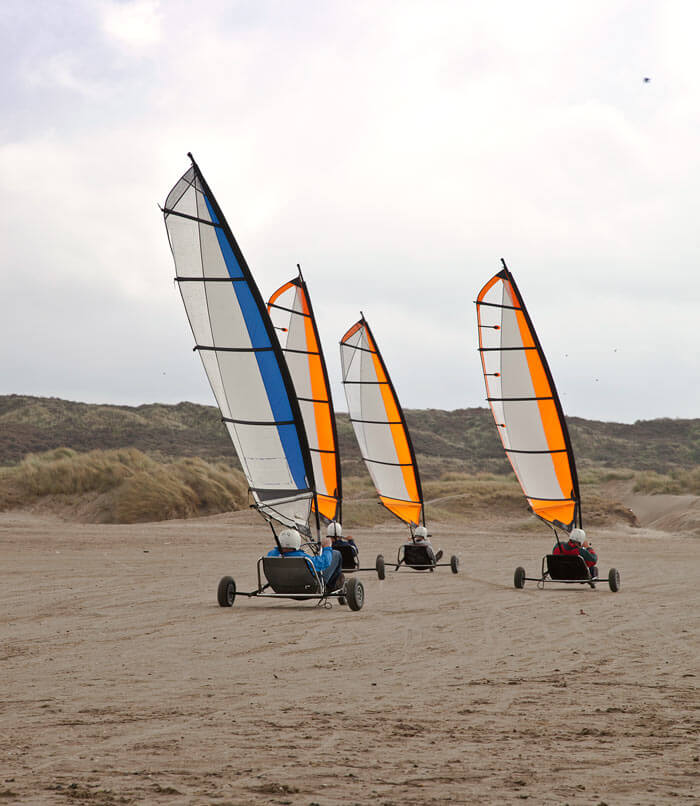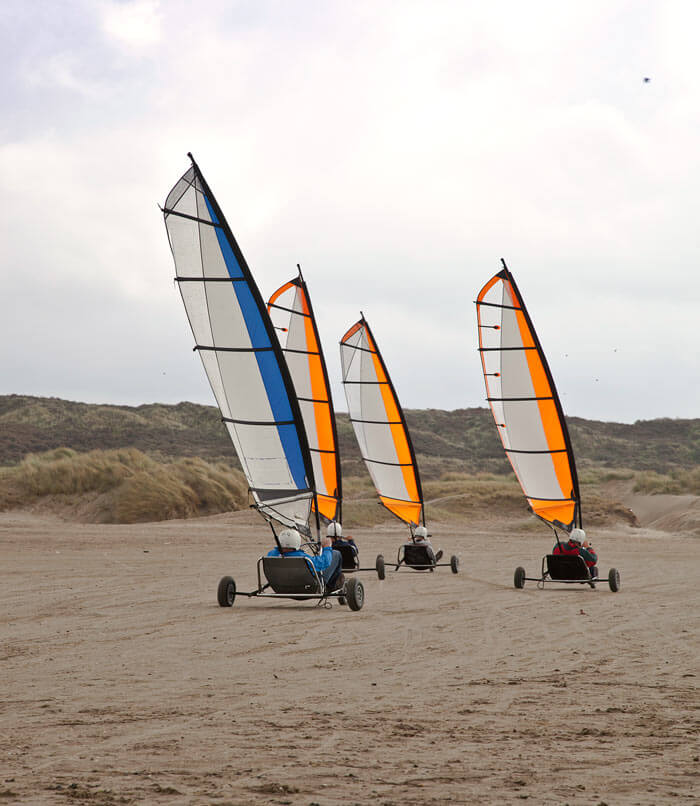 IJmuiden beach also has some great beach bars, perfect for relaxing after enjoying the wind and waves – or for chilling out with a book while someone you're travelling with exerts themselves! The Beach Inn is open all year round and has held the coveted Green Key Gold quality mark since 2015 for its commitment to sustainability. Makai, between the marina and the beach, is a bar, restaurant and watersports school with a laid-back vibe.
Wonderful nature
The North Sea coast around Zandvoort and IJmuiden is home to a string of beautiful and varied nature reserves – as well as a particularly fun way to explore the natural beauty of this area.
Amsterdamse Waterleidingduinen
In Zandvoort, I was lucky enough to be given a guided tour of the Amsterdamse Waterleidingduinen. The Amsterdamse Waterleidingduinen is just to the south of Zandvoort and covers an area 10 kilometres long and 5 kilometres wide, right off the beach and full of beautiful nature.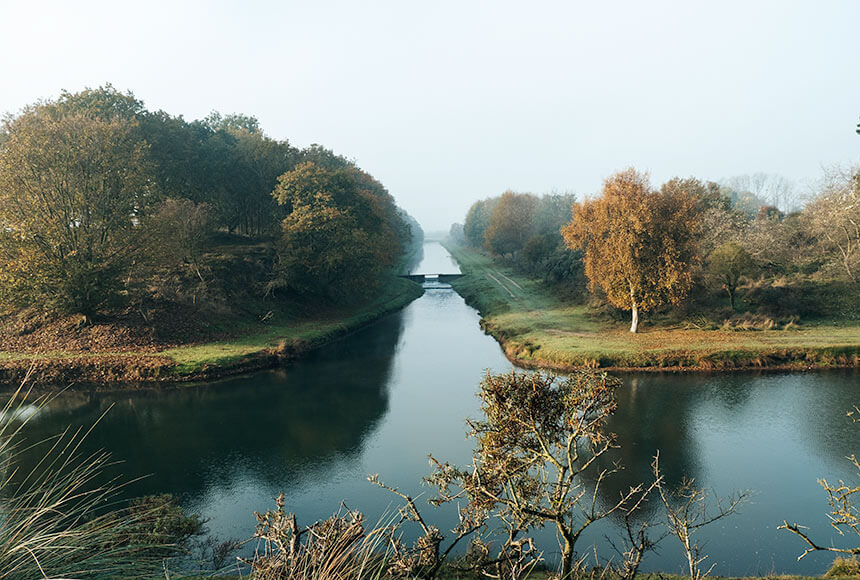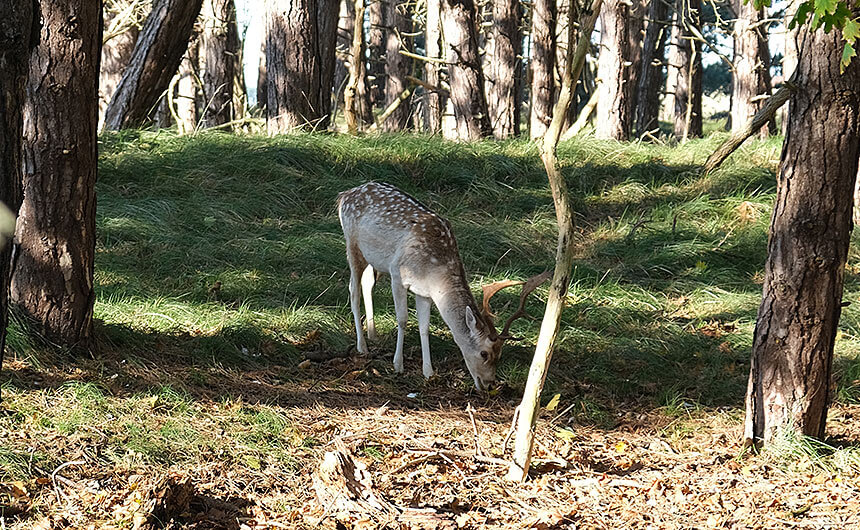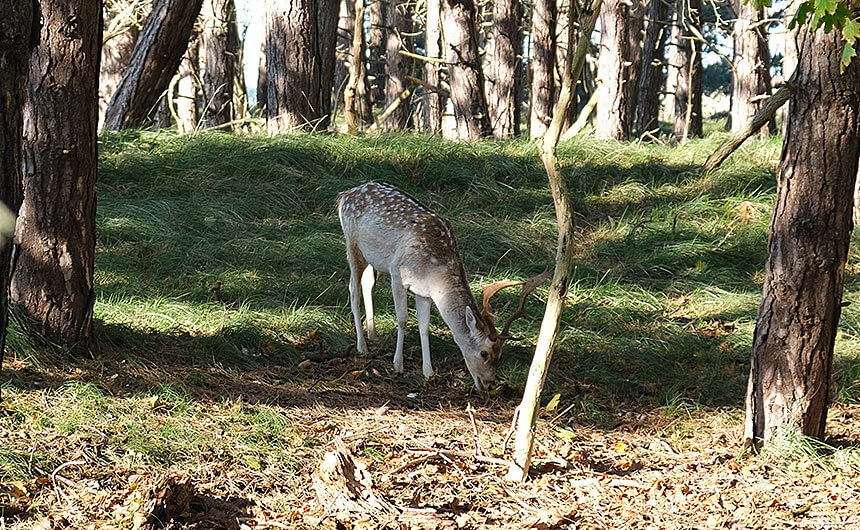 Amsterdamse Waterleidingduinen means Amsterdam Water Supply Dunes – and this lovely area does have a really important day job. The dunes, pine forest and water channels here are probably the prettiest water treatment centre you've ever seen; water from the Rhine river is pumped into the sand, which then filters it in an entirely natural way over the next 3 years. The final step is for the sand-filtered water to be pumped to another treatment centre to make sure it's safe to drink. The Amsterdamse Waterleidingduinen have been providing safe drinking water for the city of Amsterdam since 1853.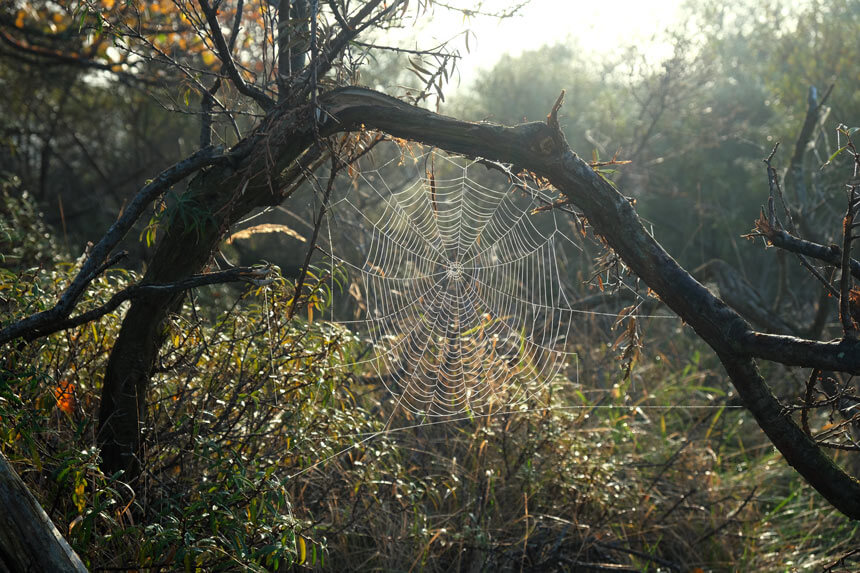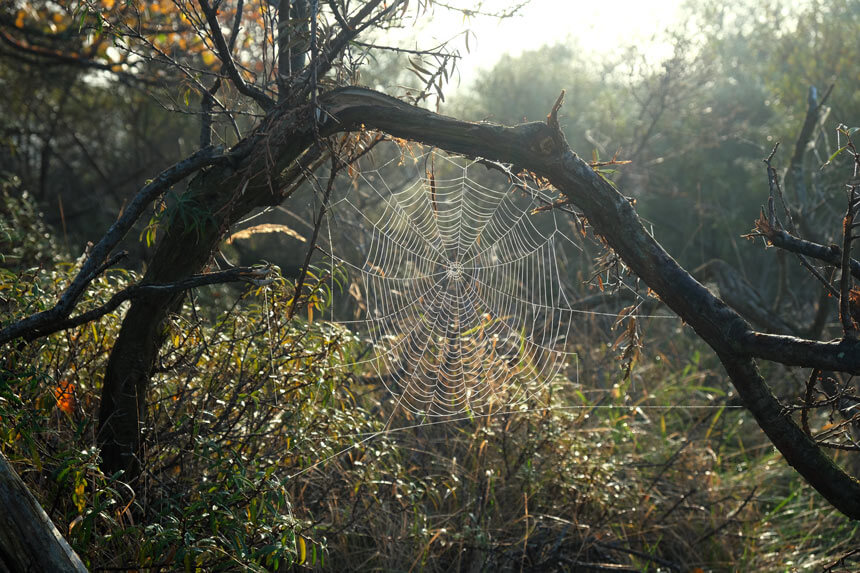 Visiting the Amsterdamse Waterleidingduinen is one of the best things to do in Zandvoort. In the dunes you can see birds, flowers and the Netherlands' largest herd of fallow deer. The deer are everywhere and surprisingly used to humans; you might not get super up close and personal with them but they know you're there and are ok with it. During our 90-minute walk we saw at least 10 deer, ranging from Bambi-like youngsters to majestic stags. The oldest stag of them all is Herman, a beloved Zandvoort character – if you visit in the later part of the day he might come for a walk with you!
Zuid-Kennemerland National Park
On the other side of Zandvoort you'll Zuid-Kennemerland National Park. This national park stretches all the way from Zandvoort up to the North Sea Canal at IJmuiden. Like the Amsterdamse Waterleidingduinen, the national park is right behind the beach.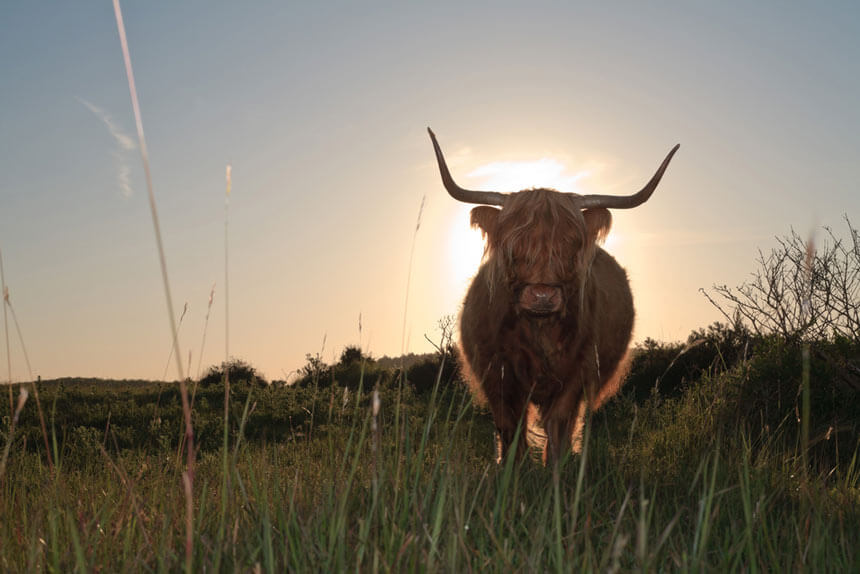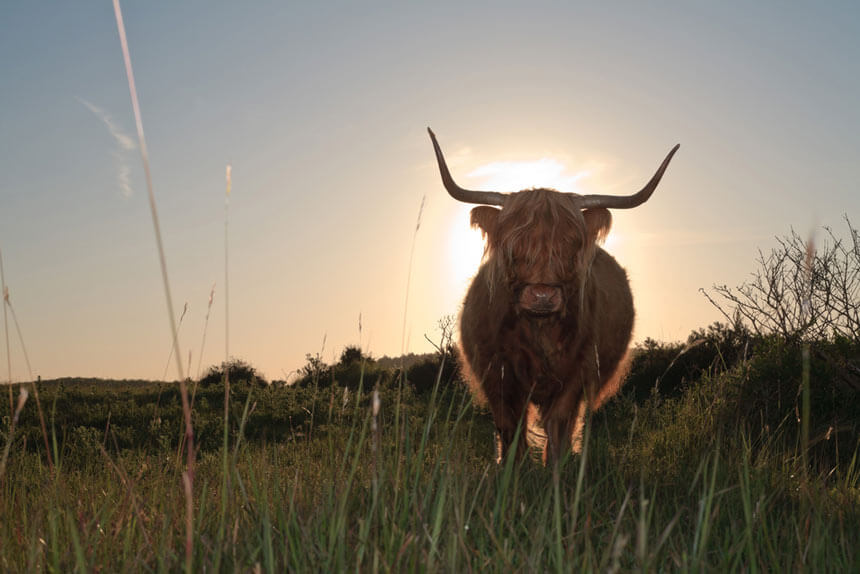 The ground here is unusually rich in lime, which means you can see plants and flowers that you might not see elsewhere, including a rare orchid. If you love seeing wild animals, you'll be in heaven here; there's a herd of Scottish Highland cattle, Konik horses, more fallow deer, roe deer and a herd of European bison. The European bison, also known as wisent. was hunted to extinction in the wild in the early 20th century but were re-introduced in a number of protected areas, including Zuid-Kennemerland, where they help to control the undergrowth in a natural way. There are also talks about re-introducing wolves and lynx to the national park.
Take a tour with Bram, the Climate Pirate
You've never been on a nature tour quite like this one! Bram, the Climate Pirate will take you on a trip in his beach wagon to explore the amazing nature on Amsterdam beach. There are a few options for tours, including a beachcombing excursion, a shrimp fishing session where Bram will show you the skills he learned from his father and a treasure hunt where you can work together on beach-themed puzzles and find the treasure.
Bram's tours are fun for all ages – everyone in our group really loved the experience and we all learned something new. My favourite new fact is that dolphins eat jellyfish tentacles to get high!
Fascinating history
History buffs will find a lot to intrigue them at Amsterdam beach.
See bunkers from Hitler's Atlantic Wall
In 1942, Hitler ordered the construction of the Atlantic Wall – a chain of fortifications along the North Sea, Channel and Atlantic coast, stretching through Norway, Denmark, the Netherlands, Belgium and France, down to the Spanish border. Bunkers built during this time can be seen all down the Amsterdam beach coast, even in the Amsterdamse Waterleidingduinen.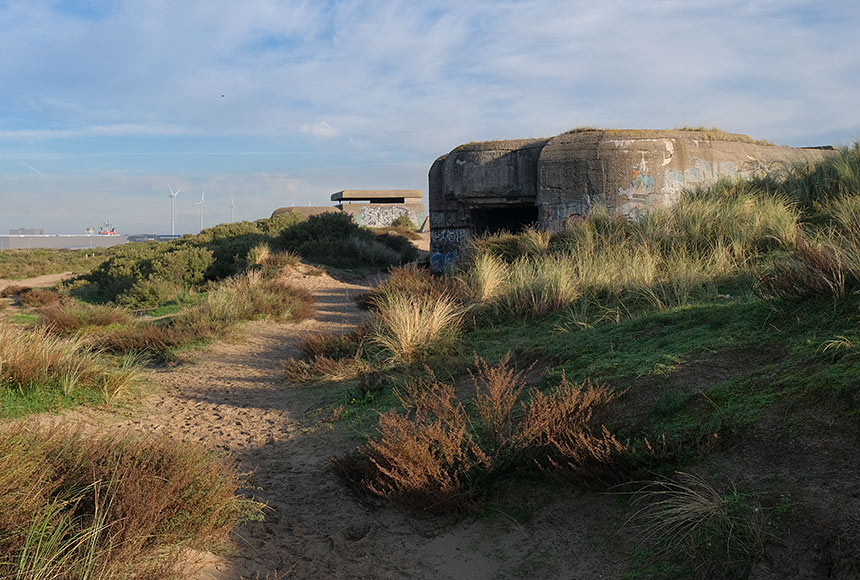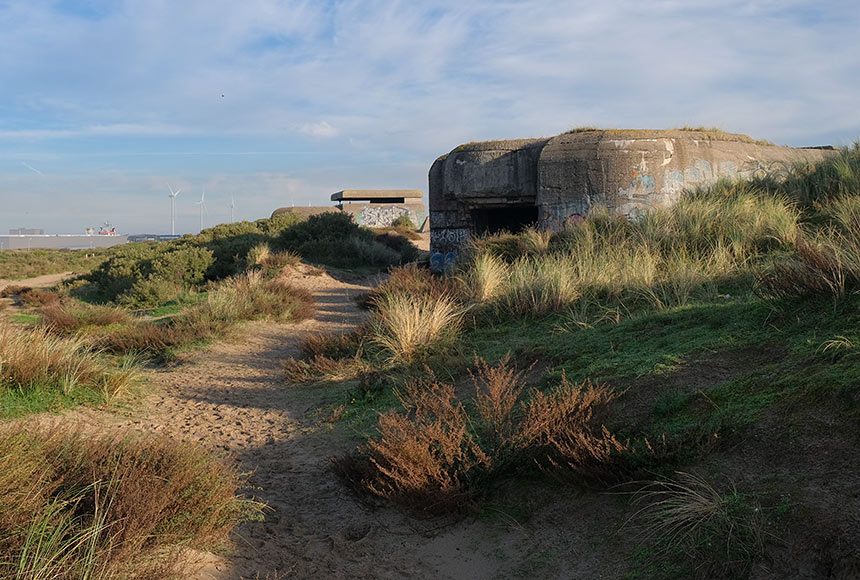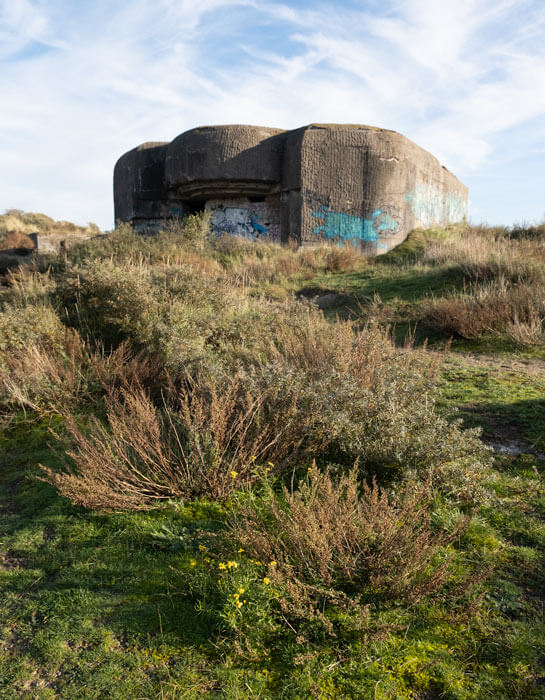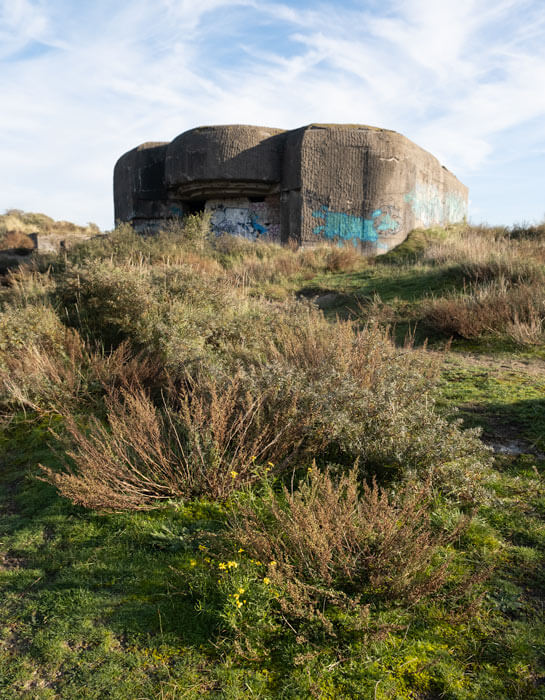 The best place to see the bunkers is in IJmuiden. You can visit the Bunker Museum here, where 6 preserved underground bunkers tell the story of the Atlantic Wall. There are also a number of huge bunkers above ground at the northern end of the Zuid-Kennemerland National Park; wandering through the lovely dunes then coming across these hulks of concrete is quite a contrast. Our guide showed us pictures of the bunkers from the 1970s when some of them were turned into holiday homes – quite the unique stay!
Fort Island, IJmuiden's UNESCO World Heritage Site
Located at the entrance to IJmuiden's harbour, Fort Island is intriguing and mysterious. From the moment you step on board the boat to the island, there's a sense of anticipation.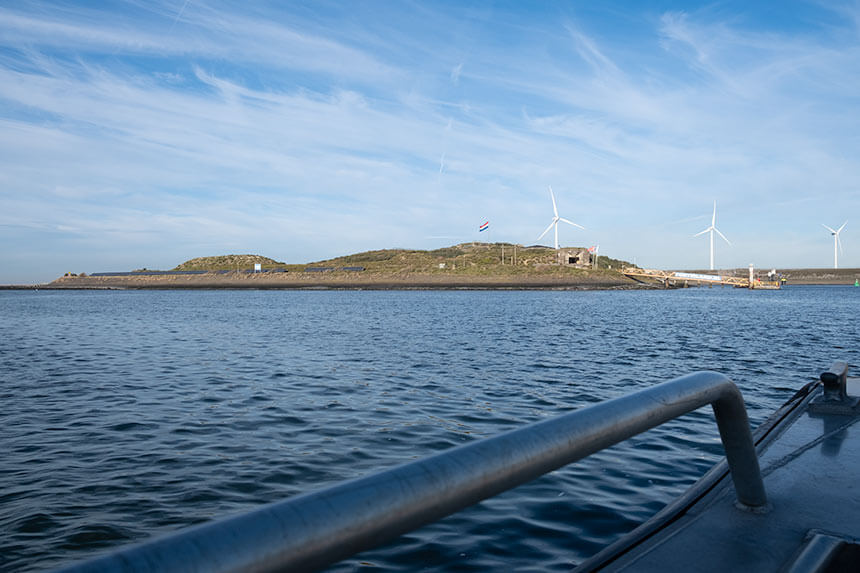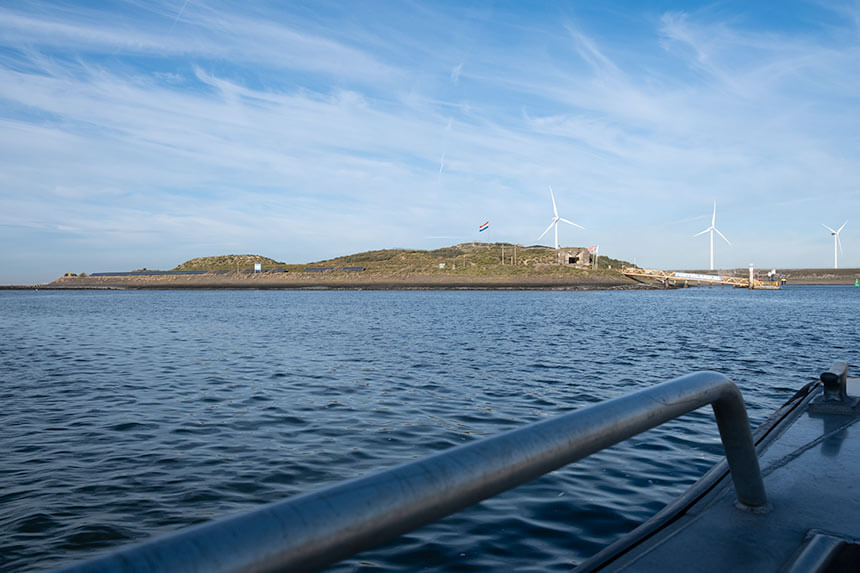 Fort Island was built in the late 1800s as part of the Amsterdam Defence Ring (Stelling van Amsterdam), a ring of 46 forts and batteries designed to protect the Dutch capital. The whole ring of forts was listed as a UNESCO World Heritage Site in 1996.
Fort Island IJmuiden is the largest fort in the Amsterdam Defence Ring and a fascinating, strangely beautiful place. It was taken over and expanded by the Germans during WW2 as part of the Atlantic Wall, but most of what you'll see is from the original 120 year old fort. There is history everywhere, from the world's largest iron roof over the semicircular room that once held precisely-calibrated cannons, to the wall paintings done by bored German soldiers in the old refectory.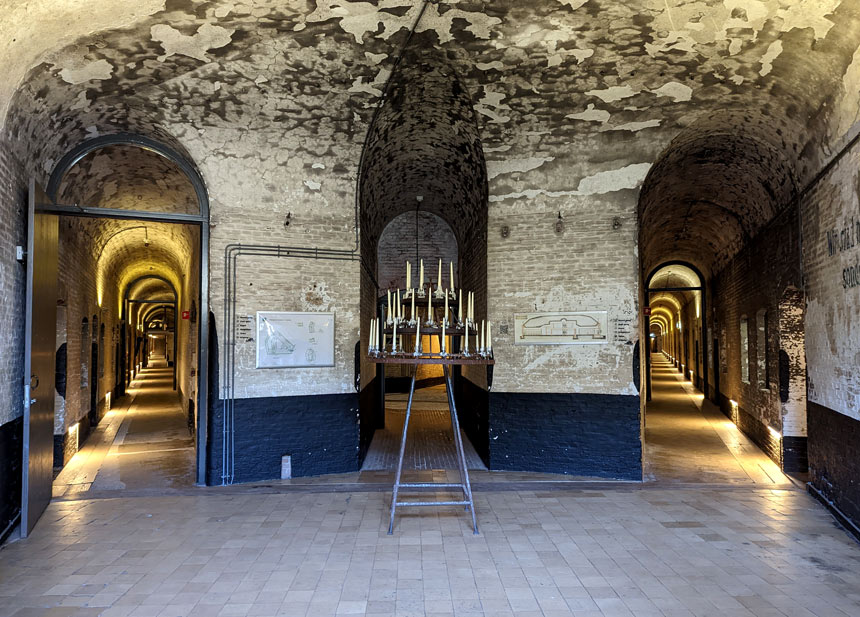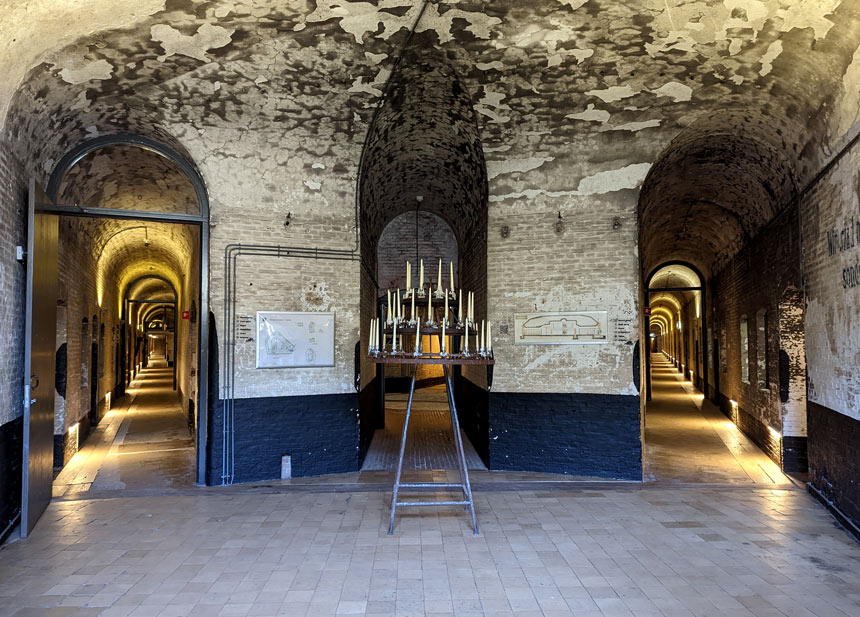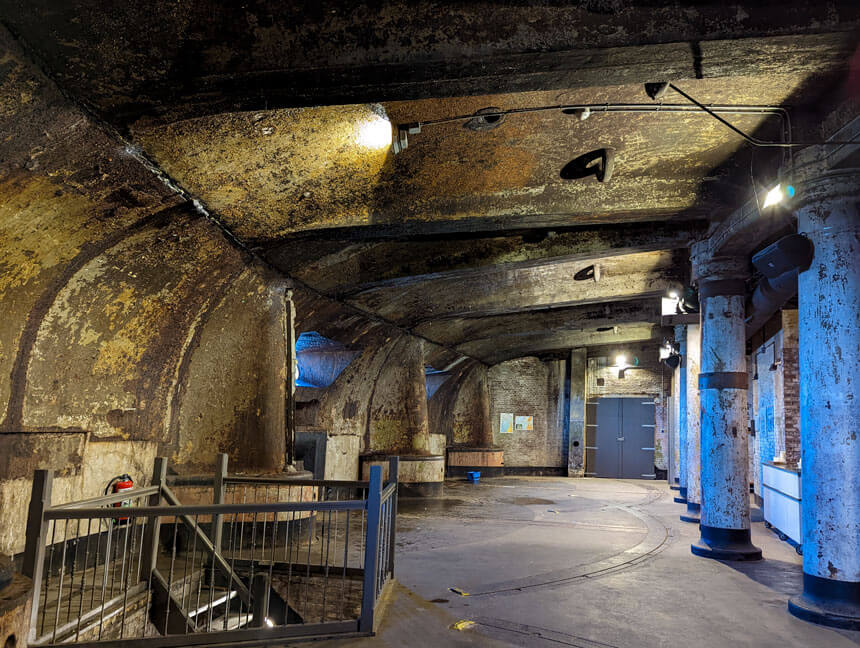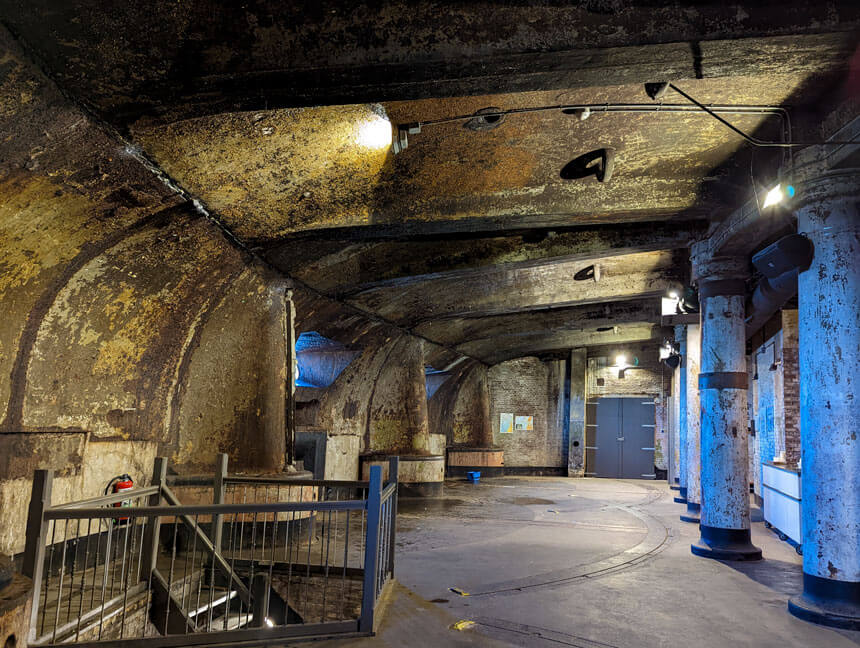 Fort Island IJmuiden is now used as an extraordinary venue for meetings, parties and team-building events. They specialise in fun activities that use the old fort to its full extent – they can even turn the whole place into an enormous escape room – the biggest in the Netherlands! It's open to the public once a month for historical tours, and several times during the year for family days, when you can try some of the activities like archery, beam balancing at the top of one of the old turrets and Morse code challenges. You can check dates and book tickets on their website.
Country estates
During the Dutch Golden Age of the 17th and 18th centuries, Amsterdam was prosperous, industrious and just a little stinky. Wealthy people sought out the fresh air around the villages of Bloemendaal and Velsen which were now accessible from Amsterdam by canal, and began to buy up land to build themselves weekend retreats close to the seaside.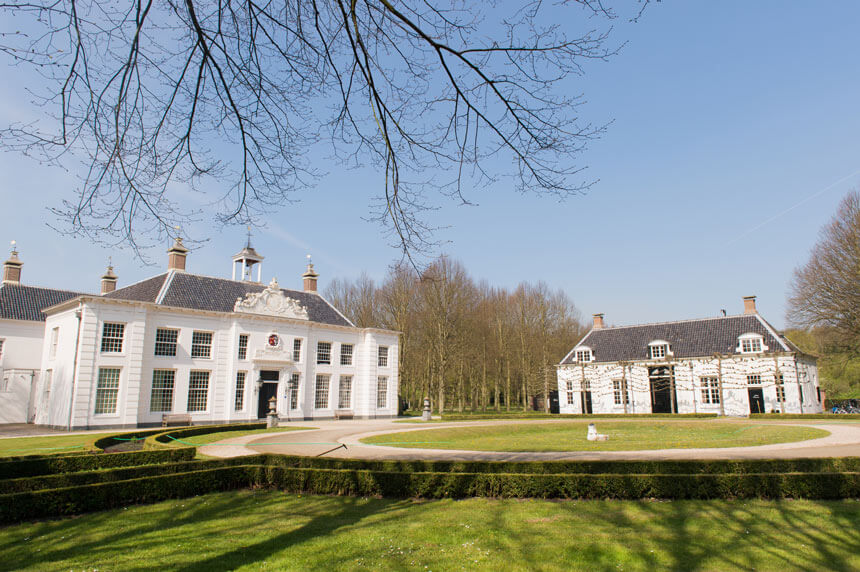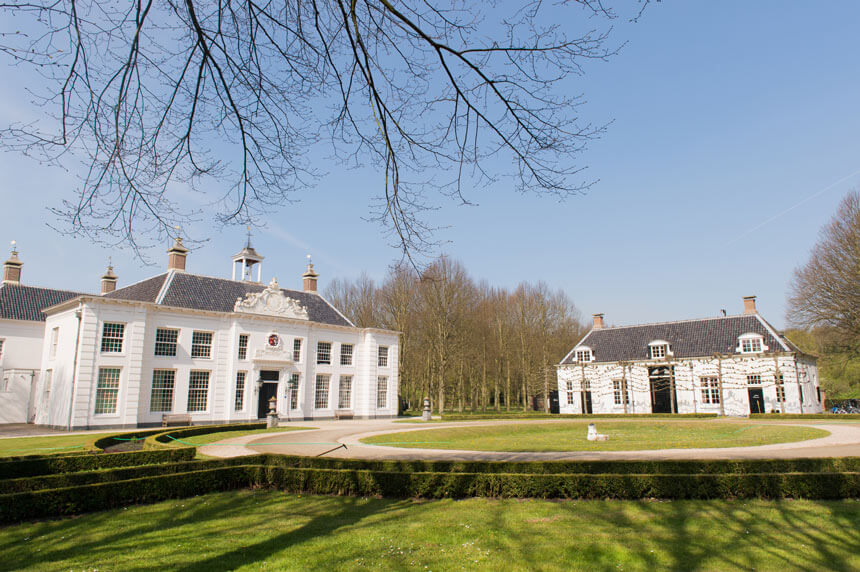 I visited one of these country estates on my visit to Amsterdam beach (Landgoed Waterland, now the Plantage Rococo hotel and restaurant) but there are several others that are open either as hotels or museums that you can visit.
Zandvoorts Museum
While the seafront in Zandvoort today is dominated by post-war buildings, it wasn't always like that. Zandvoort first became a popular beach resort in the late 1800s when the railway arrived, making the little fishing village an easy and fashionable beach escape from Amsterdam and Haarlem. A number of large hotels and luxurious villas were built along the seafront to accommodate the rush of visitors. When building of the Atlantic Wall began in 1942, access to the beach was forbidden and the beautiful Belle Epoque hotels were all demolished to make room for fortifications.
You can find out more about the history of Zandvoort and see old photographs of how Zandvoort used to look by visiting Zandvoorts Museum, in the middle of town. Zandvoorts Museum also has a collection of art depicting the Amsterdam beach area and some suggestions for self-guided walking tours.
The "sloppies" – pretty streets behind the beach in Zandvoort
Even though the old hotels at Amsterdam beach have gone, there's still a lot of old-world charm in the streets behind the seafront. Locals call these narrow streets lined with pretty cottages the "sloppies". My favourite street was Poststraat, which has some lovely historic houses with colourful shutters.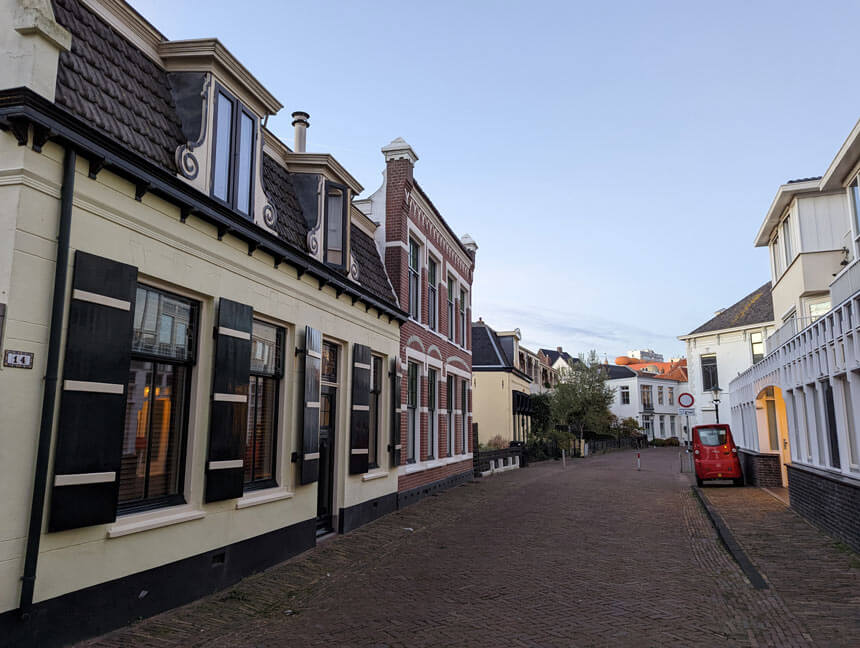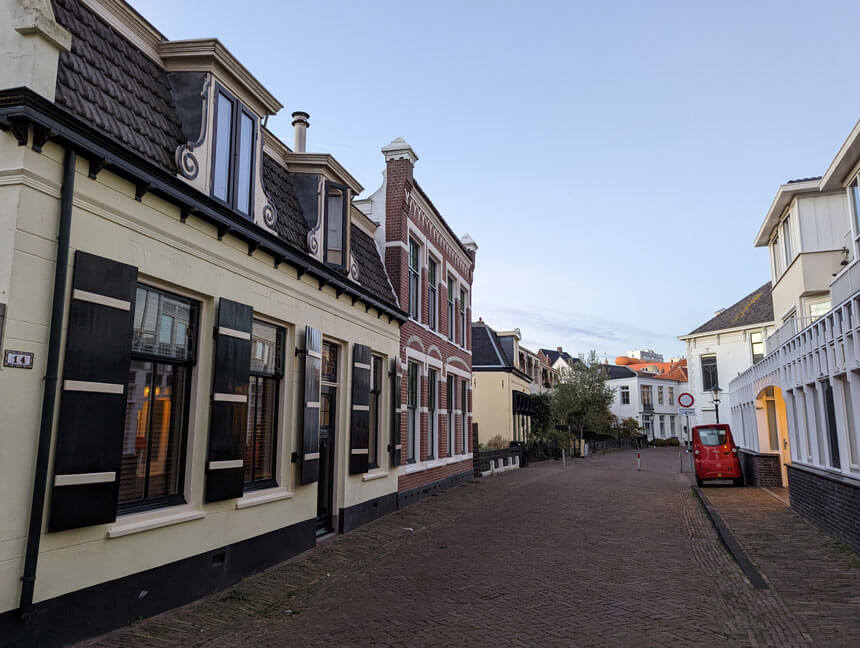 Exciting things to do
As well as the watersports at IJmuiden, Amsterdam beach has another big draw for thrill-seekers.
Circuit Zandvoort
Circuit Zandvoort is the home of the Dutch F1 Grand Prix and hosts 300 track day events every year – most of which are free to watch from the stands. I visited on a Saturday in November and got to see Lotus cars racing around the circuit.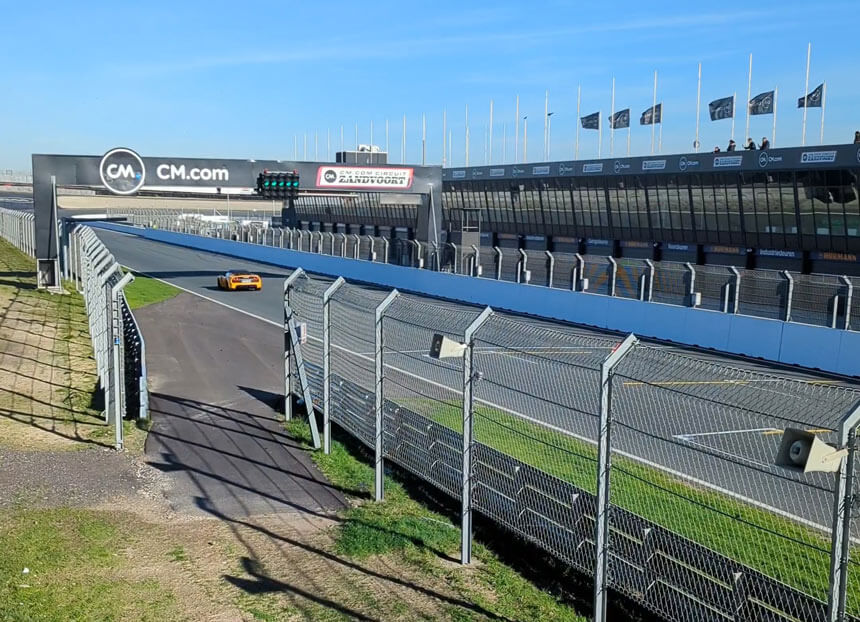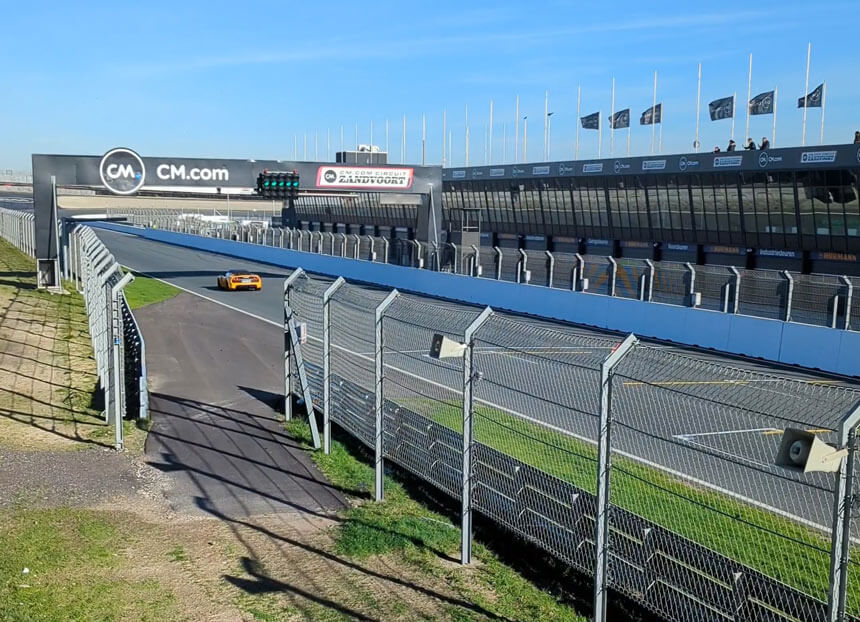 You can check what's on at the track when you visit Zandvoort by visiting the calendar on the Circuit Zandvoort website. If you fancy something to eat while you're at the circuit, Mickey's is a fun bar at the end of the pit lane with lots of interesting motorsport memorabilia.
If you want to get out on the track yourself, there are lots of driving experiences to choose from. In the circuit experience, you'll get two laps of instruction from an experienced driver in a super-fast BMW, Audi or Radical race car, followed by two or three laps to see how fast you can go! If going round and round isn't your scene, you can do a powerslide or drifting course at the BMW Driving Experience.
Another exciting activity at Circuit Zandvoort is the Racesquare F1 driving simulator. You can sit in one of 20 top-of-the-range racing sims, complete with moving, vibrating chairs, realistic pedals and steering wheels. 4k screens, light effects and even puffs of smoke makes it as realistic as it possibly can be – and of course you're right there in the stands at a real F1 circuit. I've never really been very good at racing games at home but it's so realistic that it was more like driving a (very fast!) car and I was super proud of myself for not coming last!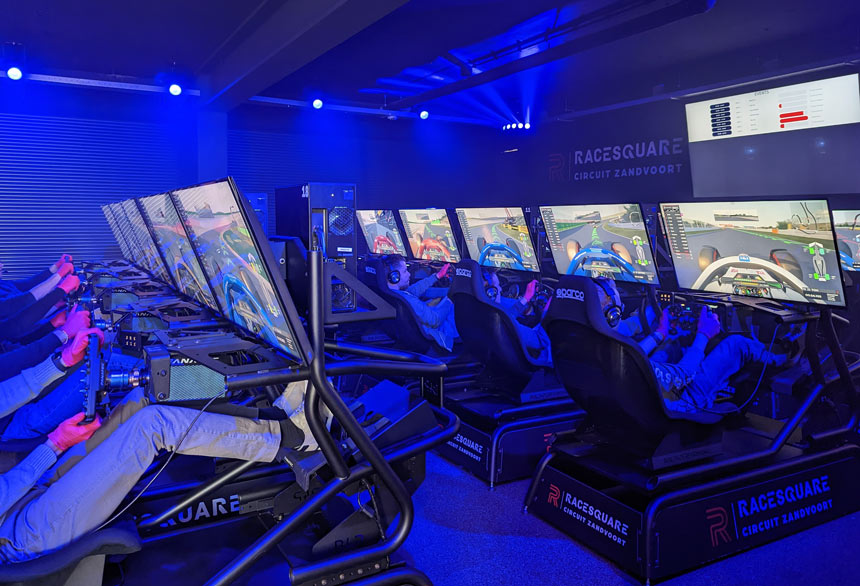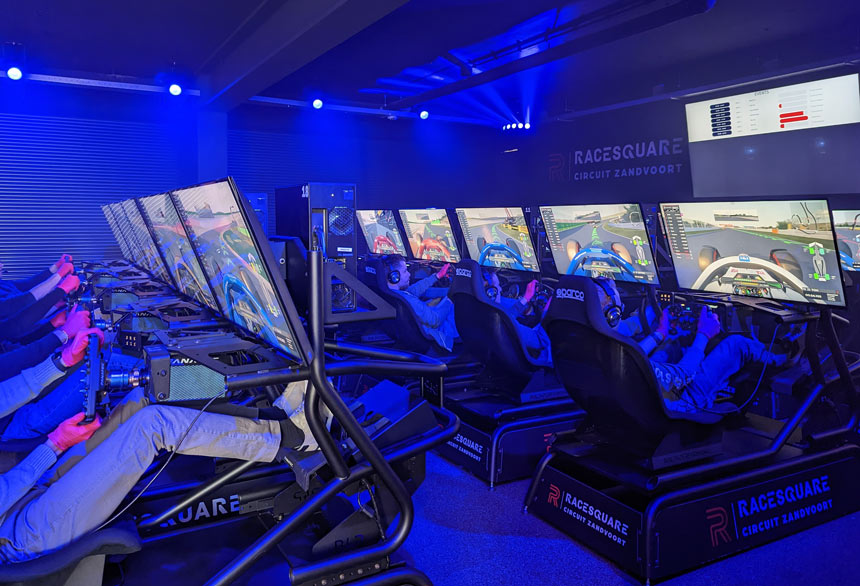 Horse riding on Zandvoort beach
If you prefer horse power to horsepower, you can go on a horse ride along the beach and through the dunes. Riding school Manege de Baarshoeve offers guided treks all year round, with options for riders of various ages and abilities.
Holland Casino
It's not really my scene (I went to Las Vegas for two weeks and only played a slot machine twice!) but if you enjoy getting a little dressed up and testing your luck, you can do that at Holland Casino, in the centre of Zandvoort. Holland Casino is open from 12pm to 3am every day and has slot machines and a range of table games.
Shopping in Zandvoort
If it's the thrill of retail therapy that makes your heart beat faster, you'll find plenty of that in Zandvoort too. Don't miss Kaashoek (Cheese Corner), where you can try delicious Zilte Zoete (Salty Sweet) cheese, only available here in Zandvoort. They also sell traditional Zandvoort chocolates, Zandkorrels, some of which are flavoured with "haddock brine", which thankfully is just spiced brandy, I hope! I also loved Zuivelhoeve by Kaashuis Tromp, a cheese shop and deli – just try and resist the smell from outside, it can't be done!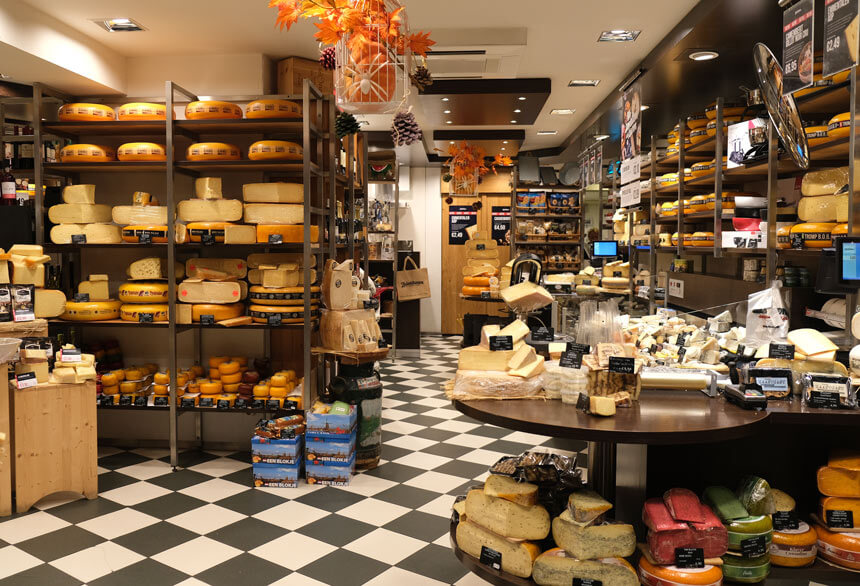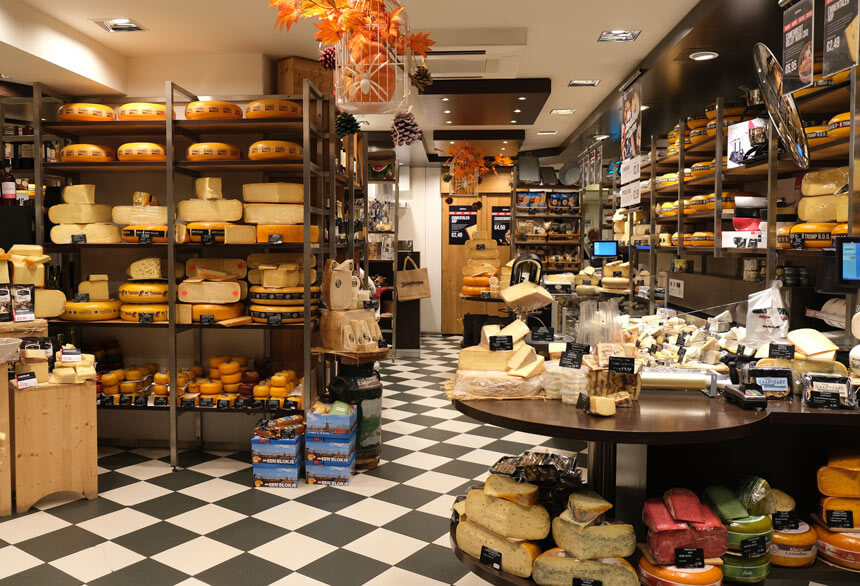 The Fera flower shop was closed when I walked past, but their window was so inviting, full of Christmassy cheer. Zandvoort also has loads of clothes shops and home shops, and a branch of my favourite Dutch chain, Hema.
The centre of Zandvoort is buzzing with cafes and bars, lots of them with pavement seating. On my trip to Amsterdam beach in November, plenty of people were enjoying an al fresco drink or a meal with friends.
When to visit Zandvoort and IJmuiden
The most popular time to visit Amsterdam beach is during the warm summer months, but there are lots of reasons to visit Zandvoort and IJmuiden in the autumn and winter too.
Autumn and winter
In October, it's mating season for the fallow deer in the Amsterdamse Waterleidingduinen and Zuid-Kennemerland National Park. The stags roar and fight each other with their antlers to assert their dominance and make sure they'll be the one to mate with the females. Since the deer around Zandvoort are relatively unafraid of humans, you've got a good chance of seeing this amazing spectacle.
October is also the last month when you can try a Zandvoort delicacy, dune potatoes – which are exactly what they sound like, potatoes that have been grown in the sand dunes. The salty sea air and the minerals in the sand give them a very special taste.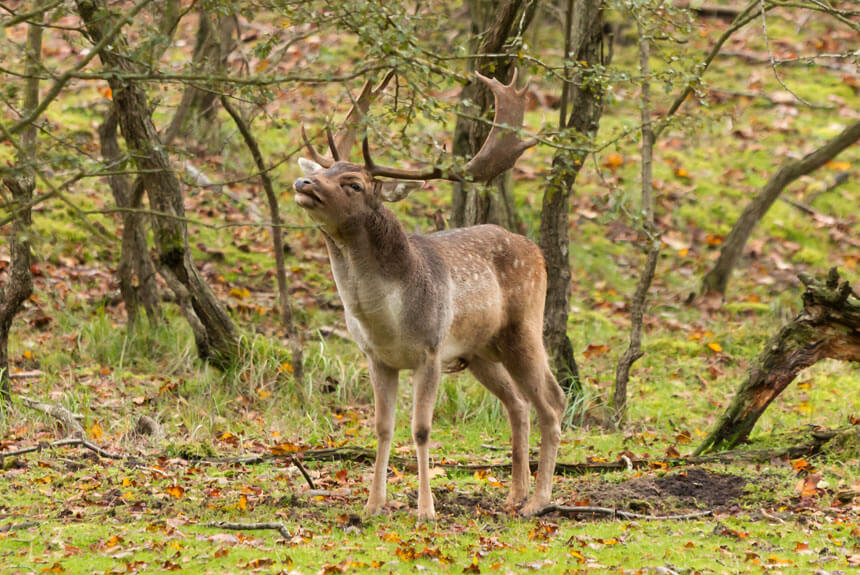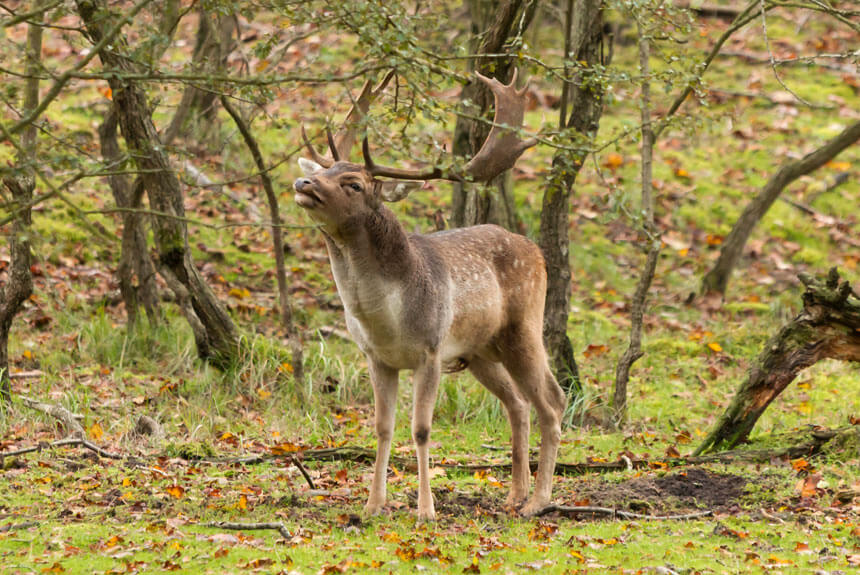 November is a really beautiful time to visit Amsterdam beach. The autumn foliage in the Amsterdamse Waterleidingduinen is gorgeous, and the shorter days mean that seeing the sunrise or sunset doesn't involve getting up horribly early! I loved seeing the mist roll across the waterways in the morning light. Visiting Amsterdam beach in November is the perfect time for some uitwaaien in the fresh sea air.
In December, there are lots of things to do in Zandvoort and the Amsterdam area to get you into the festive spirit. I love Amsterdam at Christmas; the Christmas markets and light festival are amazing and going on a canal boat tour at dusk, with Christmas trees in every canal-side house is so magical. In Zandvoort, there's an ice rink in the town centre from the middle of December to the first week in January, with a terrace and a Koek en Zopie hut where you can buy soup, hot chocolate and cookies.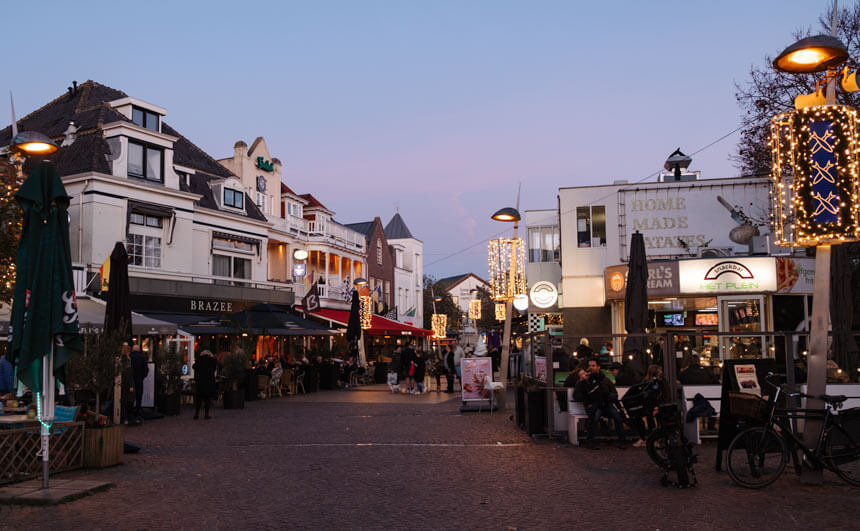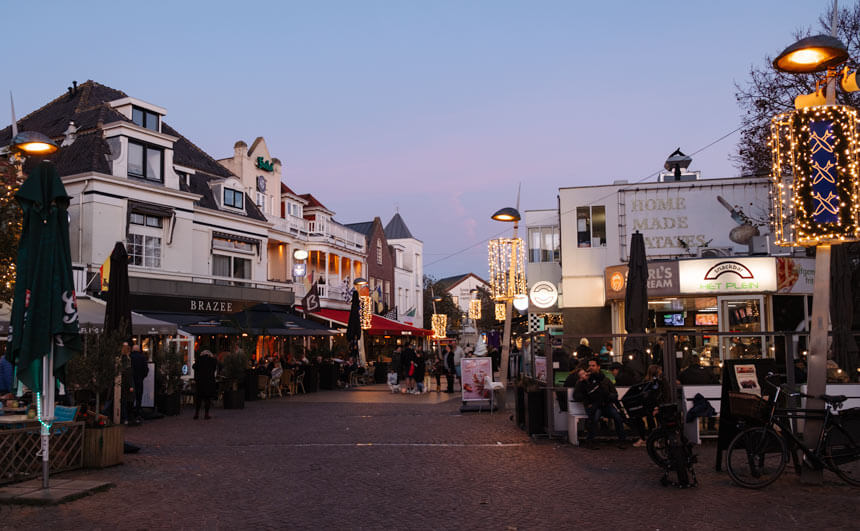 If you've spent New Years Eve in Amsterdam, why not begin the new year with a bracing swim in the sea? The Zandvoort New Year's Swim is a popular annual event, open to everyone – you can even sign up on the day if it's a spur-of-the-moment thing! There's a musical warm up, then you and thousands of others will run into the sea. Afterwards, you'll get a certificate (what a souvenir!) a soup and hot chocolate.
In February, Zandvoort has its own light festival, when the town is lit up for a special, one night only walking tour. March sees another special mass walking tour, the 30 van Zandvoort walk, a 30km epic hike through all of the best places to visit at Amsterdam beach. The same weekend, there's also the Omloop van Zandvoort cycling race, starting at Circuit Zandvoort, plus the Zandvoort Circuit Run, to really start the spring off on a sporty note.
At Easter, there are more fun things to do in Zandvoort, including Easter egg hunts for children and Easter races at the F1 circuit.
Spring and summer
Spring and summer are wonderful seasons to visit Amsterdam beach. As well as all the beach pavilions opening their doors for the summer season, there are events like Pride at the Beach, which is part of Amsterdam Pride, plus the biggest Zandvoort attraction of them all, the Dutch F1 Grand Prix, which takes place at the end of August or beginning of September.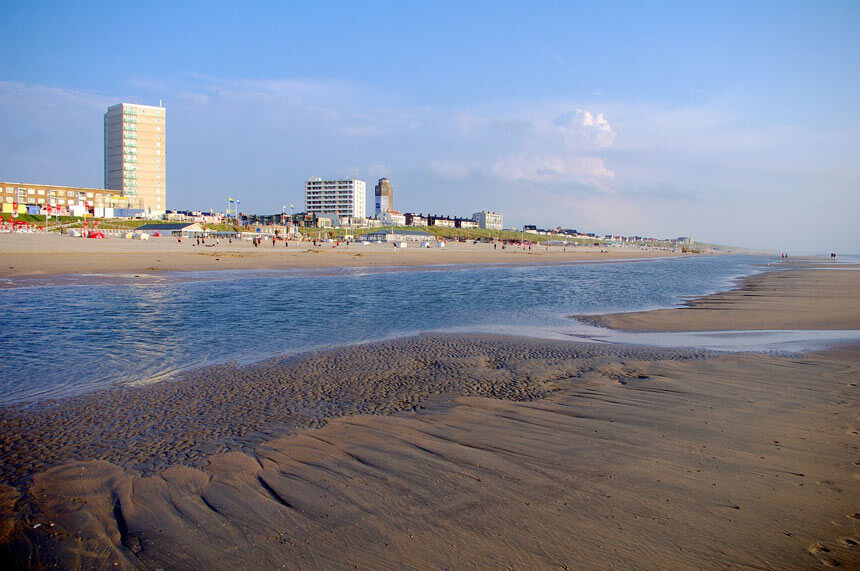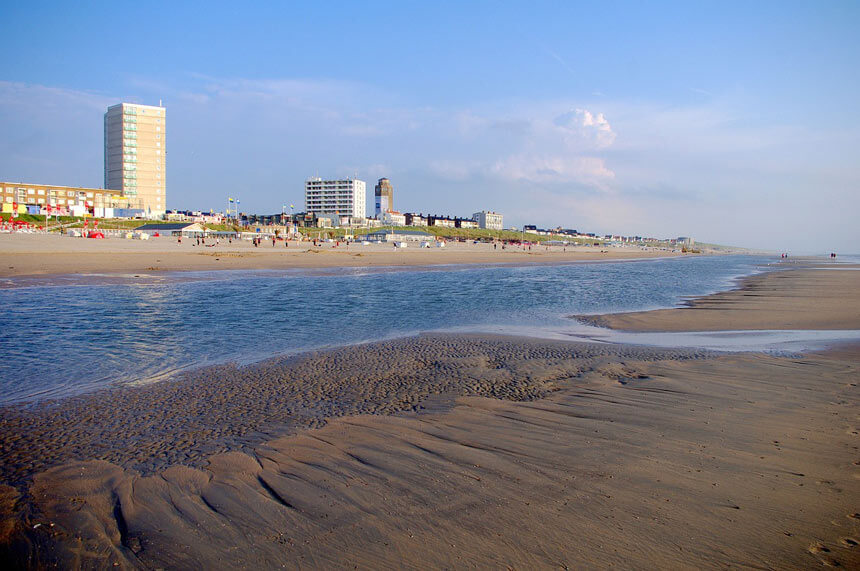 Zandvoort puts on a massive party called Zandvoort Beyond for the month around the Grand Prix. If you visit Zandvoort in August, you can expect an airshow, parties on the beach, a Ferris wheel and a whole host of F1-themed activities, all culminating in the most exciting weekend of the year, the Grand Prix itself.
If you visit Amsterdam beach during the summer, and you're very lucky, you might get to see the zeevonk or sea sparkle – an unforgettable sight caused by bioluminescent sea creatures which makes the sea glow and sparkle. It only happens when the conditions are just right; you'll have the best chance of seeing it on dark, warm nights. Keep an eye on the Zeevonk Alert Facebook group (in Dutch, but you can translate it easily) during your trip and be prepared to head out to the beach in the middle of the night for a magical experience. Sea sparkle can occur at any point along the beach around Zandvoort to IJmuiden.
How to get to the beach from Amsterdam city centre
Getting to Amsterdam beach from Amsterdam city centre is really easy. A direct train runs from Amsterdam Centraal to Zandvoort aan Zee station twice an hour throughout the day, and takes just under 30 minutes. The train passes through Haarlem, another lovely town in the Netherlands with a reputation for fantastic shopping, before heading through the Zuid-Kennemerland National Park.
The train station at Zandvoort is in the centre of town and just 6 minutes' walk (400m) from Zandvoort beach. So in less than 40 minutes you can go from standing on the platform at bustling Amsterdam Centraal to having sand between your toes and the sound of waves in your ears – bliss!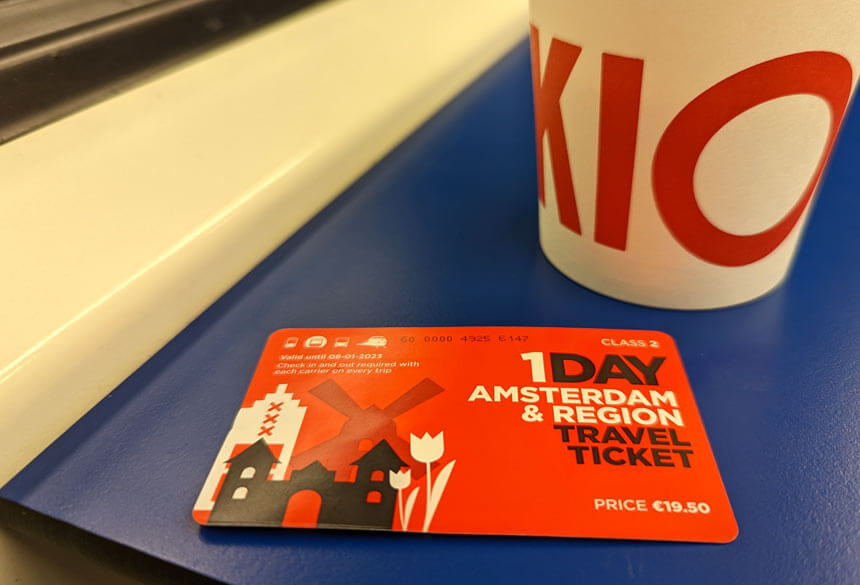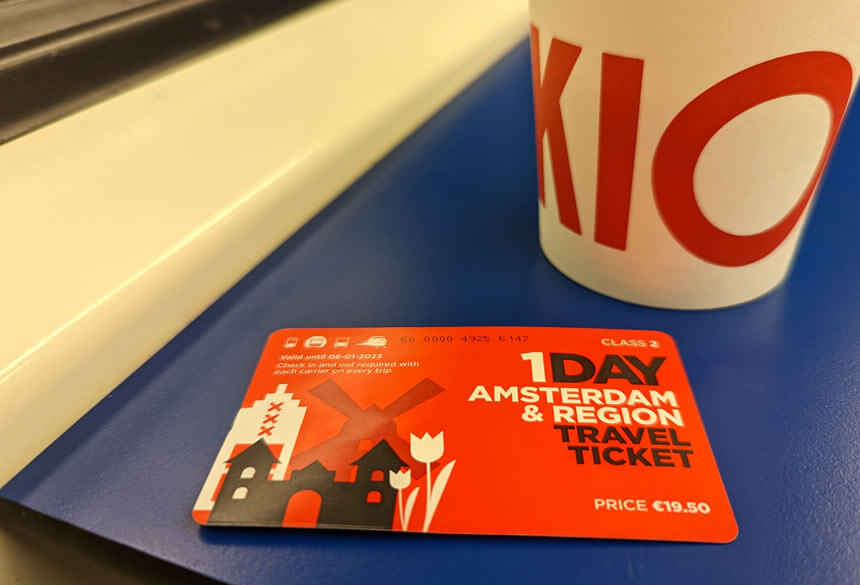 The train from Amsterdam to Zandvoort costs around 7€ for a single ticket. If you're travelling around the Amsterdam area, then it could be worth buying an Amsterdam & Region travel ticket. You can choose from 1, 2, or 3 day travel tickets and it covers all public transport in the region, including the train to Schiphol Airport.
There's no train station in IJmuiden but there is a direct bus from Amsterdam Sloterdijk which is also included in the Amsterdam & Region travel ticket.
Other places in the Amsterdam area you could visit with your Amsterdam & Region travel ticket include the spring flower fields at Keukenhof, the famous cheese town Edam and the windmills at Zaanse Schans.
Getting around at Amsterdam beach
Bike hire
When you visit Zandvoort and IJmuiden, the best way to get around is to join the locals on a bike. We hired e-bikes from Behind the Beach bike rental in Zandvoort town centre. Getting an e-bike can make all the difference if you're visiting Amsterdam beach on a breezy day, as it gives you a little bit of extra push when you're riding into the wind.
Behind the Beach have also prepared a range of suggested cycling routes, including a culinary tour of the area, a circuit through the dunes and a historic fishing route which includes the Mooi Nel inland lake and the old town of Haarlem where fish would be sold.
Zandvoort to IJmuiden
Getting to IJmuiden from Zandvoort is a little more complicated than you might expect, as the Zuid-Kennemerland National Park is in between them and running a big old road through the precious natural habitats just isn't on the agenda! You can either take the train from Zandvoort to Haarlem and catch the number 385 bus to the centre of IJmuiden, or take the train back to Amsterdam Sloterdijk and then catch the number 382 bus which will take you all the way to the marina in IJmuiden. The train and both buses are included in the Amsterdam & Region travel ticket.
Do you need a car at Amsterdam beach?
You won't need to hire a car at Amsterdam beach as (Zandvoort to IJmuiden aside) Dutch public transport is really good. If you're coming from the north of the UK or Scotland, you might want to get the direct ferry from Newcastle-upon-Tyne to IJmuiden rather than fly, and bring your car over with you. While I live near Manchester now, I did find it funny that there were road signs for Newcastle everywhere in IJmuiden!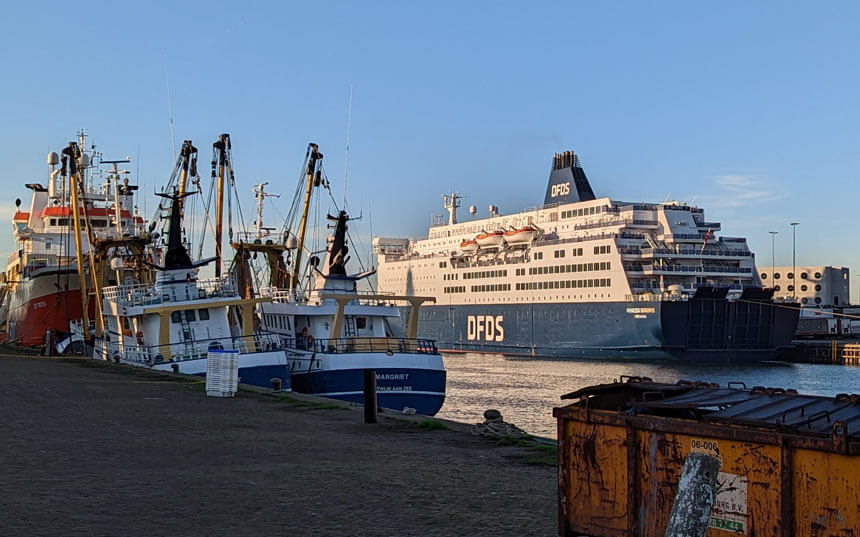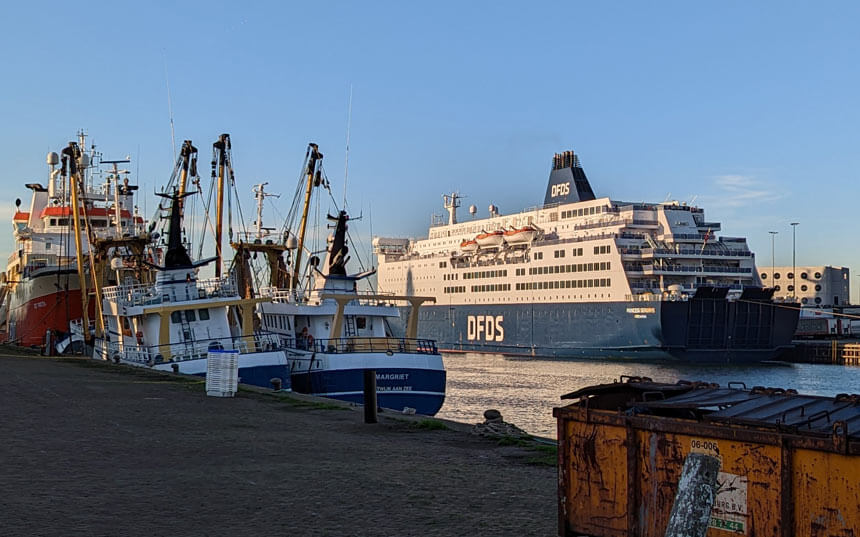 Where to stay at Amsterdam beach
I stayed at two hotels during my trip to Amsterdam beach, the Hotel Paradis in Zandvoort and the Leonardo Hotel IJmuiden Seaport Beach at IJmuiden marina. I also ate at Plantage Rococo in nearby Velsen-Zuid and had the chance to see one of their gorgeous rooms.
Hotel Paradis, Zandvoort
Hotel Paradis is a stylish boutique hotel on a quiet street in the centre of Zandvoort. The vibe here is very laid-back and beachy, with polished concrete floors, soft cotton bedding and natural textures like wicker and woven palm leaves. I particularly coveted the light fitting in my room that looked like artfully-sculpted driftwood.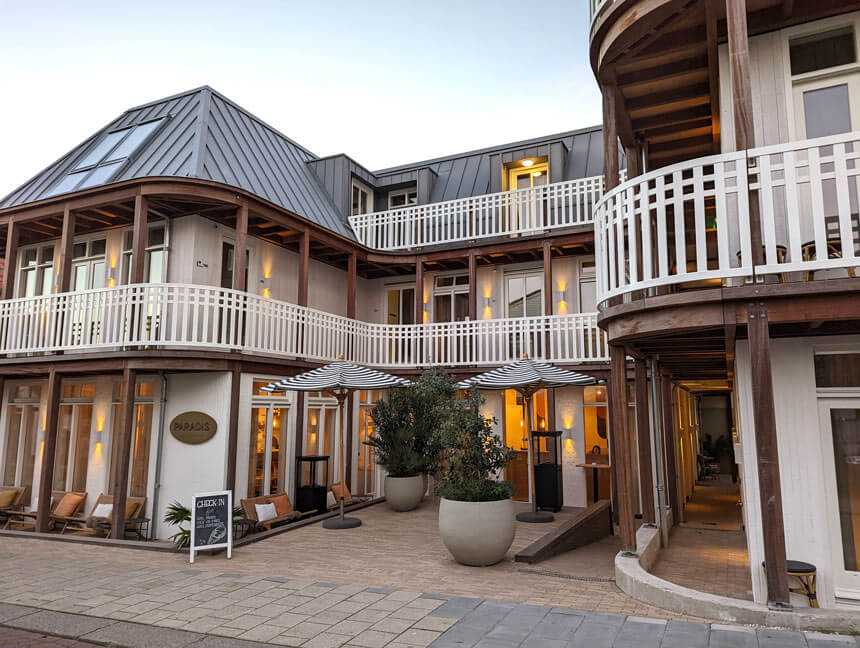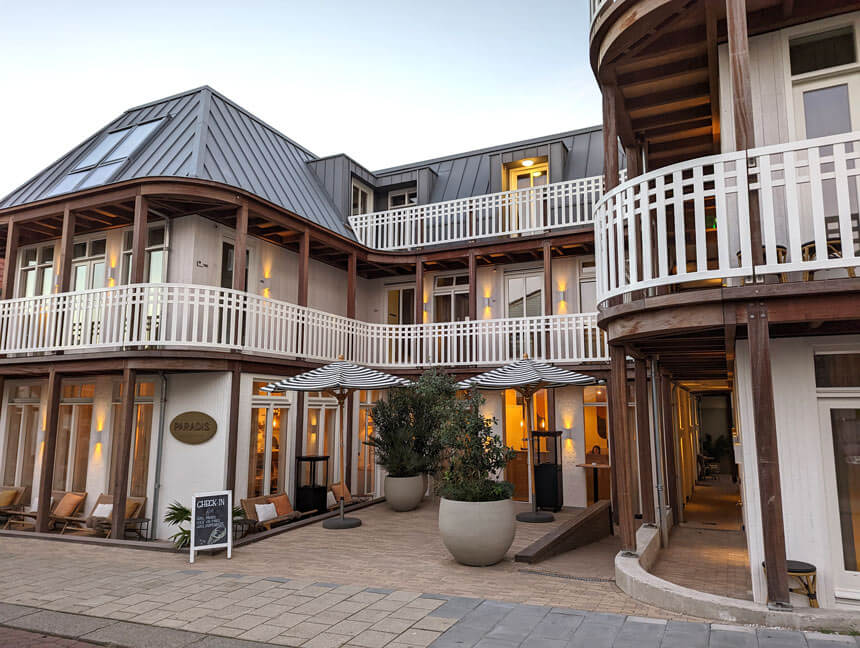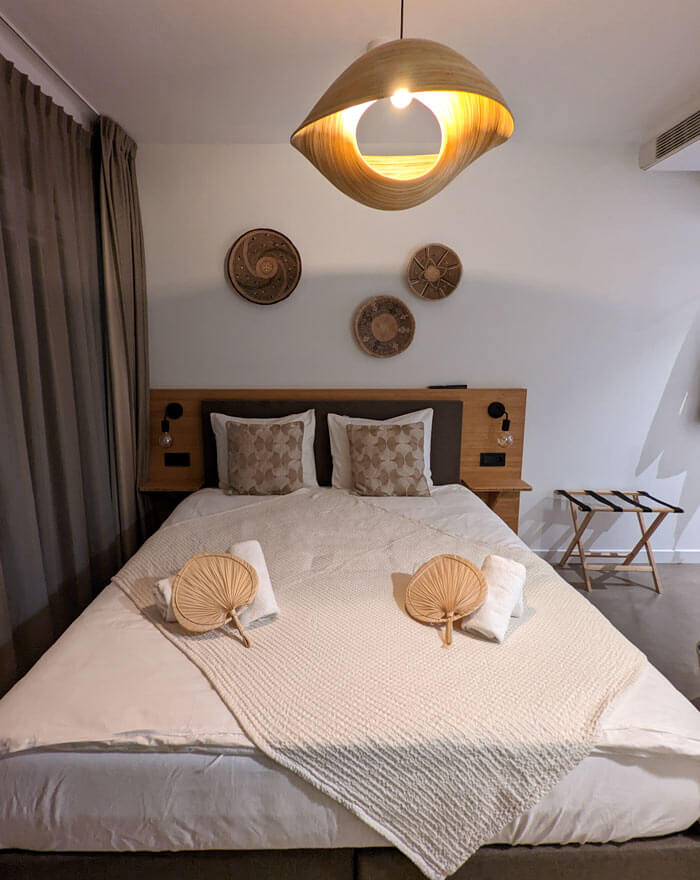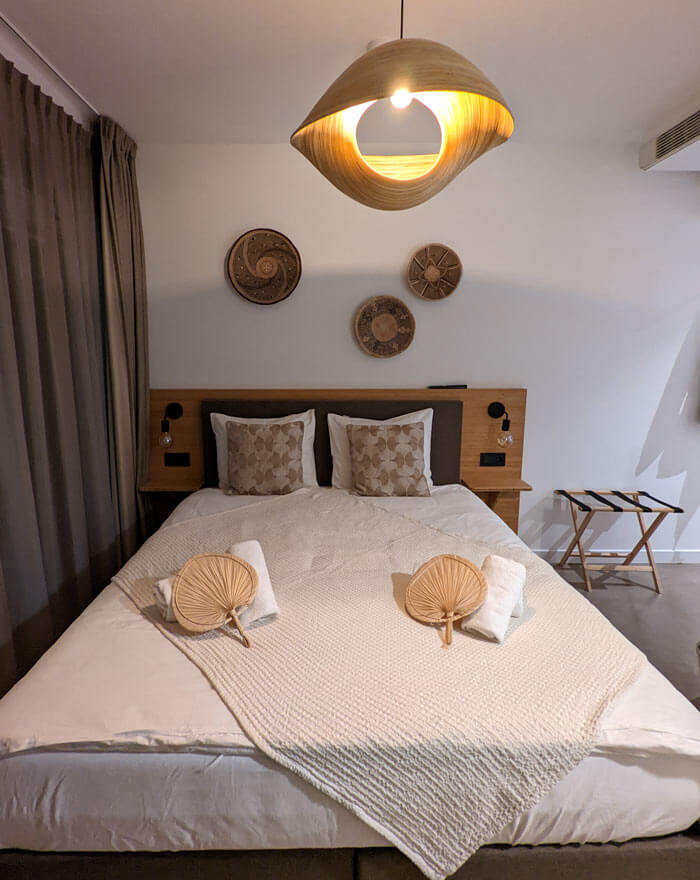 The other thing you notice when you arrive at Hotel Paradis is the fragrance; they use Marie-Stella-Maris toiletries and reed diffusers in the hotel and the whole place smells subtly, delicately delicious. I also loved the comfy bed, proper hairdryer (hurrah!) and Nespresso machine.
Leonardo Hotel IJmuiden Seaport Beach, IJmuiden
The other hotel I stayed at during my weekend at Amsterdam beach was the Leonardo Hotel IJmuiden Seaport Beach, which overlooks the pretty marina in IJmuiden. The Leonardo is a much bigger hotel than Hotel Paradis, and part of a chain, but the location is fantastic – the view across the marina is so pretty at sunset and you can see the big ships and fishing boats coming into IJmuiden's port. It's also just around the corner from the beach and the northern end of the Zuid-Kennemerland National Park where you can see the big Atlantic Wall bunkers and the Kennemermeer lake.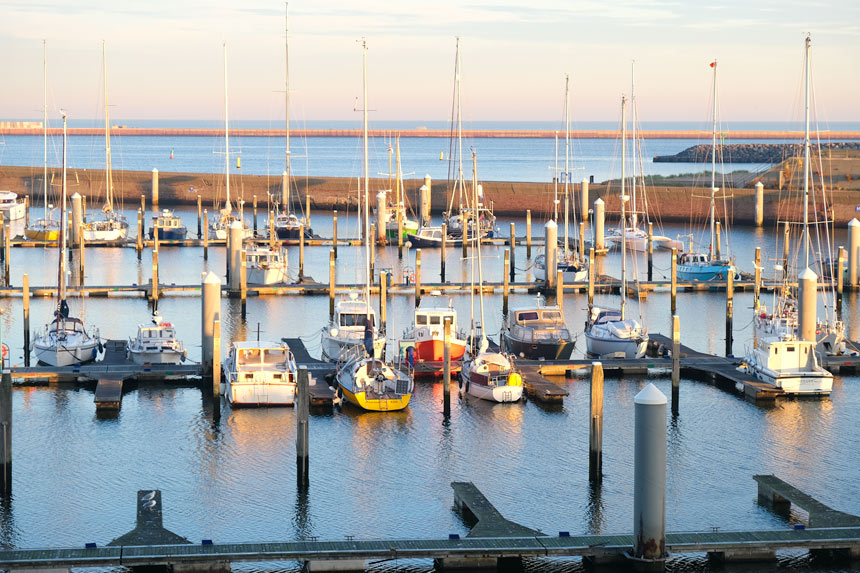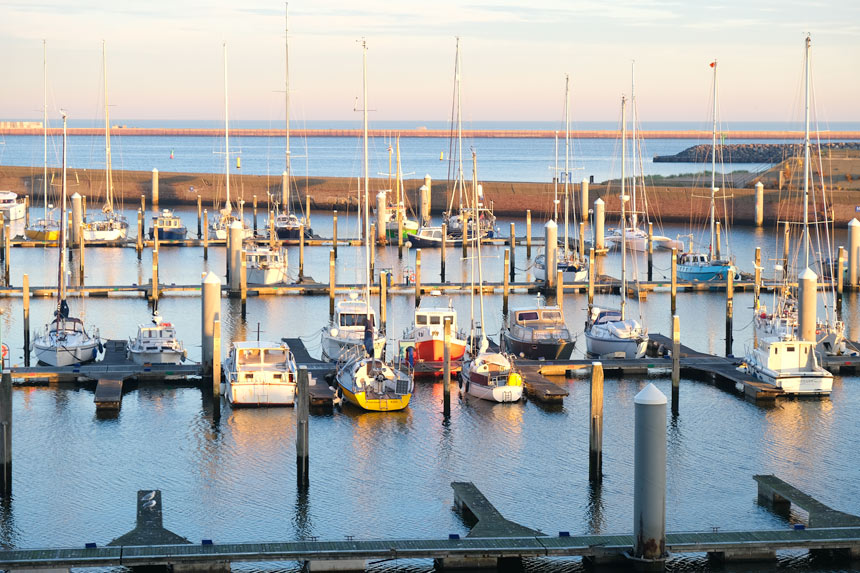 As well as the location, I really enjoyed the food at the Leonardo hotel. We were served a special 5 course evening meal in the hotel's Chef's! restaurant, but most of the dishes I ate came from the regular menu. Breakfast the next morning was plentiful and not too crowded, with lots of choice for vegetarians like me.
Plantage Rococo, Velsen-Zuid
Plantage Rococo is absolutely swoon-worthy. Located in one of the old country estates in Velsen-Zuid, it's a gorgeous 18th-century house that's been turned into a restaurant and boutique hotel. The interior has all the original charm from when it was built for one of the Mayors of Amsterdam in 1742 – think painted plaster mouldings, oil paintings covering full walls and marble fireplaces. The house and its lovely grounds are a Netherlands national monument.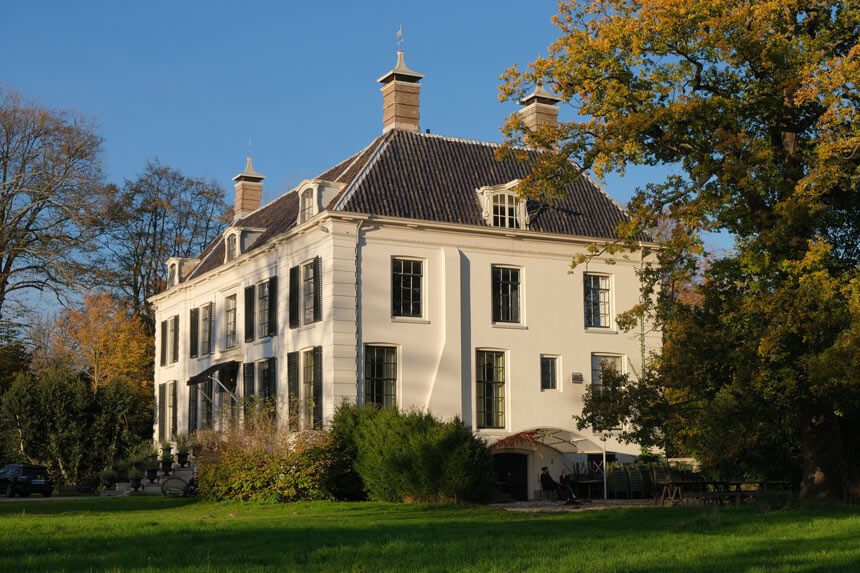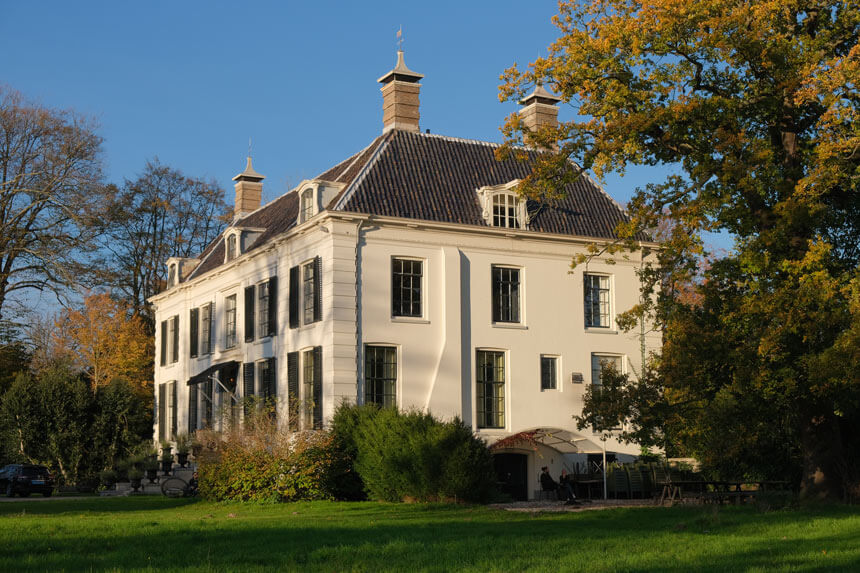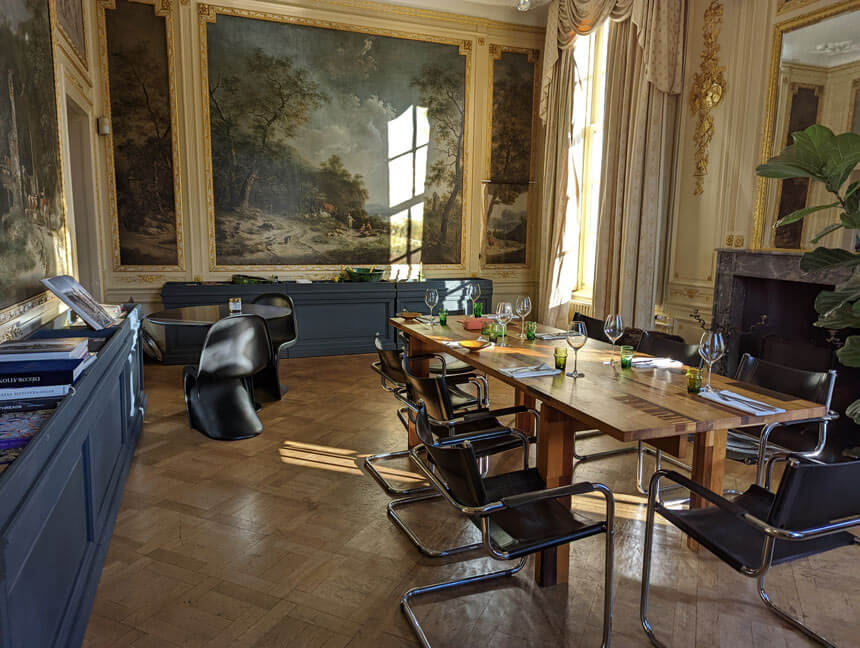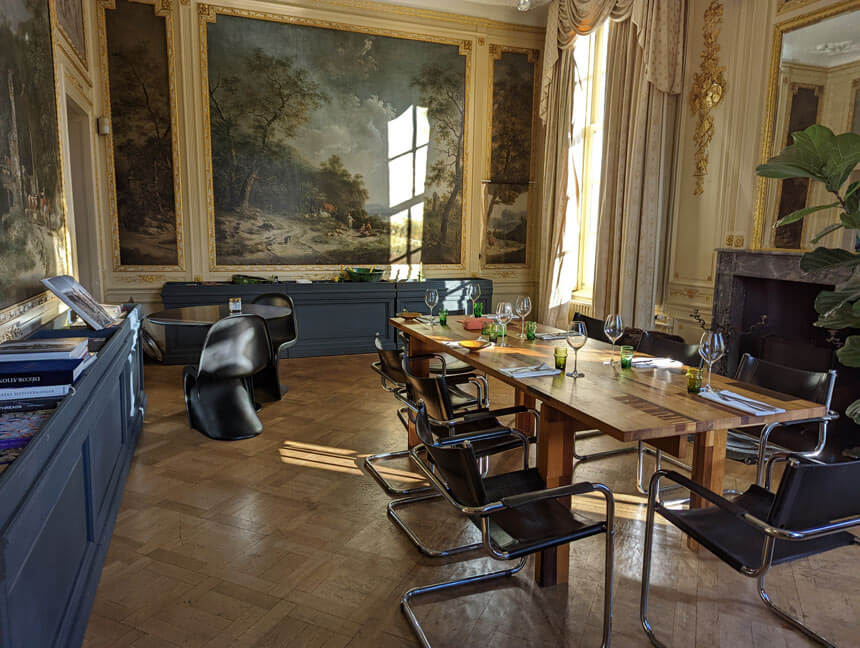 Inside, the owners have furnished the house with an enviable collection of design classic furniture. You'll find pieces by Mies van der Rohe, Mart Stam, Arne Jacobsen, Verner Panton and Eero Saarinen, accessorised by chunky design books and loads of plants. It could be like visiting a design museum, if it wasn't for the overall vibe, which is utterly casual and relaxed. Every corner is both gorgeous and inviting. I could easily have moved straight in! I only had lunch here (delicious and suitably inventive) but I saw one of the suites and it was just as gorgeous as the public rooms downstairs.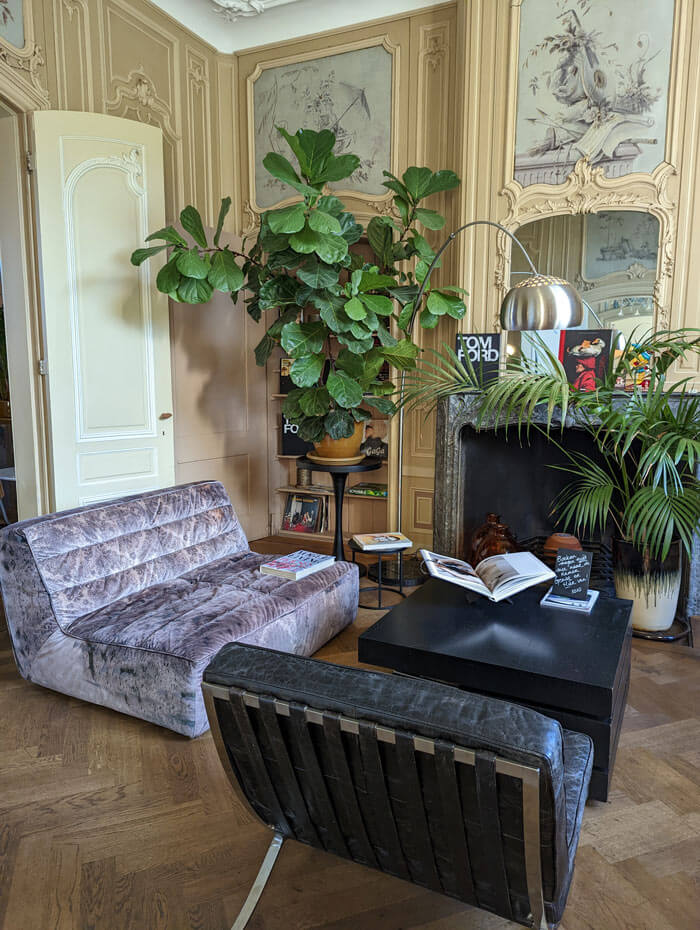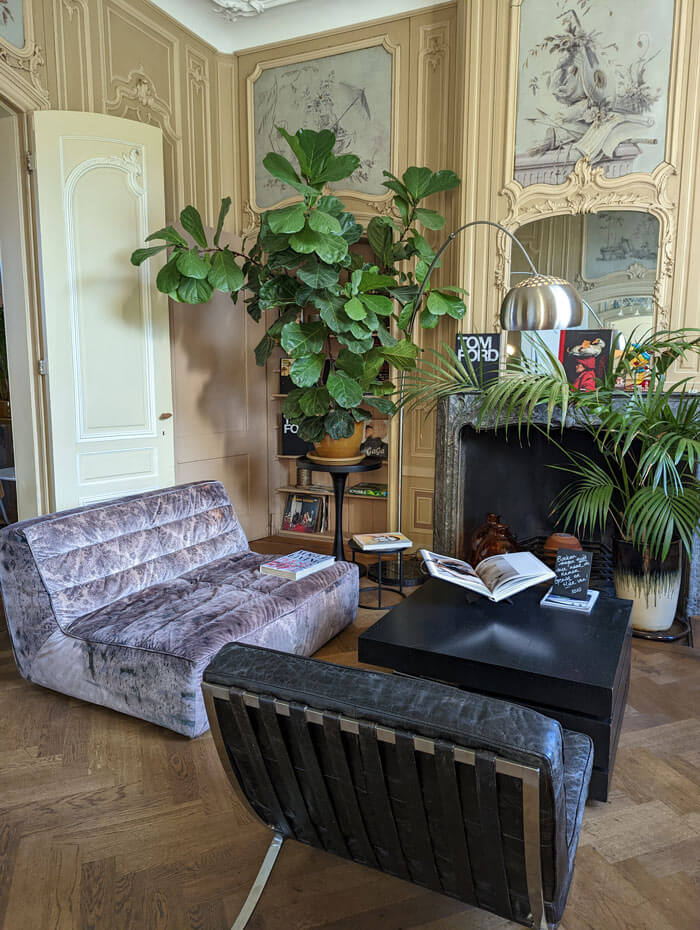 Center Parcs Zandvoort
If you're visiting Zandvoort with kids, then you might want to stay in self-catering accommodation. The large Center Parks complex near the race track in Zandvoort is open all year round and has accommodation for groups of 2 to 18 people. There's also themed seasonal events, an indoor and outdoor pool, squash, archery, hot tubs and lots of other activities.
Basecamp IJmuiden
Between the beach, the marina and the Kennemermeer lake in IJmuiden, you'll find Basecamp, an intriguing concept for self-catering and self-contained accommodation. Each of the tiny houses has a fun design and most are unique. I'm a little bit in love with the ÖÖD Suite, a mirrored glass box with a view of the lake that lets you watch the birds and animals without them seeing you. There's also Das Boot which is a houseboat built in 1911, an elegantly converted sea container and some tiny houses with elevated sun decks which have great views across the dunes.
Campsites at Amsterdam beach
They're only open March to October, but there are a few campsites in Zandvoort, in Bloemendaal, in between Zandvoort and IJmuiden, and in Velsen-Zuid. Book early for July and August; not all the campsites allow tents or dogs.
I hope you've enjoyed this post about Amsterdam beach! Will you visit Zandvoort and IJmuiden on your next trip to Amsterdam?
Related posts
If you enjoyed this post about visiting Zandvoort and IJmuiden, you might these other posts interesting: