In the mood for a little relaxation? Why not plan a visit to one of the world's best hot springs and natural thermal baths.
Relaxing in a hot spring or thermal bath is one of my favourite things to do on holiday. After days of sightseeing or walking, a warm, mineral-rich bath is a refreshing, restorative activity that almost everyone can enjoy. Whether it's a rustic hot spring in the middle of a desert, a grand and historic spa or a state-of-the-art wellness centre, there's a natural thermal bath to suit every taste.
You can find natural hot springs all over the world. Hot springs are formed when water underground is heated by geothermic forces in the Earth's crust, and are often found in areas where there are also volcanos. The temperature of hot springs varies considerably; some are only a little warmer than their surroundings, while others reach the surface at boiling point.
Natural hot springs are particularly sought after due to the properties of the water. Because the minerals found deep in the rocks where the water was heated can dissolve in warm water, thermal baths and hot springs are often rich in minerals and other substances reputed to be beneficial for the skin, joints or general wellbeing. In some countries soaking in thermal baths is encouraged by doctors and even prescribed by the national health service.
In this post you can read about the best hot springs and thermal baths in:
The best natural hot springs and thermal baths in Europe
Thousand-year old thermal baths, grand Art Nouveau spas and islands brimming with hot springs; these are the natural thermal spas in Europe.
Negombo Thermal Spa and Gardens, Ischia, Italy
A spa island getaway in the heart of Europe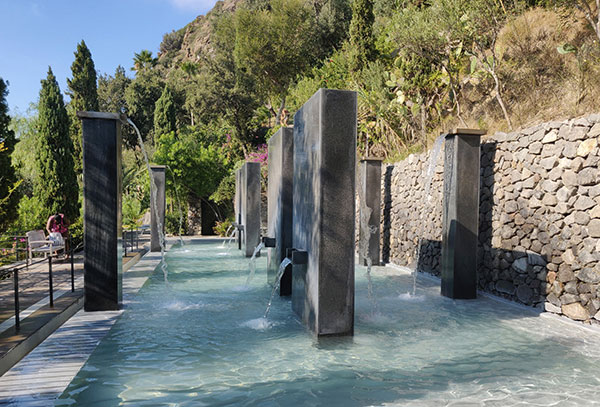 The small island of Ischia, in the Bay of Naples, is a thermal bath lover's dream. Although the island is only around six miles wide, it boasts over 100 hot springs and visiting a thermal spa is one of the best things to do in Ischia. Negombo is one of Ischia's most popular places to bathe in the hot, volcanic waters, due to its wide variety of thermal pools, plus lovely gardens, art installations and access to a beautiful beach.
At the Negombo spa, you can try twelve different types of hydrotherapy, from a Japanese-style maze bath, to Kniepp baths where you alternate between bathing in hot (38-degree) and cold (18-degree) water. My favourite thermal pool at Negombo was called Nesti, "source of life", and was made up of three cascading infinity pools filled with 30-degree thermal water. This pool was so relaxing and had gorgeous views over the beach below.
The other thermal spas on Ischia include Poseidon, which is similar to Negombo, and Cavascura, where you can bathe in thermal waters exactly as the Romans did two thousand years ago. Many hotels in Ischia have their own private thermal baths for guests. If you're visiting Ischia on a budget, you can bathe in hot springs for free at Sorgeto beach, where boiling hot volcanic water bubbles up into the sea – a must-do in Ischia for hot spring lovers.
Thermae Bath Spa, Bath, UK
Follow in the footsteps of the Romans and Georgians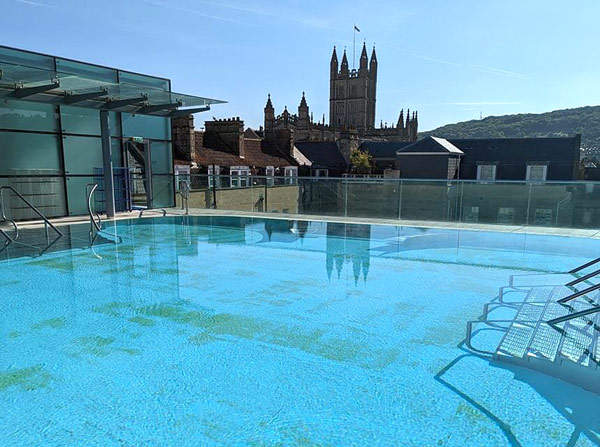 If you're visiting the UK, don't miss visiting Bath and going to the UK's only naturally heated thermal spa. Thermal spa lovers have been coming to Bath for thousands of years – the Romans established a whole town around the hot springs that rise up here, then fashionable Georgians came to Bath to "take the waters". While you can visit the Roman Baths, you can't go in the water – for that you can visit Thermae Bath Spa.
Thermae Bath Spa is in the middle of Bath's historic centre and is one of Bath's most popular attractions. Visitors to Thermae can relax in a rooftop pool with wonderful views over Georgian Bath and across to Bath Abbey. There's also another large pool dedicated to the Roman goddess Minerva. If you tire of soaking in the hot spring water, there are two steam rooms; one Roman-themed, one Georgian-themed and both deliciously fragranced. There's also a modern infra-red therapy room, an ice chamber and experience showers to awaken your senses.
Across the street from Thermae, peek into the Cross Bath. This small, Georgian building contains a thermal pool and a fountain which marks the spot where the Cross Spring (one of the three hot springs which supply Thermae) reaches the surface.
QC Terme Dolomiti, Pozza di Fassa, Italy
By Ioana from The World Is My Playground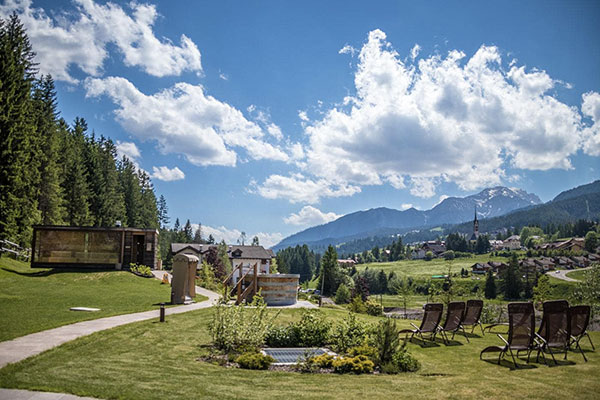 QC Terme Dolomiti is an experience you'll enjoy with all your senses. Located in the heart of the Dolomites, a UNESCO site, a visit to this wellness centre is a bucket list experience all on its own. With over 40+ practices available, you can easily spend half a day (or a full day!) bouncing between whirlpools, waterfalls, Japanese baths, a range of unique steam baths and saunas, relaxation rooms and salt rooms.
My two favourite spots were the sauna rooms outside and the outdoor whirlpools. Besides providing serenity and relaxation, they have perfect views of the Dolomites – the view doesn't get any more perfect than this.
The spa uses water from the natural spring Alloch, the only sulfuric hot springs in Trentino. Located 1320 meters above sea level, the spring has been known for its therapeutic mineral waters since as far back as 1493.
You'll only need to bring a bathing suit. You'll get a towel, robe, and slippers at reception, along with a locker for your belongings. The locker is equipped with a mini safe to keep your valuables safe.
A pass at QC Terme will only set you back 48€ on weekdays, and 54€ on weekends. Included in the price is an "Aperiterme", an exclusive happy hour where you can get an aperitif and sparkling wine daily between 6:30pm and 8:30pm.
If you're visiting on a weekend or a holiday, book your spot at QC Terme ahead of time to avoid disappointment.
The best way to get to QC Terme is to get to Pozza di Fassa, where the spa is located, by car. You'll be able to park right in front of the spa.
Caldea, Andorra
By Mar from Once in a Lifetime Journey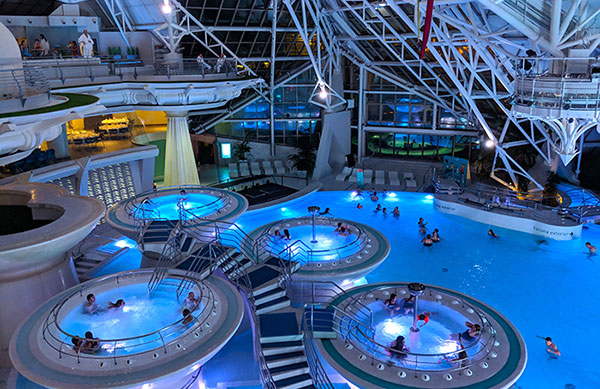 Caldea is a natural spring complex in the middle of Escaldes Engordany, one of the municipalities of Andorra, a tiny country sandwiched between Spain and France.
The mirror-building was designed by French architect Jean-Michel Ruols to mimic Andorra's location in the mountains and it will remind you of an alpine landscape as well as a belltower, as the area was home to a former church.
But don't let the futuristic design, which reflects Andorra's mountains and valleys, fool you, the thermal properties are real and were the reason why the local government wanted to build a thermal spa.
The complex opened in 1994 and has been expanding since. It has both indoor and outdoor areas, which are covered in snow in the winter months when Andorra is a skiers paradise, and you can even see the stars on a clear night.
There are also areas for children called liqids and an adults-only space called Innu where you can also find some peace and which opened in 2013. In 2019, to celebrate its 25th anniversary, Caldea opened another outdoor space with views over the river.
Caldea is one of Andorra's most popular attractions and receives over 400,000 visitors a year. There are massage rooms, hammams, jacuzzis, a hydrotherapy circuit and many pools are different temperatures, perfect after a day in the snow.
Gellert thermal baths, Budapest, Hungary
By James from Travel Collecting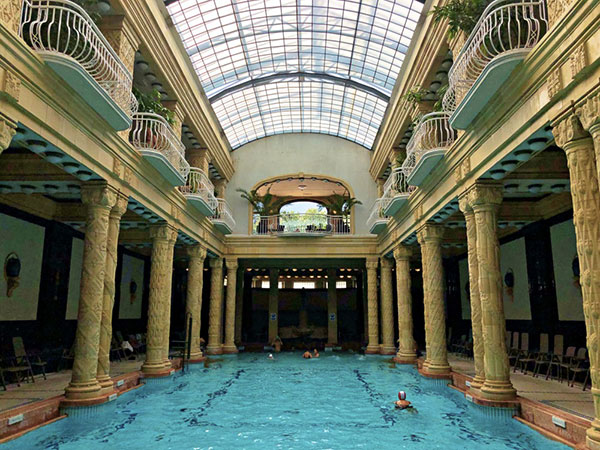 The Gellert baths in Budapest, fed by a spring from the nearby Gellert Hills, are more than 100 years old. Their location couldn't be better, right on the shore of the Danube on the Buda side of Budapest, next to Liberty Bridge.
What makes Gellert baths really special, however, is the incredible beauty of the Art Nouveau building – both inside and out. There is a dramatic domed foyer and a gorgeous indoor pool with carved pillars and a glass ceiling that forms the centrepiece to the baths.
On both sides of the swimming pool are the (mixed gender) thermal baths, with two baths each side, one at 97°F/ 36°C and the other at 104°F/ 40°C. The ornate, colourful tilework and statues there make a wonderful setting to relax and soak your cares away. There is also an outdoor pool with a wave machine and a large terrace.
You can pay for a locker (6,200 HUF on weekdays and 6,400 HUF on weekends) or a cabin (6,600 HUF weekdays and 6,800 HUF weekends). Massage and other treatments are also available. Swimwear and towels are essential and bathing caps are also required for the indoor pool. All of these can be rented. The baths are open daily 6am to 8pm with the last entrance at 7pm.
Rudas thermal baths, Budapest
By Sean from Living Out Lau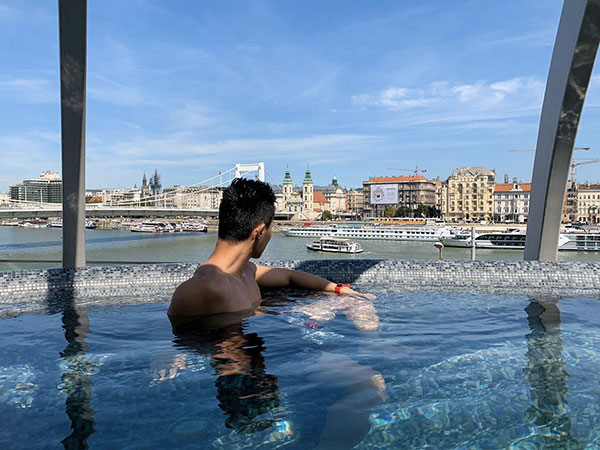 When the subject of best thermal spas arises, one simply cannot skip over the beautiful Turkish-styled baths all over the city of Budapest. Built during Ottoman rule between the 16th and 17th centuries, the thermal baths were used for relaxation by the rulers, soldiers, as well as locals. My favourite one is definitely the Rudas Thermal Bath.
Built around the 1550s, the Rudas Bath contains both a traditional octagonal bath under a beautiful semispherical dome as well as a rooftop pool overlooking the beautiful Danube and the Pest side of Budapest. In addition to those two baths, there are thermal pools ranging from 25 to 42 degrees Celcius, steam chambers, hot air rooms, a swimming pool, and a Finnish sauna. Rudas Bath has something suitable for everyone in the family.
Many of the thermal baths are believed to have medicinal purposes and can aid in joint illnesses and chronic and acute inflammatory problems. With such a variety of thermal baths and pools, a day at the Rudas Bath will definitely rejuvenate your health and vigour, especially if you have been travelling for a long time. But what makes Rudas bath my favourite bath of all time is the rooftop pool with a sun tanning area as well as a bar. Even if you don't want to get in the water, you will have a pleasant experience here.
This post contains affiliate links – all this means is if you buy something as a result of clicking a link, I'll make a small commission that helps me run this site. There's no cost to you.
Pozar thermal springs, Greece
By Chrysoula from Historic European Castles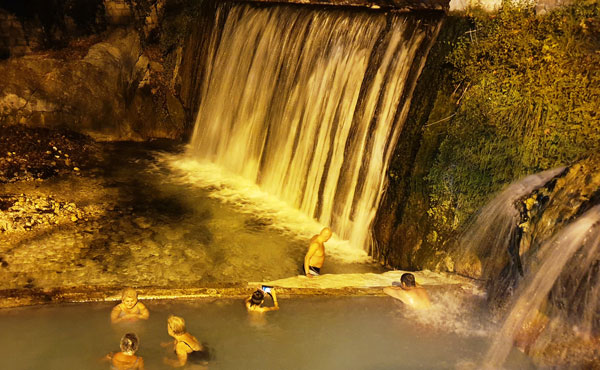 The Pozar thermal springs are such a hidden gem you'll be wondering how and why more people don't know about them (while secretly being grateful that they don't!). These gorgeous natural springs are located just north of the town of Edessa on mainland Greece, around one and a half hours from Thessaloniki, near the border with the Republic of Northern Macedonia.
Loutra Pozar, as it's known locally, comprises of six indoor pools and a large outdoor pool as well as hammams, Jacuzzis and spa treatment services! The complex also features private baths which can be ideal for healing conditions such as arthritis and rheumatism, as well as muscle aches and back pain.
Not only does the Pozar complex include thermal waters, but there is also a cold stream and a picturesque waterfall nearby which really add to the experience.
Guests can visit the Pozar thermal springs as part of a day trip from Thessaloniki or stay nearby in a local guest house or hotel. Entrance to two of the pools along the river costs just €2 which is a real bargain for a few hours spent relaxing in the soothing, warm waters. Spa treatments start from only €15 and private baths cost around €40.
Therme Bucuresti, Bucharest, Romania
By Darren and Lauren from Faramagan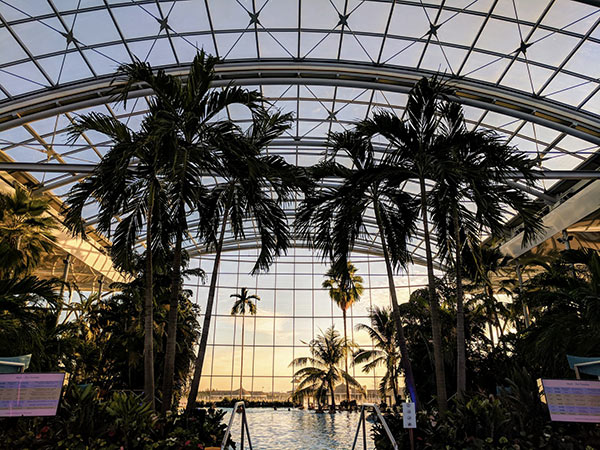 When searching for the best thermal spas, Therme Bucuresti in Romania should be high on your list as it is guaranteed to be a highlight of any Bucharest city break. At 30,000 sq.m it is the largest thermal spa in Europe. With eight pools divided over three areas, there is so much to see and do that spending an entire day here still won't feel like enough.
The Palm is the main area which is dotted with 500 palm trees and features therapeutic pools, each containing different minerals to aid health and well-being.
The second area is Elysium which is where you'll find six themed saunas from a salt therapy sauna to a cinema sauna which plays documentaries on a full-size screen as you relax in the heat.
Last but not least is the fun-filled Galaxy area. With its flumes and wave pool it is the only area suitable for children but is still a guaranteed hit with the grown-ups too.
Some say, the best part of Therme Bucuresti is the "swim-up bars" dotted throughout the pools, which offer a variety of refreshing beverages from prosecco to pints for as little as £2 each.
A visit to Therme Bucuresti is incredible value for money at only £18 for a day ticket, allowing access to all 3 areas for as long as you wish between 9:30am to 11:30pm. We recommend visiting late afternoon to watch the spa transform from daylight to night while you enjoy a cocktail in the outdoor thermal pool under the stars.
Subterranean sulphur baths in Tbilisi, Georgia
By Maggie from The World Was Here First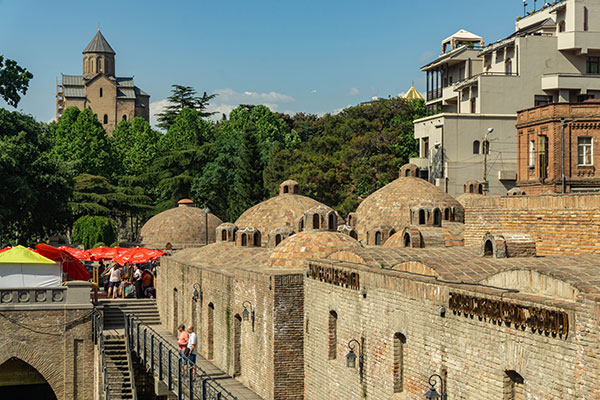 If you're looking for a unique geothermal bath experience, you absolutely cannot go wrong with visiting the sulphur baths in Tbilisi, Georgia. Located in the Abanotubani neighbourhood of the old town, these sulphur baths are an iconic part of the Georgian capital. In fact, Tbilisi even takes its name from the geothermal waters upon which it sits.
Visiting these subterranean baths is one of the best things you can do when travelling through Georgia, as it is both an interesting experience and a great cultural activity. There are numerous different bathhouses to choose from in Tbilisi and they all typically have the same things on offer. Depending on your budget, you can opt just to soak in the public baths (separated by sex) or get a private room.
The private rooms vary depending on price, starting from around 50 GEL (about $17 USD) per hour for just a hot water bath. For around 120 GEL ($40 USD), you can get a room with a hot bath, a cold bath, a shower, and a Finnish Sauna. If you want the full experience, make sure to book a 20 GEL (about $6 USD) massage, where you will get scrubbed down with and soaped up for a few minutes. The experience isn't all that comfortable, but you will leave feeling smooth and invigorated! Prices can vary depending on which bathhouse you choose to visit, however, these are about standard.
There is no denying that visiting the Tbilisi sulphur baths is an unmissable experience in the Georgian capital.
The thermal spa resort town of Borjomi, Georgia
By Yukti from Travel With Me 24 X 7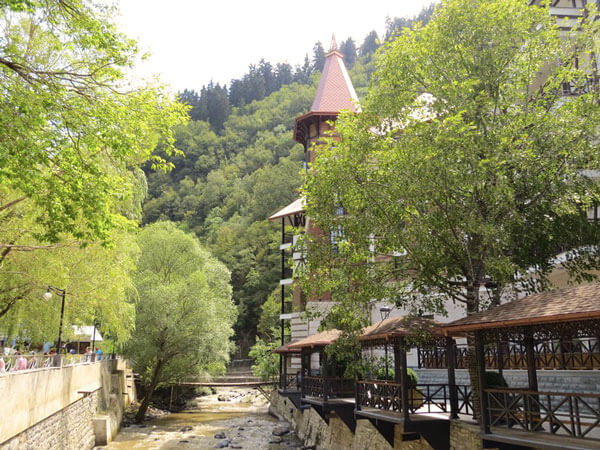 Borjomi in Georgia is known as the resort town as the sulphuric water here is reputed to have miraculous healing properties. During Soviet times it was once very popular to bathe here to treat many diseases and therefore many people visited this place to cure their skin problems.
Borjomi is recognised internationally for geothermal natural springs and mineral water resources. The location is also perfect; it's located in a stunning Caucasus mountain valley and due to this tourists flock here all year round. The mineral water springs or rivers nearby also are famous for their healing properties, especially for the skin and nervous system. Many people call Borjomi a healing city.
There are different pool areas, some dedicated to the warmest water which is near the source and then a deeper, cooler one for adults and a shallow one for the children. These natural sulphur water pools are located about 2 km from the Borjomi National Park. You have to park the car outside the park and then enter the park and within a few minutes walk you are up to the spot. These sulphur water pools are open air.
It takes around 2 to 3 hours to reach Borjomi from Tbilisi to reach this spot with a very scenic drive across the mountainous curvy road.
Thermal pools, São Miguel Island,
Azores
By Oli from Not Brits Abroad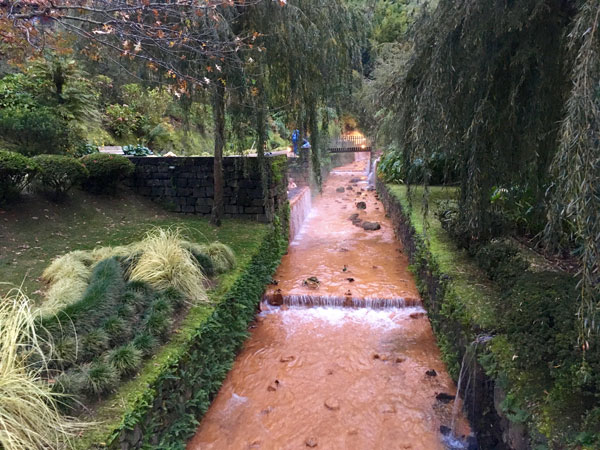 The beautiful island of São Miguel in the Azores is home to a number of unique thermal pools and hot springs. The islands sit on the junction of three tectonic plates and are full of volcanic activity. What makes these freshwater pools so different is their vibrant orange colour which comes from the naturally high iron content in the water.
You'll find three of these unusual thermal pools in the centre of São Miguel island close to two dormant volcanoes. Entry costs between €6 and €8 per person. The Poça da Dona Beija and Terra Nostra pools can be found in the town of Furnas. The former has several small pools and gets very busy while the latter is one large pool which is much more secluded.
The third location, Caldeira Velha, is a short drive from the tranquil Lagoa do Fogo and sits in the heart of a natural park. The scenery here is the most beautiful of the three pools as you sit relaxing amongst the trees. Caldeira Velha has several orange-coloured thermal pools and a large cold waterfall pool.
If you get the chance to visit any of these fantastic places, the most important thing to note is to wear dark coloured swimming clothes and use a dark towel. The orange colour will get on your skin and it doesn't easily wash out of clothing or fabrics.
Olimia Thermal Spa, Podčetrtek, Slovenia
By Leo from Safari Nomad
In the small town of Podčetrtek, Slovenia, and surrounded by green, unspoiled nature you can find the Olimia Thermal Spa, one of the top Slovenian spas.
The hot springs at Olimia thermal spa are suitable for bathing, and you can drink it as well. This thermal water is very special because it springs from depths of 520 m and is reputed to have many positive effects on health, such as relaxing muscles, increasing blood flow and strengthening the body's immune system. It contains magnesium, calcium, and hydrogen-carbonates.
At the Olimia thermal spa, they offer a range of activities and possibilities for relaxation. You can have fun in the indoor pool, thermal park Aqualina, a sauna complex and enjoy wellness services. Because the Olimia thermal spa is set in a naturally beautiful landscape, it gives you a chance to wander the natural and cultural places by bicycle
or hiking.
The best hot springs and thermal baths in North America
You can find hot springs all over North America, sometimes bubbling up in the most unusual places. Steam in snowy Alaska, bathe in the middle of a desert or stand under a hot waterfall at the best hot springs in North America.
Halfway River Hot Springs, British Columbia, Canada
By Taryn from Happiest Outdoors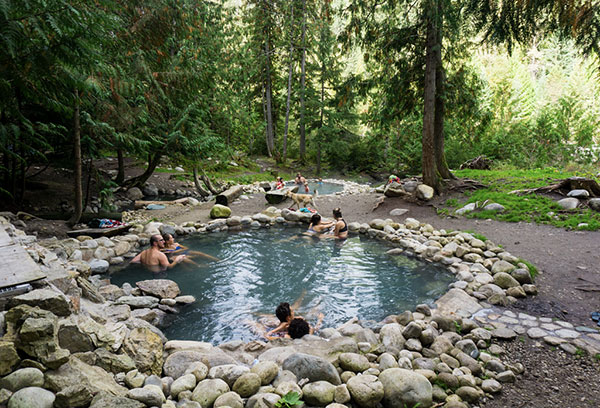 Halfway River Hot Springs are my favourite hot springs in Canada. It's a natural hot spring located in the Western Kootenay region of British Columbia.
To get there you need to hike about 10 minutes down a steep trail with some stairs. At the bottom, you'll find several rock-lined pools set amidst large cedar trees. There is one main pool and a few smaller pools nearby. The pools closer to the source of the springs are the hottest at about 42C. There are changing rooms and an outhouse near the main pool.
The Halfway River is just steps away if you want to cool off in the glacial-fed waters. When the river is not in flood, there are also a few more hot pools along the edge of the river.
The easiest way to get to Halfway River Hot Springs is to drive there from Revelstoke, BC, an amazing adventure travel destination. It's about 90km from Revelstoke, with the last 11km on a gravel forest service road.
There is no day-use fee to use the hot springs; they are totally free! However, you do have to pay to camp overnight. There are a few drive-in sites near the parking lot, plus more hike-in sites right next to the hot springs.
Hot Springs Cove, British Columbia, Canada
By Luke from The Coastal Campaign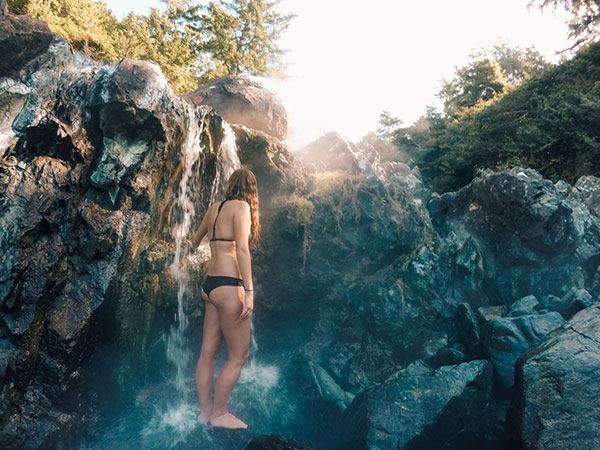 On a remote island on the rugged west coast of Vancouver Island you will find Hot Springs Cove, which is a 1.5-hour boat ride from the quaint coastal town of Tofino. We recently visited the Tofino Hot Springs and were blown away by the whole experience.
One of the reasons these hot springs are so great is due to their remote location. In order to reach these springs, you will need to jump on a boat or a float plane. We chose to take a boat and the journey there was as good as the hot springs themselves.
We passed through hundreds of islands dotted along the coast, stopped to watch gray and humpback whales and had to walk through a 1200-year-old forest to get to the Tofino Hot Springs.
The whole day was an amazing adventure and to be able to spend a couple of hours soaking in the hot thermal pools was incredible. The thermal pools are replenished by a hot waterfall that cascades down the rock and offers one of the best natural massages we have ever had.
Once we were finished relaxing, it was back to the boat to spot more whales on the way home. While Hot Springs Cove was brilliant, it was the whole experience that made for an epic day of adventuring.
Chena Hot Springs, Alaska, USA
By Heather from RaulersonGirlsTravel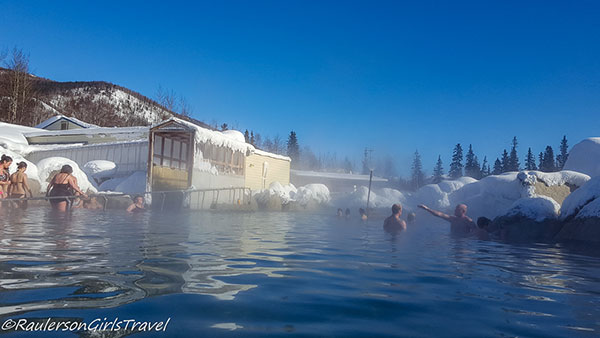 Chena Hot Springs Resort in Alaska is where you can immerse yourself in natural healing outdoor hot springs. Just 60 miles from Fairbanks, you can get an authentic Alaskan adventure that includes soaking in the hot springs, visiting the ice museum, taking a flight over the Arctic Circle, go on a dog sled ride, or even catch the Northern Lights (which are amazing here).
The hot springs average 102 degrees at the entrance of the rock lake but, as you walk around, you could find hotter pockets of water if you choose. There is also an indoor family pool for those who don't want to brave the colder weather. Personally, I love the spiderweb effect on my hair as the cold air touches the warm water.
The healing water of Chena Hot Springs has been compared to the mineral waters found in hot springs in the Czech Republic, and visitors from all over the world have been enjoying these healing waters since 1905. You can book a day trip or stay multiple days. Packages range from $140-$970 or you can book rooms starting at $210/night. Packages include transportation to/from Fairbanks airport.
The Hot Spring Lake is one of the most relaxing highlights of staying at the Chena Hot Springs Resort. Then again anyplace that has a hot spring is pretty spectacular in my book.
Thermopolis, Wyoming, USA
By Chris from Called To Wander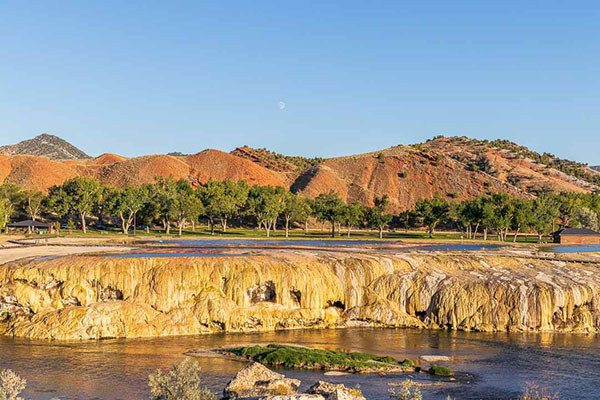 Thermopolis is a town in Wyoming named after its historic hot springs. Located just a few hours from Yellowstone National Park, Thermopolis tends to be just a quick stop on the way to or from the park.
But for those who seek out hot springs, Thermopolis is world-famous. As the world's largest mineral hot spring by volume, the head spring in Thermopolis is a sight to see.
However, water comes out of the ground at a piping hot 52 degrees Celcius! So to relax and enjoy the 27 minerals the water contains you will have to visit one of three spas in Hot Springs State Park that pipe the water into their facilities at 40 degrees Celcius.
A mixture of entertainment and relaxation, both Star Plunge and Hellie's TePee offer slides and diving platforms in addition to calm spas and saunas. At $12.50 per person for a full day (9 am – 9 pm, unlimited access) these are as expensive as it gets in Thermopolis.
But for those on a budget, the State Bath House offers free soaking in its two spas. The result of a treaty with Native Americans in 1896, these springs must remain accessible for free to the general public. Soak in up to 20-minute increments.
But for those more adventurous, you can also enjoy a more natural and free hot springs experience by heading down to the Bighorn River where the spring water cascades over the terraces into the river. Float between the warm spring water and cool river water and enjoy the scenery while you relax!
The Arizona Hot Springs, Arizona, USA
By Joella from Roving Jo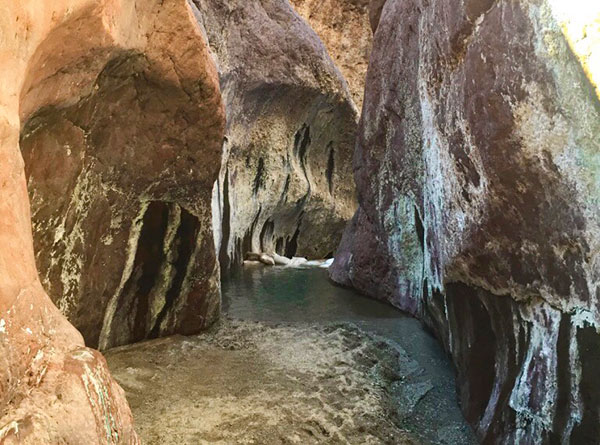 The Arizona Hot Springs are natural springs located along the Colorado River just south of the Hoover Dam. They are tucked away between the hot desert and refreshing river waters and can be reached by hiking between 5-6 miles round trip or by boat/kayak like I did. Even if you access the springs via kayak it still requires a bit of hiking to get to the pools. But the path to get there is quite beautiful and not difficult for most reasonably fit people.
The natural spring waters emerge from the ground, follow paths through a colourful slot canyon, and tumble down natural waterfalls. There are three main pools created with the help of sandbags. And while this man-made technology deters a bit from the natural view, it forms amazing pools where you can soak your body. Each of the pools' temperature increases the closer you get to the source, finally reaching around 110°F. WARNING – Soak your body but do not dip your head into the water as it may contain a deadly brain-eating amoeba that travels through your nose to the brain.
The Arizona hot springs are technically free, although you might need to pay a National Park Service fee depending on how you access the springs. Your cost will also vary depending on which approach you use to get there. You could drive and do a self-guided hike. You could also take your own kayak or rent equipment. Or you can do a guided half-day or full-day tour which includes transportation, equipment, food and beverages (tour prices vary by operator and length of trip). So it all depends on what type of experience you want to have.
Any way you visit, there is no better way to melt your worries away than a soak in the Arizona Hot Springs!
Alvord Desert Hot Springs, Oregon
By Nina from Oregon Is For Adventure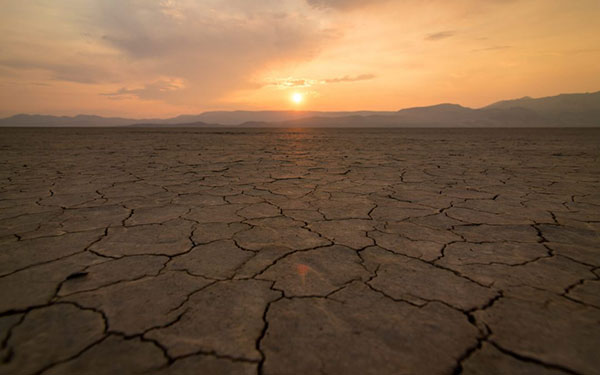 Let's get just one thing straight here before we get to talking about Alvord Desert Hot Springs… It's a bit primitive. It's a small shed with a small in-ground hot tub. When you look at just the hot spring itself, you may wonder why it's that great.
And if we're being totally honest here, the hot springs alone, isn't all that great.
BUT… The pool is nice and warm and it's family-run and owned by the Davis family. Water bubbles in at 170 degrees Fahrenheit and gets cooled by mixing in the soaking pool. While I'm not really selling the hot spring very well so far, just wait for it. You aren't here only for the springs.
Alvord Desert Hot Springs is located right on the cusp of Alvord Desert which is essentially the leftovers of an evaporated lake that left salt minerals—And it's gorgeous! Sitting at 12 miles long and 7 miles wide, the desert sits pretty right against the Steens Mountain.
Camping on Alvord Desert with your own tent is something I highly recommend and is quite the experience. You can set up a tent, sleep under the clear night sky, and freely drive on the playa!
If you're not into tents, here's where Alvord Desert Hot Springs comes back into play, they also offer bunkers which are cute and simple rooms that include the use of the hot springs.
The hot springs at night is pretty magical with the night lit up above you. Come out here to check out the desert and soak in the hot springs after a long day of adventuring! This is a spot that's still off the radar due to its remote location so it's a great option if you want to get away from any crowds.
It's $8 to visit the hot springs alone, but if you book a bunker or anything else with them, it's included. They will also allow you to use their service road which has easier access (and a smoother drive) to the playa for $5.
Hot Springs National Park, Arkansas, USA
By Jennifer from National Park Obsessed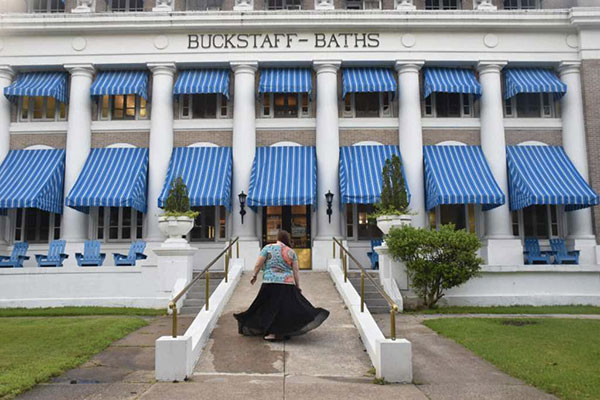 Hot Springs National Park in Hot Springs, Arkansas is famous for its natural hot water springs. On April 20, 1832, Hot Springs was the first piece of land set aside by the United States government for recreation. 47 hot springs were protected along the lower slopes of Hot Springs Mountain.
As the town developed into a spa resort town, the hot water reservoir was tapped and a series of bathhouses were built at the base of the mountain.
Today, only two of the bathhouses are still in operation as public bathhouses. The first is the Buckstaff Bathhouse. Buckstaff Bathhouse was built in 1912 and still has many of its original fittings. The Buckstaff offers a tradition 1900's hydrotherapy experience featuring a range of fun contraptions like a sitz bath and vapour cabinet. Buckstaff's service is first-come-first-serve and the cost is $82 for a bathing package.
The second is the Quapaw Bathhouse. Quapaw was built in 1922 in the Spanish Colonial style and operates as a modern spa with hot bathing pools. The main feature is the four hot bathing pools under its copper cupola. Guests can purchase a thermal pool pass that provides access to the pools as well as additional spa treatments such as a visit to the natural steam cave in the basement. Cost ranges from $20 to $300. If planning to do a full treatment at the Quapaw Bathhouse, consider staying at The Waters Hotel to receive a discount on spa treatments.
Sol Duc Hot Springs, Washington State, USA
By Ladona from Walking The Parks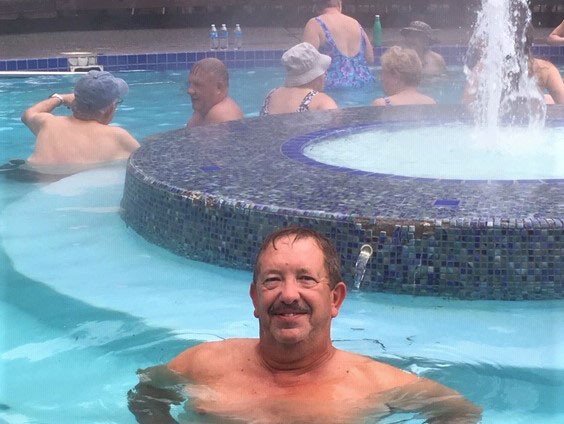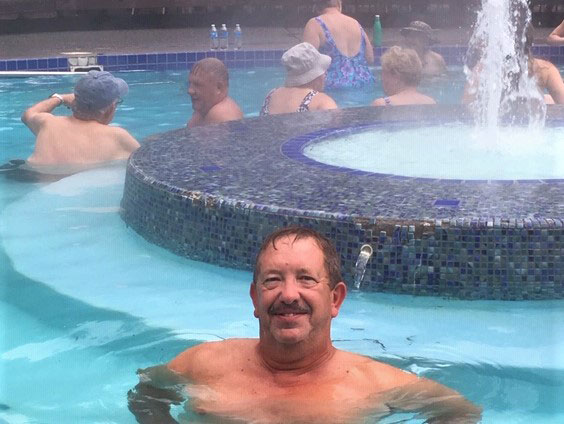 Amidst the beautiful rainforests of Olympic National Park in Washington State, you'll find Sol Duc Hot Springs. For the outdoor enthusiast, this is a dream spa. You can spend your day hiking or wildlife viewing and then relax your sore muscles in the healing waters.
The natural mineral hot springs feed three tiled soaking pools, each managed to a different temperature. The spa area also houses a large traditional swimming pool. That makes it particularly nice for families as kids tend to move to the bigger pool where they can freely play.
The first resort around the Sol Duc hot springs was a large complex full of luxuries for the wealthy, built in 1912. It even included a special sanatorium wing that could house up to 100 patients who could afford to pay for the privilege of using the hot springs, massages, and other treatments.
Today Sol Duc Hot Springs Resort is much simpler with a variety of cabin rentals near the main lodge that run $200-300 a night. Within walking distance is a large National Park campground where you can enjoy the spa with a day pass for $11-15. Other day visitors are also encouraged and the staff is very welcoming.
Since Sol Duc Hot Springs are located within the Olympic National Park, you will also need to pay the park entrance fee of $30 per vehicle.
Tabacon Hot Springs, Costa Rica
By Mikkel from Sometimes Home
There is an area of Costa Rica well known for its hot springs. The volcano, Arenal, is what makes the natural hot springs in the surrounding area of the same name possible. When you're on vacation in a country that much of your trip could include adventure sports like hiking, biking, zip-lining and even white water rafting you start to think what it would be like to pamper yourself! A hot springs visit is the perfect answer.
My first impression of Tabacon Hot Springs was, "If heaven exists, this is what I imagine it looks like." There's beautiful tropical foliage everywhere and hot waterfalls of thermal water on the impeccably manicured property. There's even a walk-up bar in one of the hot spring pools! If you want to take your pampering even further there's an onsite spa where you can treat yourself to massages and facials. I was treated to a banana leaf, mint facial I will forever remember!
There are several options for entrance and costs vary with the choice you make. However, for example, a morning pass with lunch included is $70 USD per adult. Or a one day pass with two meals (lunch and dinner) is $105 USD. They limit the number of people who can visit in a day to keep the crowds at an enjoyable number for all guests, thus reservations in advance are recommended. They also have various packages available access to the hot springs and hotel stays, and potentially even the inclusion of a spa treatment or credit, so be sure to check your options!
Finca el Paraíso, Guatemala
By Lauren from Cuppa to Copa Travel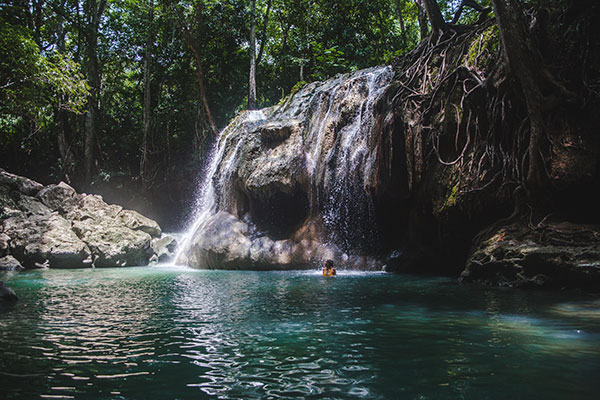 Finca el Paraíso is a natural wonder, found in the East of Guatemala, less than an hour in a bus from the hectic town of Río Dulce. After alighting the bus, you'll need to walk along a path through the forest (often guided by excitable local children) for 10 minutes before reaching the famous but not often visited Finca el Paraíso. And what's so special about this thermal springs experience? Natural hot springs pour down into a spectacular hot waterfall, which meets with a refreshingly cold natural pool fed by the river that runs below.
You can take a shower (probably your only hot shower during a visit to Guatemala!) in the falls before diving back into the beautifully cool pool. There are also small caves to relax in behind the waterfall if you're brave enough to swim under the rocks! And of course, you can spend time in the pools of the thermal springs themselves above the waterfall, though it does take a little strength to climb the high river banks to get to them.
Once you're done, just leap off the top of the waterfall to get back down; the river's natural pool is deep enough! With a bus price of 15 Quetzales each way, 10 Quetzales entry to the waterfall and a few small tips if locals lead you through the forest to Finca el Paraíso, the whole trip should come to less than £5.
Fuentes Georginas, Guatemala
By Lora from Explore With Lora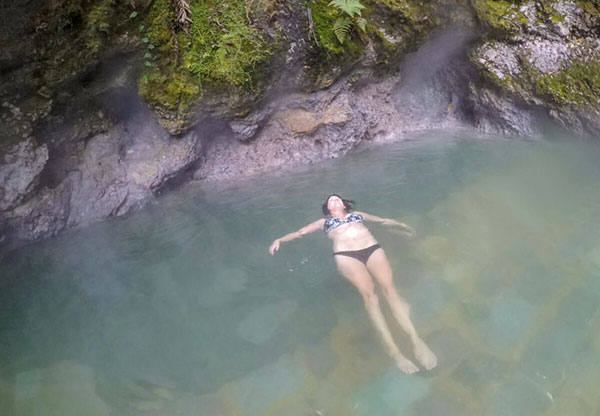 Guatemala is a country full of beautiful natural attractions to visit, including some stunning natural hot springs. The Fuentes Georginas Hot Springs are located in Zunil, Guatemala, about 9km from the Quetzaltenango, the second-largest city in Guatemala.
The easiest way to get there is to book a shuttle through your accommodation in Quetzaltenango. Alternatively, you can take a public bus to Zunil, and then a tuk-tuk from the station to the hot springs.
The hot springs are heated by the thermal water that comes from the Zunil volcano. The area has been modified with the addition of pools, but it still felt quite natural. The pools are naturally fed by sulfur springs, and there is stunning scenery all around them to enjoy as you float in paradise. There are four pools in total, each with varying temperatures.
The cost to enter the hot springs is only $6.50 USD. They are open 9-6 every day of the week and once inside, you can spend as much time as you want in the pools. I recommend getting there earlier in the day as there will be far fewer people.
The best hot springs in South America
Japanese-inspired thermal baths in the forests of Chile, remote mountain-top hot springs in the Andes and baths where you can cover yourself with warm, mineral-rich mud in a lush natural environment; these are the best hot springs and thermal baths in South America.
Termas Geometricas, Pucon, Chile
By Joanna from The World In My Pocket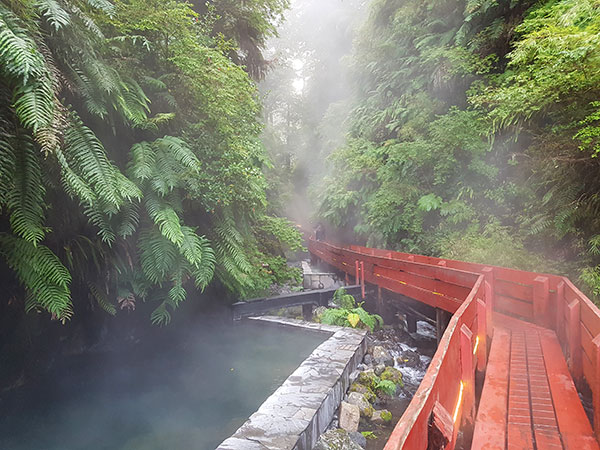 One of the most spectacular natural thermal hot springs I have ever been to are Termas Geometricas, near the town of Pucon, in Chile.
Pucon is known as a very active town, with plenty of adrenaline-pumping experiences such as climbing Villarrica volcano, mountain biking, trekking or rafting, which can leave your muscles very sore. Termas Geometricas are the perfect oasis to relax in after practising such extreme sports.
Located in the Villarrica National Park, Termas Geometricas have a Japanese-inspired labyrinth design with 20 natural pools with temperatures ranging between 30 to 45 degrees Celsius. There is also a waterfall pouring ice-cold water into another pool where only the brave dare to get in.
The thermal centre is spread inside a forest, following a narrow path between two mountain walls. The water that comes inside the natural pools from the ground is heated by the volcano activity and the magma brawling in the underground. Because of the crystallisation of magma that comes in contact with the water, the thermal springs from Termas Geometricas are also very rich in minerals which are beneficial for the skin.
The thermal spa is opened until late at night, which makes it very special. After the sun sets the pathway is illuminated only by candles. It's magical to sit inside a hot pool at that time, especially that after dark the outside temperature drops drastically.
Termas Geometricas have a small restaurant with a fireplace inside, where you can enjoy a cup of hot chocolate and a snack after the relaxing experience.
Termas de Aguas Calientes Puyehue, Chile
By Andrea from One Savvy Wanderer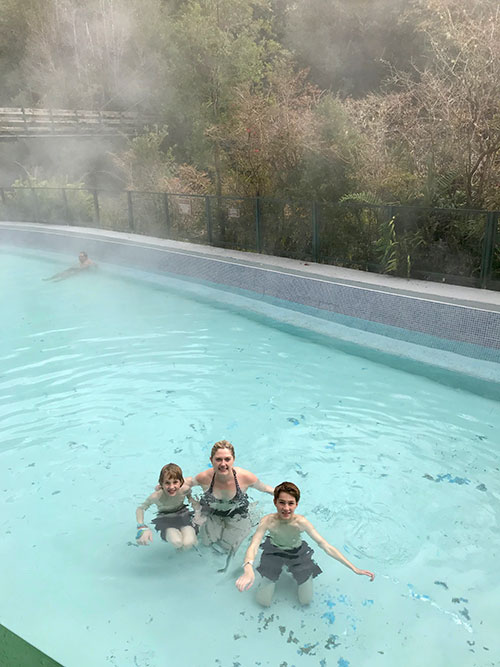 The remote hot springs of Termas de Aguas Calientes is located in Puyehue National Park in Chile. It is surrounded by rivers, lakes, forests and mountains making it a spectacular location to visit if looking for things to do in Bariloche, Argentina, which is only a three-hour drive across the Chile-Argentina border.
The Termas de Aguas Calientes thermal baths (both indoor and outdoor options) and on-site accommodations are open year-round. Due to its location in the Patagonia region, other activities include hiking, biking, mini-golf and fishing. The mini-golf course is on site and guests can rent bikes from the facility to explore the Andes Mountains.
The accommodations at Termas de Aguas Calientes offer affordable cabin and duomo (dome tent) lodging. There is also an on-site restaurant that is open for breakfast, lunch and dinner. The cost to stay at Termas de Aquas Calientes ranges depending on the time of year and the size of the cabin or duomo that is reserved. Typically, the duomos are cheaper and travelling during the middle of the week will save a considerable amount of money compared to visiting on the weekend. Travellers can anticipate spending, on average, $100-$200 USD per night on lodging at Termas de Aguas Calientes, which includes access to the thermal baths.
Salinas Hot Springs, Coconuco, Colombia
By Julien from Cultured Traveled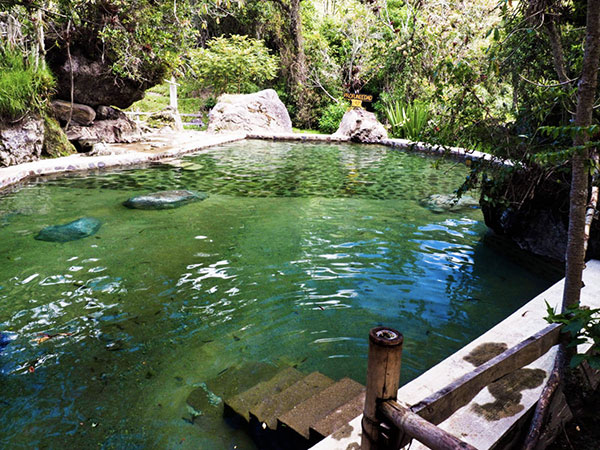 This hot spring in the tropical mountains of southern Colombia is remote and private. Managed by the indigenous community of Coconuco, it's one of the most natural hot springs in Colombia. They aim to create a sanctuary that focuses on well-being in an organic environment. The entrance fee is a modest 10,000cop or about $3usd.
When you arrive, start with a self application of thermal mud that bubbles up from the ground. It's warm, silky smooth, and its minerals are known to benefit the skin. Then take a short walk to rinse off in the Salinas waterfall where the water temperature will awaken your being. Afterwards, you'll be ready to warm up and start soaking.
Lucky for you, the first of two thermal baths are nearby and sufficiently hot. Dip in slowly as your body adjusts to the temperature. As you begin to relax, be conscious about taking time to break from the heat. Because of the benefit of alternating temperatures, next to the thermal pool is a shower that pumps water directly from the frigid waterfall.
Next is a natural steam sauna that captures the water vapour from the thermal below. Step inside and breathe deep as the infused eucalyptus penetrates your airways. When you exit the sauna, you are greeted with an aromatic water beverage, infused with local herbaceous plants. At this point, there is one more thermal pool to enjoy. It's warm but not as intense as before. It's the type of place you can relax all day, and you absolutely should!
Santa Rosa Cabal, Colombia
By Daniel from Layer Culture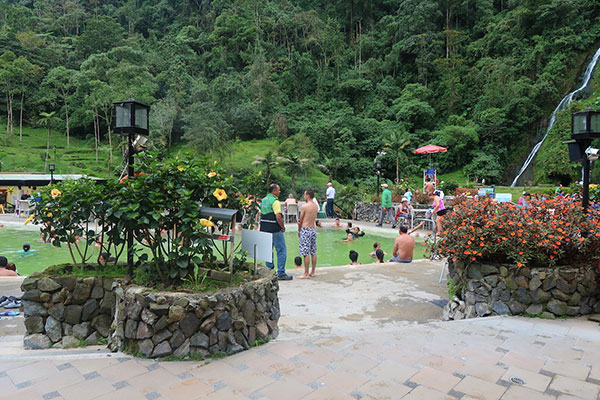 If you're looking for hot springs in Latin America be sure to visit 'Las Termales' in Santa Rosa Cabal. Located within Colombia's coffee region, the natural hot springs are one of the main attractions in the area. It is no wonder that the natural springs are so popular with locals and tourists. Inside the park, which is situated in a remote woodland around 10km from the centre of Santa Rosa Cabal, you'll encounter a cascading waterfall accompanied by various hot and cold pools and a spa.
Getting to 'Las Termales' is easy as a local bus runs to the hot springs. On arrival, pay the entrance cost of around $15 and walk up the terraced path. From there, you'll eventually be greeted by the most beautiful view of the waterfall cascading down the mountain.
When bathing in the hot baths you must remember to take regular breaks. It so happens that the same heat sensation that gives you so much pleasure can also leave you feeling dizzy. Drink plenty of fluids before, during, and after spending time in the hot pools. I carried a filtered water bottle to save myself from consuming unnecessary amounts of plastic. The venue is fully equipped with a catering service that offers standard quality food. The venue opens right up until midnight, so be prepared to spend a full day and carry all the necessary provisions to be able to relax.
Papallacta hot springs, Ecuador
By Micki from The Barefoot Nomad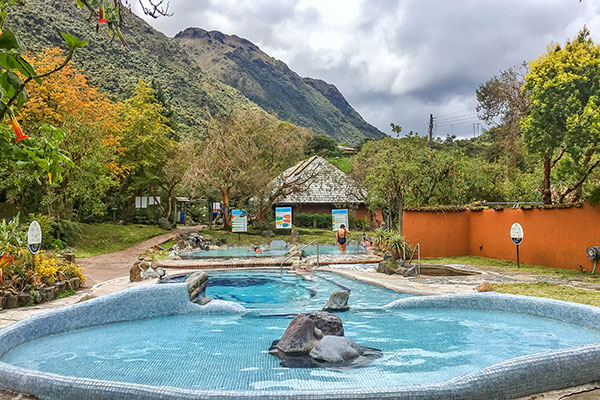 Papallacta Ecuador is home to one of the world's most unique and beautiful hot springs and thermal spas. The hot spring pools at Hotel Termas de Papallacta Ecuador are perched high in the Andes Mountains, about an hour outside of Quito, Ecuador.
Papallacta is located between the Cayambe and Antisana volcanoes, which provide heat for the natural hot springs. The hot springs' water is virtually odourless and colourless, and ranges from 30 degrees C to 70 degrees C at its source.
The hot springs are set at a high elevation of 10,800 feet (3,300 metres), in expansive grounds brimming with unique tropical flowers. There are three sets of hot springs pools in Papallacta: public pools, pools reserved for Hotel Termas de Papallacta Ecuador hotel guests, and an exclusive spa with private hot pools.
There are ten hot pools of varying temperatures to enjoy at the day use public pools, which are set beside the Papallacta River. The cost to access the public pools is around $9 USD for adults, and $4 USD for children.
Pools for guests at the Hotel Termas de Papallacta Ecuador are scattered throughout the grounds. Larger pools are in the main area, and others are smaller, secluded pools outside the family cottages and grounds.
There's also an exclusive spa with private hot pools at the hotel, which are mostly adults only. The exclusive, private spa pools cost $22 for adults, and isn't included in hotel rates.
The best natural thermal baths in Africa
Make time for some relaxation at these thermal baths in Africa.
Kikuletwa thermal bath, Tanzania
By Albína from Ginger Around The Globe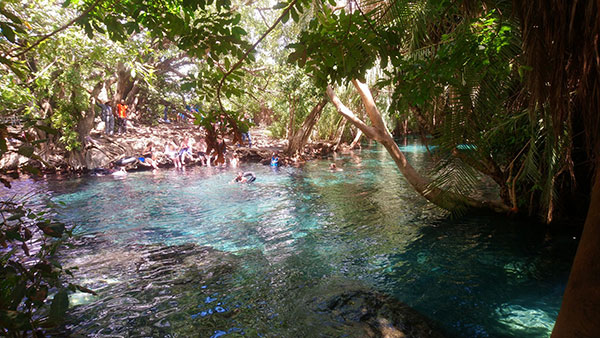 If you think that Tanzania is a country that is hot enough, so it doesn't necessarily need a thermal spa, it is not entirely true. In the mountains in northern Tanzania are places that could be quite cold. Luckily there is a place where you can bathe in natural thermal pools in clear blue water.
Kikuletwa hot springs are located under Mount Kilimanjaro, about an hour from Arusha city of Moshi town. To get there, you need to get to a taxi, which usually costs about 20 dollars both ways. When I was driving there, it felt like we were driving in the middle of nowhere. And then from all of a sudden, there was a little forest, or more like an oasis with people around.
To get in and see bright blue clean water, you will need to pay a fee that is about 15 dollars per whole day. Inside you have different facilities like a toilet (very important in Africa!), a food stand and a place where you can borrow swimming goggles.
Generally, a day in Kikuletwa is more about relaxation and enjoyment of the little paradise around, but there is a swing, so you can feel a little bit like a Tarzan there as well.
Hammam Mellegue, Le Kef, Tunisia
By Wendy from The Nomadic Vegan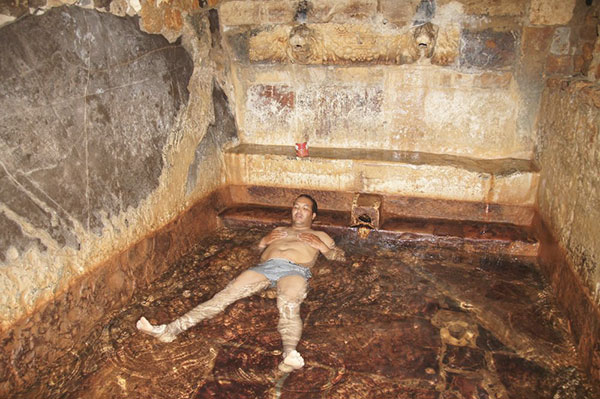 For an off-the-beaten-path thermal spa experience that's overflowing with history, you can't beat Hammam Mellegue in Tunisia. The bath complex was originally built by the ancient Romans about 1800 years ago and is still in working condition today.
Some of the various rooms have fallen into various states of disrepair, but the caldarium remains almost completely unchanged. The name "caldarium" comes from the Latin word for hot, which is "calidus", and this is where the Romans would soak in a pool of hot water. That water came from underground hot springs, which still feed the caldarium today.
The water is even drinkable, and it's believed to have healing properties, particularly for people suffering from digestive problems and rheumatism. As is usually the case in Tunisian bathhouses, the bathing facilities are segregated by sex.
The other women in the female section bathed topless, wearing just their underpants, so I forsook the bikini I had brought along and did the same. At first I watched shyly from a corner of the pool as they scrubbed each other down, but eventually, they called me over and started scrubbing me rather vigorously as well. It was quite an experience!
Hammam Mellegue is about 15 kilometers from Le Kef and is best visited as a day trip. It's at the end of a rough dirt road with no public transport, so you'll need to arrange for a car and driver in Le Kef. As far as I can recall there was no entrance fee. You won't find any food or beverages sold here, so either eat in Le Kef before you leave or arrange for a local Tunisian restaurant in Le Kef to prepare a packed lunch for you.
The best hot springs and thermal pools in Asia
Japanese Onsen, holy hot springs in India, idyllic island spas and city-centre relaxation; these are the best hot springs and thermal baths in Asia.
Manikaran hot springs, Himachal Pradesh, India
By Shalini from Eager2Travel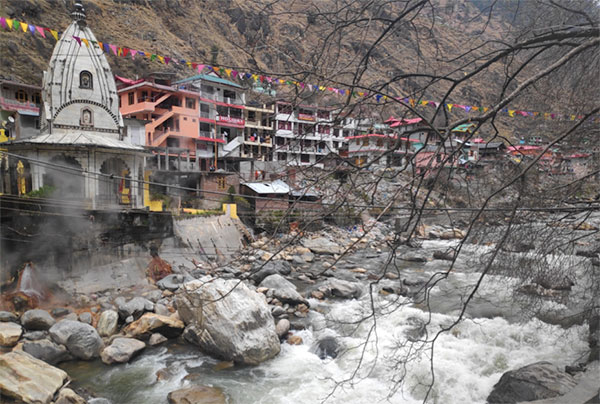 Located in the beautiful Parvati Valley, Manikaran is famous for Gurudwara Sahib and the natural hot springs that are said to have medicinal properties. Manikaran is located 45 km from Kullu in Himachal Pradesh India. The nearest airport and main bus stop is Bhuntar. From Bhuntar you can easily reach Manikaran by private taxis or local buses.
The hot springs are situated near the bank of Pravati River. The water is free of sulphur or iron and it is so hot that rice and other vegetables can be boiled in it. Near the Gurudwara Sahib the hot springs are located and the langar at the Gurudwara is made using this water only.
The healing properties of the hot springs are well known around the country. Pilgrims from all part come to cure their ailments. Rheumatism and muscular pains are said to be cured by taking bath in this water.
According to a legend, Manikaran is associated with Lord Shiva and his wife Parvati. Mani Karan means Ear Rings – it is said that once, while taking bath here, Maa Parvati lost her ear rings in the Kund (pond). When she told it to Lord Shiva, he became furious and looked at the water of the kund with great anger and then thousands of ear rings flowed out from the boiling water and since then the water of the spring is boiling. The rocks surrounding the springs are also very hot. If you visit here do take a dip in the holy water and no worries, there are plenty of changing rooms available.
Dogo Onsen, Matsuyama, Japan
By Kenny from Knycx Journeying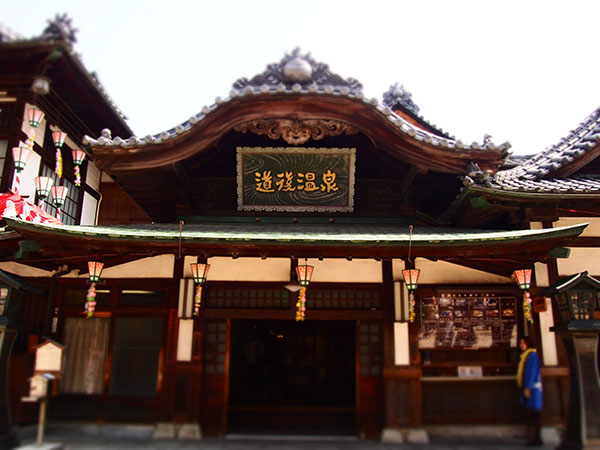 Hot spring is called Onsen in Japanese, and it has been a profound culture in Japan. Therefore, a visit to onsen or bath houses is a common social activity and Japanese enjoy their short getaway to the many onsen ryokans across the country.
Of many hot springs in Japan, Dogo Onsen is one of my favourites. Why? Because, firstly, it is one of the oldest natural hot springs dated back to the 600 A.D. in the record. Located in Matsuyama, Shikoku, it's one of the most visited, historic, and popular hot springs in Japan. Secondly, Dogo Onsen has a deep connection with an influential writer, Natsume Soseki – in fact, he is the face printed on 1000-yen dollar notes! Dogo Onsen was his favourite retreat and his famous autobiography, "Botchan" was inspired by this place. Many of the novel's characters are featured and displayed everywhere in the city.
Lastly, the historic Dogo Onsen Bath House also served as a blueprint of another animation giant, Miyazaki's film "Spirited Away". Many of the scenes and designs were based on the bathhouse.
The bathhouse is a public bath (not ryokan) and it's a great way to truly pamper and indulge yourself into a traditional Japanese bathing experience. For 400 yen offers visitors access to the public bathing area; for 800 yen, visitors may enjoy the second-floor lounge and have a cup of tea after a bath.
Ikaho onsen and hot springs, Japan
By Lena from Nagoya Foodie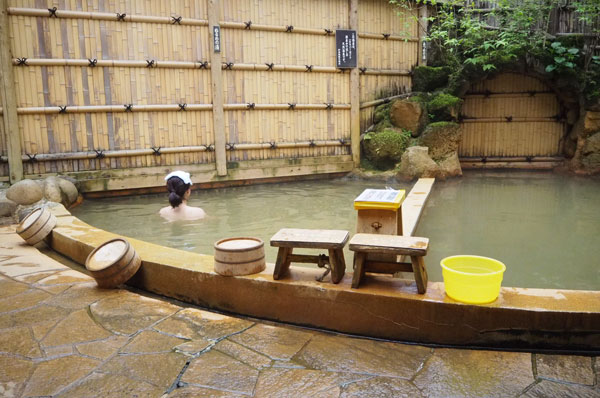 Hot springs, called Onsen in Japanese are very popular throughout the whole country. Since Japan is a country with many volcanos there are areas with lots of hot springs. The waters that are pumped up from below ground have different qualities and are said to have various healing effects on the body.
One of the hot spring towns in Japan is Ikaho Onsen, not very famous abroad but very popular in Japan. In this little town, hot spring facilities are abundant. You can not only use the public bathhouse (410 yen, 4 USD) and public Rotenburo (open-air bath) (450 yen, 4.5 USD) but there is also a hot spring pool at every Ryokan and hotel in town.
The town is centred around a stone staircase that leads from the bottom up almost 400 steps to the top where the local Shinto shrine is located. Along the way, you will not only find delicious Japanese restaurants and shops but also two Ashiyu footbaths fed by hot springs. These footbaths are free for anyone to use and feel especially good after walking up and down the steps once or twice.
Ikaho Onsen is approximately 140 kilometres north-west of Tokyo and you can reach it easily via highway bus. The bus ride costs 2600 yen one-way and takes 2.5 hours.
Hot springs in Kinosaki, Japan
By Yariella from The Beauty Backpacker
Some might call me a hot springs junkie. But it's a title I happily embrace. Because there is nothing better than a holiday with a side of self-care. And perhaps my most epic hot springs experience was in none other than Japan. Renowned for its onsen, it's one of the most unique places to visit for a dose of detox. And Kinosaki, described as Japan's "hot springs town", is the place to go if you want the complete onsen experience.
It's a small town, found in the heart of the Hyogo Prefecture near the Coast of Japan. And it's bountiful in thermal springs. It's also a relatively quick train trip (2 hours) from Kyoto or Osaka, making it the perfect side trip from either of these major cities. Once there, you can book yourself into a local ryokan (traditional Japanese hotel) and gain access to seven (yes, seven) onsen all over town.
Do as the locals do, and after you've settled into your hotel, change into a yukata (an informal kimono) and geta (wooden clogs) and head out to explore Kinosaki's each and every onsen as the sun starts to set. With the majority of Kinosaki hotel reservations, you get full access to all of the town's onsen, so you can mix and match and get a flavour of all the different onsen types.
Noboribetsu Onsen, Hokkaido, Japan
By Jodie from Alajode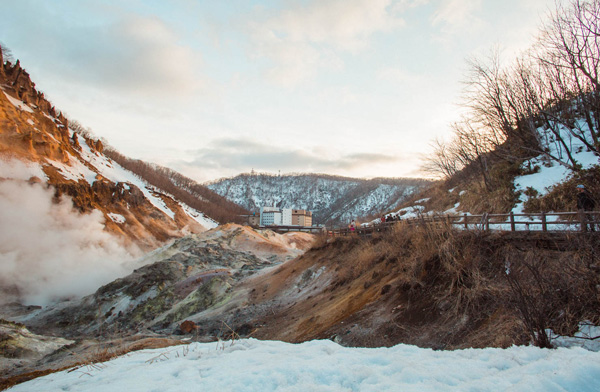 Visiting an onsen is one of the must-try experiences in Japan, and there are plenty to choose from. Without a doubt, though, Hokkaido is the best place to experience an onsen. With its colder climate and abundance of natural hot springs, it's the perfect spot for stripping off and experiencing this traditional Japanese bathing ritual. It's especially enjoyable when it's cold outside and is one of the reasons why winter is the best time to visit Hokkaido.
Noboribetsu is a little out of the way but an easy enough trip from Sapporo, Hokkaido's capital city. What makes Noboribetsu so special is that you can experience the natural hot springs in several ways. Start by hiking the short Oyunuma River trail that leads to the natural footbath and dip your toes in before heading to the main hot spring walk way.
Once you've taken in the sights, you can immerse yourself in the hot springs inside one of the hotels in Noboribetsu. The Yumoto Noboribetsu offers day passes for visitors to use the onsen, but you can also stay overnight if you don't mind splashing out for the experience. It's a totally unique experience and one that will leave you more relaxed than you thought possible. The only catch is that you'll have to bathe naked, with the onsen separated into male and female areas.
Ma'in Hot Springs, Madaba, Jordan
By Lindsay from Step into Jordan
The Ma'in Hot Springs is located near Madaba, and is one of the most popular places to visit in Jordan. It is about 90 minutes drive from Amman, Jordan's capital city. It lies over 200 metres below sea level. This natural hot spring is located between sandstone mountains and the best way to visit it is to stay at the Ma'in Hot Springs Resort and Spa.
At Ma'in, the water cascades off the cliffs into a series of pools. From these pools, the water is diverted into a series of bathing areas for guests.
The resort has six bathing areas and a stunning waterfall, where the water is over 65 degrees Celsius. This hot water is cooled and directed into the swimming pool, allowing for a chemical-free swimming experience.
Day passes are also sold at the resort, but there are specific hours for hotel guests and day pass holders. Visitors relish in the potassium, magnesium and calcium-rich waters for their health benefits, and for a relaxing natural experience.
Maquinit hot springs, Palawan, Philippines
By Bret Love and Mary Gabbett of Green Global Travel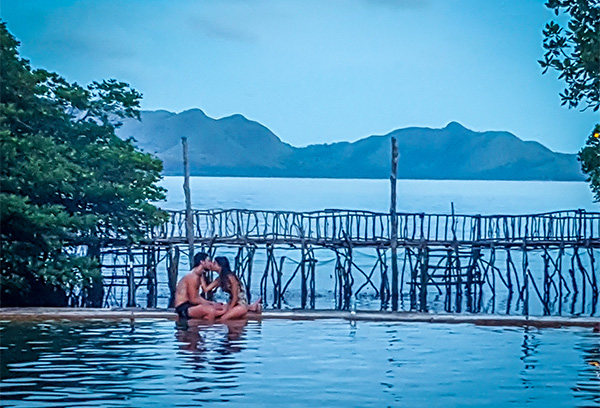 Voted "Best Island in the World" by Travel + Leisure magazine readers several years in a row, Palawan is one of those incredible places that somehow manages to measure up to the dream most people have when they imagine an idyllic tropical paradise.
From picturesque beaches and dynamic karst limestone landscapes to exquisite snorkelling and Scuba diving opportunities and all sorts of wildlife, there are plenty of Palawan activities and attractions to warrant weeks of exploration. There are also plenty of posh Palawan resorts and hotels from which to explore the region, from popular hotspots like Coron and El Nido to off-the-beaten-path places like San Vicente and Tay Tay.
Located on Busuanga Island, Maquinit Hot Springs is one of the most popular and romantic attractions in Coron, not to mention one of the world's few hot springs where you can soak in salt water. It's a local tradition to visit the natural spa after a long day of climbing the 723 gruelling steps up nearby Mount Tapyas. Which is precisely what we did, and the hot water proved the perfect remedy for our aching muscles.
Be aware that the water in the two-tiered circular pool (which is fed by volcanic activity) gets really hot, with average temperatures of up to 104º Fahrenheit. But once you get used to it, the feeling is wonderfully therapeutic. And the view of the sunset over the oceans, with birds flitting through the forest all around you, makes for a wonderful way to wind down a day of adventure in paradise. With admission fees of just 200 Php (approximately $3.90), it's also a great bargain!
Spring City Resort, Beitou, Taiwan
By Alison Roberts-Tse from Dance Dispatches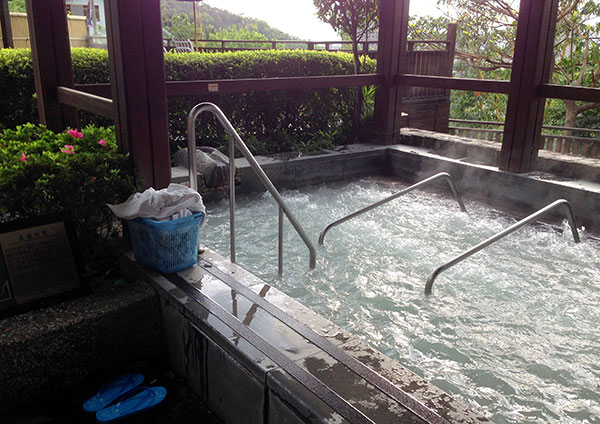 Although hot springs can be found around the island of Taiwan, Beitou is one of their most popular hot spring destinations. Visitors frequent this northern region of Taipei to see the Geothermal Valley and to soak in hot spring water at a variety of bathhouses. Some have a single pool for each sex, while others have multiple pools with different features. Spring City Resort offers an affordable outdoor hot spring spa with many facilities, which makes it great for the whole family.
The nine pools at Spring City Resort are set within well-manicured, Japanese-inspired grounds. The family area stands at the front of the property, with warm water that is comfortable for children. The pools have shallow areas for little ones to wade in, and children will enjoy playing with the jets and fountains.
Meanwhile, adults can choose to relax in a variety of hotter pools. There are baths that bubble and baths that shoot water jets for an aquatic massage. Signs sit beside each pool with its name, temperature and health benefits. Like many spas, Spring City Resort also has a cold plunge pool and additional seating areas.
You may be able to shop for deals online, but if you purchase admission at the resort it costs 800NTD for adults (which is currently approximately £20). Guests are welcome to stay on site from 9:00am to 10:00pm. You will receive locker room access, towels and flip-flops with your admission – but don't forget to bring your swimsuit!
Emerald Pool, Krabi, Thailand
By Pari from Traveling Pari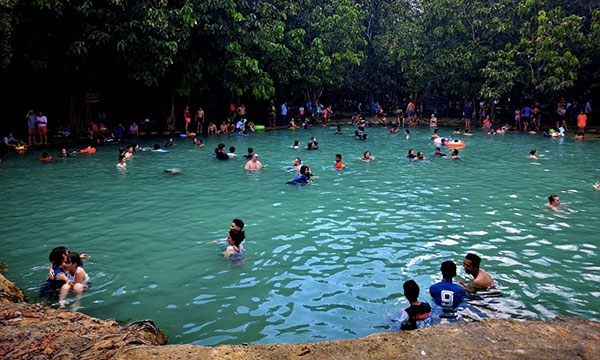 Emerald Pool is a natural hot spring located in Krabi, Thailand. Set in a forest area, the Emerald pool is gorgeous, and the temperature of the water is perfect to swim in. The mineral-rich water is also great for your skin.
Besides the Emerald Pool, there are two other pools that are close by – the Blue Pool and the Crystal Pool. They are both a short walk away from the main pool. However, you can't swim in them, unlike the Emerald Pool.
To get to the Emerald Pool, you can hire a scooter from Krabi Town or Ao Nang Beach. It takes an hour to get there. If you are not keen to drive, there are plenty of tour buses that'll take to the hot springs as part of their day tour.
As with some attractions in Thailand, the entrance fee structure to the Emerald Pool is different for foreigners and locals. If you are a foreigner, it'll cost you 200 THB (approx. $6.60) per adult and 100 THB(approx. $3.30) per child. If you are a local, it'll cost you 10 times less.
For more information on Emerald Pool Krabi, look up my linked article.
Pamukkale, Denizli, Turkey
By Lerato from My Life from a Bag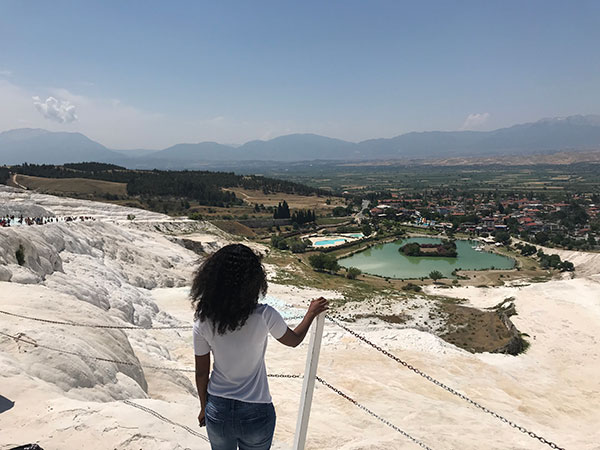 Located in Denizli in southwestern Turkey, you will find the ancient city of Hierapolis, also known as Pamukkale – the word literally translates to Cotton Castle. The area is famous for its white terraces made of travertine, a sedimentary rock deposited by calcium-rich water from the seventeen naturally occurring hot springs.
There are many things to do in Pamukkale, like exploring the well-preserved Roman ruins or swimming in the pool where Cleopatra, the Egyptian Queen once swam! Visitors may swim for free in the hot springs but no shoes are allowed and its always crowded!
Pamukkale is one of Turkey's most popular tourist destinations with over 2 million annual visitors. The best time to visit Pammukale is before 9 AM or after 5 pm as there won't be any tour buses. Pammukale is open year-round with pool temperatures ranging from 35 °C (95 °F) to 100 °C (212 °F). It snows in the region in winter and its extremely hot in summer.
Nha Trang, Vietnam
By Jackie Szeto & Justin Huynh from Life Of Doing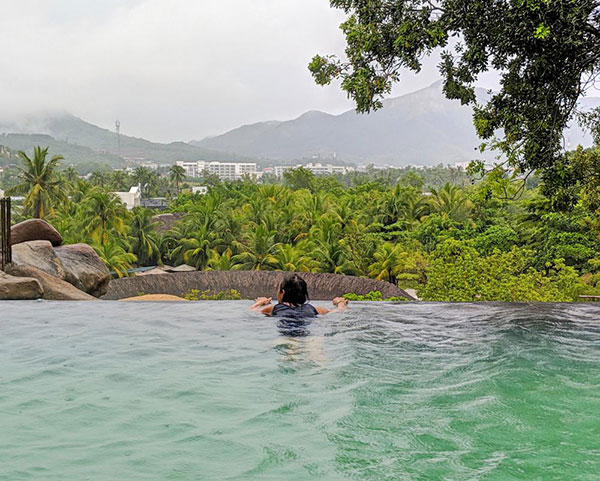 Nha Trang, located in South Vietnam, is a popular destination known for its golden sandy beaches and hot thermal mineral springs and mud baths. There are three different mineral springs and mud bath locations to choose from and all are worthwhile to spend the day relaxing and pampering yourself.
We went to the I-Resort, which is a perfect place for couples and families. This luxurious place is located 15 to 20 minutes outside of the main city area and has a beautiful view of the mountains and the countryside. Guests can choose if they want to spend their time in public areas or a private room.
The best part about I-Resort is soaking in the mineral mud baths and hot springs. Sitting in the mud bath for 30 minutes isn't as sticky and thick as you'd imagine but warm and velvety. The mud has natural minerals such as bromine to help make your skin silky smooth. Afterwards, you get to swim or soak in the hot mineral spring pools. Sometimes the water is a bit too hot! Regardless, both of these activities are great to unwind and de-stress from your Vietnam travels.
Children will enjoy spending their time at the on-site waterpark or play in the kid-size mineral pools. The site also has spa packages available such as body massages, mud wraps, body scrubs, and manicure/pedicures.
The cost of the hot mineral spring and mud bath in the public area starts at 350,000 VND ($15 USD) for adults and 150,000 VND ($6.50 USD) for children.
The best thermal pools and hot springs in Australia and New Zealand
Hot pools where you can bathe safe from crocodiles (they hate hot water) and beaches where hot springs bubble up into the waves; these are the best places to enjoy hot springs in Australia and New Zealand.
Mataranka Thermal Pools, Northern Territory, Australia
By Emily from Websites From A Van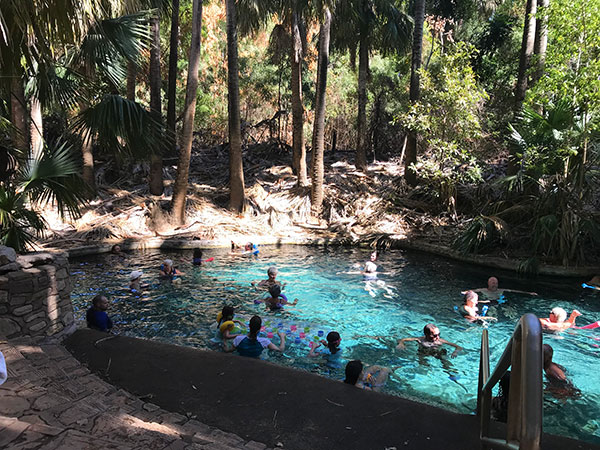 The Northern Territory, otherwise known as "The Top End of Australia", is considered one of the last wild frontiers of this vast continent. The landscape is harsh and unforgiving, with crocodiles being a constant threat in all rivers and beaches. The inability to swim in the Northern Territory is what makes the abundance of swimmable hot springs such a relief. Apparently, crocodiles don't like hot springs!
Set amongst the Elsey National Park south of Katherine you will find the Mataranka thermal pools. The pools are located on a historic property which was one of the first homesteads in the area and access is free to the public. Set amongst palms and woodlands you will feel as if you're bathing in a tropical oasis. The water runs at a perfect 34°C (93.2°F) – just the right temperature under the shade of the lush forest.
Perhaps the most unique aspect of the Mataranka thermal pools is the crystal-clear water which appears turquoise thanks to the sandy bottom. It's hard to forget you are not in a man-made swimming pool at a five-star resort.
If you visit the area in an RV or camping set up, you can stay in the caravan park which is only a 5-minute walk to the pools. It's worth staying to visit the springs early in the morning or in the evening so you can have the place (mostly) to yourself as the Mataranka pools can get busy.
When people think of travelling Australia, they usually think of seeing beaches or the red desert, but Outback thermal pools such as Mataranka are unlike any other thermal spas in the world.
Peninsula Hot Springs, Victoria, Australia
By Holly from Globeblogging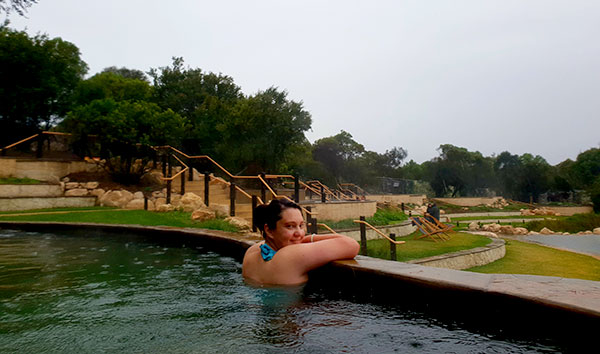 On the picturesque Mornington Peninsula, one hundred kilometres from the city of Melbourne, Australia, hide the Peninsula Hot Springs.
Natural thermal mineral waters are fed 637 metres underground into steaming stone-lined pools spread throughout what is a surprisingly expansive property. Winding paths lead away from the main building, and it seems as though around every corner are more pools, steam wafting into the air. This is one of the real advantages of Peninsula; over fifty pools means that even when it is busy it's not crowded. Most customers tend to linger in the pools closest to the main buildings, so with a little stroll it's easy to find a pool to have all to yourself.
Operating also as a day spa, entry starts at $45 for a bathing experience, up to over $200 when combined in a package with day spa treatments. To be honest you'll probably be plenty relaxed just by soaking in the pools. There are no time limits other than the opening hours, you are free to enjoy the pools for as long as you want. Bookings are essential.
There is also a lovely café, and I can recommend both the coffee and the food. They are also expanding to soon offer accommodation options also, so you can get a group together and make a weekend of it! It's a perfect way to spend a cold and dreary day.
Hot Water Beach, Coromandel, New Zealand
By Maureen from So Many Places! So Little Time!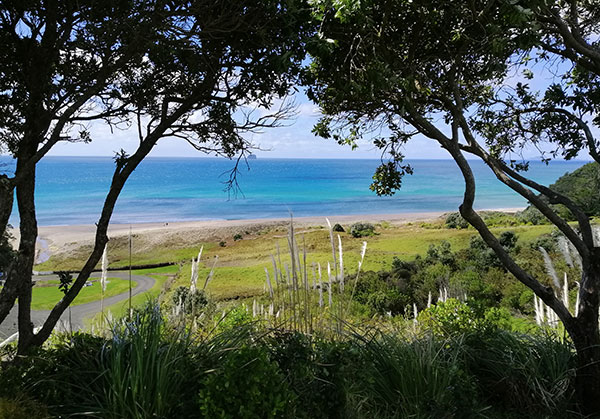 Your own 'hand-made' private jacuzzi on the world's hottest beach. Wander onto the beach with your spade, dig a hole in the sand, and sit back and relax in your very own private jacuzzi.
Hot Water Beach is on the Coromandel Peninsula, about two and a half hours pleasant drive from Auckland in New Zealand. The Coromandel Peninsula has many stunning beaches and it makes a very popular road trip for tourists. As you can imagine, this beach is one of the most visited locations, with over 700, 000 visitors a year.
At Hot Water Beach, underground hot water springs filter up through the sand for a couple of hours either side of low tide. The best places to dig a pool are at the southern end of the beach near the rocks. You can dig a hole in the sand and make your own private hot pool or invite strangers to join you if you wish!
You will need to bring a small, but not a toy, shovel or spade to dig the hole, and a bucket to add cold seawater if the springs water is too hot. The temperature can get as hot as 64 degrees C (147 degrees F). If you are staying on the Coromandel your accommodation will most likely have spades to lend or hire to you for this purpose or you can hire one from the local cafes.
You need to time your arrival very carefully. Check the tide time chart very carefully before you plan your trip. To be able to form a hot pool you need to be on the beach between two hours either side of low tide. You also need to keep in mind that everyone else will also be planning to get there at the same time.
Hot Water Beach is especially busy during the peak summer season from December to March but the springs form all year round so if you are not keen on big crowds you might want to plan your visit outside these months.
Rotorua, North Island, New Zealand
By Valerie from ValeriesAdventureTime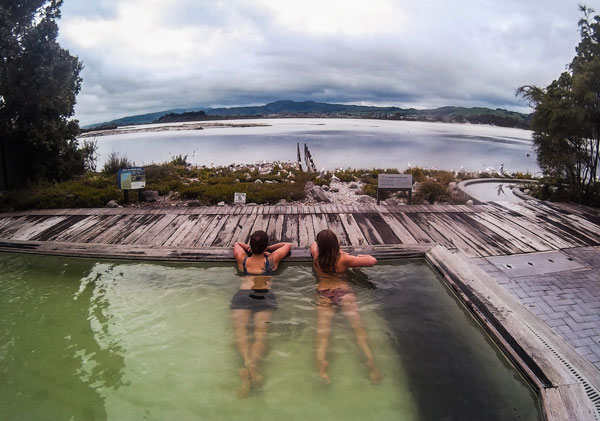 Rotorua on New Zealand's North Island is a famous place to experience geothermal activity. It is no surprise then, that you will find a naturally heated spa right in the city centre. With several hot pools and a beautiful view of Lake Rotorua, the Polynesian Spa is the perfect place to relax and recharge. The entrance fee for general admission starts at 32 NZD. There is also the option of booking a private pool. After trying both, I have to say I definitely prefer the public part of the bath though. The setting is so beautiful and the choice of pools is obviously much bigger.
If you are looking for an even more natural experience, you don't have to go far either. Just outside of Rotorua you will find Kerosene Creek. A hot spring that flows through the forest and is completely free of charge to visit. It takes about 30 minutes to get there by car from Rotorua. After parking up, you have to walk along the little stream through the forest until you reach a small waterfall. Here, you'll find an almost perfectly round pool with beautifully hot water. If you come during the week, you should be lucky enough to have the pool almost all to yourself. So enjoy the wonders of nature in and around Rotorua.
Hanmer Springs, Canterbury, New Zealand
By Nadine from Le Long Weekend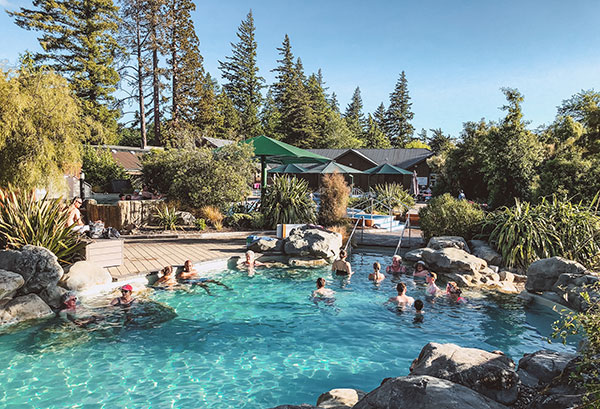 Located in northern Canterbury, Hanmer Springs makes a perfect day trip or weekend escape from Christchurch City in New Zealand's South Island. This tranquil town that houses only a few hundred residents permanently, swells with visitors during weekends and holidays as weary travellers descend in search of some rest and relaxation. Their main objective? A soak in the therapeutic thermal pools that the town takes its name from…
Hanmer Springs Hot Pools were originally discovered in 1859 and locals have been enjoying the benefits of soaking in the mineral-rich waters ever since. These days they're not free to enter, and prices can quickly add up for a family to visit, but the facilities are much improved. There are several distinct pool areas to enjoy – each with varying temps and depths – including several adult-only spaces and private baths for the ultimate in relaxation.
If you are visiting with kids in tow, they'll be entertained with the lazy river, activity pool, water slides and play areas. It's easy enough to spend an entire day soaking in the baths, amid the mountain views and native forest backdrop, but if you do get itchy feet there are plenty more activities to keep you entertained nearby – including jet boating & bungy jumping – Hanmer Springs is a hotbed of classic New Zealand activities! Entry to the pools starts at NZD $25 for adults and $12.50 for children.
Lake Tekapo, South Island, New Zealand
By Caroline from CK Travels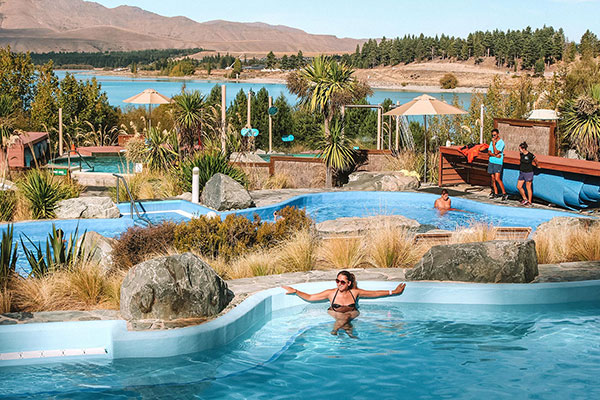 Relaxing hot springs with mountain and lake views, you say? What isn't to like about that! Located in New Zealand's south island, Tekapo Springs is a really enjoyable way to spend an afternoon unwinding in soothing hot waters. There are three hot pools filled from an underground source near Tekapo– all with slightly varying temperatures and with beautiful views of the bright blue waters of Lake Tekapo, one of the prettiest lakes in New Zealand. Entry to the pools costs 27NZD. There are also sauna and steam rooms available onsite at an additional cost.
You can also visit Tekapo Springs at night as part of a stargazing tour. Lake Tekapo is a UNESCO Dark Sky Reserve, one of only two in the southern hemisphere, making it one of the best spots in the world for stargazing, due to very limited light pollution. Part of the tour involves relaxing on a floating hammock in the hot pools, whilst watching the thousands of bright stars above you – it was a magical experience. Night stargazing tours cost 149NZD.
Which of these hot springs would you visit?