Aveiro, often referred to as the "Venice of Portugal," is a charming coastal city around halfway between Porto and Lisbon on Portugal's Atlantic coast. Like Venice, Aveiro has picturesque canals with its own traditional boats, but it also has a Portuguese charm all of its own.
I visited Aveiro earlier this year on a day trip from Porto and fell in love with its history, beauty and quirkiness – and you will too. In this post I'll let you know about all the best things to do in Aveiro and give you real-life tips to help you plan your trip.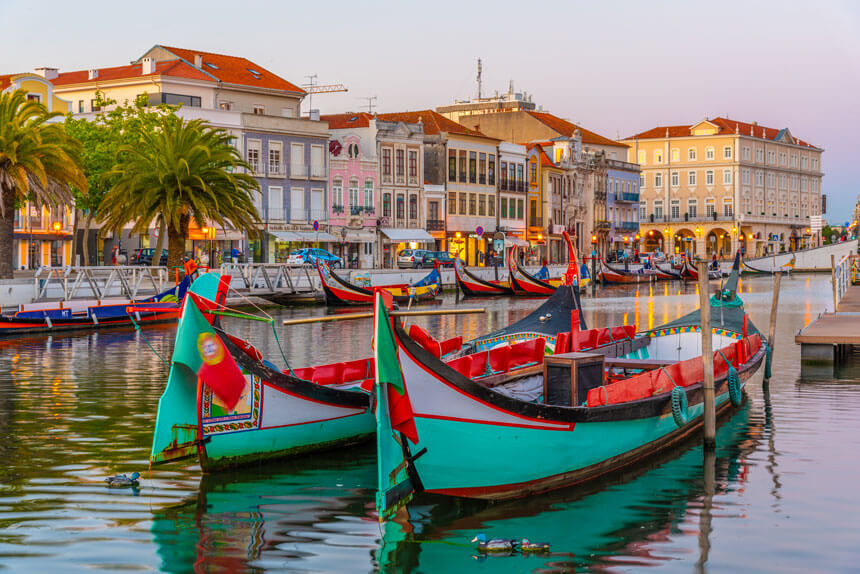 This post contains affiliate links – all that means is that if you buy something as a result of clicking on a link in the post, I'll receive a small commission that helps me with the costs of running this site. Thanks!
Is Aveiro worth visiting?
Aveiro is a lovely place to visit and a brilliant day trip from Porto. Here are the top reasons why Aveiro Portugal is worth visiting:
Aveiro's canals and traditional boats have given it the nickname the "Venice of Portugal"
Aveiro offers a mix of history, culture, and natural beauty with its traditional houses, Art Nouveau architecture, religious sites and setting on the Aveiro lagoon
The city is a food lover's paradise, with unique local dishes
Adventurous travellers can explore nearby Costa Nova and other attractions for a well-rounded trip
Aveiro is an easy day trip from Porto by train. You can also get to Aveiro by bus or car, or by taking an organised tour.
Aveiro Portugal things to do
Take a canal trip on a traditional Moliceiro boat
Aveiro is often compared to Venice due to its picturesque canals, and you'll spend a lot of your time in Aveiro wandering beside the canals and watching the traditional moliceiro boats go by.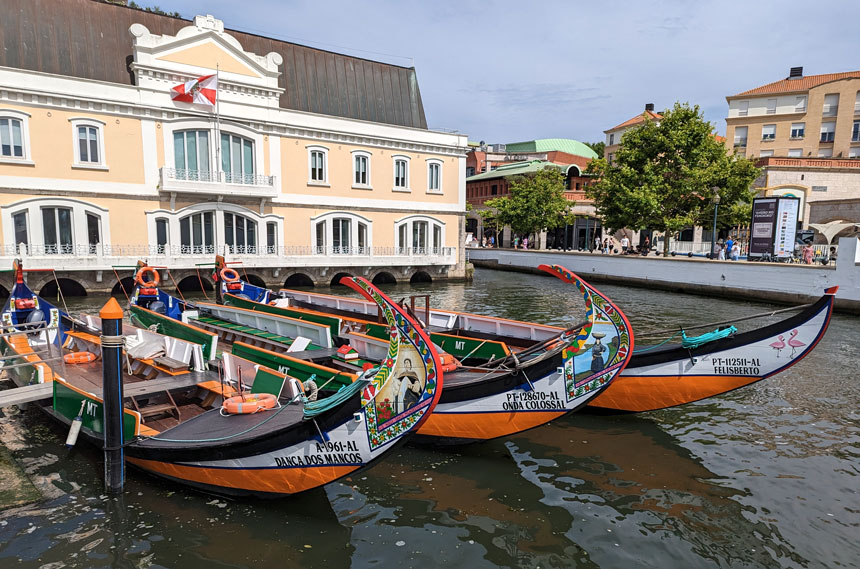 The moliceiro boats used to be used for harvesting moliço, a type of algae which flourishes in the Aveiro lagoon and was used as fertiliser until the 1960s when chemical fertilisers became more popular. These days, the moliceiros, which look like a bigger version of a Venetian gondola and have unique, brightly painted scenes on their bows, are more likely to be used to take visitors to Aveiro on canal boat rides around the city.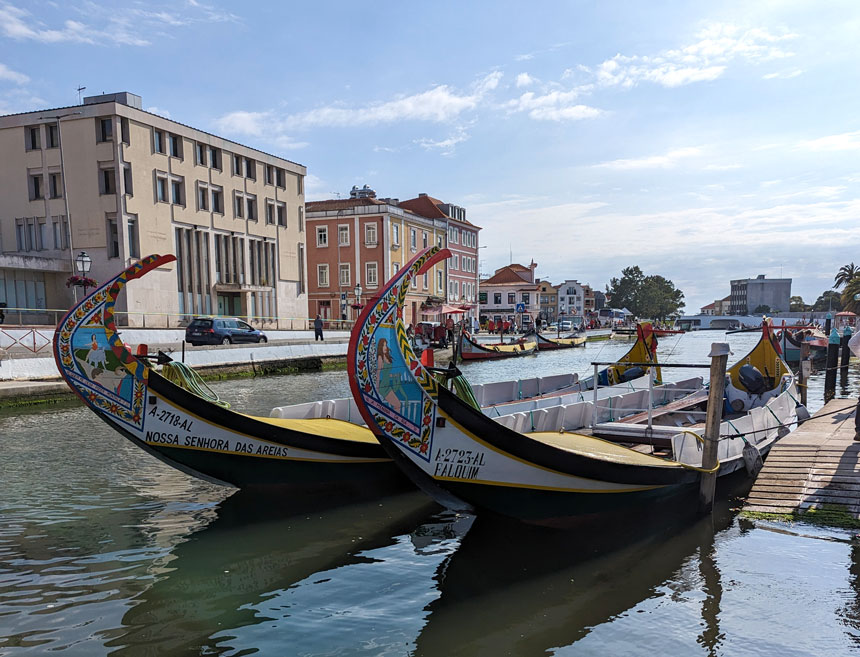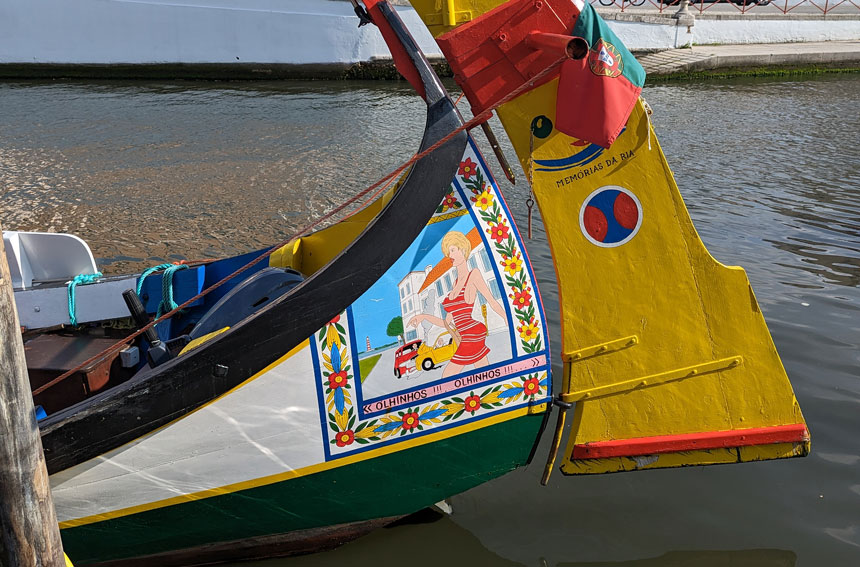 Moliceiro canal boat trips take around 45 minutes to explore the canals through and around the city centre. On the journey, as well as the historic centre of Aveiro, you'll see the waterfront Assembleia Municipal de Aveiro, the Fonte Nova canal basin in front of the old Antonio Maria Campos brick factory (now a congress centre), the fabulous Ponte dos Botirões and some of Aveiro's many salt pans.
Try Ovos Moles, Aveiro's local delicacy
As well as looking a bit like Venice, Aveiro's other claim to fame is its traditional sweet treat, ovos moles, or soft eggs. These delicate pastries are made from a mixture of sugar, egg yolks and water, delicately wrapped in a thin layer of rice paper. They're often shaped like small barrels, seashells or other sea-related shapes.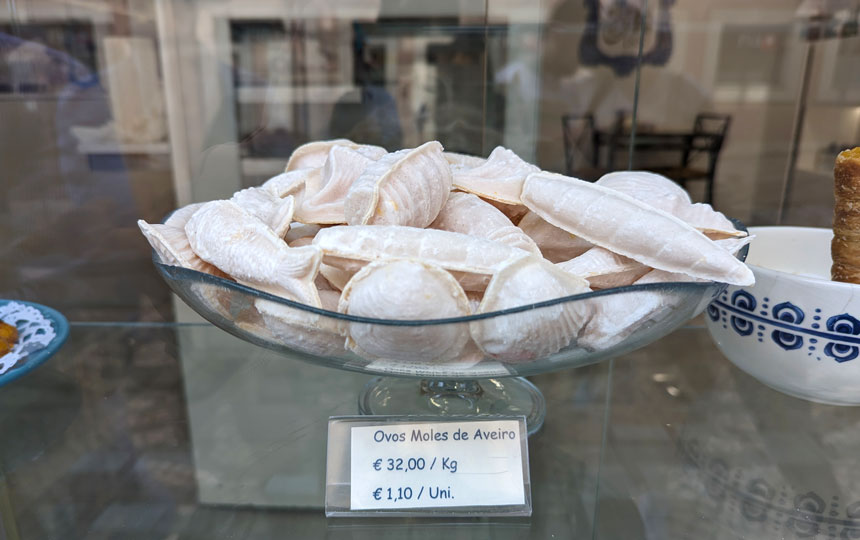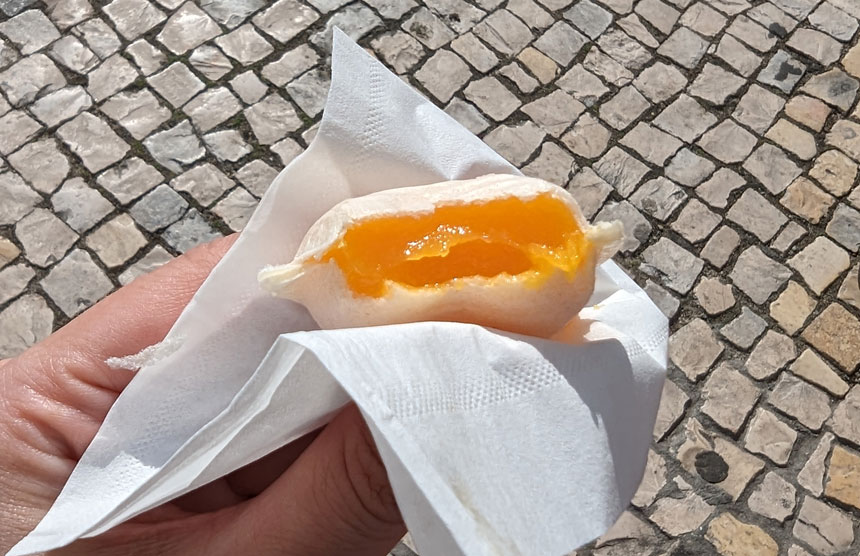 I wasn't the biggest fan of ovos moles but I really recommend trying them while you're in Aveiro; you'll find them for sale all over the city but for a truly exquisite experience, visit the lovely, pastel-coloured Confeitaria Peixinho which claims to offer the most authentic ovos moles in Aveiro.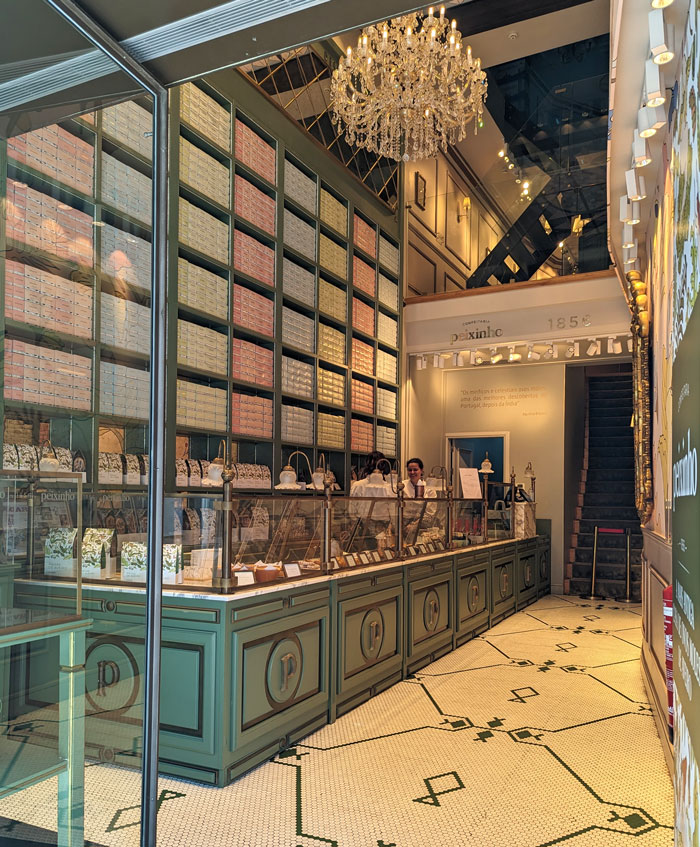 If you want more of an immersive experience, try Oficina do Doce (The Sweet Workshop), where you can hear about the history of ovos moles, see how they're made and even have a go yourself.
See the ribbon bridges – Aveiro's romantic version of love locks
When you visit Aveiro you'll notice that the canal bridges near the Forum shopping centre are covered with brightly coloured ribbons. The story goes that two students tied ribbons to the Ponte Laços de Amizade as a mark of love and friendship; the practice took off and now all the bridges along this stretch of the canal are covered in ribbons.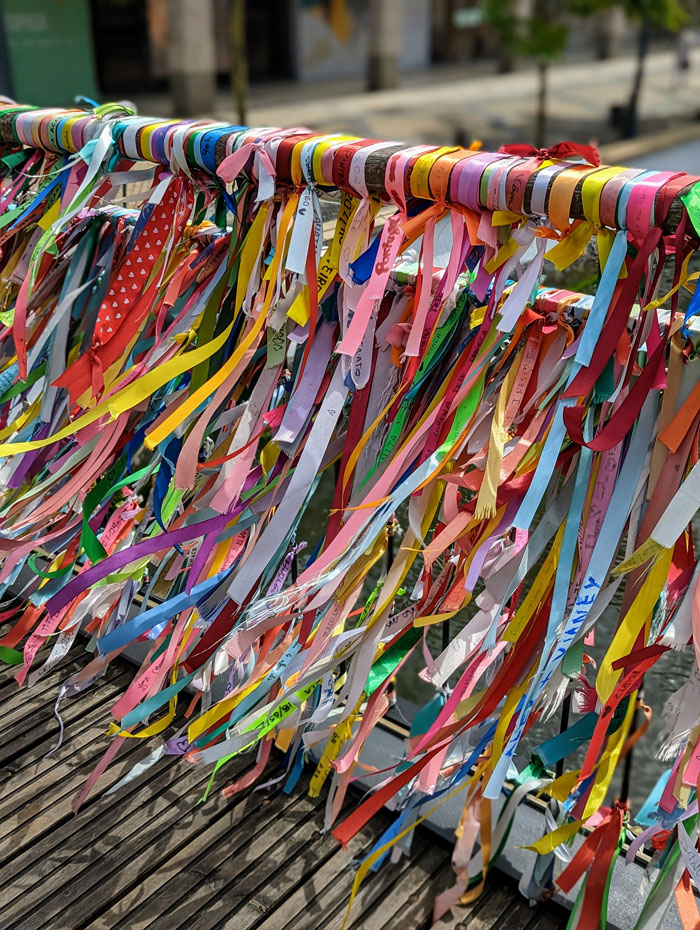 The ribbons blow about in the wind like a much prettier version of the love locks that you see in other cities around the world. The bridge is a lovely spot to watch the moliceiro boats go by.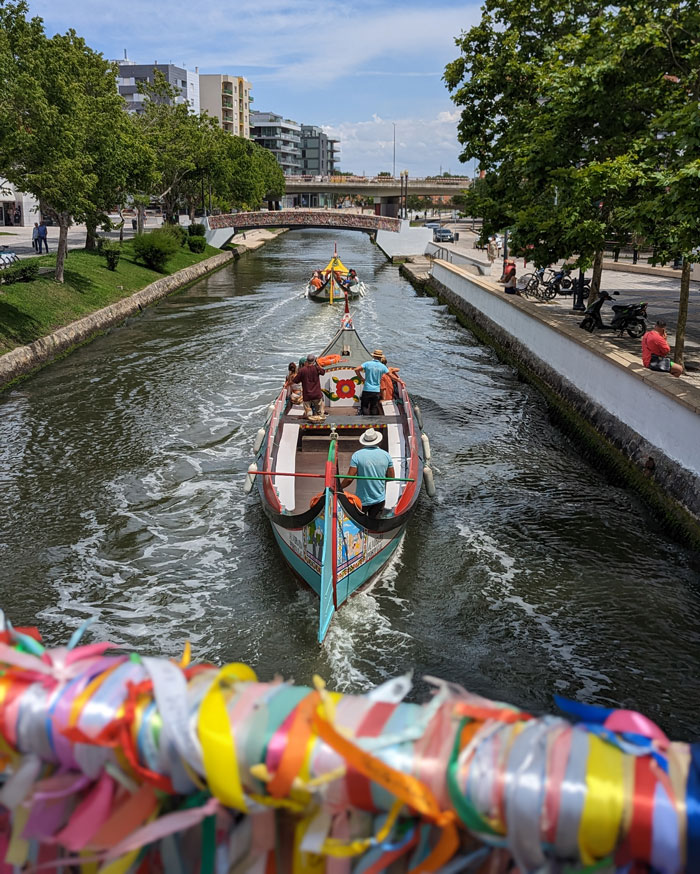 See Aveiro's historic buildings…
Aveiro's history is reflected in its stunning architecture, with various notable landmarks and historic buildings. One of the most famous is the Mosteiro de Jesus, a convent built between the 15th and 17th centuries, known for housing Joanna, Princess of Portugal.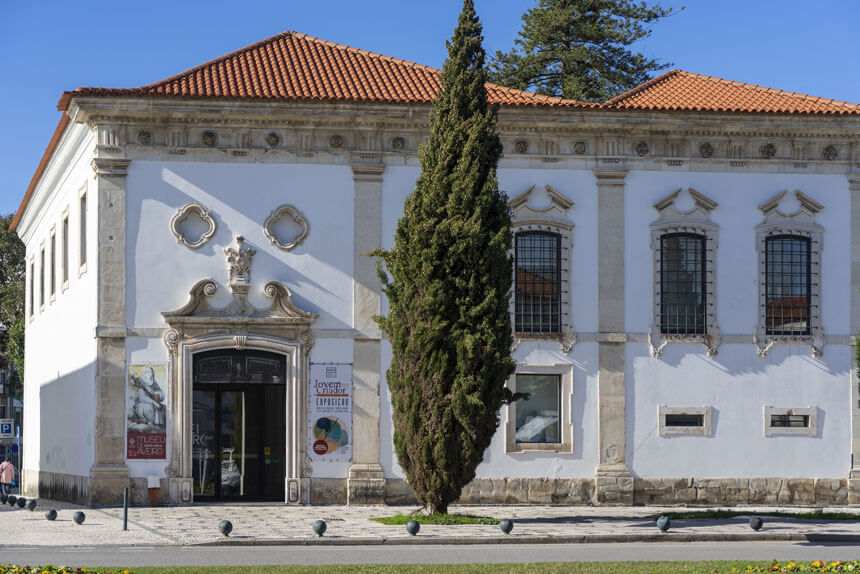 Aveiro also has many beautiful Art Nouveau buildings, dating from the early 20th century. Many of the Art Nouveau buildings in Aveiro were built by newly-wealthy Portuguese emigrants who returned from Brazil at the turn of the 20th century.
Once back home in Portugal, they built magnificent Art Nouveau houses, with stylish facades, intricate ironwork, and stunning stained-glass windows. Many of them also combine traditional Portuguese tilework with elegant Art Nouveau motifs.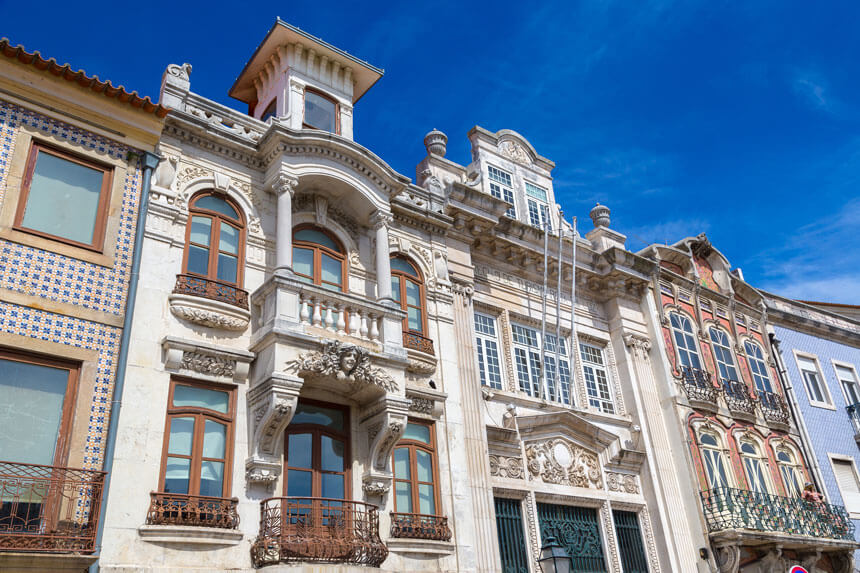 If you're interested in architecture, you have to visit the Art Nouveau Museum (Museu de Arte Nova). This museum, housed in a beautifully restored Art Nouveau building, offers a glimpse into the history and development of this delicate and seductive art period.
After immersing yourself in the museum's collection, don't forget to stop at the ground floor Tea House (Casa de Chá) for a delightful local treat – or stay after museum hours when it turns into one of the most popular and photogenic bars in Aveiro.
…and some fabulously modern architecture too
One of the things I really loved about Aveiro was how the city's traditional houses sit next to Art Nouveau buildings and unapologetically modern structures. The theme starts at Aveiro railway station, where the original station with its traditional Portuguese tiles sits next to its larger modern replacement. Nearby, the sugar cube-like Meliá Ria hotel is on the banks of the Fonte Nova canal basin, right next to the old brickworks.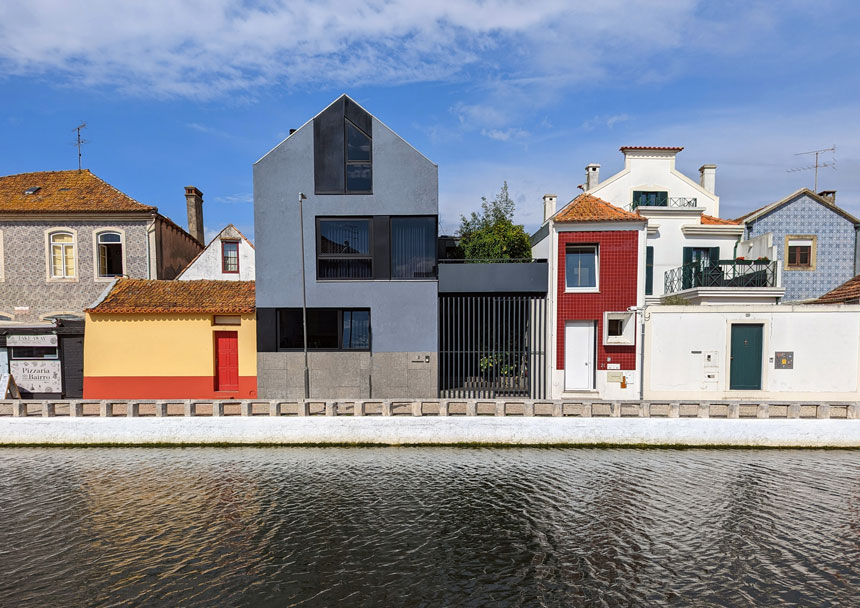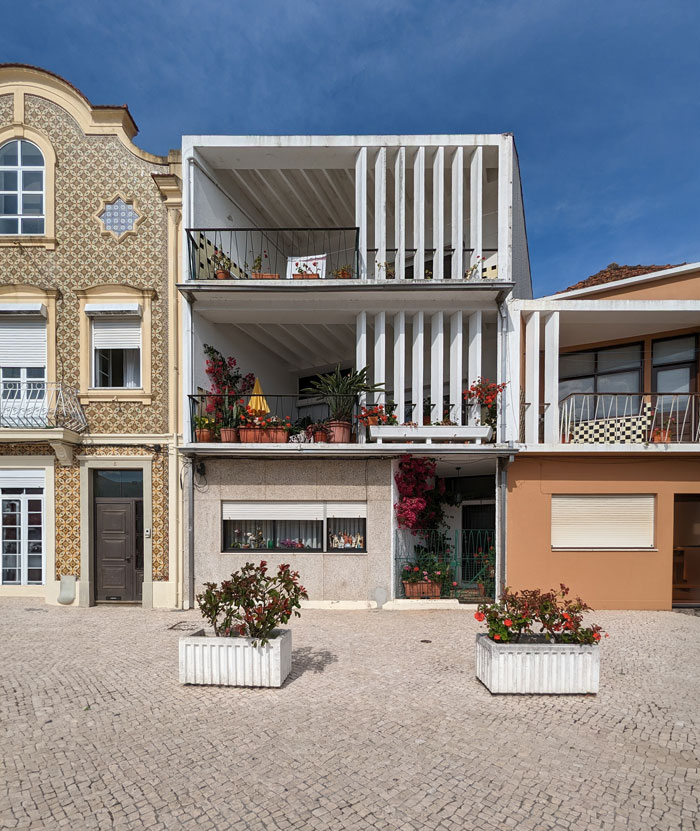 On Aveiro's most beautiful canal, which ends at the old Praça do Peixe Aveiro (Fish Market), you'll see very cool and super-modern houses right next to the old, brightly coloured or tiled fishermen's homes. Look out for the black house just around the corner from the fish market on Cais das Falcoeiras; it has a sculpture of a fisherman on the top balcony.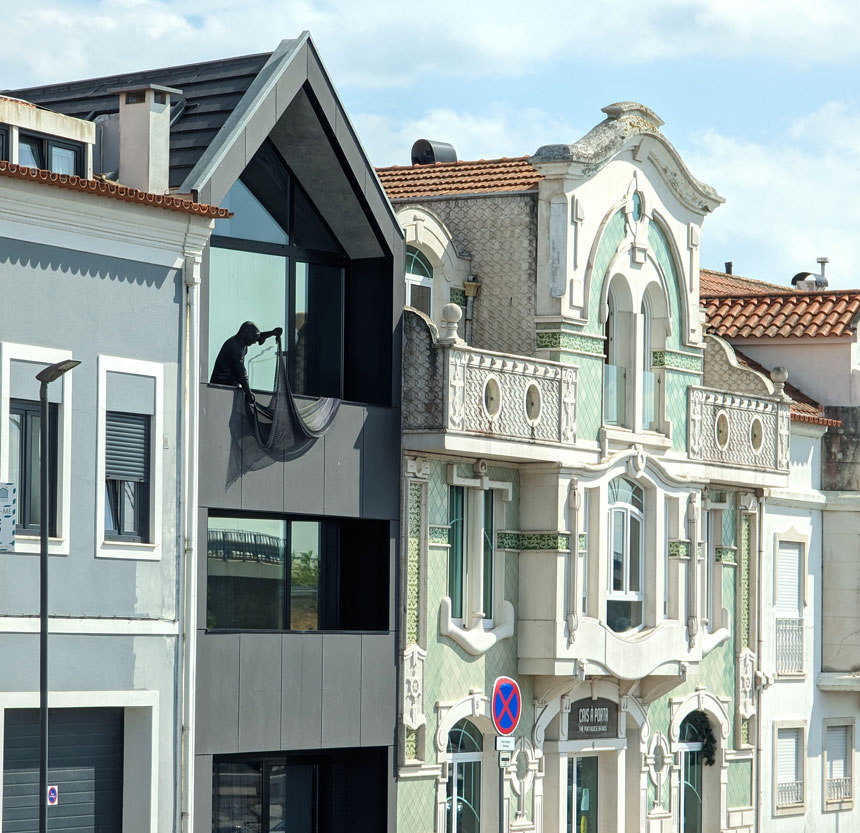 Eat fresh seafood
With access to both the Ria de Aveiro and the Atlantic Ocean, it's no wonder that seafood plays a major role in Aveiro's local cuisine.
Aveiro's Mercado do Peixe (Fish Market) is not only a landmark in the centre of the prettiest part of Aveiro but seeing the market is also one of the top things to do in Aveiro. I'm vegetarian, so it's all a bit wasted on me, but if you like seafood you'll find lots of restaurants in the streets surrounding the market, serving up fresh catches from the Atlantic, alongside other classic Portuguese dishes like leitão (roasted suckling pig), chanfana (slow-cooked goat stew), and bacalhau (salted cod). Don't feel too bad for me though, I always leave Portugal with my belly full of pasteis de nata (custard tarts).
See the circular Ponte dos Botirões
While you're in the Mercado do Peixe area, don't miss the fabulous circular Ponte dos Botirões (also known as the Ponte do Laço), a pedestrian bridge which crosses a T-shaped canal junction. Seeing the bridge was one of my favourite things to do in Aveiro.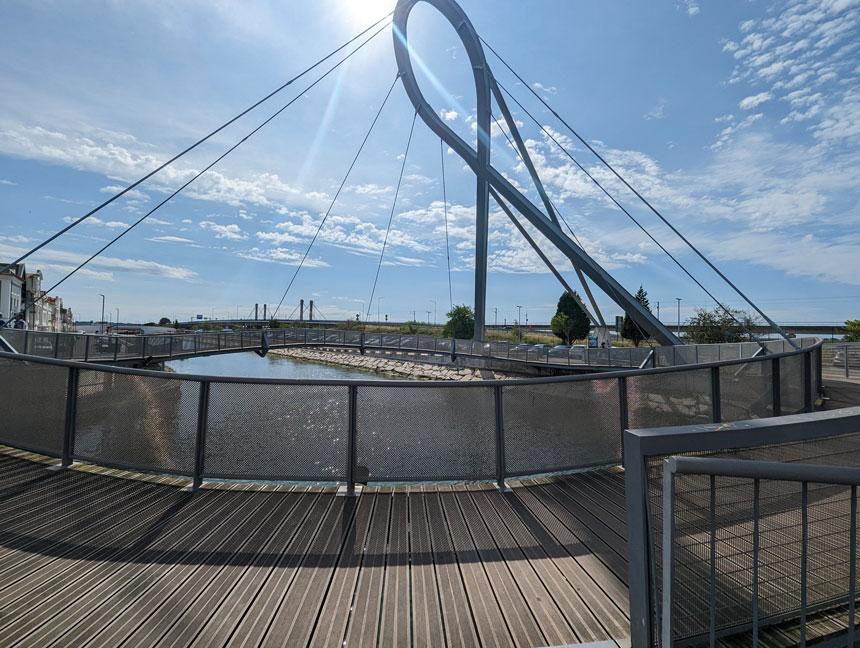 The bridge, which was designed by Luís Viegas, from the Faculty of Architecture of Porto and engineer Domingos Moreira and opened in 2006, is completely circular, with a twisting structure that sticks up into the air and looks a little like a fish. It's particularly fun if you're visiting Aveiro Portugal with kids as they can run around the structure, but I'd recommend it to everyone.
Visit Aveiro's museums
As well as the Art Nouveau Museum, there are a few other museums in the city that you can visit on your trip to Aveiro.
The Museum of the City of Aveiro is a small museum in an Art Nouveau building which describes the history of Aveiro and also hosts temporary exhibitions. You're very likely to walk past it as it's right on the main canal and opposite the quay where many of the moliceiro tours depart.
The similarly-named but separate Museu de Aveiro is an essential stop for history lovers visiting the city. Housed in the former Convent of Jesus, this fascinating museum showcases an impressive collection of art, religious artefacts, and even the tomb of Santa Joana Princesa (Joanna, Princess of Portugal).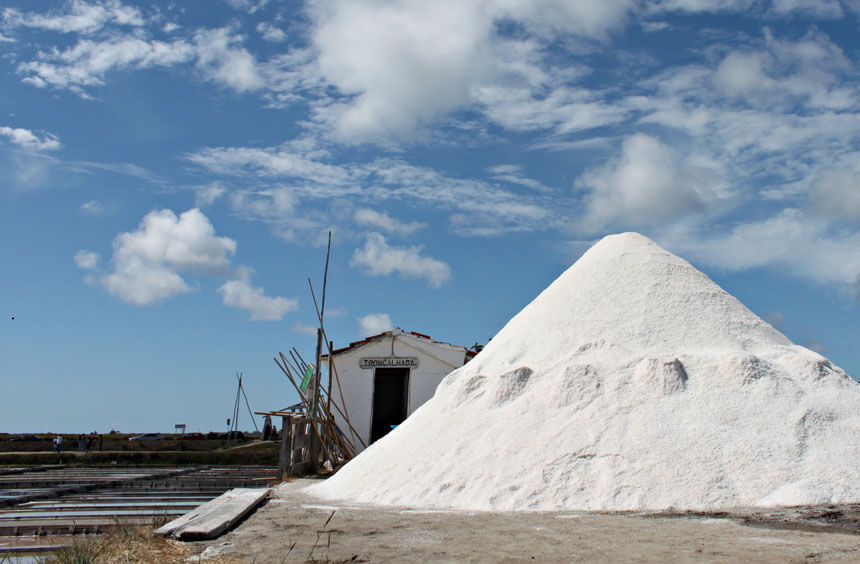 The Troncalhada Marine Ecomuseum celebrates Aveiro's salt-producing heritage, and the unique marine ecosystems that make it possible. It's a free, open-air museum around 20 minutes' walk from the city centre, with information boards dotted around the salt pans. The salt pans around the Aveiro lagoon are also a great place for birdwatching; visitors have even spotted migrating flamingoes.
Casinha de Bonecas is a children's museum in the centre of Aveiro. There are displays of dolls, teddies and old toys, while on the top floor there's a kid's playroom.
Other museums near Aveiro include:
Go shopping
Aveiro is fantastic for shopping. The Forum Aveiro shopping centre is right by the main canal and has all the Portuguese and European high street names you'd expect, while the narrow streets of the old town between Praça do Doutor Joaquim de Melo Freitas and the fish market are packed with quirky independent stores which are great for gifts.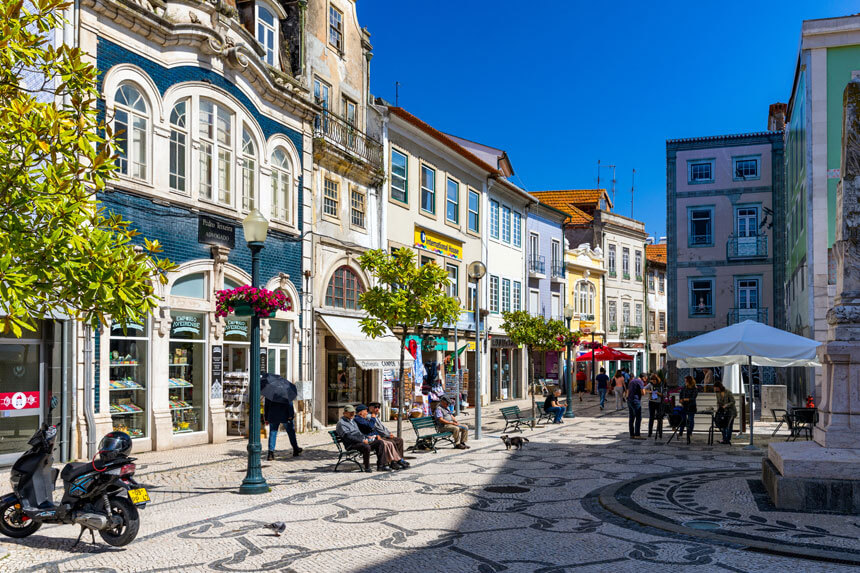 I couldn't resist taking home a ceramic cinnamon shaker shaped like a pastel de nata from A Casa da Rosa, while my partner loved the t-shirts and Lego figures at TeeLegend. Both are on R. José Estevão.
Visit Costa Nova
If you have more than a few hours in Aveiro, you should definitely visit Costa Nova, a pretty beach town on the Atlantic coast, only a short bus ride from Aveiro.
Costa Nova is famous for its traditional colourful houses known as Palheiros. These striped houses were originally used by fishermen to store their equipment but have now become an iconic symbol of the area.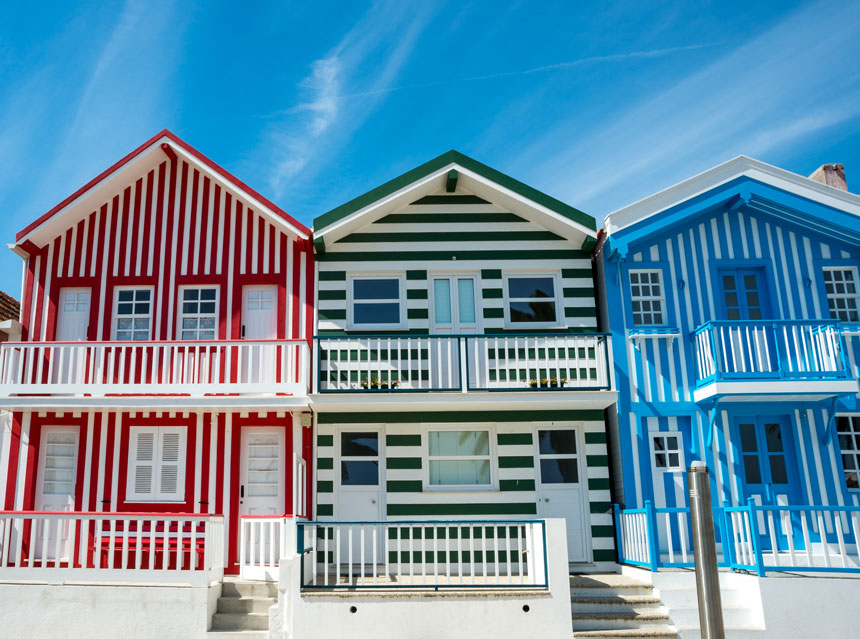 Only a short distance from Costa Nova, the beach at Praia da Barra is a lovely spot to relax by the ocean, with golden sand, rolling waves and the tallest lighthouse in Portugal. There's a nice boardwalk between Costa Nova and Praia da Barra with beach bars and restaurants along the way.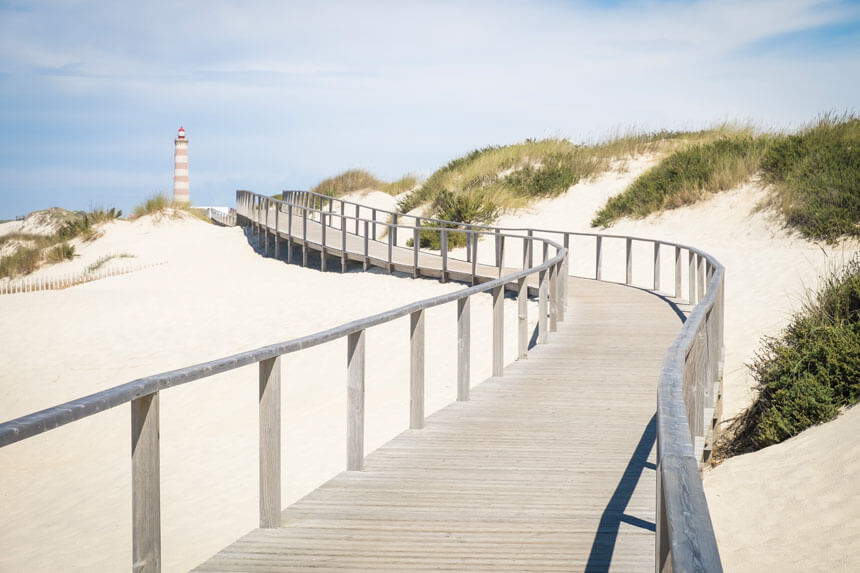 To get to Costa Nova from Aveiro, take the Transdev bus from either Aveiro station or the centre of Aveiro and stay on until the end of the line. Alternatively, take a taxi; the cost for this will be between 15 and 20 euros each way.
How to get to Aveiro
From Porto
Aveiro is a really easy day trip from Porto. Aveiro is on the main train line from Lisbon to Porto, and express trains between the two cities stop at Aveiro.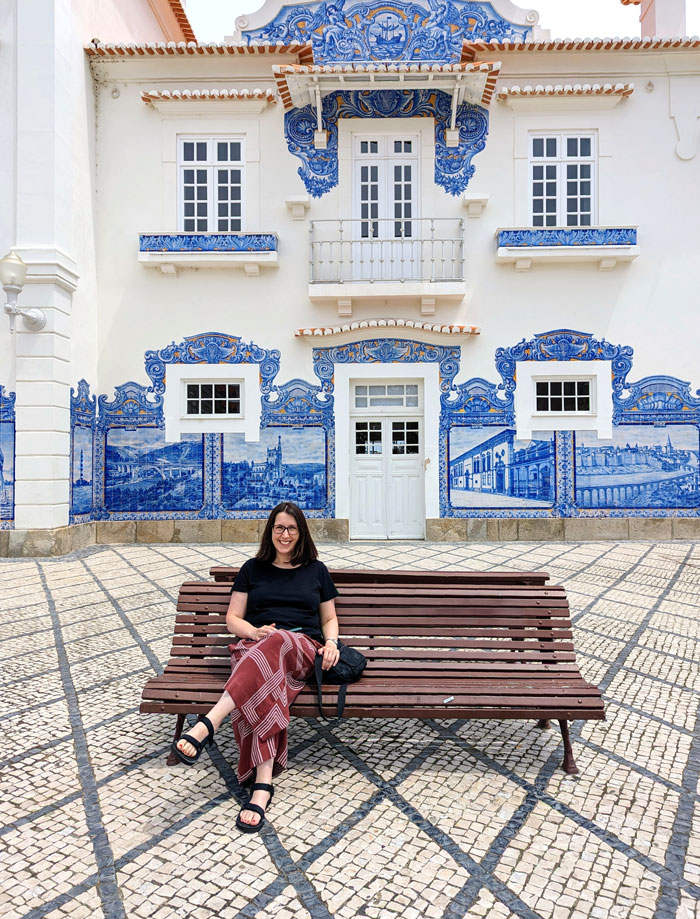 Fast trains take around 45 minutes to make the journey from Porto Campanha station, but the urbano trains, which take just over an hour, are significantly cheaper, at less than 4 euro vs 15 euro for the fast train. Most urbano or regional trains start at Porto São Bento station, in Porto city centre. I took the fast train to Aveiro and the urbano train back to Porto, and the urbano train was absolutely fine.
There are also buses to Aveiro which take around 55 minutes to make the journey from Porto. Both the train station and coach station are around 10 minutes' walk from the centre of Aveiro.
Driving from Porto to Aveiro will take 45 minutes to 1 hour.
If you like, you can take an organised tour to Aveiro and Costa Nova from Porto. Many tours also include the Paiva Walkways and the Arouca 516 footbridge, which is one of the longest suspension bridges in the world.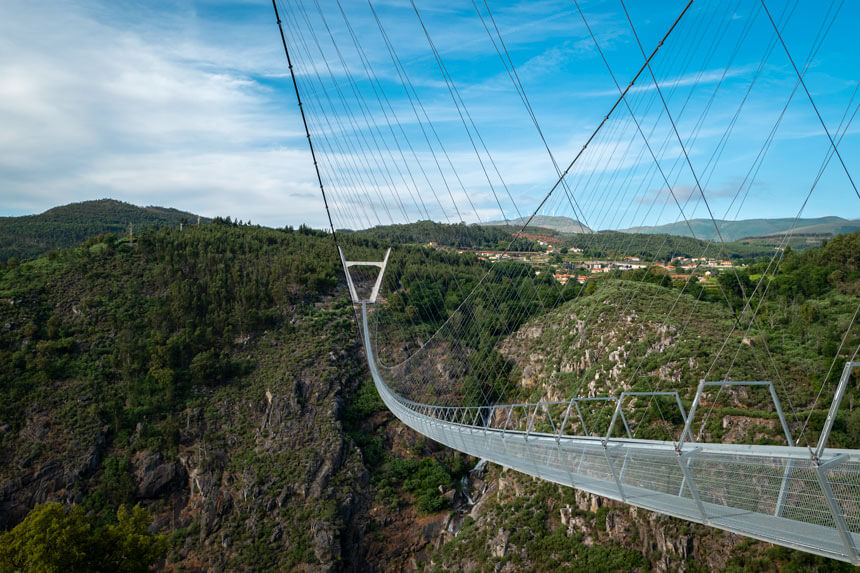 From Lisbon
Aveiro is just over 2 hours from Lisbon on the fastest Alfa Pendular services. Inter City services take around 30 minutes longer. Buses are also available and are cheaper than the train but take around 4 hours, so twice as long as the train.
Driving from Lisbon to Aveiro will take between 2 hours 20 minutes and 3 hours 20 minutes, depending on traffic.
A trip up the Atlantic Coast from Lisbon to Porto is a great way to see Portugal; along with Coimbra, Aveiro would make a wonderful place to stop along the way.
Where to stay in Aveiro
If you want to stay overnight in Aveiro Portugal, there are lots of hotel choices. The Meliá Ria Hotel and Spa is well-located for both the train station and the city centre and is right on the canal side. The Meliá Ria's indoor swimming pool and restaurant both have views across the water, as do many of the rooms.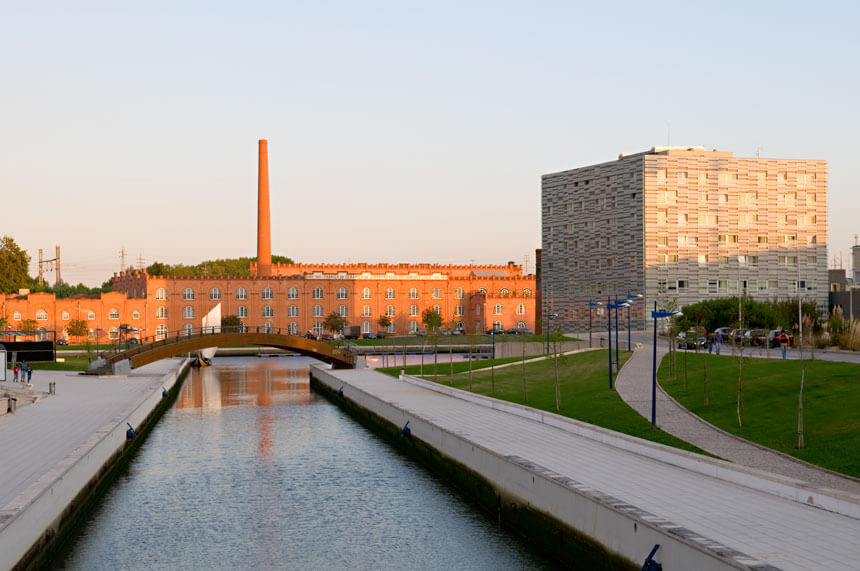 Hotel das Salinas has a nice location overlooking the central canal and across the water from the Jardim do Rossio. It's also very close to the Fábrica Centro Ciência Viva de Aveiro and Parque da Baixa de Santo António, Aveiro's largest park. Rooms have clean lines and breakfast is served overlooking the hotel's pretty courtyard.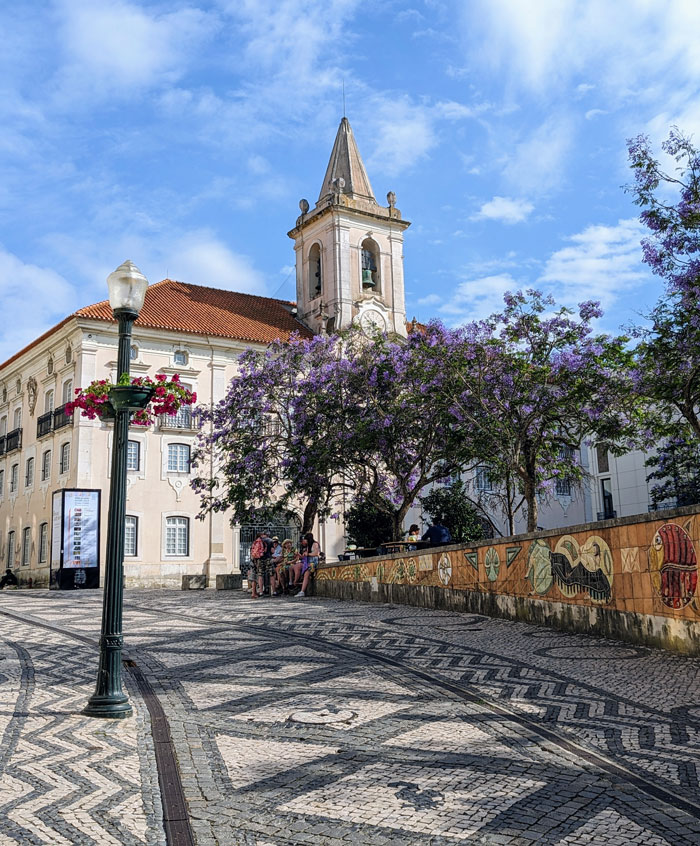 For a special stay, MS Collection Aveiro – Palacete Valdemouro is a newly-opened, 5 star hotel very close to the restaurants, bars and shops in the old part of town. Rooms are beautifully decorated and the hotel has a spa, hammam and two swimming pools.
If you'd rather stay out by the beach, how about a hotel on a ship? Costa do Sal Hotel Boat Lounge is exactly that; built in 1906 as a French passenger ship, Costa do Sal has 33 cabins of varying sizes, from double rooms up to suites. The upper decks have a restaurant and there's a stylish bar up on deck. The boat is moored very close to the stripey houses in Costa Nova and just a short walk from the beach.
See more places to stay in Aveiro
Would you visit Aveiro Portugal? Pin this guide to Aveiro for later!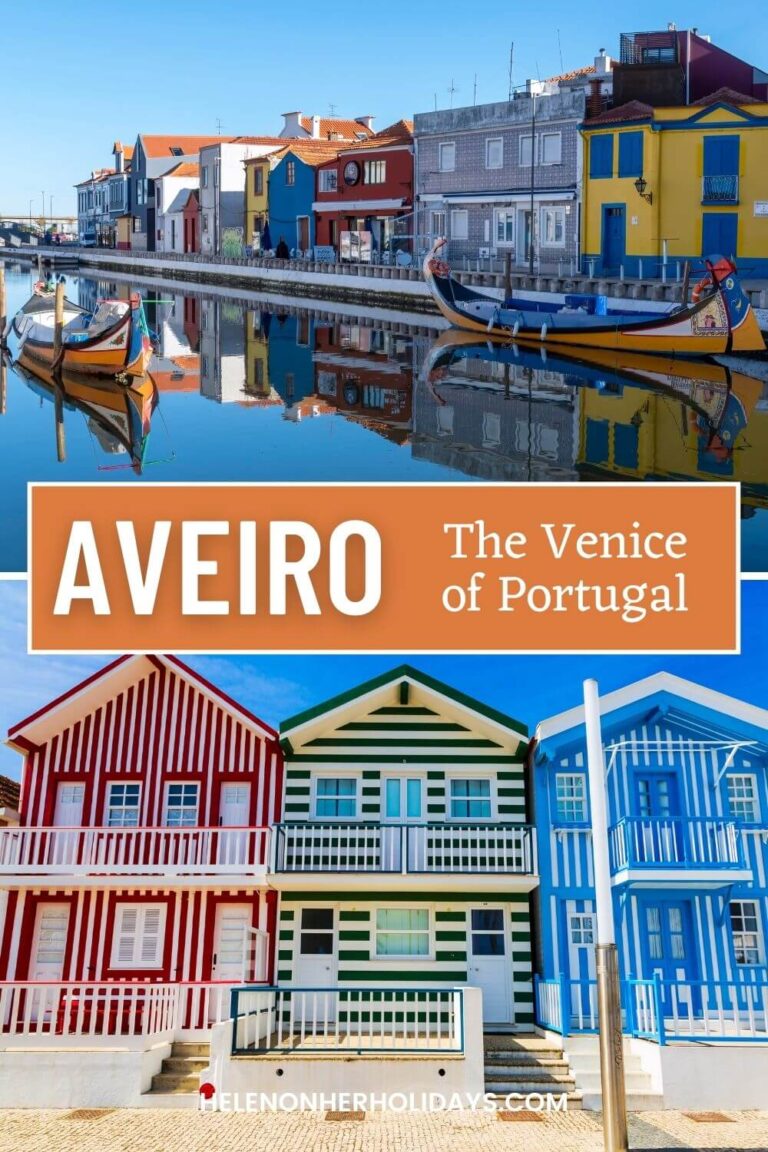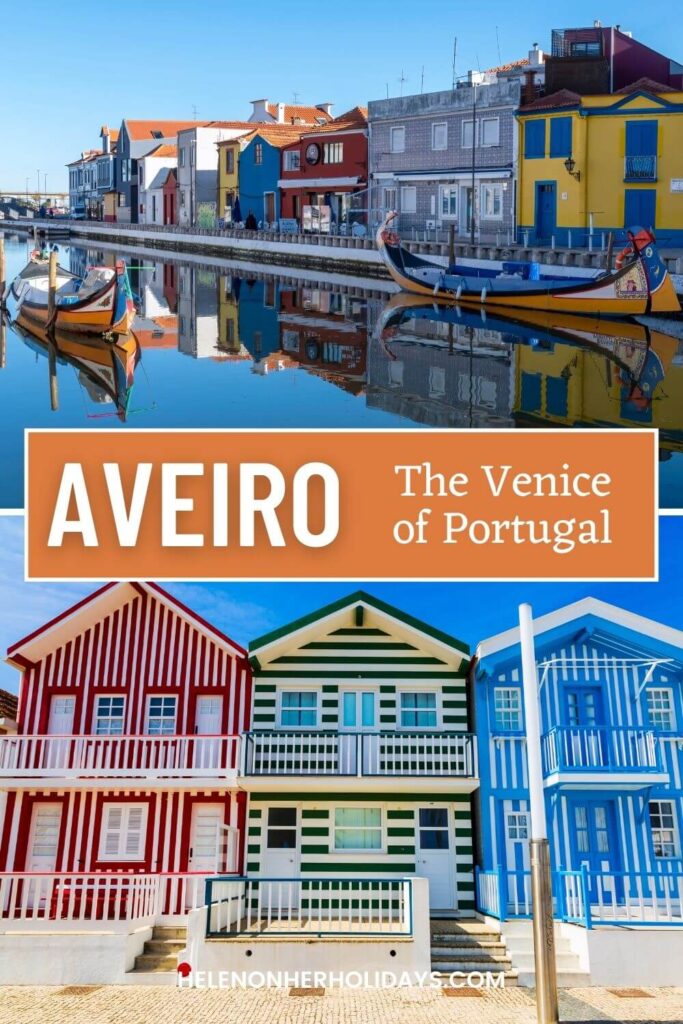 Related posts
If you enjoyed this post, you might find my other posts about Portugal useful: