All-inclusive hotels in Madeira aren't too common, but if you're looking for a relaxing holiday in Funchal, the Enotel Lido all-inclusive hotel is a great choice.
I stayed at the Enotel Lido hotel near Funchal for a week in February 2023 – here are my thoughts on staying here for a trip to Madeira. I paid for my trip myself – none of what you'll read here is sponsored.
So scroll on for my review of the Enotel Lido hotel in Funchal, Madeira!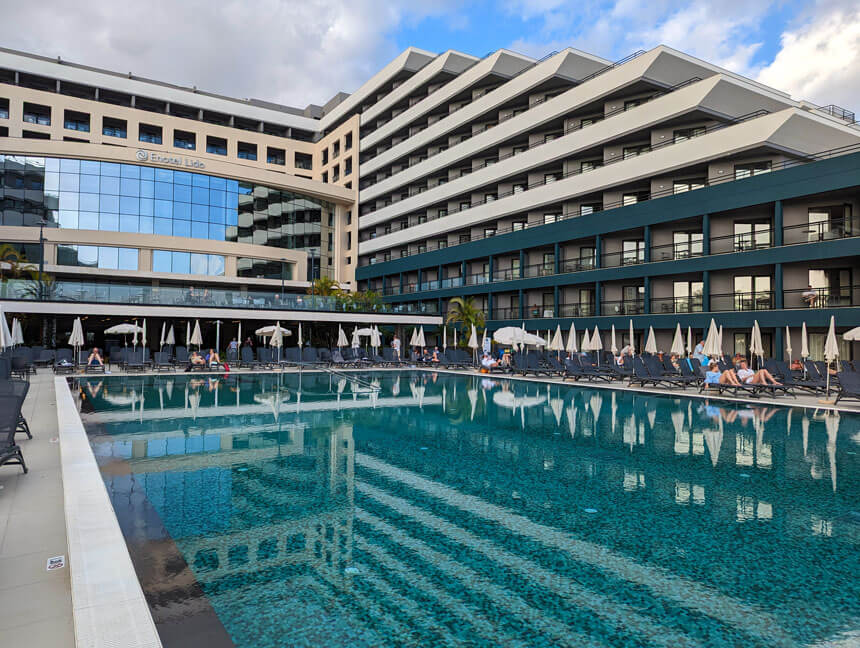 This post contains affiliate links – all that means is that if you buy something as a result of clicking on a link in the post, I'll receive a small commission that helps me with the costs of running this site. Thanks!
Where is the Enotel Lido all-inclusive hotel?
The Enotel Lido hotel is in the Lido area of Funchal, a 10-minute bus ride or 40-minute walk from the centre of Funchal.
The Lido area is full of large hotels, so it offers a very different experience to staying in Funchal city centre, but while the hotels at the Lido may lack some authenticity compared to the boutique hotels in the old town, they tend to make up for it with large pools, easy parking and lots of facilities.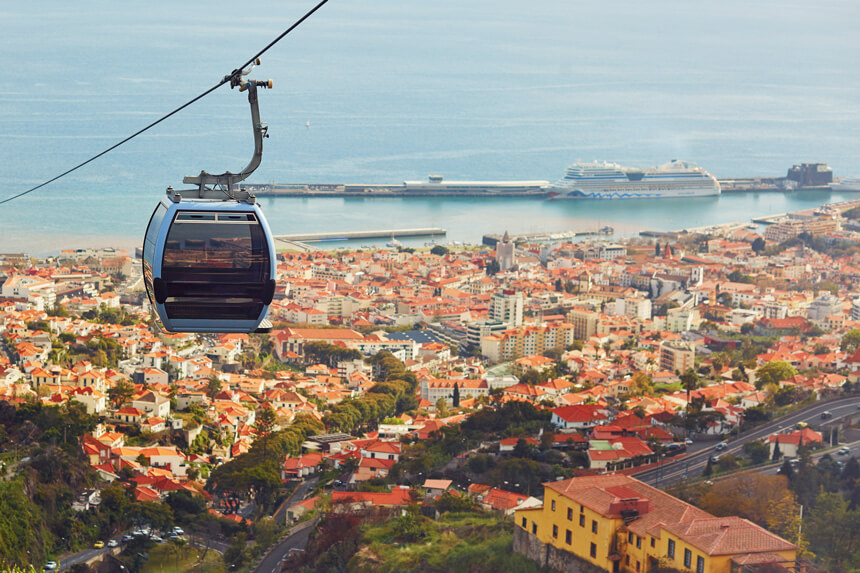 The airport is about 50 minutes away by bus, and the airport shuttle stops a couple of minutes' walk from the hotel. The same bus stop has frequent buses into Funchal and services to Câmara de Lobos and Monte. There are almost always taxis available in front of the Pestana Promenade hotel next door on R. Simplício dos Passos Gouveia.
We didn't have a car for our trip to Madeira, but if we had, we could have used the free underground parking at the hotel.
The Enotel Lido hotel is set between the Estrada Monumental coast road from Funchal to Câmara de Lobos and a nice seaside footpath. There's a small concrete beach right in front of the hotel, but the sunbeds around the pool have a great sea view as well.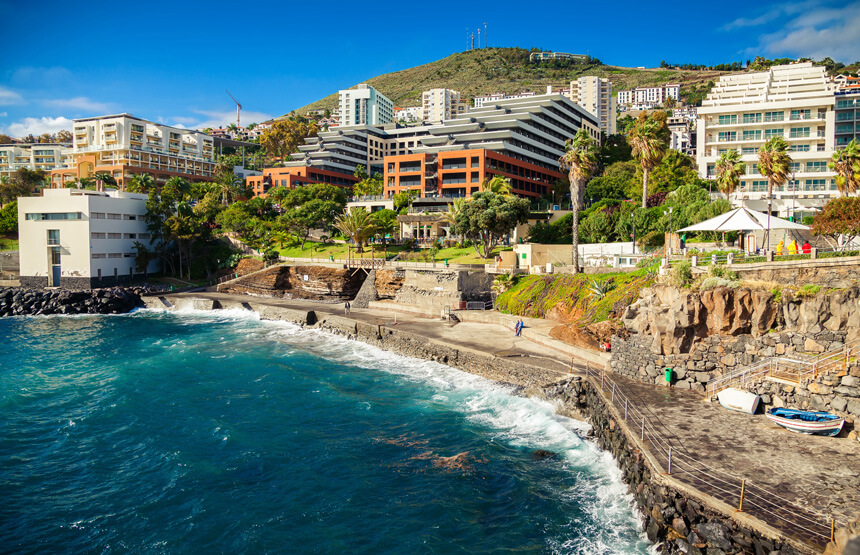 If you get bored of the hotel pool, the Lido Bathing Complex (Complexo Balnear do Lido) is 5 minutes walk away. The Lido is one of the most popular swimming spots in Madeira and has two saltwater pools, access to swim in the sea, sunbeds and a cafe, all with beautiful ocean views.
In the area around the hotel there are restaurants, bars, a post office and several supermarkets, including a Pingo Dolce hypermarket.
Check prices and availability at the Enotel Lido hotel on Booking.com
Checking in at Enotel Lido
Checking in at Enotel Lido was really easy. We got off the airport bus, walked a couple of minutes to the hotel and into reception. The reception area has lots of comfortable sofas and groups of chairs, and overlooks the pool.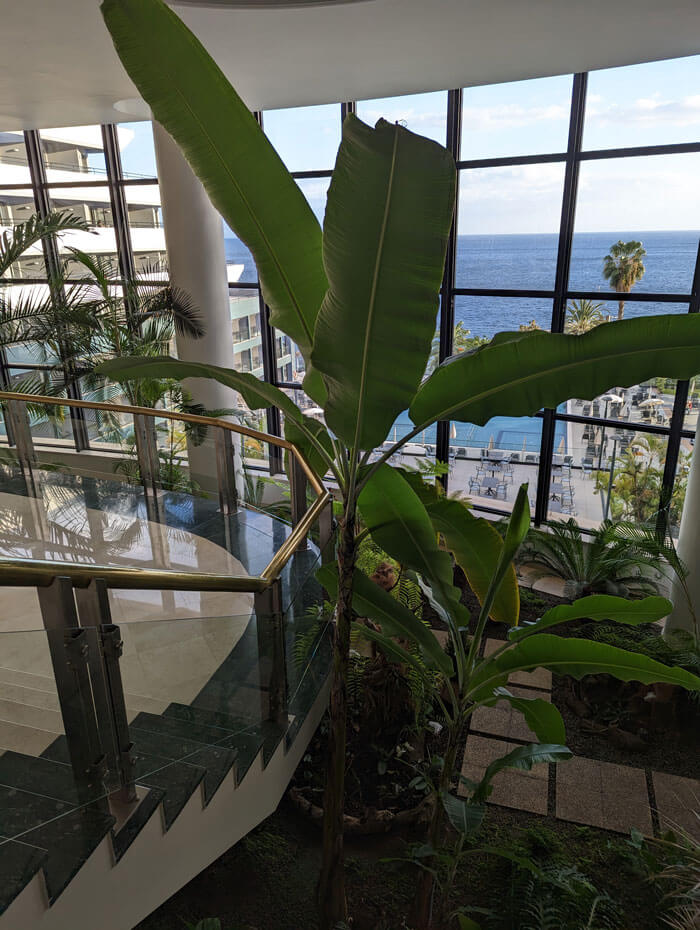 We went to the reception desk, got our room keys and our hotel wristbands. I particularly liked that the wristbands were slim fabric ribbons rather than chunky plastic, so they were comfortable to wear.
Rooms at Enotel Lido
We stayed in a standard room on the tenth (top) floor of the hotel. The Enotel Lido hotel is U-shaped; our room was on the bottom bit of the U, looking straight out at the swimming pool and the sea beyond. The view from the private balcony was stunning!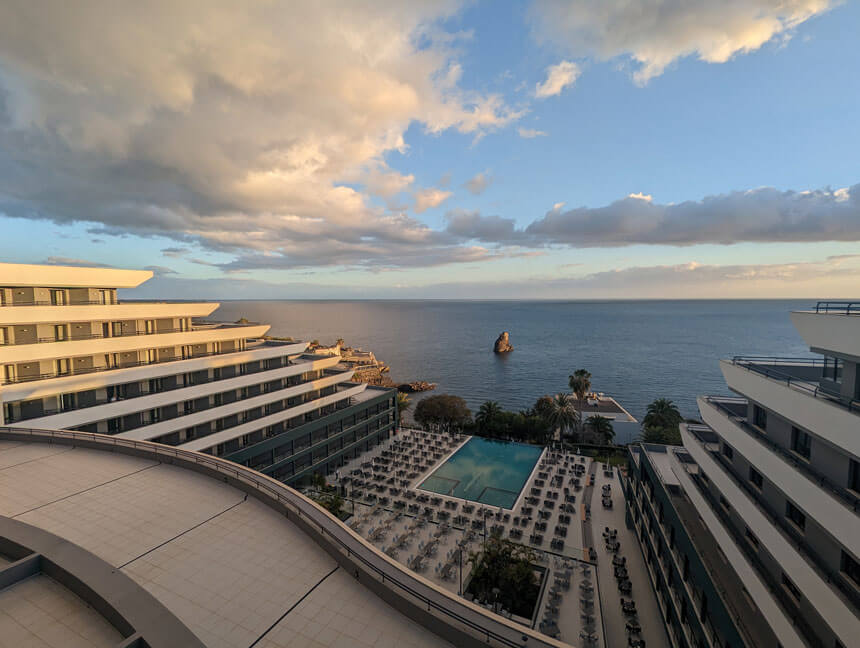 Our standard room was really spacious, with two big, comfortable beds, lots of storage and a bathroom with large walk-in shower and two sinks. The balcony was also nice and big and had a table and chairs. The whole room was decorated in calming beiges with aquamarine accents.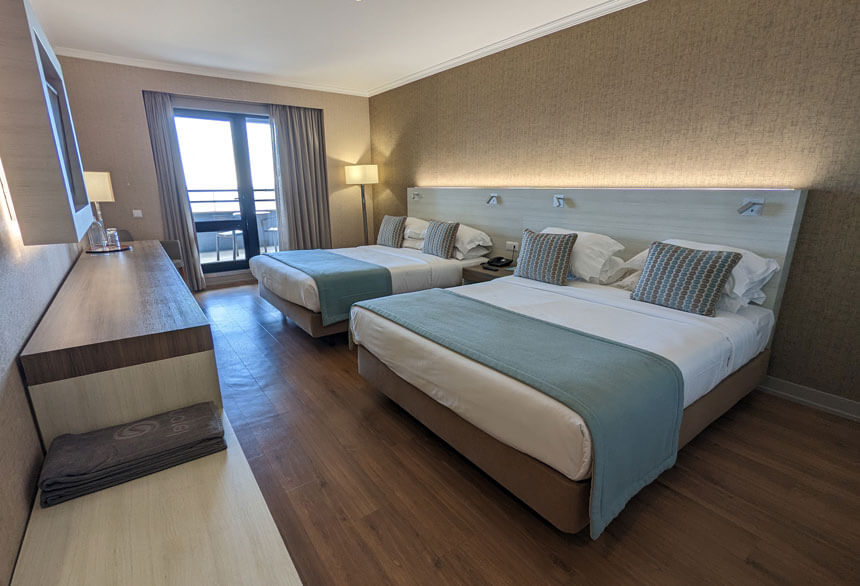 All the little touches you'd expect in a 5 star all inclusive hotel were there, from dressing gowns and slippers to a safe, hairdryer, large TV and mini bar. The mini bar only had soft drinks; they were refilled every day but it would have been nice to have had some beer in there for evenings on the balcony.
The free wifi was fast, and it was very quiet, with good soundproofing – we didn't hear our neighbours at all!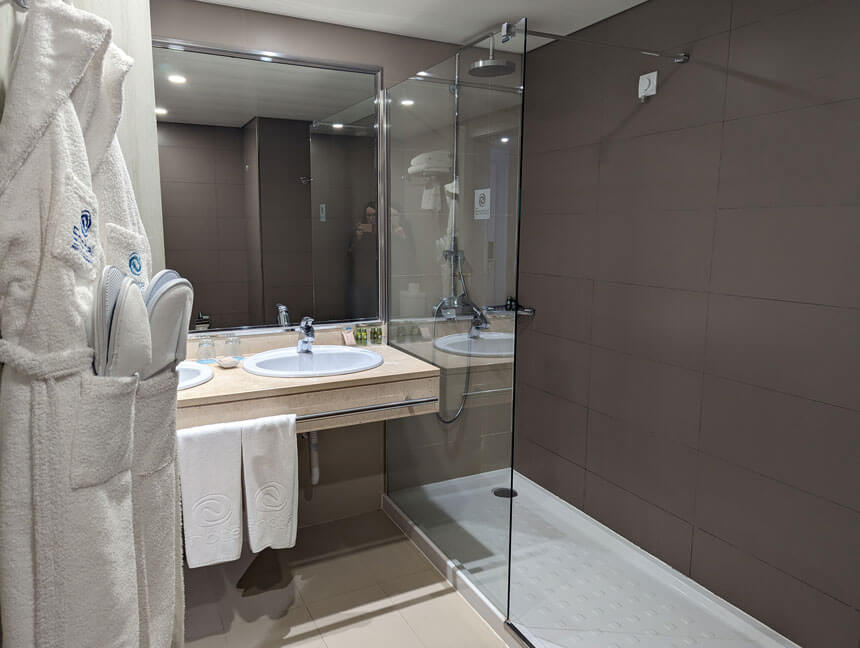 There are three other room types at the Enotel Lido Madeira hotel. There's a Suite for couples which has a bedroom and living room.
The Family rooms can accommodate 4 people, while the Family Suite has two bedrooms and a living room, and can take 8 people.
Staying in a suite overlooking the Atlantic Ocean would really give you the maximum 5 star hotel experience!
Check prices and availability at the Enotel Lido hotel on Booking.com
The pool
After we'd got ourselves settled in our room, we went down to check out the pool and get a drink from the pool bar. The Enotel Lido Funchal actually has two pools; the main outdoor pool which has an infinity edge looking out to the sea, and an indoor, heated pool.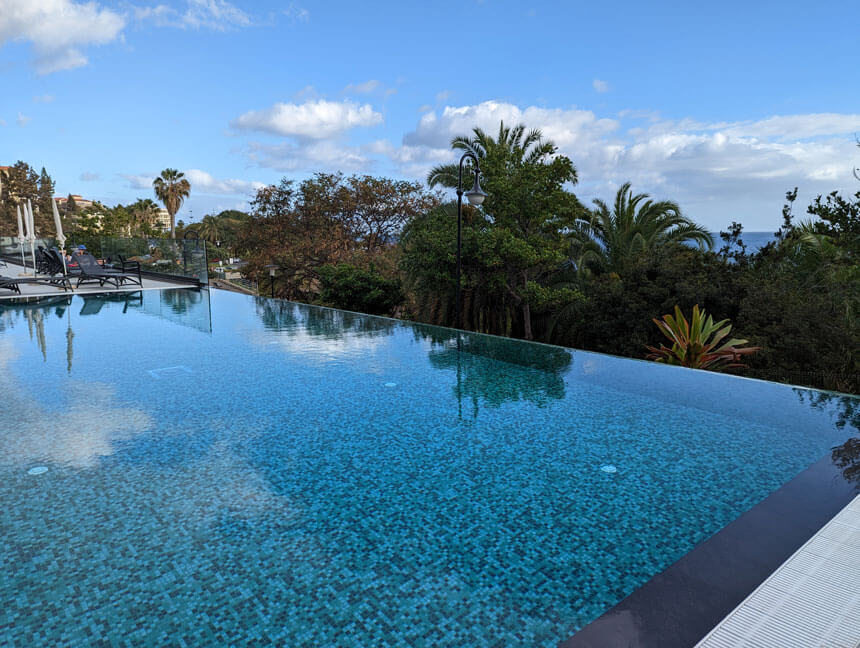 There are two bars by the pools; the Calhau bar is self-service and open all day from 10am to midnight, while the Coral sports bar next to the indoor pool has a bartender, TVs and pool tables.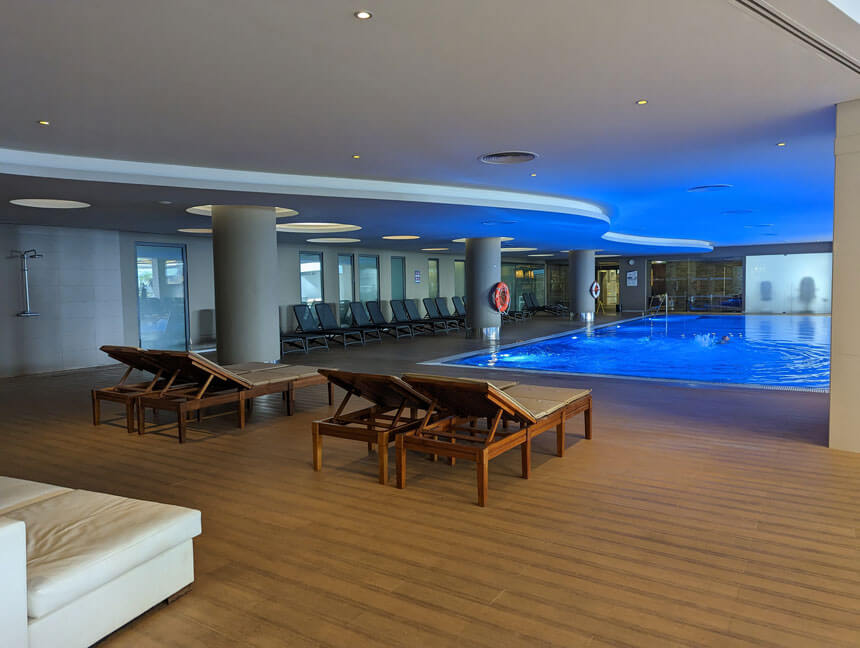 We got a glass of sparkling wine each from the Calhau bar and then popped next door to the Vela di Canale restaurant, which has a buffet serving light meals virtually all day and night.
Food at the Enotel Lido hotel
A big reason for us choosing an all-inclusive hotel in Madeira was that we're both vegetarian and I'd had a cycling accident a few months before which had left me with three broken teeth.
I was part-way through dental treatment at the time and wanted to make sure I'd be able to get something to eat which was a) veggie and b) nice and soft for my poor teeth!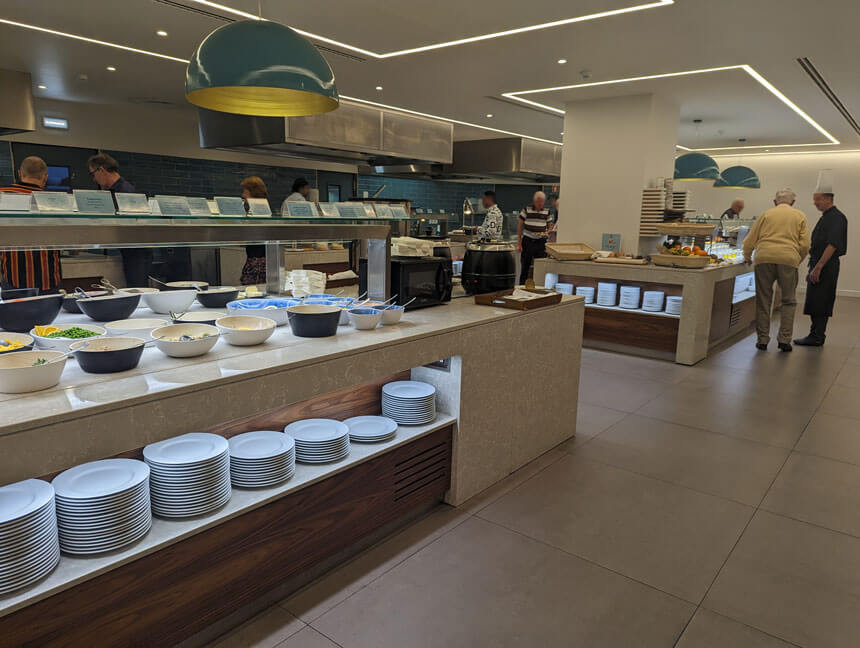 I do really enjoy a good buffet as it gives you a chance to try new things, and the Enotel Lido's all-inclusive buffet was great. We tended to be out for lunch but both the breakfast buffet and the dinner buffet were huge, with lots of choice and variety day to day.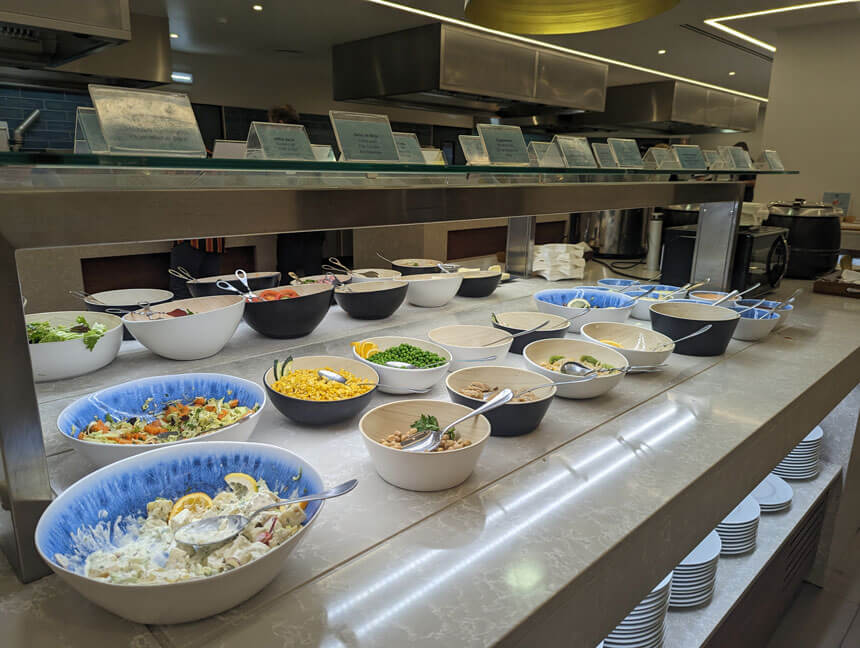 I particularly liked how everything was labelled, so I knew which dishes were suitable for vegetarians. There was also a section away from the other food with gluten-free options.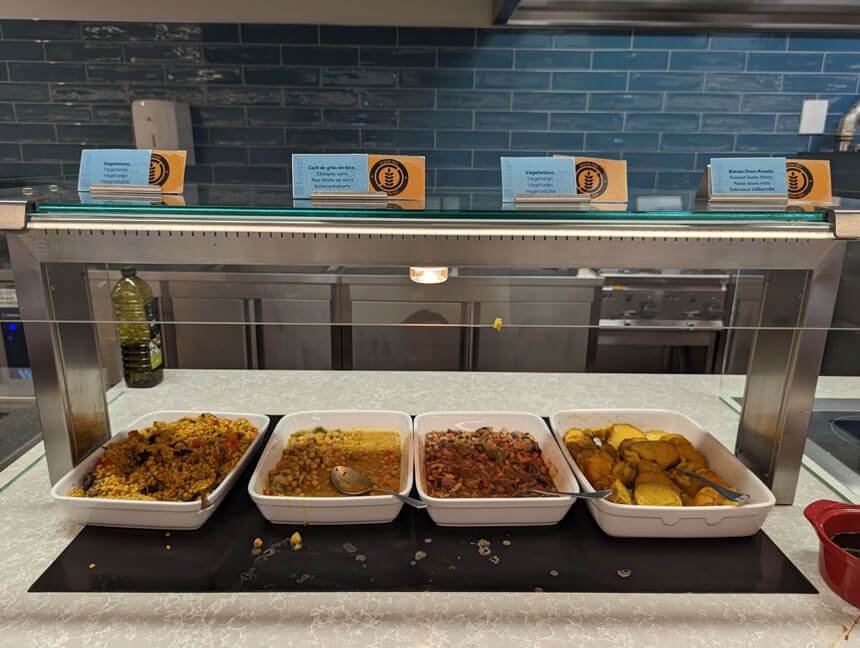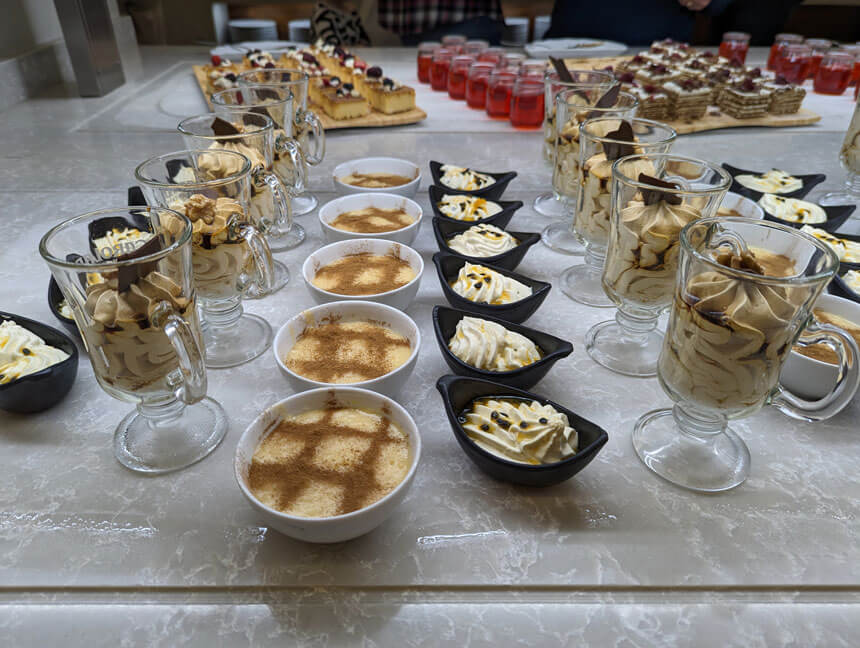 The waiting staff were really nice, keeping us topped up with red wine at dinner and coffee at breakfast, and everything was very clean.
We could always find a table and I noticed that the hotel reserved tables closest to the buffet if there were guests who had difficulty walking who needed them, which was a nice gesture.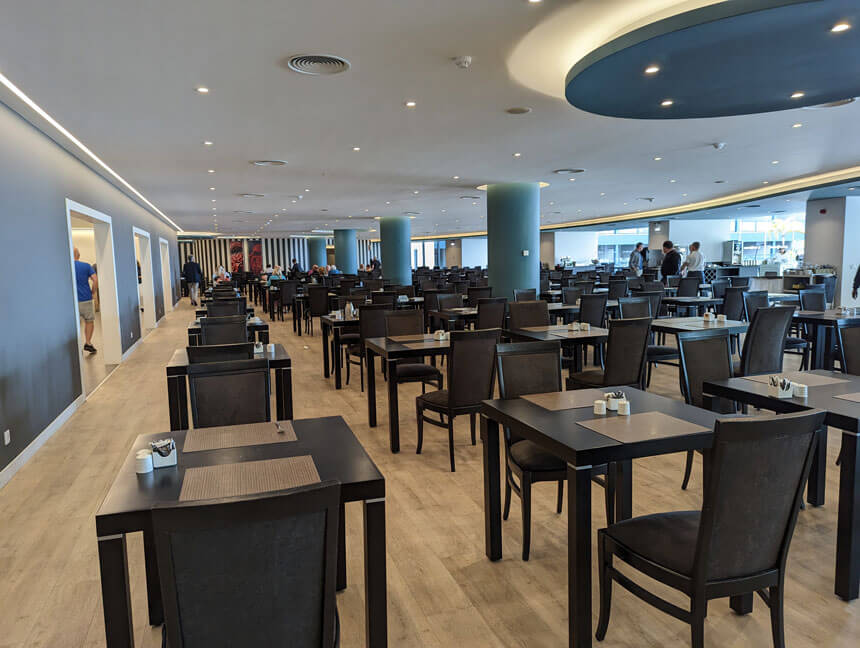 The other thing I particularly liked about the buffet was that they put out paper bags at breakfast so you could make yourself a packed lunch.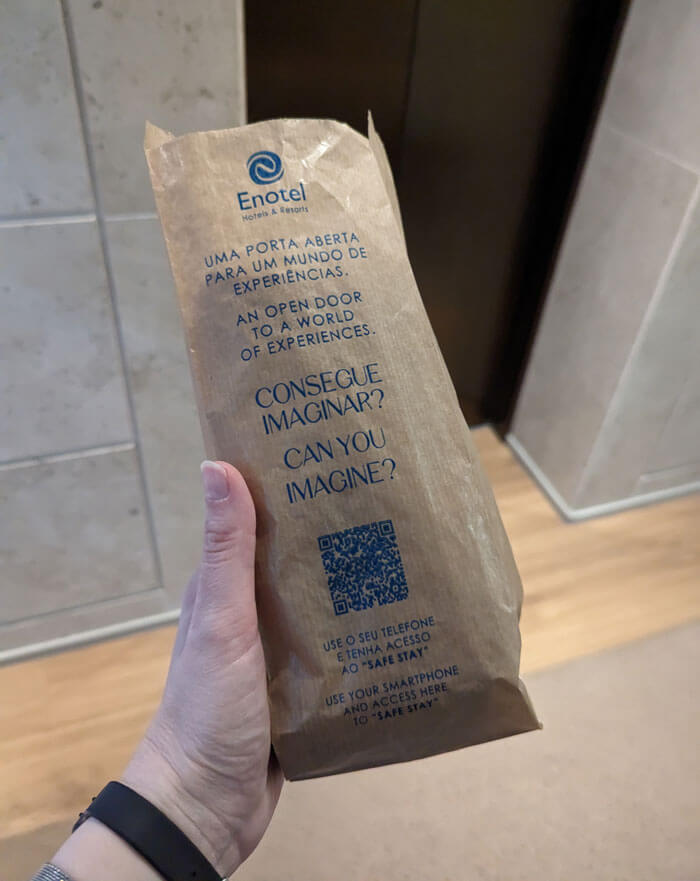 There are three à la carte restaurants at the Enotel Lido, which are open on certain nights. We were happy with the buffet so we didn't eat at them, but the hotel told us that they didn't need to be booked in advance.
The three restaurants are O Bailinho, which serves Madeiran specialities, Vela di Canale, which is an Italian, and Kai, which serves Asian food.
Bars and entertainment
After packed days in Funchal and on hikes like the Balcões de Ribeiro Frio levada walk, we weren't really up for big nights out in the city. We tended to either go for a little walk along the promenade, hang out at the hotel's indoor garden or play pool before the evening entertainment began.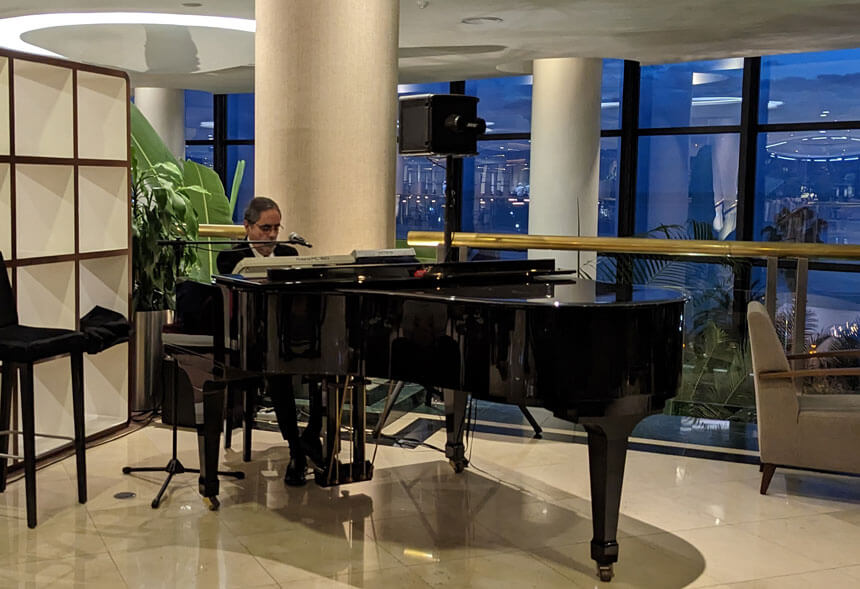 There aren't any big shows at the Enotel Lido like you might find at all-inclusive resorts in places like Mexico, but it was nice to relax over a drink.
The entertainment tended to be singers, but there was a mix of styles over the time we were there, including a Fado night with traditional Portuguese songs.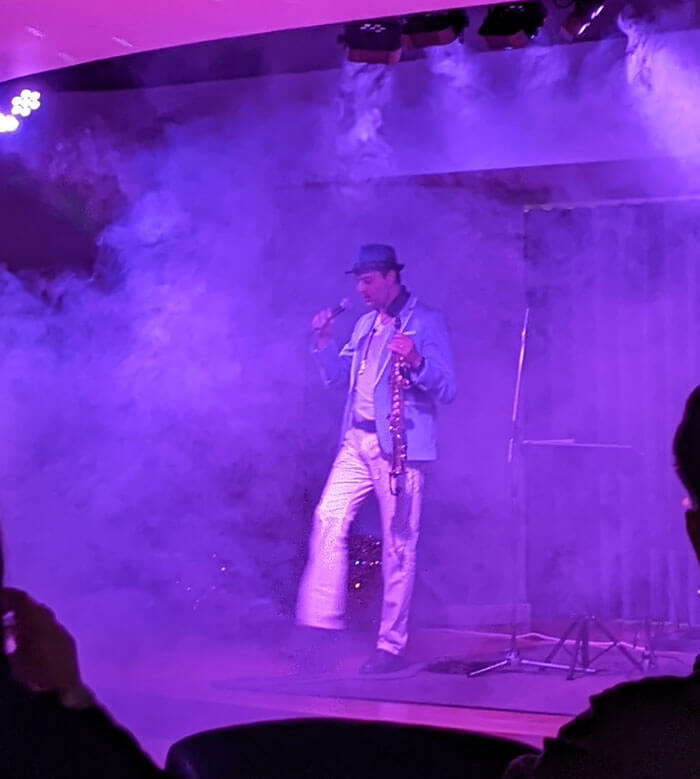 Drinks were nice – the cocktails tasted good, drinks with mixers were excellent and there was always wine, beer and cider on offer, along with soft drinks.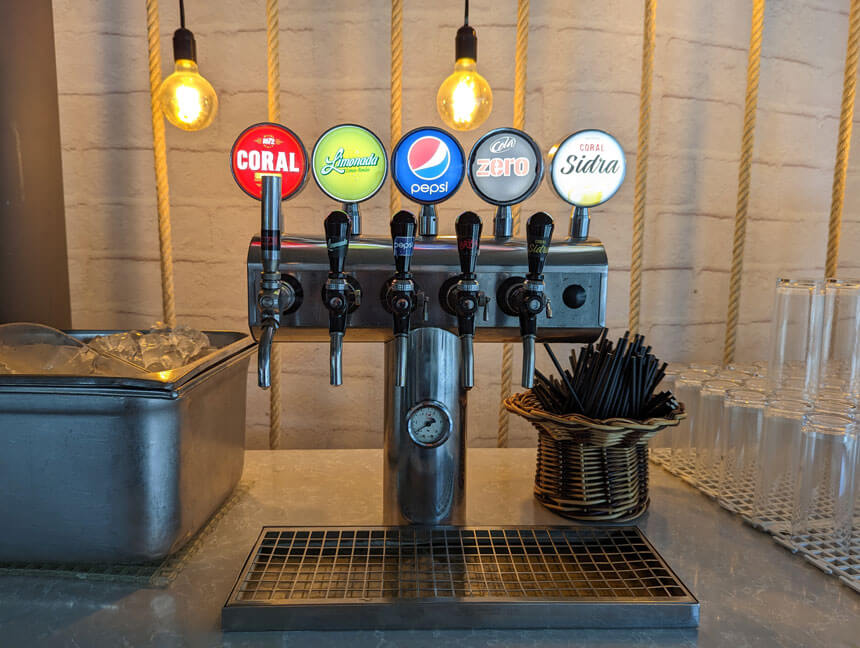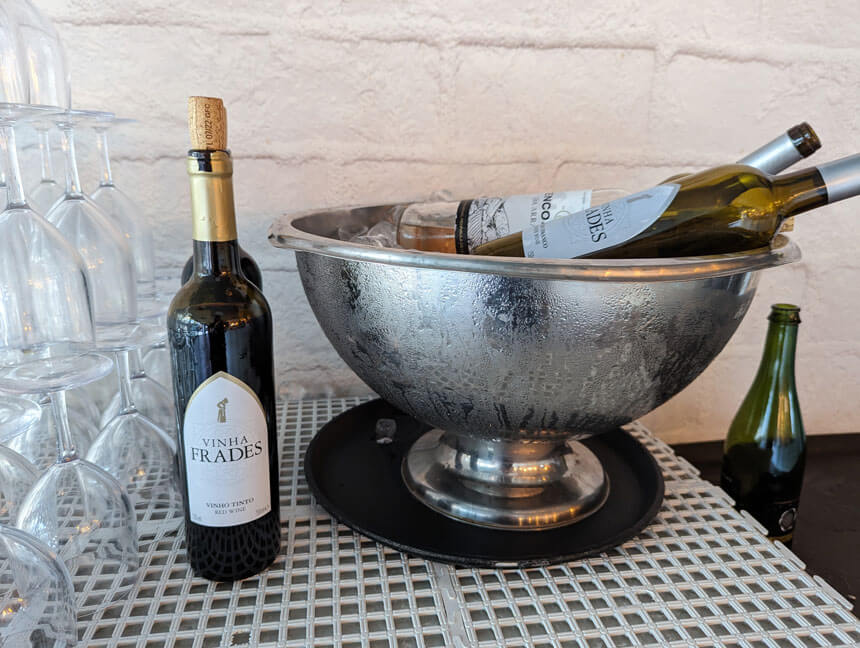 There's also entertainment in the afternoon – we missed almost all of it as we were out and about during the day but we did catch a Poncha-making demonstration.
The entertainment manager is incredibly hard-working and dedicated to his job – on one evening we were sat in the piano bar when he came up the stairs on some very precarious-looking stilts!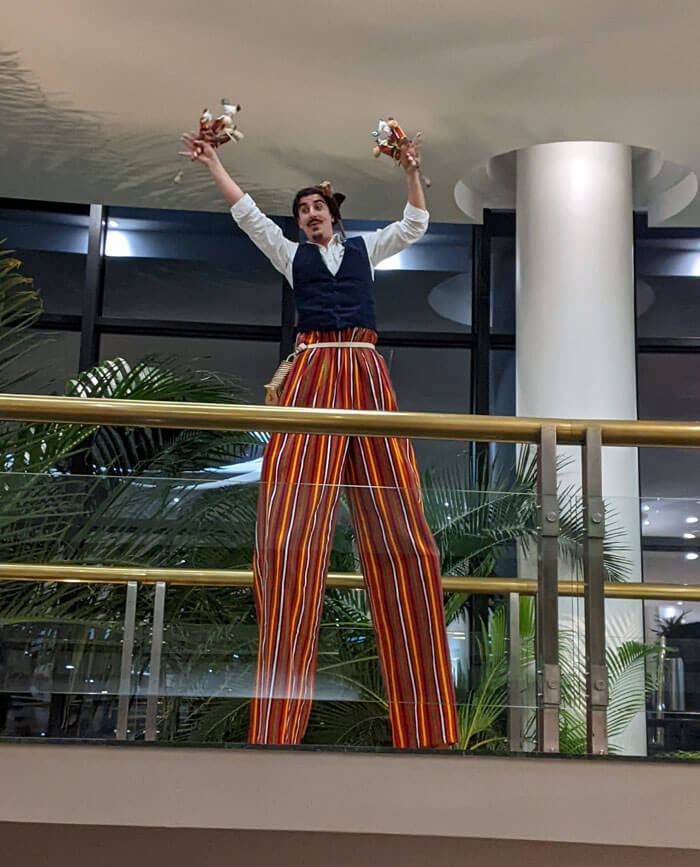 If you're travelling as a family then the Kids Club can entertain the little ones while you relax.
The hotel has an app which tells you everything you need to know about opening times, which à la carte restaurants are available and what entertainment is on. You can download it before you arrive so you can start planning your stay.
Spa and gym
I didn't try the spa or gym (we'd had plenty of exercise on our hikes) but they looked nice. If you want a spa treatment during your stay, I recommend booking well in advance – I was hoping to get a massage but unfortunately they weren't able to fit me in.
If you've downloaded the hotel app, you can request massages and other treatments through the app.
Final thoughts – Enotel Lido all-inclusive hotel review
If you're looking for an all-inclusive hotel in Madeira, the Enotel Lido hotel is a great choice. It's large enough to have plenty of space, facilities and options for food and drink, but not as far out of Funchal city centre as some of the other all-inclusive hotels in Madeira. It was a great base for us on this trip to Madeira.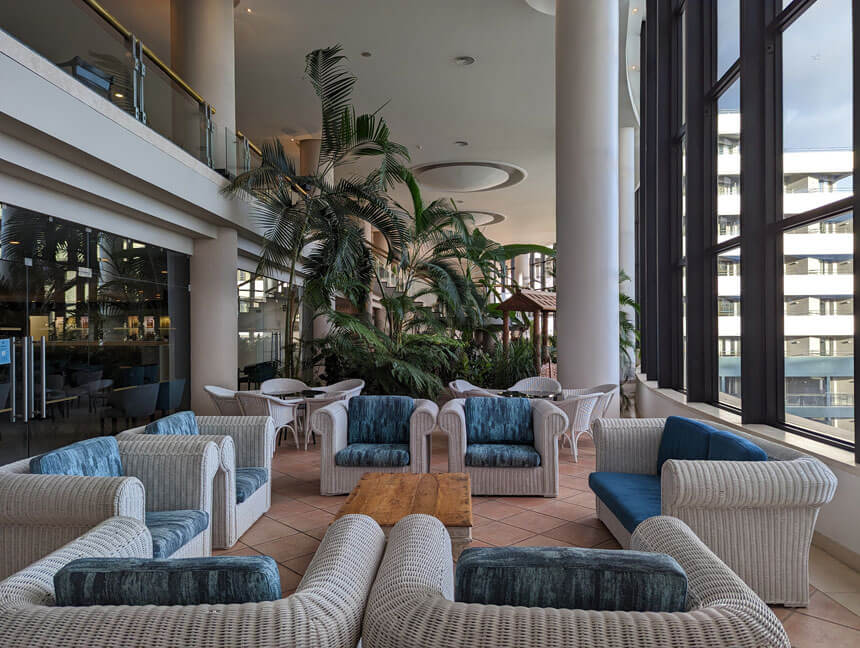 The rooms are large and comfortable and almost all of them have nice views (ask for a view of the pool, and to be on a high floor). I enjoyed the food and there was lots that I could eat, which was the main thing I was worried about.
Overall I'd recommend the Enotel Lido to anyone visiting Madeira and looking for a hotel where you don't need to worry about anything except enjoying everything the island has to offer.
Check prices and availability at the Enotel Lido hotel on Booking.com
See my essential tips for your trip to Madeira – including the one item you absolutely have to pack!
Would you stay at an all-inclusive resort in Madeira? Pin it for later!