If you're planning a trip to Dubrovnik, step away from the city-centre apartments and self-contained resorts and choose lovely Cavtat. A destination in its own right, Cavtat has everything you could want from a Croatian vacation, with easy access to Dubrovnik. Here's everything you need to know about visiting Cavtat, with tips for getting around, things to do in Cavtat, the best hotels in Cavtat and day trip ideas.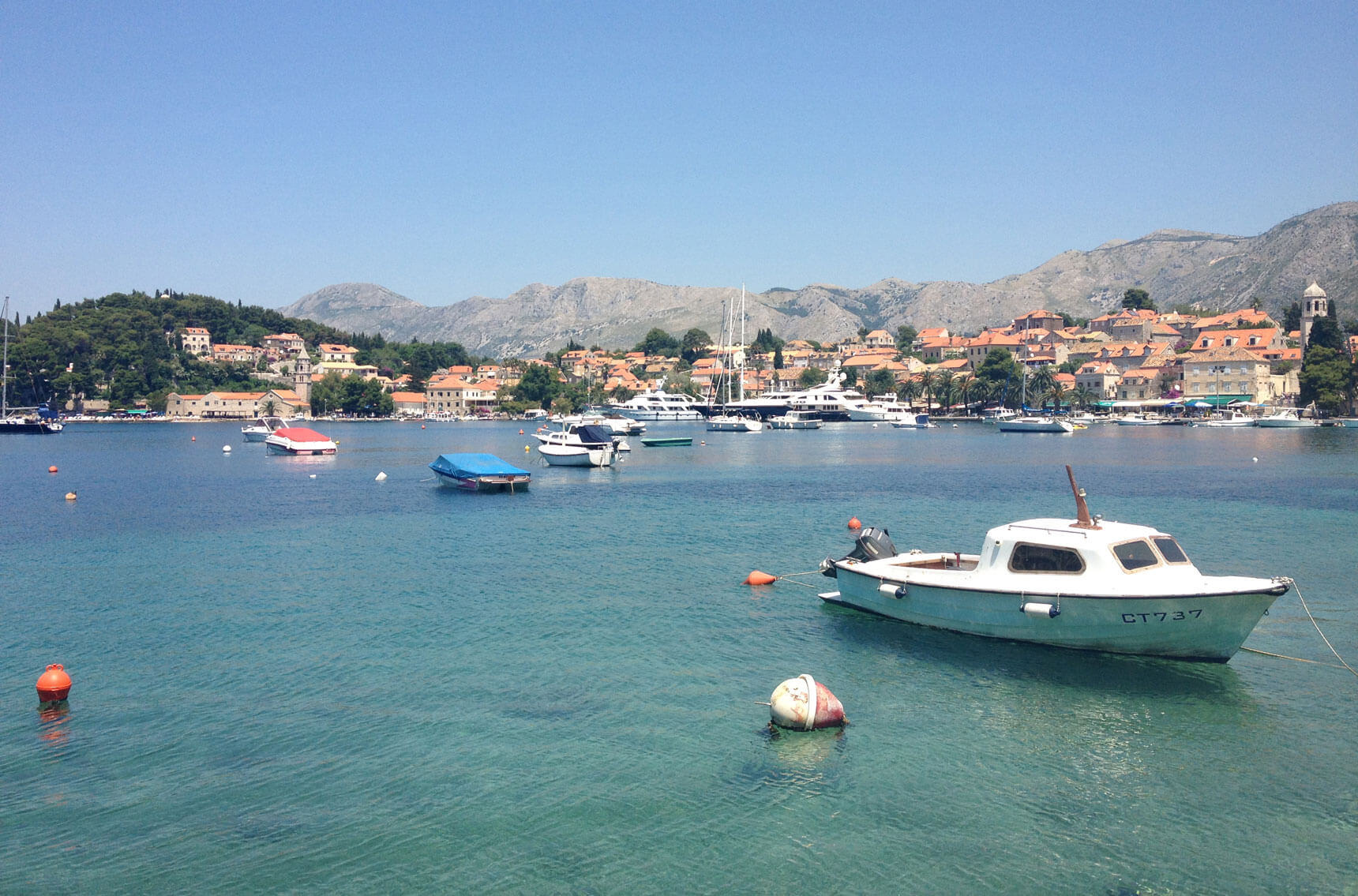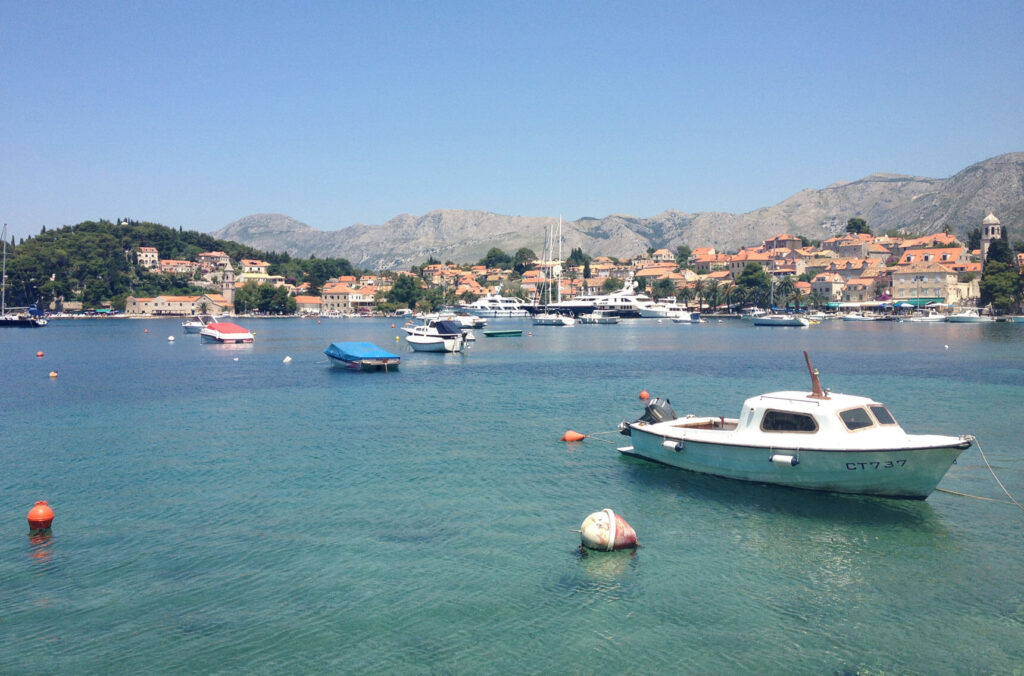 Where is Cavtat?
Cavtat is a small town at the southern tip of Croatia, 13 miles south of Dubrovnik and 14 miles from the border with Montenegro. The town is set on a horseshoe-shaped bay, defined by two long peninsulas covered in pine forests with the port and a tree-lined promenade in between. Full of charm, with some of the best sunsets in the Med, Cavtat is a wonderful place to stay and the perfect base for Dubrovnik.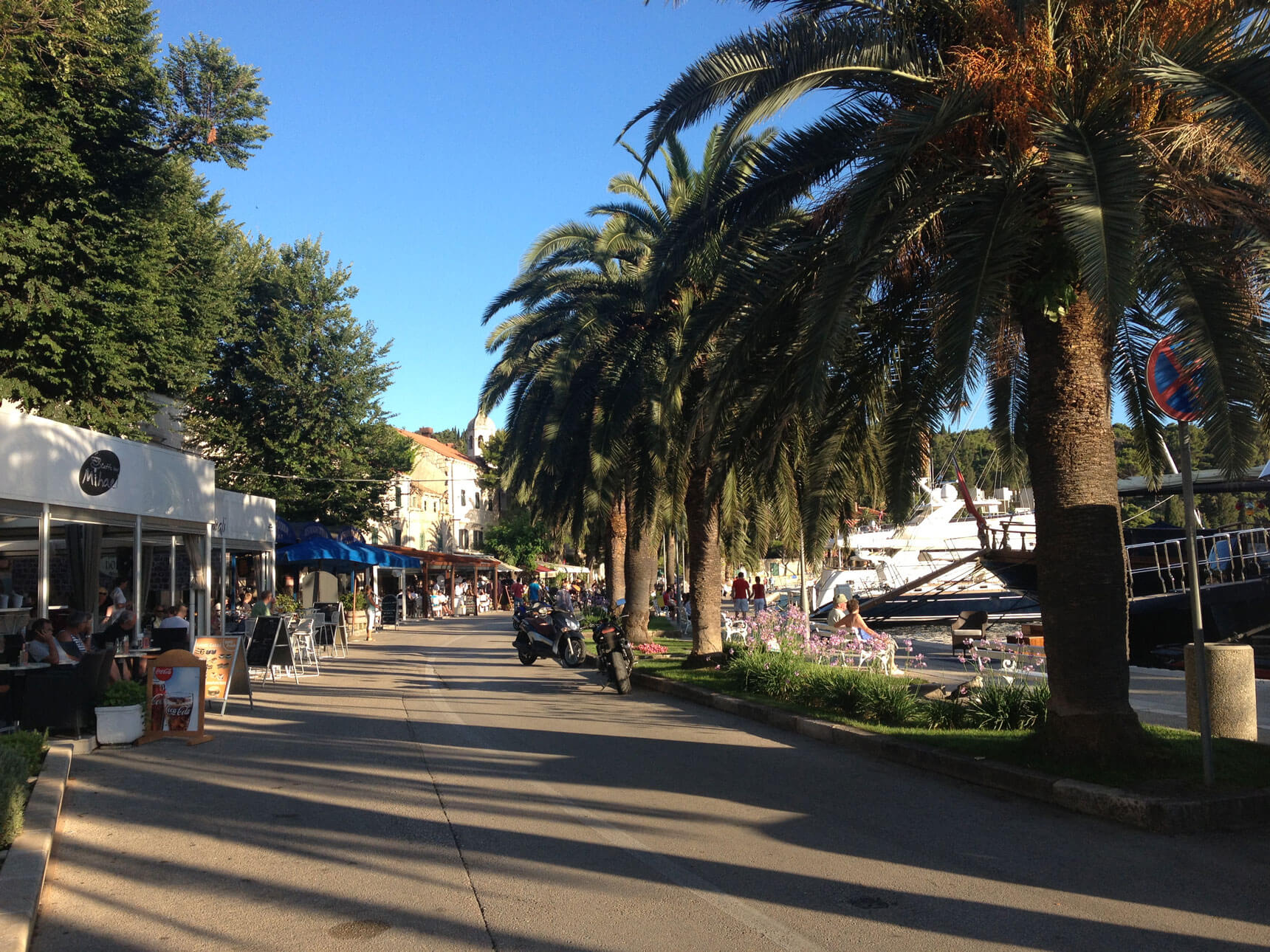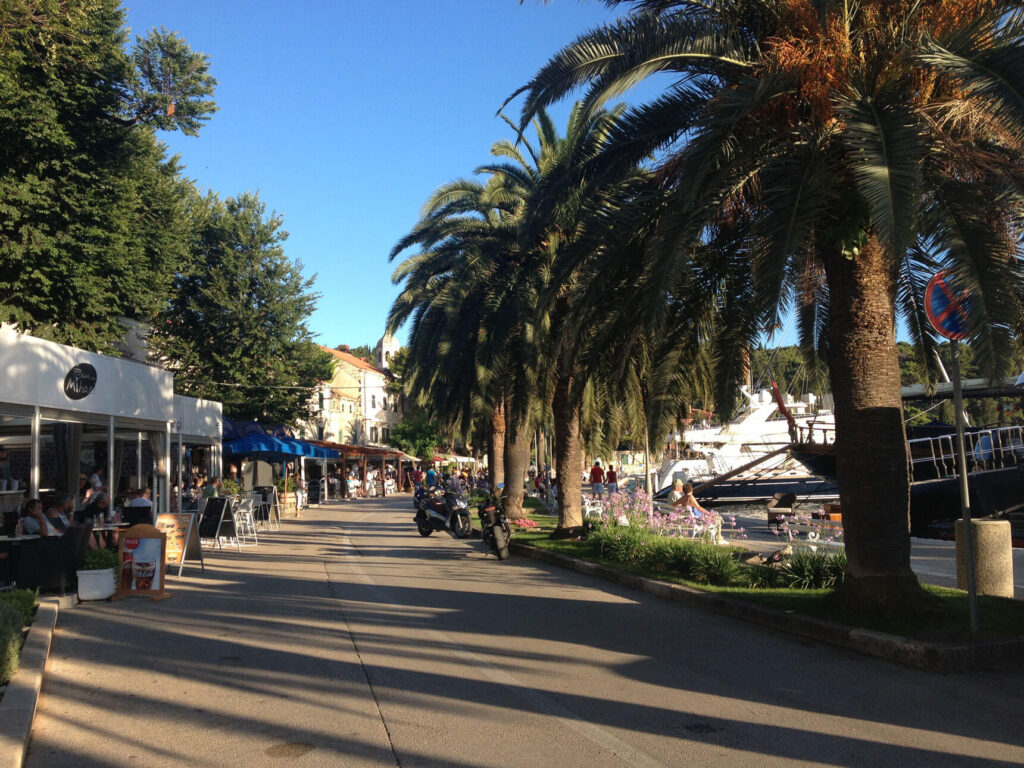 This post contains affiliate links – all that means is that if you buy something as a result of clicking on a link in the post, I'll receive a small commission that helps me with the costs of running this site. Thanks!
How to get to Cavtat
Some lucky visitors to Cavtat arrive by sea; the port is one of Croatia's top places to dock your superyacht and even featured in several episodes of Below Deck Med. For those of us who have to slum it and arrive by plane, Dubrovnik airport is less than 4 miles away.
Why Cavtat makes a great base for visiting Dubrovnik
In normal times, Dubrovnik is seriously busy and getting busier by the year. Fuelled by Game of Thrones-fever, cruise ship lines have made Dubrovnik a stop on more and more itineraries. Between 2018 and 2019, visitors to Dubrovnik increased by 11%, and during the summer 8000 to 9000 people cram into the walled city, all eager to see the same sights. It's still a beautiful and fascinating city, but it can be exhausting to spend your vacation jostling for elbow room outside the door of your AirBnB.
By staying in Cavtat, you get the best of both worlds. You're close enough to Dubrovnik to make daily visits (and the trip there by boat is to die for), yet you can enjoy the slower pace of life, free from the umbrella-waving tour groups but still with plenty going on. For the days when you don't head into Dubrovnik, there are interesting places to explore in and around Cavtat, and easy day trips for something completely different.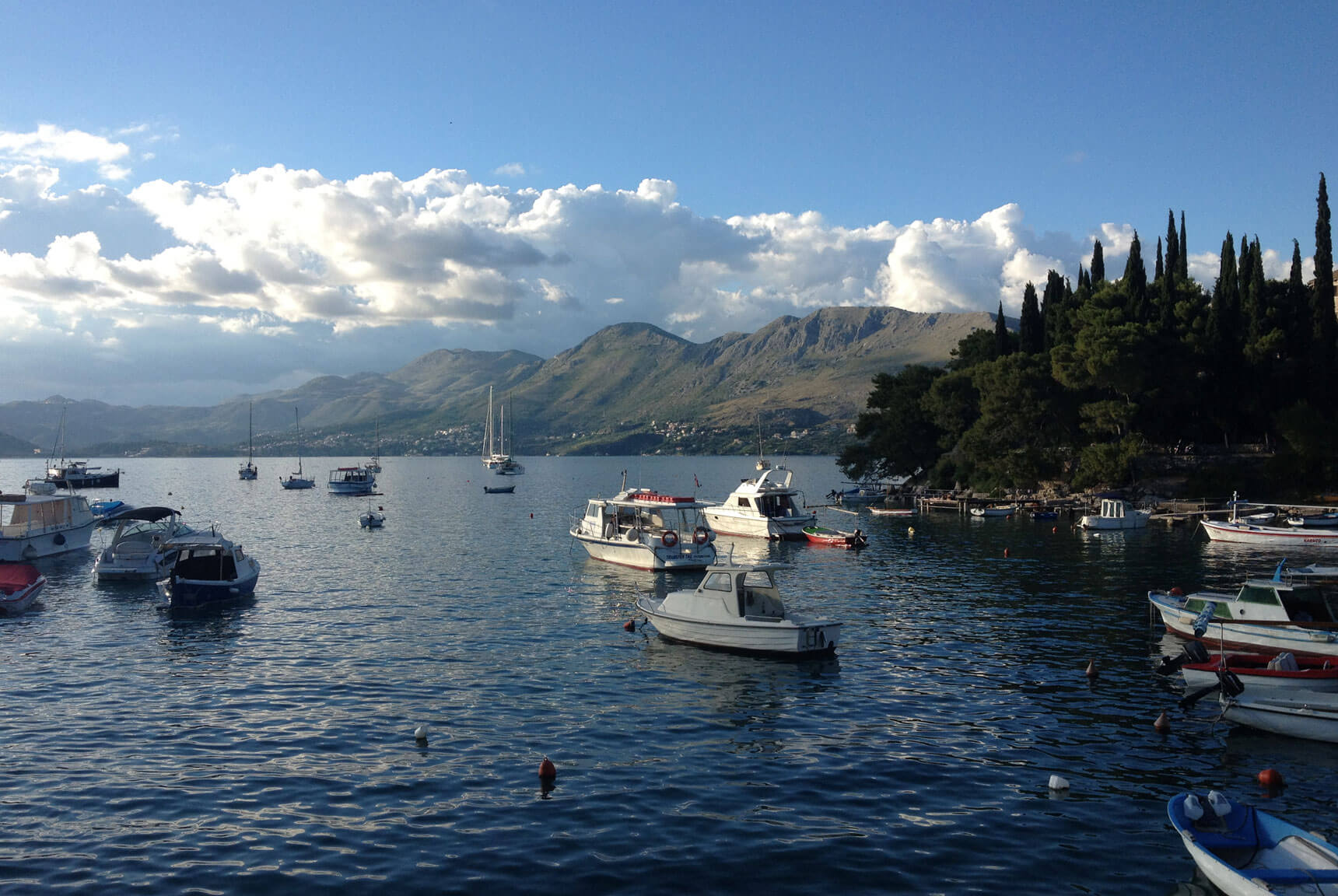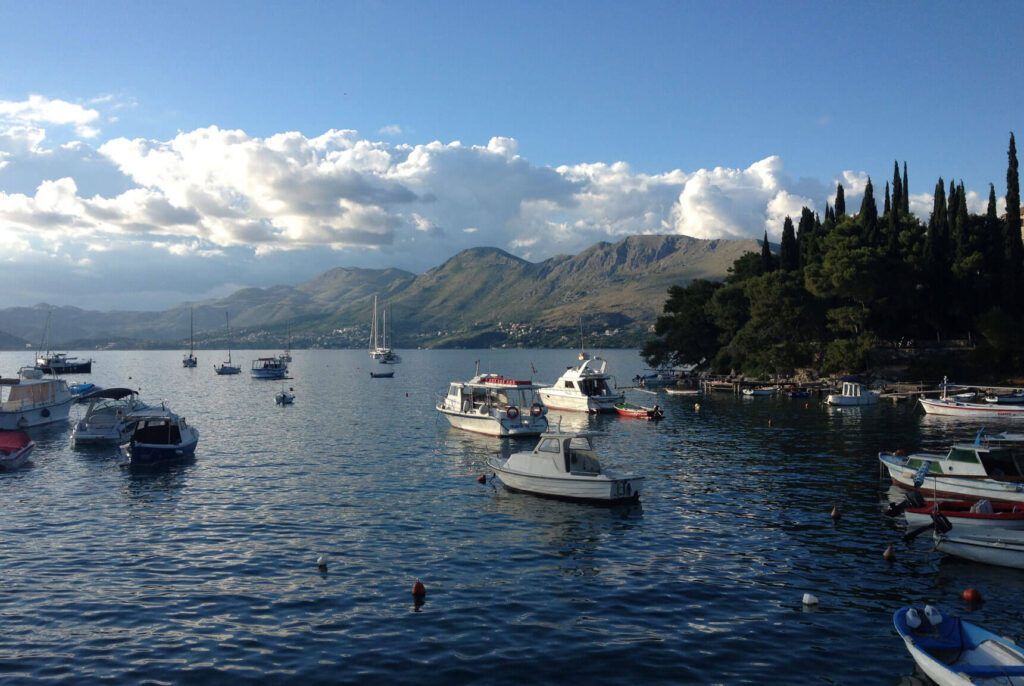 Getting from Cavtat to Dubrovnik
You have three choices for getting from Cavtat to Dubrovnik: by bus, by taxi or by boat.
Cavtat to Dubrovnik by bus
The Line 10 bus leaves Cavtat's bus terminal on Šetalište Rat at least every hour and costs less than £3 or $4.25. The bus can be very busy, but it's definitely the cheapest option. The trip will take around 30 minutes. The bus stops in Dubrovnik for local buses are just outside the old city walls; the main bus terminal for inter-city buses is further out.
Cavtat to Dubrovnik by taxi
A taxi from Cavtat from Dubrovnik will take around 21 minutes, depending on traffic, and cost around £32 or $45. During your journey, you could ask the driver to stop off at the D8 viewpoint for amazing views of the city walls and port.
Cavtat to Dubrovnik by boat
It costs a bit more than the bus, but making the journey from Cavtat to Dubrovnik by boat is infinitely better. Small boats leave the central promenade frequently, stopping off at smaller resorts along the way, before arriving into Dubrovnik's atmospheric old port.
The boat takes longer than either the bus or taxi at around 45 minutes but it's a wonderful experience and one you should try at least once during your trip. Boats from Cavtat to Dubrovnik cost around £7 or $10 each way.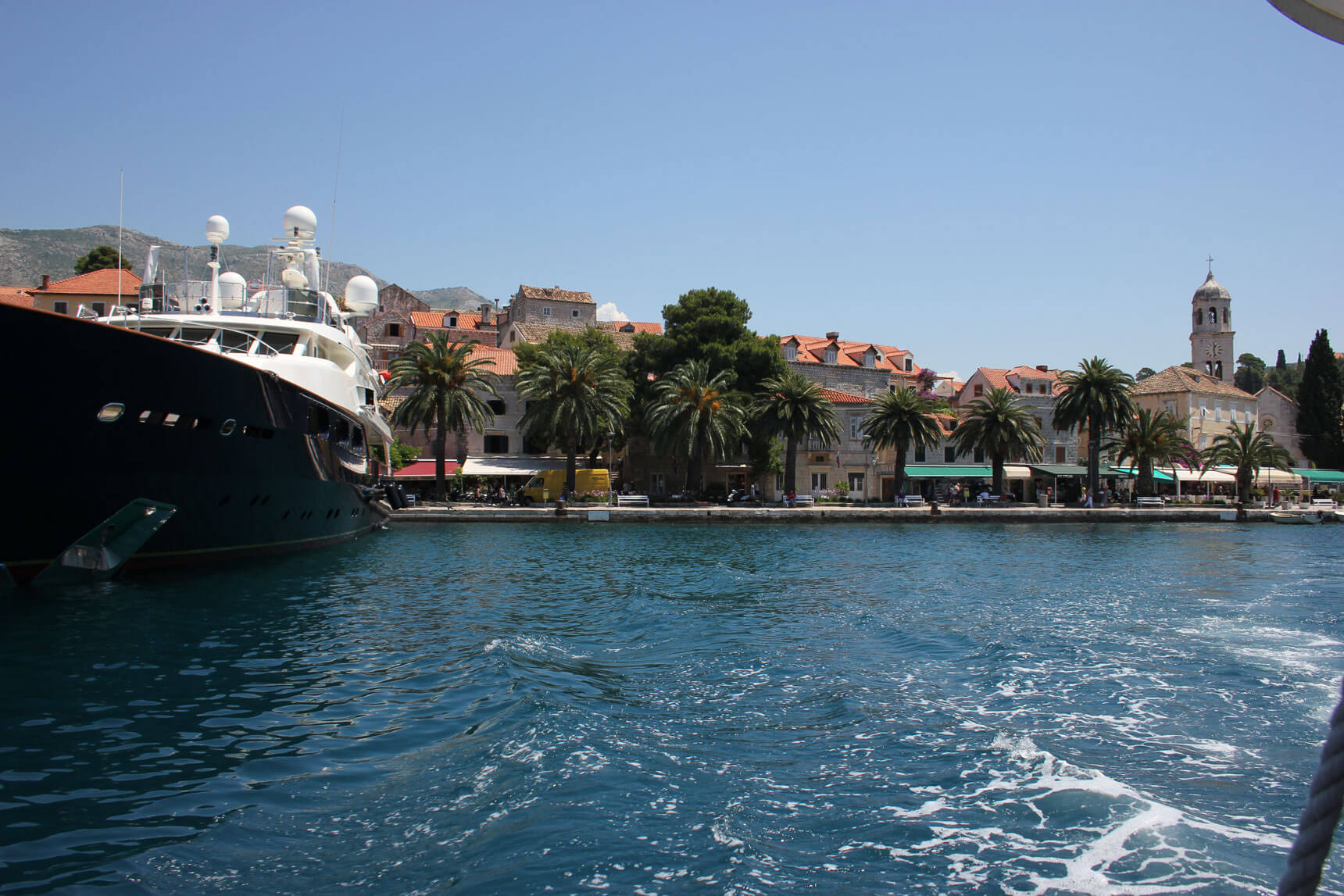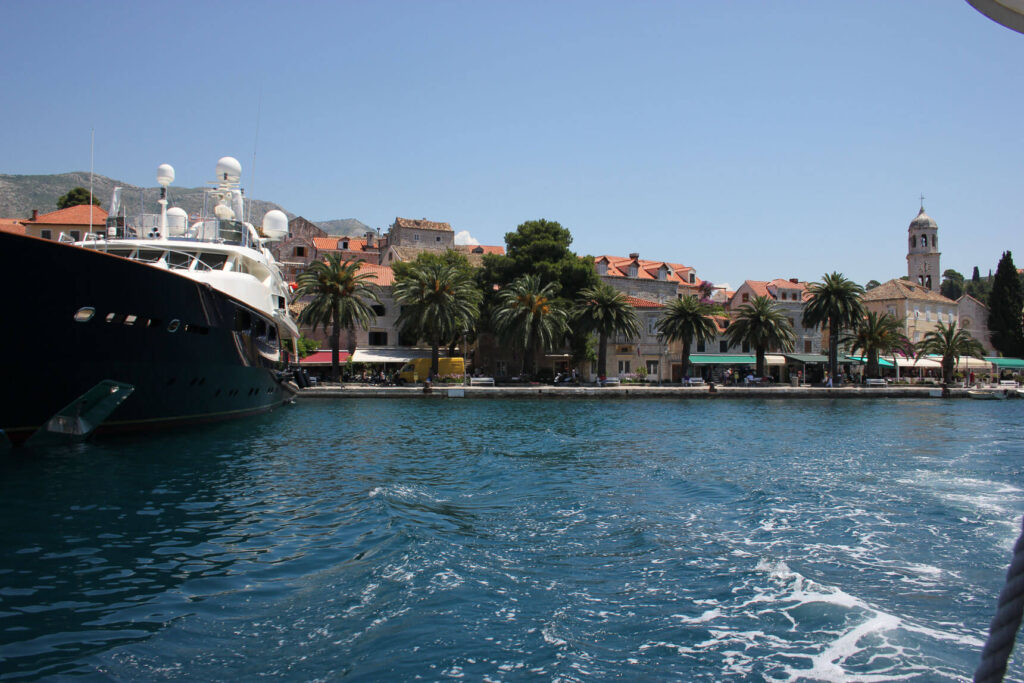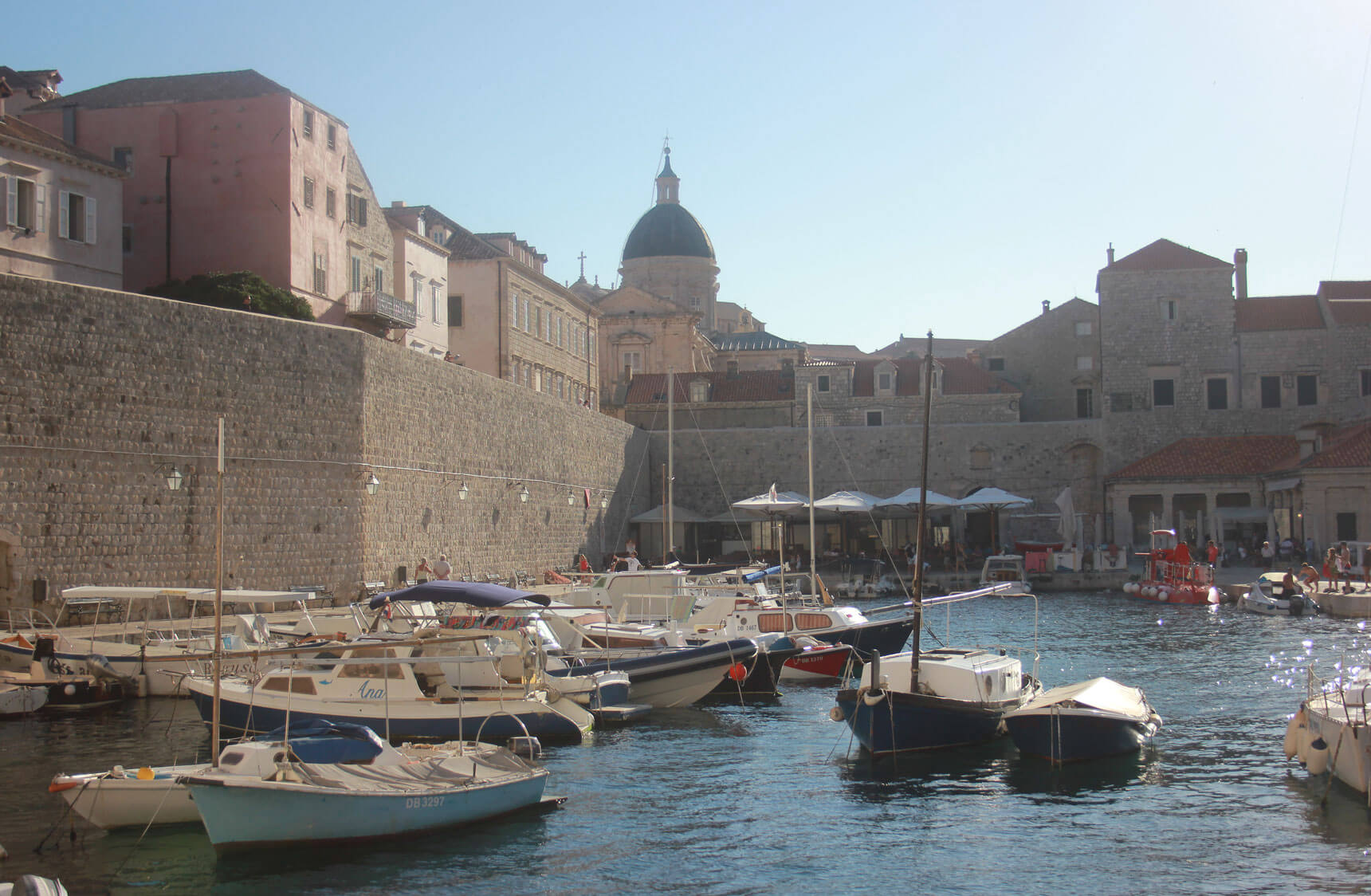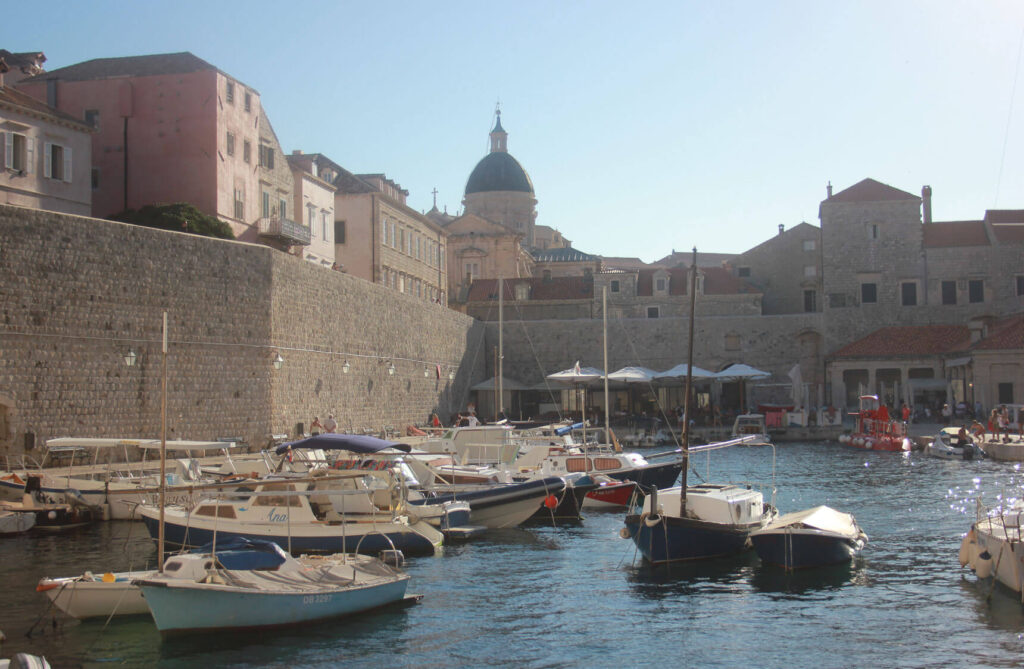 Things to do in Cavtat
On days when you don't feel like venturing too far, there's still plenty to do in Cavtat.
Watch the sunset
The sunset in Cavtat is just drop-dead gorgeous. The sun sets right in front of Cavtat's harbour, looking toward Dubrovnik and is framed beautifully by the two wooded peninsulas. For the best views, climb a little way up the Kneza Domagoja steps that run from Put od Cavtata down to the waterfront.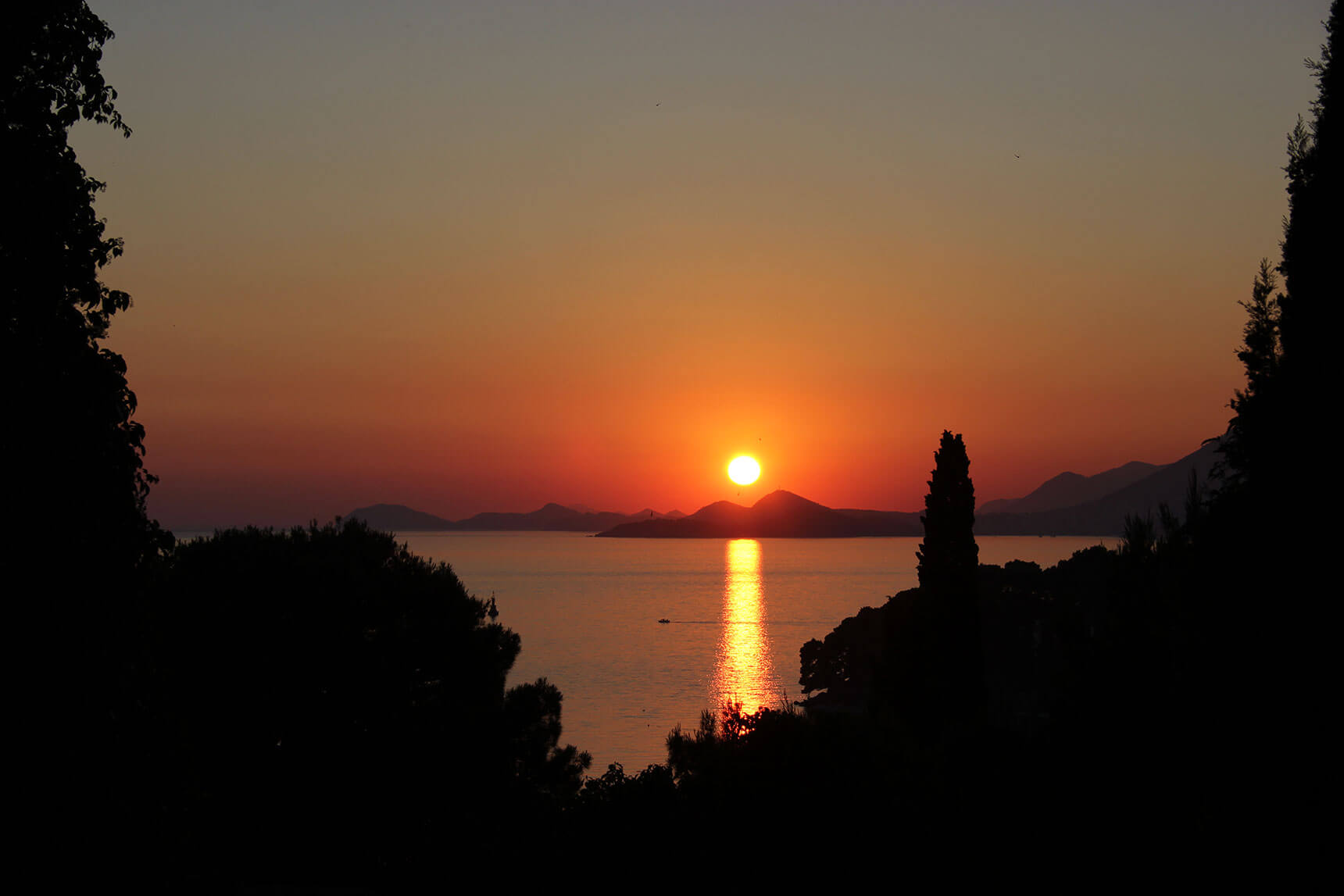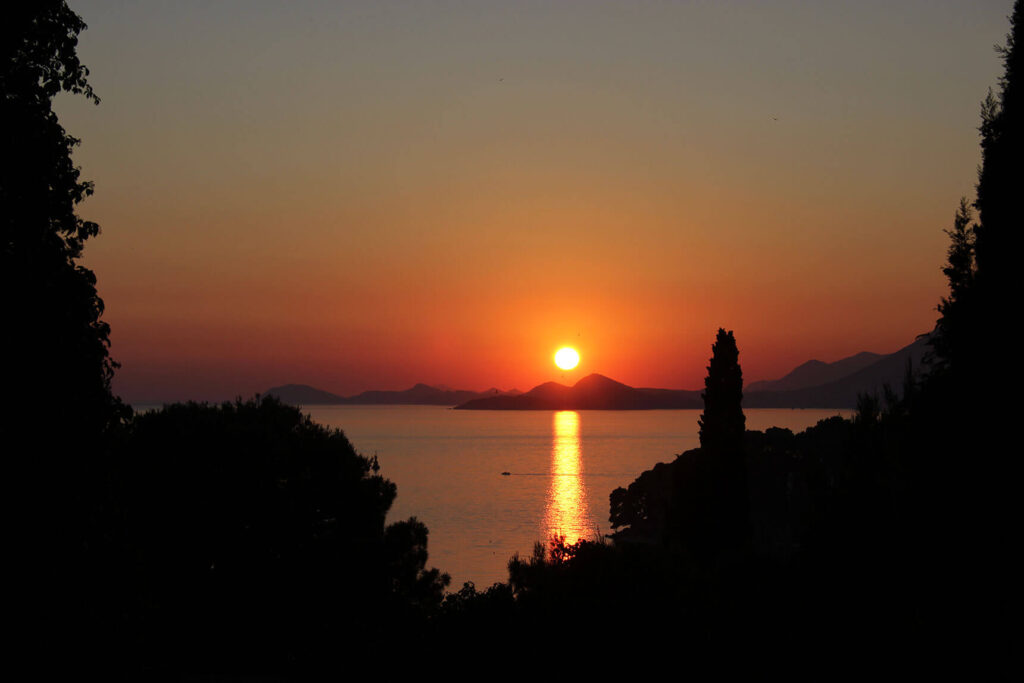 Yacht spotting
Cavtat is a popular spot for superyachts to moor, either in the harbour itself or just offshore for the really megayachts. The town featured in season 2 of yachtie reality show Below Deck Med, and fans of the show will enjoy admiring the amazing boats and trying to guess who might be on board.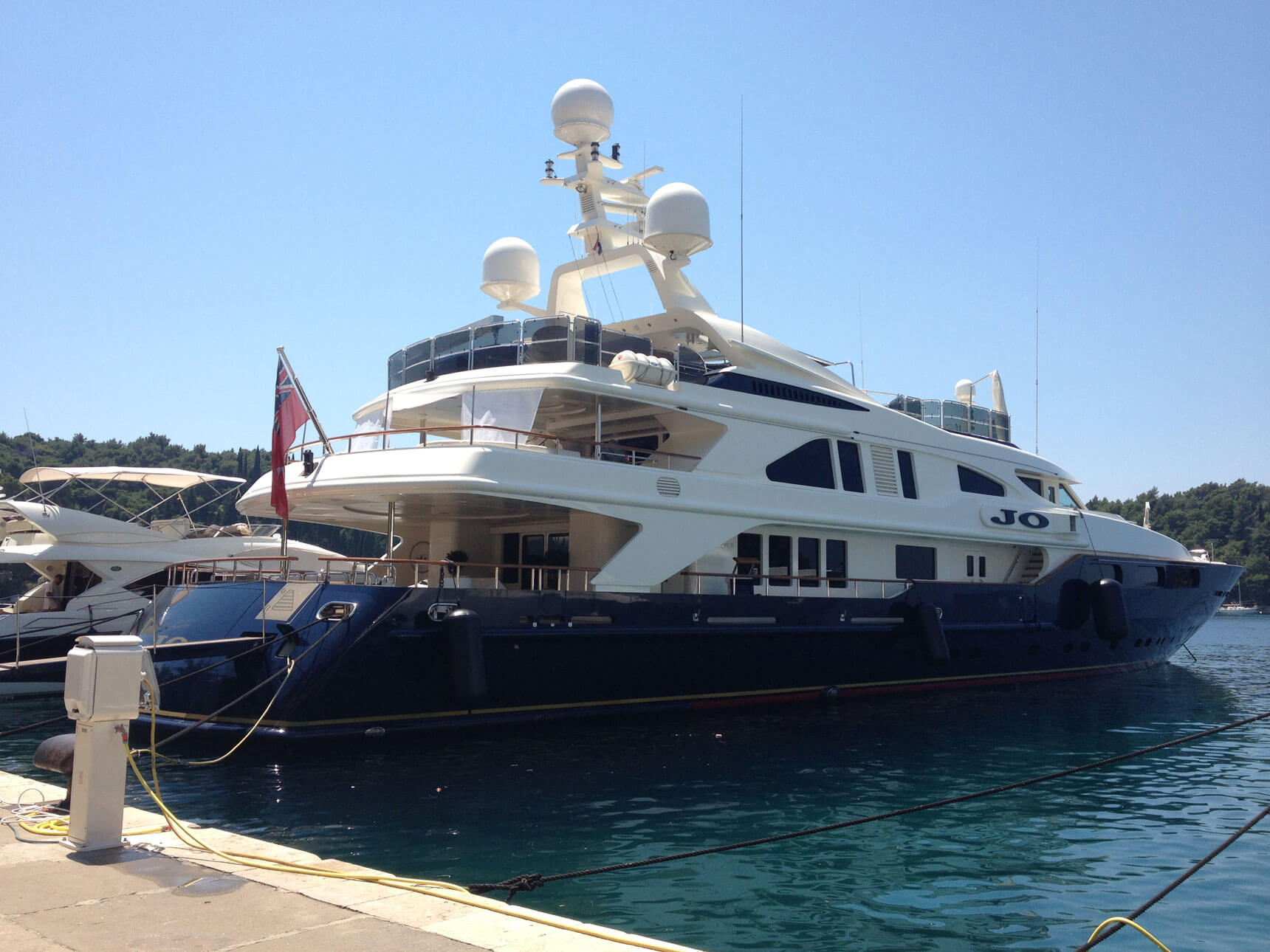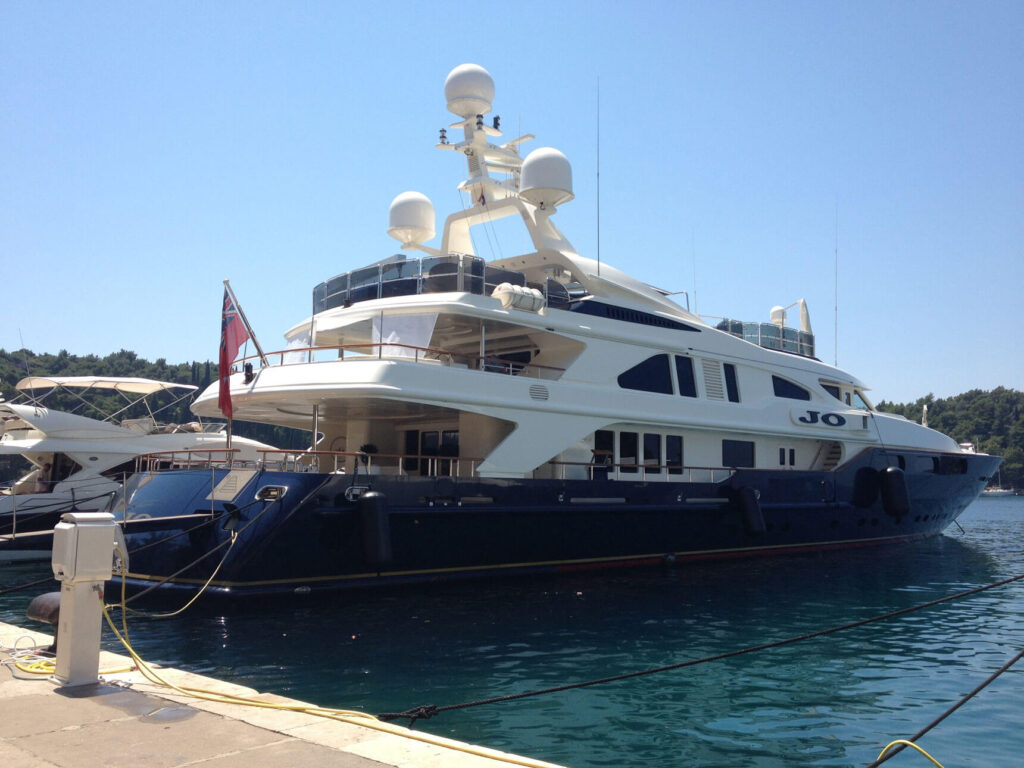 Go to the beach or relax at a beach bar
Cavtat has a short pebbly beach, Beach Žal, which is opposite Hotel Albatros on the north side of town. There's a small watersports centre and the water is lovely and clear for swimming.
If you walk around the edge of the peninsula to the right of the promenade, you'll find several cute little beach bars hidden on the edge of the forest, many with sunbathing platforms and with great views. Try Beach Bar Little Star, which has amazing sunset views and a front-seat view of the superyachts entering the harbour.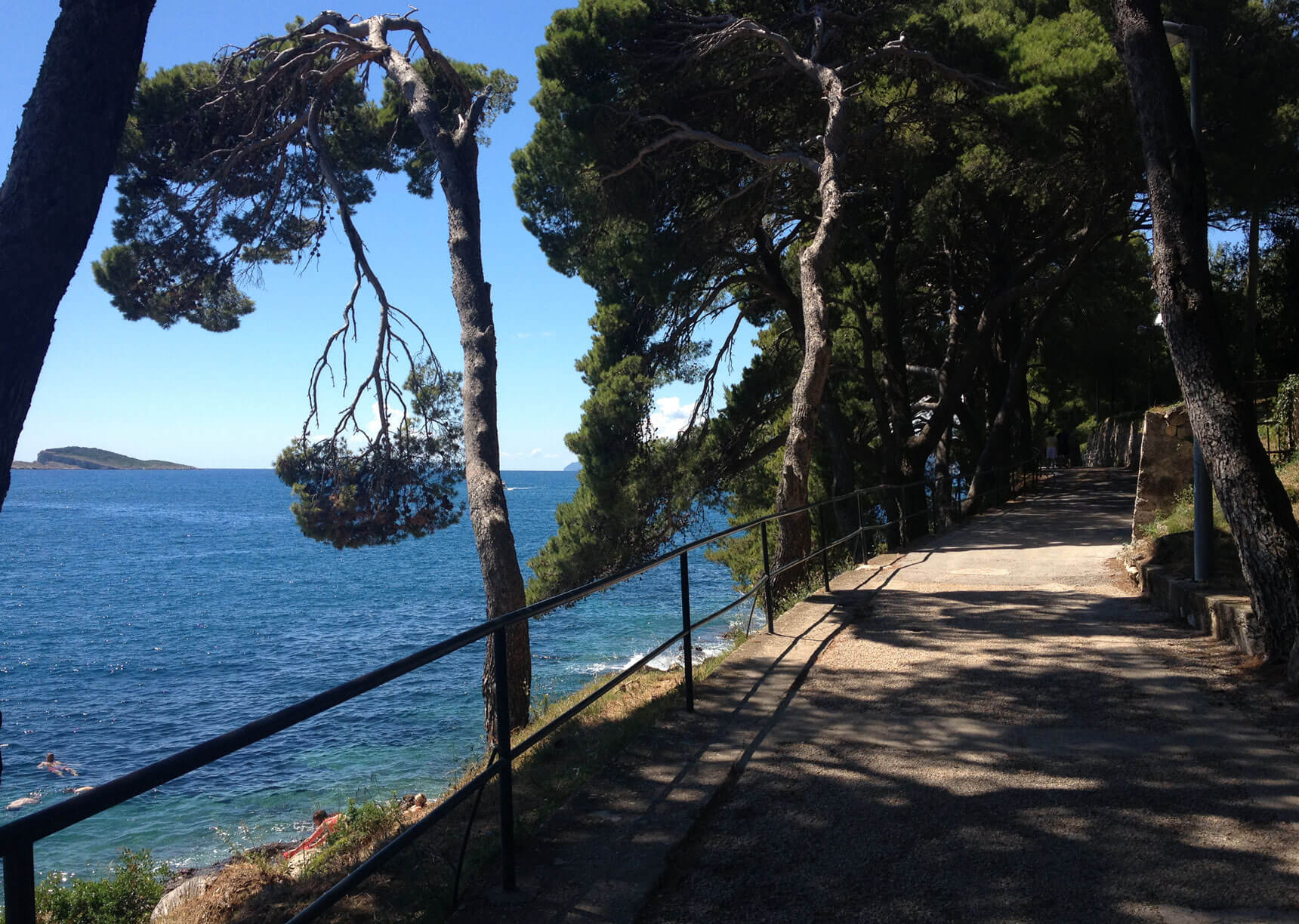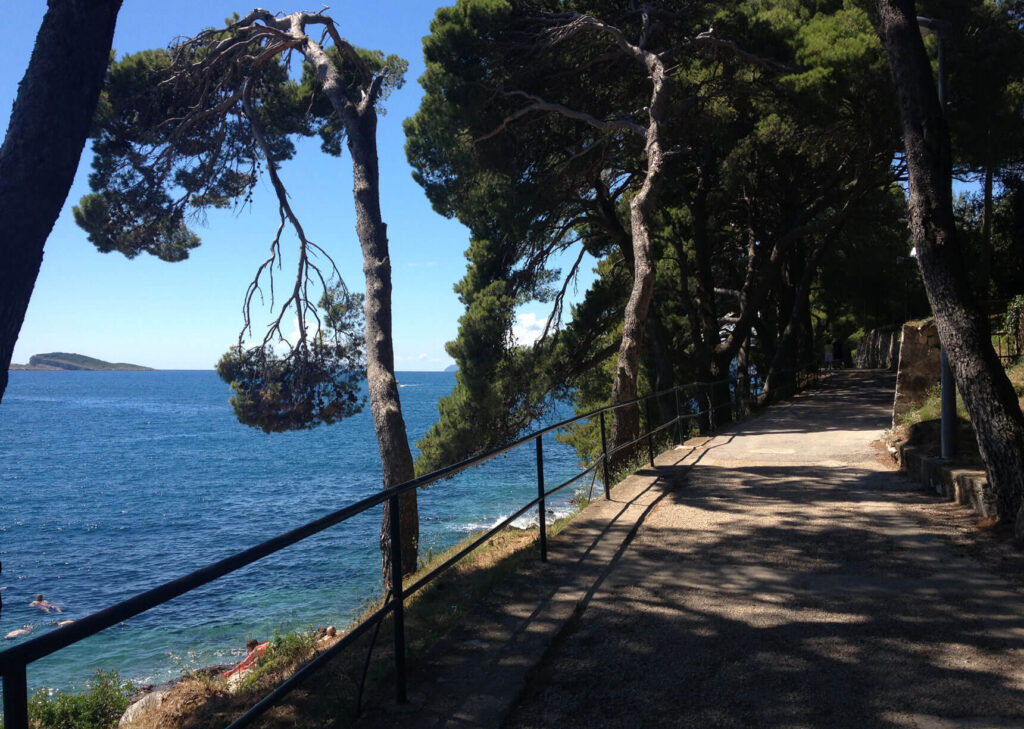 Wander the old town
While Cavtat's old town is small, it's very atmospheric. Sloping gently up from the promenade, the narrow streets are full of attractive village houses. Don't miss the parish church of St Nicholas at the bottom of the hill and the scenic views from Cavtat's cemetery at the top. Halfway to the cemetery you'll find The House of Vlaho Bukovac, an art museum. You can see more of Bukovac's work at the former Rector's Palace, along with a collection of Roman artefacts.
Day trips from Cavtat
If you tire of Dubrovnik, there are lots of other day trips from Cavtat.
Lokrum island
Lokrum is a small island, easily visible from Dubrovnik. These days the island is an uninhabited nature reserve but also features an old monastery, botanical garden, a salt lake where you can float in clear waters and a fort which used to help guard Dubrovnik. Many scenes in Game of Thrones were filmed on the island.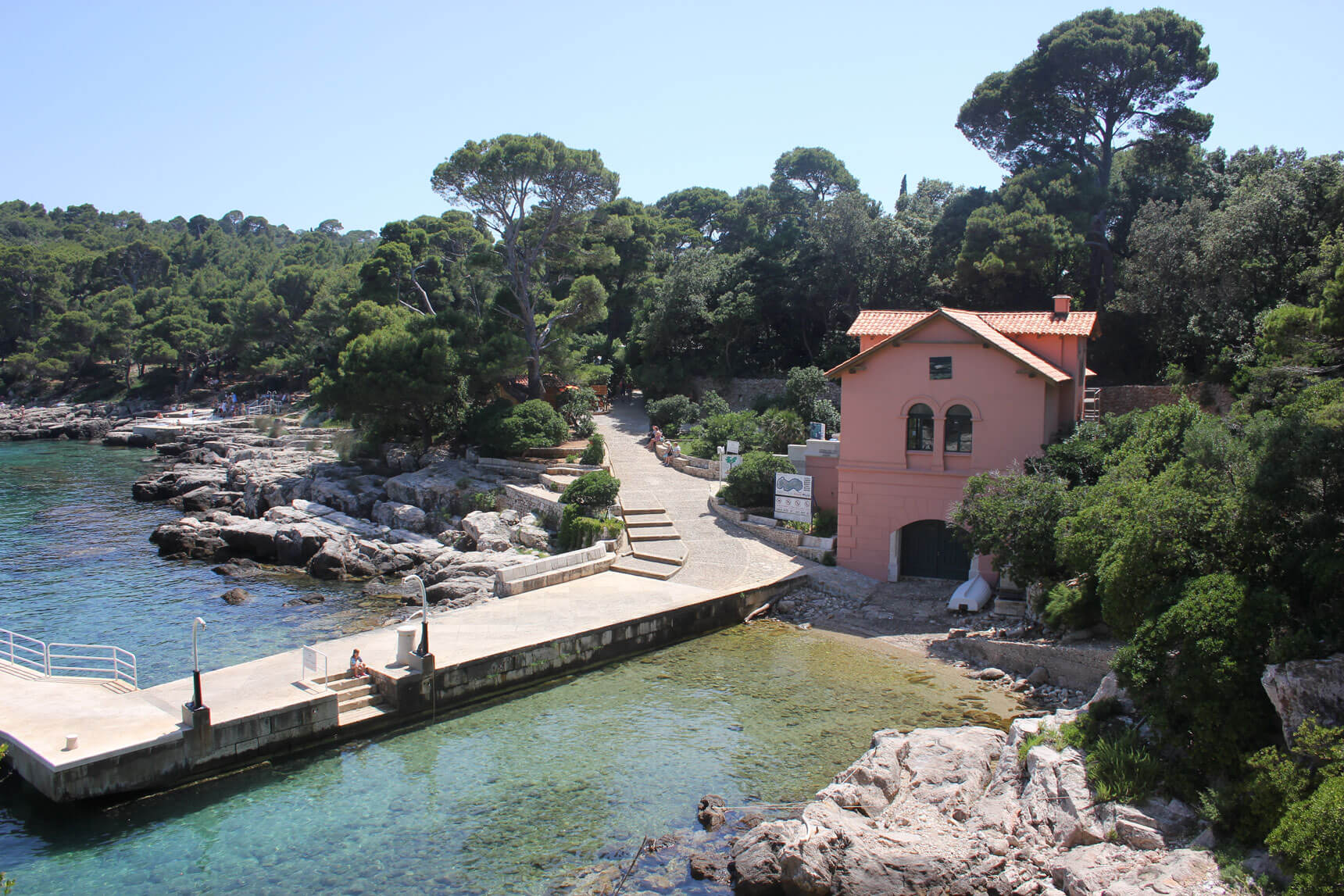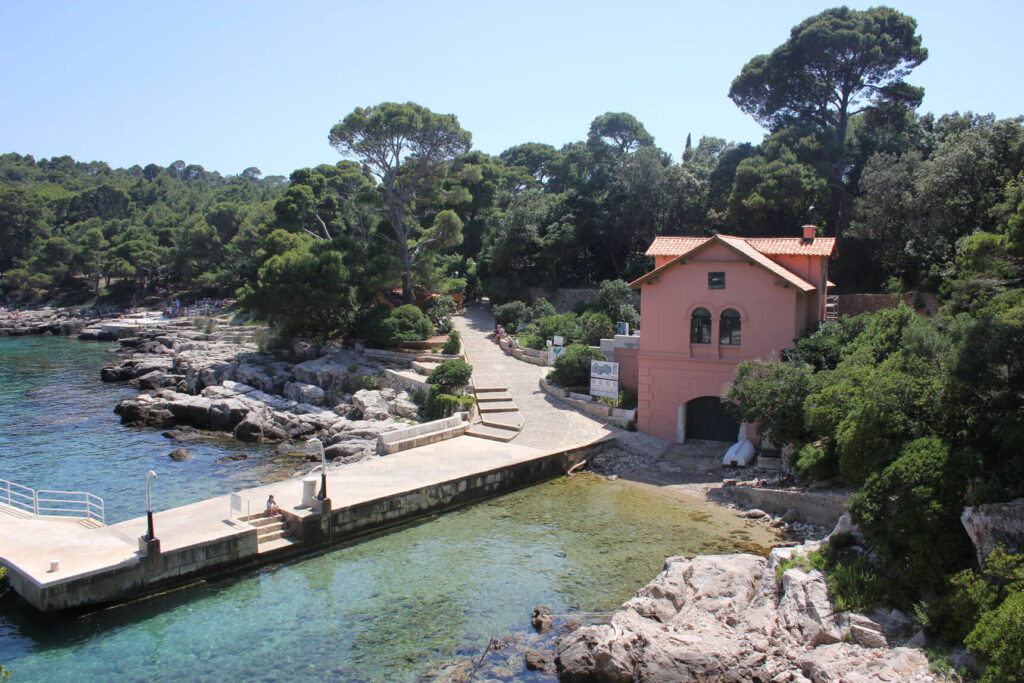 To get to Lokrum from Cavtat, either take an organised boat trip or take the regular boat service to Dubrovnik and pick up a boat to the island.
Montenegro
Since Cavtat is so close to the border with Montenegro, many of Montenegro's best sights are easily within reach. The lovely walled town of Kotor is only around an hour and half from Cavtat, although the border crossing can make it a bit longer. Organised coach tours from Cavtat often include Kotor, Budva and Sveti Stefan.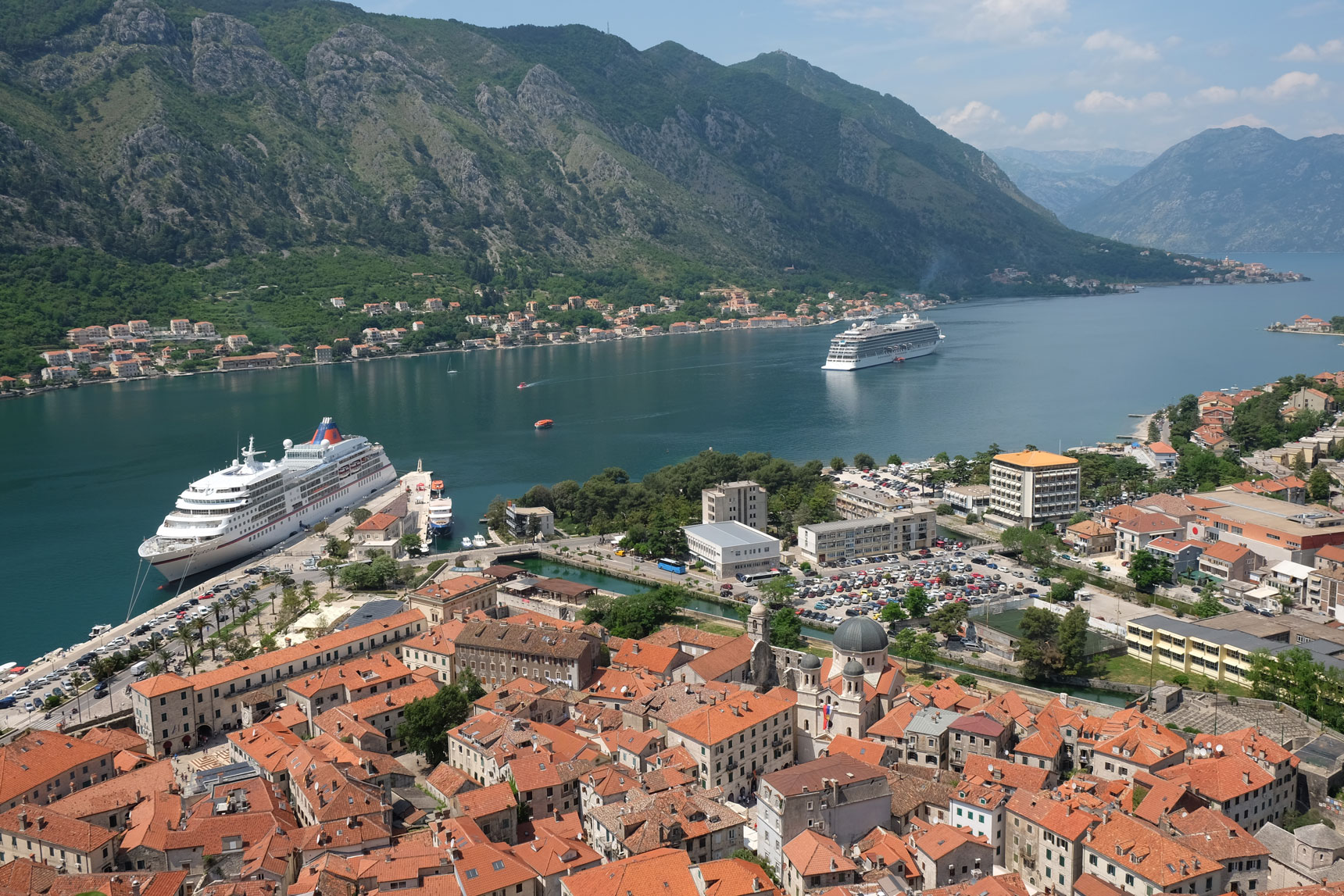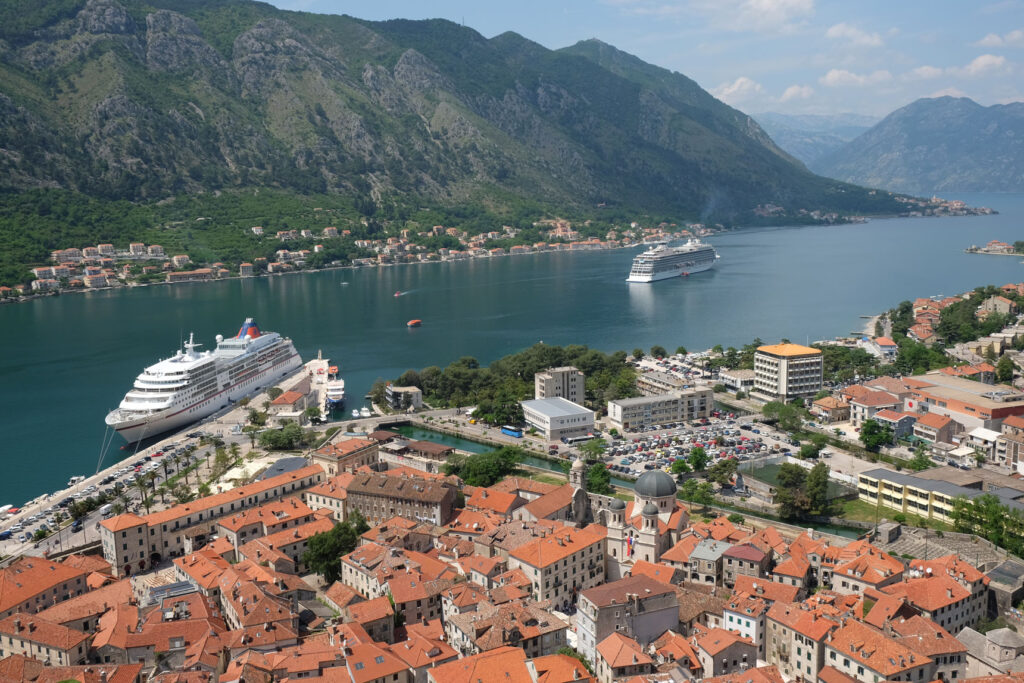 Krka National Park
While Croatia's famous Plitvice Lakes are a little too far for a day trip from Cavtat at 5.5 hours each way, the similarly beautiful Krka National Park near Split is more accessible. It'll still take around 3.5 hours, but there are several coach tours which make it an easier option.
At Krka you can see magical waterfalls, lakes and woods, while the nearest town, Šibenik is very attractive. If you're staying in Cavtat for a week or longer, it's worth considering an overnight stay to give you longer at the waterfalls.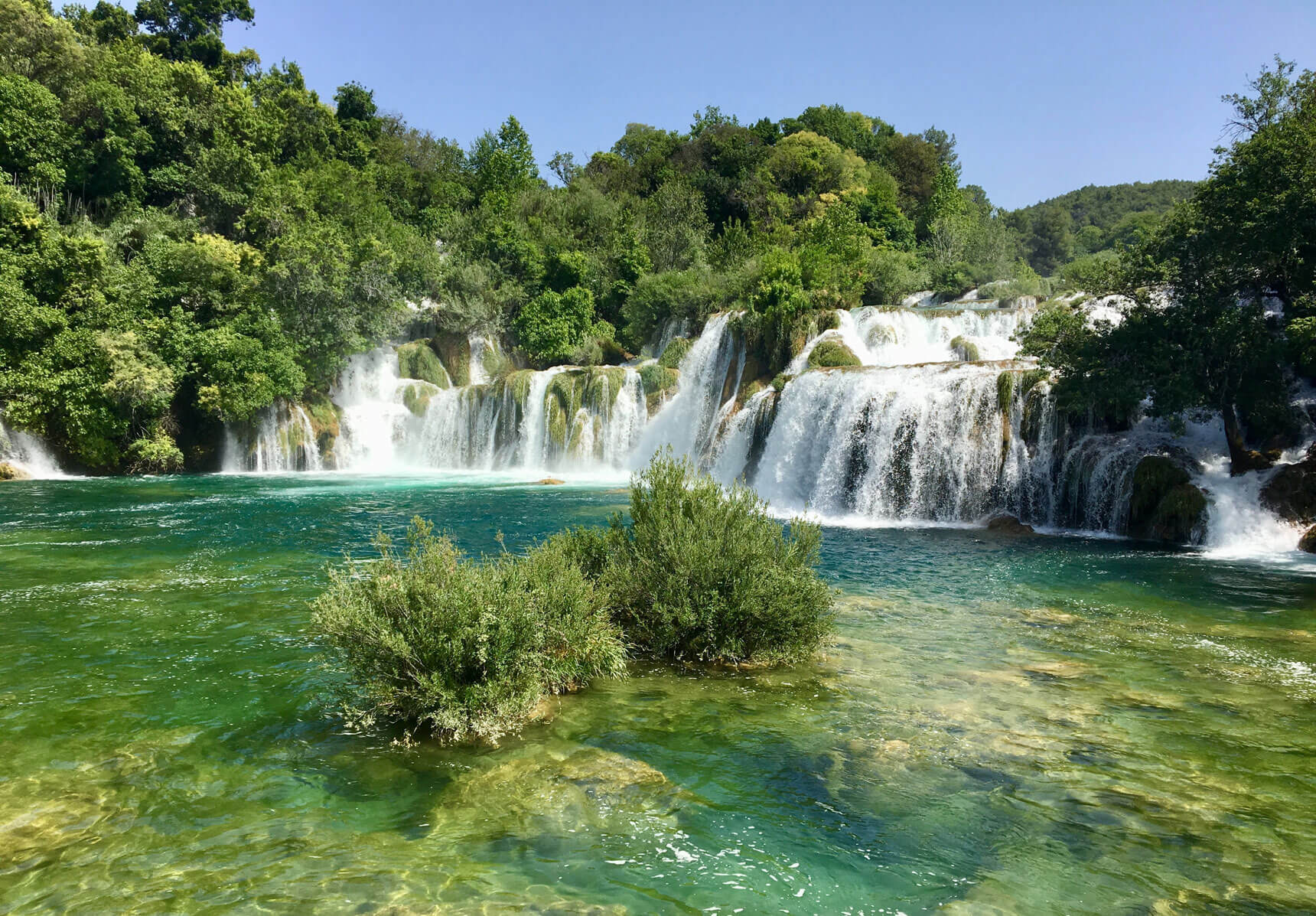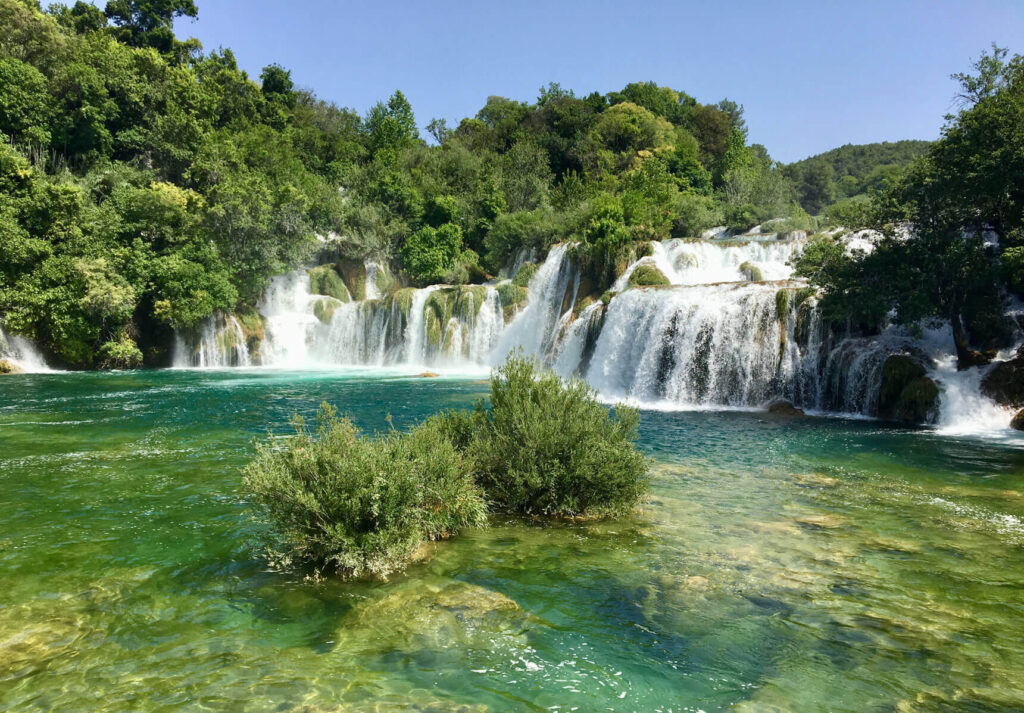 Mostar, Bosnia and Herzegovina
Cavtat to Mostar is another long day, but don't miss the chance to visit this town in Bosnia and Herzegovina. Mostar is famous for its iconic, 16th-century bridge which was destroyed during the Bosnian War in 1993 and later rebuilt as a symbol of unity. The bridge and the historic area around it are a UNESCO World Heritage Site.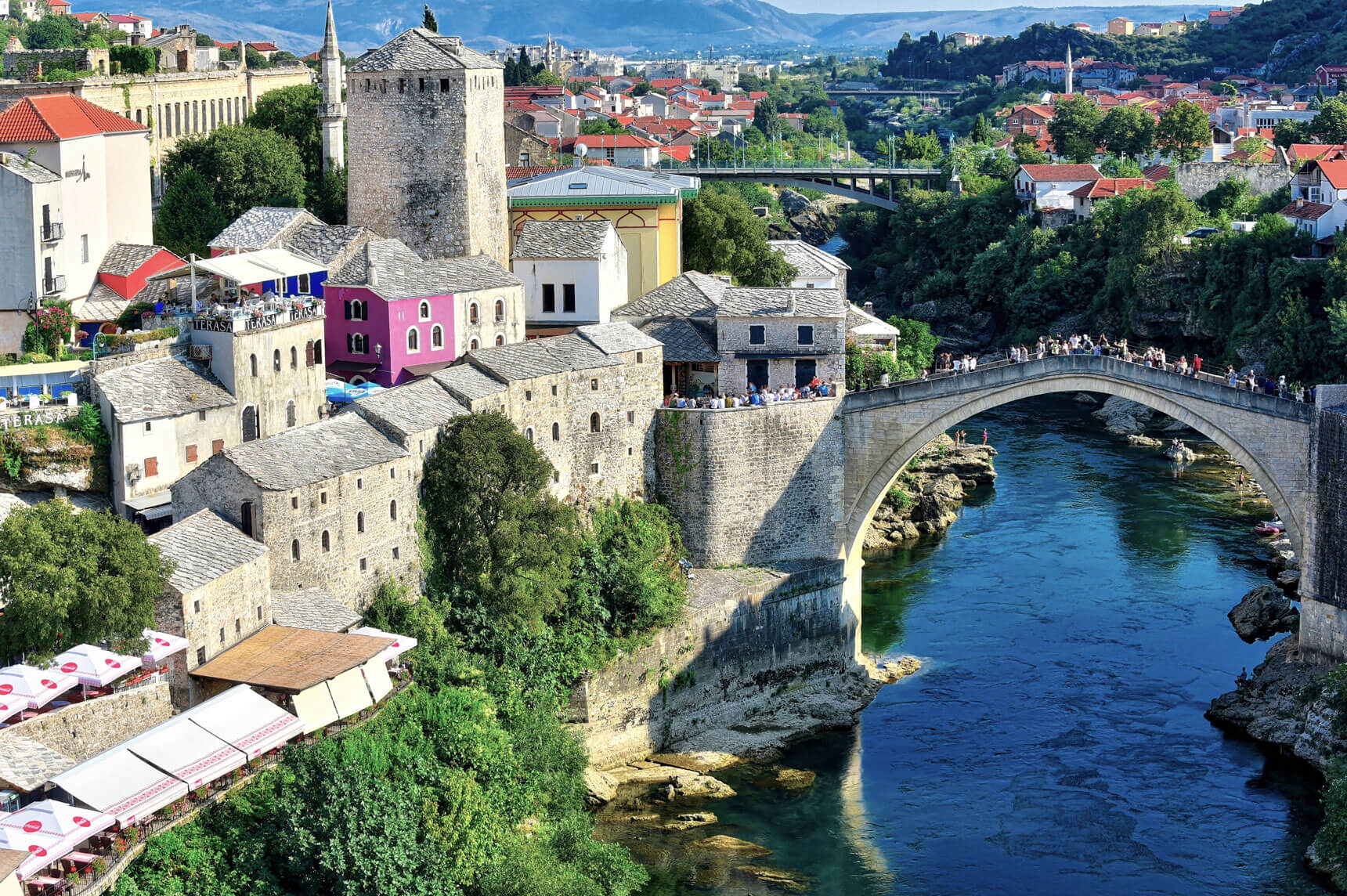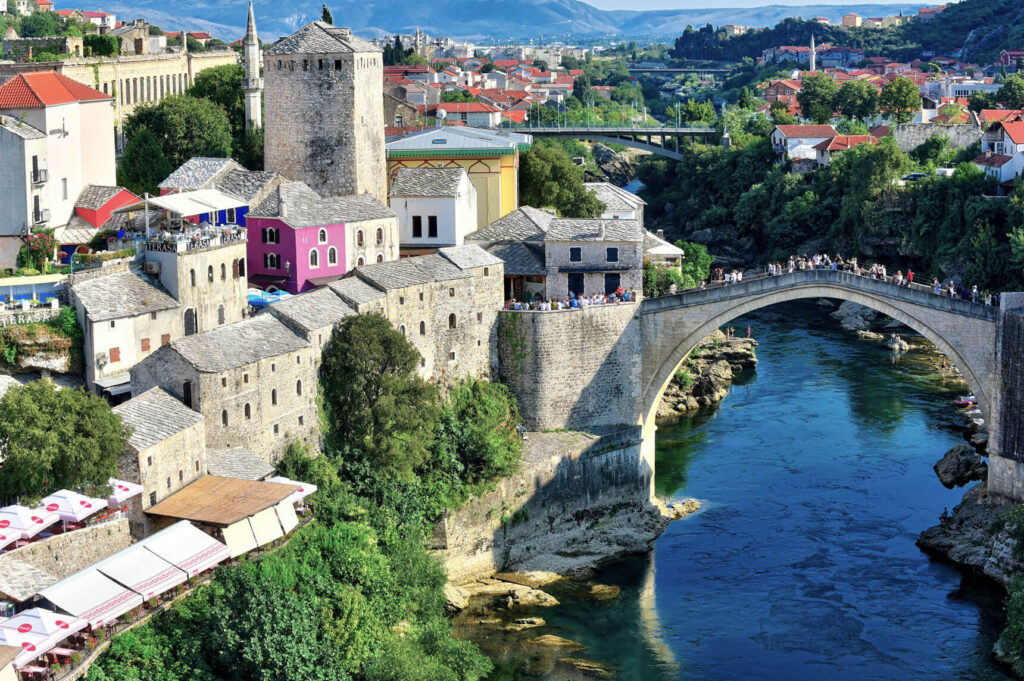 Where to stay in Cavtat
There are three large hotels in Cavtat, all with very convenient locations close to the beaches and all the other things to do in Cavtat.
Hotel Croatia – 5 star
The Hotel Croatia is a stylish, 5 star hotel set on one of the peninsulas that protect Cavtat's lovely harbour. The hotel has two swimming pools, a spa and easy access to two beaches, one facing the bay, one looking out into the Adriatic. The Hotel Croatia's five restaurants include Spinnaker, which is on the shoreline with amazing views of the bay.
Read more reviews of the Hotel Croatia and check prices on Booking.com.
Hotel Albatros – 4 star
The Hotel Albatros has one of the best locations in Cavtat, set right on Cavtat's main beach. This 4 star hotel has two restaurants, an outdoor pool and a range of activities for adults and children. It also offers an all-inclusive option, although it'd be a shame to miss out on eating in the restaurants in Cavtat and Dubrovnik.
Read more reviews of the Hotel Albatros and check prices on Booking.com.
Hotel Cavtat – 3 star
The Hotel Cavtat may only have three stars, but it has an amazing rooftop pool with stunning views over the bay where you can enjoy a cocktail as the sun goes down.
Read more reviews of the Hotel Cavtat and check prices on Booking.com.
Other hotels in Cavtat include the Hotel Epidaurus (3 star), the Hotel Supetar (3 star) and the Castelletto Hotel (3 star).
Apartments in Cavtat
When we visited Cavtat we were on a tight budget so rather than staying in a hotel we rented a room at the Sunrise Apartments where we were given a fantastic welcome. There are lots of other self-catering or budget options for places to stay in Cavtat; you can check them out on Booking.com.
Would you like to visit Cavtat? Pin it for later!