What to see and do in Kotor, Budva and Sveti Stefan on a quick three-day budget trip to the beautiful country of Montenegro.
This post contains affiliate links – all this means is if you buy something as a result of clicking a link, I'll make a small commission that helps me run this site. There's no cost to you.
Our three day trip to Montenegro was one of those booked-on-the-spur-of-the-moment trips. I was about to turn 40 and my birthday trip to Norway was already booked, when I suddenly realised that if I just hit one more country, I'd have visited 40 countries by my 40th birthday. We'd missed out on going to Montenegro a few years earlier, and the flights to Tivat were pretty cheap, so Montenegro became country 39.
Day 1: Arrive in Montenegro and travel to Kotor
We visited Montenegro at the beginning of May 2018, flying into Tivat Airport on the Bay of Kotor. It's a tiny little airport – if there's another flight there when you land you've arrived at rush hour. We took a flight from Manchester on easyJet and arrived in the late morning.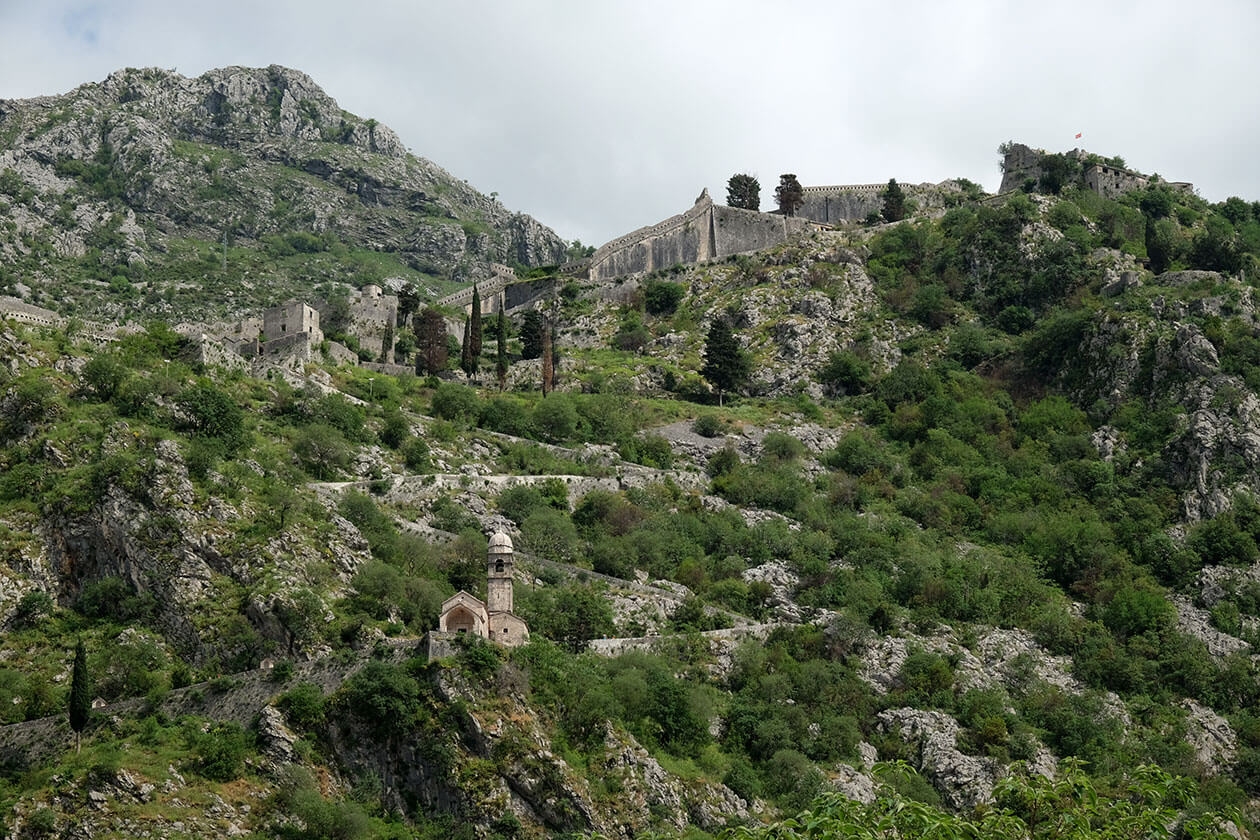 There are two airports in Montenegro – Tivat and the one in the capital, Podgorica. There aren't that many direct flights to either Tivat or Podgorica, so if there aren't any flights to Montenegro from where you live, you might find it easier to fly into Dubrovnik airport in Croatia. From Dubrovnik you can take one of the regular buses over the border to Montenegro and the Bay of Kotor.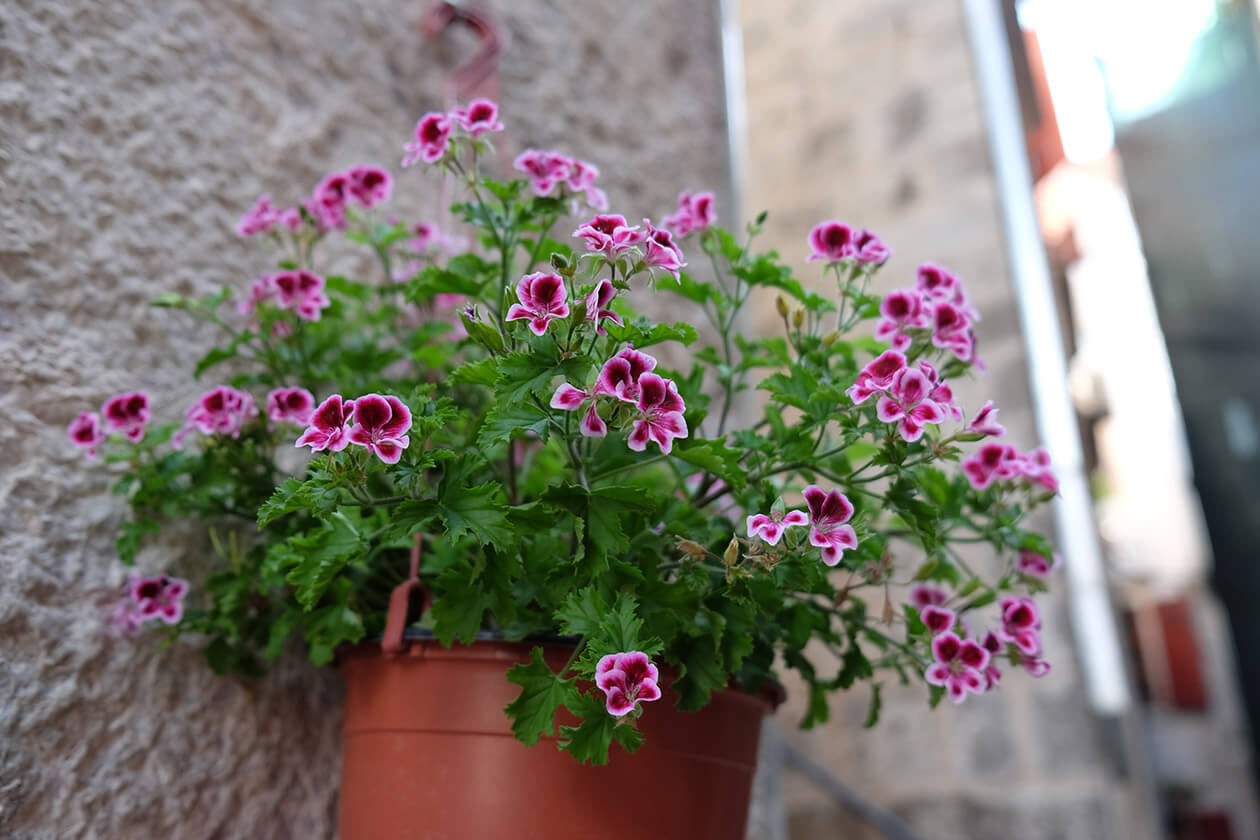 There aren't any buses from Tivat Airport, so if you land here and want to go to Kotor, you either have to walk into Tivat itself to catch a bus or take a taxi. We didn't fancy the walk so got a taxi. Luckily our AirBnB host agreed to let us check in early so we didn't have to hang around at all. We'd picked this apartment for its view and weren't disappointed…
After we'd checked into our AirBnB we took a walk into Kotor's old town. Kotor was settled in Roman times, but the fortifications date back to the Middle Ages. It was controlled by the Venetians between 1420 and 1797 and the city as it stands today is very reminiscent of other Venetian cities, such as nearby Dubrovnik.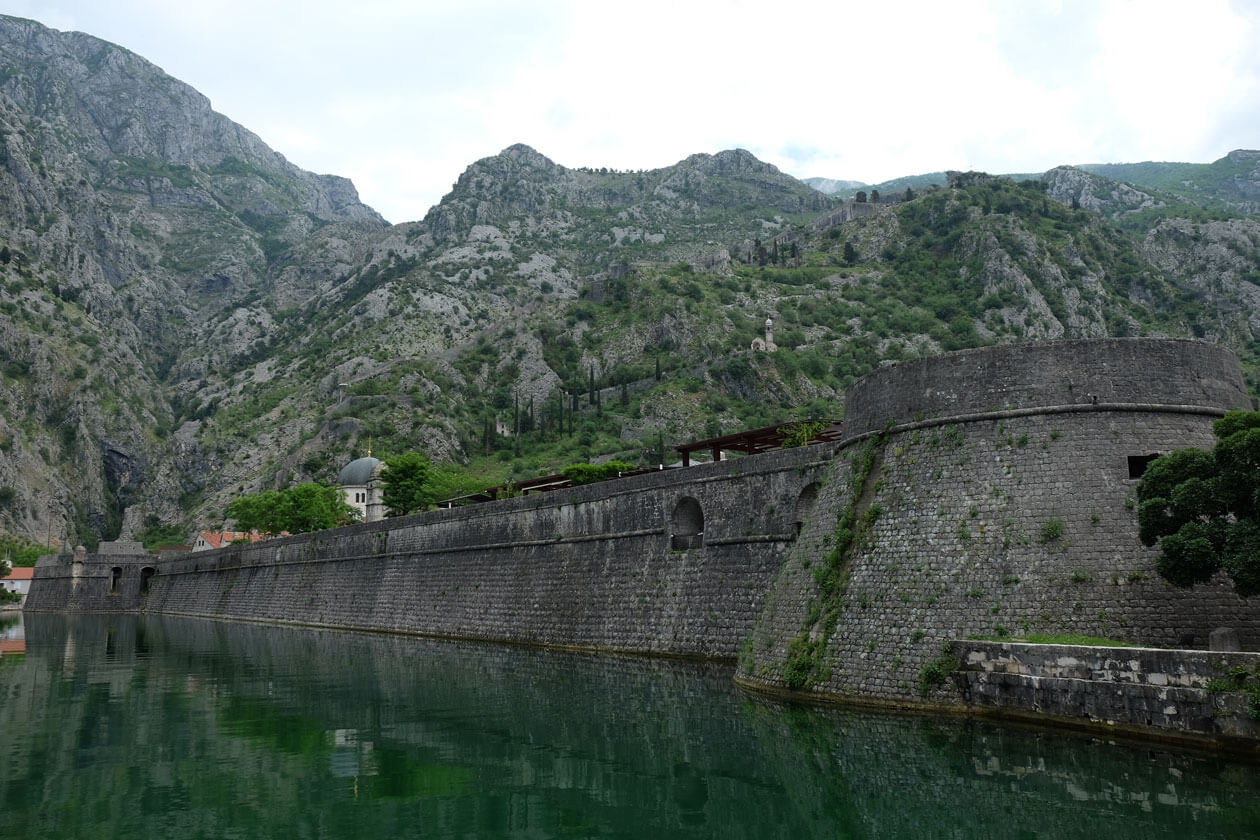 As you walk towards the old town, the first thing you see is the massive fortifications around the city. Kotor 's position, deep on the bay of Kotor and backed by mountains, means it's naturally well-protected from attacks, but it was still conquered and besieged multiple times in its history. It's remarkably well-preserved, despite being the scene of battles and suffering damage in earthquakes.
Kotor and the surrounding area of the Bay of Kotor was made a UNESCO World Heritage Site in 1979, but this is now at risk; UNESCO have issued a final warning to the Montenegrin government, threatening to remove Kotor from the list if development for tourism is not controlled more effectively.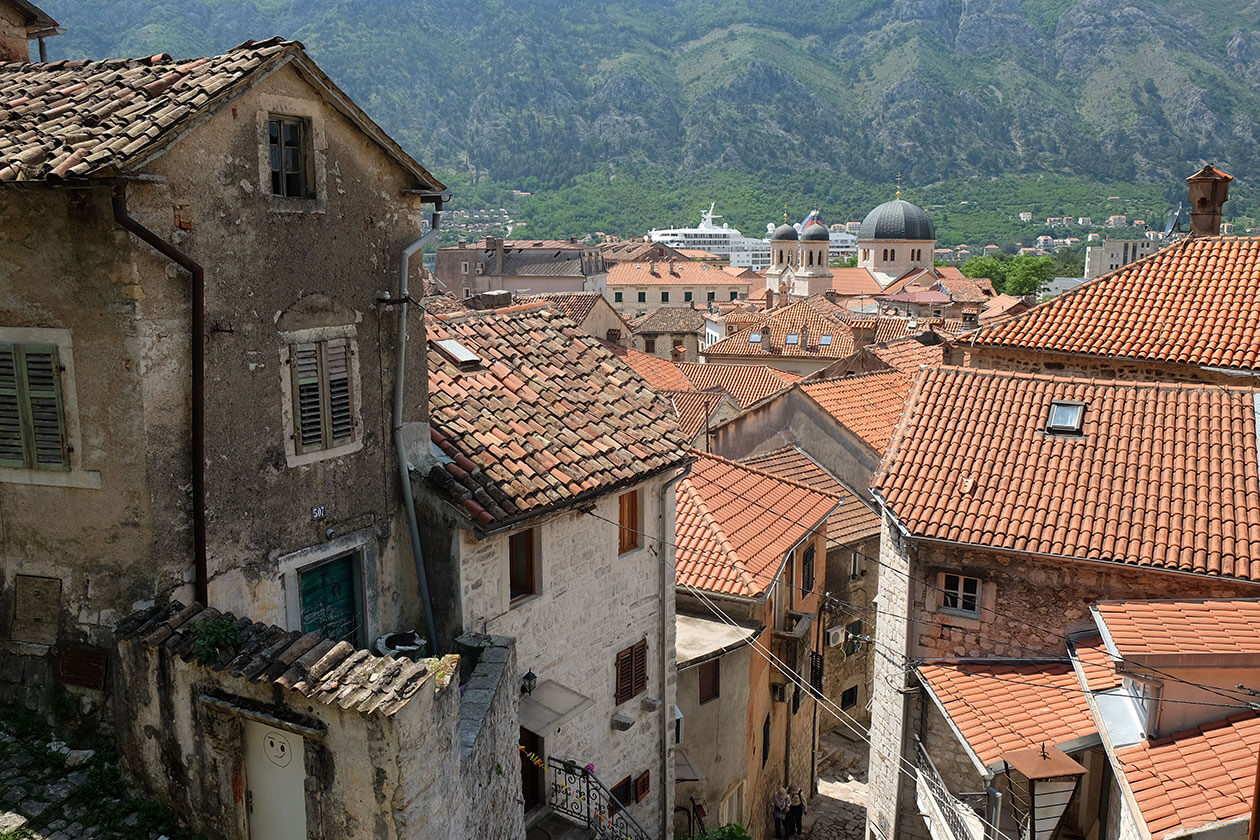 Kotor's setting is perfect for defensive purposes, but it's also incredibly beautiful. The fjord-like bay is surrounded by steep mountains; rocky on one side and green on the other. The waters of the bay are a deep blue-green and dotted with boats. And right at the tip of the bay sits Kotor old town itself; creamy yellow stone topped with red tiled roofs, and city walls that extend all the way up the mountain behind it to a picturesque church and castle at the top.
The main city gate leads you through a tunnel in the walls and into a bustling square, full of pavement cafes and shops. Although it's relatively small, it's a joy to get lost in; less manicured than Dubrovnik and full of winding alleys, crumbling staircases and tiny squares.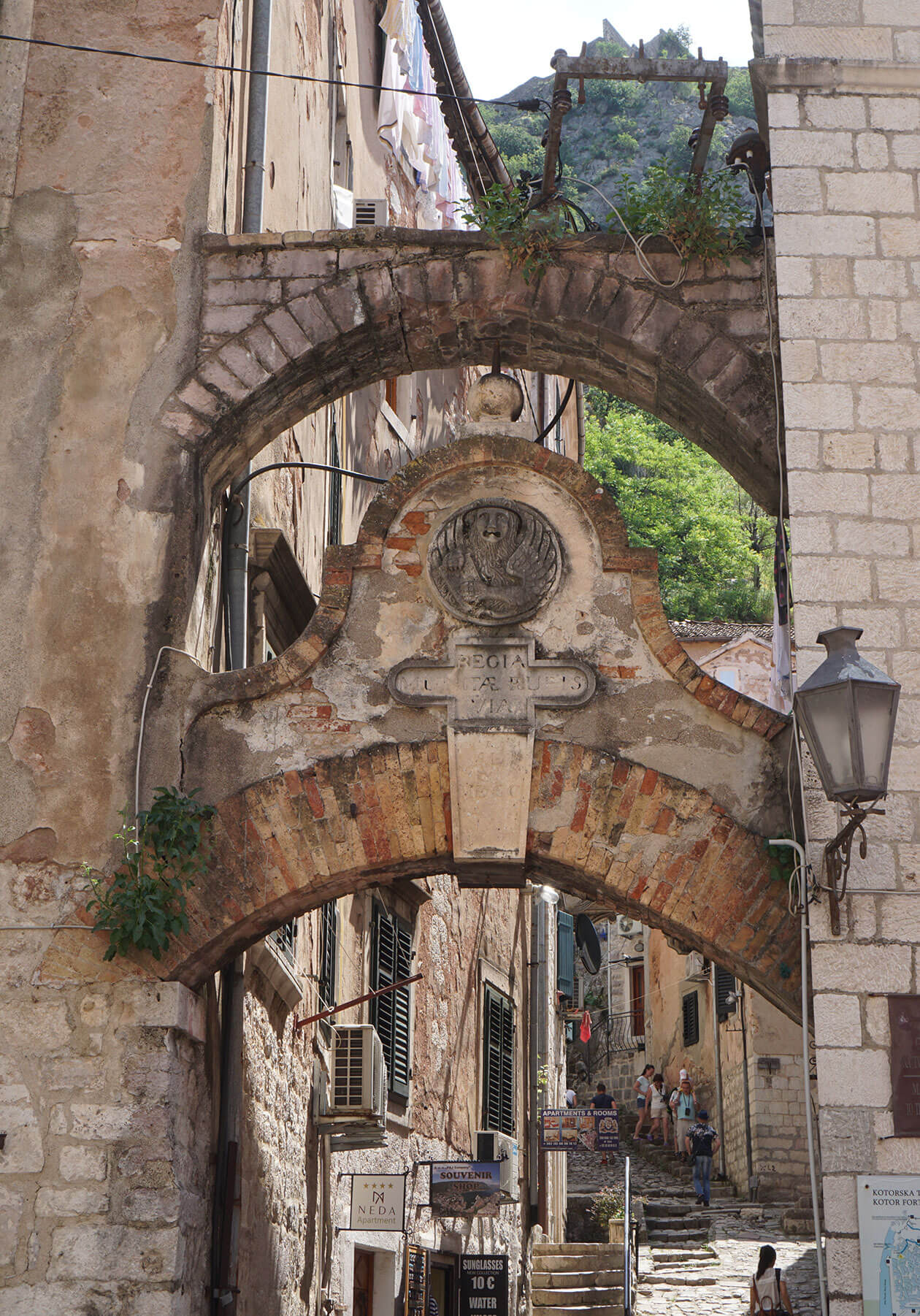 One of the larger squares is home to Kotor's beautiful cathedral. Built in 1166, it's survived earthquakes and seen the rule of at least ten different regimes.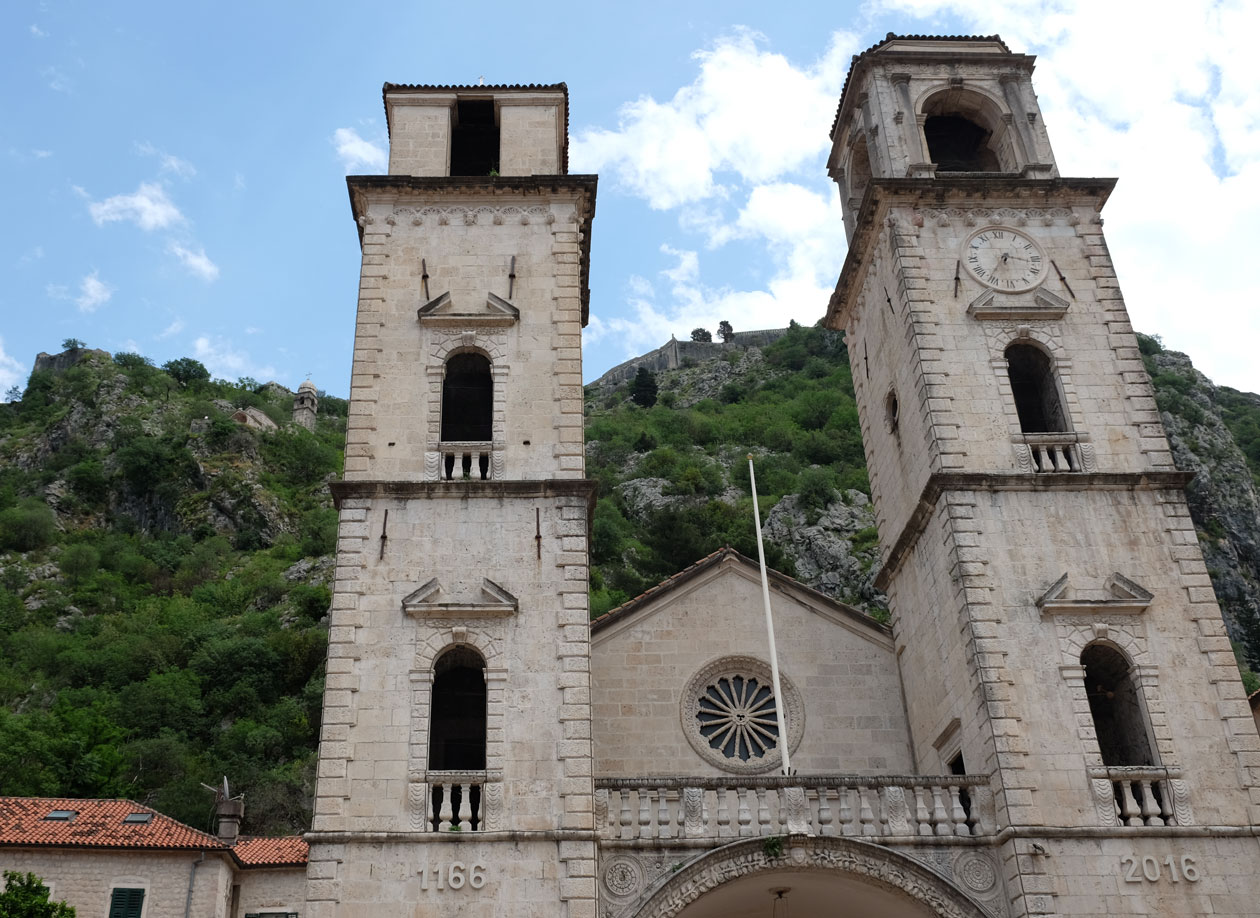 We sat in one of the squares for a while with a cold beer and then explored the old town some more. It isn't possible to walk around the city walls as you can in Dubrovnik, but you can take a look at sections, including the lookout towers on the bay.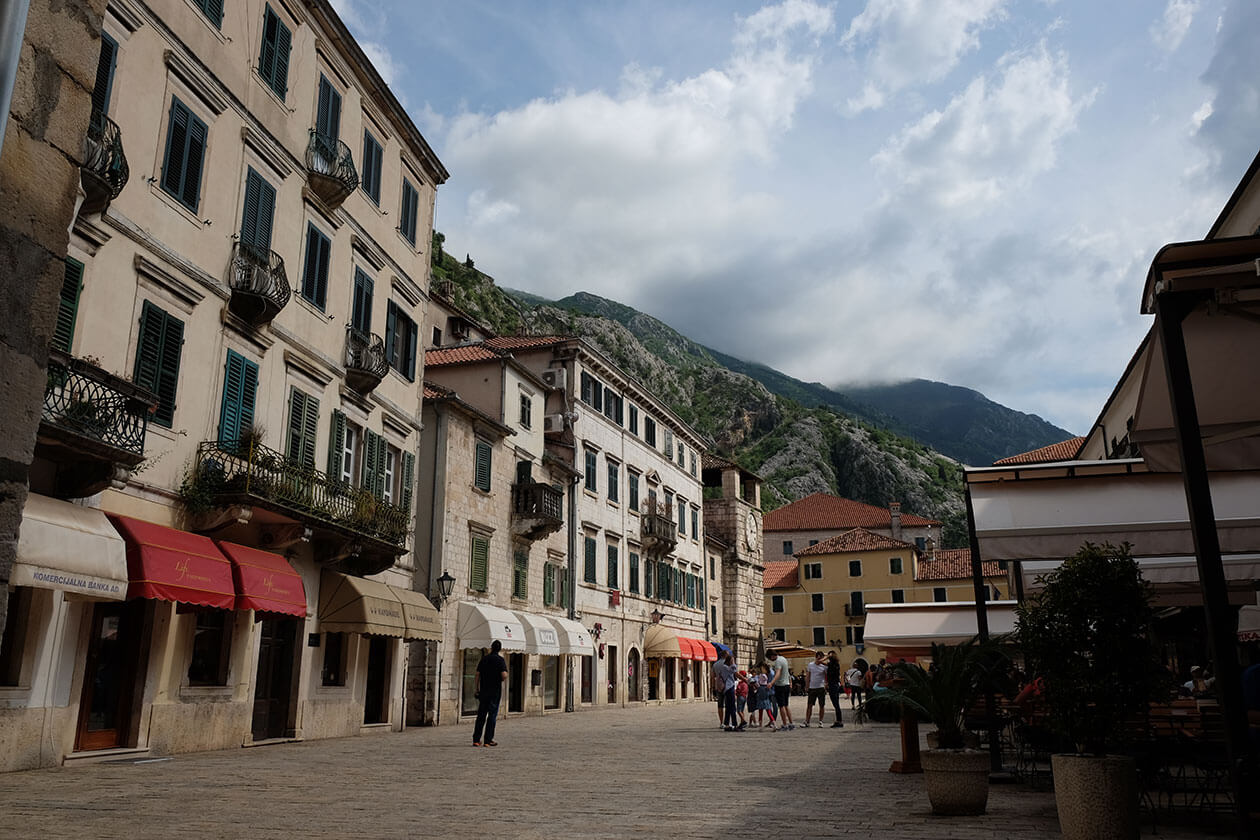 Kotor is also famous for its cats. There are hundreds of stray cats in the old town, and most of them appear well cared-for. There are bowls of food and water left out for them, and if you eat in one of the outdoor restaurants, you're likely to be joined by a furry dining companion. There are cat souvenirs and trinkets on sale everywhere, and even a cat museum.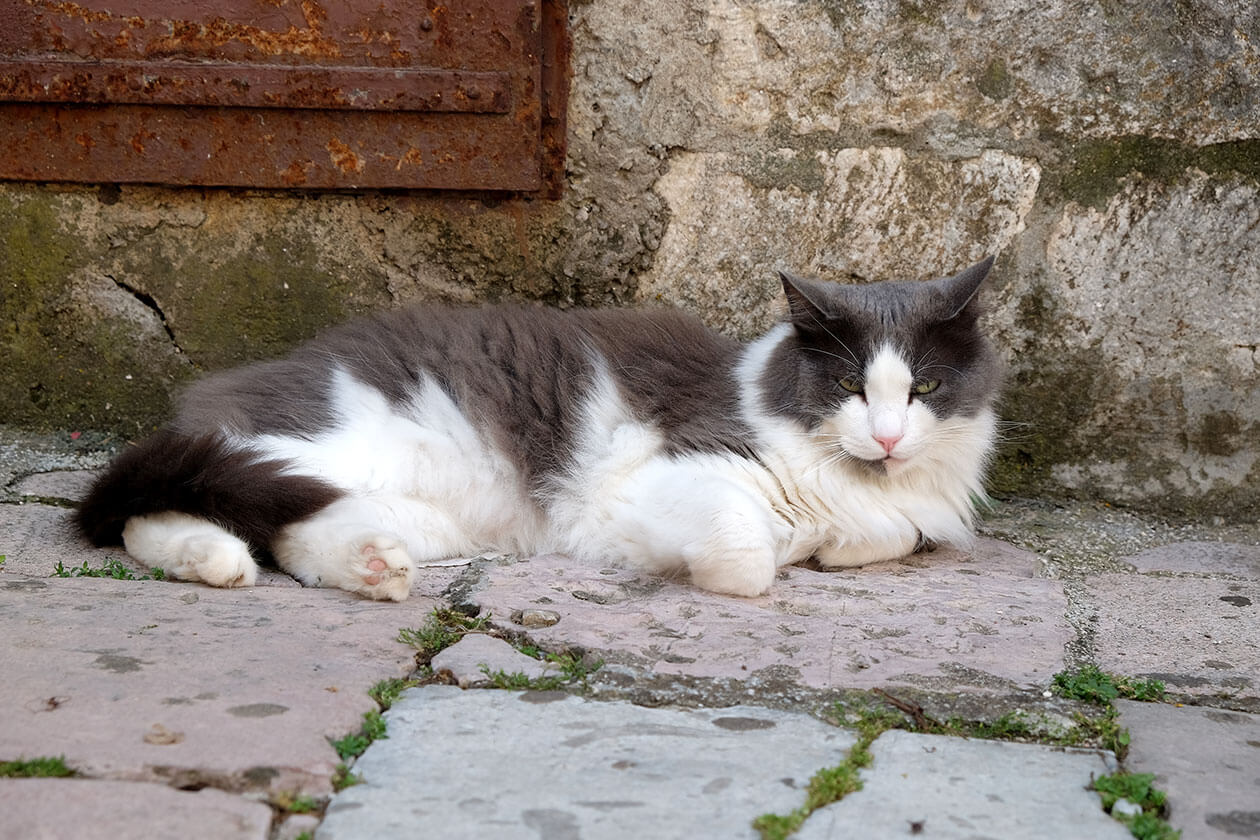 Kotor's fascination with cats dates back to 1918, when they began to be seen as a sign of good luck; during the revolt from the Austro-Hungarian Navy, Slav sailors would bring their ships into the bay, and with them, their cats. Later that year Kotor became part of the new Yugoslavia, and the cats became a symbol of the city – a furrier and friendlier update to the old Venetian lion.
Day 2: Climb Kotor's walls and visit Perast
One of the must-dos when you visit Kotor is climbing the city walls to see the bay from above. Starting from the very back of the old town, over 1350 steps lead up the mountain to a fortress at the top. It cost us 8 euro each for access to the steps, but it's a pretty casual arrangement – I've read that if you start the climb early enough there won't be anyone sat on the gate and you'll be able to get to the top for free.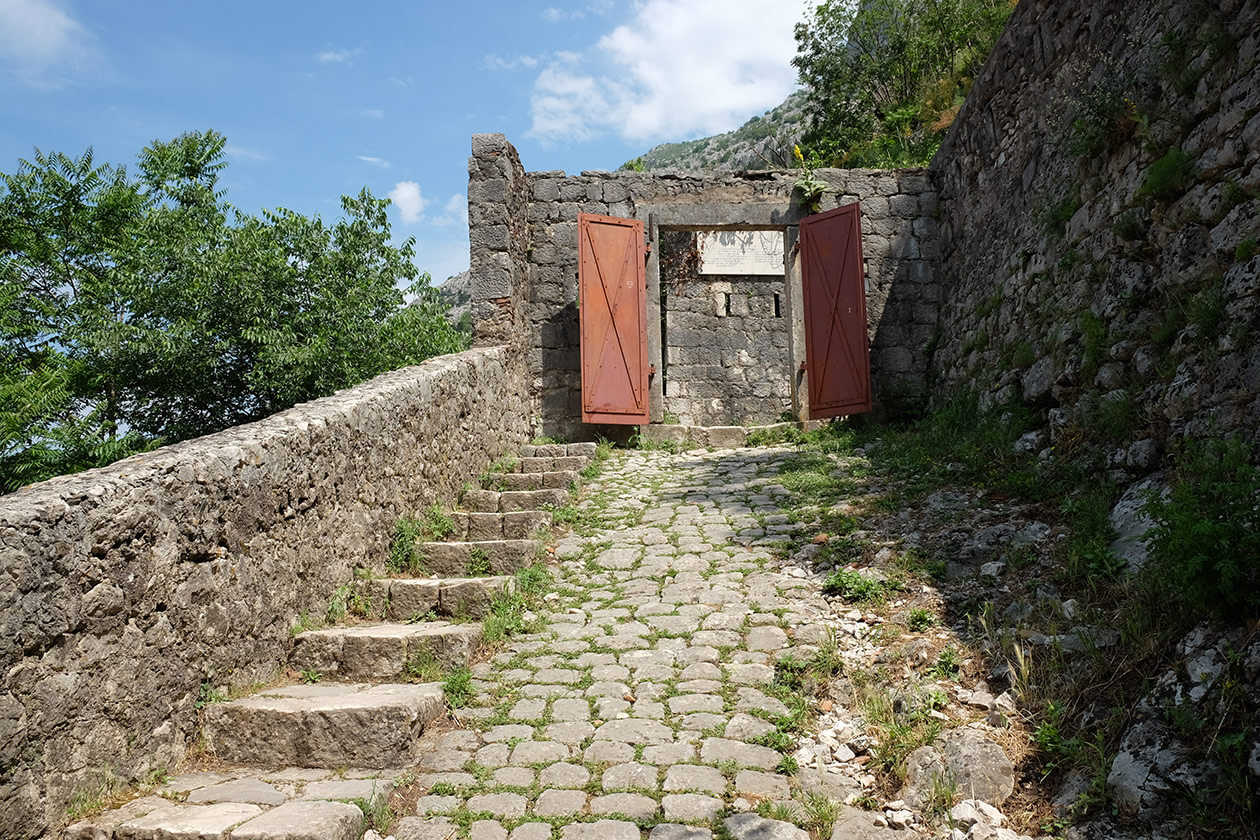 We'd originally planned to get up early to do the climb while it was cool, but we opted to watch two cruise ships arrive in port from the comfort of our apartment's balcony instead. We started at around 10am when part of the path was in shade, but it was still really hot and very busy with a stream of cruise ship passengers.
The path to the top is a mix of narrow steps and a rubble path, so you'll need good shoes. It's much easier to use the steps, but you will need to move aside onto the stony part to let people past. When we went up there were a couple of enterprising locals selling water at points on the trail but it's not guaranteed that they'll be there so make sure you take your own.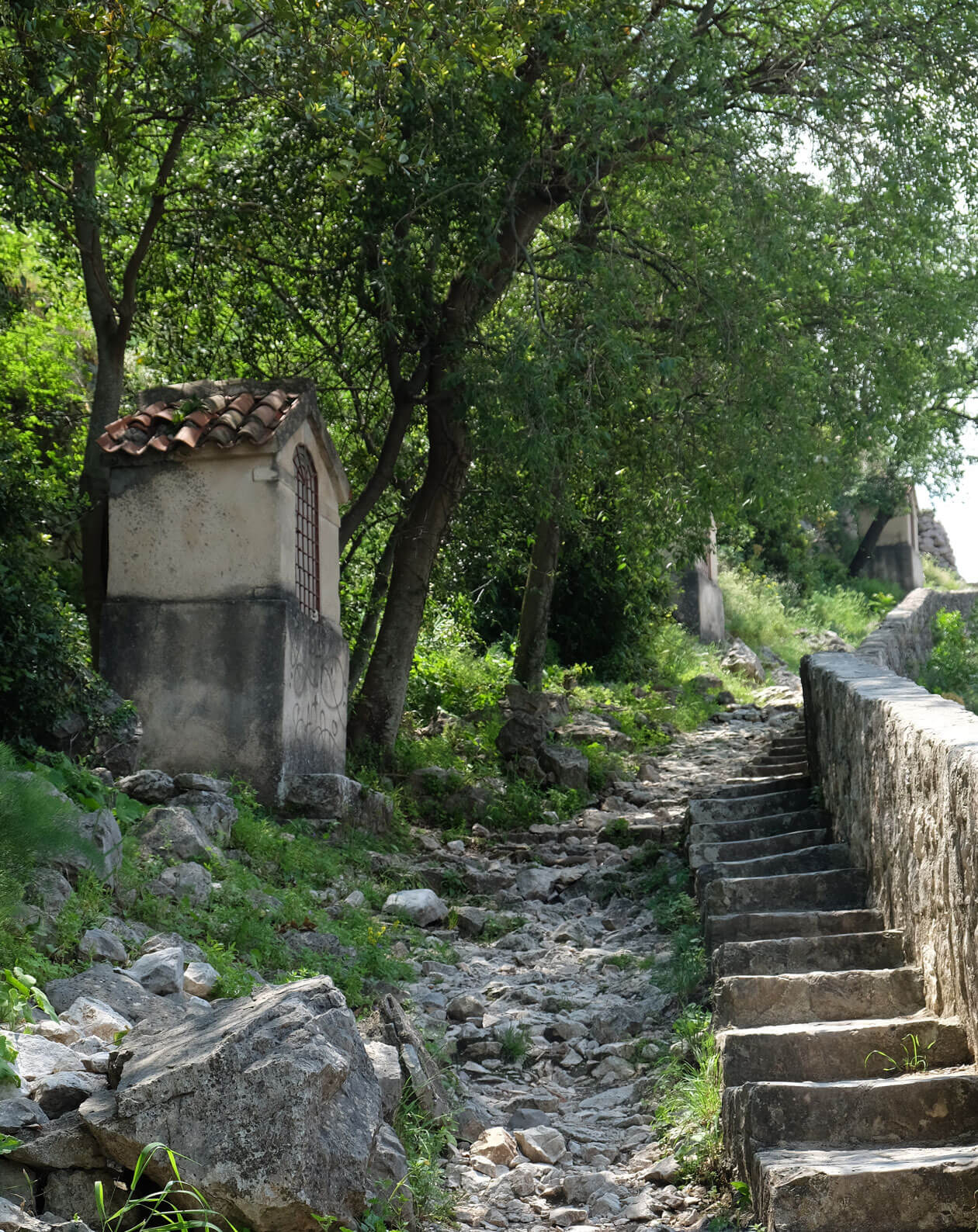 About halfway up you'll come to the 16th-century Church of Our Lady of Remedy. This tiny church has a welcomingly-cool interior and plenty of steps to collapse on after the climb. If you carry on up the mountain you'll reach the fortress of San Giovanni, but we decided that the views were good enough from the church and an extra few metres of height weren't worth me passing out over.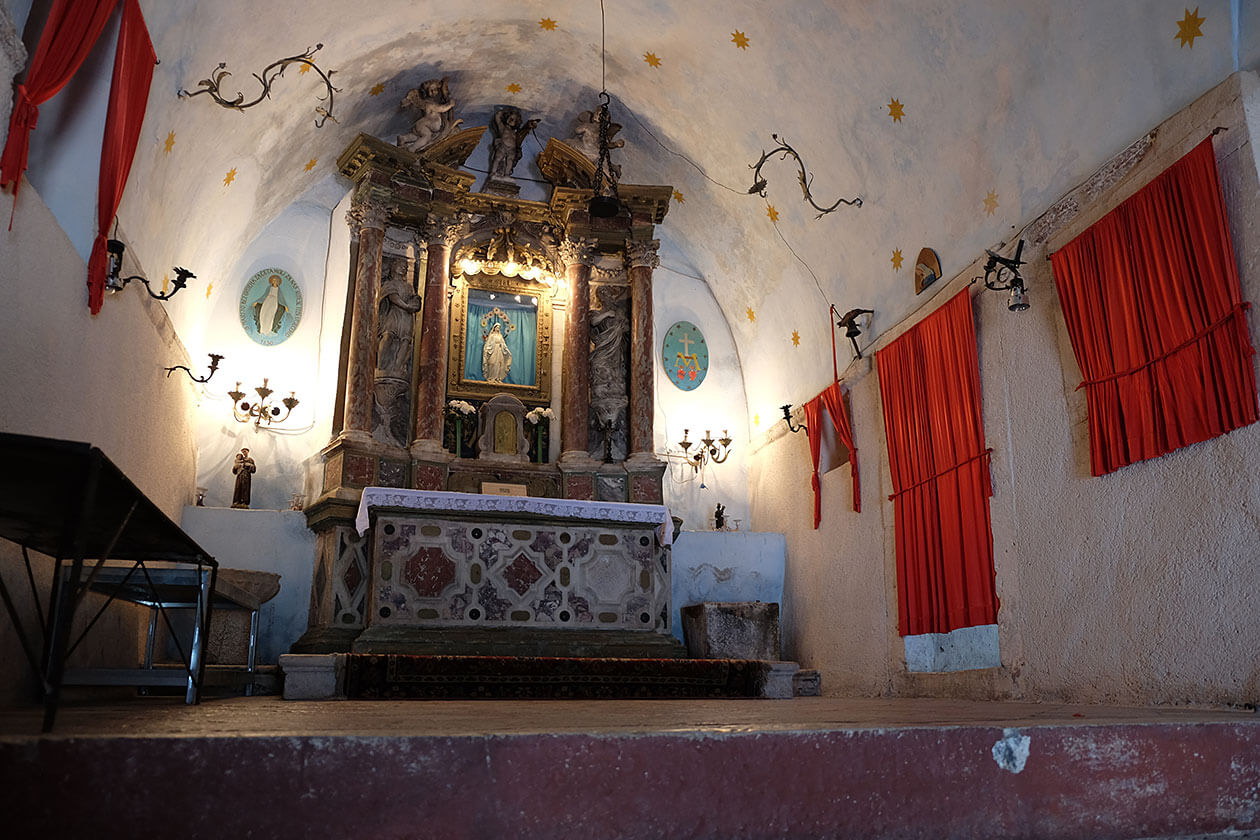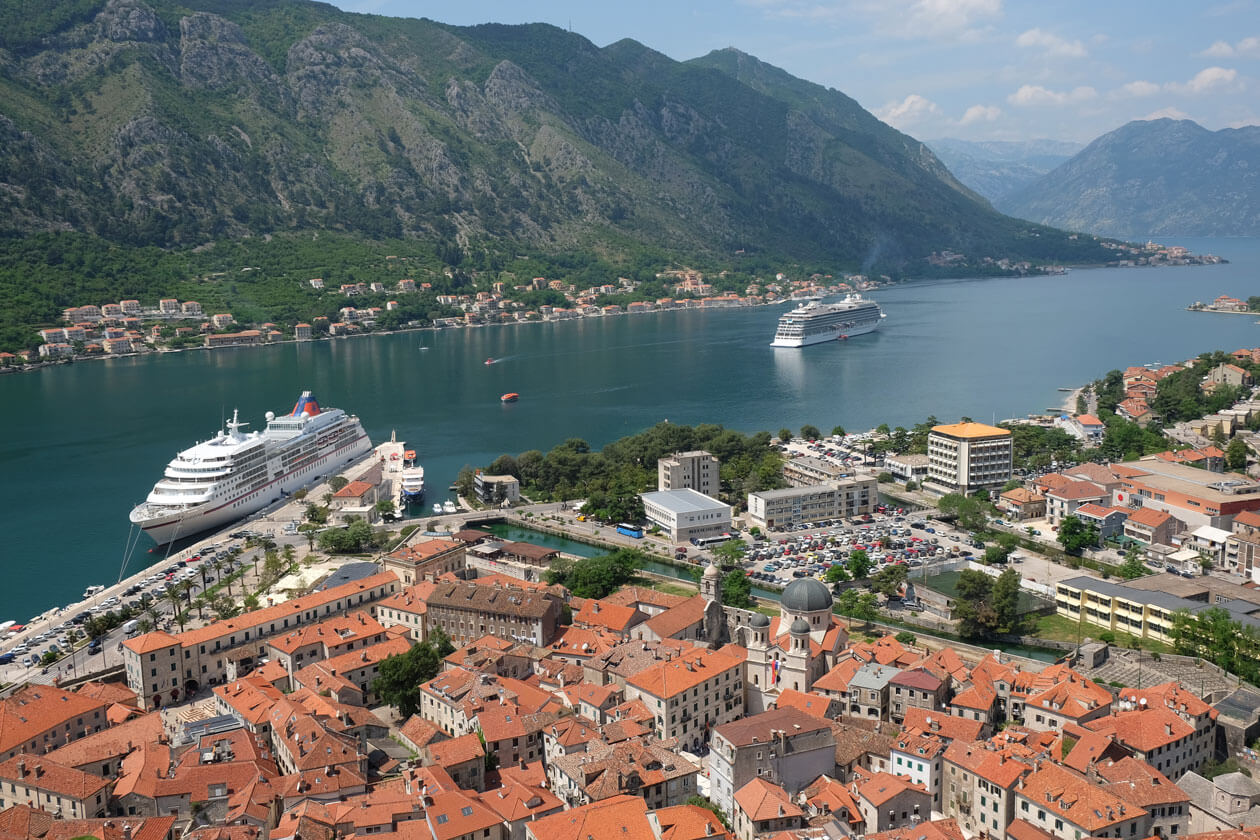 Back in the old town, after a well-deserved beer and pizza, we got a taxi and set off around the bay to visit Perast. Perast is a tiny village which faces the narrow channel from the bay of Kotor out to the Meditteranean. Despite its diminutive size, it boasts 16 churches (including the famous Lady of the Rocks church on a man-made island) and 17 formerly-grand but now crumbling palazzos.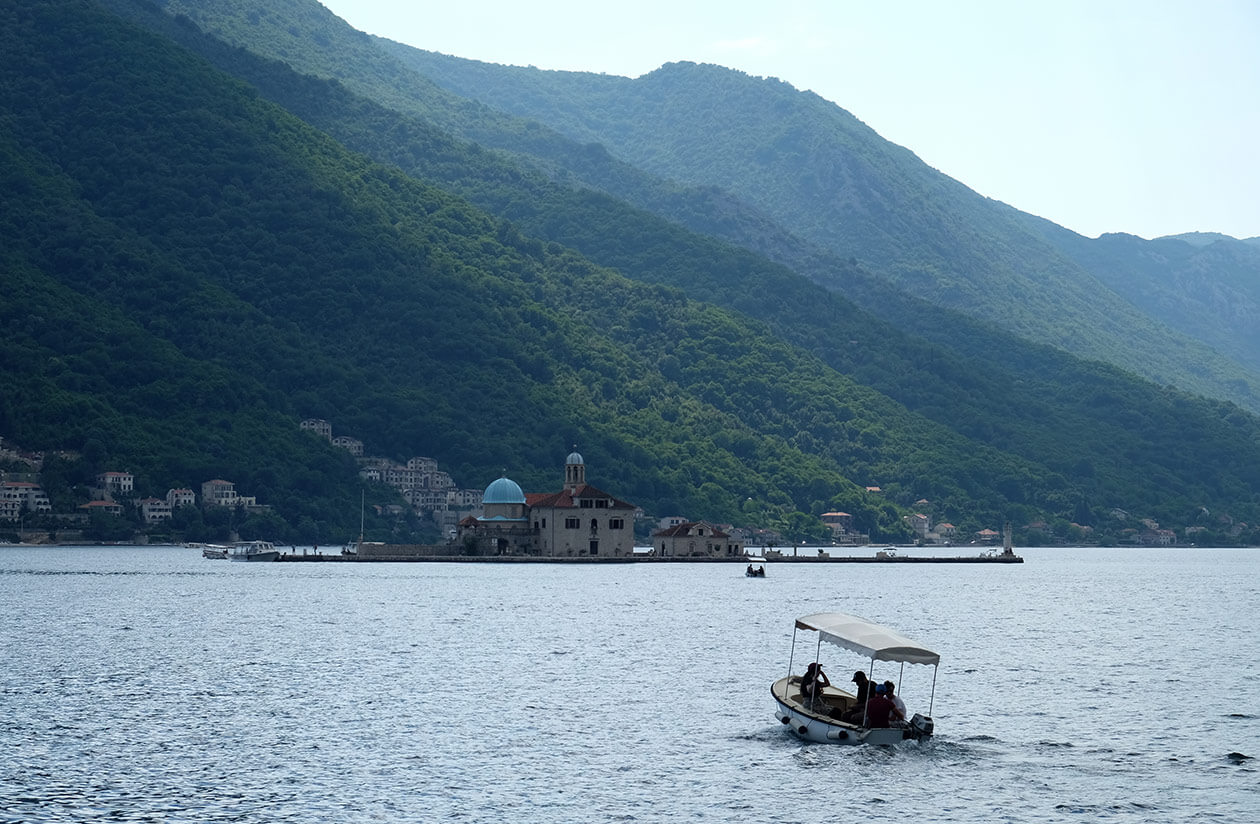 The main street through Perast runs along the seafront, but there's an old road just behind it where you'll find most of the palazzos (and some adorable cats).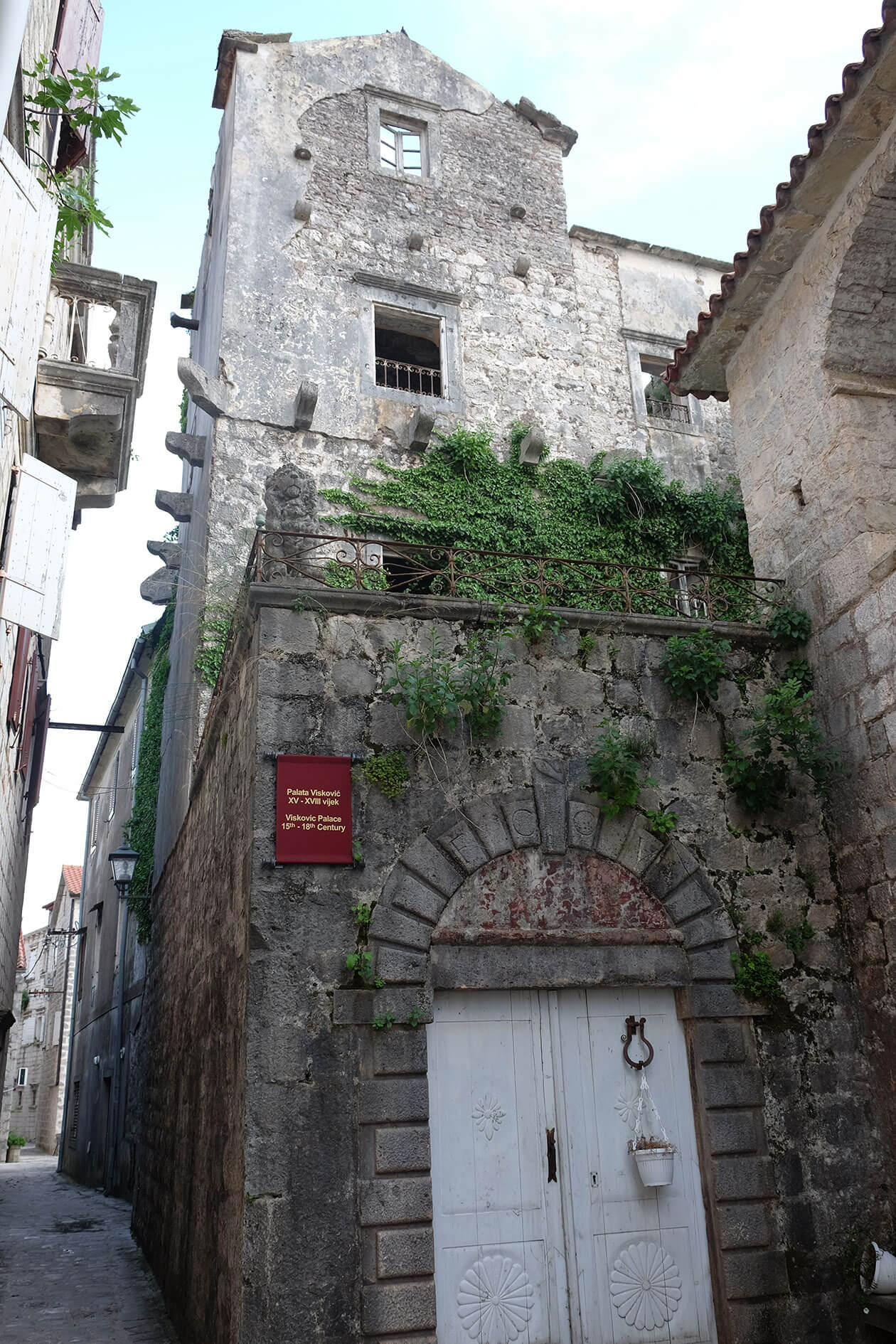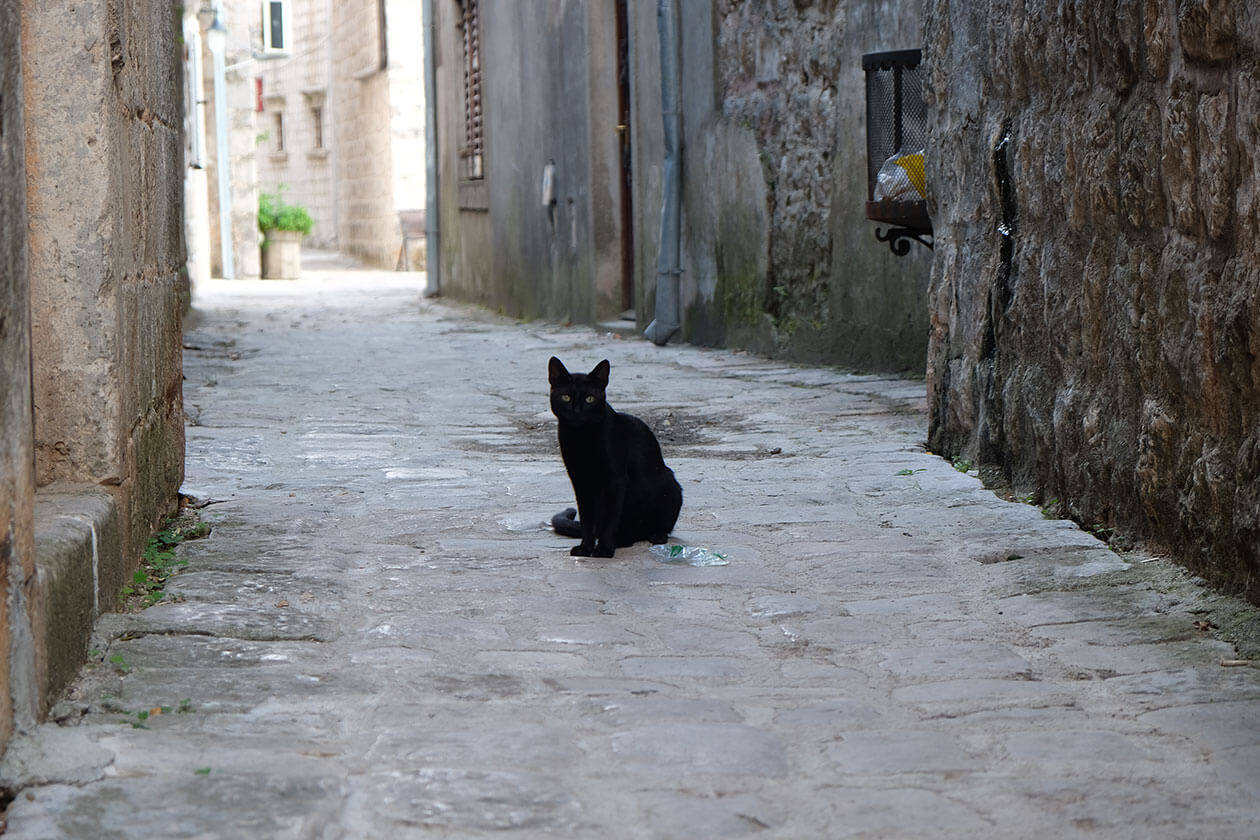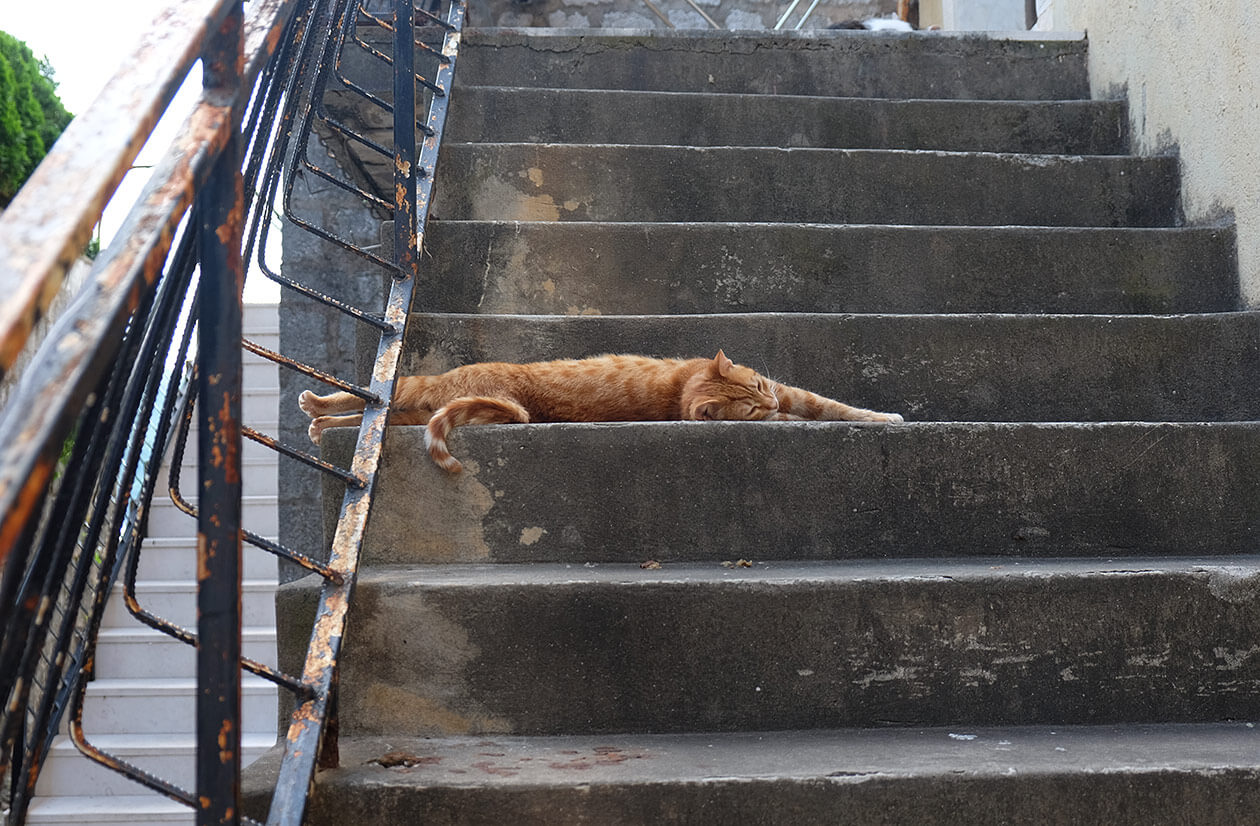 Perast also has its own cake, Perast cake, a dense and sticky concoction made of almonds and lemon. We shared a slice at a cafe overlooking the bay, watching one of the huge cruise ships disappear through the channel and out to the open sea.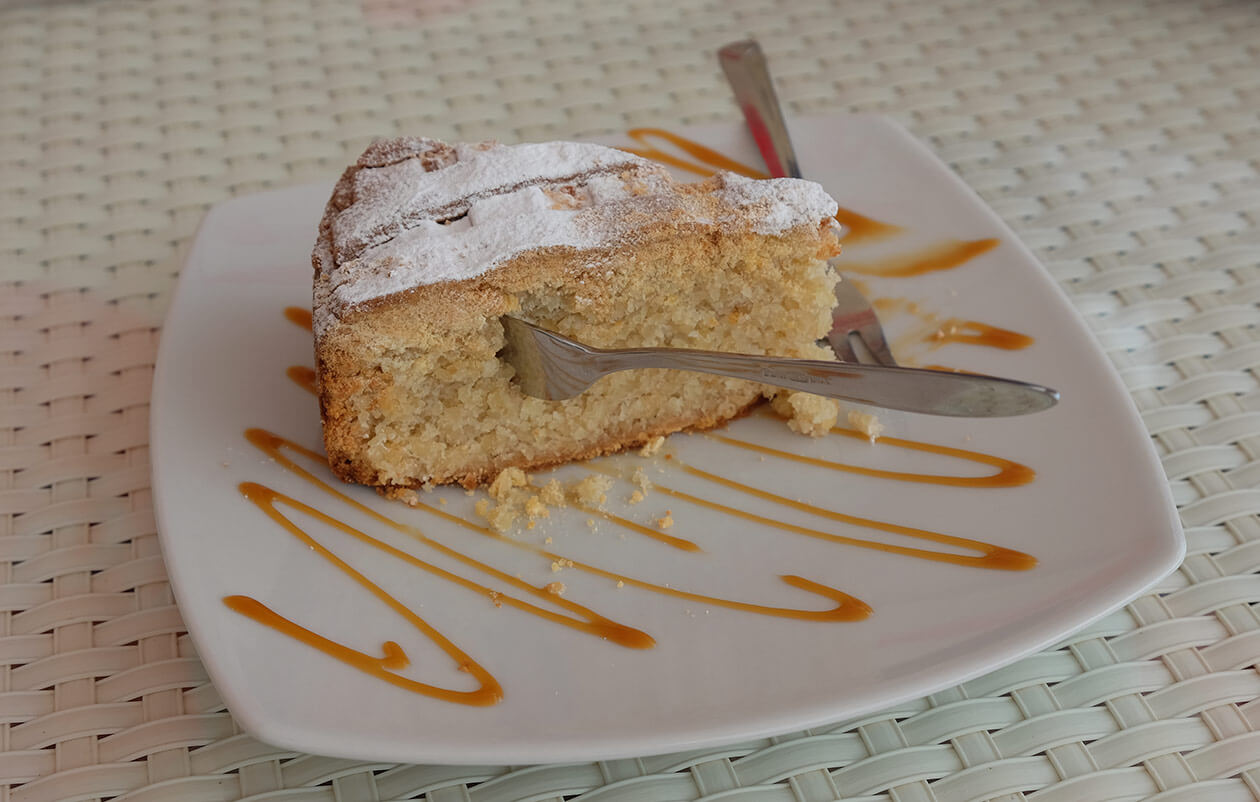 Day 3: Budva and Sveti Stefan
We'd originally planned to rent a car for our three day trip to Montenegro, but since you need an international driving permit and we were a bit short of funds anyway, we decided to just use local buses and taxis. One of the things we really wanted to do was go to Budva on the Mediterranean coast and then a little further down to the gorgeous pink beach and island at Sveti Stefan.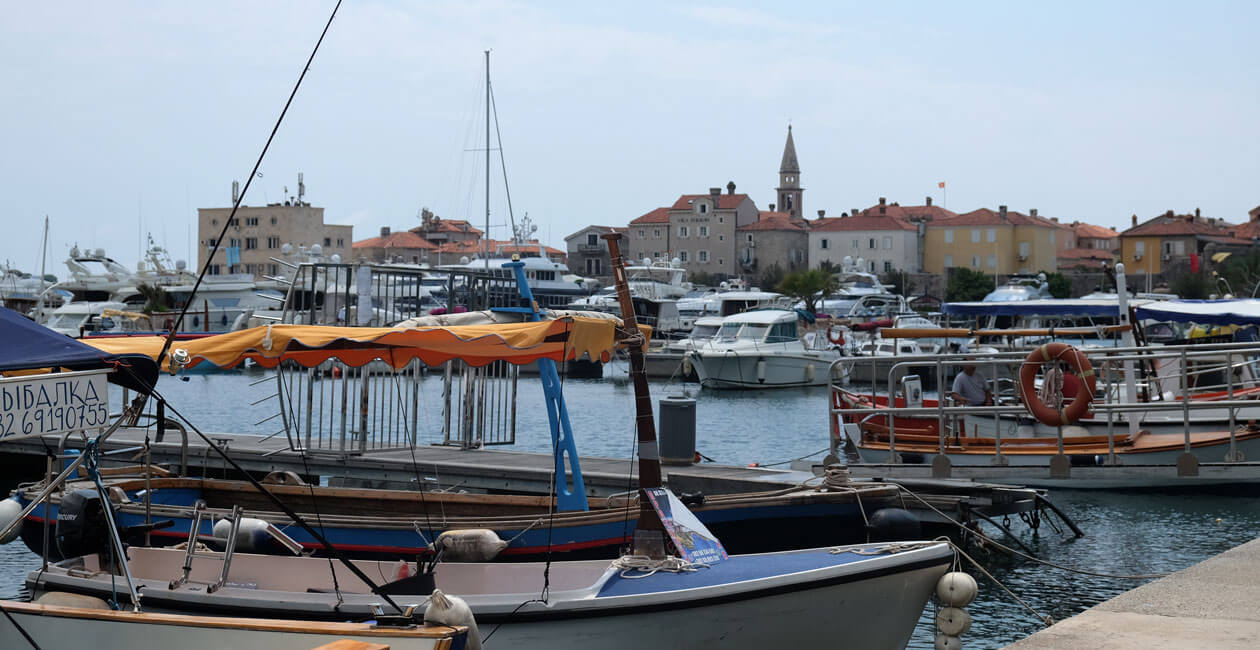 Getting to Budva from Kotor is really easy. There are frequent coaches from Kotor's bus station which take just over an hour to get to the bus station in Budva, and from there it's a 5/10 minute walk to the beach.
Budva is definitely a town of two halves; much of the seafront is your typical Mediterranean package holiday resort with a strong Russian feel, while once you approach the old town the boats get bigger and flashier and the restaurants get more upmarket. Budva's old town is another magnificent walled Venetian maze of a place, much like Kotor.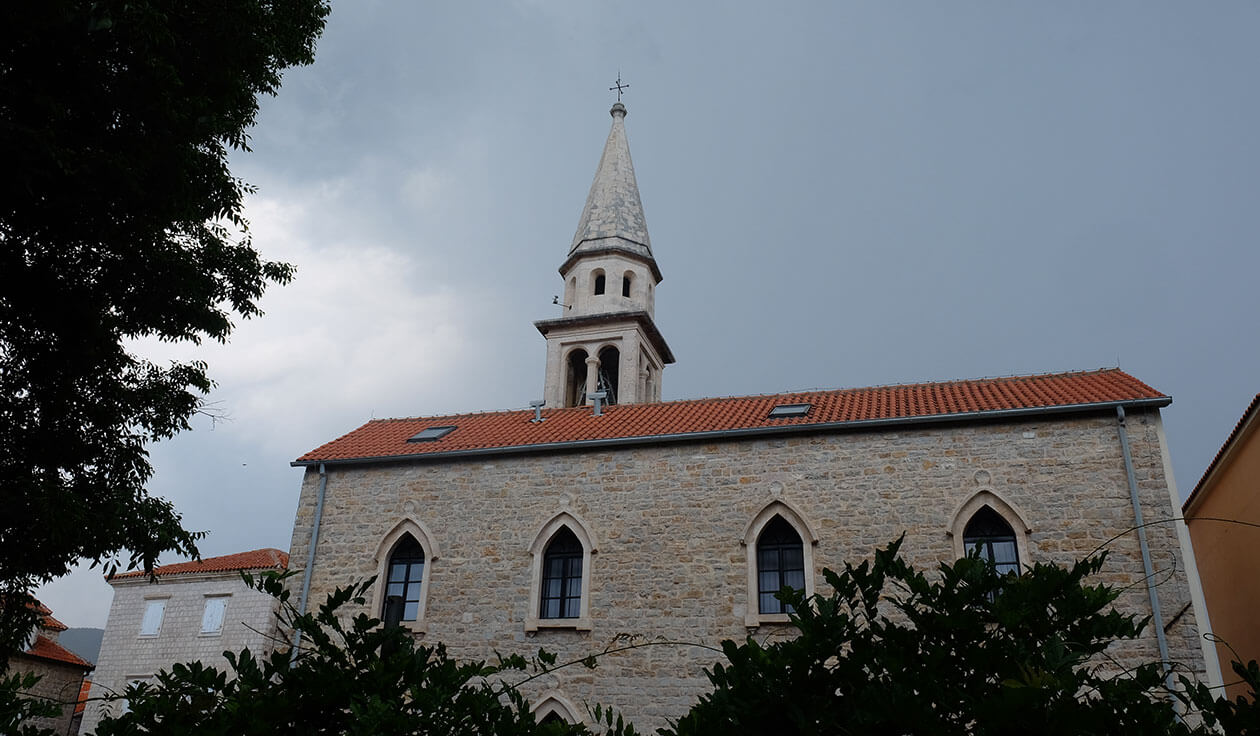 As we'd walked along the harbour, the skies had got dark and ominous, and a few minutes after we entered the old town the heavens opened. We took shelter in Budva's Citadel fortress, which holds a library and small museum about Budva, but in all honesty it's not really worth the entrance fee.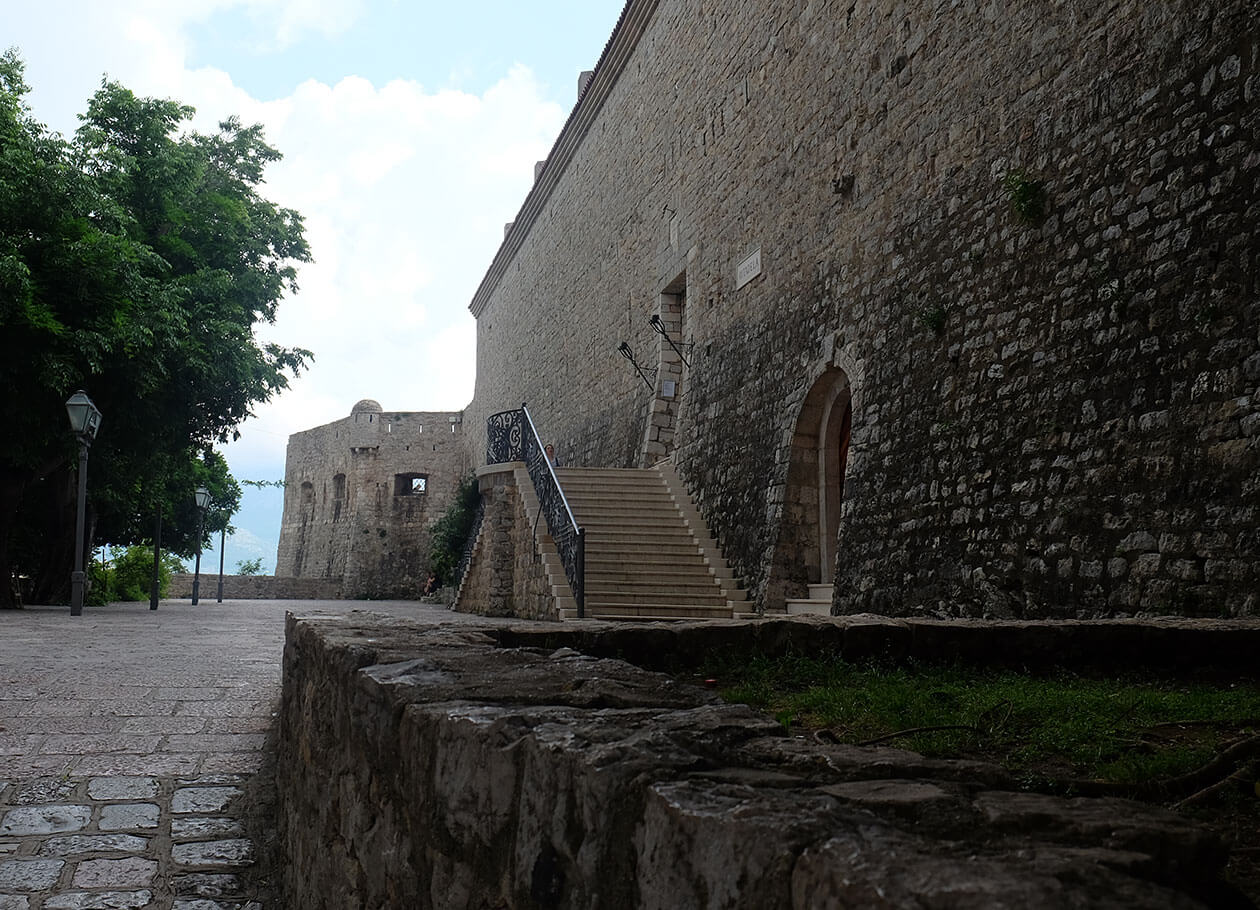 After the storm passed we walked along the ramparts and enjoyed the view over to Sveti Nikola Island, nicknamed the Hawaii of Montenegro.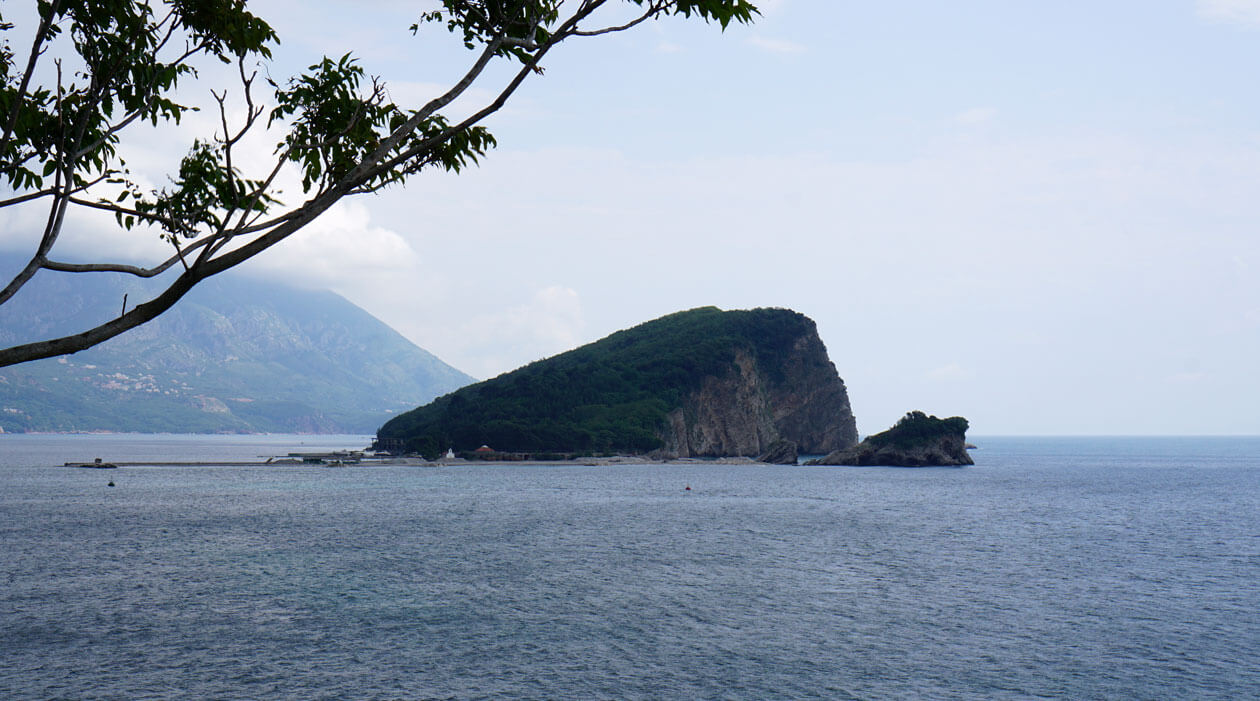 The next part is our only real mistake on our trip to Montenegro. We knew there was a bus along the coast to Sveti Stefan, but we didn't know where to catch it from or where to get off, so we decided to get a taxi. Unfortunately, we managed to get a real rip-off taxi driver and spent way more than we should on the journey. We were looking at each other anxiously with every tick of the meter and in the end we had to tell the driver that we wanted to get out as we were about to run out of money. He took us on to the car park at Sveti Stefan but wasn't very happy about it. Luckily, on the way there we saw the bus so knew what we needed to look out for on the way back.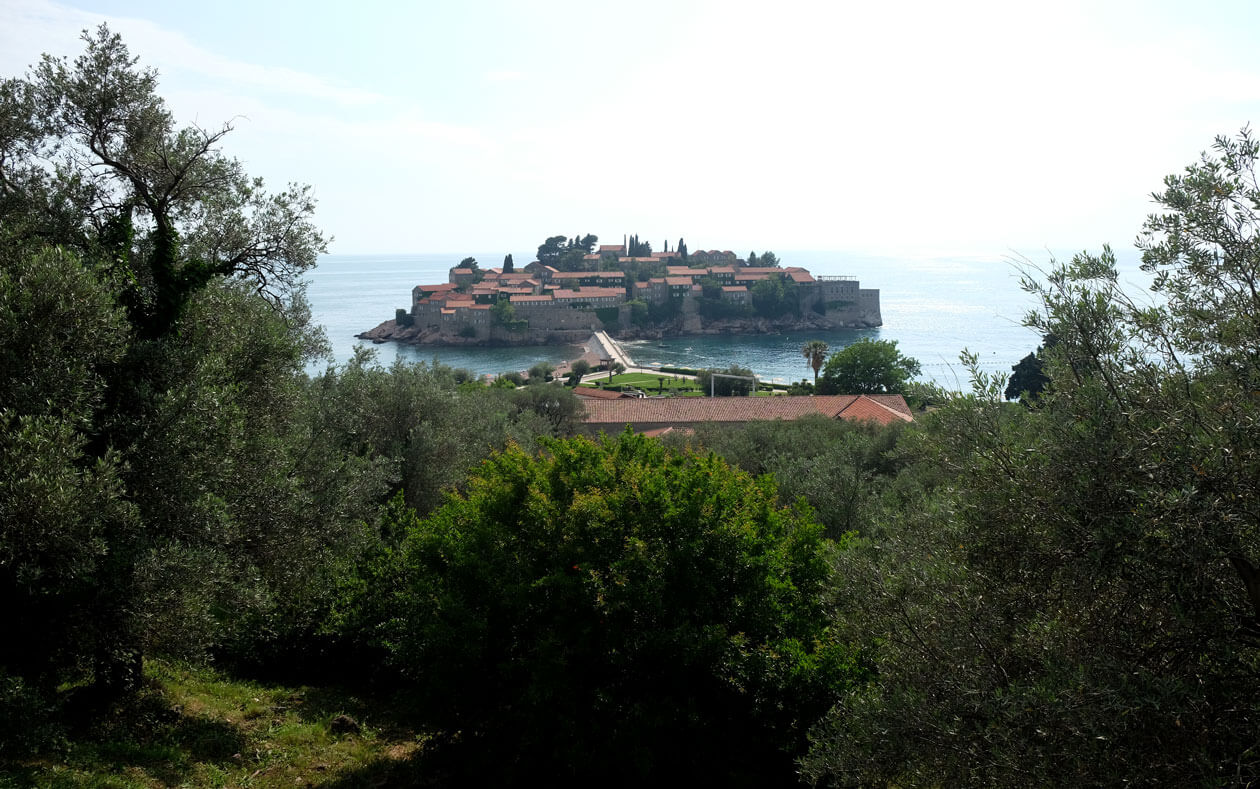 That bad experience was quickly forgotten when we caught our first glimpse of Sveti Stefan itself. A former fishing village turned ultra-luxurious resort, it's jaw-droppingly beautiful and completely inaccessible unless you're a guest. Still, if you're in it, you can't see it, and the public pink gravel beach is a gorgeous place to sit and look at how the other half holiday.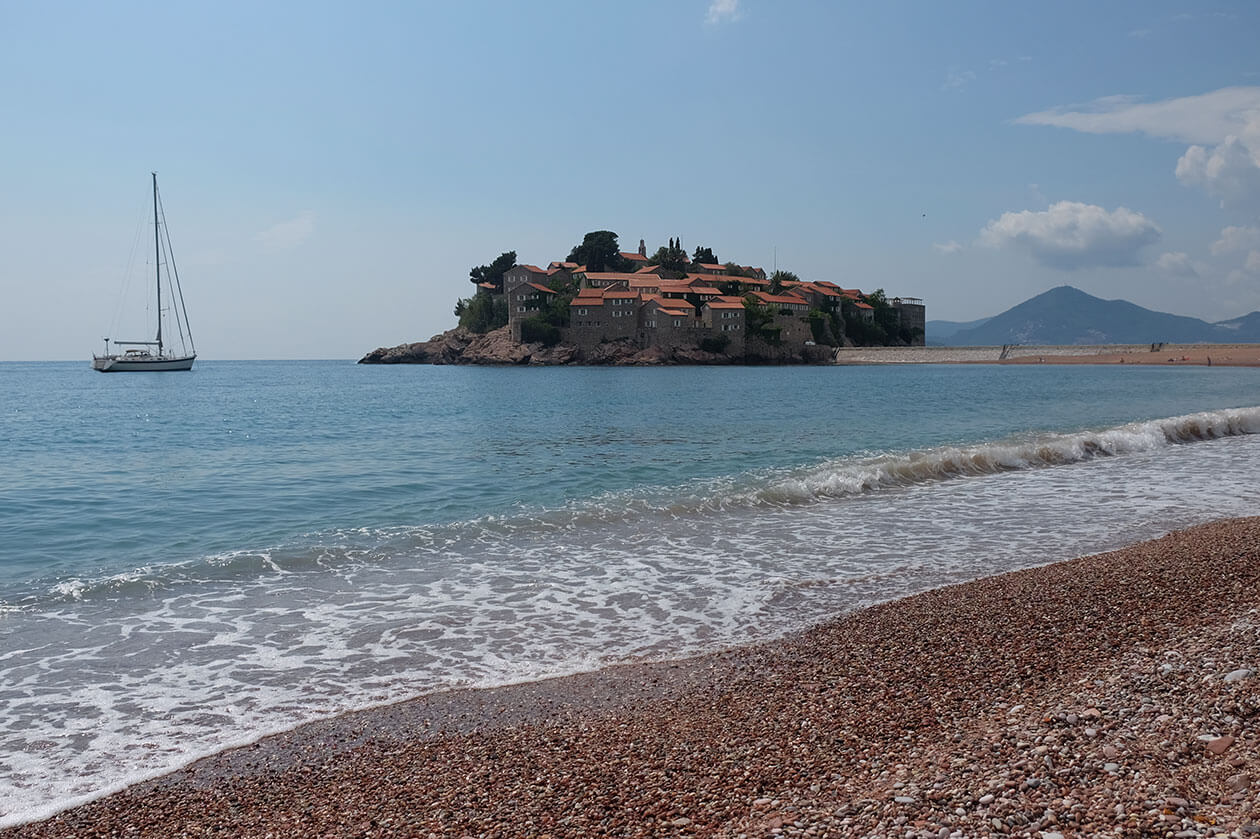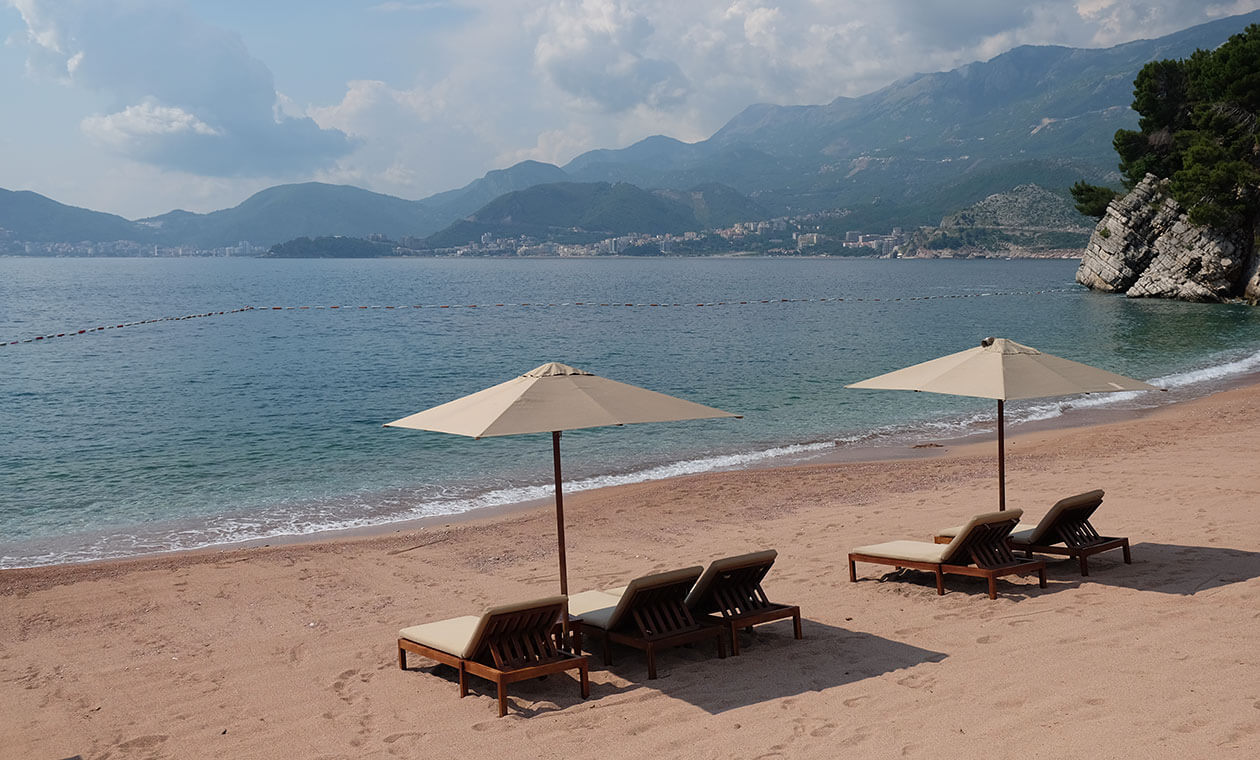 On our final night in Kotor we took a walk around the tip of the bay to see the old town and fortress from across the water. As we walked back into town the evening sun hit the church up on the mountain just right, and lit up the rocks beyond. I really hope to see that sight again one day.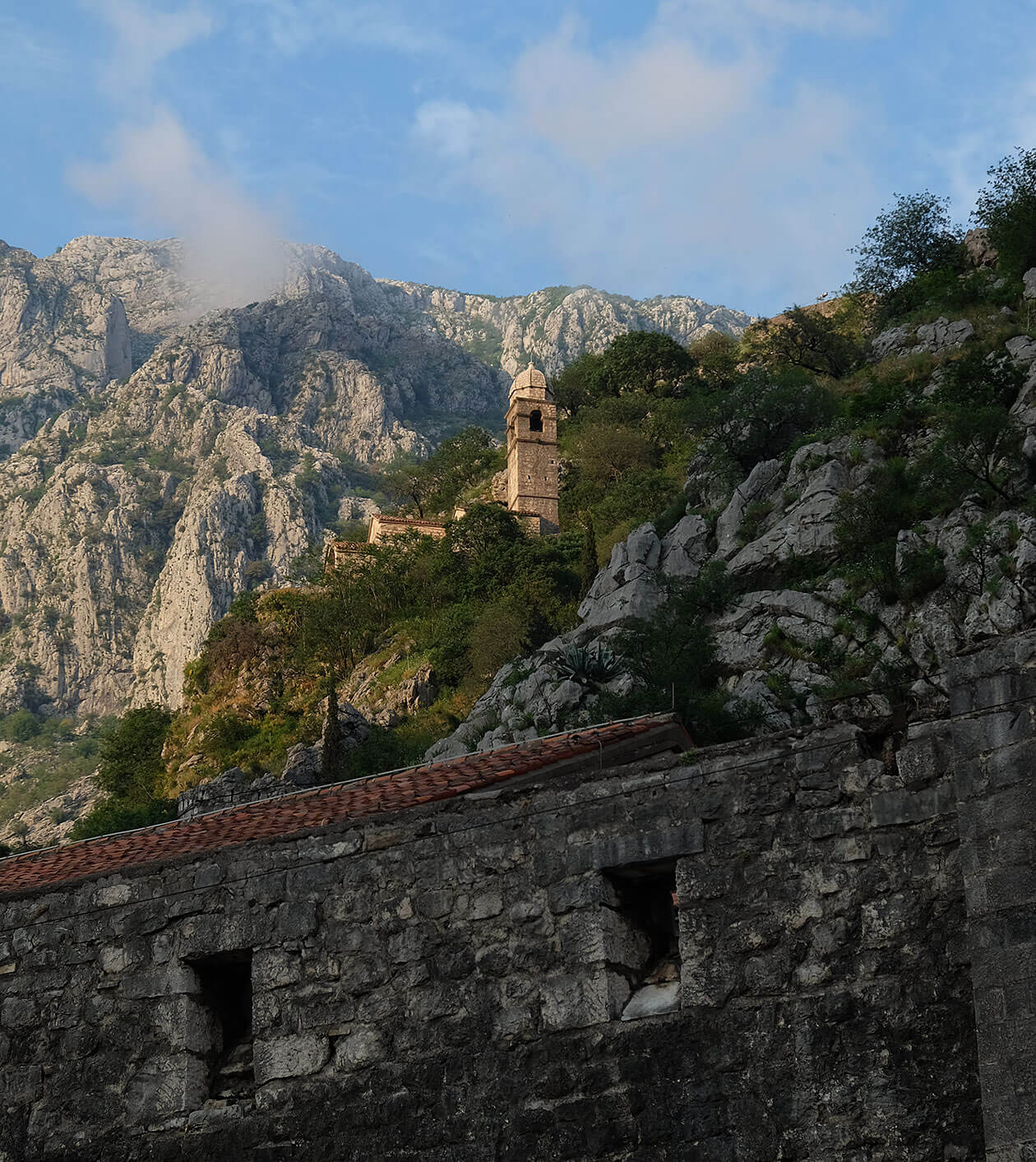 Where to stay in Kotor
When I was looking for somewhere to stay in Kotor, I was initially looking at hotels. Hotels in Kotor tend to be in the old town, and the reviews for lots of them say they can be quite noisy due to the narrow streets and open-air bars and restaurants. The ones that were available for our trip were also quite expensive.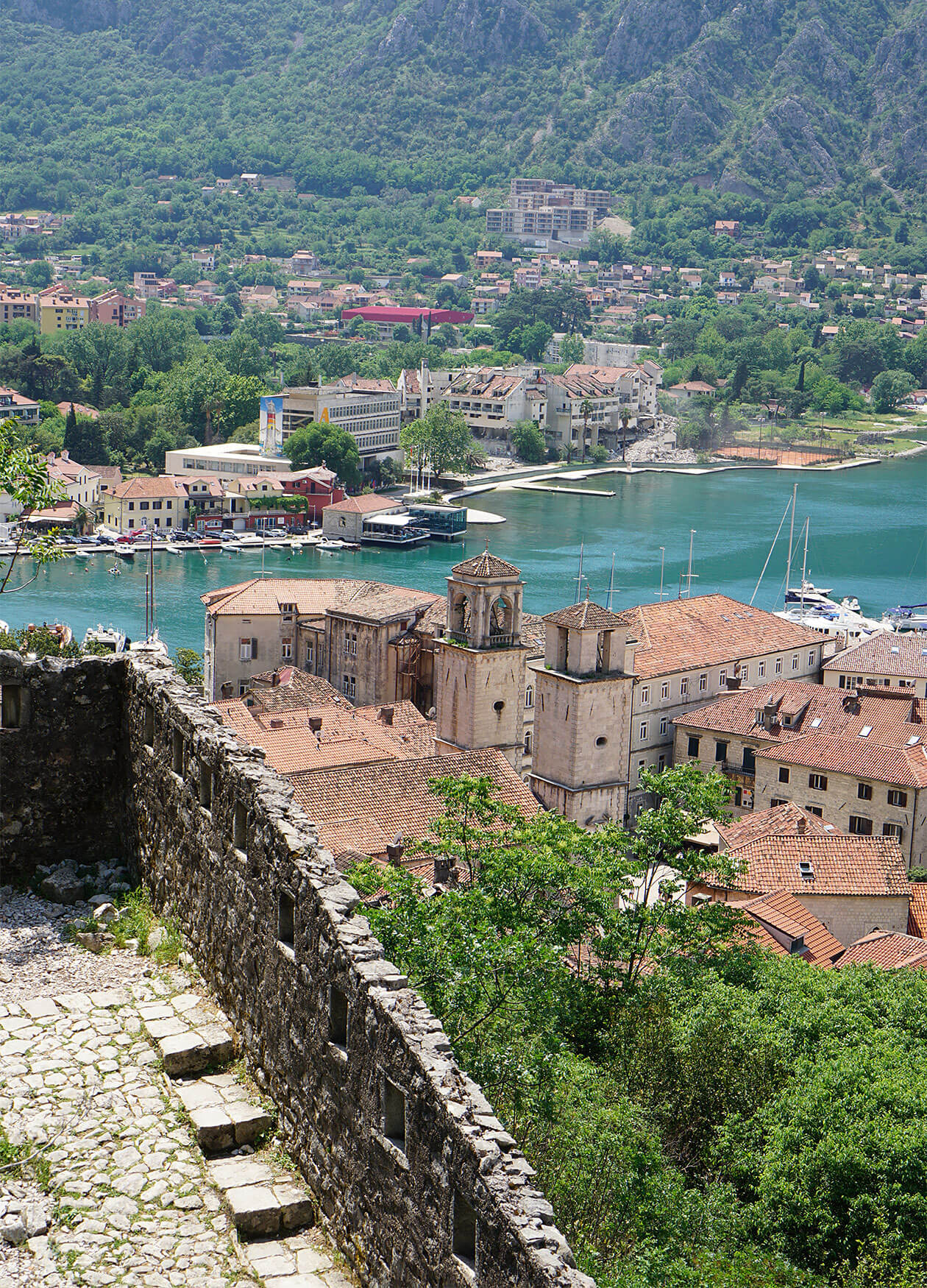 We opted for an AirBnB apartment in the Dobrota area, just outside Kotor. There are lots of self-catering apartments to rent in Kotor on AirBnB and other websites. Ours was just 5/10 minutes walk from Kotor's old town, had a great supermarket nearby and a huge balcony with a gorgeous view of the bay. Our hosts were amazing and we loved watching the cruise ships arriving each morning.
If you're on a really tight budget, there are several hostels in the old town.
Is three days in Montenegro enough?
We weren't sure whether three days would be enough for a trip to Montenegro. We did manage to visit most of the places we wanted to see, including Sveti Stefan, Budva, Perast and Kotor, but there's lots more to do in Montenegro and when we go back we'll stay for longer. As a quick introduction to the country, and if you're short on time, three days in Montenegro is just right.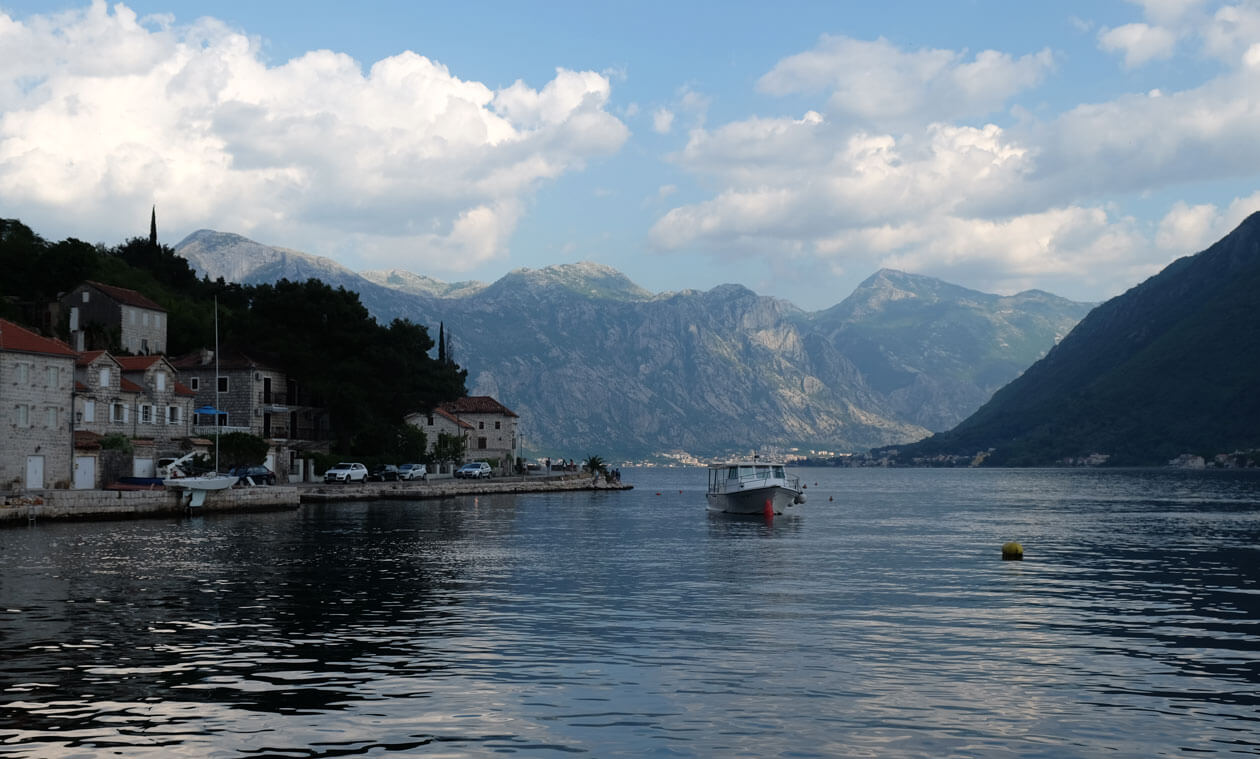 Should I go to Kotor and Montenegro?
Like Dubrovnik down the coast, Kotor is seeing increasing amounts of visitors, and there's a real feel that tourism is on the up in Montenegro. Tivat has a fancy new marina and big hotel complexes are being planned all around the bay. On one hand, it's great to see investment in Montenegro, and it was particularly good to see all the building work that was going on in Perast to restore the crumbling palazzos. On the other hand, I think in a few more years Montenegro will look very different – not necessarily a bad thing but I'm glad we went when we did.