If you're looking for a stylish and historic 4 star hotel within easy reach of the attractions in Amsterdam city centre, The Manor Hotel Amsterdam is a great choice.
There are so many hotels in Amsterdam that it can be tough to choose the right one for your stay. I recently spent a weekend in Amsterdam, staying at the Manor Hotel, and had a wonderful trip.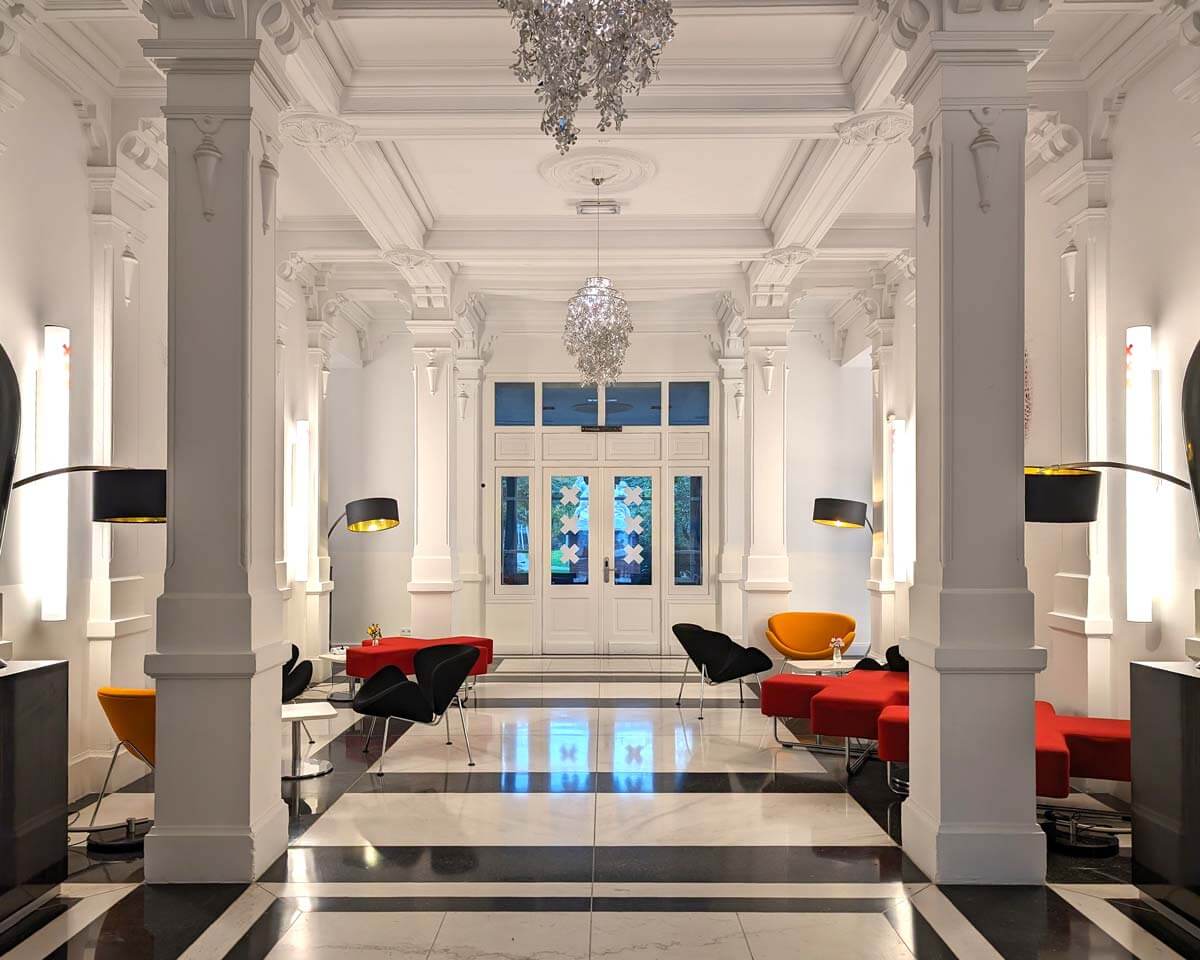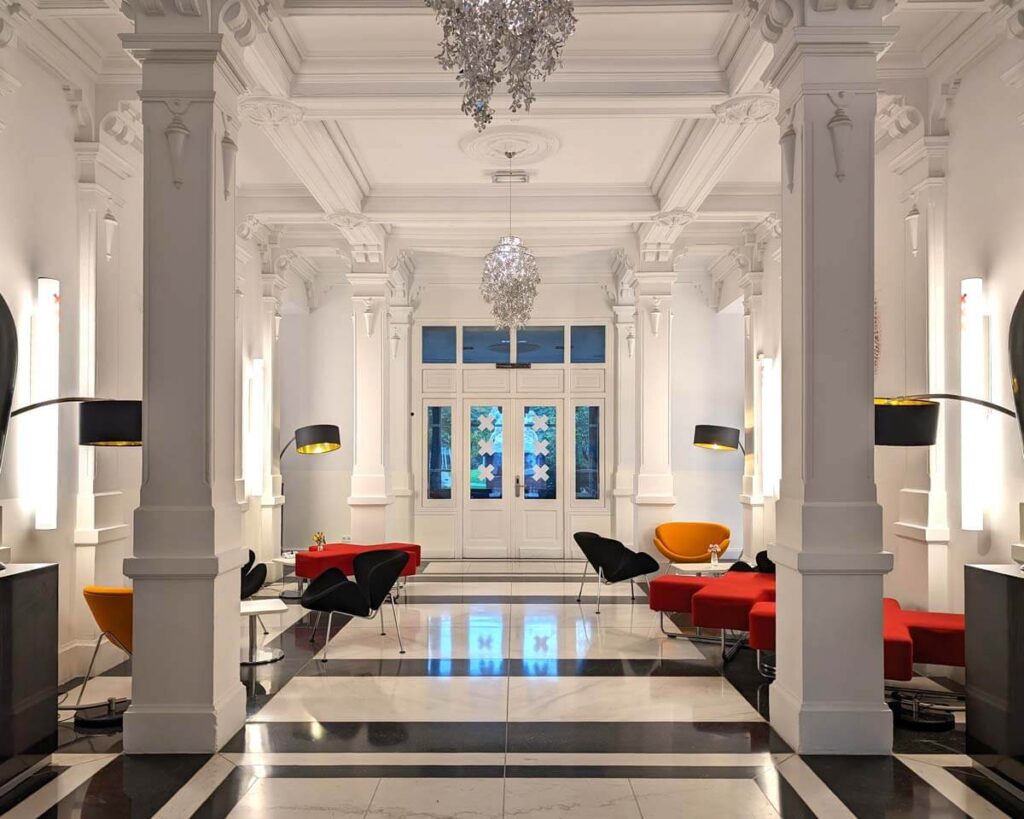 I stayed at The Manor as part of a press trip to Amsterdam but the opinions below are, as always, 100% my own.
History of the Manor Hotel
The Manor Hotel is an imposing old building in the east of Amsterdam. It was once a hospital, opening in 1891 with a design thought to promote healing; large windows for light and air, lots of space and the very latest technology, including lifts, electricity, running water and central heating.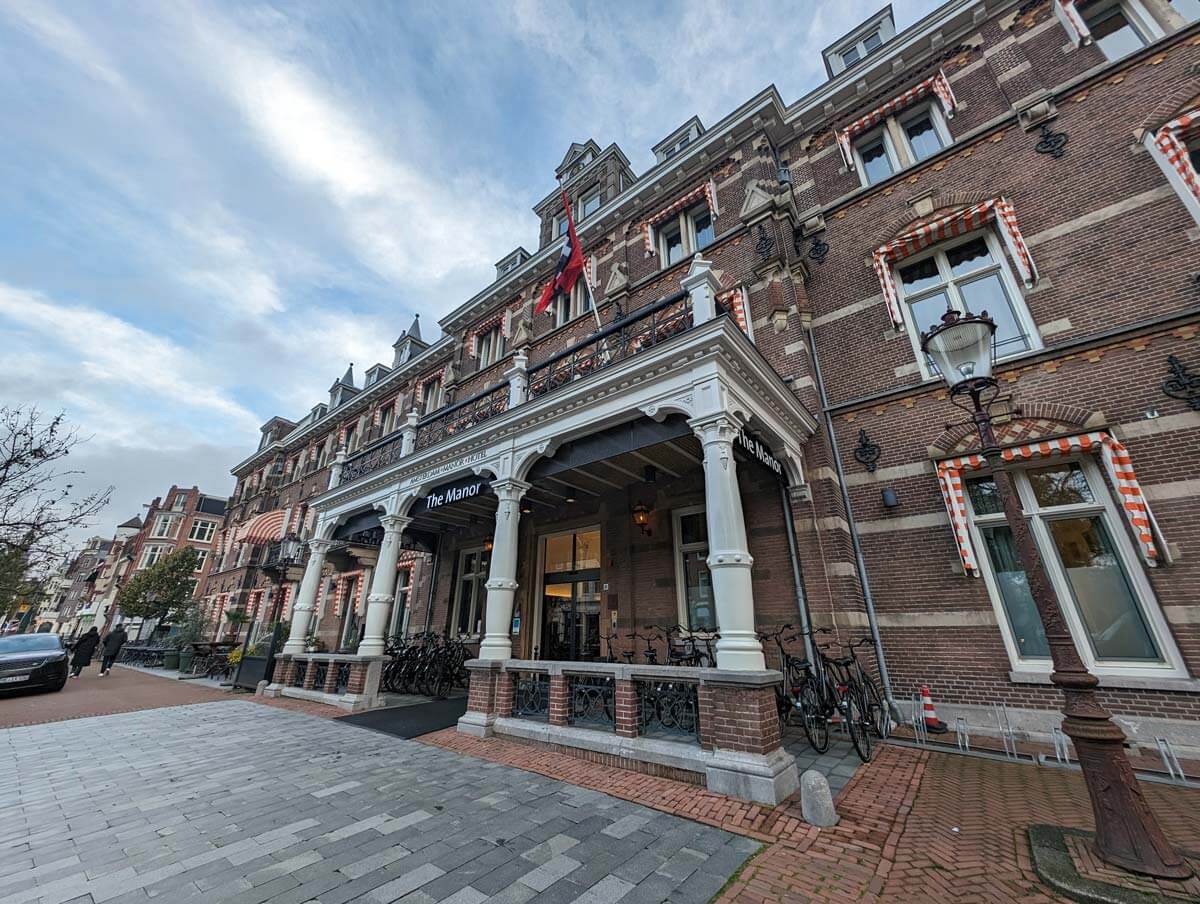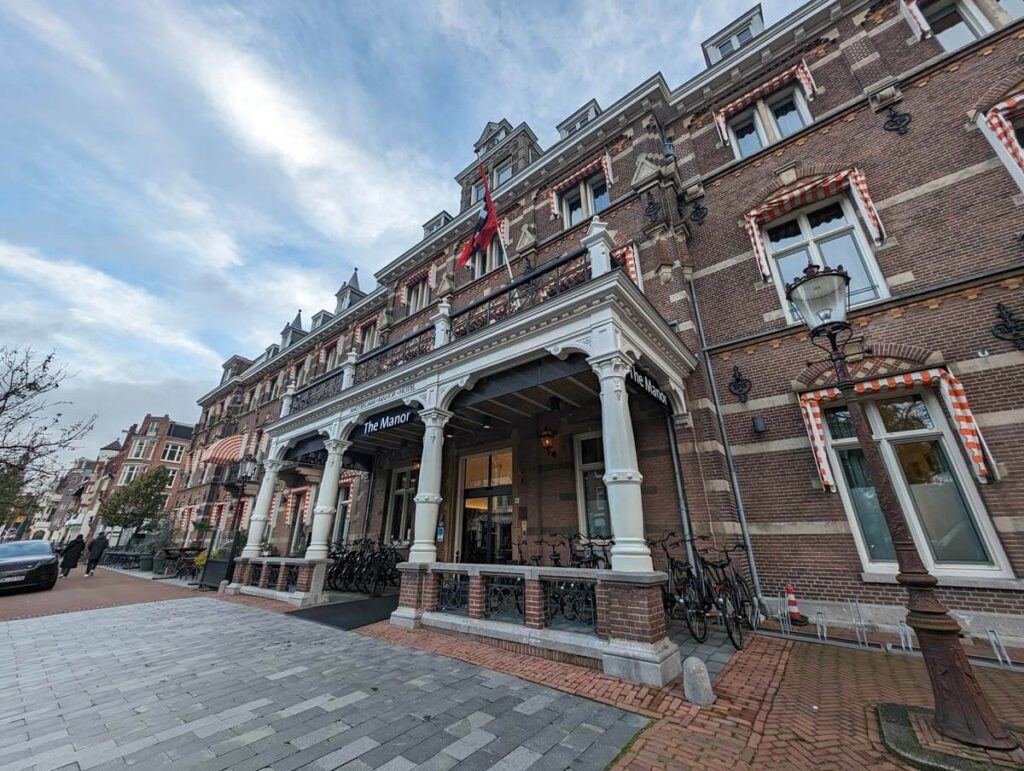 Dutch football legend Johan Cruyff was born in the hospital in 1947 and when one of the princes of the Dutch royal family had a car accident in 1937 he was treated here. Over its 100-year history, thousands of people were nursed in the hospital, babies were born and people even got married here.
It closed as a hospital in the 1990s and opened as a hotel in 2010. The same large windows and high ceilings that once made it a space for recuperation now give the hotel a wonderfully spacious and airy feel for relaxation.
Location
The Manor Hotel is in the east of Amsterdam, with great transport links into the centre. Amsterdam Muiderpoort train station is a 5 minute walk away and has direct trains to Schiphol airport and Amsterdam Centraal station. Centraal is only 5 minutes away by train.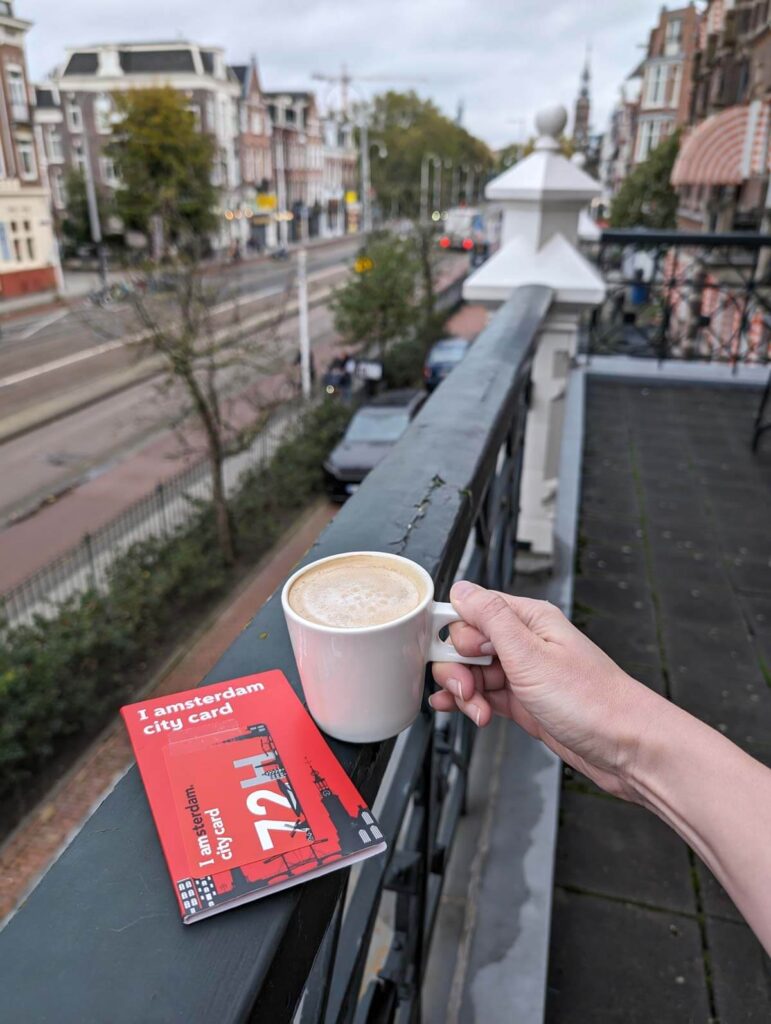 Tram and bus routes pass the hotel so it's really easy to get around. If you'd rather walk, you can get to Dam Square, Centraal station or the Rijksmuseum in 45 minutes. We had I amsterdam city cards which included free public transport around Amsterdam city centre.
There are plenty of things to do in the area around the hotel. The Oosterpark is less than 5 minutes' walk away, while the Wereldmuseum is a couple of minutes futher. The city zoo, ARTIS is about 20 minutes away on foot, as are the Micropia museum and the museum of the Dutch Resistance movement.
I'd recommend eating in the hotel (see more on the food below) but if you're staying for a few days and want to eat nearby, there are plenty of restaurants and bars nearby.
My room
I stayed in room 118, which is one of The Manor's Superior King rooms. All these rooms are at the front of the hotel in the beautiful old building.
I was really lucky that my room was immediately above the main entrance and had a big balcony with a view over Linnaeusstraat and the trees of the Oosterpark. There was a table and chairs which would have been lovely for morning coffee – unfortunately it was a little too rainy for that when I stayed!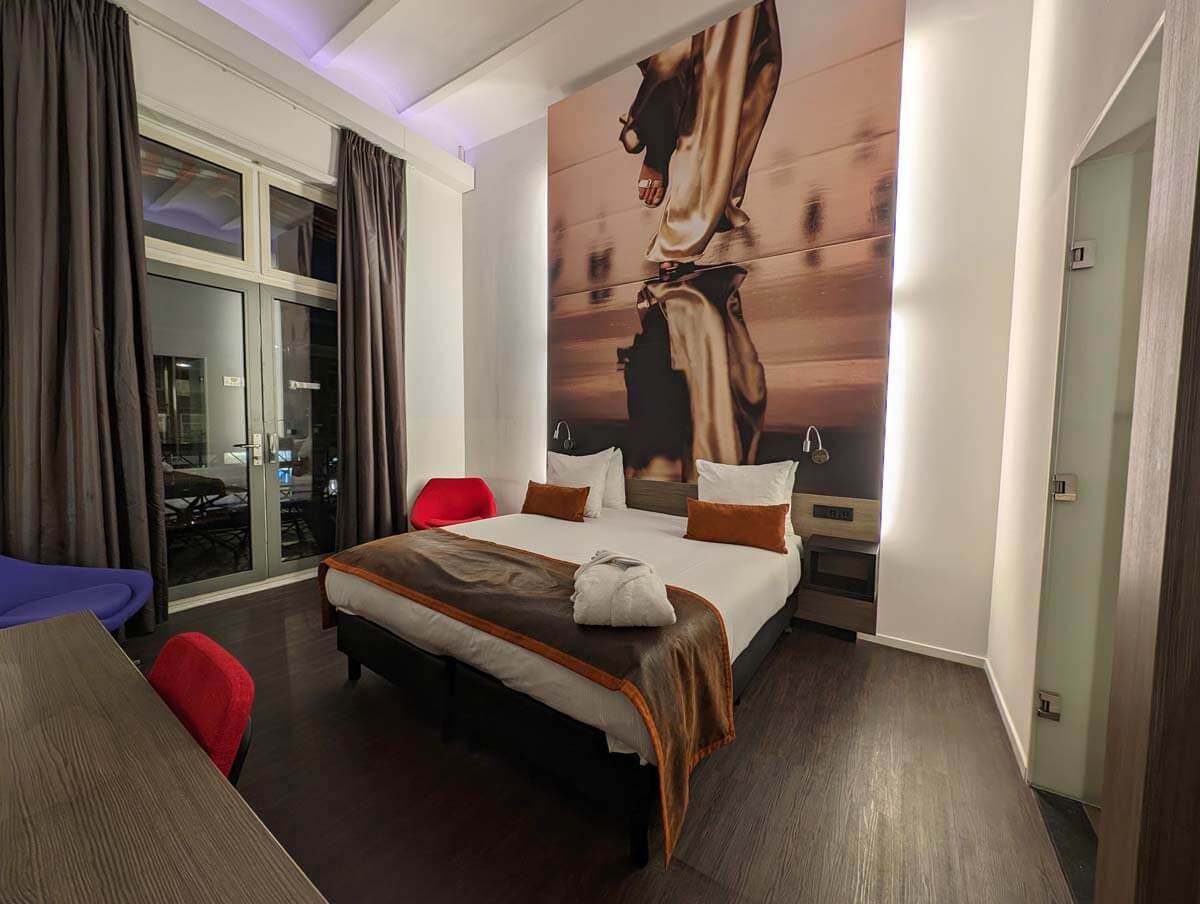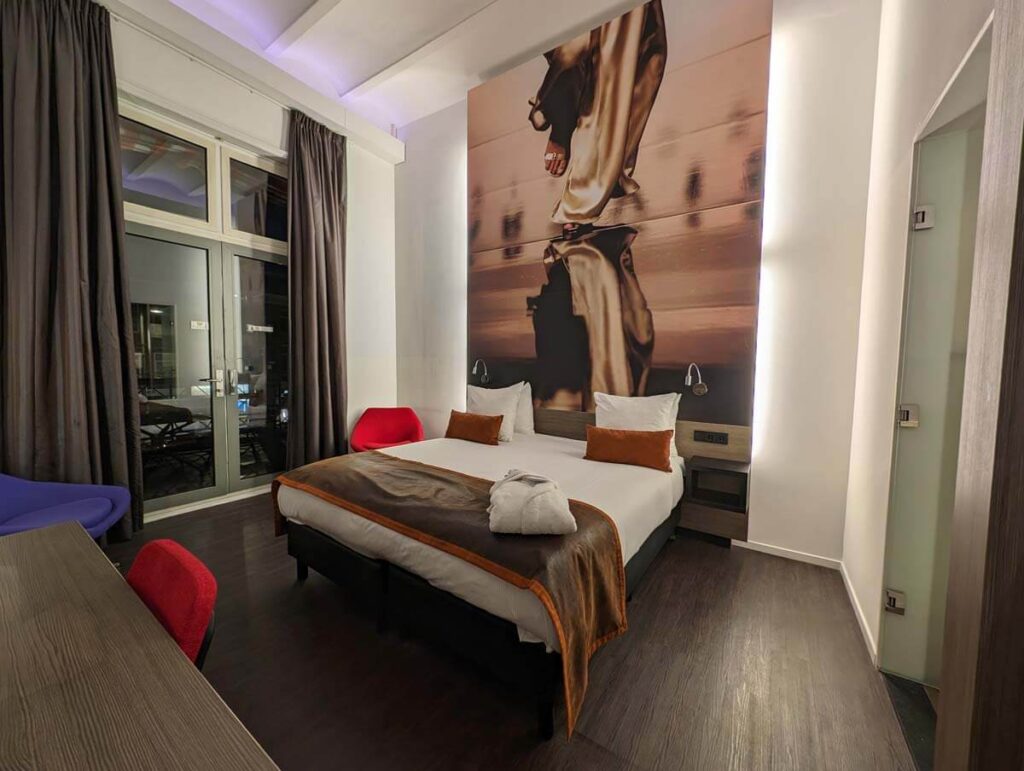 The bed was huge – we have a king size bed at home and this one was much bigger, a real three-pillows-across job! It was unbelievably comfortable and I slept really well. With my room facing the street, and such huge windows, there was a little bit of muffled traffic noise but it didn't disturb me at all.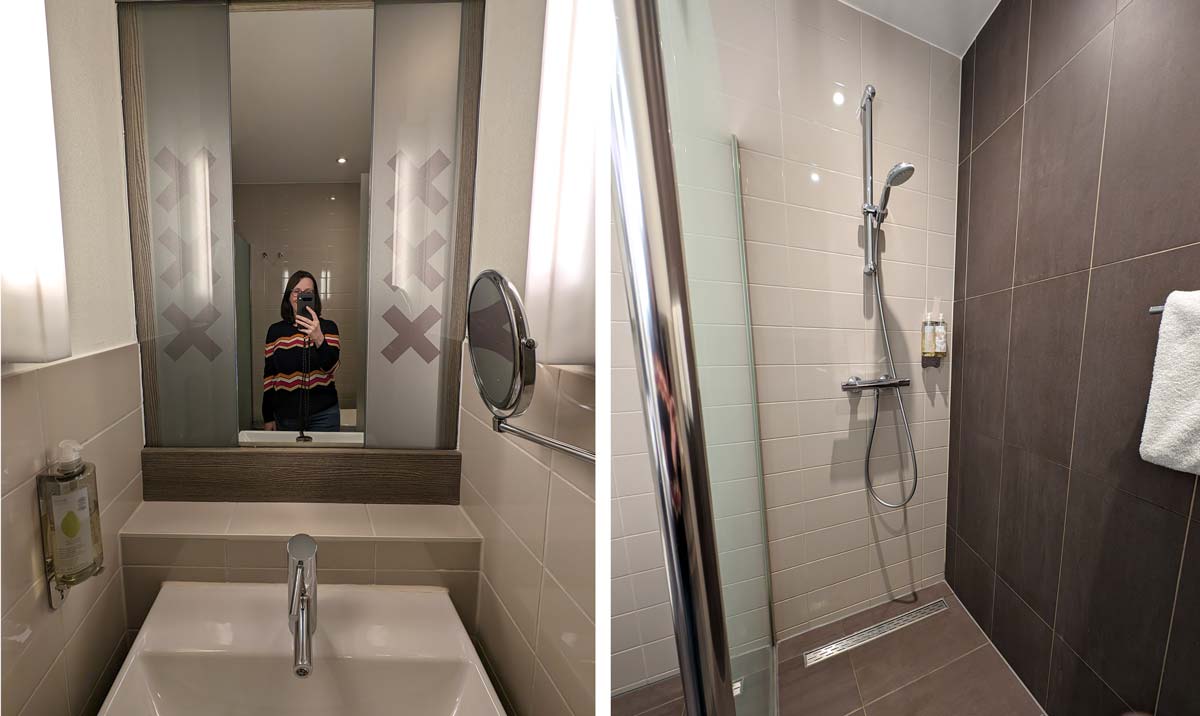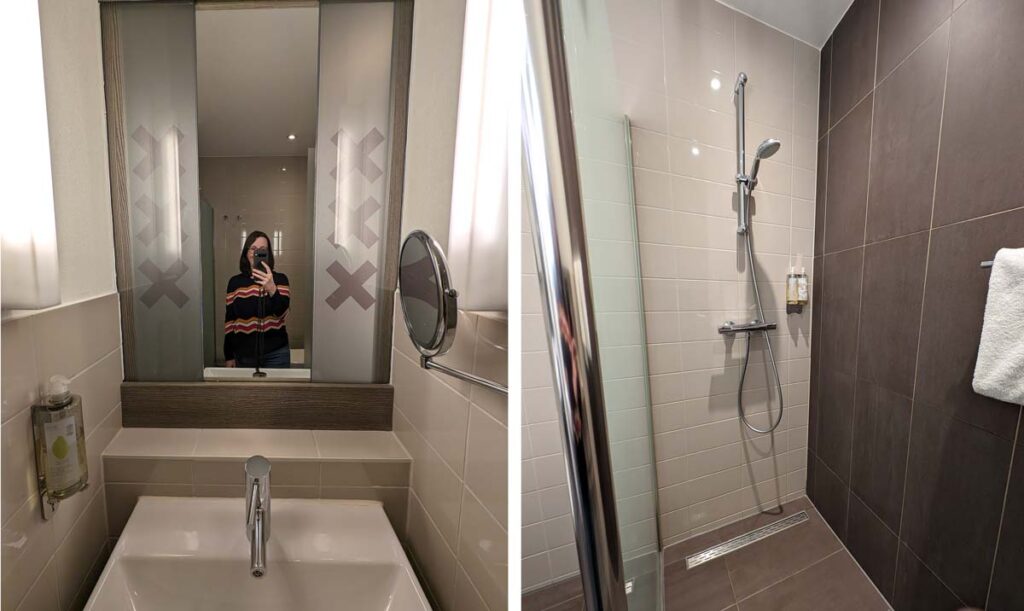 The bathroom was a good size, with a walk in shower, nice shower gel, shampoo and hand wash and the all-important (to me!) decent hairdryer. My one gripe with the bathroom was that the hairdryer had a short, coiled cord so getting into a good spot to dry my hair in front of a mirror took some doing. I do think I'm unusually fussy in that respect though!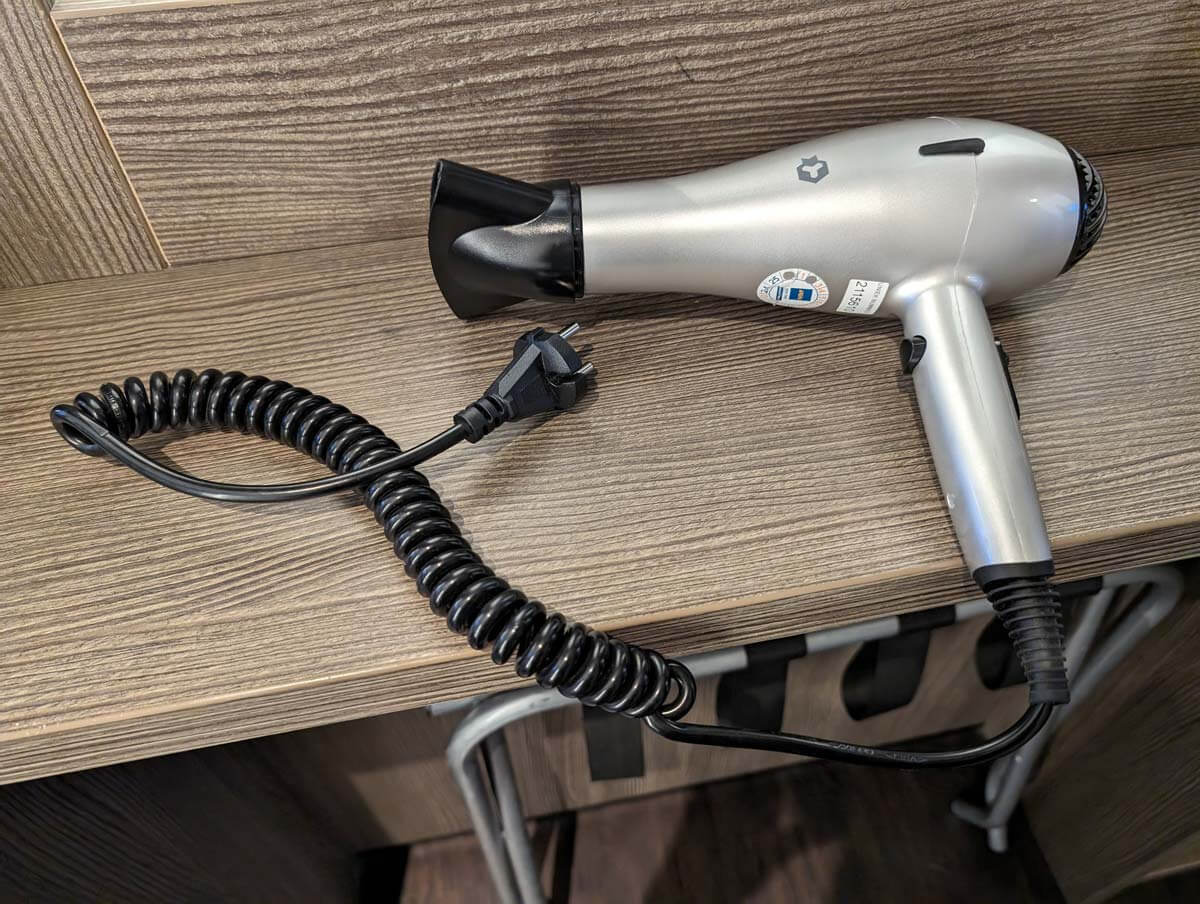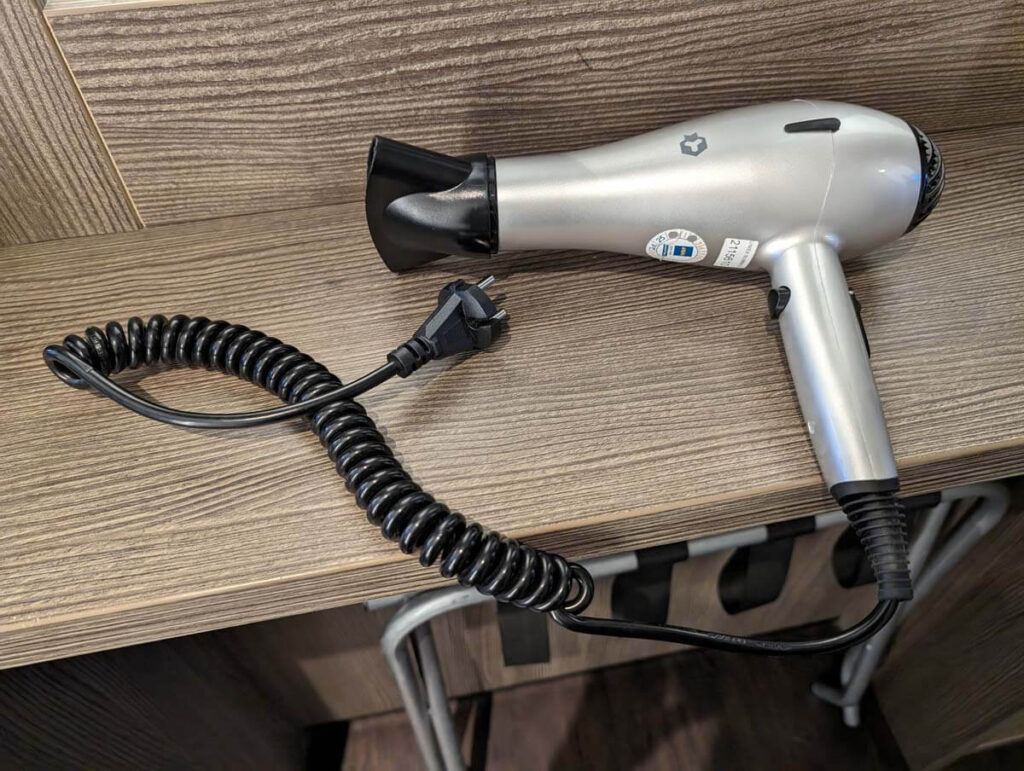 The room had all the things you'd hope for in a 4 star hotel, plus bathrobes, slippers and a Nespresso machine. Each room has a different piece of art behind the bed. In my room the huge bed and lovely balcony were the real stars of the show!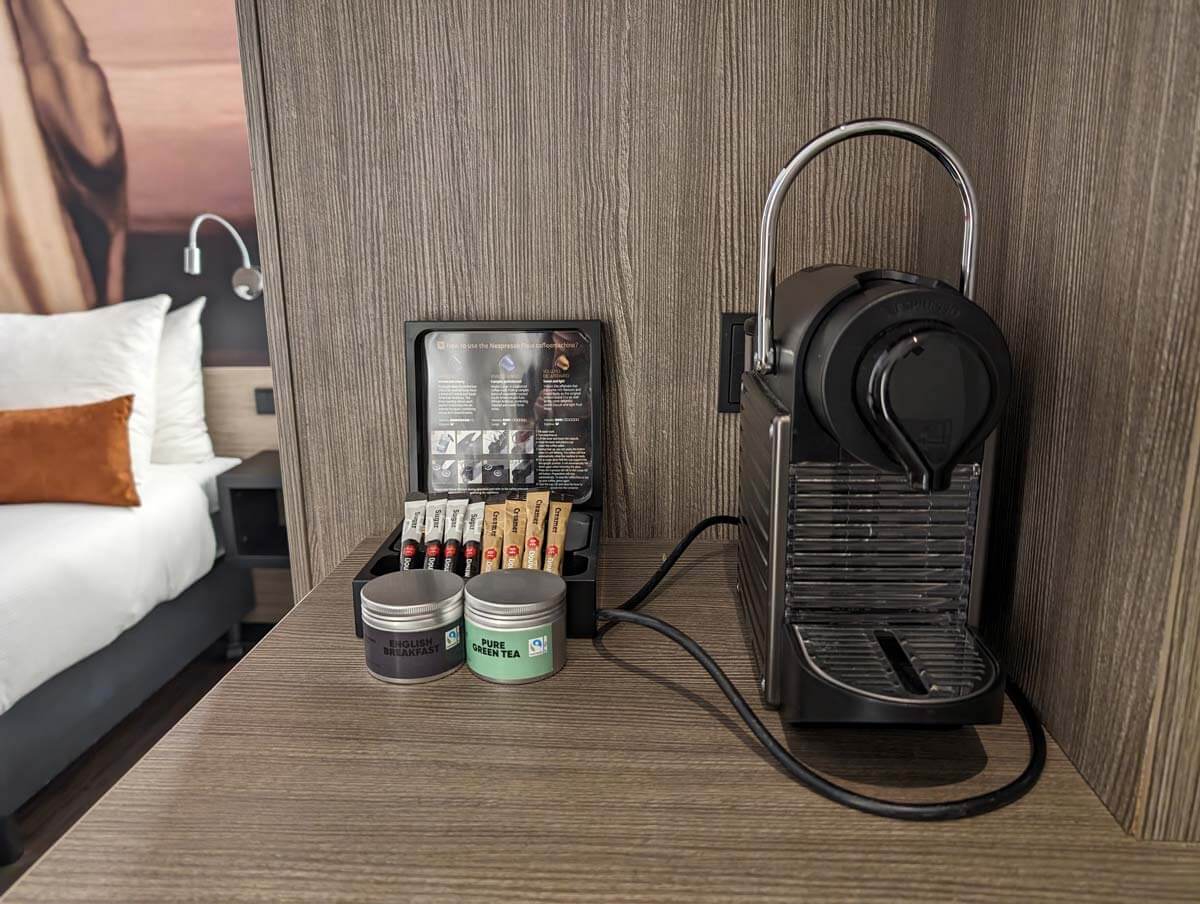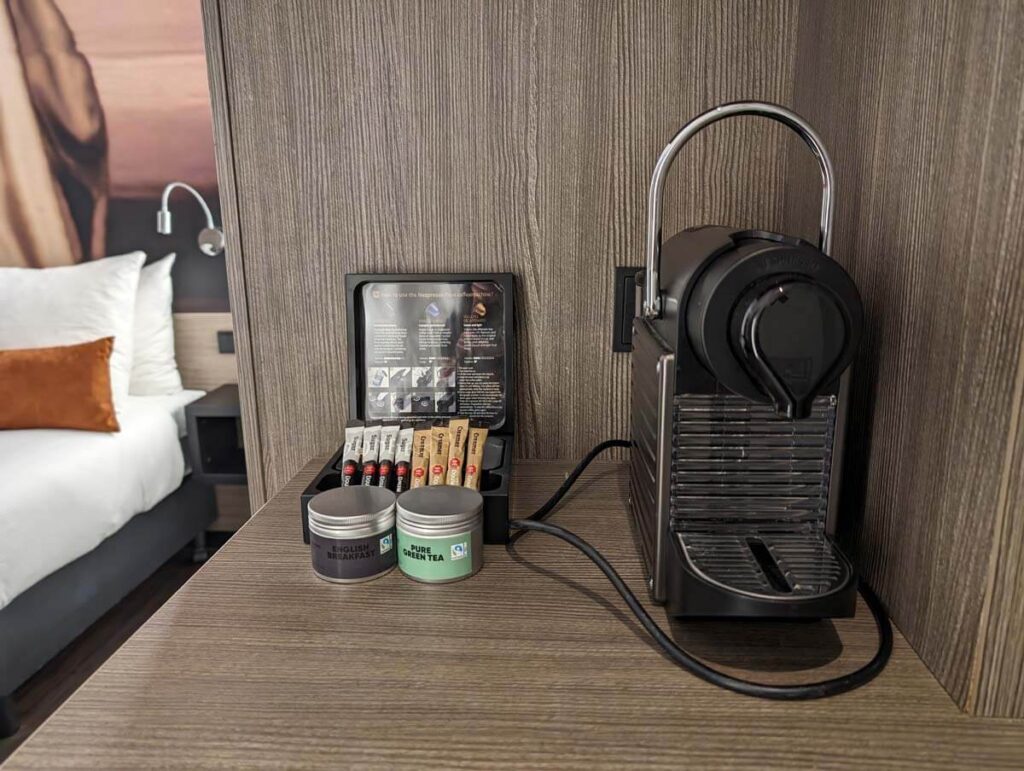 The restaurant at The Manor – A Beautiful Mess
The food is one of the best things about The Manor. The hotel restaurant A Beautiful Mess is a social enterprise run by Refugee Company, a non-profit which aims to support people who once fled to the Netherlands by creating jobs, training and the opportunity to learn Dutch. The ultimate objective is to provide the skills and experience so that participants in the programme can settle in the Netherlands and be financially independent.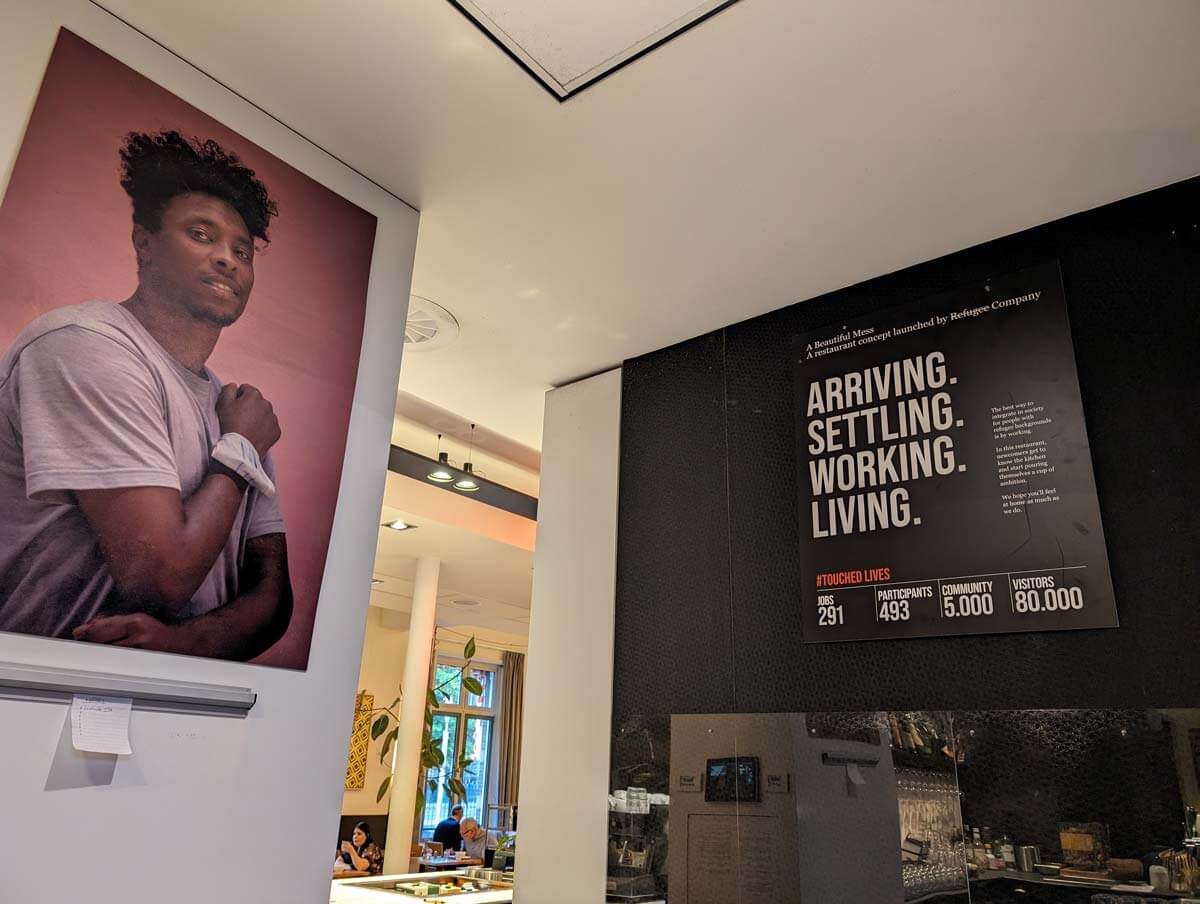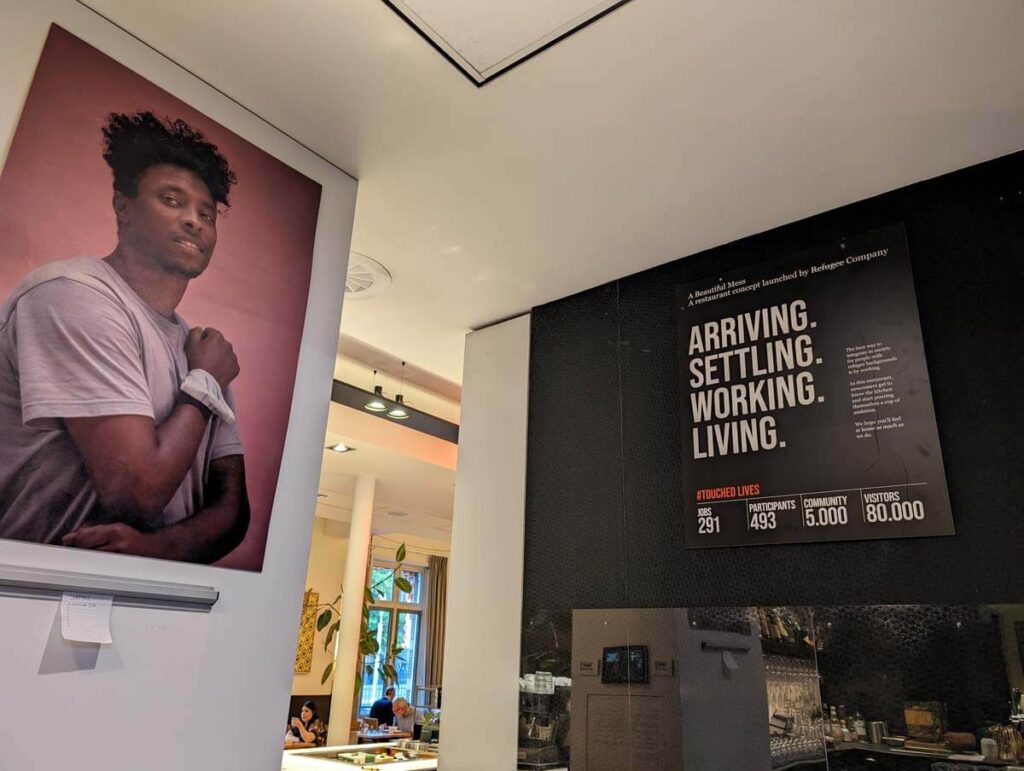 What this looks like in practice is a beautiful restaurant with a social conscience. The recipes are from the team's countries, so there's lots of Middle Eastern and African dishes on the menu, while they try to source ingredients locally.
The restaurant is a popup, but it's been at the Manor for well over two years now so it's stretching the definition of popup! They are opening another permanent location in Amsterdam in the near future but they're hoping to be able to continue at the Manor too.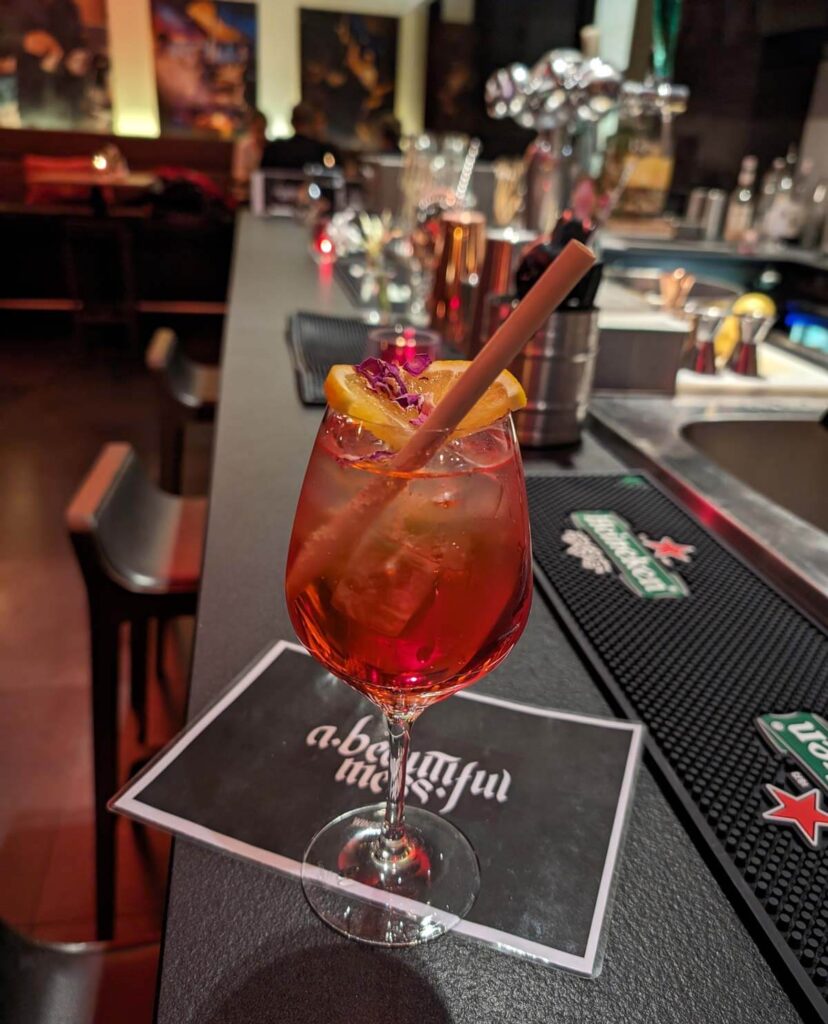 We started with cocktails and I had the A Beautiful Mess spritz, which gave a classic Aperol spritz a twist by adding rhubarb. It was so delicious and went down a little too easily!
For dinner we had a mix of plant-based, vegetarian and meat mezze. I adored the labneh and ate a full bowl of it with some amazing toasted flatbreads. The Eritrean cauliflower with fresh yogurt and zigni oil was delicious and warming, pairing beautifully with a Middle Eastern mujadara rice and lentil dish with caramelised onions and yoghurt.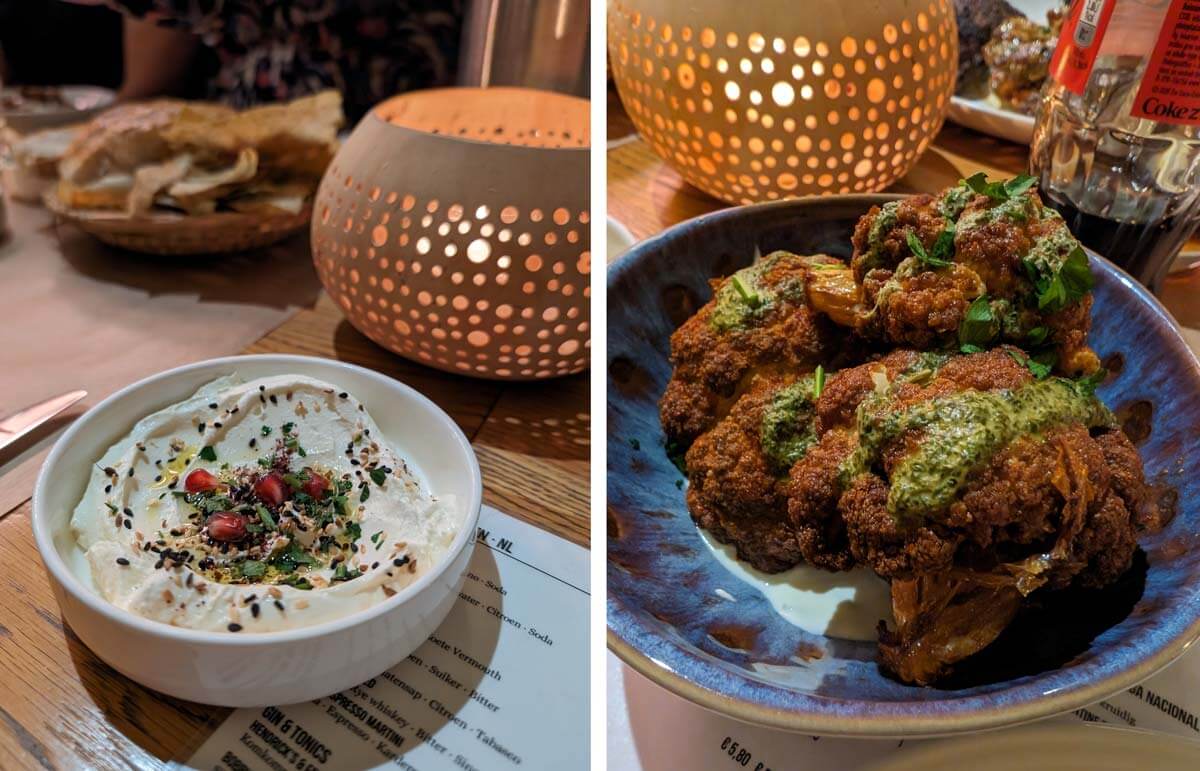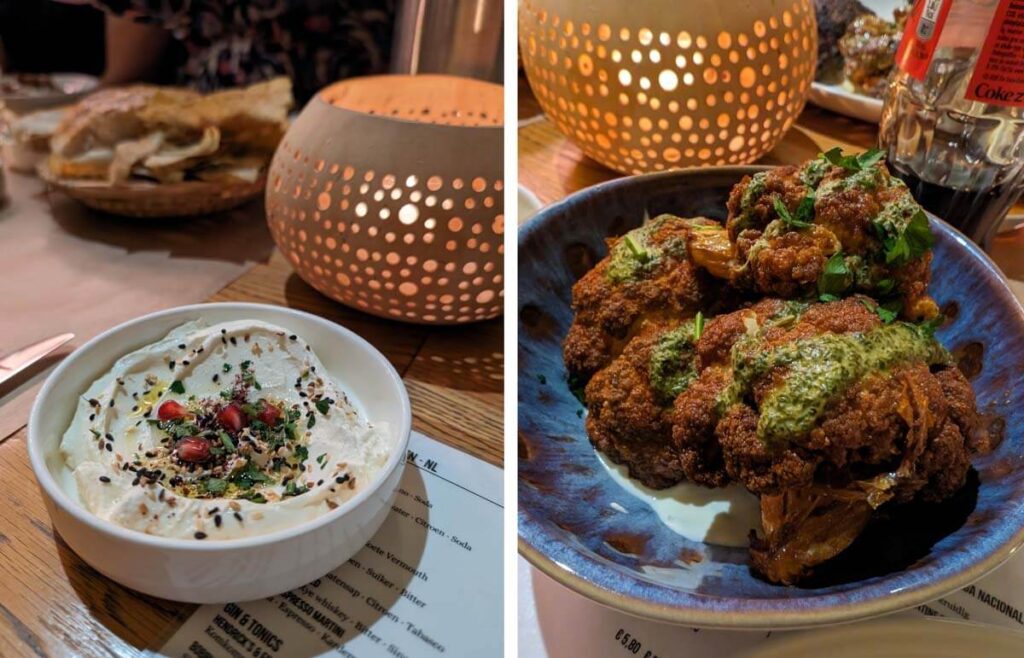 A Beautiful Mess has a nicely concise and very reasonably-priced wine menu, and our waiter was happy to help us with pairings.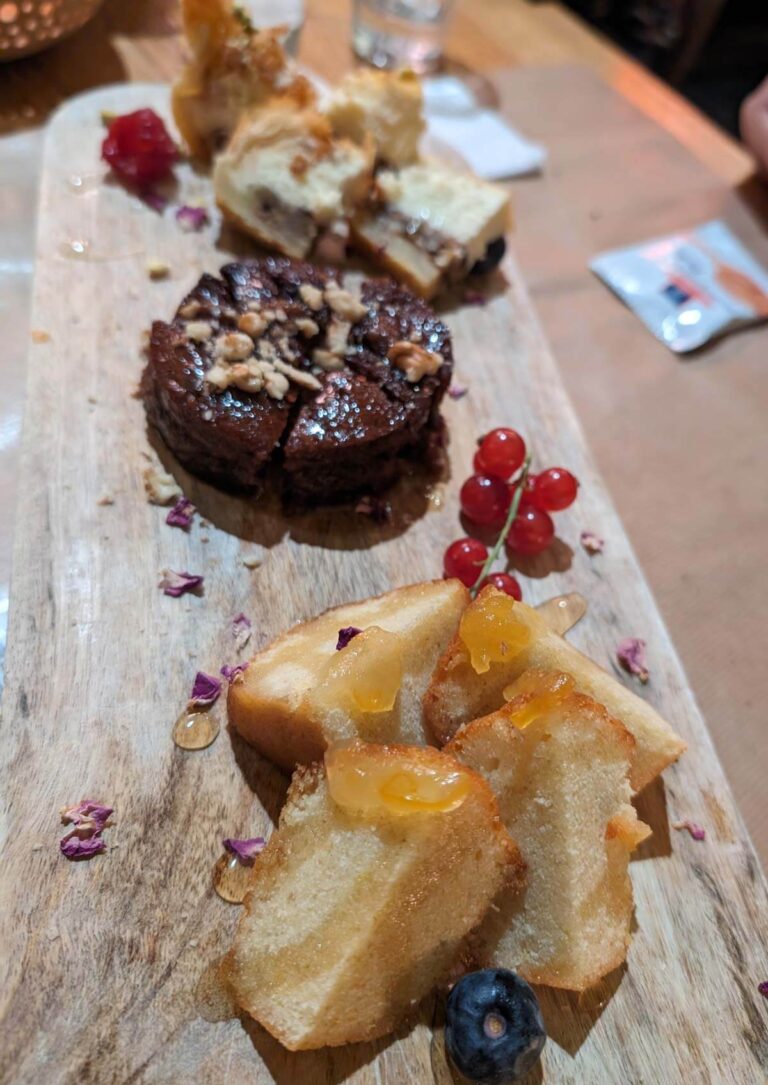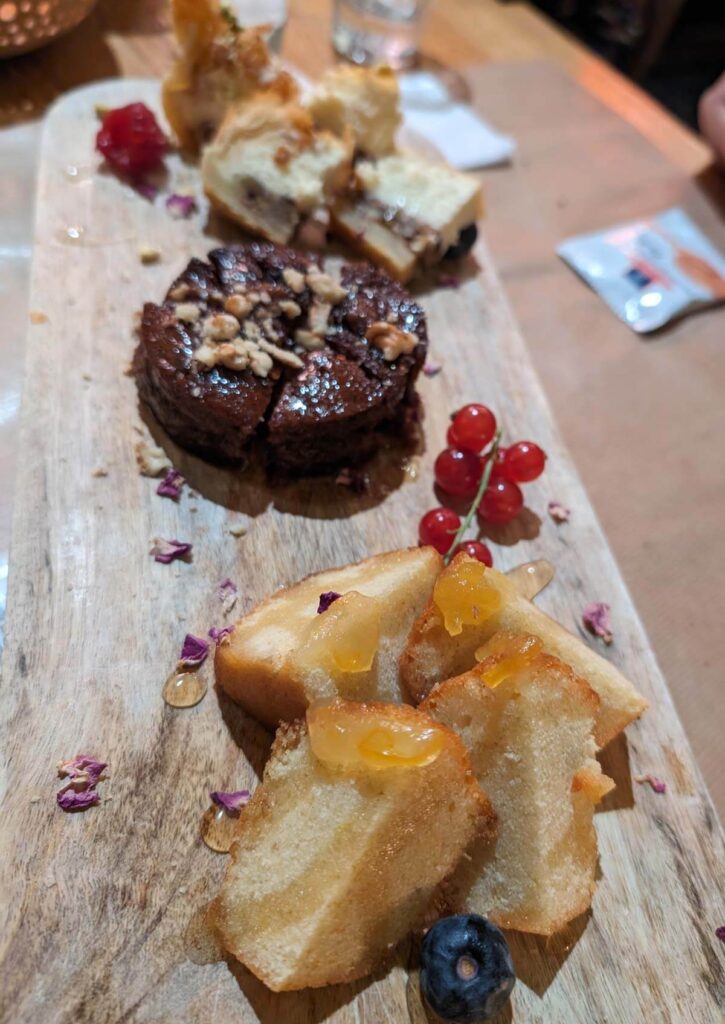 For pudding we shared orange blossom cake, sticky toffee date cake and baklava – my favourite was the orange blossom cake which was SO good.
Breakfast
We also had breakfast at the hotel, which was buffet style and served up in the main restaurant. I'm vegetarian, so a lot of breakfast spreads are a bit wasted on me but there were plenty of vegetarian choices to set me up for a busy day of sightseeing in Amsterdam.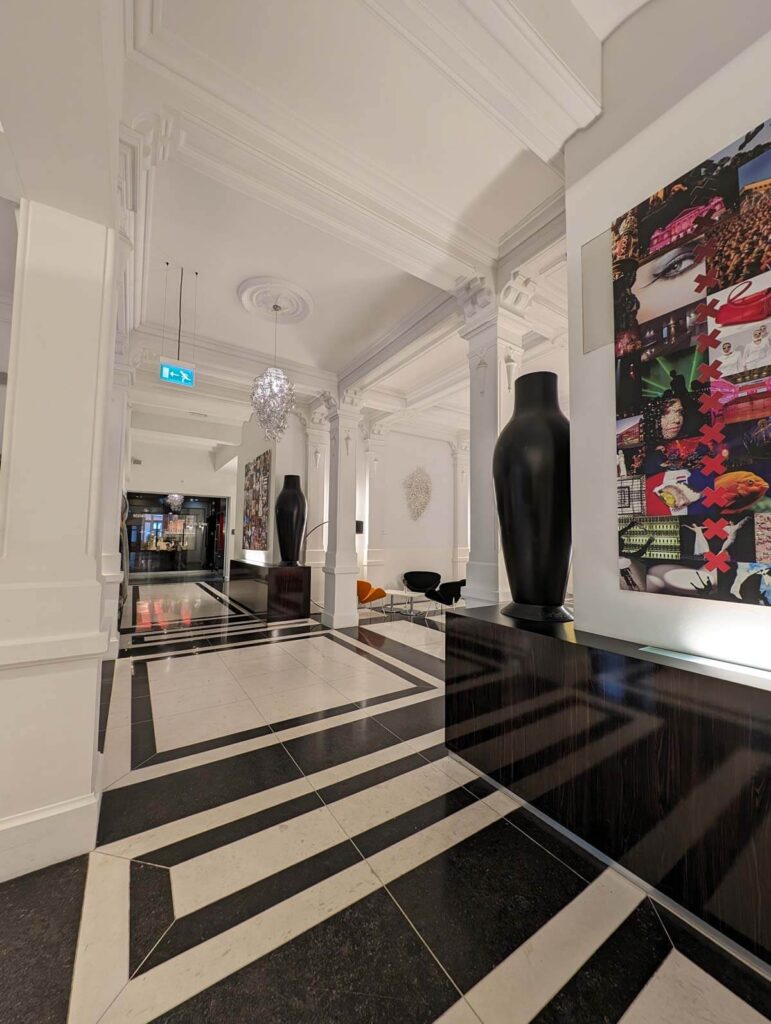 I particularly loved the delicious little mini frittatas with peppers, which came in a choice of normal or egg white only. The chefs paid a lot of attention to what was running low and got ready to fill it back up straightaway, so I was able to have exactly what I wanted (hello herby mushrooms and scrambled eggs!).
Service
Everyone I met at The Manor was so helpful and friendly. They were very happy to store my luggage for me when I arrived well before check in time, and when I was in the lobby taking some photos a bit later on, someone asked me straightaway if I needed any help (in a nice way, not in a why are you loitering kind of way!). Both my room and all the public areas I saw were all sparkling clean.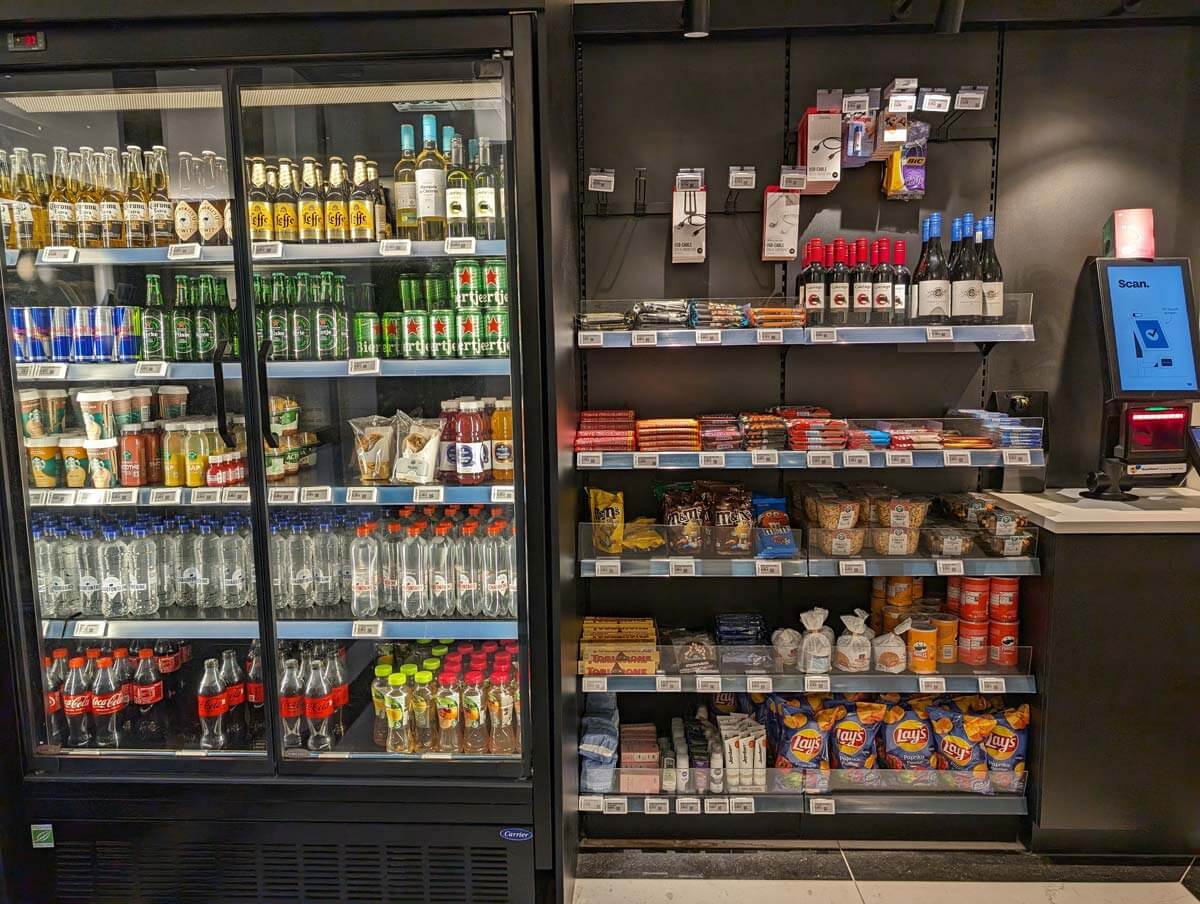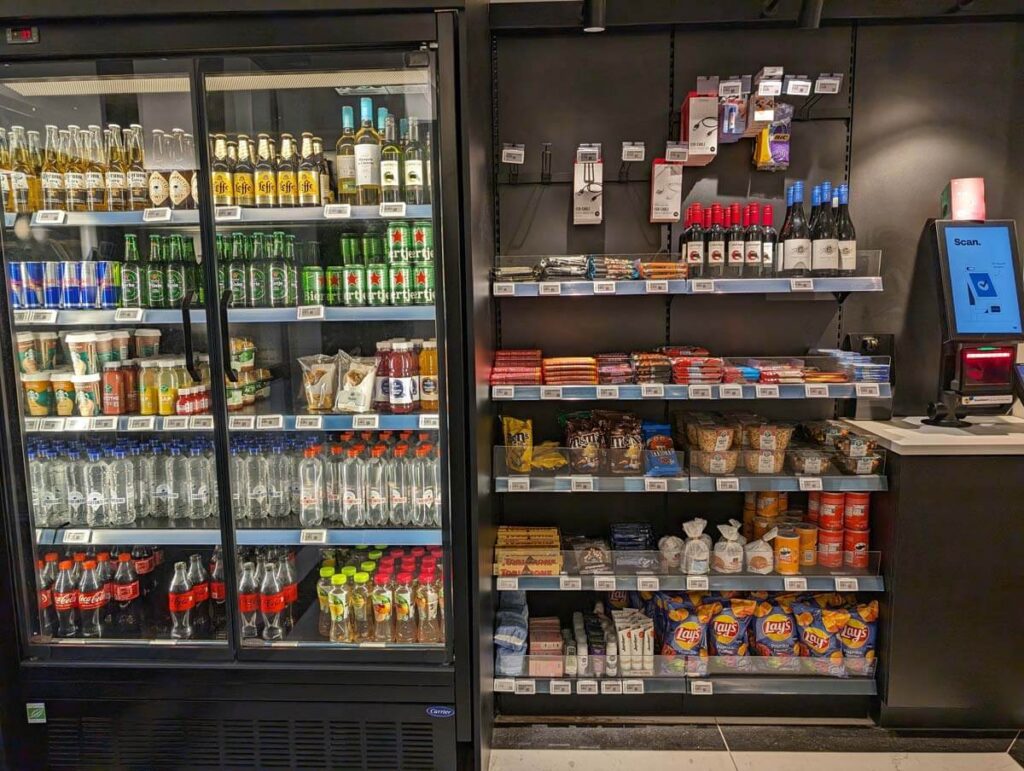 Final thoughts
I really enjoyed my stay at The Manor Hotel Amsterdam. All the hotel basics – a clean, comfortable room, friendly service and tasty food – were covered, with the extra bit of interest that comes from staying in a boutique hotel compared to one of the giant chains.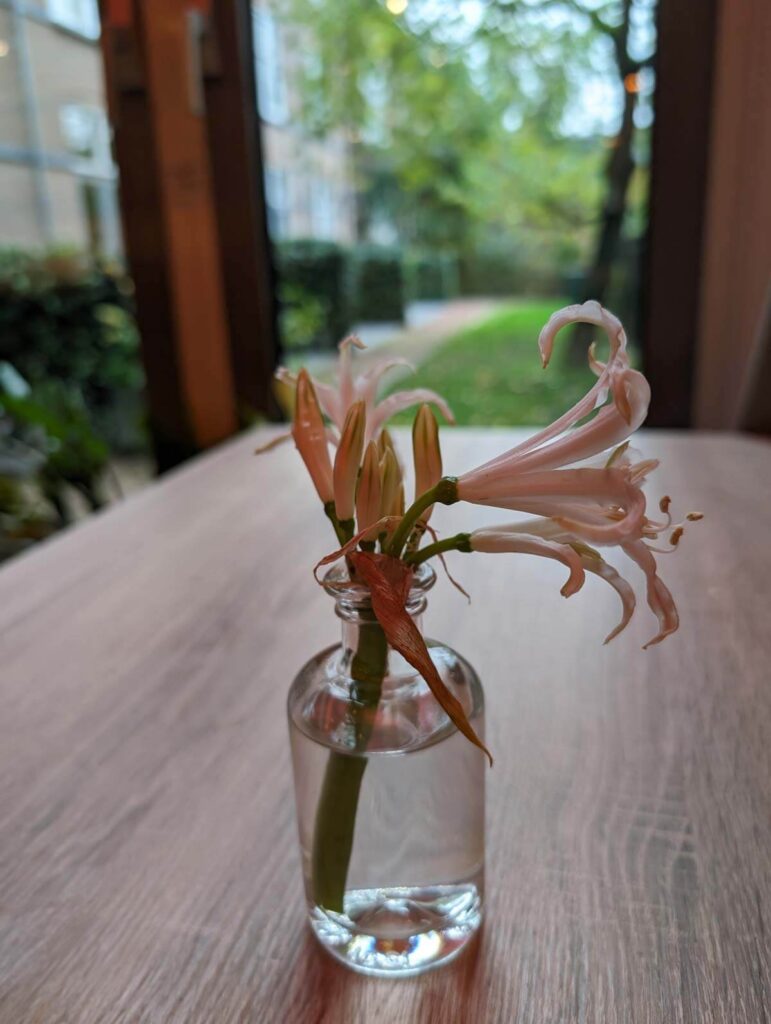 I loved the building, really loved the bed and the social conscience on display at the restaurant was really great to see. I'd definitely stay at The Manor Hotel Amsterdam again.