Spring is often the time when, weary of winter, our thoughts turn to travel and a fun city break. I asked 25 of my favourite travel bloggers to tell me about their favourite cities to visit in springtime.
Here are the destinations they recommended – from cities getting their first intoxicating rays of sunshine after a long winter, to traditional summer destinations that are even better in the spring, there's a spring city break here for everyone.
Springtime city breaks in Europe
Ljubljana
…for wandering picturesque streets in the sunshine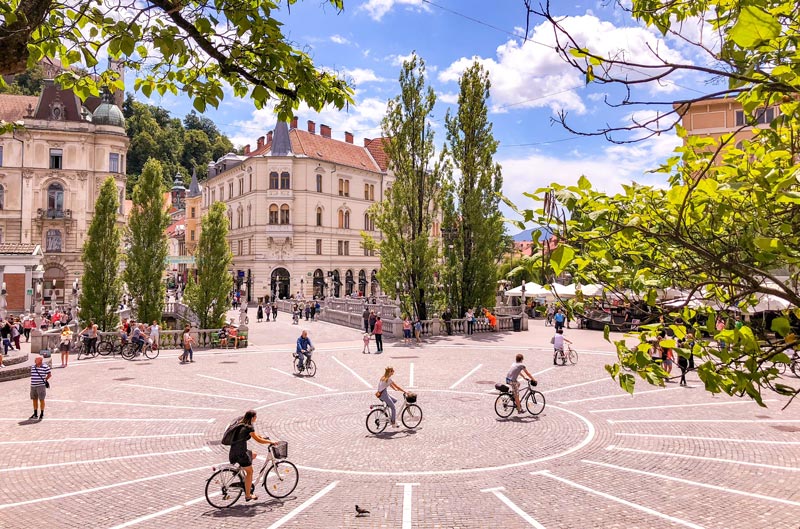 Recommended by Teresa from Brogan Abroad
Ljubljana has to be one of the best cities to visit in spring. Being a compact city, everything is within walking distance, or at the most, a short bike ride away, so it's ideal to walk around in the sunshine. Even though it is a small city, it has a lot of things to do and to keep you entertained, and you can easily pack a lot in during a couple of days in Ljubljana.
The Ljubljanica River is at the heart of the Old Town, where most of the action happens in the city. Have a stroll along the river, visit any of the many quaint and historical squares or visit the Central Market to see Ljubljana come to life. And of course, let's not forget about Ljubljana Castle, perched on top of the hill in the middle of the city, keeping an eye on it. You can either walk up to it or take the funicular. Another great thing to do is a bike tour, or just hiring a bike for a few hours. With the Old Town fully pedestrianised, it's a joy to explore it on two wheels.
One thing you can only do in spring in Ljubljana, is to visit the 'blue rain' or wisteria that grown on the bottleneck next to Pod Tranča, after crossing Cobblers Bridge towards the Castle. Go and see its violet flowers and light green leaves glistening in the sun.
Follow Teresa on Instagram
Stockholm
…for cherry blossom and spring skies in Scandinavia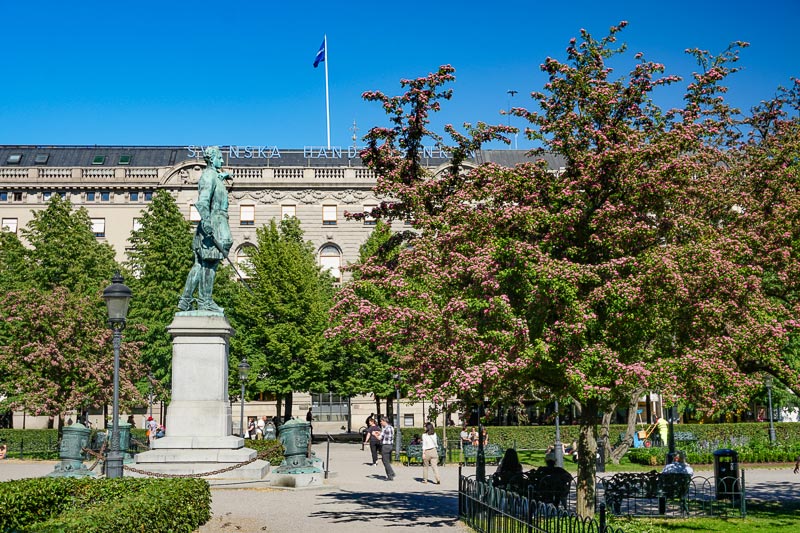 Recommended by Dhara from It's Not About the Miles
Spring is a wonderful time to visit Stockholm. The Swedish capital emerges from winter hibernation as temperatures become brisk rather than cold. Stockholm's pretty waterways thaw and trees around the city begin to bud and leaf, providing the new spring green canopy for fabulous photos.
Although it could still snow, March to May are drier months, and you will likely have lots of sun. In April and May, you can enjoy the pink cherry blossom in profuse bloom at Kungsträdgården. Flowering trees light up other green spaces in the city as well. Restaurants and cafes open up their terraces and patios, and you can enjoy Stockholm's famous fika break (coffee and a pastry) outdoors, with blankets and heaters…very cosy!
If you enjoy festivals, Kulturnatta, a music, art and literature celebration, takes place a few weeks after Easter. And in early June, you can enjoy the elegant Early Music Festival, which showcases historic music from Baroque, Renaissance, and medieval times. Stockholm's many fun things to do make it an irresistible destination in Northern Europe!
Read more: Four days in Stockholm
Moscow
…for a beautifully decorated city and Victory Day celebrations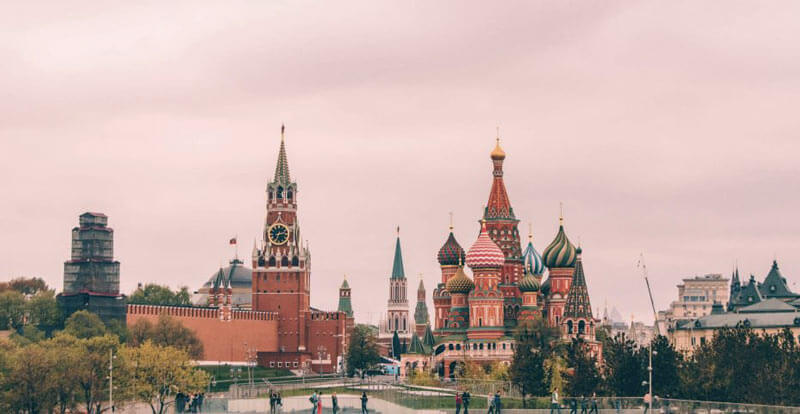 Recommended by Yulia from That's What She Had
Late spring is one of my favourite times to visit Russia, and Moscow in particular. In fact, I spent 3 weeks in Russia last May and it was one of the best holidays I've had. And given that it's my homeland, I have a few Russia travel tips for you.
First of all, late spring in Moscow is beautiful: the weather is perfect to spend time outside without freezing your behind, the light day is longer, the flowers are blooming. It might be a strange thing to say, but you can feel spring in the air: heavy coats and mittens are finally left at home, the sun is shining, and people even smile more (gasp! Russians can smile!). The average temperature in May is 20°C (68°F).
Besides, there's one more reason to visit Moscow in May in particular — the Victory Day celebrations. On the 9th of May, a national public holiday, the whole country comes together to celebrate the victory in WWII and to honour those who fell defending the country. Moscow is beautifully decorated for the occasion.
You'll find all kinds of events organized throughout the city: from public concerts to chow wagons distributing buckwheat porridge and hot tea to poetry readings. But the main events take place on Red Square: the annual military parade and a movement called Immortal Regiment, where people walk through Tverskaya street and onto Red Square with portraits of their fathers and grandfathers who took part in the war. Victory Day is a really special holiday to witness while you are travelling through Russia.
Follow Yulia on Instagram
Krakow
…for romantic, flower-filled walks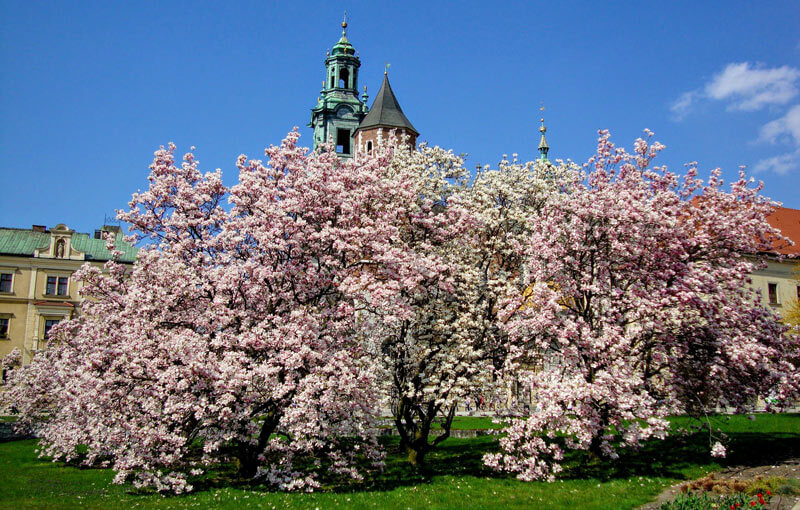 Recommended by Joanna from Over Here
Spring is the best time to visit Poland. Trees blossom, the grass gets greener every day and the air smells wonderful – you can tell the spring has arrived!
One of the best options for travellers in Poland is Krakow. It is the biggest and most famous city in southern Poland. It is a beautiful town which has many well-preserved historical sites. Packed with museums, churches, exhibitions, and impressive cathedrals, Krakow allows you to get to know Polish history well.
Krakow is one of the oldest cities in Poland and it has always played a crucial part in Polish history. For many ages Krakow was the royal city – it was the place of birth, residence and coronation of many kings.
Krakow's main attractions are Wawel Royal Castle, Old Town and Kazimierz Jewish district, all of which were added to the UNESCO heritage list in 1978. It is worthwhile visiting those places in the spring when the temperature is pleasant and there are not that many tourists. Another must-see on your springtime city break to Krakow is the botanical garden. Created in 1783 it is the oldest botanical garden in Poland! It is especially beautiful in the springtime, when tourists can enjoy nice weather and the amazingly vivid colours of the plants.
A perfect place to visit in the spring are Vistula boulevards, a picturesque place, ideal for long, romantic walks. Along the boulevards there are planted thousands of flower bulbs which blossom in the spring – it makes this area even more beautiful!
Follow Joanna on Facebook
Bucharest
…for celebrating with locals at traditional Spring fairs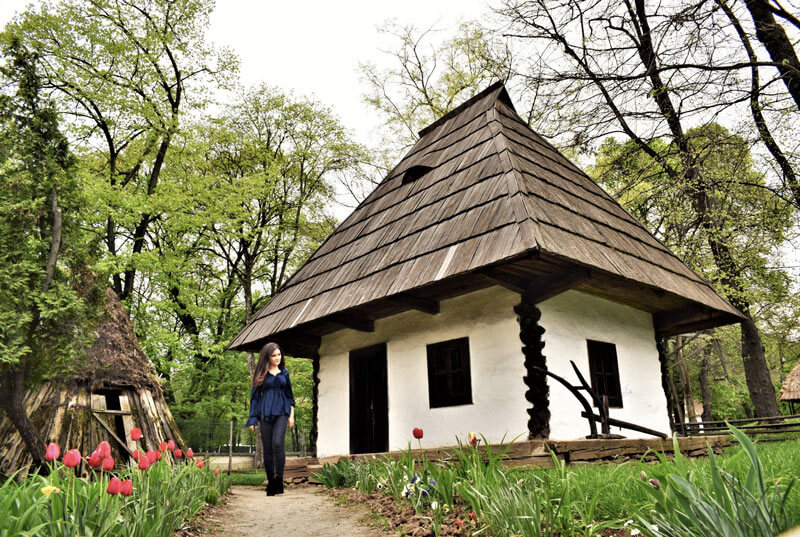 Recommended by Raluca from Whisper Wanderlust
Bucharest, the lively capital of Romania, has a temperate continental climate, which basically means that usually in the spring we have warm temperatures and sunny days. During these months, the city simply transforms and that's because everything gets green. It is possible that in March, sometimes even in April, we still have snowfall, but this is not always the case. In spring, everything changes, and the temperatures are increasing significantly. The month of March is dedicated to the "martișor", a symbol of spring in Romania. Thus, all over the city, you will be able to visit the fairs that sell them.
The spring months are perfect for visiting the parks in Bucharest. I recommend going to the Japanese garden in Herastrau Park, where the cherry trees blossom. Also, go to the Village Museum, located in the immediate vicinity. The landscapes are splendid, and you will love the old authentic houses! Explore Calea Victoriei, the most beautiful boulevard in the Romanian capital, especially in the spring. And of course, go and see the baby turtles in IOR Park. It's like an oasis in the middle of the urban jungle.
Follow Raluca on Facebook
Read more: 11 reasons why Bucharest should be your next city break
London
…for sunnier skies and boat races on the Thames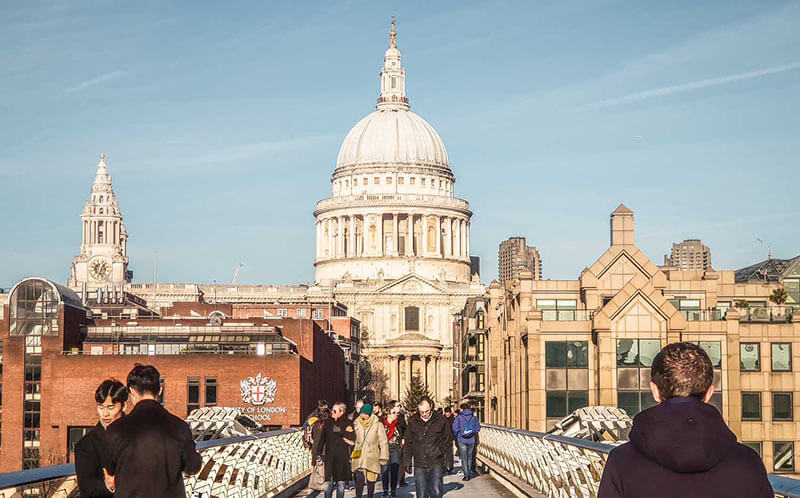 Recommended by Julianna, The Discoveries Of
London is a great place to visit in spring. It's my hometown and spring is my favourite time of year – in spring, the city has just emerged from the long winter and it really starts to come to life again.
There's so much to see and do in London that there's plenty to keep you busy – even in deep, dark winter. Spring's much nicer as it gives you the chance to explore more of the city's gorgeous parks and to take the beautiful Thameside walk along the river.
Away from the big landmarks, put on some comfortable walking shoes and make your way between some of London's quirkier spots. The age-old City of London is filled with historical spots including a restored Roman temple underneath the Bloomberg buildings and a park dedicated to Londoners who lost their lives in heroic acts. It's the perfect way to see a different side of London that's often missed by tourists.
Spring also just so happens to be the time for one of London's big annual events – The Oxford and Cambridge Boat Race. I'd really recommend going if your visit coincides with the race – the atmosphere is absolutely electric, with everyone in the crowd cheering for their chosen team. If you head to the Putney Bridge for the beginning of the race, you can rush to a nearby pub to see the rest of it on the big screen.
Read more: Two days in London
Porto
…for perfect sightseeing weather and celebrating Portugal Day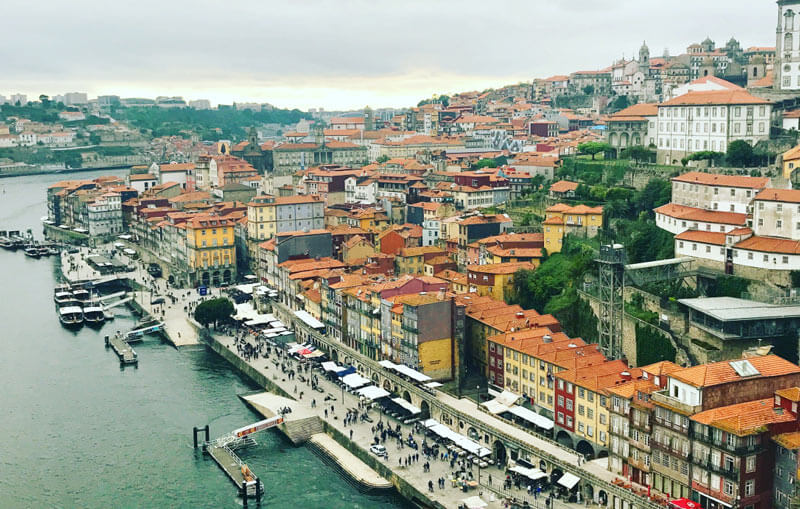 Recommended by Adrienne from Bucket Half Full
Spring is an amazing time to visit one of the most underrated cities in Europe – Porto, Portugal. Southern Europe can get quite toasty in the Summer months, so a visit in the Springtime means that you can comfortably enjoy the charming cobblestoned streets without breaking a sweat. Porto is the third largest city in Portugal, but it's still very walkable with little need for public transportation. You can even walk across the bridge to Vila Nova de Gaia, to sample some port at one of the many port lodges. Definitely arrange any port tours ahead of time, because even if it's not peak season, they can fill up fast.
The view of Porto from the water is absolutely spectacular, and I'd recommend taking a boat tour if you want to get some great photographs. If you happen to be in Porto in early June, you might even get to partake in some Portugal Day festivities. On June 10th of every year, the Portuguese people commemorate the death of Luís de Camões, Portugal's most famous poet. The day is marked with outdoor concerts, parades, and fireworks. Porto is great all year round, but Spring's temperate climate and lively festivals make it the ideal time to visit.
Read more: Three days in Porto
Madrid
…for almond blossom and roses in full bloom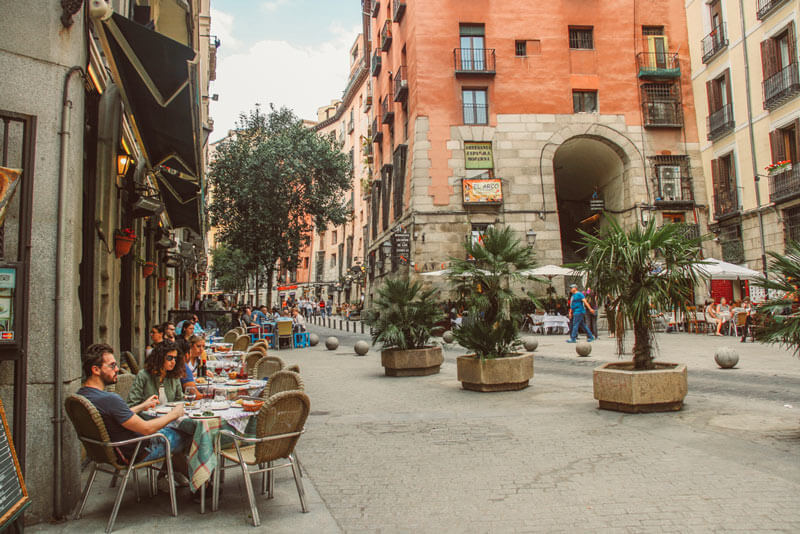 Recommended by Or from My Path In The World
Sometimes capital cities can be overrated, but Madrid has a cosy and inviting atmosphere that wins you over the minute you arrive. It is one of the most incredible cities I have visited, and spring is a perfect time to enjoy a few days in Madrid.
I think the best way to describe Madrid is 'a mix of traditional and modern.' You can see and feel it in everything it has to offer from its streets and neighbourhoods to its culinary scene to its museums and other attractions. That is also why every type of traveller can find something to love about it.
The weather in Madrid is pretty ideal during Springtime. There could be some rainy days, but the temperatures on a sunny day are 16°-24°C (61°-75°F) by day. Spring is also the time to see some beautiful flowers in Madrid. In March and April, the almond trees of Quinta de los Molinos park are blooming. This is a non-touristy spot in Madrid, so you should be able to enjoy some quiet and peaceful time watching the floral scenery (unless the rain will wash the flowers away). If you love roses, head to Oeste Park's rose garden in May. It is when the garden is filled with thousands of rose bushes and when an annual contest to choose the best flower of the year takes place.
Follow Or on Instagram
Read more: The Mercado de Motores – Madrid's best-kept secret
Girona
…for the annual flower festival and high-end dining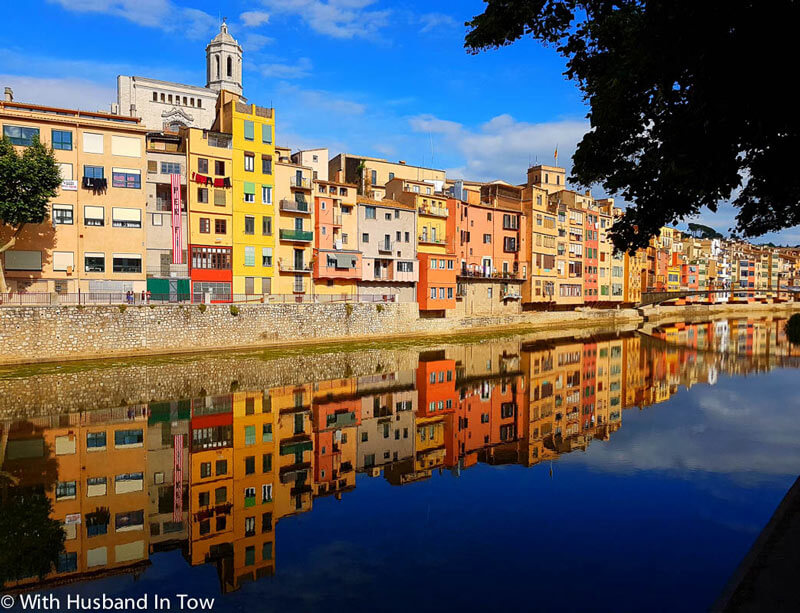 Recommended by Amber from Only in Costa Brava
Located only 38 minutes by train from Barcelona, Girona, Spain, is the perfect Springtime city break while travelling in Spain. More of a large town versus a small city, Girona is the largest city in the Costa Brava region of Catalonia. Home to the number two restaurant in the World, El Celler de Can Roca, Girona is bursting with high-end contemporary dining experiences. These alone are worth the price of the train ticket.
With the snow-capped Pyrenees mountains in the distance, Girona comes alive during the Spring, highlighted by the annual Temps de Flors, or Flower Festival. Certainly the busiest time of the year in Girona, it's very important to book your hotel in Girona well in advance. Throughout Girona, visitors will find floral displays of all kinds adorning city buildings, the Cathedral of Girona, and the famous Game of Thrones steps.
In addition to incredible culinary offerings and the breathtaking floral displays of Temps de Flors, Girona provides travellers with welcome relief from the crowds exploring Barcelona. Barri Vell or Old Town, the main tourist area of Girona, is only a 10-minute walk from the Girona train station, offering travellers cobblestone streets, boutique shopping, and plenty of outdoor seating to enjoy the stunning blue Spring sky of the Costa Brava.
Follow Only in Costa Brava on Facebook
Seville
…for the biggest party of the year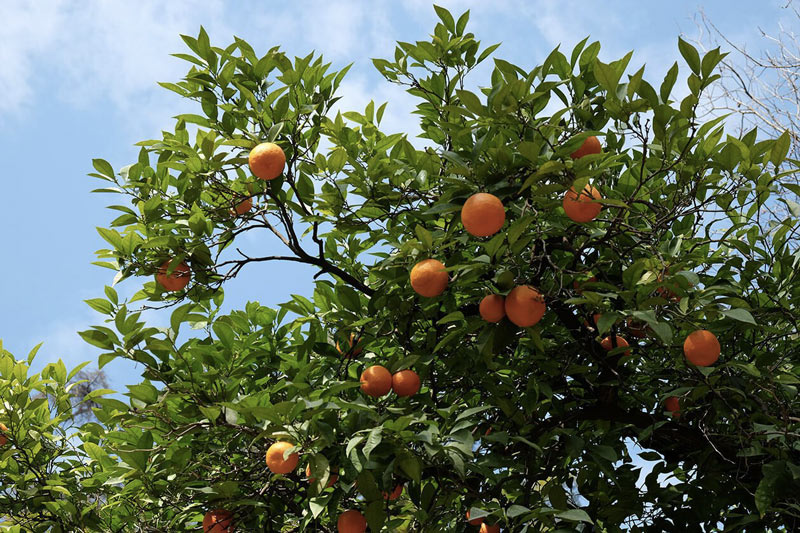 Recommended by Kim from Travelling Around Spain
Spring in Seville, Spain will capture every one of your senses. This city is amazing any time of year, but has a special ambience in the spring.
There is an aroma of sweet orange blossoms from the trees that line the streets, the mercury in Seville is already rising to give the feel of summer even though the rest of Europe is still shaking off the memory of winter and a party atmosphere is in the air.
Seville's biggest party, the Feria de Abril takes place each year in April. In 2023 it'll be held on 23-29 April. This is a time when the entire city comes alive to celebrate: there is dancing everywhere in the streets, flamenco music fills the air, decorated horse-drawn carriages prance through the streets, all the women are dressed in flamenco dresses and everyone is in a festive spirit. Local business and prominent families will set up tents (casetas) in the fairgrounds. They will invite their friends, clients and family to come each evening to dance, drink and dine with them into the wee hours of the morning.
The only word of caution: As the entire city is partying, no one is working. So if you are hoping to do a bit of shopping in the little tourist shops you will find most of them closed for the week while the owners and employees are off joining in the festivities. This is a week to join in the party mode with the locals and leave the sightseeing and shopping for another visit.
Follow Kim on Instagram
Read more: Six things to do in Seville
Sibiu
…for exuberant Easter celebrations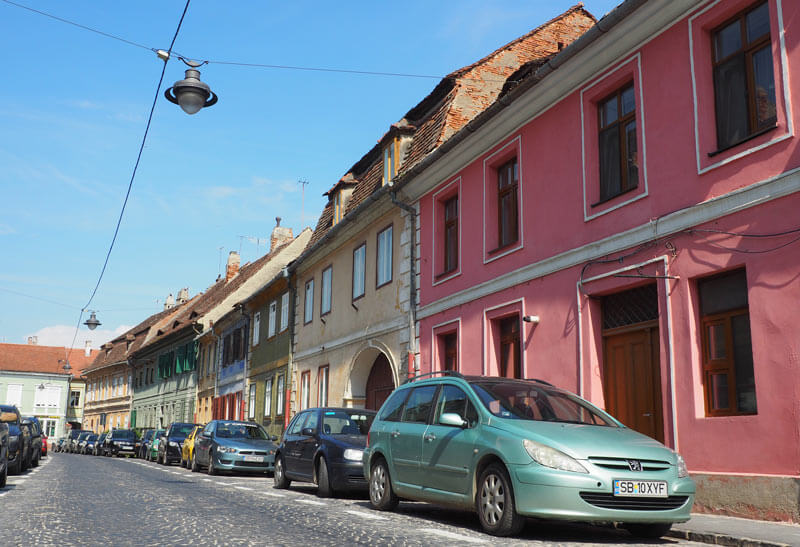 Recommended by Viktoria from Chronic Wanderlust
If I'd have to select a single city for a perfect springtime break in Europe, it would have to be Sibiu! Sibiu's unique character will cast its spell on you, and especially in the springtime when everything seems to wake up after a long winter sleep. It's when it's warm again to sit outside the main square and observe the locals' lives, enjoy a good cup of coffee and some traditional Romanian dishes when visiting.
While the summertime in Sibiu can be very nice as well, in the spring you might just be the only visitor and will have the city all to yourself. The Easter holidays are a truly colourful event that you shouldn't miss; visit the Easter market and count the gigantic Easter eggs.
Follow Viktoria on Instagram
Split
…for comfortable temperatures and lower prices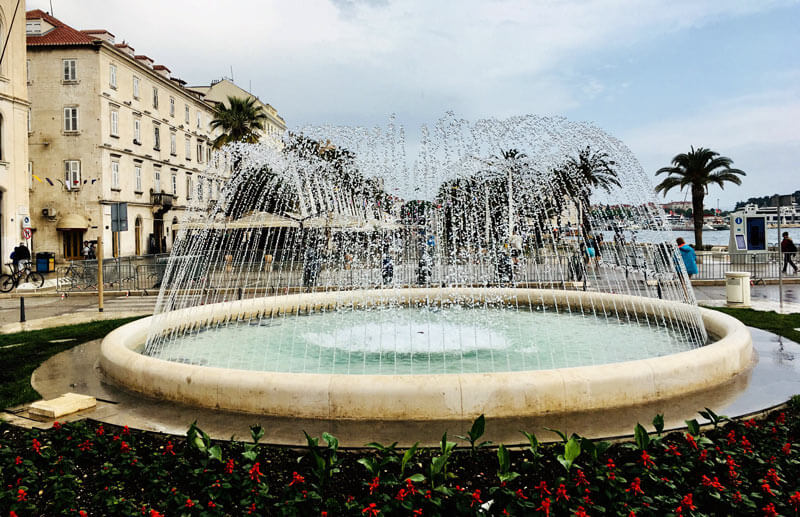 Recommended by Bradley from Dream Big, Travel Far
Split really is an incredible city to visit at any time of the year, especially in springtime! In fact, I love it so much that we lived there for more than a month in Spring 2018. We soon discovered that it's a wonderful place to live and work, seeing as there are so many awesome things to see and do there.
Perhaps my 3 favourite places to visit in Split are Brac Island, Majarian Hill and the Old Town. Beyond these things, the reason I love springtime in Split so much is that the weather is in that ideal stage whereby the cold has gone, but it's not yet too hot. Summer temperatures in Split can reach into the high 30s, which is far too hot for me!
But in springtime, every day is a pleasant mid to high 20s and we found the weather to be mostly calm. As such, we could enjoy many long hours either relaxing on the beach or sitting out on our balcony enjoying the sunsets over the calm blue ocean. If you are planning a springtime visit to Split, then I recommend staying in nearby Kastel Kambelovac. It's perhaps 20 minutes outside of the main city and really is a gem of a place! It's far less touristy than the city itself and you can pick up some much cheaper places to stay.
Oslo
…for buzzy streets and al fresco eating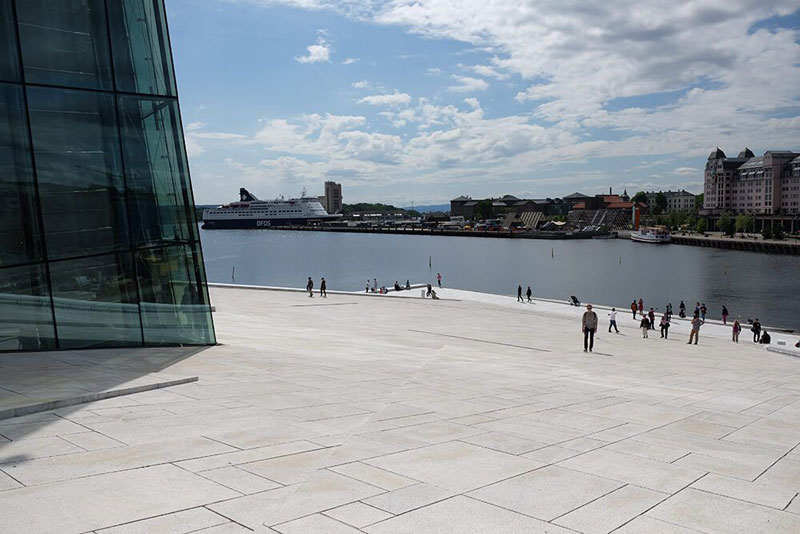 Recommended by Jonathan from Journeymaxx
When the bitterly cold Scandinavian winter comes to an end, the colours and extra daylight of Spring in Oslo bring the city out of its hibernation. The inhospitable sub-zero temperatures have disappeared, the buzz is back on Karl Johans Gate and al fresco eating and drinking along the Aker Brygge is now a viable option.
Take a springtime boat ride over to the Bygdøy Peninsula, where you will find some of Norway's most culturally important museums. The Viking Ship Museum houses three ships, one of which – the Oseberg – is almost completely intact. There are also various other artefacts and treasures on display. Nearby, the Kon-Tiki Museum houses vessels from the postwar expedition to the South Pacific and the Fram Museum focuses on the Arctic exploration of the 1920s and 30s. The Norwegian Maritime Museum focuses more generally on Norwegian voyages of discovery, while the Norsk Folkemuseum is a splendid open-air museum showcasing traditional outdoor life in Norway and examples of traditional buildings such as the Stave Churches.
Further north of the city is one of the best places to relax in springtime, Frogner Park. Most striking out here are the very bizarre statues by Gustav Vigeland for which this area is perhaps most famous. Also located next to the Royal Palace at the top end of Karl Johans Gate is the smaller but equally peaceful Slottsparken.
Read more: Things to do in Oslo
Springtime breaks in North Africa
Marrakech
…for springtime heat and souks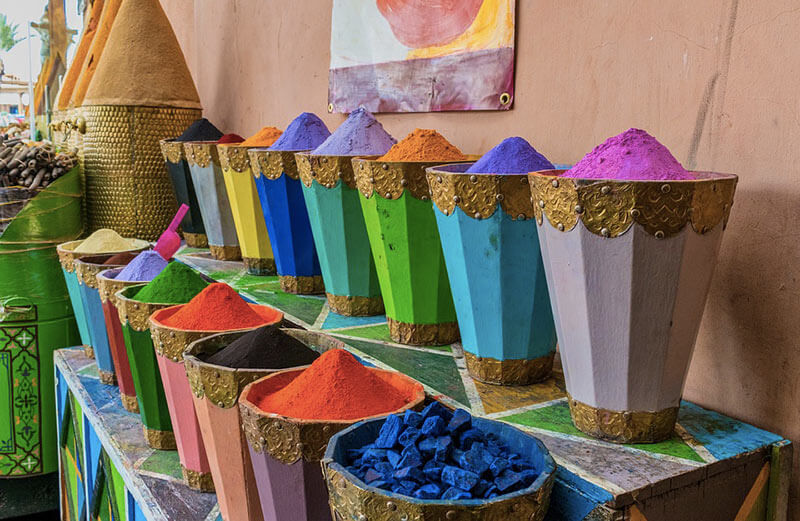 Recommended by Jenny, TraveLynn Family
Marrakech offers an exotic mix of adventure, intrigue and wonderment. Come spring, the heat starts to creep back into the day with temperatures around 20 degrees Celsius and the surrounding landscape is green and lush, making for spectacular views over to the Atlas Mountains.
Spend your days getting lost amongst the vast labyrinth of alleyways, shops, motorbikes and chaos of the medina, interspersed with traditional souks, calm tea-houses and relaxing restaurants. Or take a horse and cart ride around the city to better acquaint your sense of direction. Jump in a taxi and head over to the Majorelle gardens; part museum, part gardens and part gallery, if you want to enjoy some relative peace.
We were visiting Marrakech with young kids and this was a lovely space for them to walk about freely and explore (in the medina we had to keep them in carriers). But before the day is up, ensure you head over to Jamaa el Fna; the beautiful square in the centre of the medina which showcases all that is magical about Marrakech and Morocco with snake charmers, dancing troupes, musicians, juice stalls and food vendors selling gorgeous Moroccan food.
Spring city break ideas in North America
New York
…for Macy's flower show and picnics in Central Park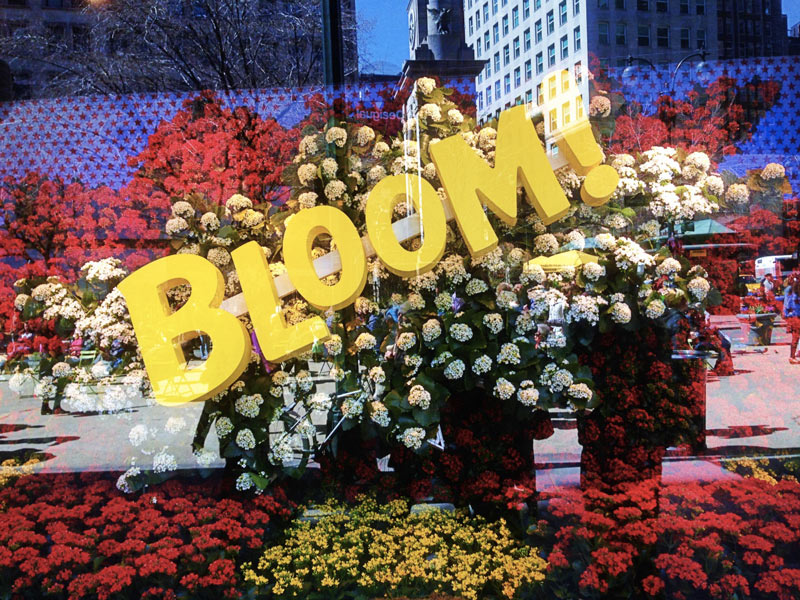 Recommended by James from Travel Collecting
Visiting New York City makes one of the best springtime city breaks. When you think of NYC, you may not think of flowers, but actually New York has many. One of my favourite annual events is the Macy's Flower Show. Each year is different, but the store is always packed with thousands of flowers. The windows are decorated with elaborate displays of cut flowers and every available surface on the main floor of the store is decorated with flowering plants. There are often themed gardens, like an English garden or a Japanese garden.
For more things Japanese, head to the Sakura Matsuri (Cherry Blossom Festival) at the Brooklyn Botanical Garden. This is a weekend-long festival timed to coincide with the full bloom of the garden's main cherry trees. There is a long avenue lined with bright pink puffy flowers, and having a picnic under them is a fun spring activity. The festival also includes performances such as Japanese drumming and a J-Pop stage. Many people dress up as Japanese anime characters, though this is optional!
Central Park is also wonderful in spring. There are dozens of cherry and magnolia trees, as well as colourful bulbs that make the perfect backdrop for a cool spring picnic. Follow this by a trip to the Met, where the annual fashion show debuts in late spring. You can also head into the Bronx to the New York Botanical Gardens for beautiful roses, cherry trees and more. Spring in New York City is always glorious.
Follow James on Instagram
Toronto
…for spring flowers and a range of arts festivals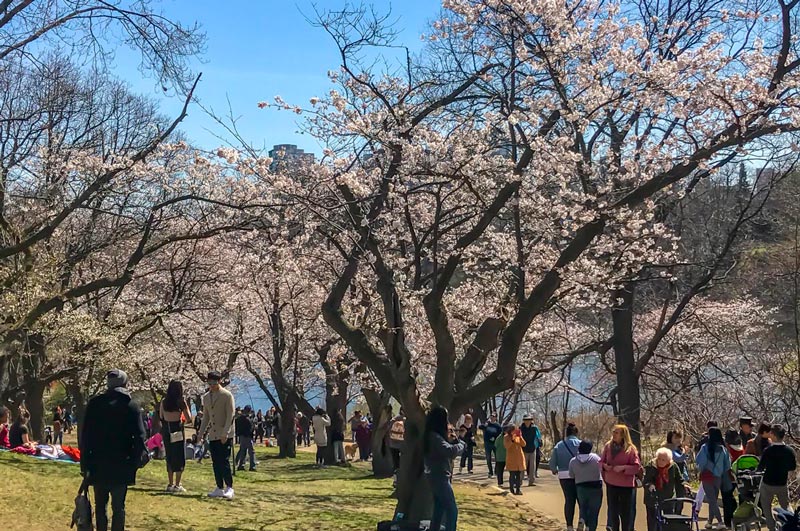 Recommended by Lora from Explore with Lora
Spring in Toronto is a wonderful time to be here. Canadians endure long, harsh winters so when spring comes the streets come alive and the city has a sense of renewal. As a bonus, it won't be peak tourist season yet so you can enjoy fewer crowds and cheaper prices in the city.
One of the best parts about spring in Toronto is seeing the cherry blossoms hit peak bloom in High Park. This usually happens during the end of April or early May and draws big crowds out of the house. Spring is also a great time to visit the Toronto Botanical Gardens where you can see the early start of budding flowers.
There are many festivals that take place in Toronto during the spring. May is the month of the Scotiabank photography festival, which features 1,000 artists at more than 200 venues across Toronto. You can also take part in Hot Docs, North America's largest documentary festival. For music lovers, check out some of Canada's best music talent at Canadian music week. Alternatively meet your heroes at Comicon, which features a range of guests from cosplay, comic characters, and celebrities. From flowers to festivals, Toronto is one of the best cities in Canada to visit during the springtime.
Follow Lora on Instagram
Savannah
…for enjoying outdoor attractions at their best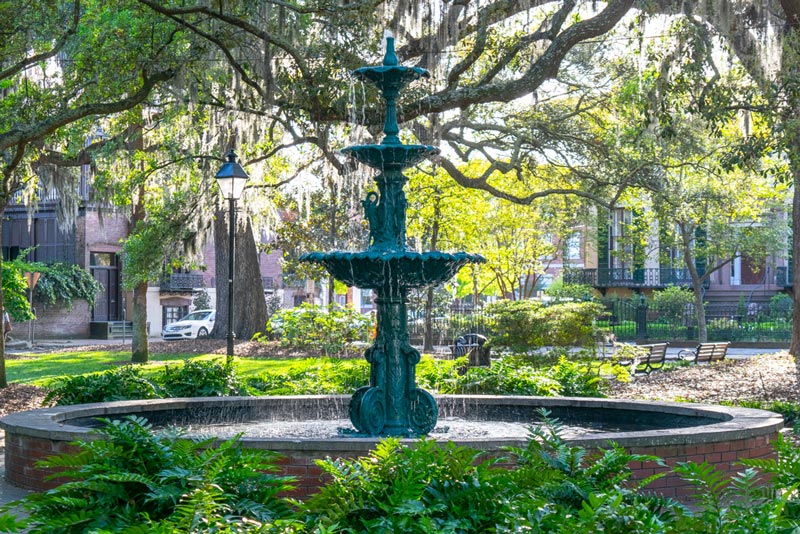 Recommended by Kate from Our Escape Clause
Blooming flowers and warm-but-not-ridiculously-hot weather are a fantastic combination–and it's hard to say that anywhere does it better than Savannah, Georgia during the spring.
With its beautiful architecture, captivating history, and fabulous food and art scenes, Savannah deserves its spot among the most popular cities to visit in the southern USA – but Georgia's hot and humid climate can make exploring outside during the traditional summer tourism season a bit miserable.
By visiting in the spring instead, you can enjoy the first bits of heat (which will be especially lovely for those hailing from further north, where it's likely still quite cold when Savannah starts to bloom) before the heat becomes overwhelming, beat the summer tourist crowds to the city, and enjoy Savannah's outdoor attractions, including its gorgeous town squares, Forsyth Park, Wormsloe Historic Site, and nearby Tybee Island, at their very best.
Many of the best things to do in Savannah can be enjoyed year-round, but spring weather can definitely add an extra touch of loveliness to, say, an evening ghost tour or a stroll down gorgeous Jones Street!
For festival lovers, you'll also see Savannah come alive with exciting events in the spring: from music festivals to the annual Savannah College of Art and Design Sidewalk Art Festival to the River Street Seafood Festival, there's an event for just about every taste during spring in Savannah.
Las Vegas
…for springtime hikes in Nevada's natural playgrounds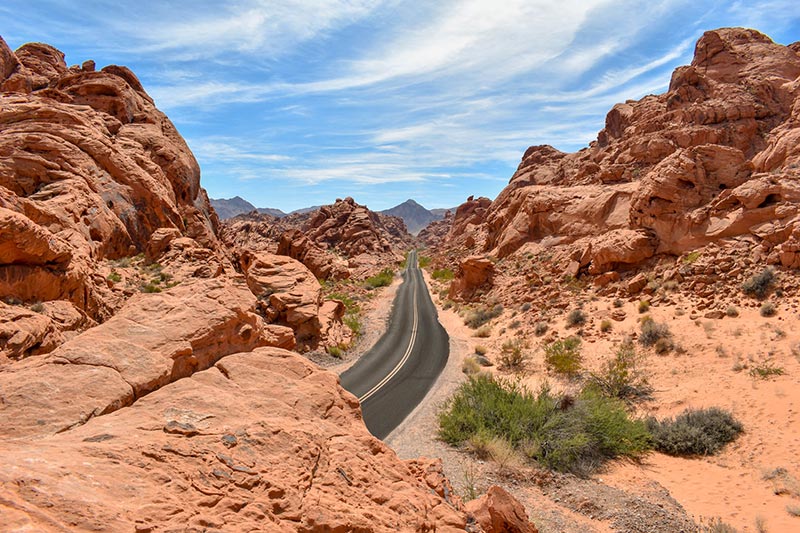 Recommended by Jessica from Uprooted Traveler
Las Vegas is generally known for its sweltering heat, which lends itself to all the pool dance parties and skimpy outfits one can hope for. The unfortunate thing about the steaminess, though, is that it makes exploring the gorgeous natural landscape surrounding Vegas uncomfortable, at best, and potentially even dangerous, leading to extreme dehydration or sunstroke.
By visiting Vegas in the springtime, you can take advantage of the cooler temperatures (for example, the average high temperature in March is 73° Fahrenheit or 23° Celsius) and exploring some of the great parks that the Vegas area has to offer.
Red Rock Canyon is a short thirty-minute drive from the Las Vegas Strip, featuring stunning rock formations and offering dozens of hikes that any outdoor enthusiast would enjoy. Haven't been able to snag a hiking permit to one of Arizona's most famous natural wonders, The Wave (beloved for its colourful striated slopes of sandstone and notorious for its impossible-to-obtain permits)? Check out, instead, Valley of Fire State Park, 58 miles north of Vegas; this hidden gem features the Fire Wave Trail, a doppelganger of its Arizona cousin, a swirling rock formation with eye-popping interchanging streaks of beige and burnt orange.
Best of all? After a long day of exploring Nevada's awesome natural playground, you can return to Las Vegas and enjoy its more conventional side, whether that entails slot machines, Cirque du Soleil, or even a showgirl or two. If you're visiting Vegas in the springtime, skipping out on enjoying its natural beauty would be a real sin, and we all know the city has enough of that already!
Follow Jessica on Instagram
Key West
…for outdoor fun, fresh seafood and free-flowing drinks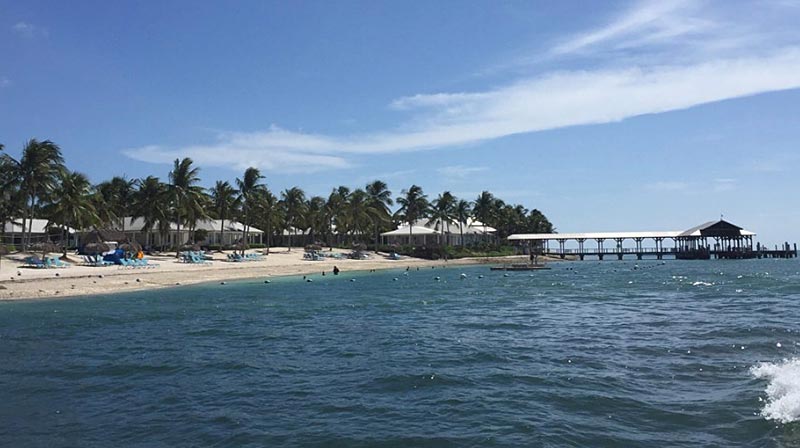 Recommended by Margie from DQ Family Travel
Key West is a charming small city to visit on a Spring Break trip. It is considered the southernmost city in the continental US. Although there is an airport in Key West, the best way to see this island is to fly to Miami and drive 3 hours down the island chain known as the Florida Keys. This drive is quite scenic. You will drive over many bridges, enjoy the water views, and stop for some delicious seafood.
Once you arrive in Key West, you will notice the old world Caribbean/Spanish beach flair. Many people rent scooters to drive around to the island's cosy restaurants, lively bars, and boutique shops. The downtown area includes the world famous Duval Street, filled with bars, and Mallory Square, which is a haven for tourists. Since the weather in the Spring is not as sweltering as the summer heat, visitors will enjoy many outdoor activities. Although Key West isn't really known for its beaches, visitors can enjoy some time at two popular spots: South Beach or Smathers Beach.
If you are feeling adventurous, take a seaplane or a ferry to the Dry Tortugas National Park for some gorgeous views, crystal clear water, snorkelling/diving, and a history tour. There are also plenty of water activity tours from the "mainland" too. You can rent a jet ski, kayak through the mangroves, or take a sunset cruise on a catamaran. If you enjoy some history, within the city itself is the Little White House (where President Truman spent some time), the Ernest Hemingway House (where the famed writer lived), the lighthouse, and of course the marker of the southernmost point of the continental US. The southernmost point marker is always crowded during the day, so go early to take a picture with just you and the marker.
Key West is such a quaint, vibrant beach town. Visitors can enjoy the slower pace of the Florida Keys, while still making room for plenty of daytime activities. The food in Key West is also quite unique. Be sure to have plenty of fresh seafood while enjoying the island drinks that are flowing all day and night. Overall, Key West is one of my favourite cities for a getaway, and a great choice for a Springtime city break.
Follow Margie on Facebook
Niagara-on-the-Lake
…for winery-hopping and Niagara Falls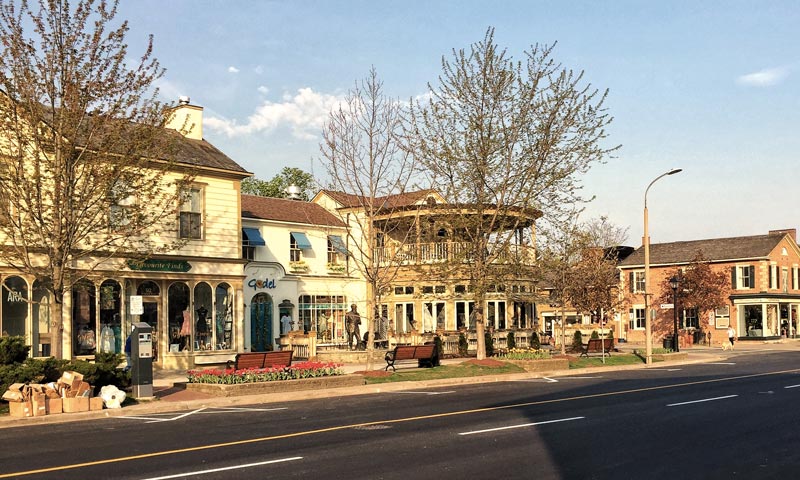 Recommended by Amanda from Toddling Traveler
Niagara-on-the-Lake is an adorable colonial town along the Canadian side of Lake Ontario. At the heart of Canada's wine industry, it's jam-packed with wineries and great restaurants in addition to several signature events throughout the year. If you happen to be there on a weekend in May, be sure to get tickets for Sip & Sizzle, a BBQ-inspired food and wine pairing offered at several participating wineries. The event not only offers exposure to many wines and great cuisine, but it's a great way to learn about the diversity of wine-making practices in the region.
In addition to this "must-do" event, the other draw to Niagara-on-the-Lake in the spring is the beautiful flowers adorning the streets of the quaint little town. If you get lucky with a particularly nice day, many of the wineries can be accessed by riding a bike, which is a fun way to take in the scenery and hop from winery to winery.
When travelling to Niagara-on-the-Lake, be sure to also check out the nearby Niagara Falls as well as one of the neighbouring cities of Buffalo, New York or Toronto, Canada. The town's location offers easy access to fly in from either airport, and the combination of wine and food in a picturesque setting makes Niagara-on-the-Lake a perfect getaway for any holiday.
Mobile, Alabama
…for the Azalea Trail and the oldest Mardi Gras in the United States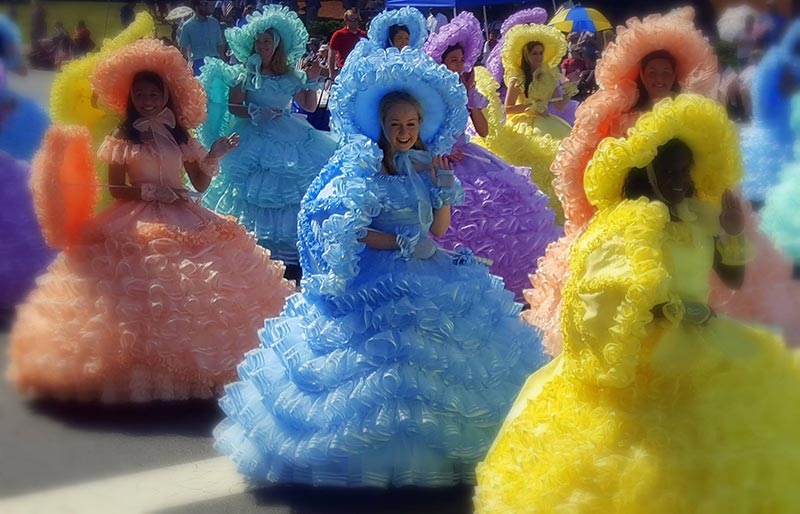 Recommended by Wendy from The Nomadic Vegan
Mobile, Alabama is an often overlooked destination on the US Gulf Coast but has so much to offer visitors. Mobile has great food, beautiful beaches and historic architecture, and the best time to visit is in the spring. This is when the azaleas are in bloom and give the city a pink hue.
The azaleas are the inspiration behind the Azalea Trail Run, which is a 10-kilometre race held every year in March. Participants race along the downtown streets, which are shaded by oak trees and lined by stately antebellum mansions.
Many of these homes still retain their period furnishings and are open to the public. Several, including the Oakleigh House Museum and the Bragg-Mitchell Mansion, put on special events as part of the Mobile Azalea Trail Festival, which lasts for two weeks.
One of the most spectacular sights at the festival is the Azalea Trail Maids dressed up in their frilly gowns and twirling their parasols. Each year, 50 girls are chosen from local high schools to represent Mobile as goodwill ambassadors. This tradition started in 1929, and the maids make appearances at events throughout the country, including the Macy's Thanksgiving Day Parade in New York.
Another event that's not to be missed in Mobile is Mardi Gras. This usually takes place in late February or early March, depending on the dates of Lent and Easter. It's the oldest Carnaval celebration in the United States and pre-dates New Orleans Mardi Gras by about 15 years.
Follow Wendy on Instagram
Best spring city breaks in Asia
Tokyo
…for celebrating spring, Japanese-style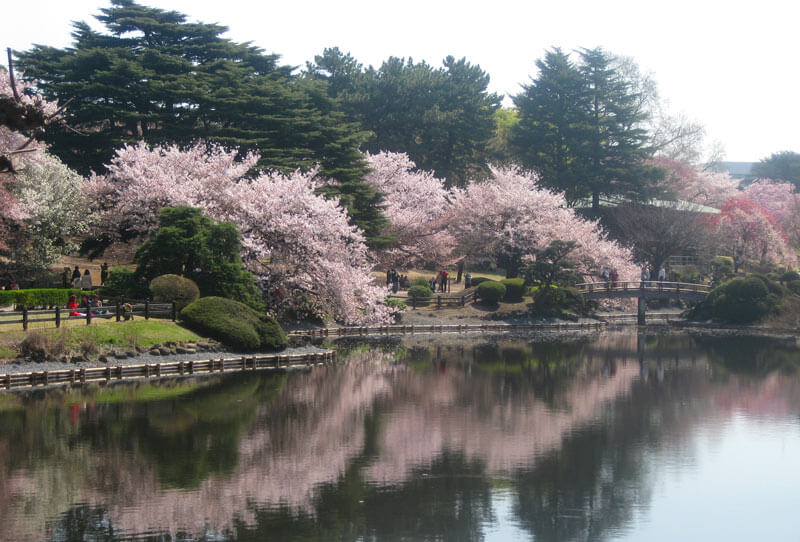 Recommended by Matilda from The Travel Sisters
Without a doubt Tokyo is one of the best cities in the world to visit in the spring. While the temperature is very pleasant, making it easier to walk around explore all the attractions the city has to offer, the main reason to visit during the early spring is to see the beautiful and celebrated cherry blossoms (sakura) when Tokyo's parks, gardens and riverbanks are overtaken by delicate pink flowers.
Not only is the city more picturesque during this time, but you can join the locals and other visitors and celebrate the beautiful flowers by indulging in some cherry blossom viewing (hanami) which involves anything from a leisurely strolls or picnics in parks to sake-fueled parties beneath the trees. There are many places in Tokyo to enjoy the cherry blossoms but two of the best spots in Tokyo for cherry blossom viewing include Shinjuku Gyoen National Garden and Ueno Park. Located in the middle of the city, Shinjuku Gyoen National Garden is a spacious and quiet place to enjoy a relaxing picnic during the day – there is a small fee to enter so it is less crowded and there are rules against bringing alcohol or playing loud music. Ueno Park is one of the most popular spots to see the cherry blossoms and has more of a party atmosphere, but it is usually more crowded.
While the exact timing of when the cherry blossoms reach full bloom varies from year to year (usually late March or early April), there are annual forecasts so you can plan your trip.
Seoul
…for spectacular blooms and traditional festivals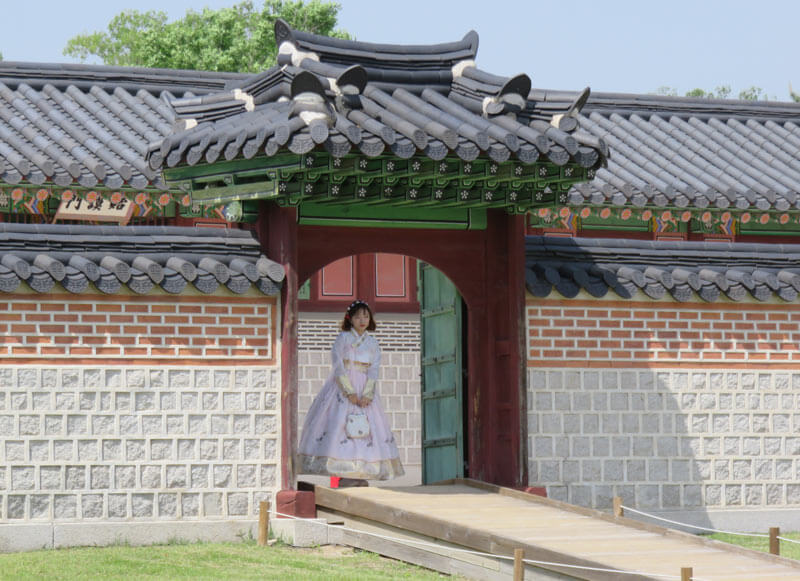 Recommended by Kirsty from World for a Girl
Seoul, the vibrant capital of South Korea, is a fantastic city to visit in the spring. Not only is the temperature comfortable and cool but the blossom and flowers are blooming throughout the city's parks and open spaces. We were lucky enough to visit last May with our two young children.
Spring is a great time for visiting Seoul with a toddler. We made the most of the gorgeous weather and balmy evenings exploring Seoul's numerous open spaces and playgrounds. Don't let the fear of spring showers stop you from visiting outdoor sights like Gyeongbokgung Palace or the neighbouring National Folk Museum, there are indoor exhibitions and a fantastic interactive children's area to shelter in.
Try to arrive in Seoul in early spring just as the cherry blossom starts to bloom then head to either Children's Grand Park or Seoul Forest for a picnic among the flowering trees. South Koreans love flora and celebrate it in a big way, perhaps include a visit to The Seokchon Lake Cherry Blossom Festival or the Yeouido Spring Flower Festival.
The magical Yeon Deung Hoe Festival also takes place in early May. The Buddhist festival is rooted in over a thousand years of tradition and locals celebrate with musical performances and special exhibitions. The absolute highlight is the evening lantern parade to Jogyesa Temple with glowing lanterns which represent a commitment to the Buddhist enlightenment teachings.
Follow World for a Girl on Facebook
Istanbul
…for the Tulip Festival and boat trips between Europe and Asia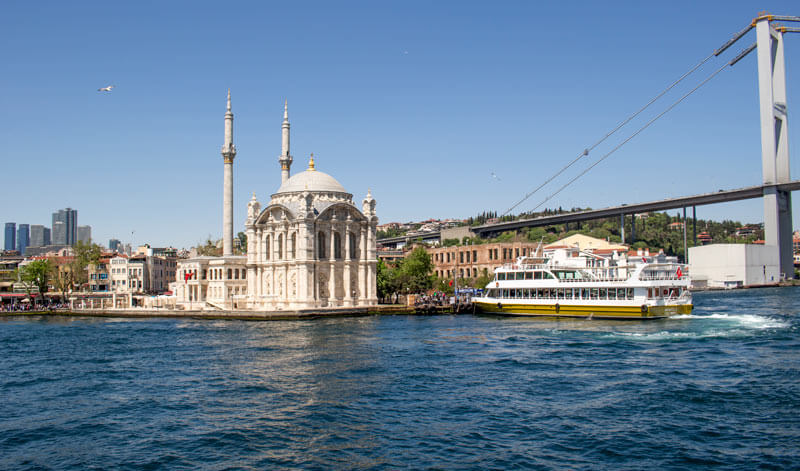 Recommended by Marianna from Irma Naan World
Istanbul with its long history, mosques, palaces, fortresses, sea and delights has to be explored leisurely. There are some things to know to make the visit enjoyable, and one of them is going to Istanbul in spring. The main reason is the weather: in spring it is perfect. Unlike grey and rainy winters, everything around is green and sunny, and, unlike hot summers, it is pleasantly warm. September and October are good as well, but there is another reason to opt for spring, or April specifically: the Tulip Festival.
April is when this picturesque city becomes even more colourful. Unfortunately, the festival doesn't imply that tulips are everywhere: there are designated areas for this occasion. There are many tulips in the famous Gulhane Park next to Topkapi Palace, but the main experience happens in Emirgan Park which is far from the usual tourist path, much farther than Rumelihisari Fortress.
But the festival is not the only reason to visit Istanbul. Come here to see the magnificent interiors of Dolmabahce Palace, the mighty walls of Topkapi Palace, the tiles of the Blue Mosque, the unexpected beauty of Suleymaniye, the combination of Christianity and Islam in Hagia Sophia and admire Istanbul from the top of Galata Tower.
So, if you have nothing against waking up to the calls of muezzins, getting lost in the narrow streets, enjoying tea and desserts, drinking freshly squeezed orange juice and feeling the breeze on your face, you will definitely like Istanbul.
Spring city breaks in Australia
Perth
…for food, wine and Heaven in the Hills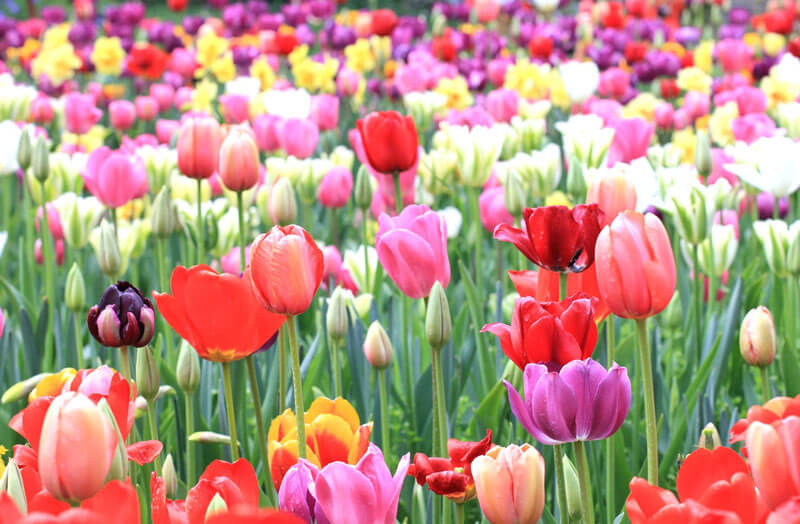 Recommended by Lyn and Steve from A Hole In My Shoe
Perth is the right place to be if you're looking for the best springtime city break. We're blessed with an abundance of beautiful beaches, pleasant sunshine, cooling breezes and spectacular blossoms. Spring is a vibrant time when new life is budding and Perth comes alive with colour with a huge variety of wildflowers.
One of the best places to enjoy a display of native Australian flora is Kings Park, the largest inner city park in the world. Kings Park houses Perth's Botanic Gardens displaying over 3,000 species of unique wildflowers seen in the Botanic Garden Discovery Walk and Bushland Nature Trail. Each year the Kings Park Festival hosts the biggest display of Western Australian wildflowers from every region of the state.
Araluen Botanic Park in the Perth hills area offers a sea of colour in spring from the 145,000 tulips planted by volunteers each year for the yearly Tulip Festival. Referred to Heaven in the Hills, it is peaceful and therapeutic to stroll the bushland, or picnic by the streams set amongst a native backdrop.
The perfect spring weather makes it an ideal time to explore Perth. There are so many places in and around Perth to experience the extravaganza of colour, along with food, wine and fun. Some of Perth's other fantastic spring events are Perth Royal Show, Perth Spring Racing Season, Beauvine Festival, Octoberfest and Spring in the Valley.
Follow Lyn and Steve on Facebook
Where would you pick for a city break in springtime?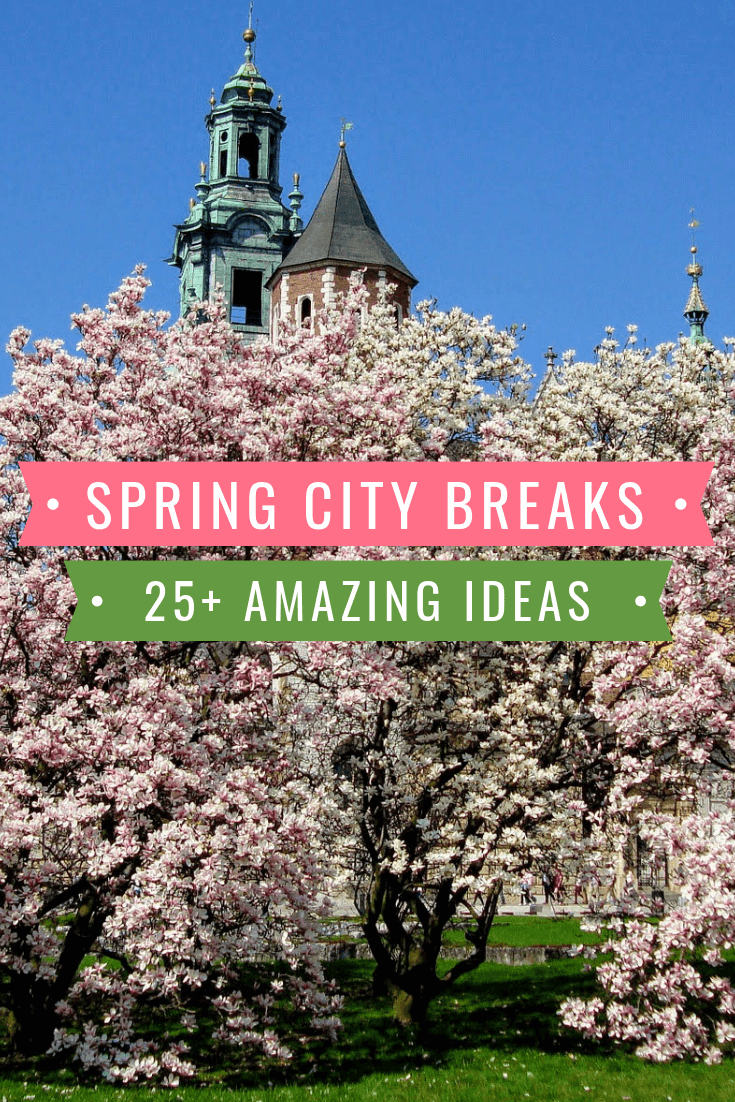 Massive thank you to Joanna from Overhere for the image of Krakow above – follow on Instagram