Are you a film enthusiast planning a trip to Amsterdam? The Eye Filmmuseum is a must-visit destination for anyone interested in the art and history of cinema. Located on the banks of the IJ River, this state of the art museum offers a fascinating journey through film, from classic masterpieces to contemporary works.
In this guide to visiting Eye Filmmuseum, I'll share tips to help you make the most of your visit, based on my experience of visiting in November 2023. From how to get there to what to expect during your visit, this post is packed with useful information, whether you're a devoted cinephile or just looking for a unique Amsterdam experience.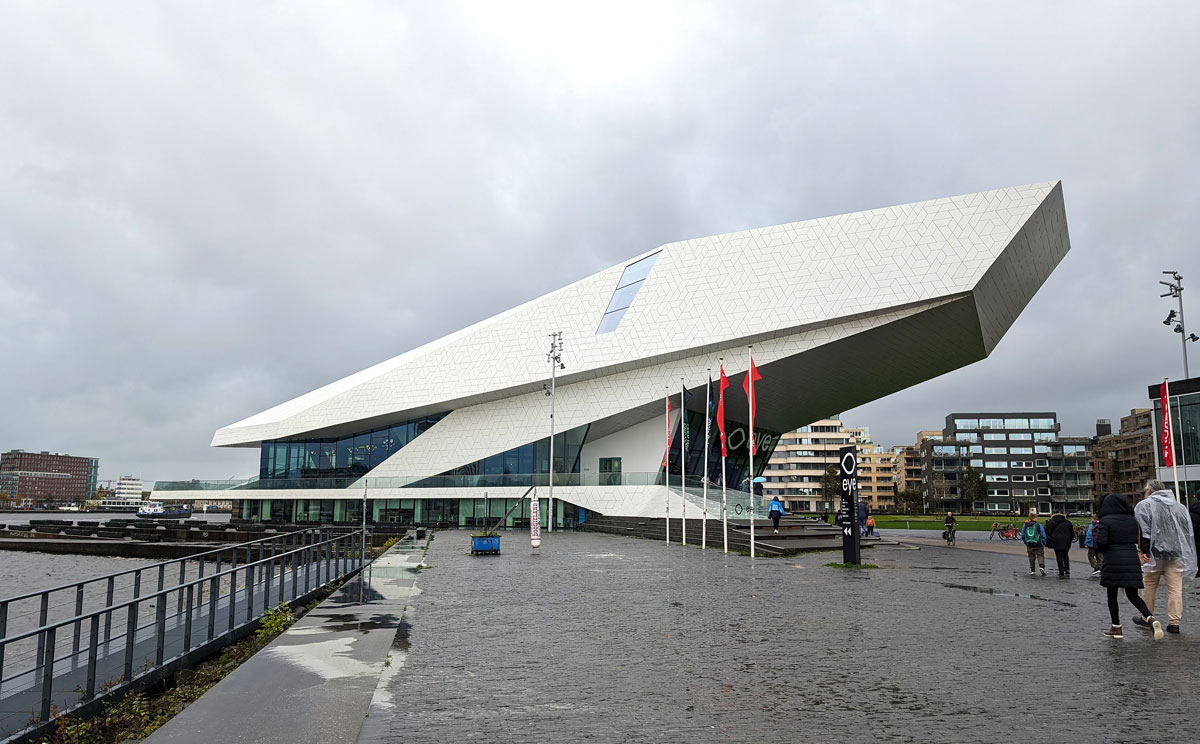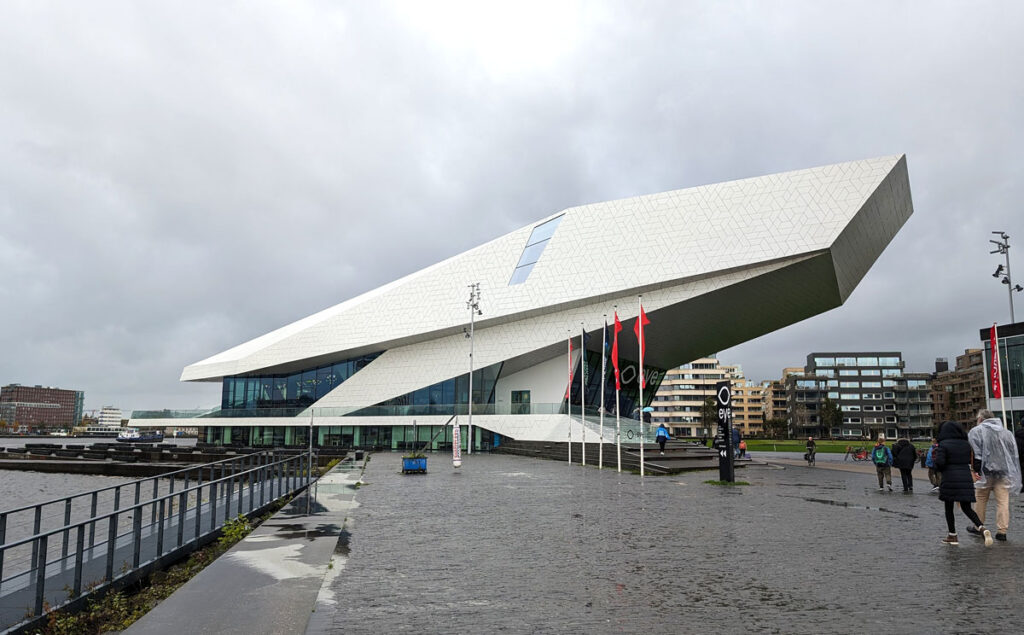 Let's get into what makes the Eye Filmmuseum one of Amsterdam's most exciting cultural attractions and how you can make the most of your visit.
I was gifted an I amsterdam City Card for my trip to Amsterdam, but as always, my views are 100% honest and unbiased.
History of the Eye Filmmuseum
Looking at the Eye's stunning modern building, you might think that it was only founded relatively recently, but in fact its history stretches back for over 75 years. The museum's long history means that it owns an absolute treasure trove of historic films and materials, including very historic but extremely flammable nitrate films which have to be stored in fireproof bunkers, out on the coast near Zandvoort.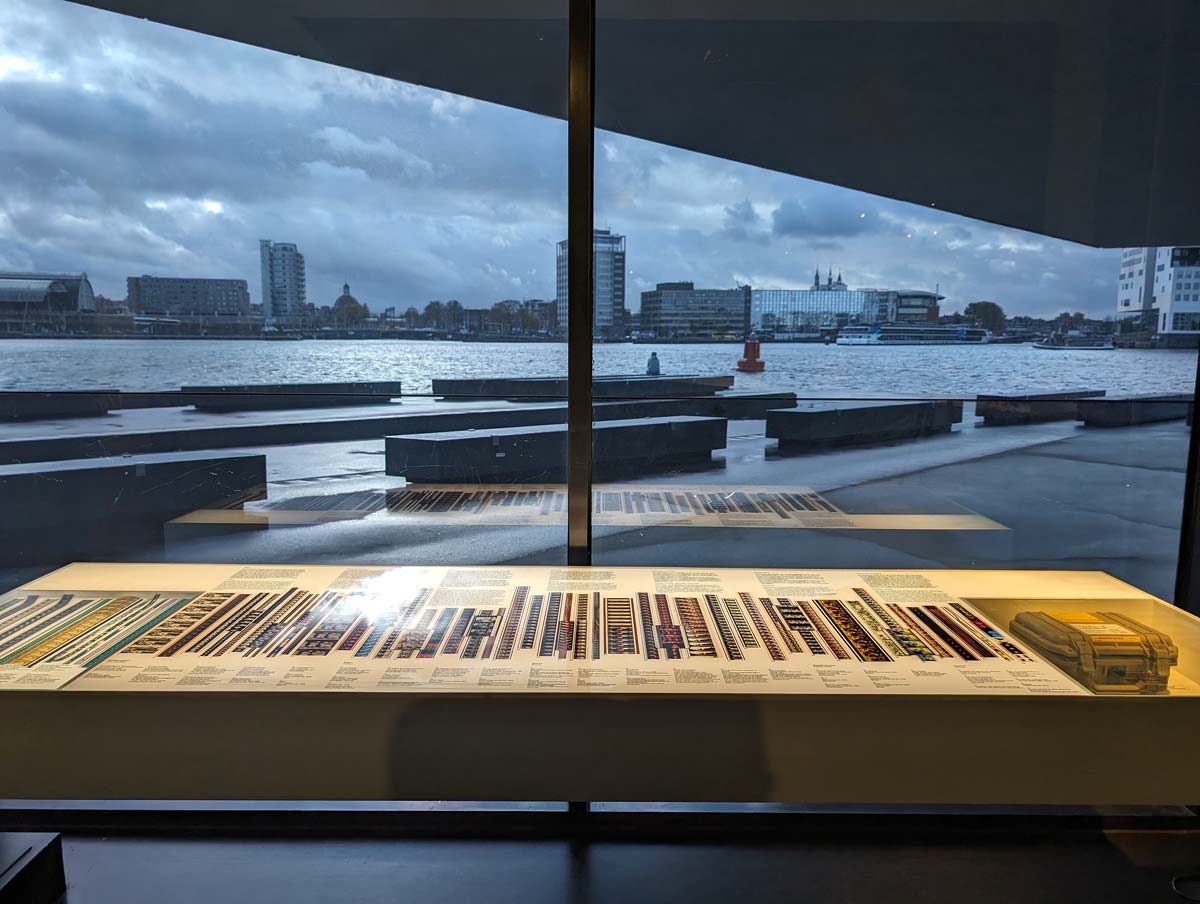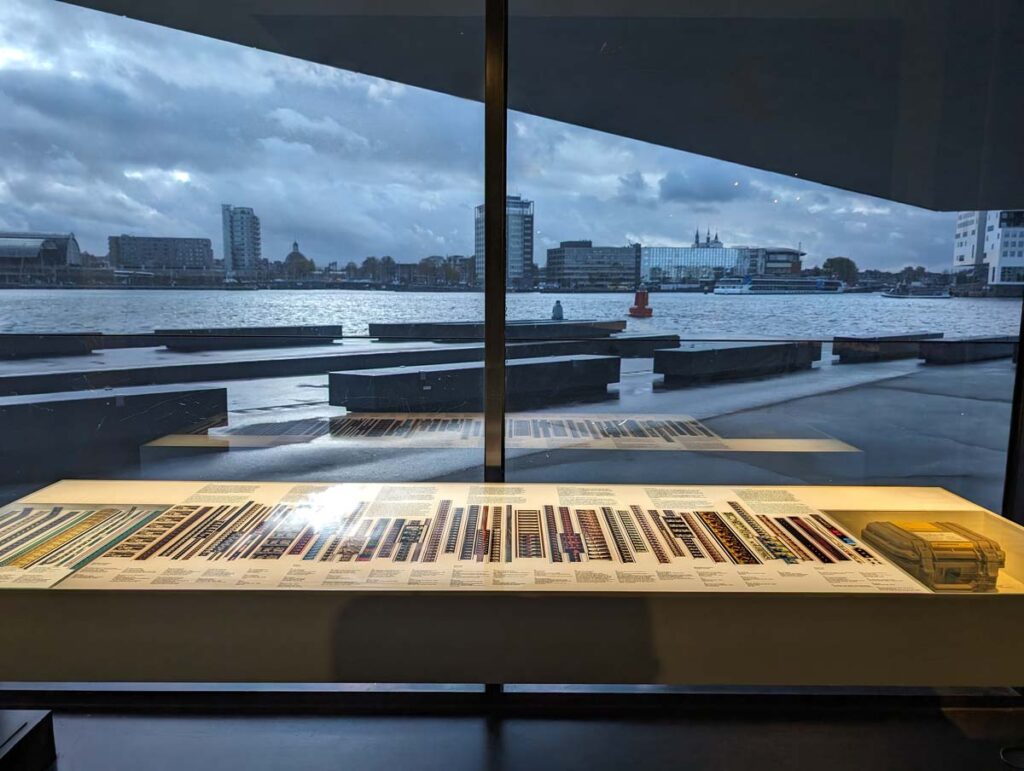 The 1930s and 1940s
Before World War II, films were seen as disposable entertainment, not worth preserving. This perspective began to change in the 1930s as people started to realise that films had cultural value. Following the lead of Paris's La Cinémathèque française (1936) and Brussels's Cinematek (1938), the Netherlands began its own collection in 1946.
1950s and 1960s
The museum's collection grew rapidly from a few hundred films to 30,000 by 1961. This expansion necessitated a move from its initial location in just one small room in the Kriterion cinema to the Stedelijk Museum, where it screened films to growing audiences.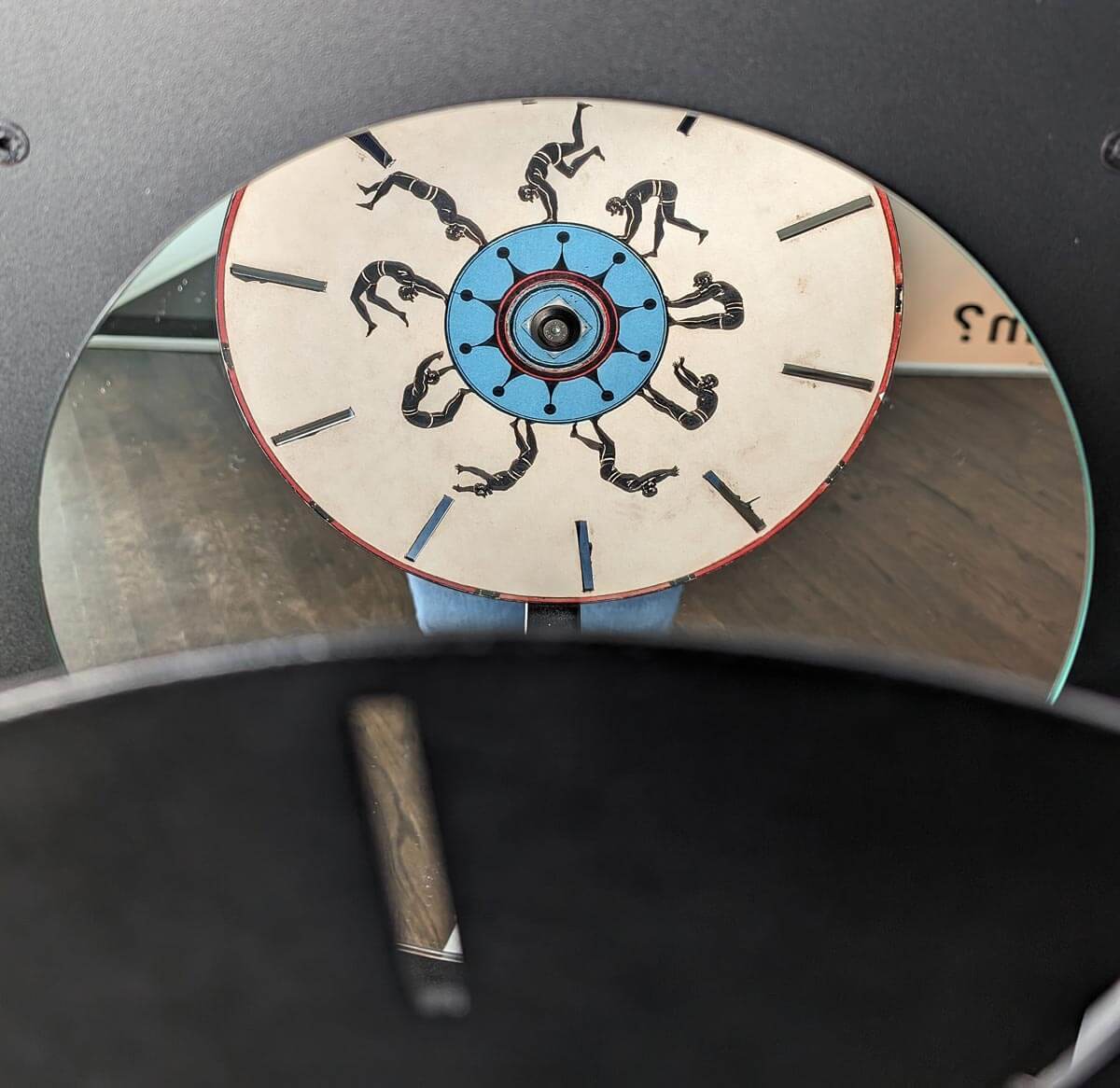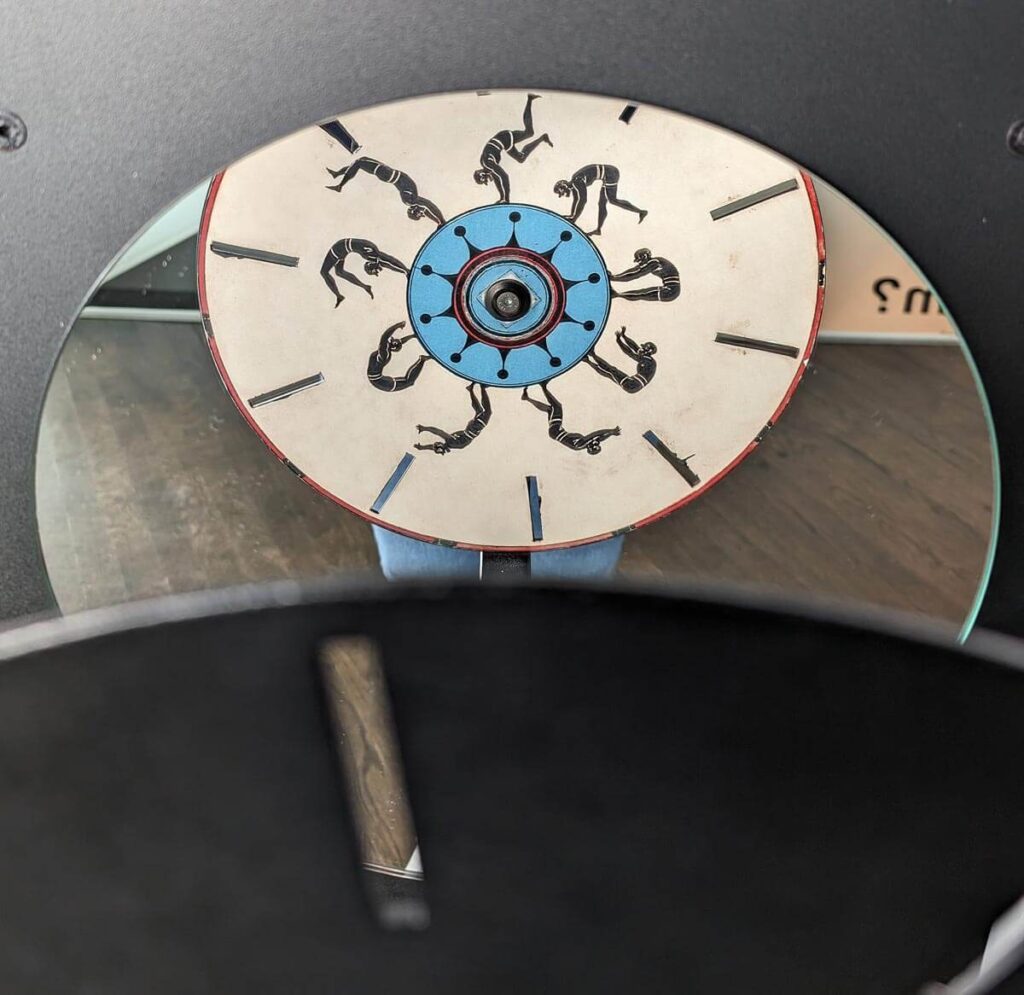 The Vondelparkpaviljoen era
In 1972, the museum, now known as the Nederlands Filmmuseum, found a new home in the Vondelparkpaviljoen. This location provided more space but soon faced challenges, including funding for film conservation and a need for even more room.
The move to Amsterdam-Noord
The museum's struggle for space led to a turning point with plans for a new, purpose-built facility on the north bank of the River IJ. The stunning, futuristic building designed by the Austrian firm Delugan-Meissl opened in 2012, marking a new era for the museum.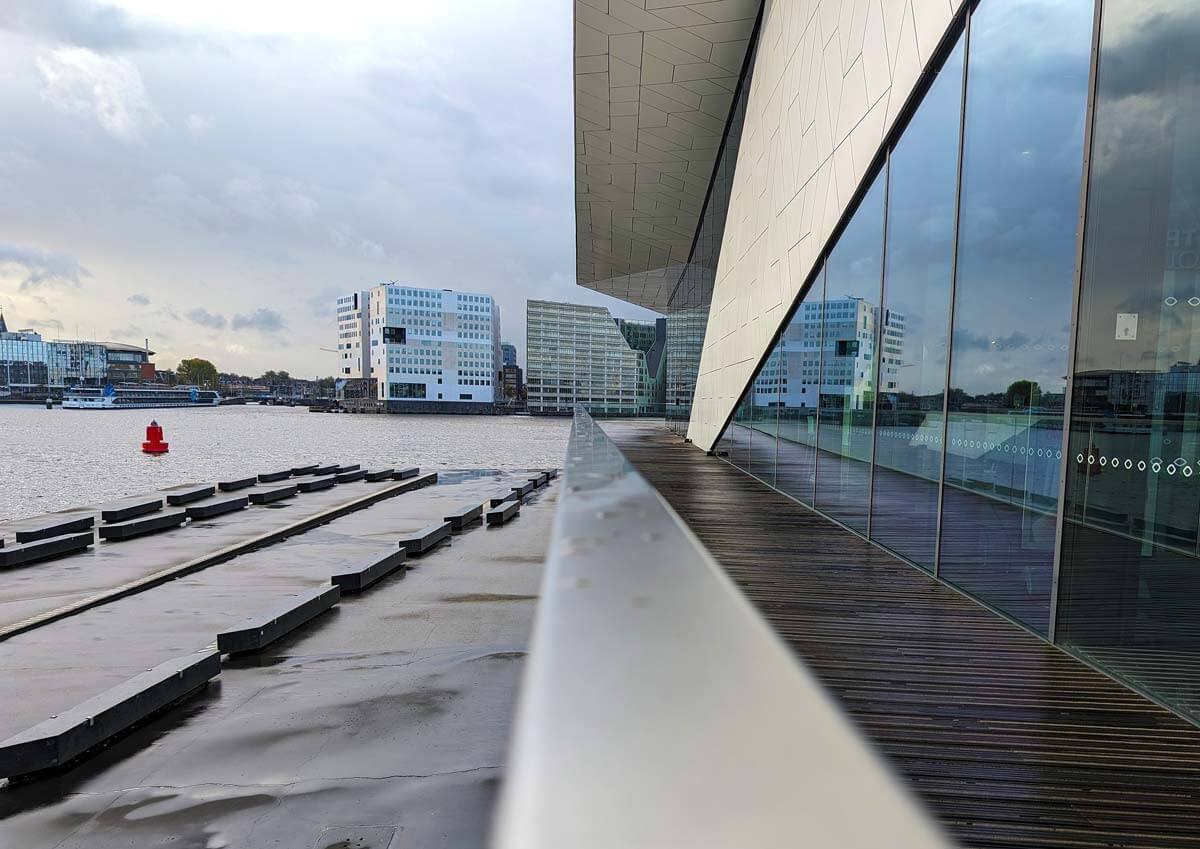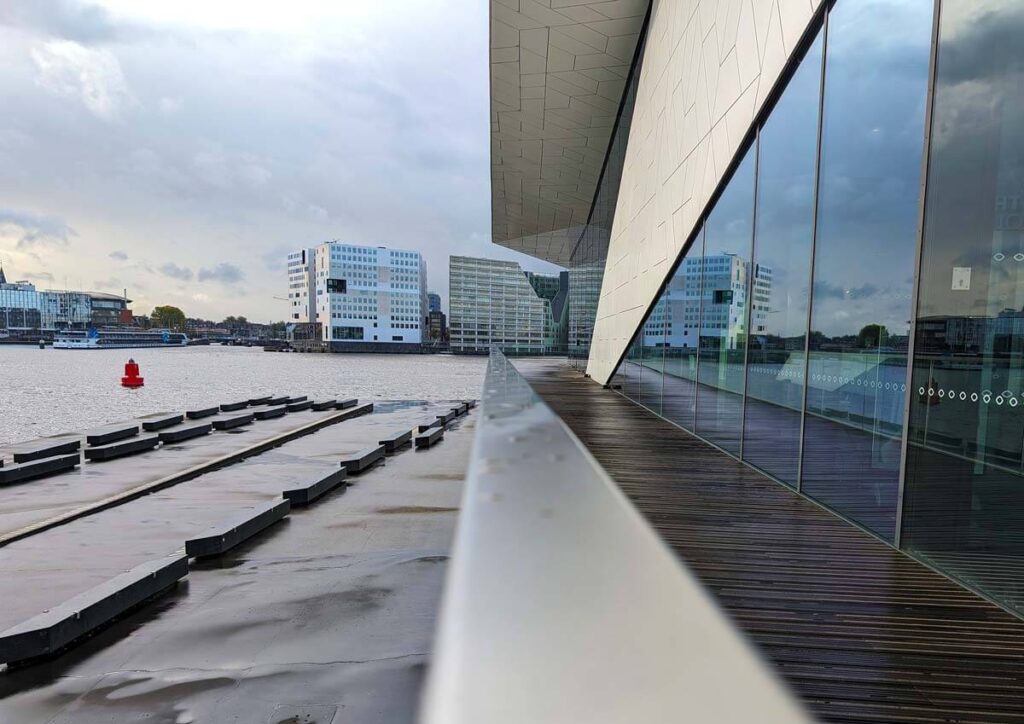 Today's Eye Filmmuseum
The Eye Filmmuseum is more than a film archive; it's a vibrant hub for celebrating film and the art of the moving image. Rather than being a stuffy museum with exhibits in glass cases, the Eye Filmmuseum tries to be a world leader in bringing the history and possibility of film to life for visitors.
What to see at Eye Filmmuseum
Permanent exhibition – the history of film
There are two big exhibition spaces. The permanent collection, on the lower floor, celebrates film in all its forms, from the earliest movies to the present day. I loved the room where you can "catch" clips from a huge wall of moving images to see more about them on a tablet. Once you're done, you can "throw" them back and "catch" another one.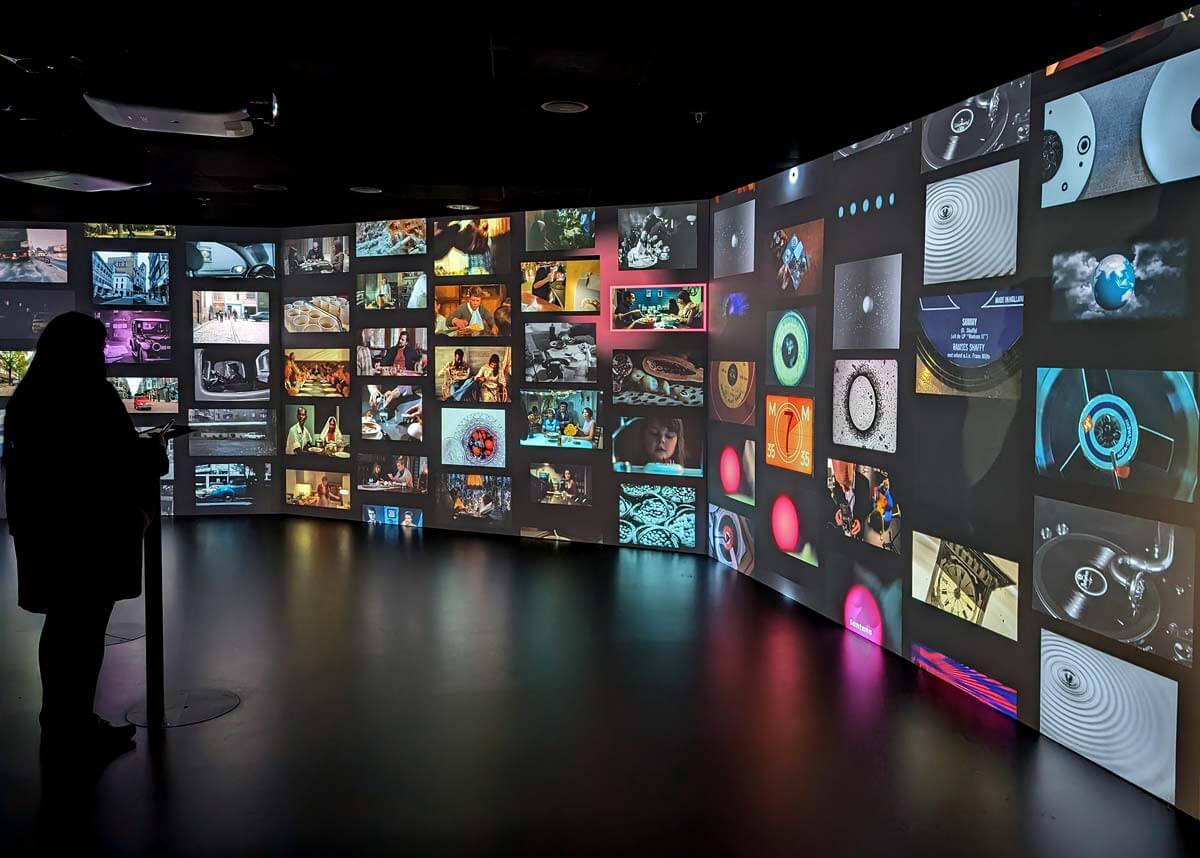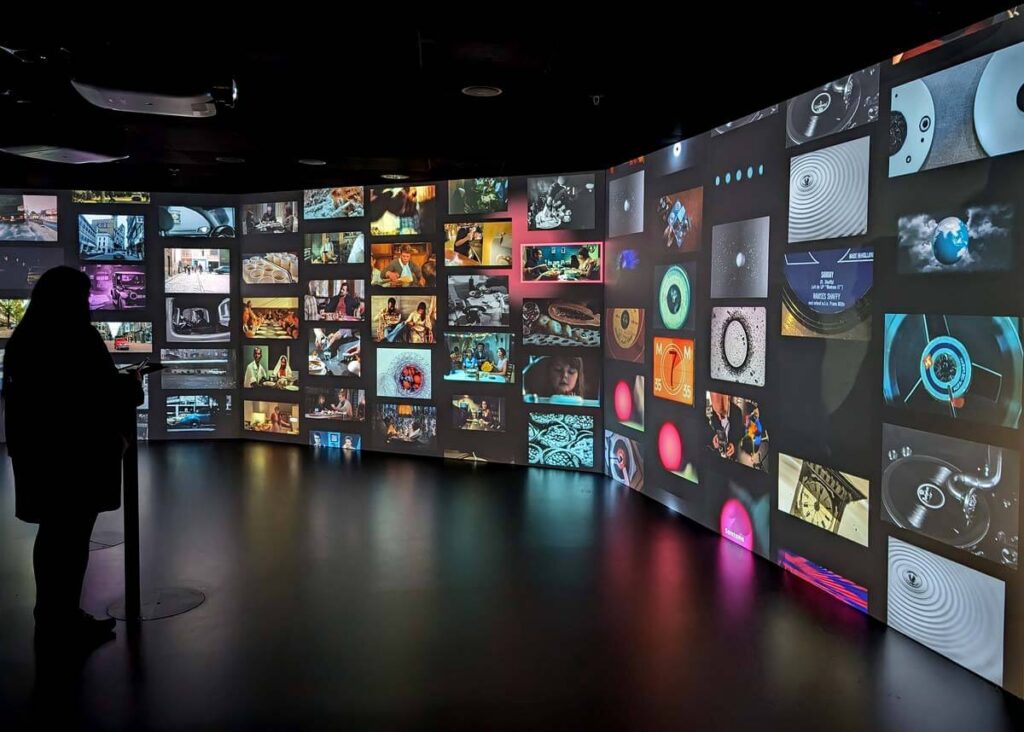 There are lots more fun activities. The flip book activity is apparently the latest social media trend in Amsterdam – you're filmed doing whatever you like in a booth (comedy dancing is the favourite) and you can have your moves turned into an old-school flip book in the museum shop.
Temporary exhibitions
Upstairs in the temporary exhibition space, the museum seeks to explore the future and possibilities of film – or moving art. When I visited in November 2023 we saw an exhibition by the Greek artist and film maker Janis Rafa about the relationship between humans and animals. As well as film, the exhibition uses sound, sculpture, photography and static art to reinforce its message.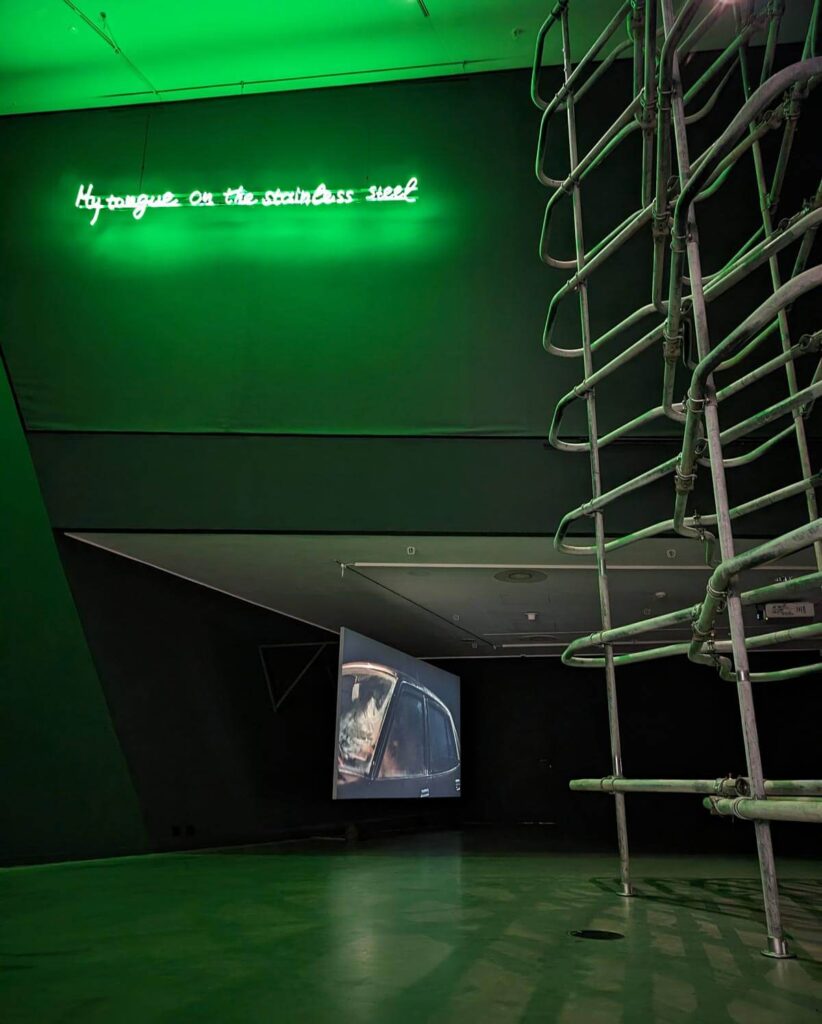 The arena space and restaurant
The space which links the permanent and temporary exhibitions is absolutely stunning. Wooden tiers run all the way down from the upper storey down to the glass front of the building, which is on the waterfront. The view of the river IJ is gorgeous; with all kinds of boats scurrying back and forth across the water, there's always something to see.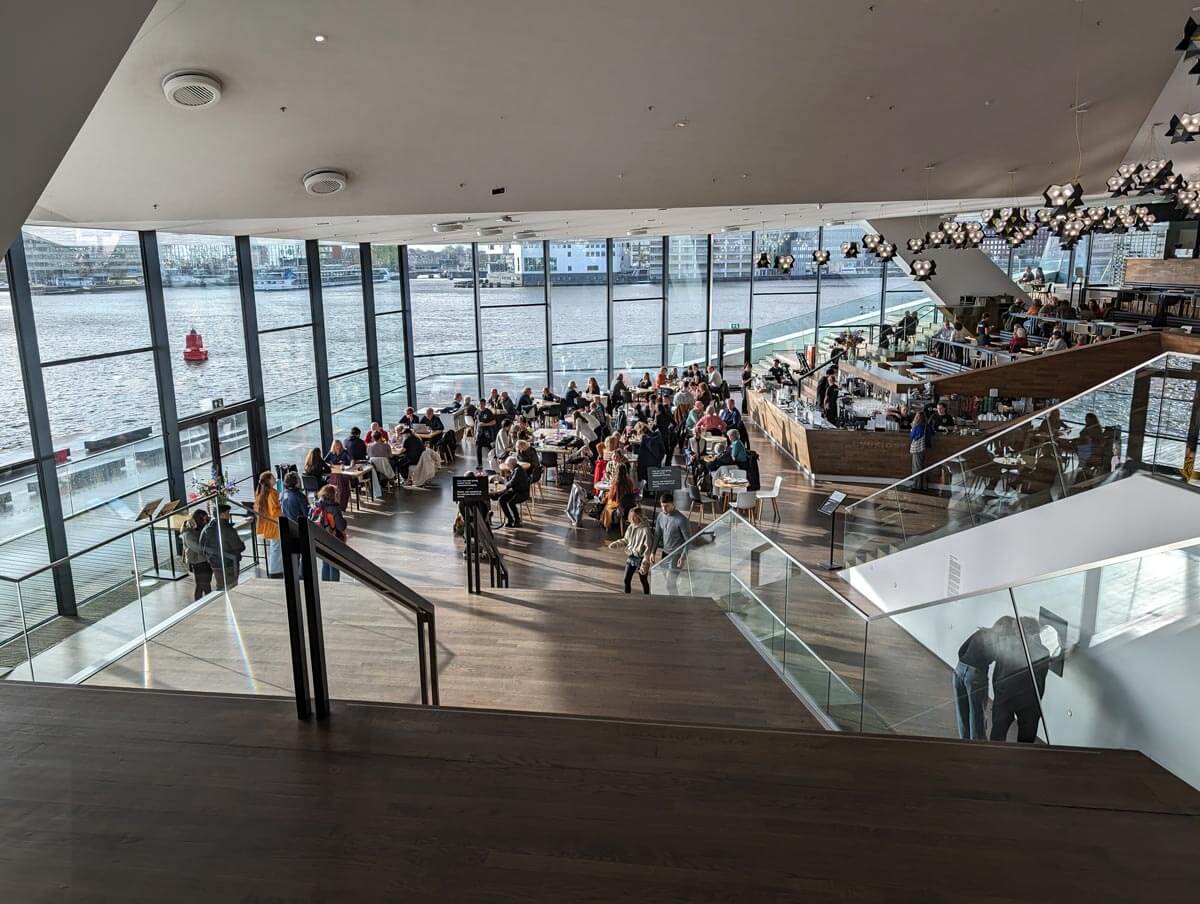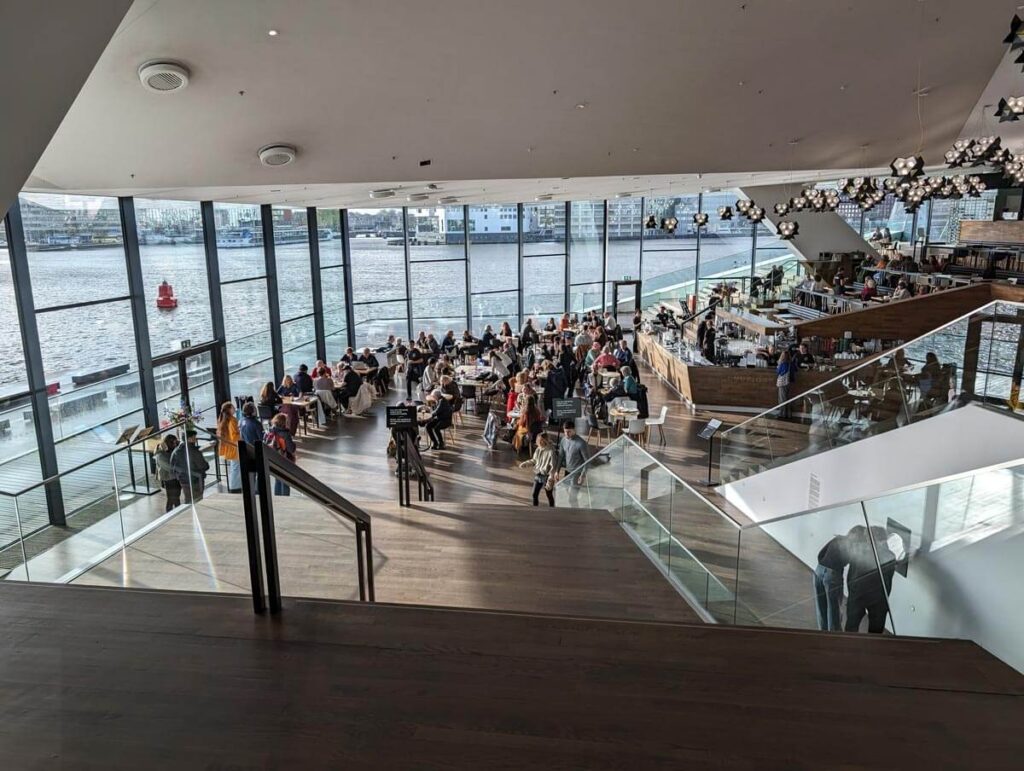 This part of the building is also home to Eye Filmmuseum's lovely cafe restaurant, and it's one of the most beautiful restaurants I've ever visited. There's lots of wood, lots of light and the food itself was beautifully presented. As we had lunch, the sun came out on what had been a rainy day and a flock of swans flew up-river.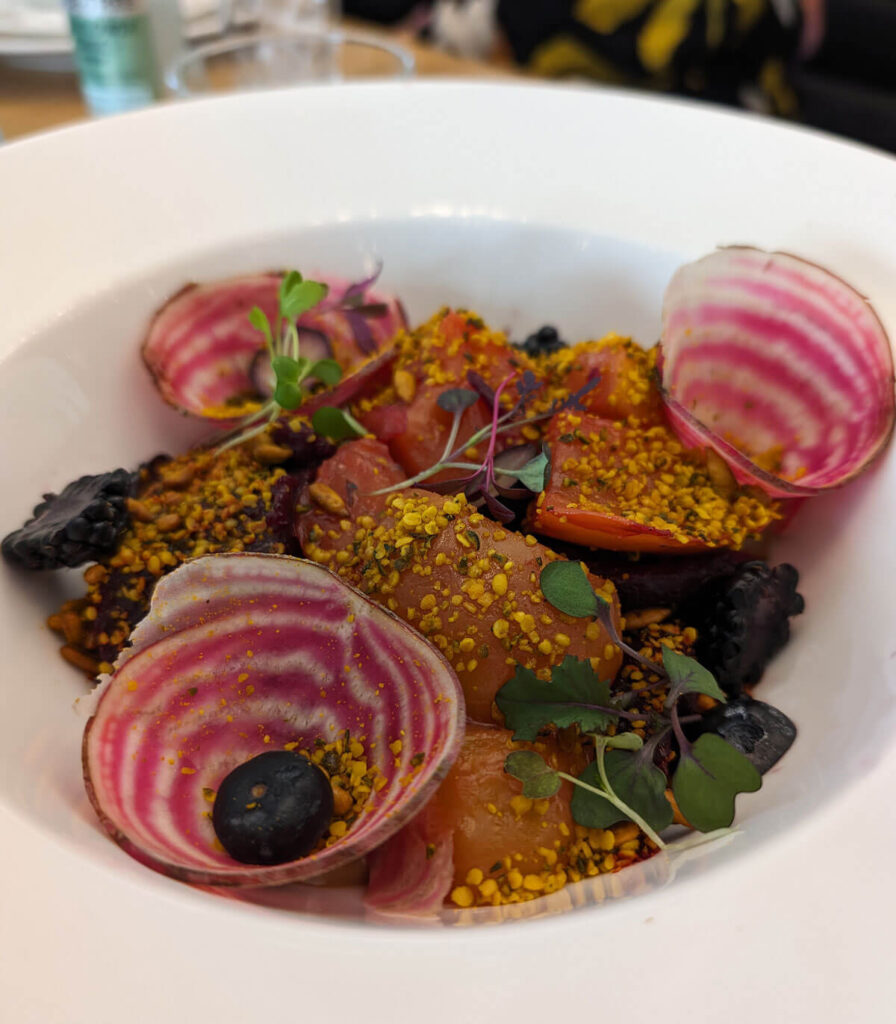 You can still enjoy the view even if you're not eating or drinking here. The upper tiers have places to sit, and there are benches with headphones where you can listen to iconic film soundtracks. While you're in there, don't forget to look up; the lights are by Danish-Icelandic artist Olafur Eliasson (his studio also designed the facade for the beautiful Harpa concert hall in Reykjavik) and look like a cross between flowers and the lights used in filming.
The cinemas
Eye Filmmuseum has four cinema screens where you can see the latest art house films and classics. Where possible, the temporary exhibitions and screenings are coordinated, so for example you might see an exhibition on Wim Wenders and then be able to go and see one of his films in the cinema.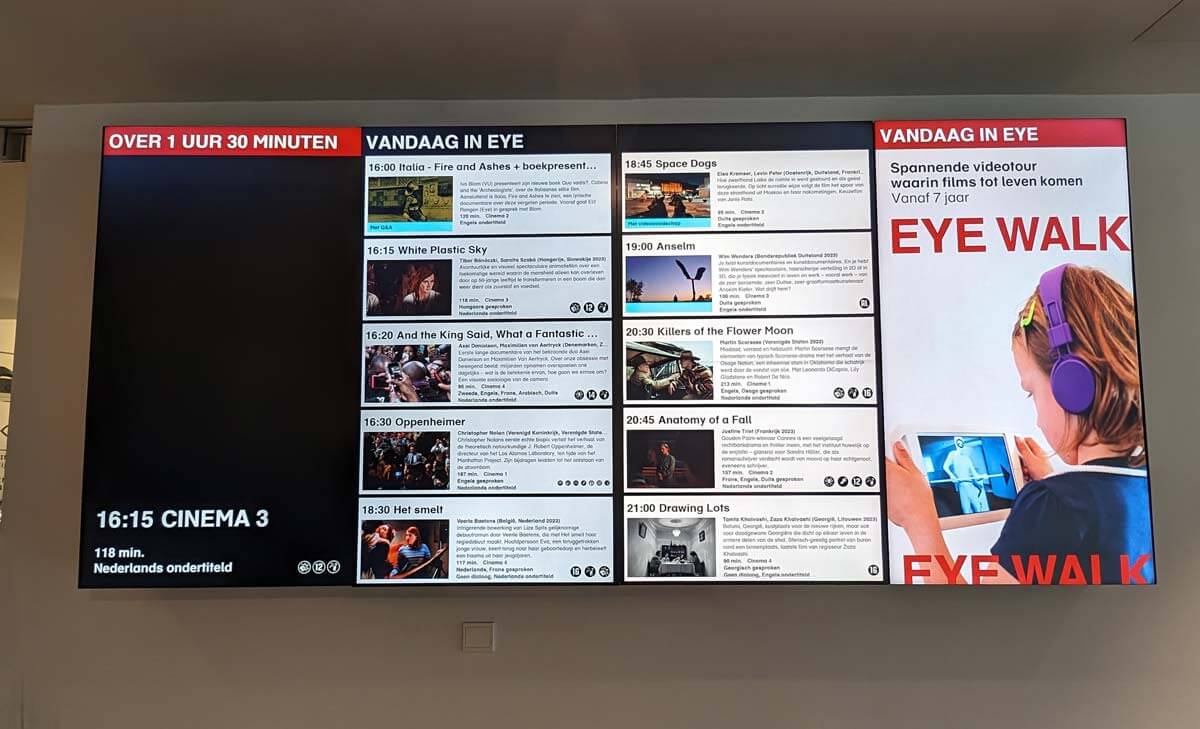 Visiting Eye Filmmuseum with kids
The Eye Filmmuseum in Amsterdam is a great place to visit with kids, although you might want to check out the subject matter of whatever temporary exhibition is on, as some are not suitable for younger children.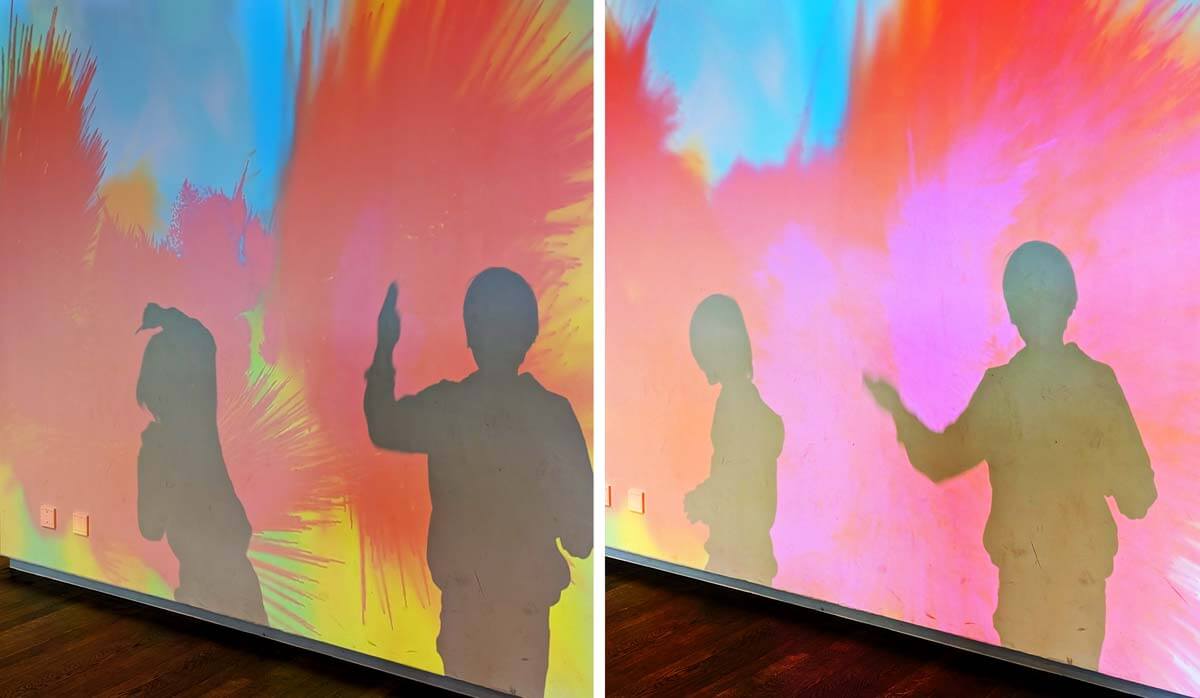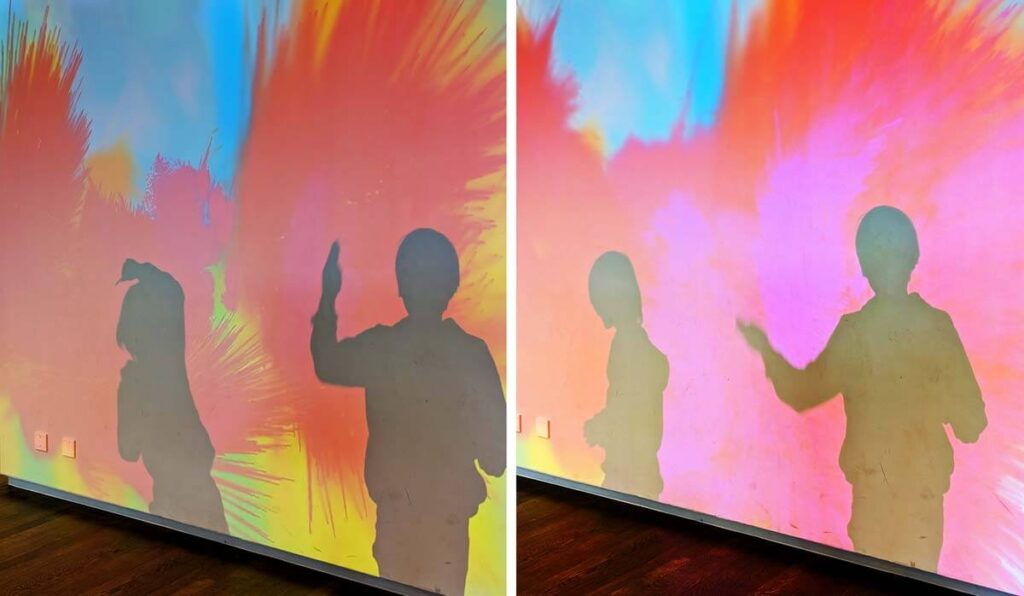 For children aged 7-12, the "Eye Walk" video tour brings films to life in an engaging way. The "Eye Explore More" puzzle tour offers a fun exploration of the building for kids of all ages. Lots of the activities are just fun for everyone, no matter how young or old!
For toddlers and younger children, the Cinemini program every Sunday morning is ideal, combining film screenings with interactive play activities.
How to get to Eye Filmmuseum
Getting to Eye Filmmuseum is an adventure in itself. The museum is directly across the IJ river from Amsterdam's Centraal Station; with no bridges, that means catching one of the free ferries that make the crossing 24 hours a day.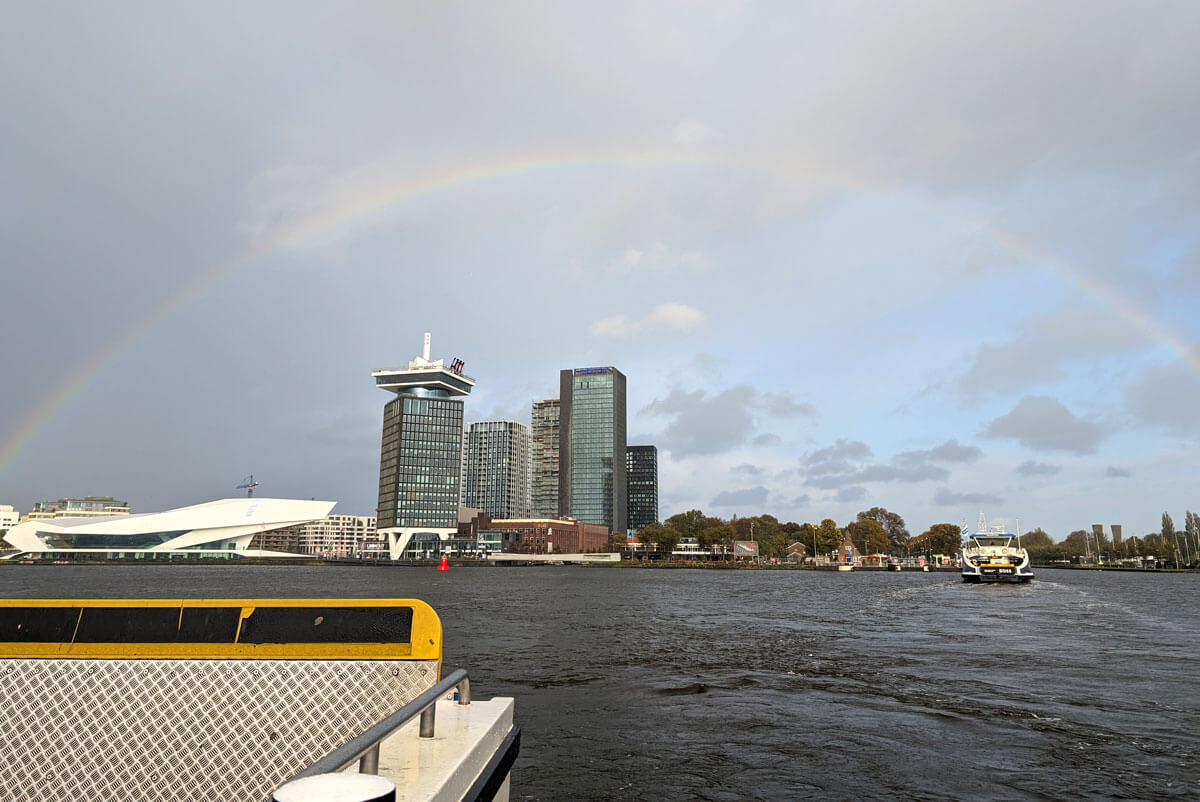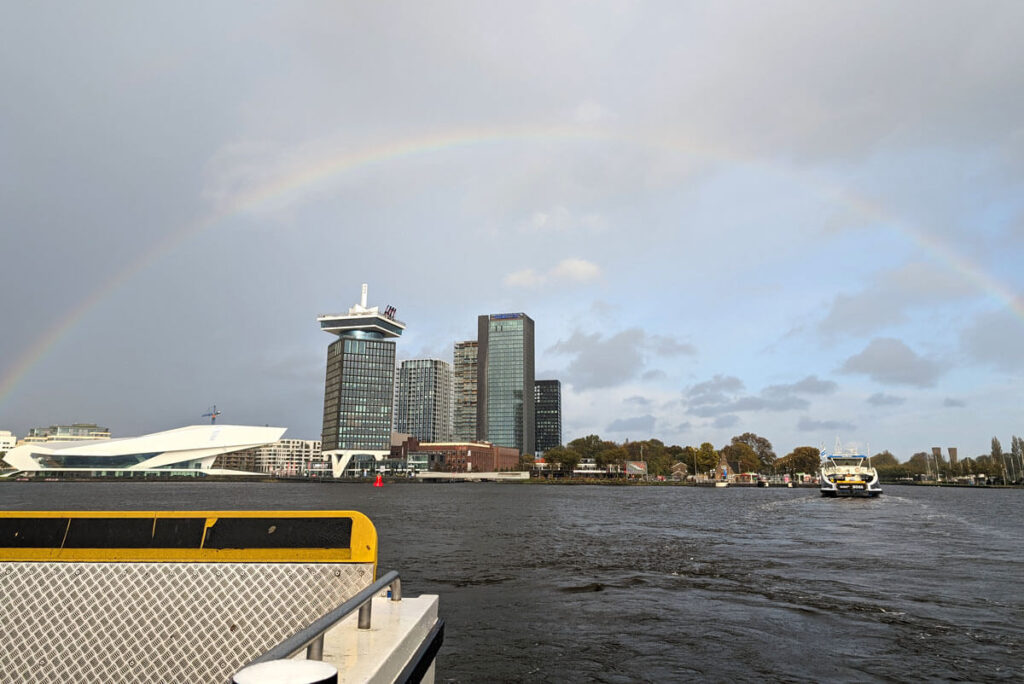 From the jetty, it's only a 5 minute walk to the museum.
Ticket information
Tickets to see the museum's exhibitions cost €15 for adults. It's free for children aged up to 17. If you have an I amsterdam City Card you'll get in free. You can buy tickets for both the exhibitions and screenings on the Eye Filmmuseum's website.
Tickets for the film showings cost €12.50 for adults and €7.50 for children aged 11 and under. There are no adverts or trailers before the films so make sure you're on time!
More things to do near Eye Filmmuseum
Eye Filmmuseum is just one of the attractions that are springing up in Amsterdam Noord, so it's easy to turn your day out at Eye into a full day out in this trendy part of the city.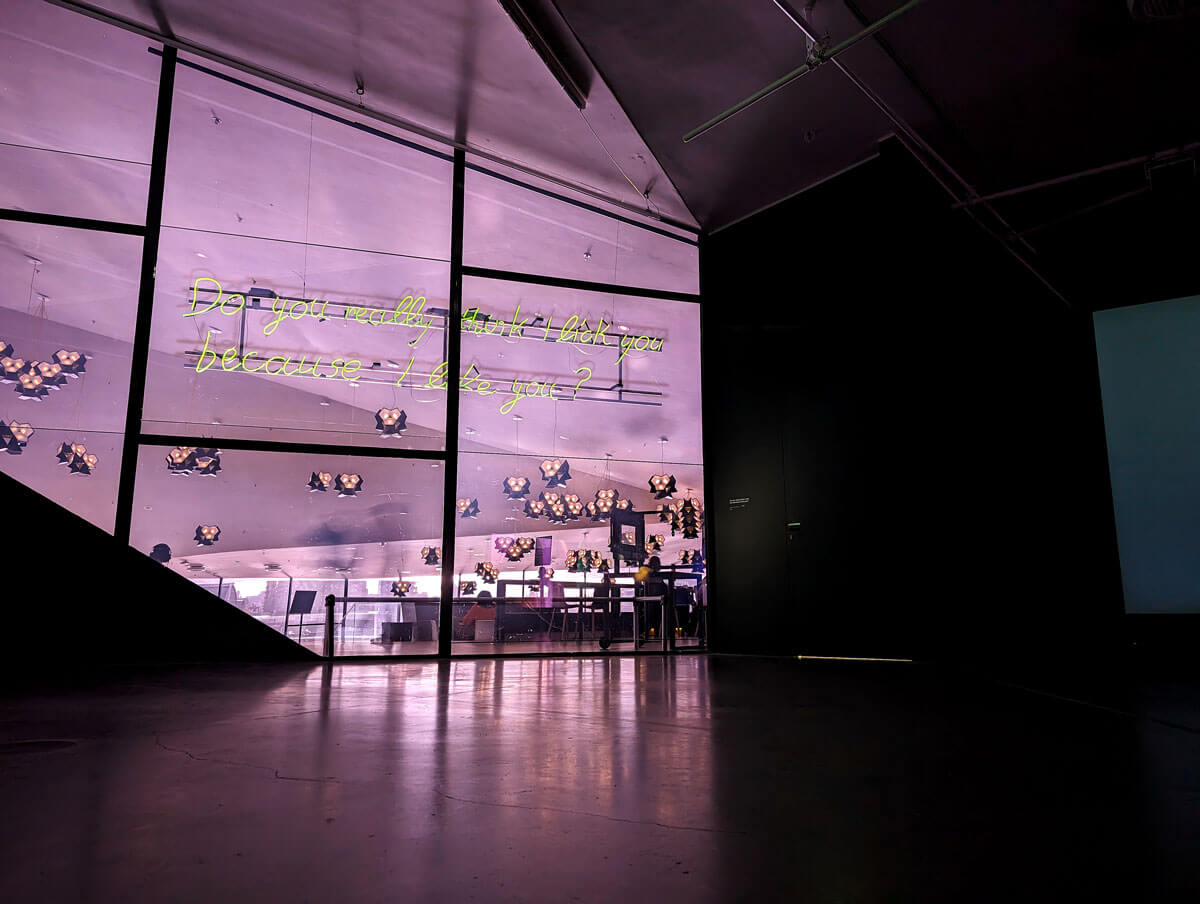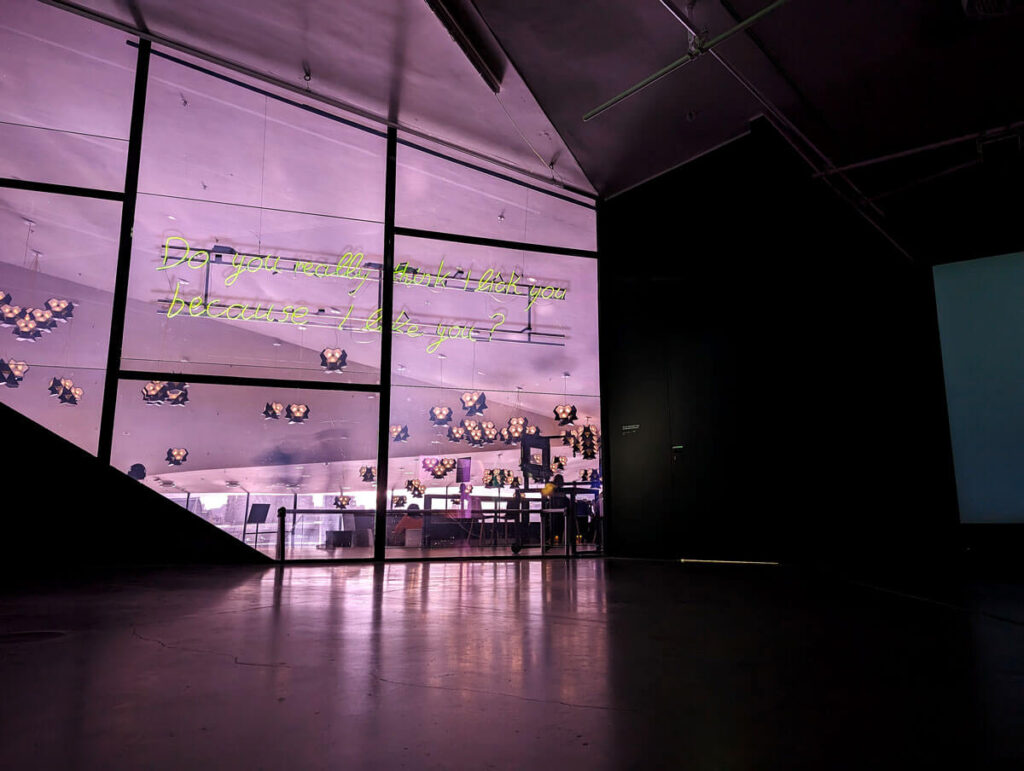 Eye is right next to the This is Holland attraction, which offers an immersive "flight" over the Dutch landscape. After the flight simulation, you can relax in the Holland lounge, where you can learn more about the sights you've just flown over​​.
If you'd like a real flight, not just a simulated one, head to the A'DAM Lookout, which is again very close to the Eye Filmmuseum. There's a panoramic view of the city from its observation deck, while the "Over The Edge" swing is Europe's highest swing, over the edge of the tower. It looks truly terrifying!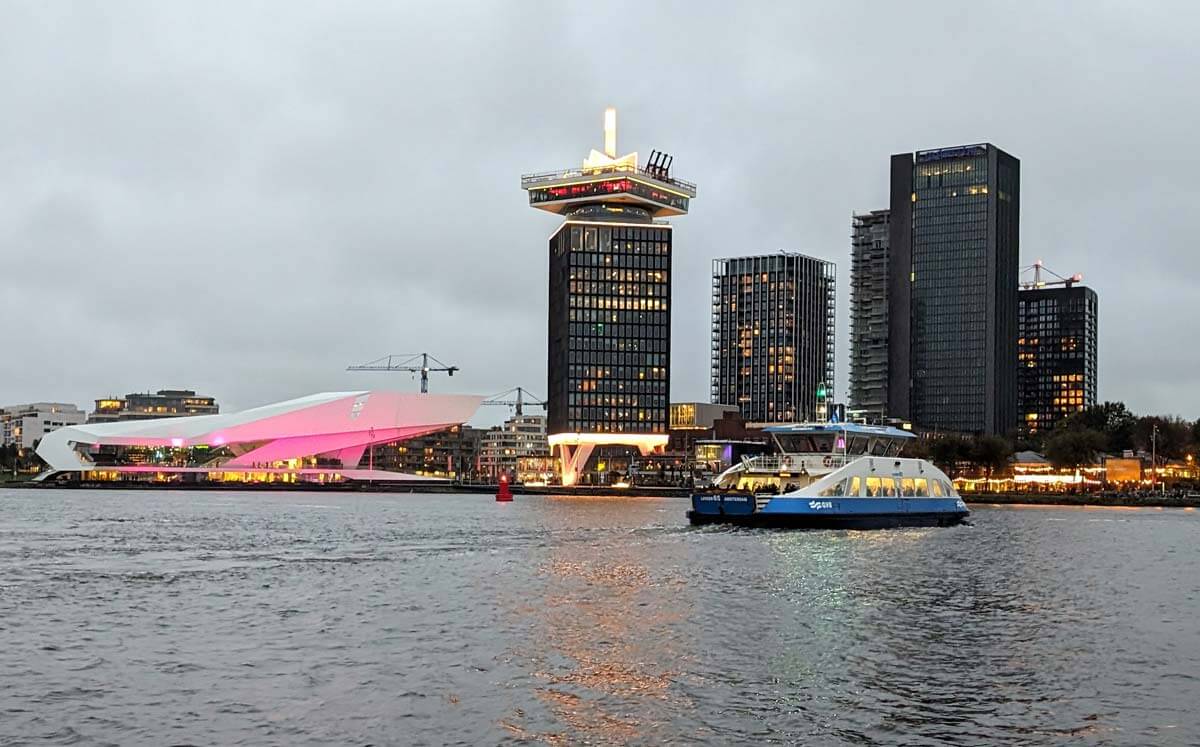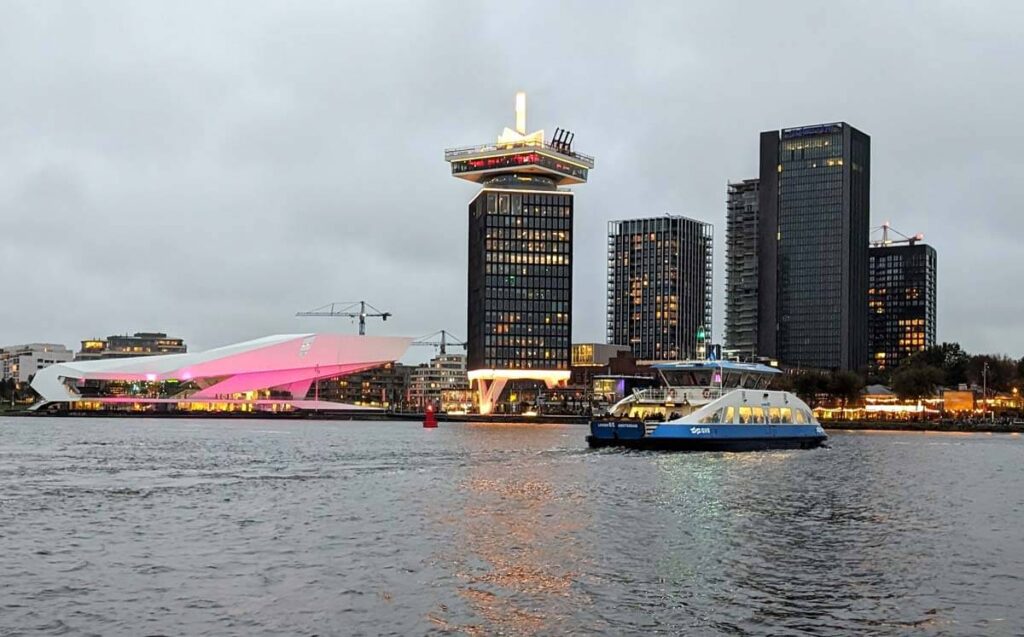 The A'DAM Lookout also includes an interactive exhibition about Amsterdam's history and culture. There are DJ sessions at weekends.
Nxt Museum, the museum for new media art, is around 15 minutes' walk away. With huge exhibition spaces and immersive digital art, it's a brilliant place to combine with your visit to Eye Filmmuseum.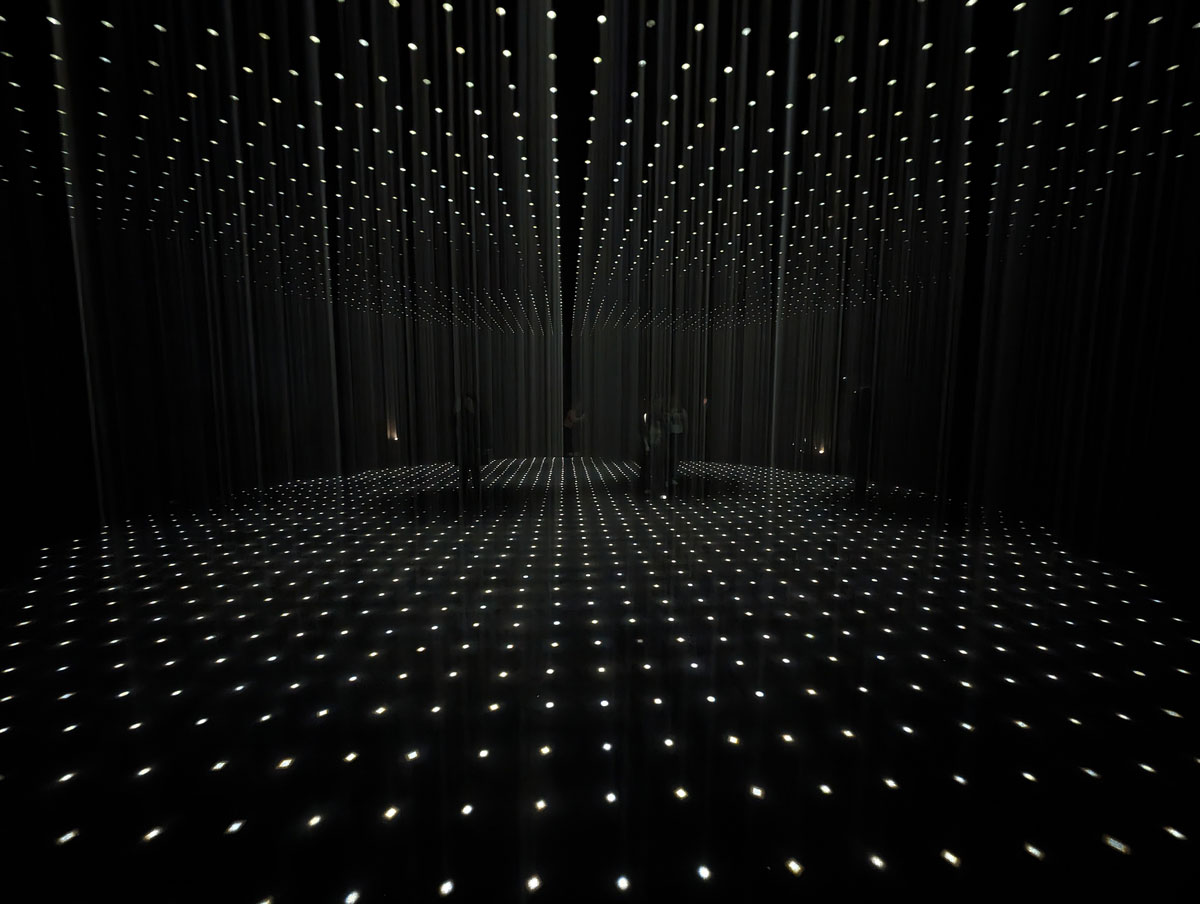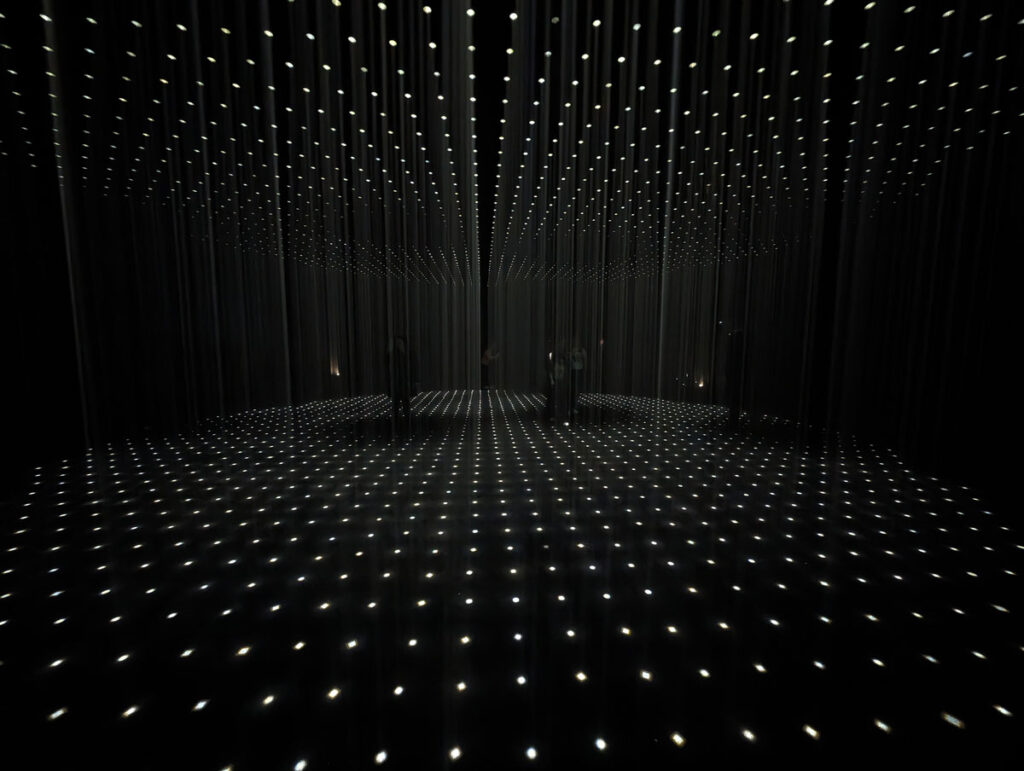 More things to do for film fans in Amsterdam
Amsterdam boasts some of the quirkiest independent film houses in Europe, offering a mix of mainstream, art-house, and international films. You could spend a whole weekend just going to the movies here!
The Pathé Tuschinski Cinema, near Rembrandtplein, is renowned for its stunning Art Deco design and was voted the most beautiful movie theatre in the world. Snuggle up in one of its old-school love seats for blockbusters and indie films.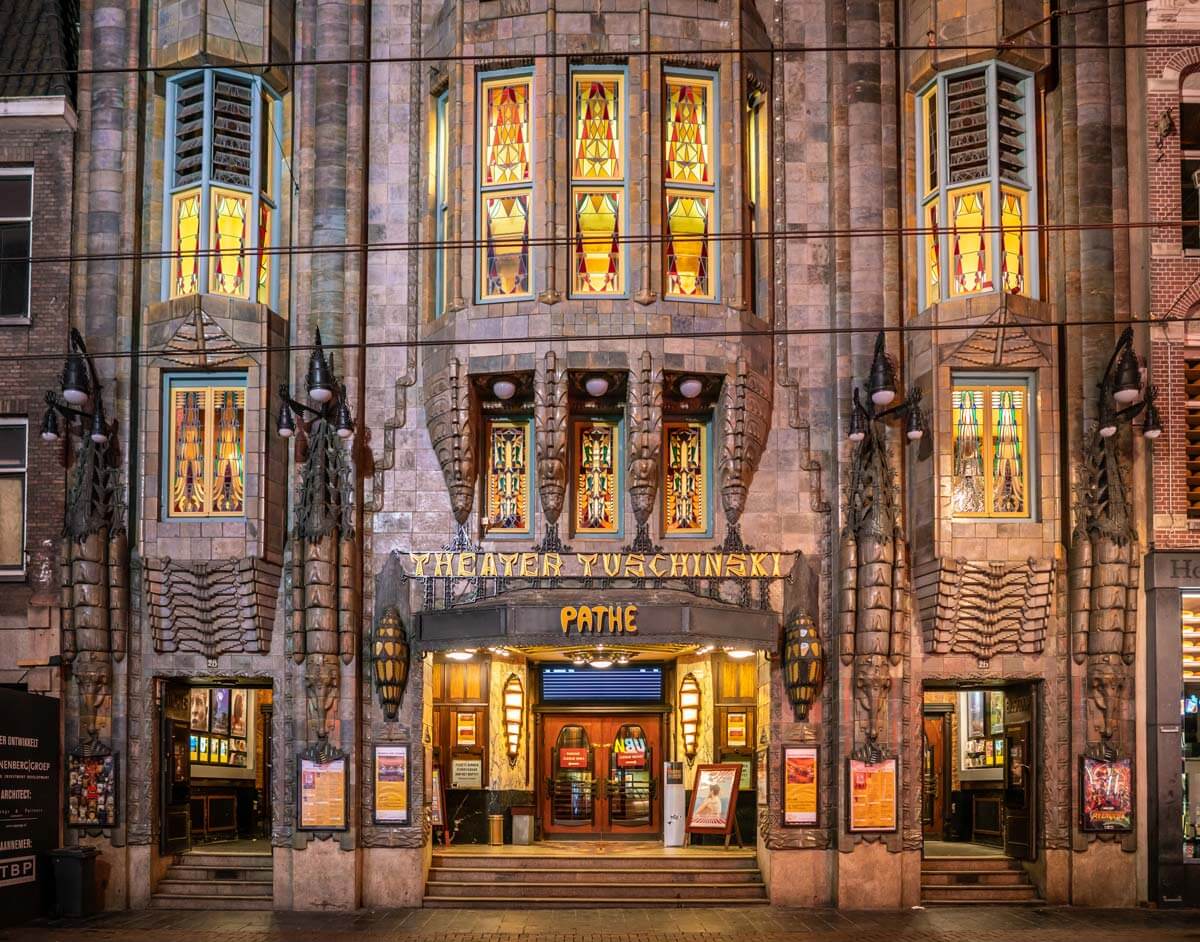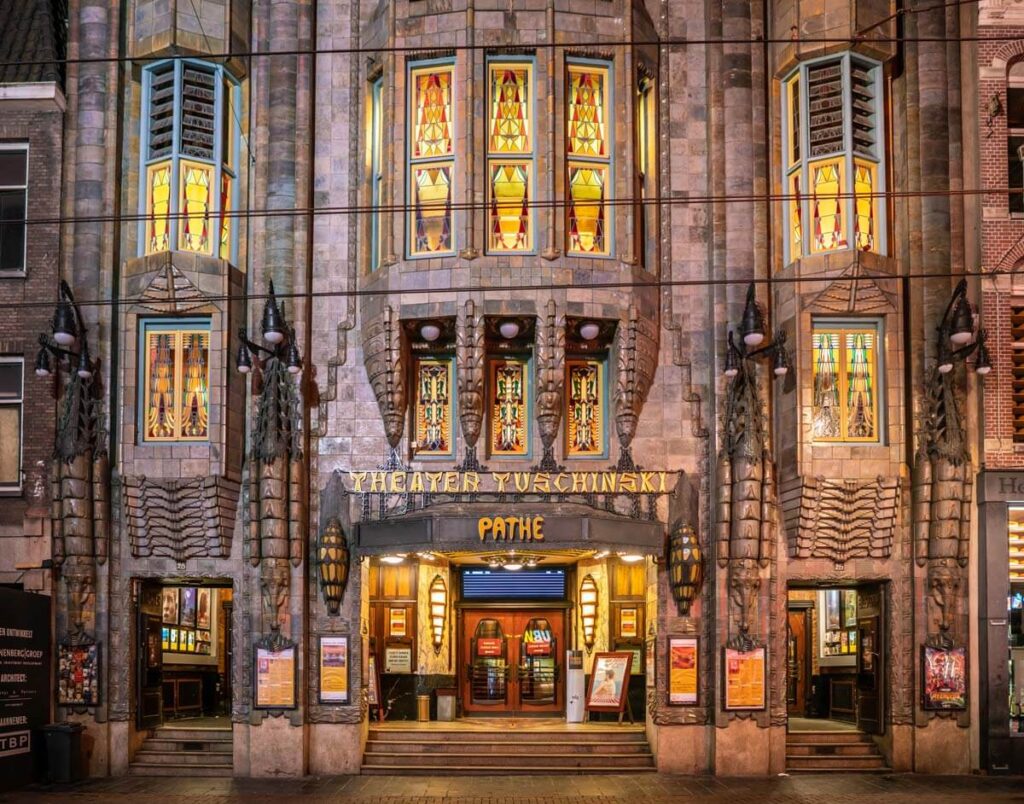 The Filmhallen, housed in a converted tram depot, is the largest independent cinema in the Netherlands and has nine screens showing everything from festival features to world cinema.
For a more eclectic cinema experience, LAB111 in a former pathology lab and FC Hyena in Amsterdam Noord offer a mix of screenings, from animated features and documentaries to art-house hits.
Final thoughts – is Eye Filmmuseum worth a visit?
So, is a trip to the Eye Filmmuseum in Amsterdam worth your time? Absolutely, especially if you have an interest in film, art or architecture. Even if you're more of a casual movie-goer rather than a film buff, there's lots to enjoy here.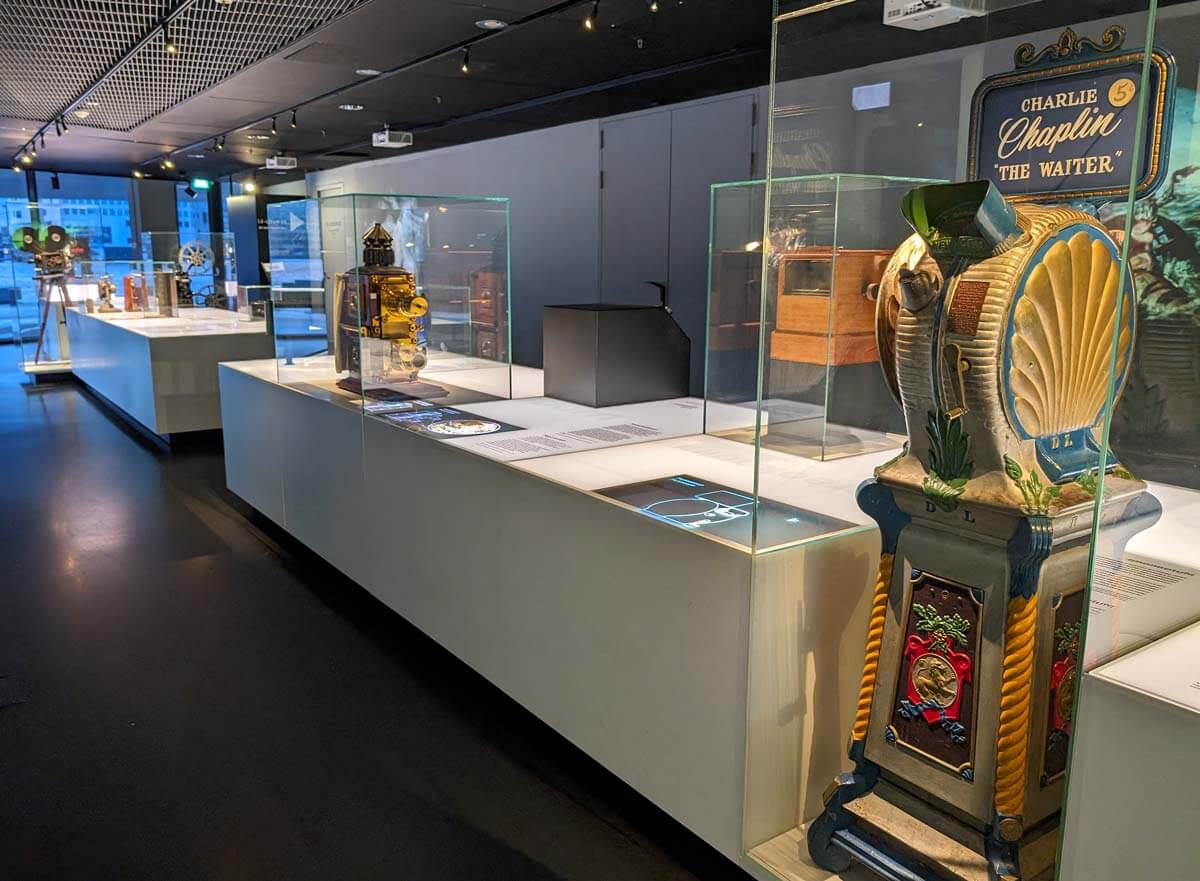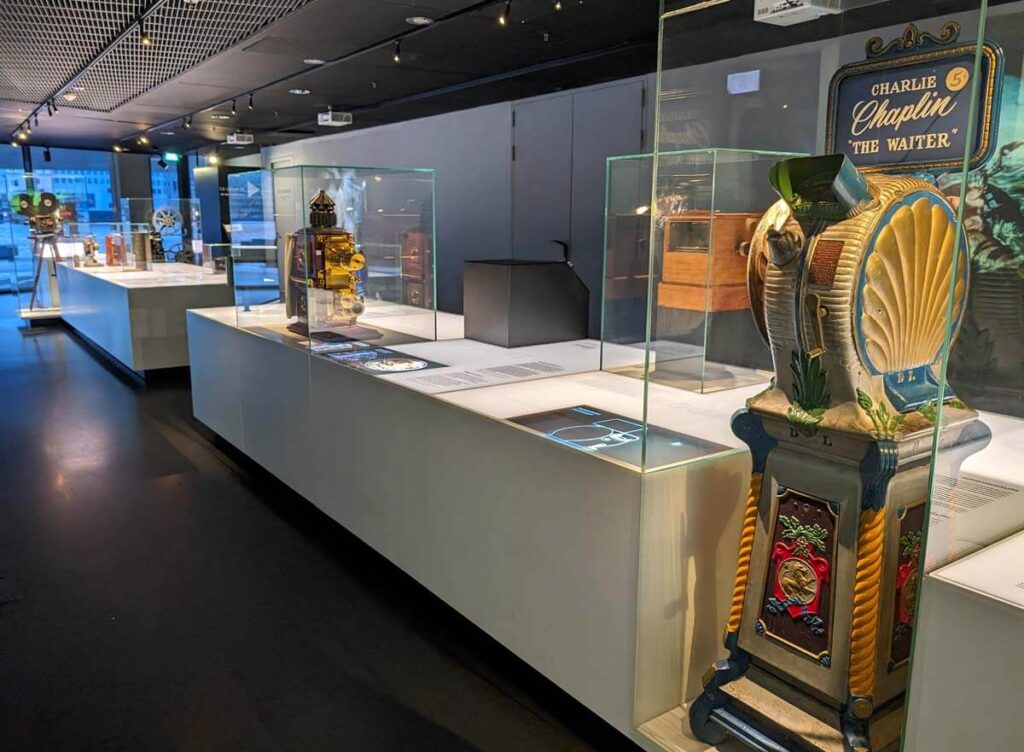 The activities for kids make it a great option for families, particularly for rainy days in Amsterdam. For cinephile couples, visiting the exhibitions, followed by lunch in the restaurant and an afternoon trip to Eye's cinema would be a lovely way to spend the day, especially if you can combine it with some of the other attractions in Amsterdam Noord.
I really enjoyed my visit to Eye Filmmuseum; I've been to a few museums about film and I was really impressed by Eye's interactive approach. The building is an attraction in itself, and taking the ferry across the IJ was lots of fun. I'll definitely be keeping an eye out for future exhibitions when I'm back in Amsterdam.
Will you visit Eye Filmmuseum in Amsterdam? Let me know in the comments!