Visiting Pompeii, the ancient Roman city in southern Italy that was destroyed by a volcano, is on a lot of people's travel bucket lists. Before I visited Pompeii I felt quite overwhelmed about the best way to visit, so I did a ton of research. Here's the advice I found most useful on how to visit Pompeii, along with some tips on how to climb Vesuvius.
Update May 2022: Pompeii is fully open for visitors, as long as you follow some safety measures. You can read more about what to expect when you visit Pompeii below.
This post contains affiliate links – all this means is if you buy something as a result of clicking a link, I'll make a small commission that helps me run this site. There's no cost to you.
First, some basics about your trip to Pompeii.
Where is Pompeii?
Pompeii is in the Campania region of southern Italy, 15 miles south of Naples and 150 miles south of Rome. It's 16 miles from the lovely resort town of Sorrento and 22 miles from Positano, on the Amalfi coast.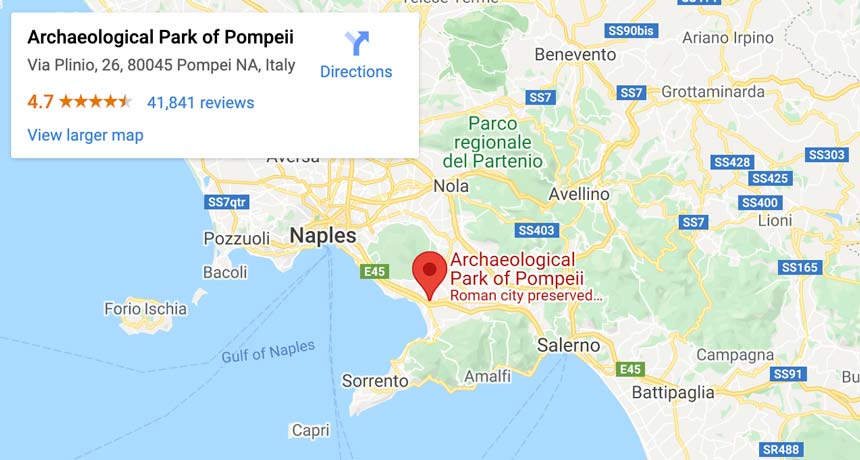 Rather confusingly, the archaeological site of Pompeii (you might see it referred to as Parco Archeologico di Pompei or Pompei Scavi on maps) is right next to a modern town called Pompei. The volcano that destroyed the ancient city, Mount Vesuvius, is still active, so the people living in the modern town still live with the risk of another eruption. You can see the volcano towering above the landscape from all over the area.
What happened at Pompeii?
In AD79, Mount Vesuvius erupted. The force of the explosion blew the entire top of the mountain off, sending rocks, ash and dust over 10 miles into the sky. The rocks and ash rained down on Pompeii for nearly a full day. Most residents fled the city but around 2,000 people (around a tenth of the population) stayed behind.
When, finally, a flood of thick ash, poisonous gases and superheated rock hit Pompeii at nearly 100 miles an hour, the city was buried underneath millions of tonnes of volcanic debris. The victims' bodies decomposed where they'd died, leaving body-shaped spaces in the hardened ash. Almost 2000 years later, archaeologists were able to pour plaster into these spaces, revealing the last moments of the victims and creating Pompeii's famous body casts.
Visiting Pompeii in 2022 – latest travel tips
The information below is correct as of 4 May 2022. If you're hoping to travel to Pompeii from outside Italy, you will need to check your country's travel regulations and the entry requirements for Italy.
Safety measures at Pompeii
Since 1 April 2022, the Italian super green pass certification is no longer required for visits to Pompeii, but you might find that it's needed for other places you're visiting on your trip to Italy.
All visitors to Pompeii will be temperature scanned at the entrance. Social distancing measures are in place, and you should stay at least 1 metre away from other visitors outside, and 1.5 metres away when you're inside the houses. Masks are recommended but no longer compulsory.
Pompeii opening times in 2022
From April 1st until October 31st the site is open 9am to 7pm, with the last entry at 5.30pm. In summer there's also the opportunity to pay a reduced entry fee if you arrive after 3.30pm, but that probably won't give you enough time to fully explore the site. Access to some houses is restricted after 6pm.
Pompeii is closed on Christmas Day and New Year's Day. It may also be closed on May Day (May 1).
In the winter months (November to March), Pompeii is open Monday to Sunday, 9am to 5pm, with the last entry at 3.30pm.
Pompeii ticket information May 2022
For your visit to Pompeii you can either book your tickets online, via the official ticket supplier Ticketone or go to the ticket offices at Porta Marina, Piazza Anfiteatro and Piazza Esedra. There was a small queue when I visited in April so booking online could be a good idea during the hot summer months.
Visiting Pompeii is free on the first Sunday of every month but it does get very busy! If more than 15,000 visitors have arrived by 12pm, the ticket desks will close for an hour. You can avoid the queues for free tickets by booking them online.
There's an iPhone and Android app called My Pompeii which will allow you to scan your ticket and then guide you around the site. It shows a real-time indication of the number of people at each point along the route which is intended to allow visitors to avoid the most crowded areas.
Can you visit Pompeii in 2022?
Yes you can, and once you're inside the park, visits to Pompeii are almost back to normal.
When Pompeii reopened in June 2020 the Pompeii authorities defined two walking routes around the site, Route 1 and Route 2.
These routes have now been removed and you can move around the site freely. Many of the houses and sights that were closed during 2020 and the first part of 2021 are starting to reopen – the Lupanare (brothel) is now open again for visitors, as is the Villa of the Mysteries. Some new things to see have opened too, including the thermopolium, which has been described as a Roman fast food joint.
Changes to facilities at Pompeii
Toilets and drinking water are available inside the site. During 2020 the cafeteria near the Forum was serving takeaway food. It was closed for at least part of 2021; it appears to have now reopened but it might still be wise to take your own snacks.
At the Porta Anfiteatro entrance there's an ATM, bookshop, toilets and left luggage facilities. At Piazza Esedra there is a bookshop and toilets.
If you want to take a tour of Pompeii without booking in advance, you may be able to hire an official guide at the Porta Marina or Piazza Esedra entrance between 9am and 1pm.
Tips for your visit to Pompeii
Please note, I know a lot of people have postponed their trip to Pompeii until travel is easier, so I've left the information below as it is during normal times so it can be as useful as possible for you when planning your trip – hopefully things will get back to normal soon.
1. How to get to Pompeii
The best way to get to Pompeii from Naples or Sorrento is by the local train, called the Circumvesuviana. The best station for the ruins in normal times is Pompei Scavi – Villa Dei Misteri train station. Pompei Scavi – Villa Dei Misteri station is on the railway line from Naples to Sorrento.
An alternative to the Circumvesuviana train is the Campania Express. These trains run on the same route as the Circumvesuviana but stop only at popular tourist sites like Naples, Pompeii, Herculaneum and Sorrento and take around 30 minutes less to travel between Naples and Sorrento. The Campania Express trains have air conditioning, the opportunity to book a seat and space for luggage. A round trip on the Campania Express from Sorrento to Pompei Scava – Villa Dei Misteri costs €15 per person.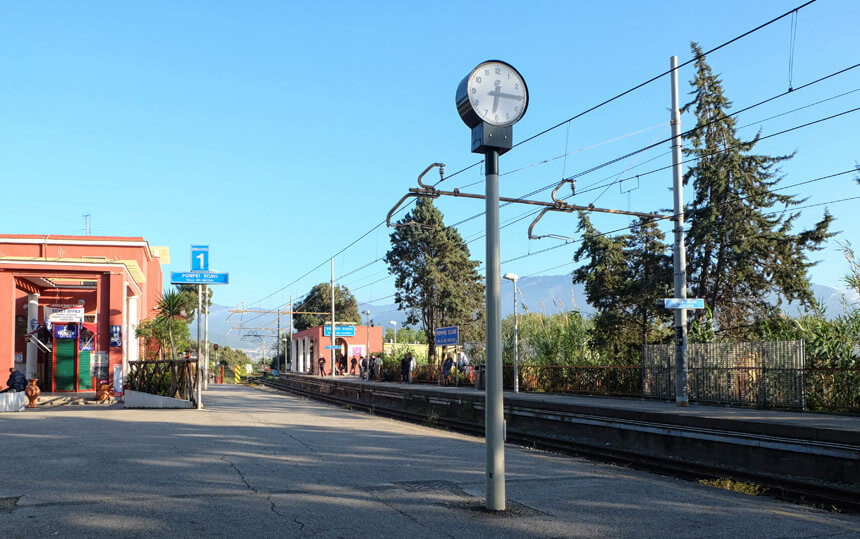 The train can be very busy and has a reputation for pickpocketing but there's no reason to be scared. Keep your bag close and your wits about you and it's perfectly safe and convenient.
Pompei Scavi station is less than five minutes' walk from the Porta Marina main entrance to the ruins.
Pompeii from Sorrento
If you're travelling from Sorrento or one of the other resorts along the coast, the easiest and cheapest way to get to Pompeii is to take the Circumvesuviana local train to the ruins. From Sorrento the train takes between 25 and 30 minutes, which is almost certainly going to be quicker than driving or taking a taxi.
Pompeii from Naples Central Station (Piazza Garibaldi)
If you're travelling to Naples by train then you'll arrive at Naples Centrale, sometimes called Piazza Garibaldi after the large square outside the station entrance. To get to Pompeii you need to change trains onto the Circumvesuviana local train. To do this you can either go downstairs to the separate Napoli Garibaldi station, but when I went to Naples I chose to leave Centrale and walk down the street to Porta Nolana station.
Since Porta Nolana station is the start of the Circumvesuviana line (Napoli Garibaldi is the first stop), you've got a better chance of getting a seat on what can be very busy trains. Whether you board the train at Porta Nolana or Napoli Garibaldi, get on a train that's headed for Sorrento.
Pompeii from Naples cruise port (Stazione Marittima)
If you're arriving in Naples on a cruise ship, you're likely to dock at Stazione Marittima. From there, you could walk the 1.2 miles to Porta Nolana station on the Circumvesuviana line. If you'd rather take a bus, the airport bus leaves from outside Stazione Marittima and stops outside Naples Centrale station. A ticket costs 5 euro per person (as of October 2019).
Once at Naples Centrale, you can either go downstairs to the Circumvesuviana station (Napoli Garibaldi) or walk 10 minutes down the street to Porta Nolana station. This isn't quite as crazy as it sounds – Porta Nolana is the start of all the Circumvesuviana lines so you're much more likely to get a seat, and if you or someone you're travelling with finds stairs difficult, Porta Nolana is more accessible. Board a train headed to Sorrento and get off at Pompei Scavi – Villa Dei Misteri.
2. Don't take a big bag into the ruins
The level of strictness at Pompeii varies a lot but it's best to assume that the staff won't allow you to take big rucksacks or luggage into the ruins. As well as being for security, it's also to reduce damage to the ruins themselves from people rubbing against the walls with their bags. There were a small number of luggage lockers at the entrance when I visited but it's best to leave bulky bags at your accommodation.
Even if you are allowed to take your bag inside, the massive size of the site means that trying to explore while carrying heavy luggage isn't a great idea, and it'll restrict you from getting inside some of the most famous buildings. The Lupanar (brothel) house with its famous wall paintings is a particularly tight squeeze.
3. Do take a water bottle
There are drinking water taps all the way along the main thoroughfare where you can refill your bottle with safe drinking water for free. You'll be doing a lot of walking and it can be very hot. As a bonus, many of the taps are set above Roman troughs so you'll get to feel a little bit like a real Roman.
4. Don't worry about food and drink (but do bring snacks)
There are cafes, ice cream/drinks stands and souvenir shops outside the ruins, but there's also a reasonably priced cafeteria with a good variety of sandwiches, pizza slices, salads and snacks inside the ruins, just behind the Forum. There are toilets upstairs.
You can also take your own food and drink into Pompeii, and the sheer scale of the place might mean you're nowhere near the cafeteria when you get hungry. Even if you don't bring a packed lunch, it's a good idea to take a snack or two, especially if you're planning on spending the whole day in the ruins.
5. Don't take one of the guided tours touted outside the ruins
– although they're cheaper than the official guides they're much larger groups (30+ people compared to around 15). There's also a little office just outside the train station with an official-looking sign offering tickets – ignore it, the actual official ticket office is inside the gate. Tickets for the ruins cost 16 euro for adults.
If you're visiting Pompeii at a busy time it may be a good idea to buy your tickets in advance. While the queue at the ticket office was relatively short when we visited in April, it can get very busy. Visitor numbers are already capped at 15,000 on the monthly free entry Sundays and there's talk of restricting the number of people who can go inside the archaeological site on normal days too. Buying your ticket for Pompeii online means you're guaranteed to get in. You can buy a maximum of 5 tickets in each transaction.
6. Do take an official guided tour of Pompeii
They'll tout as you're queuing for tickets *inside* the gate and wear a big official pass around their necks and offer tours in several languages. When we got in we were glad we'd gone on a tour as the ruins are huge and confusing with little signage – we wouldn't have fully appreciated them even with an audio guide and definitely not with just the map and the guidebook.
If you want to be certain of getting on a tour in your language and at the right time you can book a tour in advance.
We had a great guide who'd been a little boy when Vesuvius last erupted in 1944 and he really helped bring the city to life for us. You'll move quickly and see a lot in two hours, but…
7. …don't expect to see even the highlights of Pompeii in a couple of hours
With a 2 hour tour and 2-3 hours on your own you can get a taste for the city but Pompeii is easily worth a full day. We arrived at around 10.30am and didn't leave until closing time. The main sights are quite far from each other, particularly the larger amphitheatre and the Garden of the Fugitives where the main group of bodies are.
8. Do get a map of the Pompeii site
While you're at the entrance, do pick up one of the free maps of the Pompeii site. There's nothing else really to orientate you when you're in the ruins and the grid system means it's easy to get lost.
9. Do wear good shoes
The roads are dusty and uneven underfoot and some of the stones are slippy so you'll want something comfortable with decent grip. Pompeii is definitely not the place for heels. If you wear sandals, expect your feet to be absolutely filthy when you leave!
10. Do protect yourself from the sun
On sunny days, take a hat, sunscreen and some kind of cover-up. There's very little shade at Pompeii (as most of the buildings don't have a roof!). I didn't see anywhere to buy sunscreen inside the site.
11. Do take the time to get some background before you visit Pompeii
The more you can read up about Pompeii, the more you'll get out of your visit. I watched a BBC documentary on YouTube and read Robert Harris's novel Pompeii before we left – not academic at all but it really helped me make sense of what had happened here when Vesuvius erupted. If you want a more in-depth discussion of the myths around Pompeii and how people may have actually lived, Mary Beard's book Pompeii: The Life of a Roman Town is excellent and easy to read.
12. Do get a different perspective
by visiting Herculaneum, a few stops along the Circumvesuviana train line from Pompeii and another easy trip from Naples or Sorrento. Herculaneum was also destroyed when Vesuvius erupted, but it's much quieter than Pompeii. Herculaneum is also much better preserved and many of the buildings still have their upper storey intact. The tragedy wrought by the eruption feels even more immediate at Herculaneum – by the Roman shoreline are boat houses full of the skeletons of the people who tried to shelter there.
How to visit Mount Vesuvius
Visiting Pompeii is unmissable, but it's an awe-inspiring experience to go to the top of Mount Vesuvius and see (and smell) the smoke that still rises up from the crater.
You can take a bus from the Pompei Scavi Circumvesuviana station to Mount Vesuvius but the easiest route is from the station at Ercolano. On leaving the station in the direction of the ruins you'll come out in a little square. Head to the left and you'll see the Vesuvio Express office for the bus trip up the mountain. Try to get to the office as quickly as you can – if you're at the back of the queue and the bus fills up you might need to wait for the next one.
The return trip from Ercolano to Mount Vesuvius cost us 20 Euro each including entrance to the crater. It's not a guided tour, it's literally just to get you to the start of the hike to the summit but we found it reasonably priced and efficient.
The bus takes around half an hour to wind its way up the lower part of the mountain. You'll be let out at the upper car park and will have around an hour and a half to get up the mountain, look around and get down again to catch your return bus. If you miss it you'll have to pay again or make your own way back.
From the upper car park it's about a mile to the Vesuvius's crater, all uphill. It's a fairly shallow gradient but it's fine, dusty gravel underfoot so can be tough going. If it would help, you can take a walking stick from one of the guys at the entrance in return for a tip.
Wear shoes not sandals but don't do what I did and wear your new white trainers – they'll be covered in red Vesuvius dust and pretty much ruined by the time you get back!
There are a couple of souvenir shops which sell drinks and basic snacks, and another at the crater. When I visited Vesuvius there weren't any public toilets anywhere on the volcano, and after overdoing it on hydration for the climb I ended up begging the shop at the car park to be allowed to use their (non-flushing!) toilet. In an exciting development I've been told that there are now public toilets at the upper car park.
At the top, walk around the crater at least until you get to a jaggedy part with some steps as the crater looks different from different viewpoints. Try to spot Capri and Ischia on the horizon and Pompeii below and look out for puffs of sulphury-smelling smoke to remind you that it's still an active volcano!
Altogether our visit took around 4 hours.
Can I visit Pompeii, Vesuvius and Herculaneum in one day?
You could, just about, but it'd be a long day and very rushed. I don't think it's possible on a typical cruise ship schedule. We did it in two days – one full day for Pompeii and another where we visited Vesuvius in the morning and Herculaneum in the afternoon (travelling from Sorrento), and that felt about right to us.
The two archaeological sites of Pompeii and Herculaneum are both very moving (not least because of the body casts at Pompeii and the skeletons at Herculaneum) and for me it was worth taking some extra time so it wasn't too overwhelming.
Can I visit Pompeii from Rome on a day trip?
It's possible to visit Pompeii on a self-guided day trip from Rome thanks to Italy's amazing high-speed trains. If you choose the fastest train from Rome Termini to Naples Centrale you'll be there in 1 hour 15 minutes. Tickets are very reasonably priced if you book in advance. From Naples, take the local Circumvesuviana train to Pompei Scavi – Villa Dei Misteri.
A guided coach tour or even a private transfer is another option for visiting Pompeii from Rome on a day tour.
Check out Pompeii day trips from Rome >
Where should I stay for visiting Pompeii?
The best place to stay when you're visiting Pompeii as part of a holiday is Sorrento. Sorrento is a beautiful town in its own right, with plenty to do and a wide variety of hotels. The railway station has frequent trains to Naples which call at both Pompei Scavi and Ercolano (for Herculaneum and Mount Vesuvius). You can also take easy day trips to the Amalfi Coast (you can get to Amalfi and Positano by either bus or ferry) and to Capri. Sorrento is truly the perfect base for a holiday in this part of Italy.
Do you have any questions about visiting Pompeii, Herculaneum or Mount Vesuvius?