If you're planning a trip to Pompeii, choosing where to stay for easy access to the Pompeii ruins is an important decision. In this post, I'll tell you about the best places to stay to visit Pompeii for every type of visitor – I hope it helps you with your holiday planning!
Where to stay to visit Pompeii
This post contains affiliate links – all that means is that if you buy something as a result of clicking on a link in the post, I'll receive a small commission that helps me with the costs of running this site. Thanks!
Naples or Sorrento?
The big question that lots of people ask when planning where to stay to visit Pompeii is whether they should choose Naples or Sorrento. It can seem like a difficult decision – Pompeii is almost exactly halfway between Naples and Sorrento, it takes about the same amount of time to get there and both places have a lot of other attractions.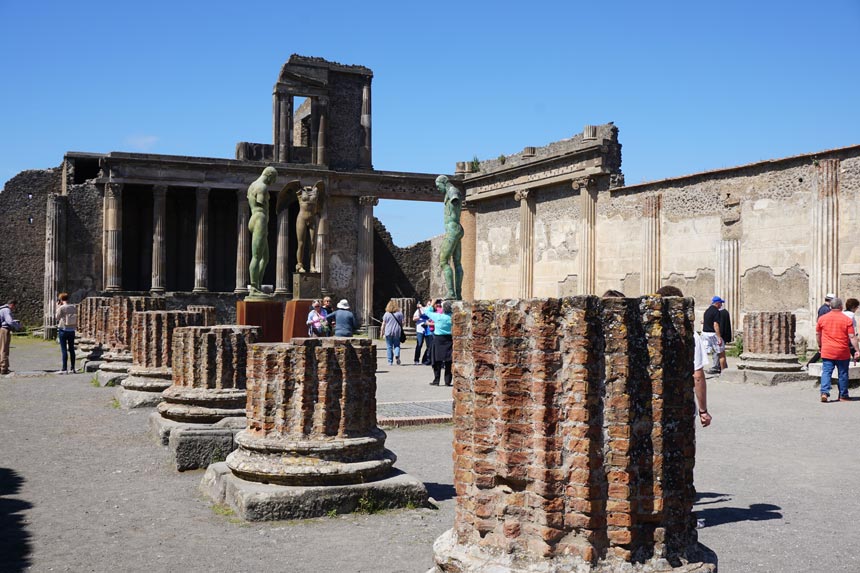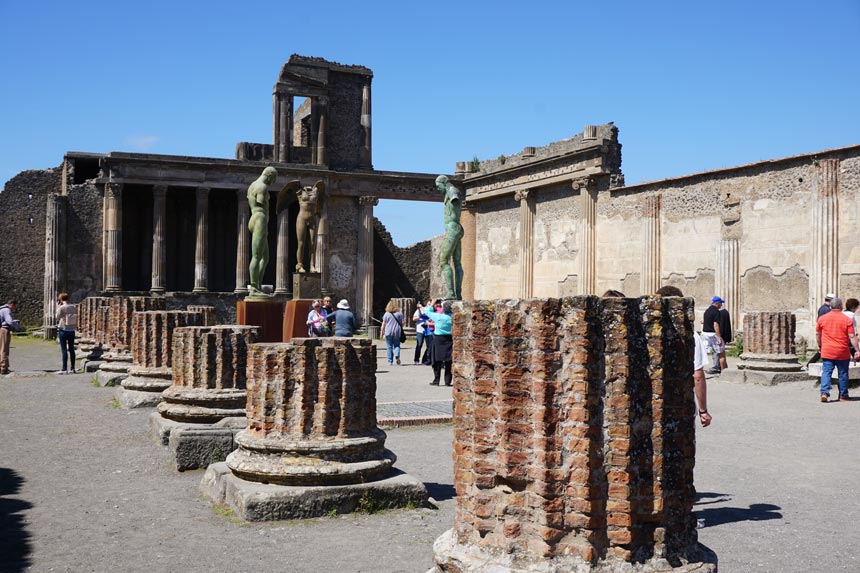 For me, it comes down to three big questions:
What kind of trip do you want to have?
Are you looking for a city break feel, with lots of buzz? Or do you want a more relaxed, holiday resort feel? Naples is big on buzz and character but can be overwhelming, while Sorrento offers a more laid back experience for tourists.
What kind of transport connections do you need?
Naples has a really well-connected international airport and high speed rail connections to other cities in Italy. Sorrento has a decent local train service and reasonable bus services, but if you're heading off to Rome or Sicily, you might find Naples a more convenient place to stay to visit Pompeii. Similarly, if you're arriving into Naples late at night or leaving very early in the morning, you might prefer to stay in the city rather than make the journey out to Sorrento.
What is your budget?
Sorrento can be pricey (although I'll share with you a cheaper option that I loved), while finding a hotel in Naples that balances cost, facilities and location can be tricky. If you're on a tight budget, then consider choosing neither Naples or Sorrento but one of the small, villagey resorts just outside Sorrento, such as Sant'Agnello, Piano di Sorrento or Meta.
Sorrento
Best for: resort vibes, day trips
Avoid if: you're looking for an off-the-beaten-track feel
Distance from Pompeii: 15 miles
Time to Pompeii: 37 minutes by train, 45-75 minutes by car
If you're looking to combine easy access to Pompeii with a traditional resort feel, then consider staying in Sorrento.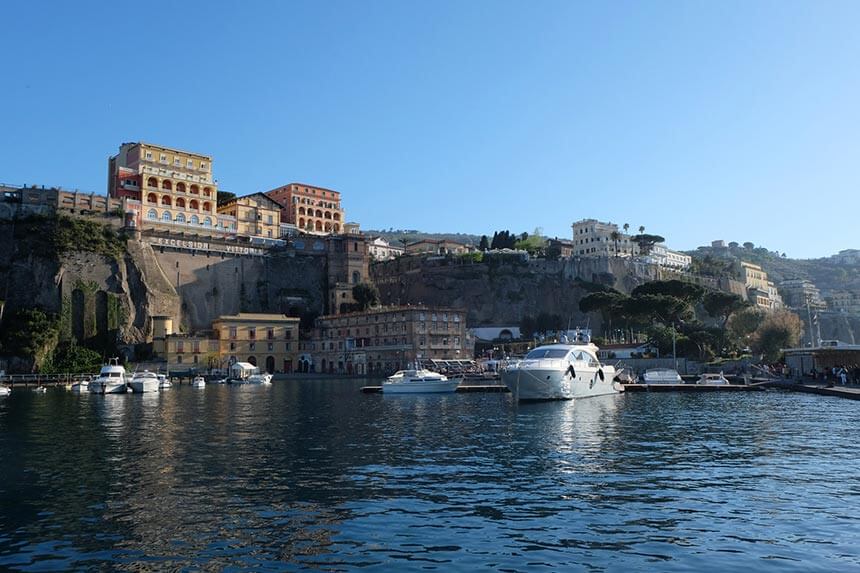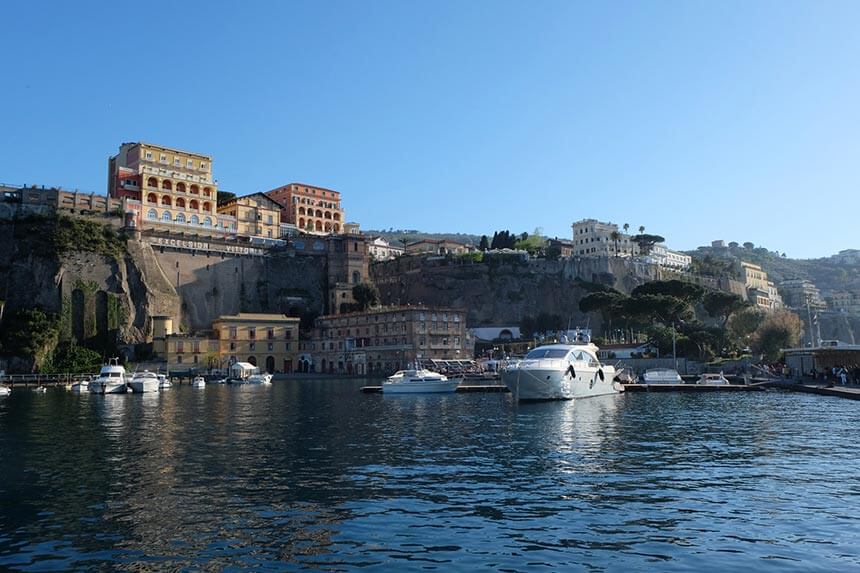 Sorrento is at the end of the Sorrentine peninsula, halfway between Naples and the Amalfi Coast and around 15 miles from Pompeii. It's also a short ferry journey from Capri, making it a really convenient base if you're planning to take lots of day trips around the area.
Getting to Pompeii from Sorrento is really easy. The simplest way is to take the Circumvesuviana train line from the train station in the centre of Sorrento to Pompei Scavi-Villa dei Misteri station. From the station, it's only a 2 minute walk to the Porta Marina entrance to the site.
Sorrento has lots of restaurants, and one benefit of the large number of visitors is that there are some that cater for vegans. I'm only vegetarian but on trips to Italy I can end up living on pizza so in Sorrento it was really good to have a few other options.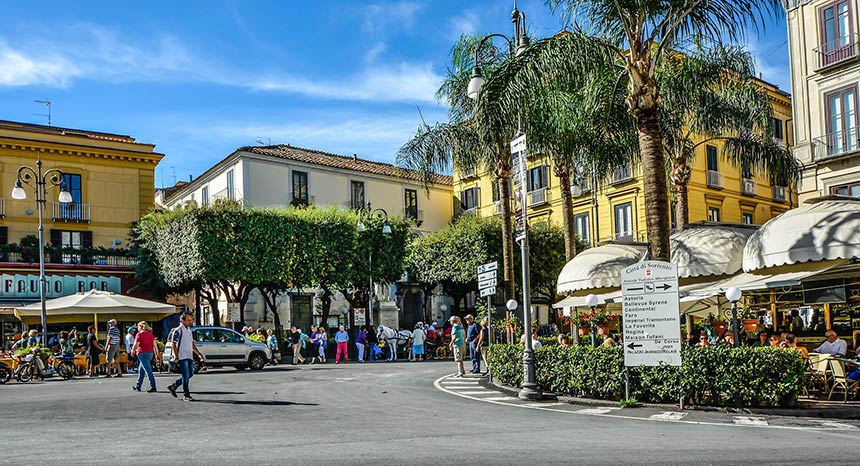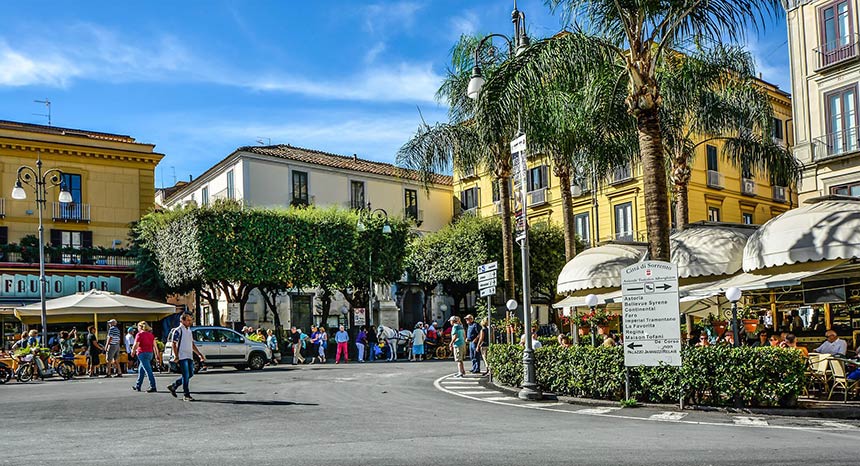 There's a huge variety of places to stay in Sorrento. Hotels tend to be a bit pricey but there are a few bargains to be had. When I visited Sorrento for a trip to Pompeii I stayed at the Grand Hotel Cesare Augusto which was a little retro but clean, sensibly priced and really convenient for both the town centre and the train and bus station. Our room had a fantastic view of the sea and Mount Vesuvius and the sfogliatelle seashell-shaped pastries at breakfast were to die for.
If you're looking for great views and a great breakfast but a bit more luxury, the 5 star Grand Hotel La Favorita is a brilliant choice. It's in the centre of town, so still a great place to stay for visiting Pompeii and close to the ferry port for trips to Capri, but its peaceful gardens, dotted with lemon trees, stop it from feeling too hectic. The rooftop pool and cocktail bar (open to non residents) has wonderful views, particularly at sunset.
The Hotel Rivoli Sorrento is another well-priced 3 star hotel, set in a 14th century former Benedictine convent which has been carefully renovated to create a stylish but atmospheric place to stay. Rooms have small balconies for watching the world go by and there's a lovely roof terrace. The Hotel Rivoli could be a great option if you're travelling as a family or in a group as they have three suites which each sleep four people, along with a triple room. They also have double rooms for couples.
Search and compare hotels in Sorrento on Booking.com
Smaller resorts near Sorrento: Sant'Agnello, Piano di Sorrento and Meta
Best for: a quieter but still convenient place to stay
Avoid if: you want to be in the heart of Sorrento
Distance from Pompeii: between 12 and 14 miles
Time to Pompeii: around 30 minutes by train
If you like the idea of staying in Sorrento for your trip to Pompeii, but Sorrento itself is either too busy or too expensive, then there are three smaller villages nearby worth considering: Sant'Agnello, Piano di Sorrento and Meta. All three are on the Circumvesuviana train line from Sorrento to Naples which stops at Pompei Scavi-Villa dei Misteri station, so they're all really convenient places to stay to visit Pompeii.
Sorrento and the three villages all blend into one another, but Sant'Agnello is the closest to Sorrento, followed by Piano di Sorrento, then Meta is furthest away at around 2.5 miles from the centre of Sorrento.
Sant'Agnello
Sant'Agnello is the next station along from Sorrento on the Circumvesuviana train line. It has the big advantage of being quieter and cheaper than Sorrento but you can walk into the centre of Sorrento in around 15-20 minutes.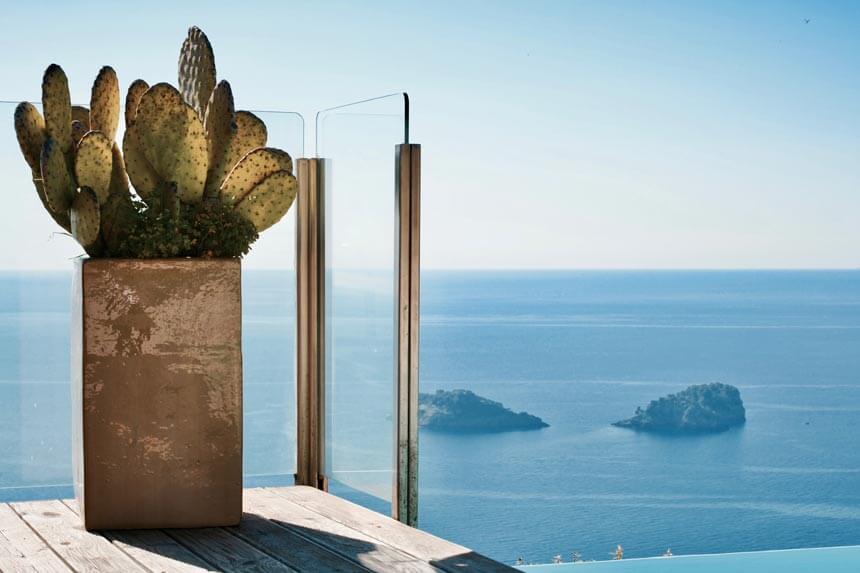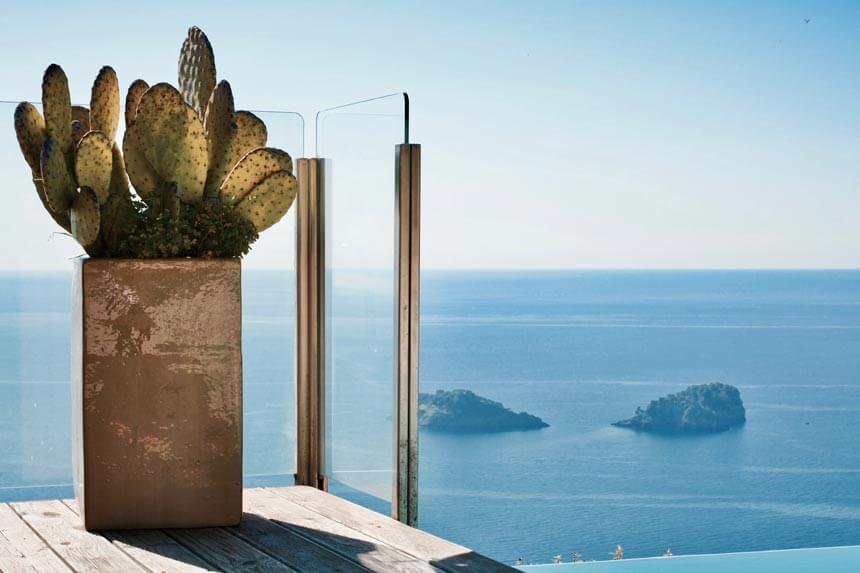 While hotels in Sant'Agnello are cheaper, there's still plenty of choice at each price point. The 4 star Hotel Villa Garden is an independent, family-run boutique hotel with an absolutely knockout view over the sea towards Vesuvius and Capri. Try to get one of the rooms with full sea views – rooms 105 and 205 are particularly spectacular.
The 3 star Unconventional Sorrento hotel is in a converted convent with bright, unfussy rooms, less than 5 minutes' walk from the train station or a 20 minute walk into Sorrento. Breakfasts are served fresh to order, with orange juice from the hotel garden, and reviews consistently praise the friendly and helpful hotel staff.
Piano di Sorrento
Be careful when booking a hotel in Piano di Sorrento – the area of that name covers a large area right across the width of the Sorrentine peninsula. Some parts of Piano di Sorrento are closer to Positano, on the Amalfi coast than they are to Sorrento. If you're looking for a place to stay for visiting Pompeii, make sure you're within a reasonable distance of the Piano railway station.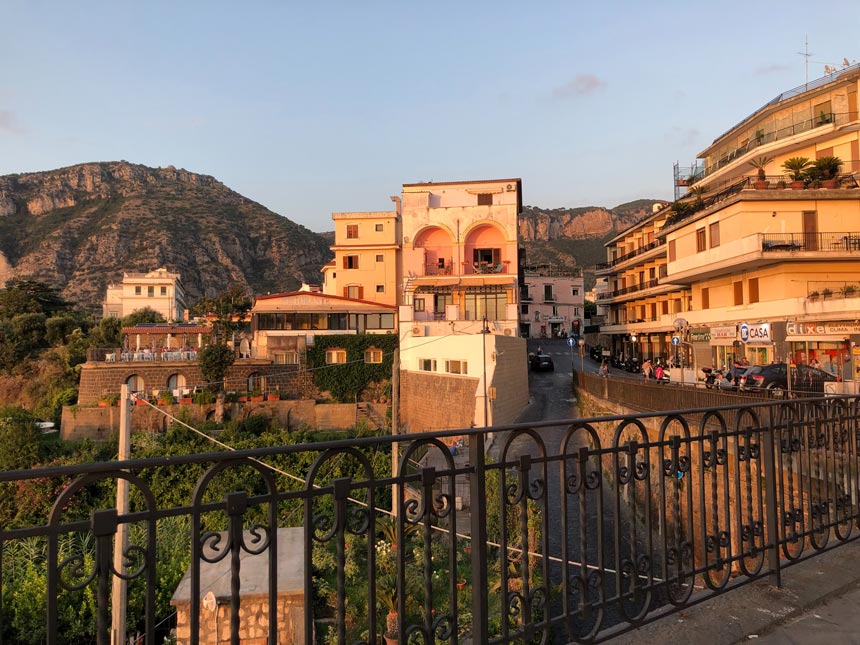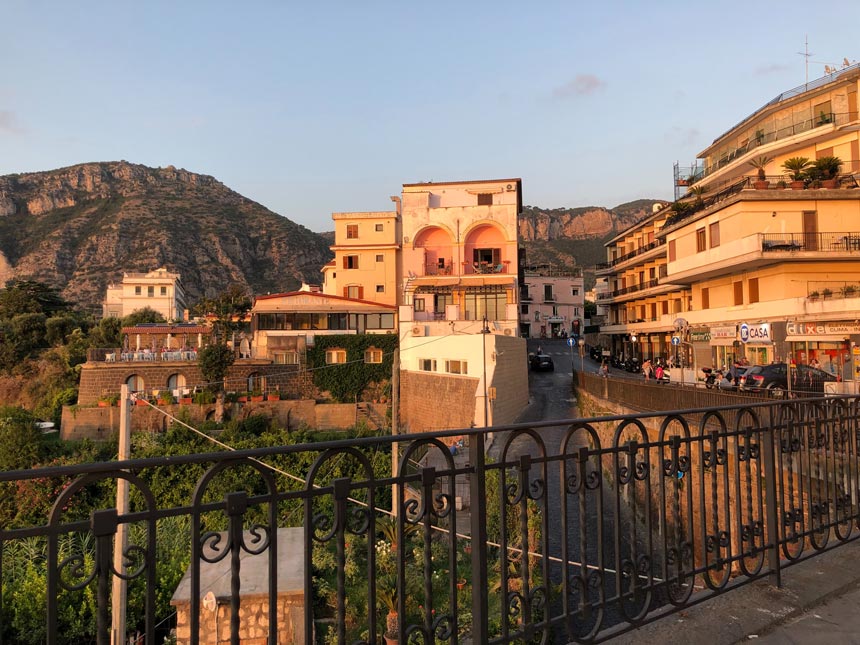 Hotel Soleluna is a 3 star hotel within a 10 minute walk of both the station and Piano di Sorrento's clifftop views of the Bay of Naples. Rooms are clean, breakfast is included and although there's no pool, it's only a 10 minute walk to Piano's small beach.
The Delle Rose Inn is a family-run guest house close to Piano station and the bustling Corso Italia street where you'll find shops, a pharmacy, a bank and lots of cafes. Rooms have been recently refurbished and all feature air conditioning. Breakfast is served at a nearby bar.
Meta
The big advantage of little Meta is its beach. Rather unusually for this side of the Sorrentine peninsula, Meta has a decent-sized curve of sand by the village marina, wide enough to accommodate several beach bars with sun loungers.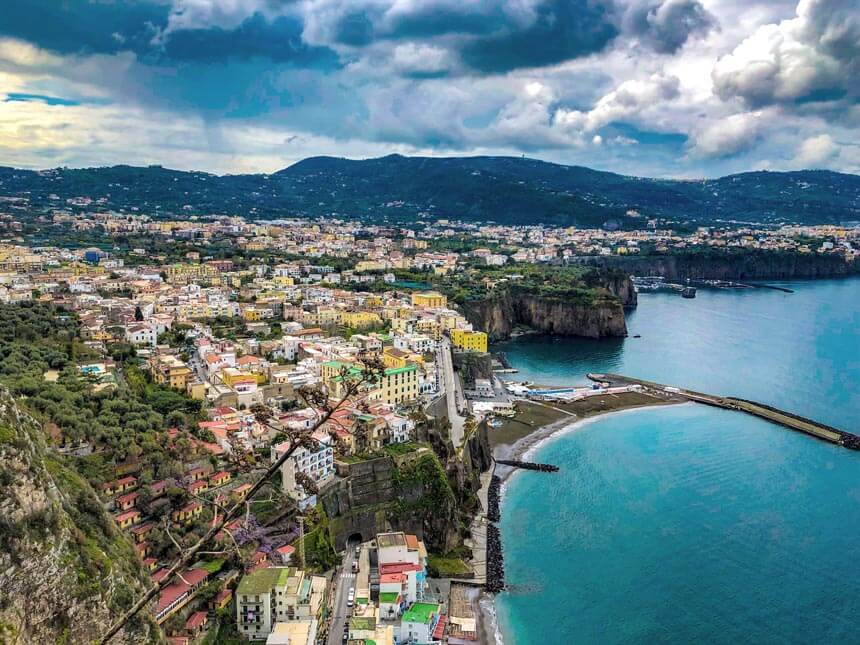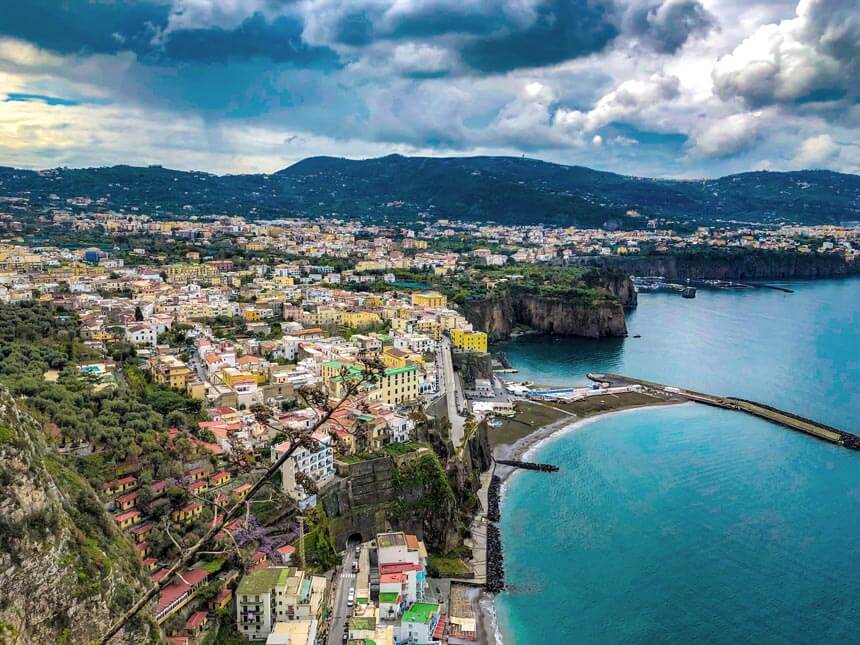 The 4 star Hotel Giosuè A Mare is a relaxing place to stay to visit Pompeii. It has its own private section of beach, the station is less than 20 minutes' walk away and a bus route to Sorrento starts at the end of the street. Most of the rooms were renovated in 2019 and are fresh and bright with sea views.
Meta, along with Piano di Sorrento and Sant'Agnello, is also a good place to look if you want a self-catering apartment as a base for your trip to Pompeii. You'll need to book early, but the Dipintodiblù apartment above the beach in Meta has one of the most beautiful balconies in the area, with an arched window looking out onto an uninterrupted view of the sea.
Search and compare hotels and apartments near Sorrento on Booking.com
Naples
Best for: big city energy, lots to see, easy to get to
Avoid if: you need a relaxing break by the sea
Distance from Pompeii: 15 miles
Time to Pompeii: 40 minutes by train from Piazza Garibaldi, 25-45 minutes by car
If the Sorrento area sounds a little sedate, then Naples could be the best place to stay to visit Pompeii for your trip. Naples is Italy's 3rd largest city and is home to nearly a million people. With that comes all the things you'd expect from a big city, with an extra dash of southern Italian passion.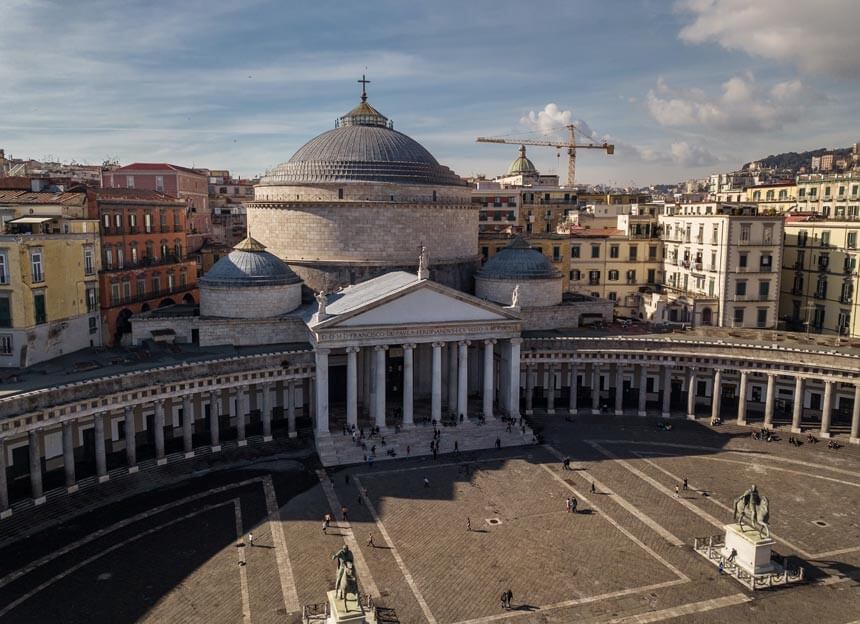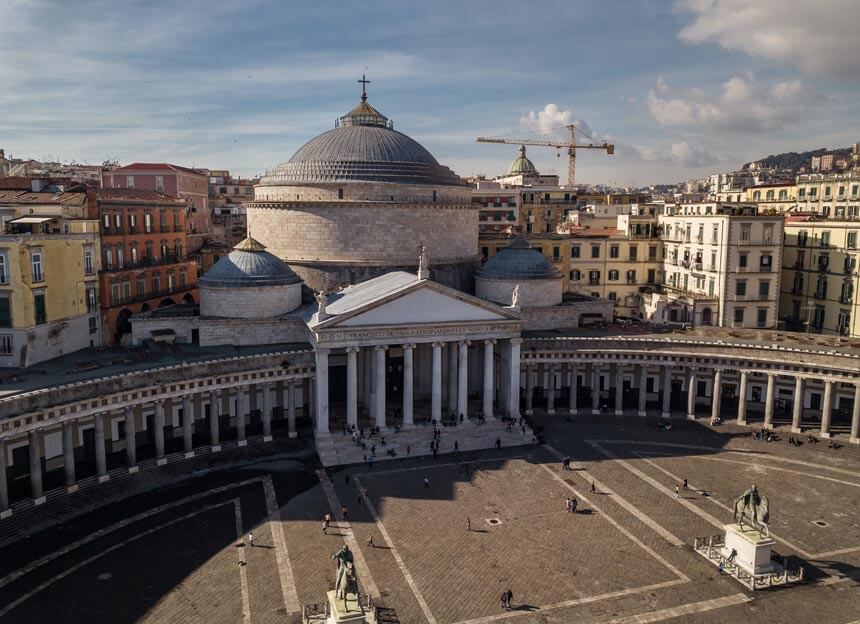 If you choose Naples as a place to stay to visit Pompeii, you'll be close to not only Pompeii and Herculaneum, but also the outstanding National Archaeological Museum, the 800-year old Castel Nuovo, the intriguing Catacombs of San Gennaro and a host of beautiful churches, palaces and piazzas. There's enough to do in Naples to easily fill a long weekend, and if you do long for seaside charm, fast ferries can whisk you off to glamorous Capri or my personal favourite, the island of Ischia which has brilliant beaches, beautiful gardens and around 100 hot springs.
Historic centre – lively and atmospheric
The area roughly between the Municipio, Toledo and Dante metro stops in the historic centre of Naples is a good choice if you're looking for easy access to the top sights, shopping and restaurants that Naples has to offer. Pompeii is about an hour away – to get to the ruins from the historic centre, take metro line 1 to Piazza Garibaldi then change for the Circumvesuviana train.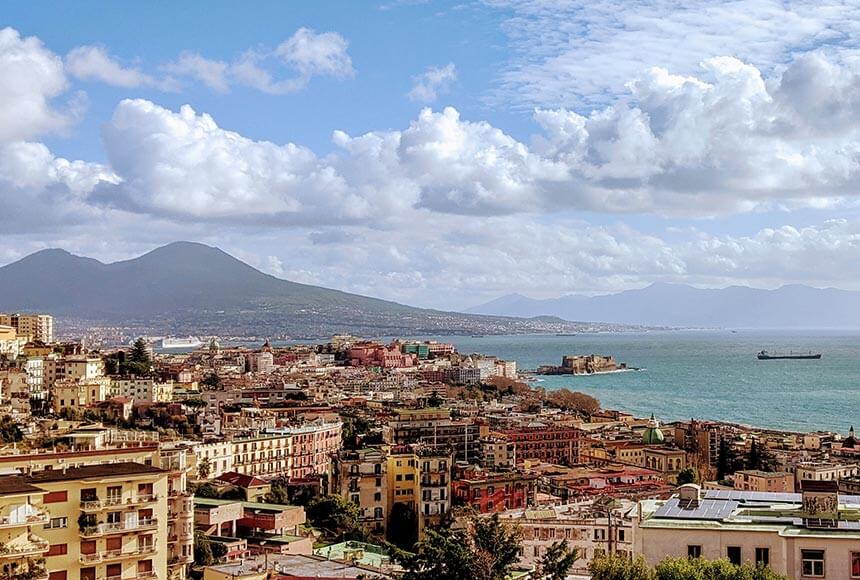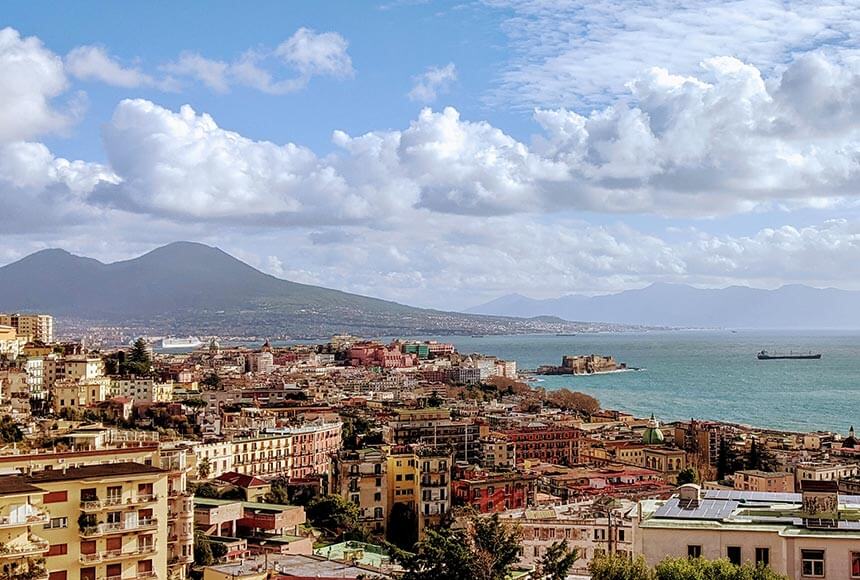 The Santa Chiara Boutique Hotel is an elegant 4 star property hidden away in a peaceful courtyard off a bustling street in the historic centre. Rooms have large, comfy beds, and some have characterful features like mezzanine floors or original wooden ceilings. There's a rooftop terrace with amazing views over the city and across to Mount Vesuvius.
Bellini Suite is a stylishly decorated B&B near Piazza Bellini, one of the nicest areas to stay in the historic centre. The great breakfast and the feeling of safety get top marks from reviewers, and you're only a 3 minute walk from the National Archaeological Museum where many of Pompeii's treasures are on display.
L'Arco e il Vico is a welcoming and friendly B&B with kitchen facilities, close to Università metro station and only 10-15 minutes' walk to the Molo Beverello and Molo Immacolatella Vecchia ferry ports where you can catch a boat to Capri, Procida, Ischia and Sorrento. It's also less than 20 minutes' walk along a wide, direct main road to the main train station and Porta Nolana station for the Circumvesuviana train to Pompeii and Herculaneum. If you're looking for the best place to stay to visit Pompeii and the other attractions in the area, this could be it.
Chiaia – upmarket and residential
The smart Chiaia area of Naples is popular with visitors looking for a slightly quieter place to stay in Naples. It's outside the historic centre, but it has plenty of shops and restaurants, plus the PAN, (Palazzo delle Arti Napoli) modern art museum and a pleasant seafront promenade. Metro line 2 from Piazza Amedeo station will take you to Piazza Garibaldi for the Circumvesuviana train to Pompeii. Line 2 also stops at Museo for the National Archaeological Museum and to transfer to Line 1 for the other big Naples attractions.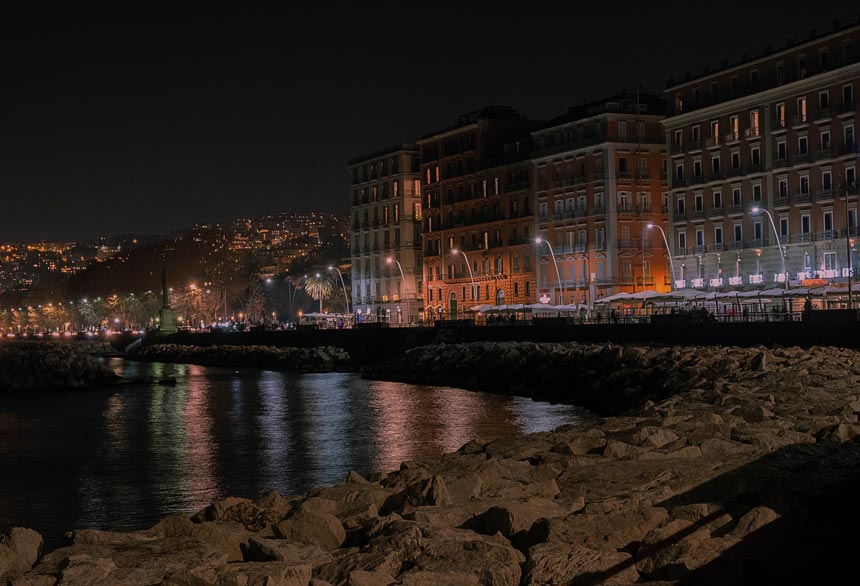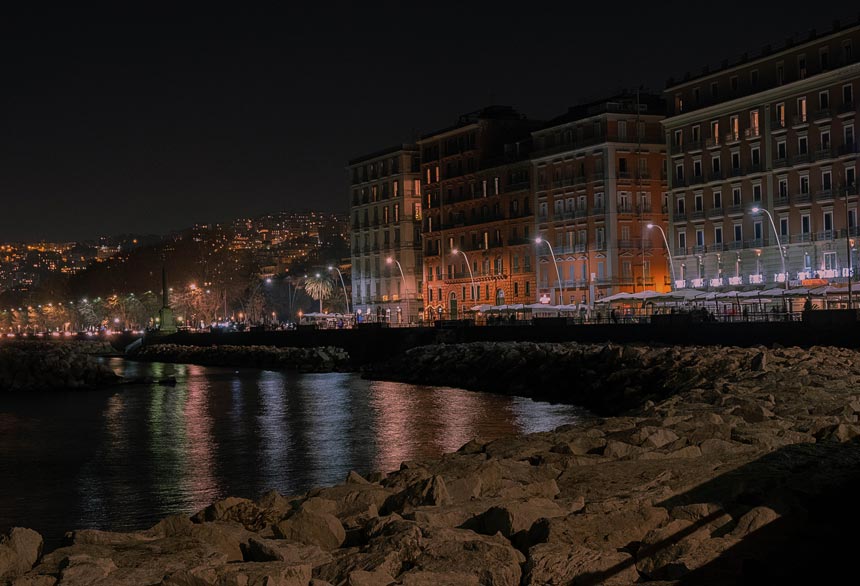 Prestige Rooms Chiaia has clean, air-conditioned rooms, some with balconies, on one of Chiaia's shopping streets. There are plenty of bars, coffee shops and restaurants in the area, and it's only around 3 minutes' walk to the Piazza Amedeo metro station. Guests here report feeling safe in the area, even late at night.
Micalò Art Rooms is just across the road from the Villa Comunale gardens and the seafront promenade, and some rooms have balconies with lovely views across the bay of Naples. The rooms are bright and fresh with arty touches. The metro is around 15 minutes' walk away.
Boutique Hotel Metro 900 is a 4 star hotel at the eastern edge of Chiaia, so geographically further from the action but right next to a metro station which can take you to Piazza Garibaldi.
Search and compare hotels, B&Bs and apartments in Naples on Booking.com
Pompei – the modern town
Best for: super-easy access to the ruins, cheaper hotels, local life
Avoid if: you want a seaside stay
Distance from Pompeii: the Piazza Anfiteatro entrance is in the centre of town
Time to Pompeii: a few minutes' walk, depending on the location of your hotel
The modern town of Pompei is set to the south east of the archaeological sites. It's a working town where people actually live, but its commuters are served by 3 train stations to Naples and lots of buses, including a bus to the top of Mount Vesuvius. There's also a direct FlixBus connection to Rome which could be useful if you're travelling around Italy on a budget.

There isn't a lot to see in the modern town besides the ruins, and it's not especially beautiful (apart from the lovely 19th century Santuario cathedral on Piazza Bartolo Longo) but it's extremely convenient.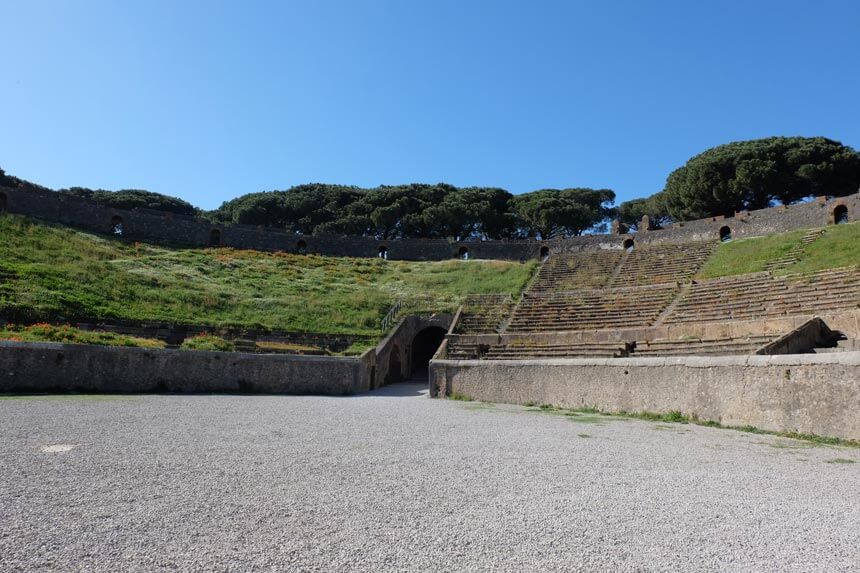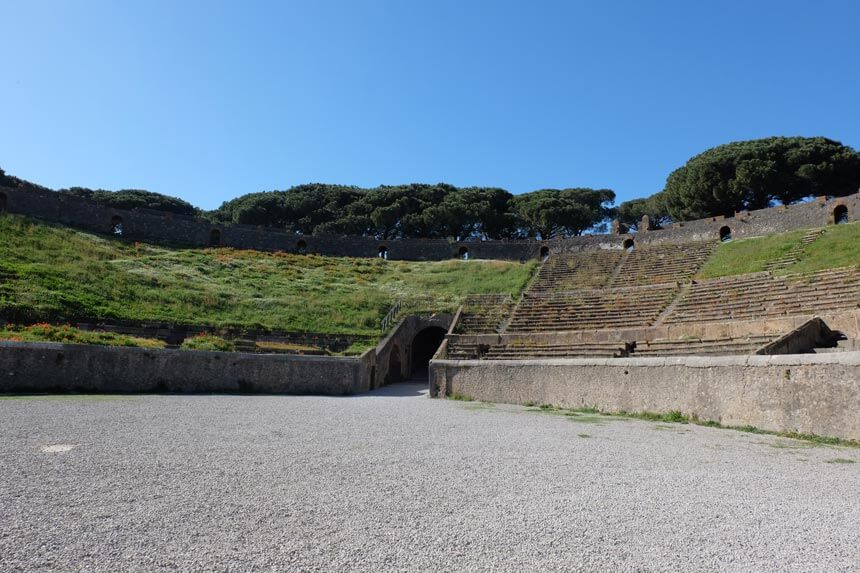 Unfortunately you can't stay overnight in Pompeii, but staying in modern Pompei would be a good choice if you're planning to spend more than one day in the site, or if you're driving from elsewhere in Italy and only spending one night in the Naples area before moving on.
The 4 star Hotel Forum is just a few steps away from the Piazza Anfiteatro entrance and offers newly refurbished rooms, a roof terrace and a lovely garden with lemon trees where you can have your breakfast. Reviews say the breakfast is fabulous and the staff are kind and helpful. Some rooms have views of Mount Vesuvius.
There are lots of good quality B&Bs in Pompei. One of them is the B&B Pompei Olympus, which is conveniently placed halfway between one of Pompei's three train stations and the entrance to the ruins. The rooms are clean and decorated in a bright but romantic style and some rooms have balconies. Breakfast is served in a nearby cafe.
The modern town is also a good choice if you want a self-catering place to stay to visit Pompeii. There's a wide variety of apartments and villas on Booking.com, some with private parking, and the town has lots of food shops where you can buy the region's incredible produce.
Search and compare places to stay near Pompeii on Booking.com or use the map below.
Less convenient but still lovely places to stay to visit Pompeii
If none of the suggestions above for places to stay to visit Pompeii take your fancy, these slightly less convenient alternatives might work for you. All of these places will take over an hour to get to Pompeii, but they all offer something special that could make the extra effort worthwhile.
The Amalfi Coast
Like Pompeii, the Amalfi Coast is a bucket list destination for many visitors to Italy. Beautiful towns like Positano and Amalfi tumble down to the coast, there are plenty of stunning beaches and the views are to die for.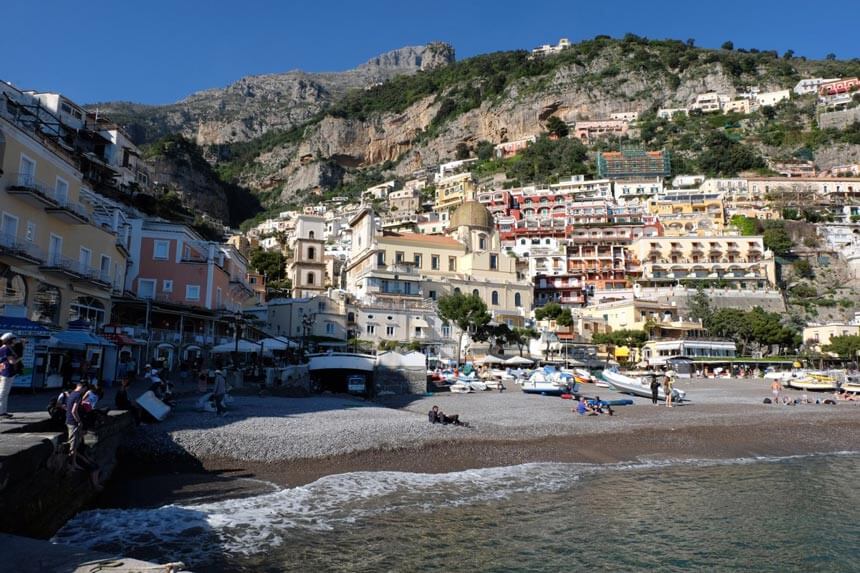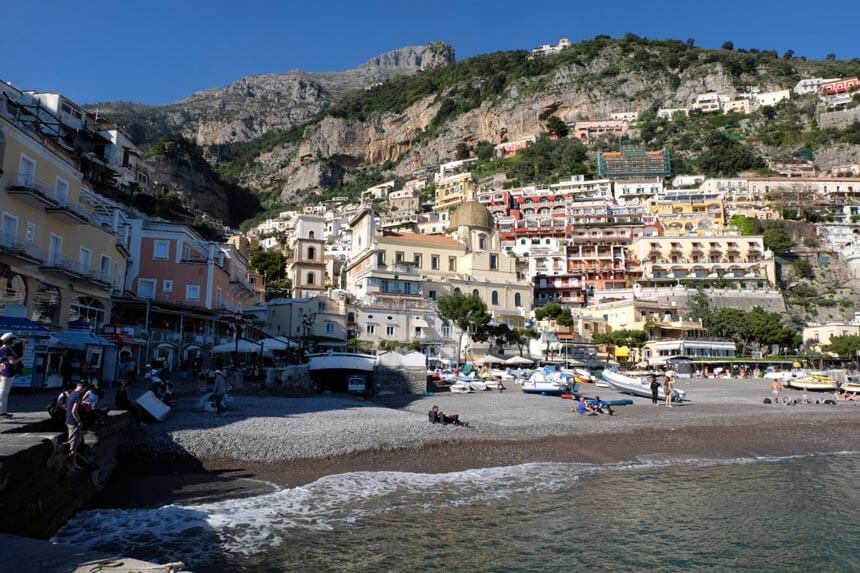 It is possible to stay in the Amalfi Coast and take a trip to Pompeii, but it's a bit more difficult than it is from Sorrento, which is why I recommend Sorrento as a base over the Amalfi Coast towns. If you have a car, Pompeii is just over an hour away, but you're braver than me if you drive on the Amalfi Coast! It's also worth considering the new restrictions on non-residents' cars when deciding if you're going to rent a car on the Amalfi Coast.
Getting to the ruins by public transport takes a minimum of 2 and a half hours and requires a bus to either Salerno or Sorrento then a train. For an easier trip without a car, there are lots of group tours from the Amalfi Coast to Pompeii, some of which include a guided tour of the site.
Ischia
Ischia is one of my favourite places in Italy – it's a small island, just six miles wide, but full of fantastic things to do, including an awesome castle and loads of thermal baths to relax in.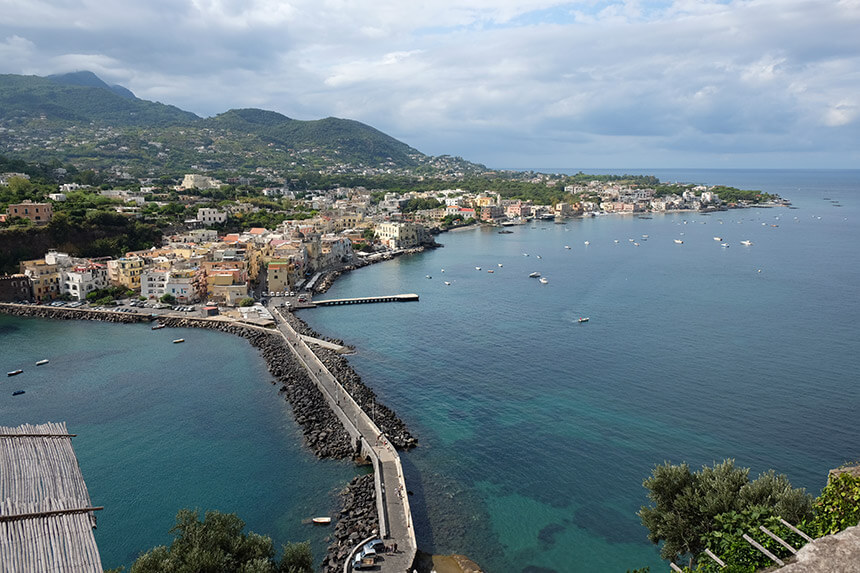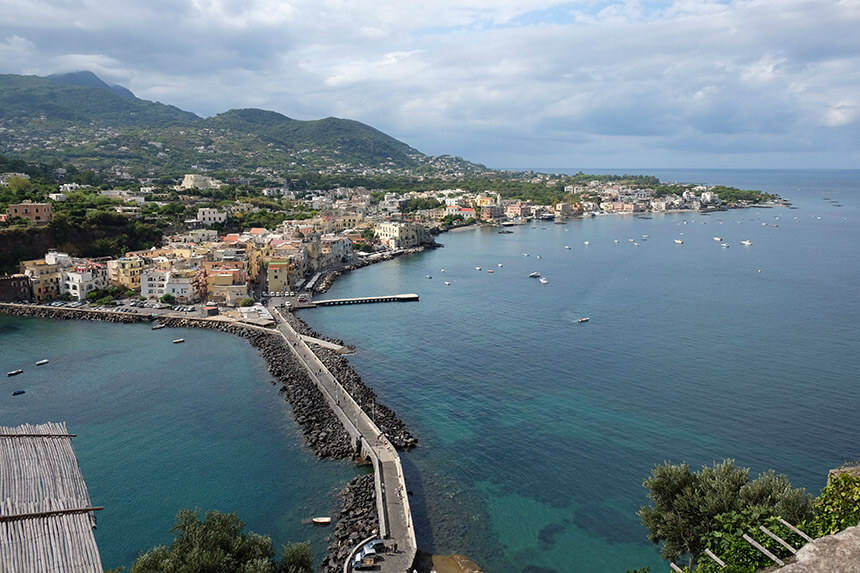 It is possible to get to Pompeii for a day trip from Ischia but you'll need to take a ferry then a train (and possibly a taxi or bus to get to the ferry, depending where you're staying in Ischia). Guided tours take the same ferry as you would on your own so don't really save much time. You may find it more convenient to stay in Naples for a night or two then continue your vacation in Ischia.
Capri
Like Ischia, Capri is an island so you'll need to take a ferry to get to the ruins, which is why I don't recommend it as one of the best places to stay to visit Pompeii. You could either take the ferry to Naples, then the train to Pompeii, or the ferry to Sorrento then the train. At both places there's a bit of a walk between the two but Sorrento is quite a lot less hectic than the dock at Naples so could be an easier experience.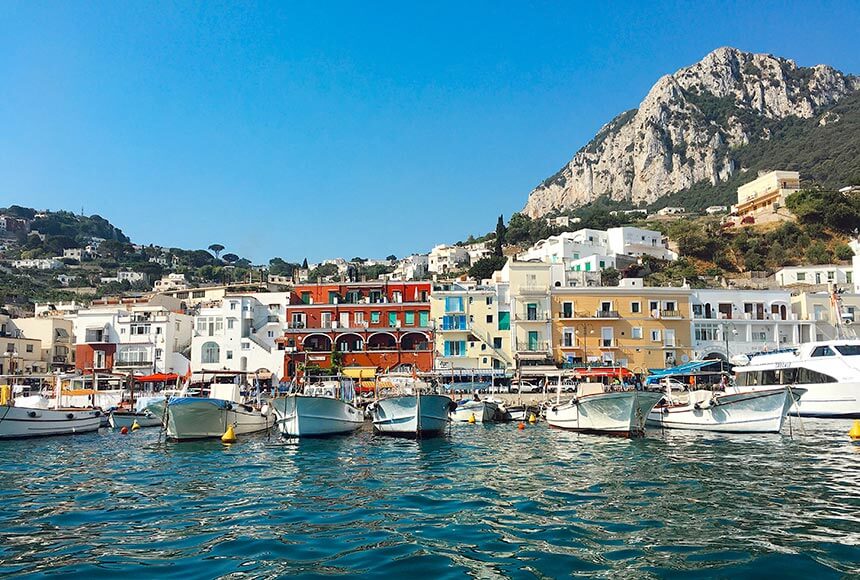 A lot of hotels in Capri are predictably pricey, but there are some surprisingly good value options. If you do stay on Capri, you'll get to see the island at its most peaceful after all the day trippers from Sorrento and the Amalfi Coast.
Rome
Yes Rome! It's possible to stay in Rome and take a day trip to Pompeii, and it doesn't take much longer to get there than it does from Capri, Ischia or even the Amalfi Coast.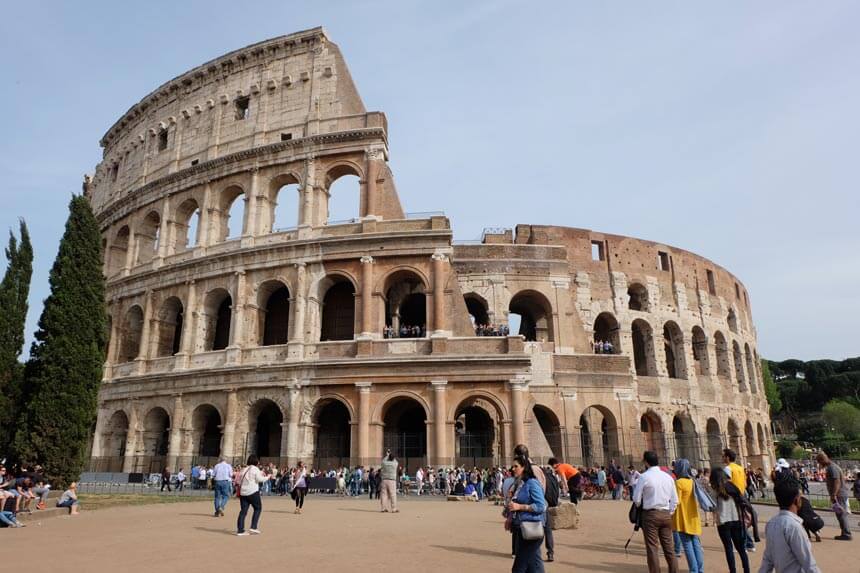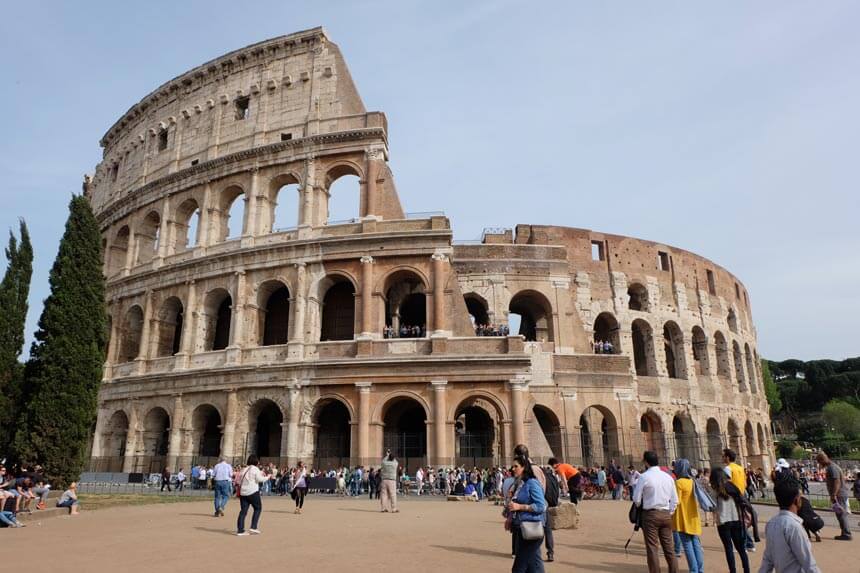 The average train time between Rome and Naples is around 90 minutes, and the high speed Frecciarossa and Italo trains take less than an hour to reach Napoli Centrale from Roma Termini. You can also take a guided coach tour from Rome to Pompeii and take in the Amalfi Coast as well – it's a long day but all the logistics are taken care of for you.
Related posts
If you enjoyed this post, you might find my other posts about visiting Pompeii and the bay of Naples useful:
Where do you think is the best place to stay to visit Pompeii?