A few years ago, visiting Iceland in February was not a normal thing to do. When I told people we were planning to go to Iceland in early February for my partner's 40th birthday there were a lot of head-tilty moments. Won't you freeze? they asked. Won't it be dark all the time?
Truth be told I was a bit worried too. We'd booked a cheap deal from Icelandair on the spur of the moment and didn't really know what to expect. Here's what we learned about what to wear, what to do, what to eat (as a vegetarian), where to stay, and our itinerary for five days in Iceland in February.
First impressions of Iceland in February
Don't be disappointed by your first glimpses of Iceland in the middle of winter.
If you're arriving on an international flight to Reykjavik your first sight of Iceland will be Keflavik airport. We landed on a gloomy grey day and the lava field landscape around the airport was seriously bleak. Don't be disappointed; it gets better.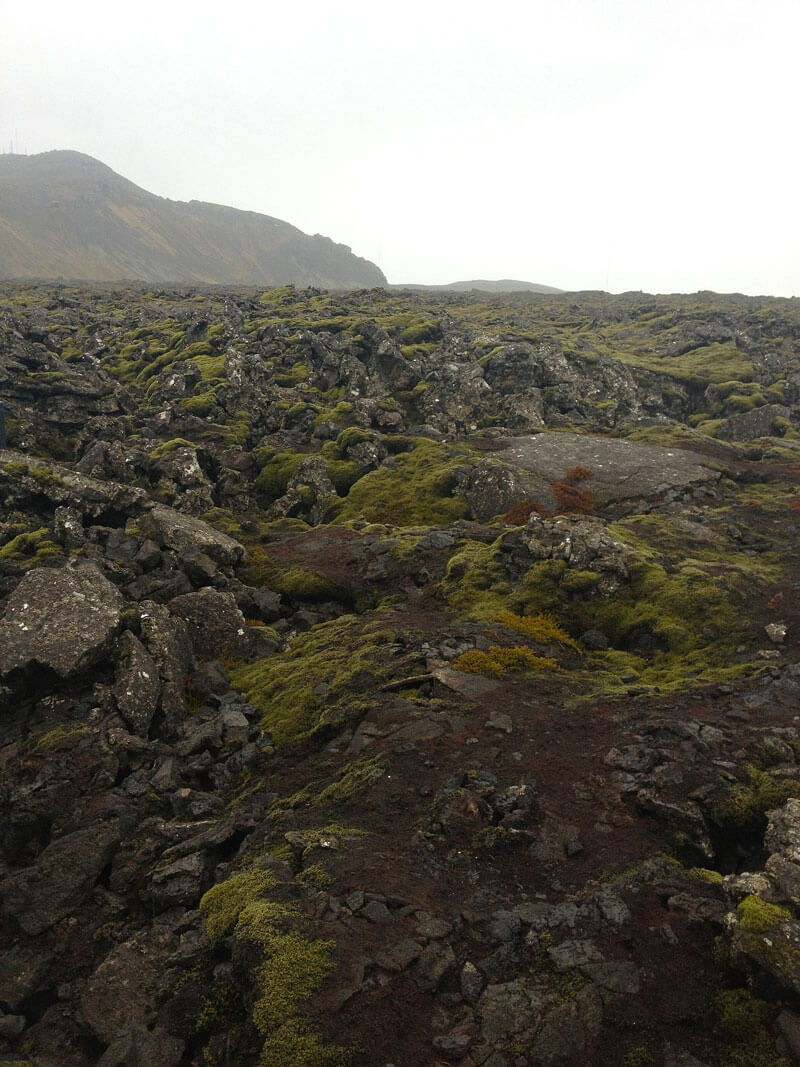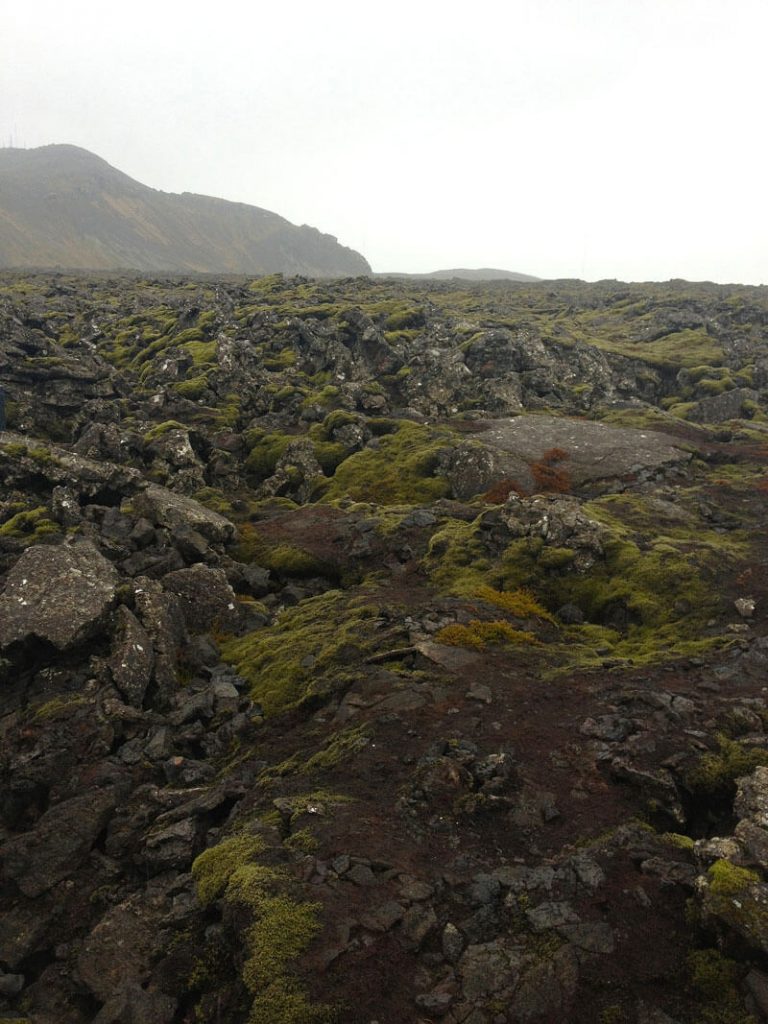 Iceland in February is not that cold (honestly)
Maybe we got lucky (or were just really well prepared) but we didn't actually find Iceland in February all that cold. It might also be that we're from hardy Northern English stock so the cold doesn't bother us as much. It can be windy, and snowy, and you'll definitely want to wrap up warm, but at no point did I feel in danger of getting frostbite.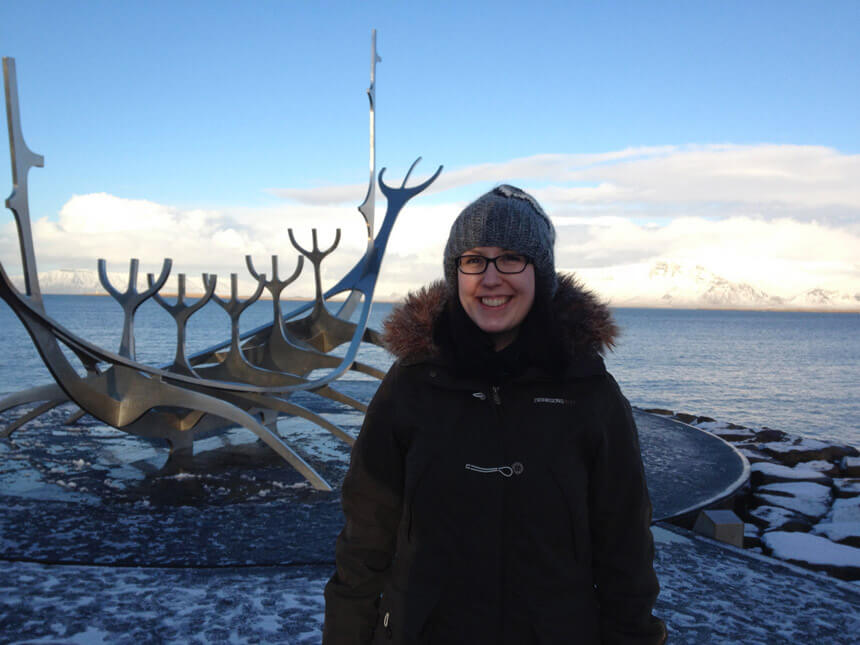 What to wear for your winter trip to Iceland
I followed the general advice on the internet which was to layer up, but didn't go mad with technical outdoor wear. On days when we were sightseeing around Reykjavik I wore a long sleeved thermal top (from Marks & Spencer, nothing flash) with a Gap merino wool jumper on top.
On my lower half I wore cheap but warm fleece-backed tights from Primark with leggings over the top and a skirt. I did invest in a good coat (mine was from Didriksons) and warm waterproof boots (mine are Merrell – I still wear them all the time in UK winters). Add a hat, fleecy neckwarmer and gloves and I was nice and warm and still felt city-break appropriately dressed rather than like I was off to scale Everest.
On our excursion days to the Golden Circle and Southern Iceland I added a fleece underneath my big coat (but didn't really need it) and wore thermal leggings (Uniqlo) underneath fleece-lined waterproof trousers. I also had to go swimsuit shopping (horror!) for the Blue Lagoon.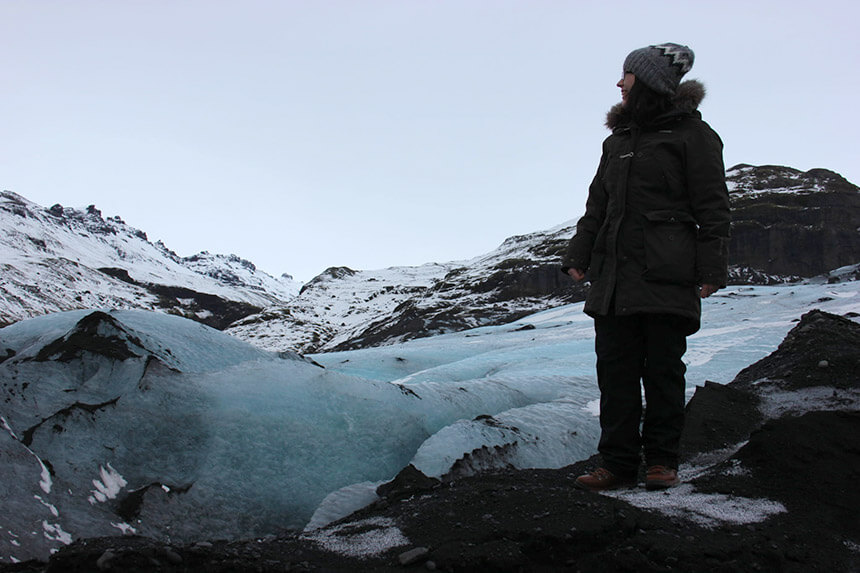 Anything else I should pack for Iceland in winter?
Understatement of the year, but you're going to want a camera. One of my biggest life regrets (seriously) is that I went to Iceland with only a rather outdated phone camera. Don't be like me. Take a camera. And if you can, take extra batteries for your camera, as cold temperatures can mean your batteries run down more quickly.
Also, if your phone isn't waterproof, you might want to get a waterproof single use film camera for the Blue Lagoon. It was an extra bit of retro fun once we were home to go and get the film developed. If I went back I'd take the cheap GoPro alternative that I bought recently.
As well as plenty of warm clothes, it'd be a good idea to bring some hand warmers – little sachets which when activated are a useful extra source of warmth. They'd be particularly useful for Northern Lights tours when you can be stood around for half an hour or more in the middle of the night looking at the sky.
Does it get dark early in February?
In early February, Reykjavik gets around 8 hours of daylight, although it's never very strong. There's plenty of daylight time to sightsee around Reykjavik and do a Golden Circle tour.
If you're looking at a longer day tour from Reykjavik like the Southern Iceland tour we did, you'll probably find that you're leaving Reykjavik in the dark and coming back in the dark, but it'll be light for the main sights. Anyway, if it didn't get dark, how would you see the Northern Lights?
Where should I stay in Reykjavik in winter?
Iceland was expensive when we visited and gets more expensive the more people want to go there. I often see deals with a reasonably priced hotel but it turns out to be outside the city centre or even way out by the Keflavik airport. If at all possible, and especially if you don't have a car, you'll want to be within walking distance of the city centre.
Because we were there on an Icelandair package we had a choice of their hotels and chose the Icelandair Hotel Reykjavik Marina because it was so close to the city centre. It's right on the marina and has dry docks outside the windows framed by the mountains across the bay. The hotel is home to one of the coolest bars in Reykjavik, Slippbarinn, so you don't even need to go outside for nightlife. The fabulous fire pit in reception was very welcome to warm up after a chilly day sightseeing.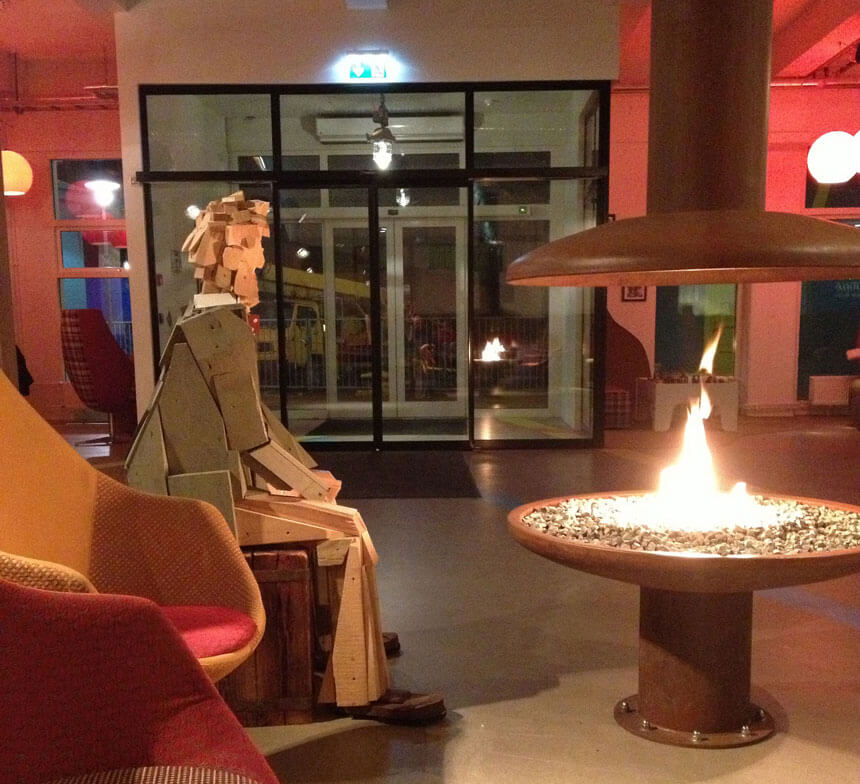 Is it worth spending a day in Reykjavik?
Yes, definitely. Even if you don't have much time in Iceland, try to make some time to explore the capital city. On our first day we explored the city, making the most of the daylight. Although Reykjavik is small, there's plenty to fill a day's sightseeing and lots of interesting bars, restaurants and concert venues for when the sun goes down.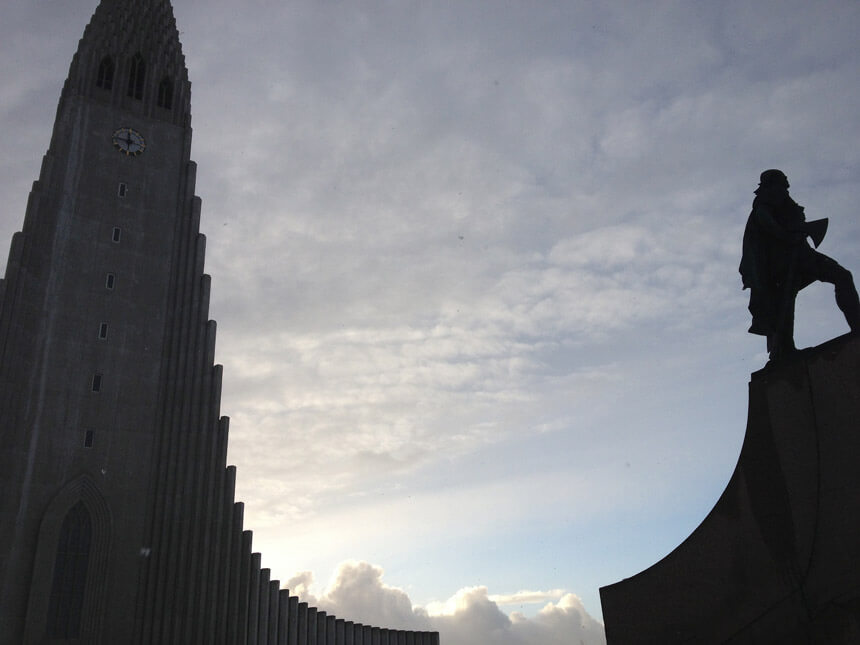 What else is there to do in Iceland in February?
One of the reasons to go to Iceland in February is to see the Northern Lights. They can be at their strongest at this time of the year so if seeing the Northern Lights is a key part of your trip, it's definitely worth choosing February for your visit.
On one night on our trip we took a bus tour way out of the city, chasing the lights across the countryside. We didn't really get to see them (they were there, but very faint) but it was fun and surreal to be stood in a picnic area in ankle-deep snow gazing at the sky.
We naturally did the Golden Circle tour, and I had the happiest, most content day of my life on a minibus tour to see the south-eastern part of Iceland. On our final full day we visited the Blue Lagoon, staying way longer than we thought we would.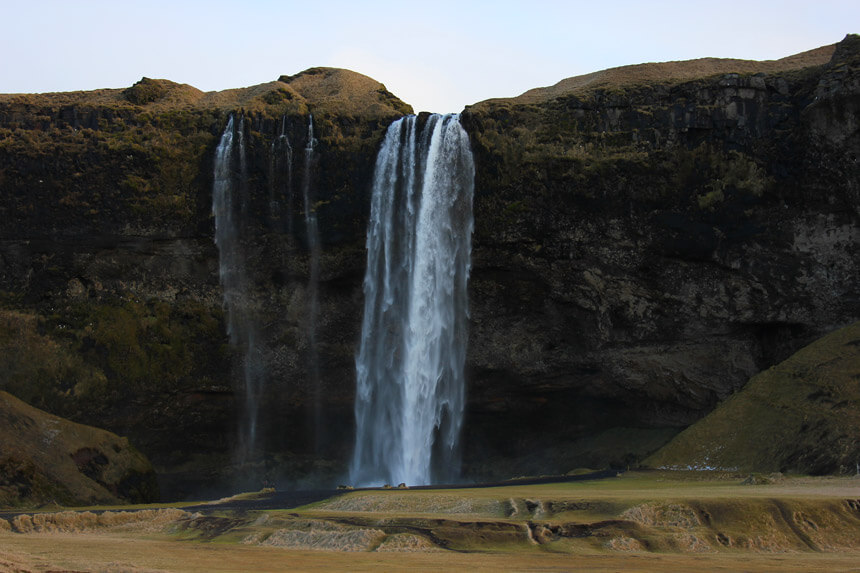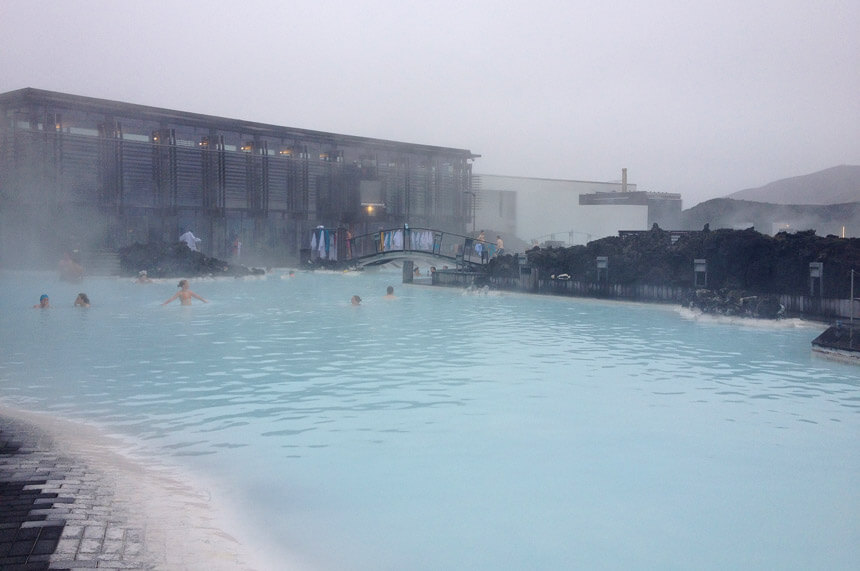 How should I get around Iceland in February?
If you're staying in or near Reykjavik city centre then all the sights should be walkable from your hotel. There's a shuttle coach service from the airport into town; you might have to change coaches at a bus station on the outskirts to get to your hotel. It takes about an hour to get from the city centre to the airport.
We didn't rent a car but if we had we would definitely have got a 4×4. On our Southern Iceland tour we were driving through a blizzard and there were overturned cars from previous crashes abandoned at the side of the road (slightly alarming!), so unless you're very used to driving in wintry conditions and you have a car that's up to it then I'd recommend taking organised bus tours.
Our Northern Lights trip with Reykjavik Excursions was included in our flight and hotel package and all our other trips were with Bustravel Iceland who gave us a really good price for a combination deal.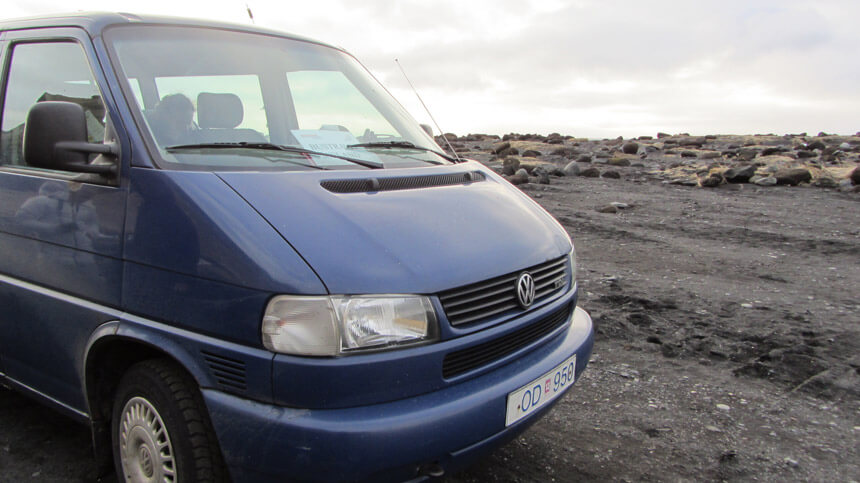 Where can I find vegetarian food in Reykjavik?
I was a bit worried about what we'd eat during our stay in Iceland. It wasn't the easiest place to find cheap vegetarian food but we didn't starve either. Although the famed hot dogs were off the menu for us we did fill up on curries at Shalimar, really good paninis at Slippbarinn and an ok veggie burger at the famous Laundromat cafe. Breakfast at our hotel was one of the best I've ever had; the skyr was just incredible.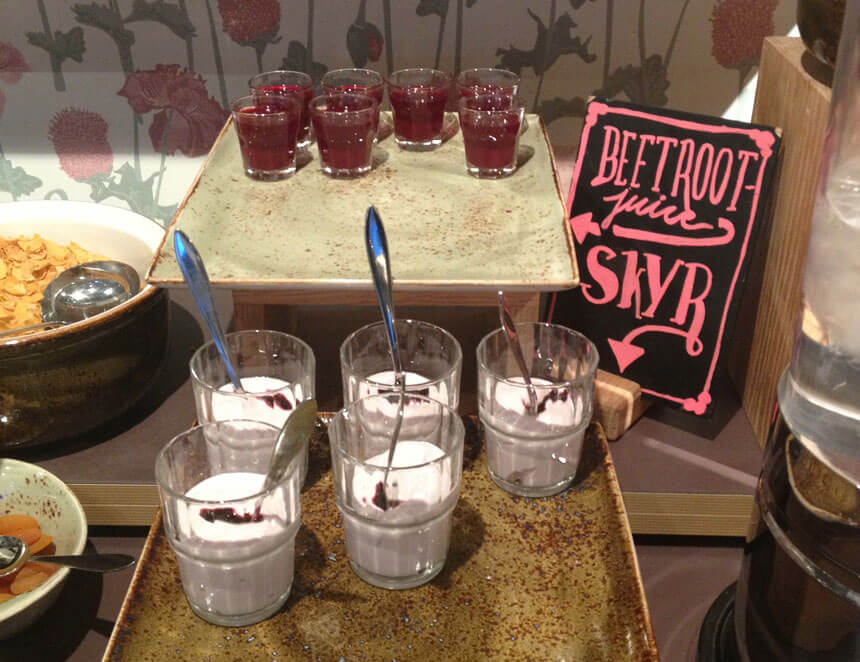 Out on excursions getting something decent to eat without meat or fish was more difficult. The visitor centre at Geysir had a couple of vegetarian sandwiches but at the cafe in Vik where we stopped on our south coast tour, the only thing we could eat was french fries.
Our itinerary for five days in Iceland in February
We found our five night stay in Reykjavik just right for a first taste. Our itinerary looked like this:
Day 1: Arrive in Reykjavik
Day 2: Explore Reykjavik
Day 3: Southern Iceland tour (full day)
Day 4: Golden Circle tour (full day)
Day 5: Blue Lagoon (pretty much full day, I had major wrinkly fingers because we were in there so long!)
Day 6: Early flight home
Isn't five nights in Reykjavik a bit too long?
When I was booking the trip there were three night and four night options but these wouldn't have been enough time for us. Part of the joy of being in Iceland is soaking up how different it is from anywhere else and just being there, not only ticking off all its Instagrammable locations. We're planning to go back Iceland to drive the Ring Road and are hoping to do the same again – take plenty of time to just enjoy it all.
Would you visit Iceland in February?
Pin it for later!