San Marino is one of the smallest countries in the world – and one of the least-visited. But if you go to Bologna or Rimini in Italy and don't make the very slight detour to visit San Marino, you're missing out on a spellbinding country with a lot to offer. Read on for advice and tips for visiting San Marino, and how to get the most out of your trip.
Where is San Marino?
San Marino is a tiny country, just 24 square miles in area and completely surrounded by the Emilia-Romagna and Marche regions of Italy. It's 8 miles from the Italian seaside resort of Rimini.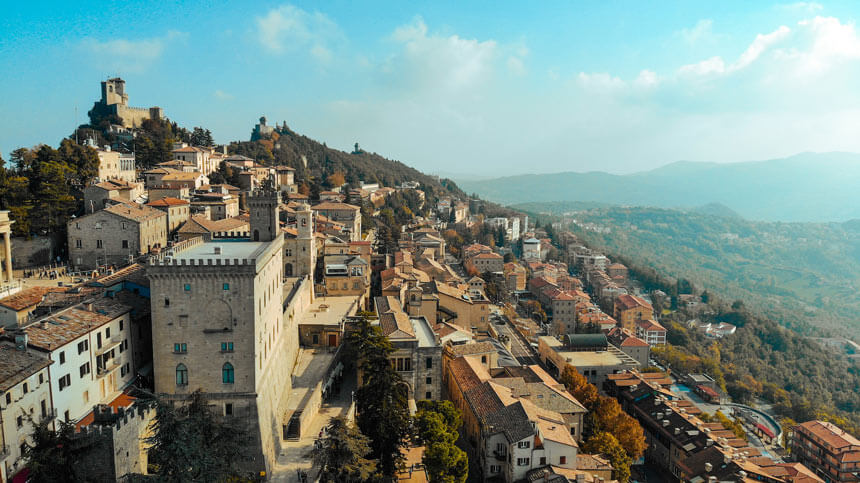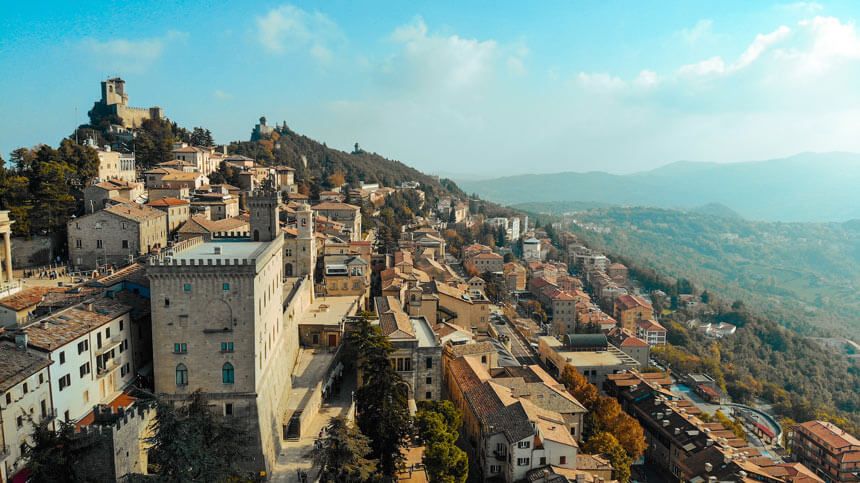 This post contains affiliate links – all that means is that if you buy something as a result of clicking on a link in the post, I'll receive a small commission that helps me with the costs of running this site. Thanks!
San Marino is made up of 9 regions, although most visitors to San Marino will only visit the capital, Cittá di San Marino. While the whole country is hilly, Cittá di San Marino perches astonishingly on top of a mountain peak, so pretty it could come straight out of a fantasy movie.
Tip: Don't say San Marino is in Italy! While it is surrounded by Italy, it's an independent country.
Is San Marino worth visiting?
Absolutely yes – there are few places that I've been that are as spectacular and atmospheric. I'd planned a trip to San Marino mainly to tick another country off my list (my 42nd), but what I found was an incredibly beautiful and welcoming place that I'd love to return to.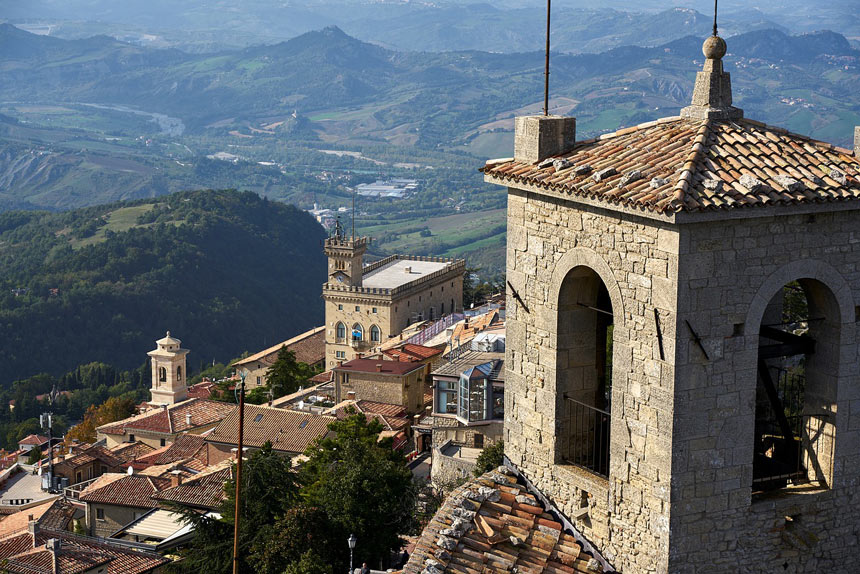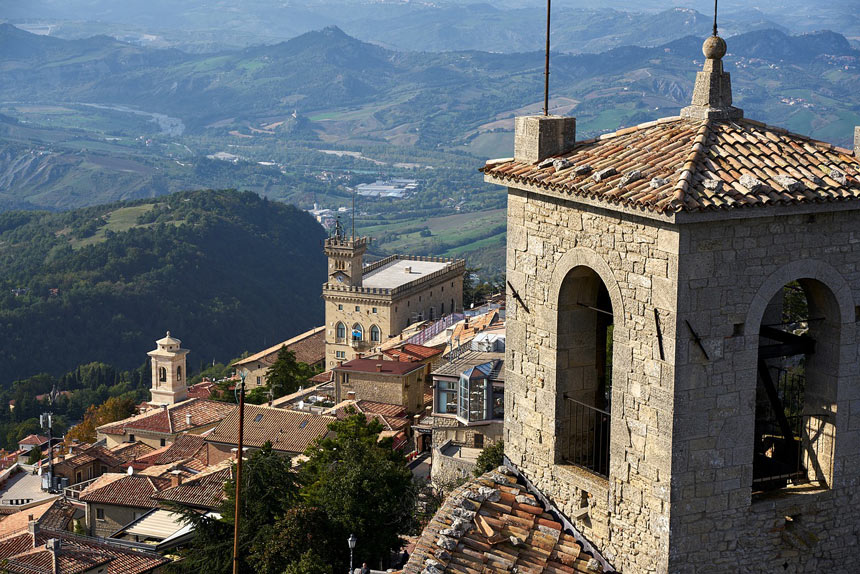 Standing on the ramparts of one of the castle towers, climbing the narrow stone streets or taking the Witches' Path through the forest between the towers, you could easily imagine yourself to be in a fairy tale. There's some decent shopping, but what you're really visiting San Marino for is the exceptional location, the extraordinary views and the otherworldly atmosphere.
Tip: If you have some flexibility in when you visit San Marino, try to pick the clearest day – the fewer clouds there are, the more you'll see of the amazing views. That said, if you go to San Marino on a cloudy day in Rimini, you might well be above the clouds when you get to the top of Monte Titano.
How long to stay in San Marino
Most visitors to San Marino take a day trip from Bologna or Rimini, but I strongly recommend that you stay for at least one night and preferably two, particularly if you visit when there are events on. I definitely recommend staying overnight in San Marino if you're visiting by public transport, as the bus timetable from Rimini doesn't give anything like enough time to explore the city properly.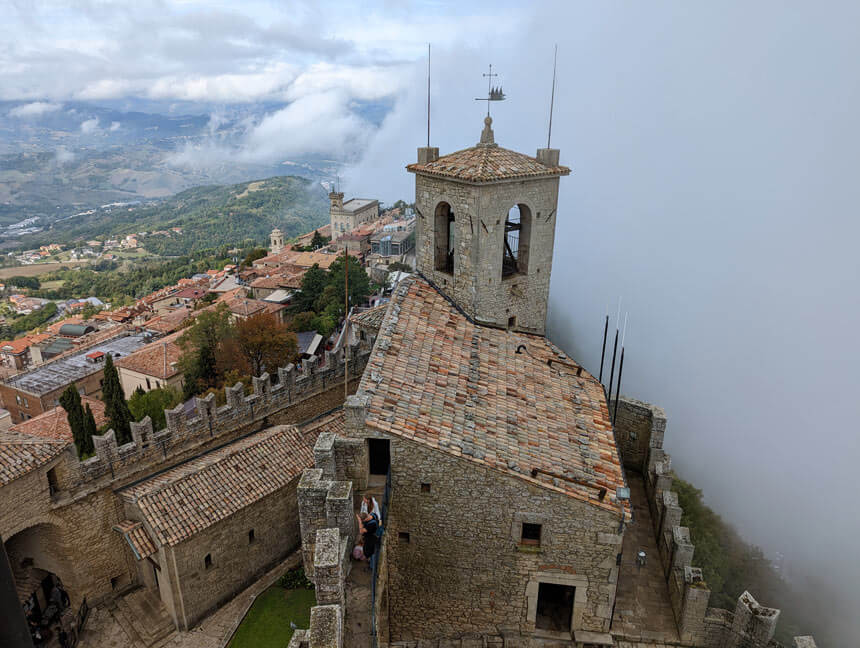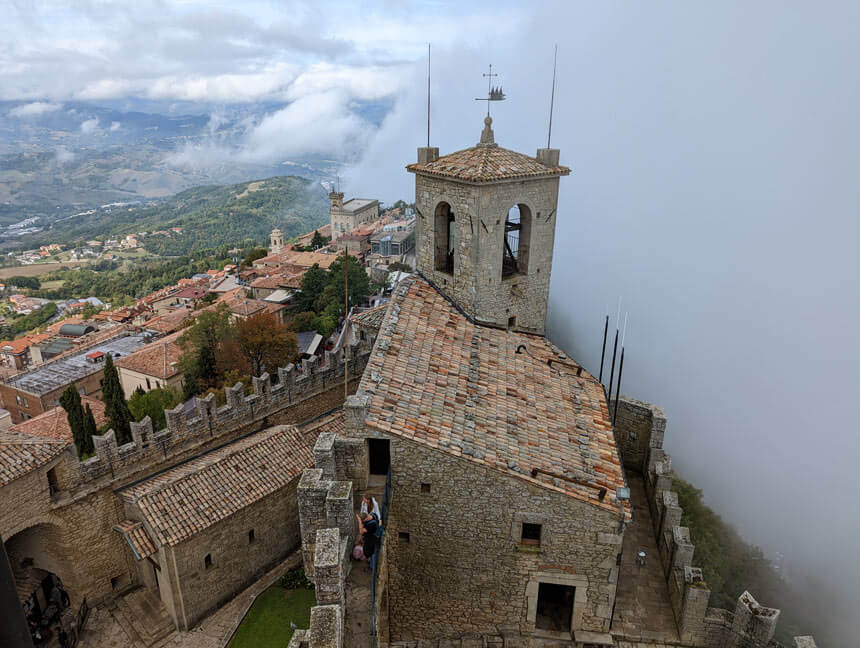 Cittá di San Marino is a maze of narrow streets which run along the sides of Monte Titano, gradually climbing as they go. Because everything is so compressed into a small space and lots of the roads run parallel to each other (but higher or lower up the mountain) it can be difficult to orientate yourself. We got lost when visiting San Marino a lot more than we normally do! There are a lot of steps so getting around takes a bit longer than you might expect based on looking at a flat map of the city.
Tip: staying for one or two nights in San Marino will give you the chance to see the city in the evening, when all the day trippers have gone home and the city is quiet and mysterious.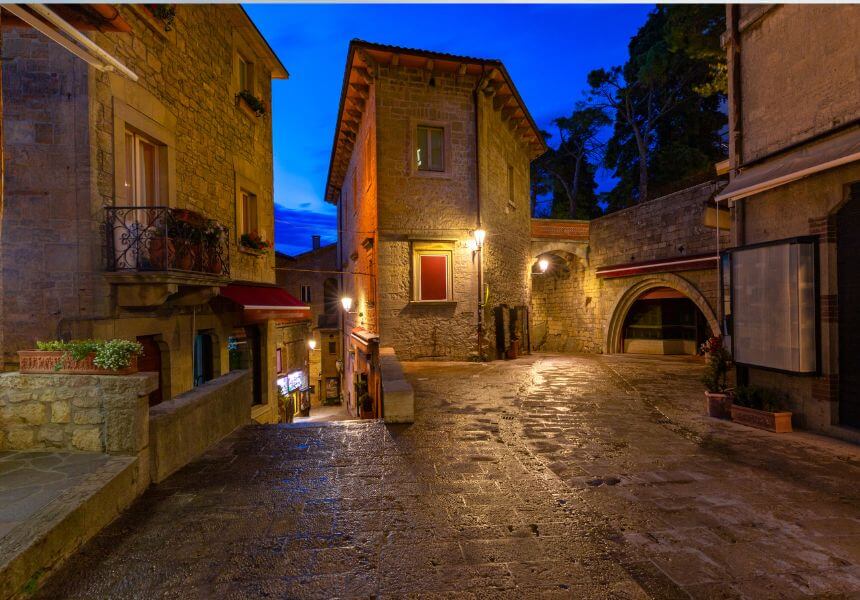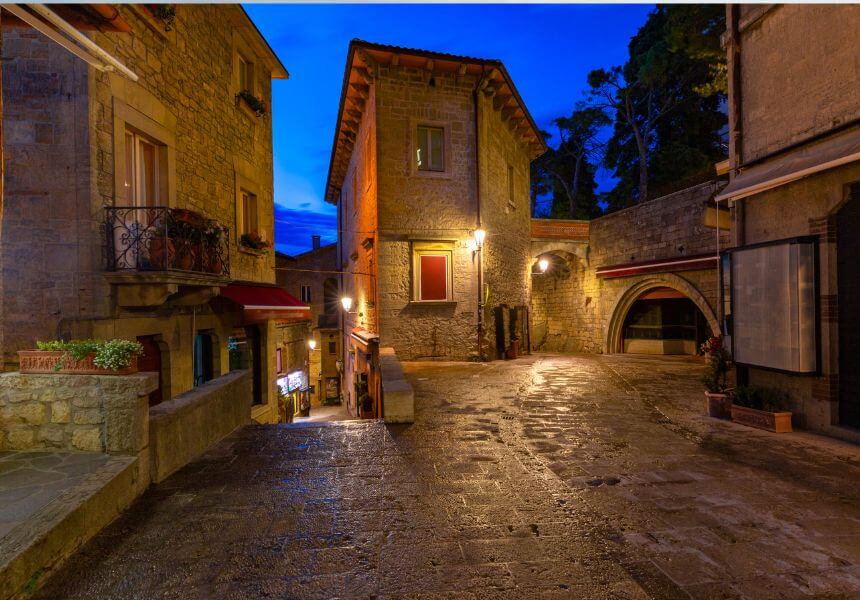 Getting to San Marino
Which airport should I use for San Marino?
San Marino doesn't have its own airport. The nearest is in Rimini, on the Italian coast, which is served by low cost carriers Ryanair and Wizz. If your local airport doesn't have flights to Rimini, try Bologna, which is 85 miles to the north of San Marino.
How to get to San Marino by car
It's probably easiest to visit San Marino by car, although large parts of the historic old town are either pedestrianised or access only so you'll need to leave your car at one of the car parks. These are either on the edge of Cittá di San Marino or in Borgo Maggiore, the town further down the slopes of Monte Titano.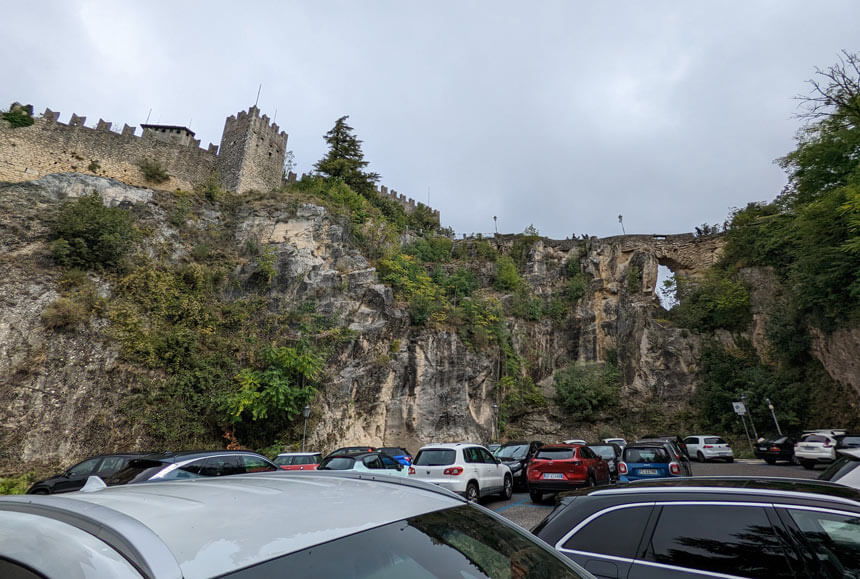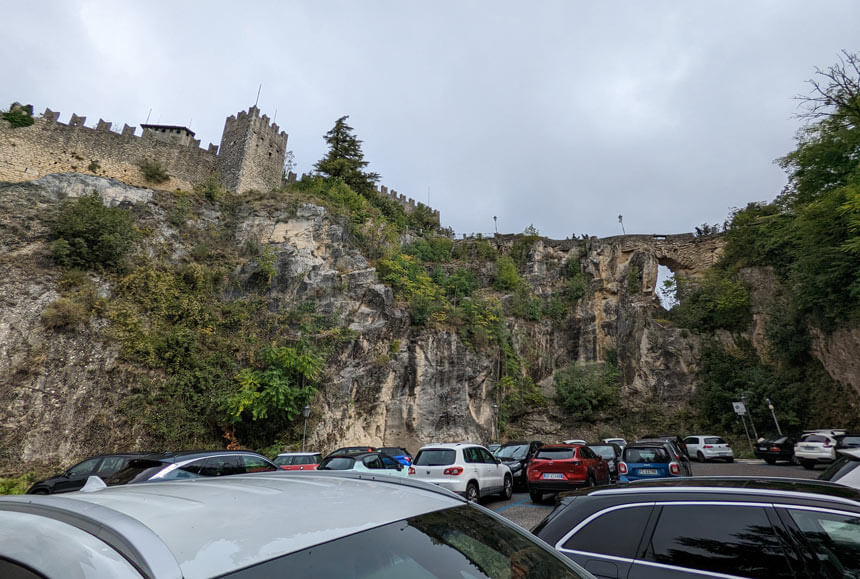 There are some hotels with parking, although not many. I stayed at the Hotel Rosa, which had parking for a small number of cars right outside the door. Parking in the main San Marino car parks cost 4 euro a day if you're staying in a hotel in San Marino.
If you do bring your car when you're visiting San Marino, I really recommend going on Google Maps' Street View and planning your route before you arrive. The roads up Monte Titano zig-zag their way up, with hairpin bends and I found it quite confusing to know which way I should be going (I do generally have a decent sense of direction!).
Tip: If you're renting a car, I recommend choosing as small a car as you can manage as the roads are narrow and twisty, and parking spots can be tight. You should also check that your car rental company will be ok with you taking the car into another country.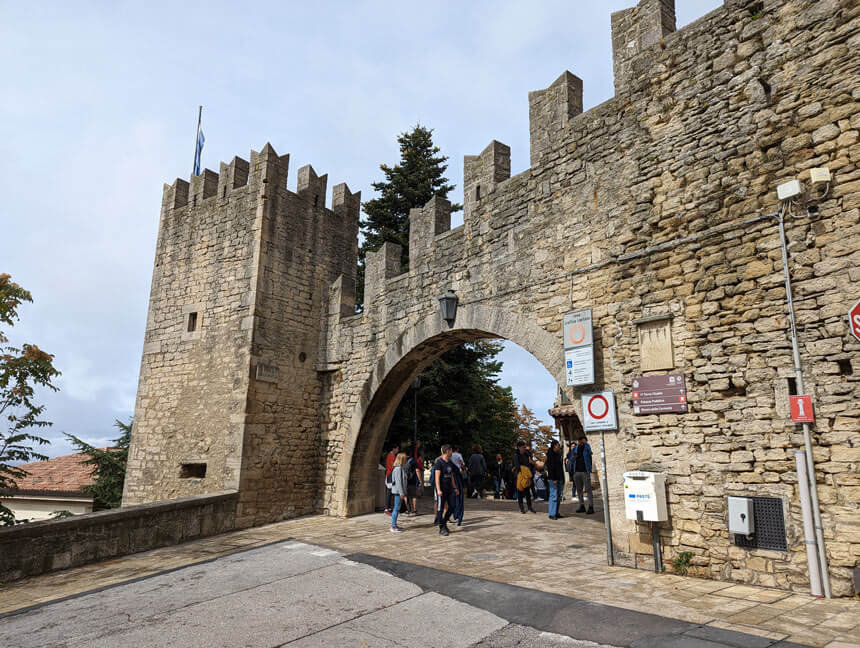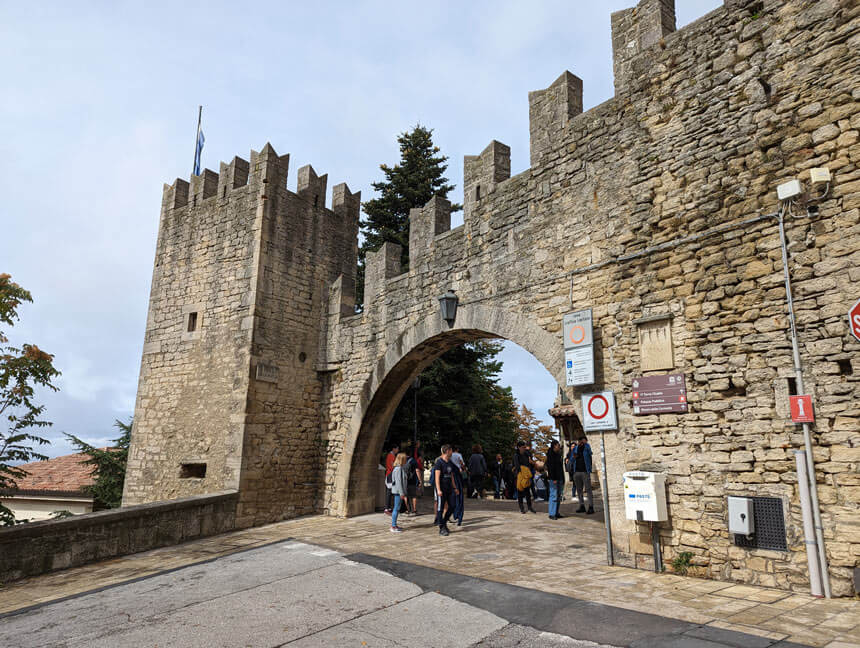 How to get to San Marino by public transport
The nearest railway station to San Marino is in Rimini, on the Italian coast.
If you're flying into Bologna airport, the route that Google Maps recommends is the Marconi Express monorail to Bologna Centrale railway station, then a train from Bologna Centrale to Rimini, then a bus from Rimini to San Marino. This is fine, and it's what I did, but I wish we'd taken the Shuttle Italy Airport bus straight from Bologna airport to Rimini.
The fast Frecciarossa and Intercity trains from Bologna to Rimini which take around an hour often sell out. If they do, you'll have to take one of the slower Regionale trains which can take well over 2 hours and sometimes require a change. The Regionale train I travelled back from Rimini to Bologna on was absolutely packed and we had to stand almost all the way back. The Shuttle Italy Airport bus takes around 1 hour and 30 minutes to get to Rimini; it also means you don't have to contend with the Marconi Express monorail, which was a lot less fun than it sounds!
Tip: Intercity trains from Bologna are around half the price of the Frecciarossa, but only take around 20 minutes longer. You should consider booking fast trains a week or so in advance – or if you're travelling from Bologna airport, you could take the Shuttle Italy Airport bus.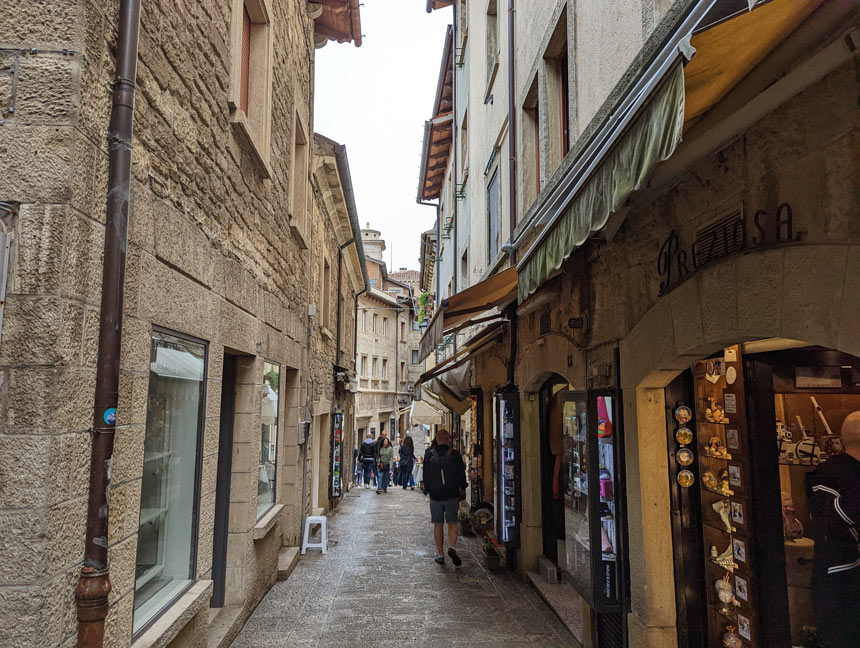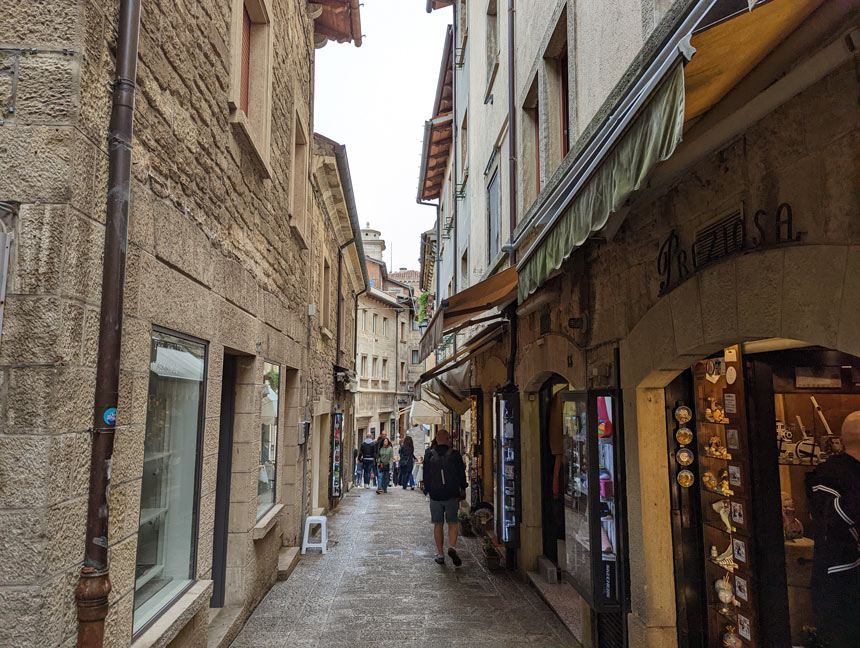 Rimini to San Marino bus
Bonelli Bus runs a scheduled bus service between Rimini's main train station and San Marino. The bus runs every day, including on Sundays and public holidays. There are around three timetables each year, one for the summer (April to mid September), one for the Autumn (mid September to November) and one for the winter (November through to April).
There are eight buses per day in each direction, with the first bus setting off from Rimini just after 8am and the last bus from San Marino returning just after 7pm. The journey takes between 50 and 55 minutes, depending on the time of day. The buses are more like a coach than a city bus, with comfortable seats and luggage storage underneath.
You can either buy tickets on board the bus or, in Rimini, at the little tabaccheria immediately across the street from the train station. Tickets cost 6 euro each way and are valid for any service; if you buy a return at the tabaccheria you'll be given two tickets which you can use anytime. I was able to pay for my tickets by card in the shop but lots of people say that they don't always accept cards, and can be funny about taking small change.
The bus stop for San Marino has recently moved – it was by the Burger King but it's now a little further along Piazzale Cesare Battisti, outside the Hotel Napoleon.
In San Marino, the bus from Rimini stops at Parcheggio P1 A, just outside the city walls and immediately below the Porta del Paese – Porta San Francesco (Gate of St Francis).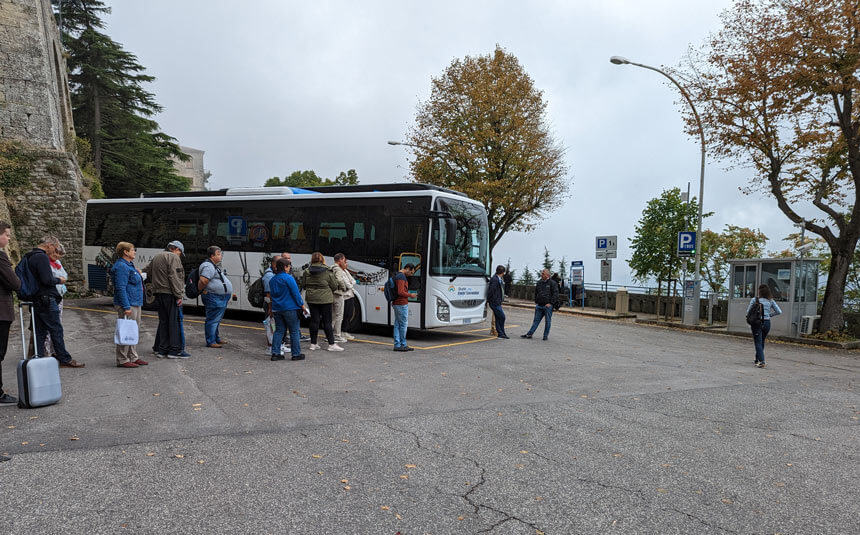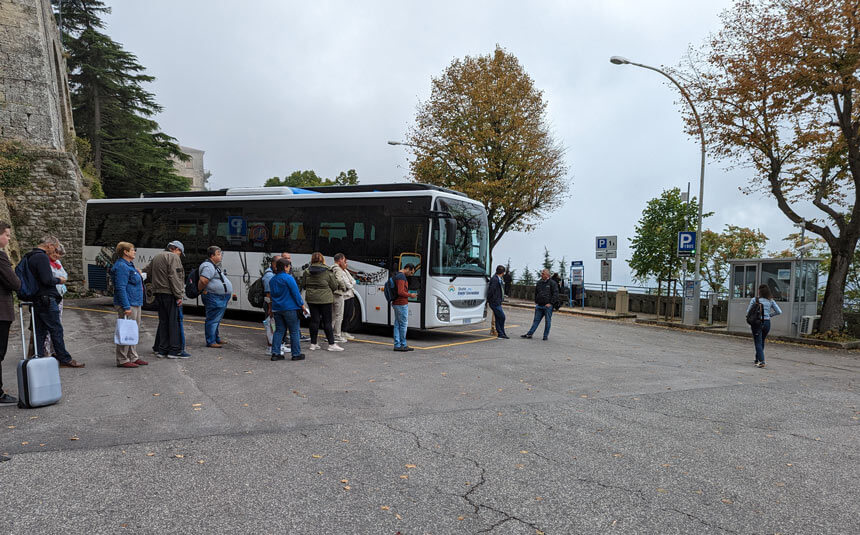 A queue forms at the bus stop before each bus departure. Leaving San Marino it was very orderly, a bit less so in Rimini. While all of us managed to get on each time, I've read that that's not always the case. If you go for the last bus back to Rimini from San Marino and don't get on, you're looking at a 45-50 euro taxi. We opted to catch the bus before the one we actually needed to catch to make sure we got a seat.
Tip: Make sure you're at the bus stop well before the bus is due to leave, just in case there's a long queue.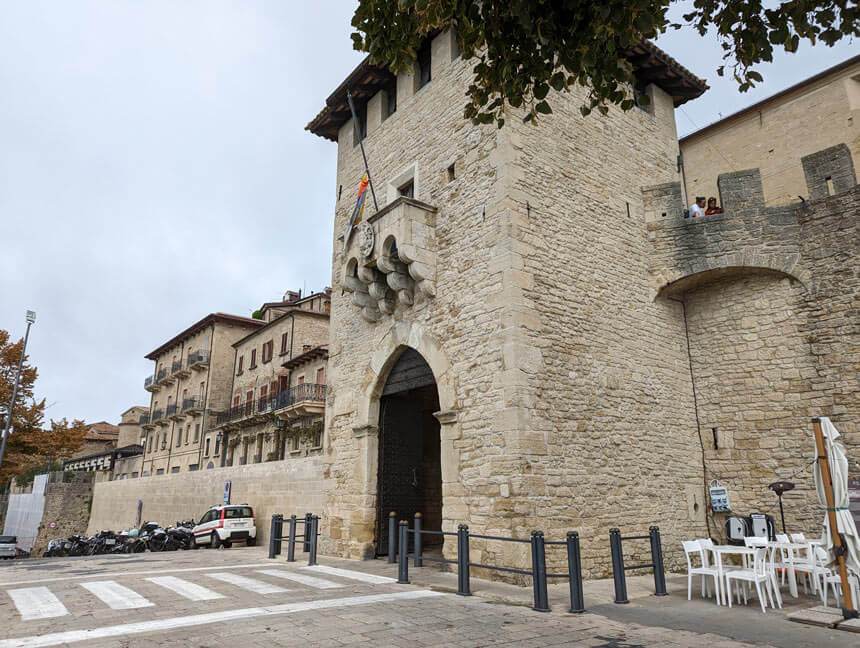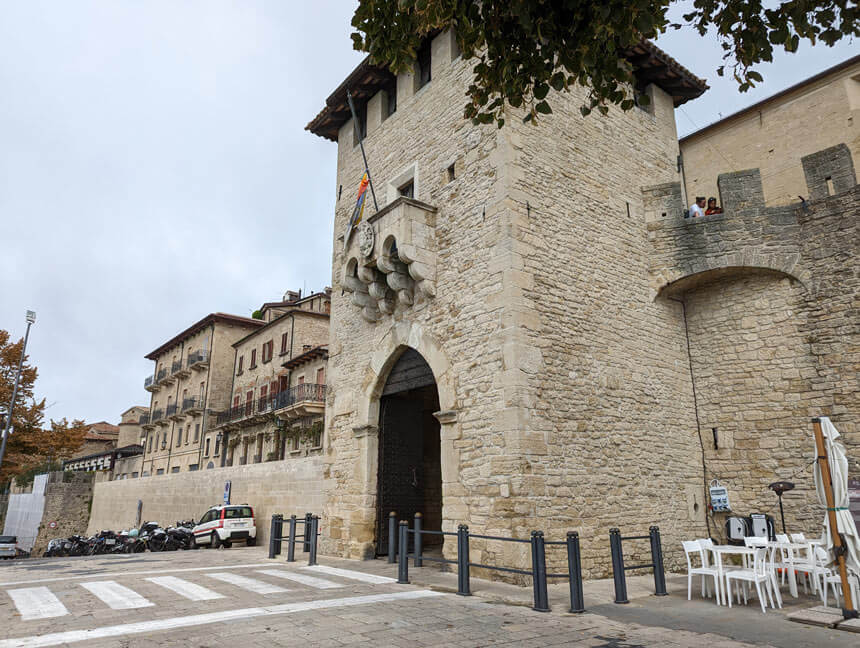 Things to do in San Marino
Tip: If you stay in a San Marino hotel, you'll be given a TuttoSanMarino discount card, which gives you money off entry tickets for the three towers and lots of San Marino's museum, along with discounts at shops and restaurants and on the cable car.
Visit the three towers
If you do one thing when you're visiting San Marino, it should be to see at least one of San Marino's iconic towers. The towers sit on Monte Titano's three peaks and are connected by a ridge.
The first tower, known as Guaita, is the oldest, built in the 11th century. It's also the most popular with visitors. You can explore almost every part of the Guaita fortress, including climbing up a very steep and narrow ladder to get to the highest turret!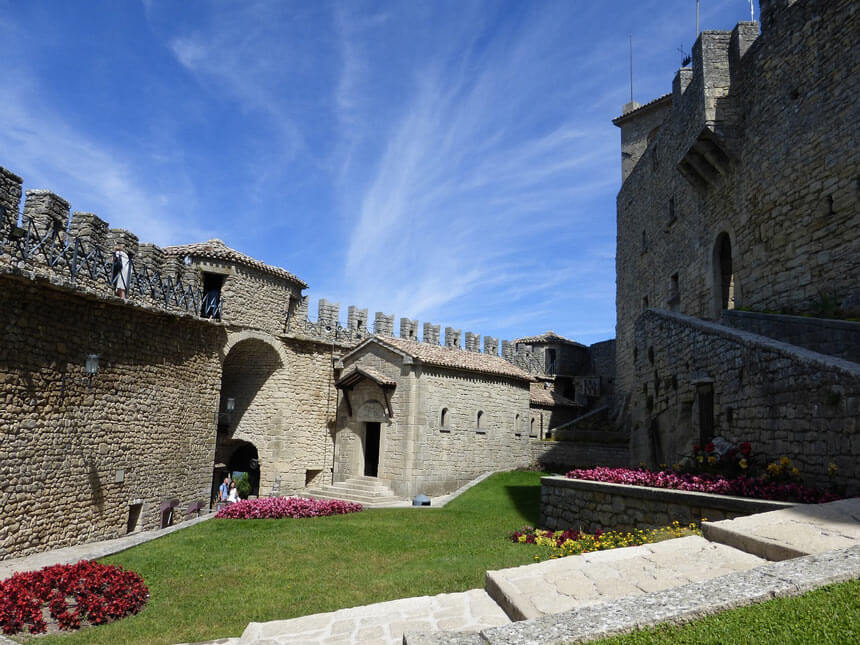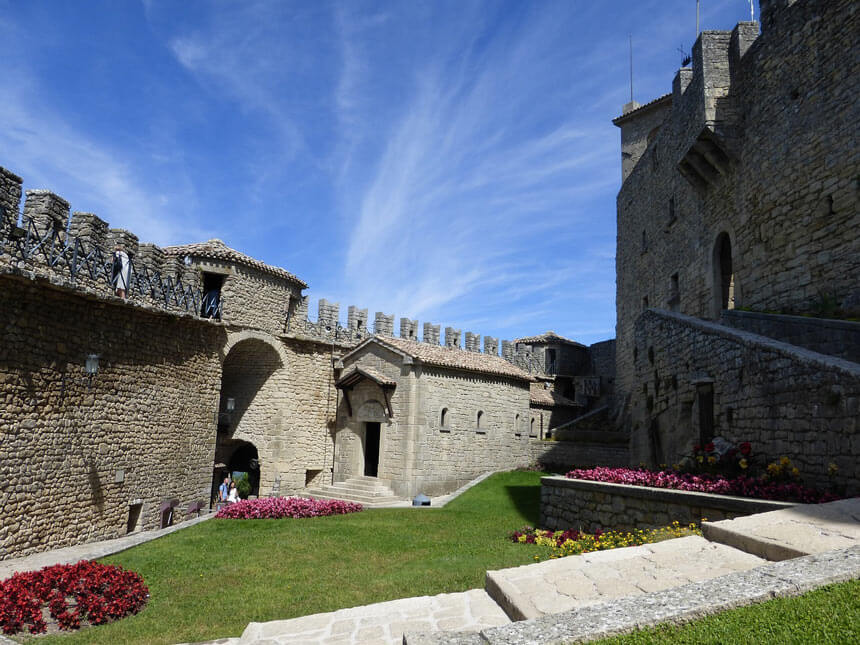 The second tower, Cesta (but also known as De La Fratta) is temporarily closed for restoration work as of October 2022, but hopefully it'll be open again soon. There are gorgeous views across to the Guaita tower and across the city, and many visitors say they found it the most beautiful tower. The Cesta tower is also home to the Museum of Ancient Weapons – while it's closed, there's a small display in the prison section of the Guaita tower.
San Marino's third tower is the smallest, and it isn't open to the public, although you can walk to it. It was built in the 14th century and was used as a prison tower.
Passo Delle Streghe – the Witches' Path
Between the first and second towers, there's a narrow path, known as Passo Delle Streghe, or the Witches' Path. There are two stories for how the Witches' Path got its name. One story says it was named because witches gathered here at night. In the morning, they would turn themselves into black cats and flee. The other story is more gruesome – it was where women who had been accused of being witches were taken to be thrown from the ridge.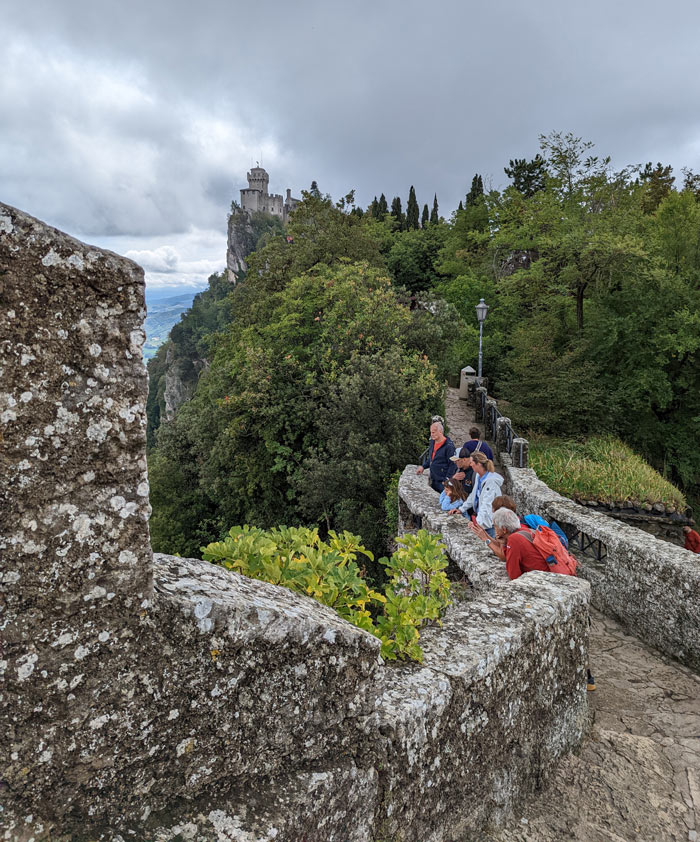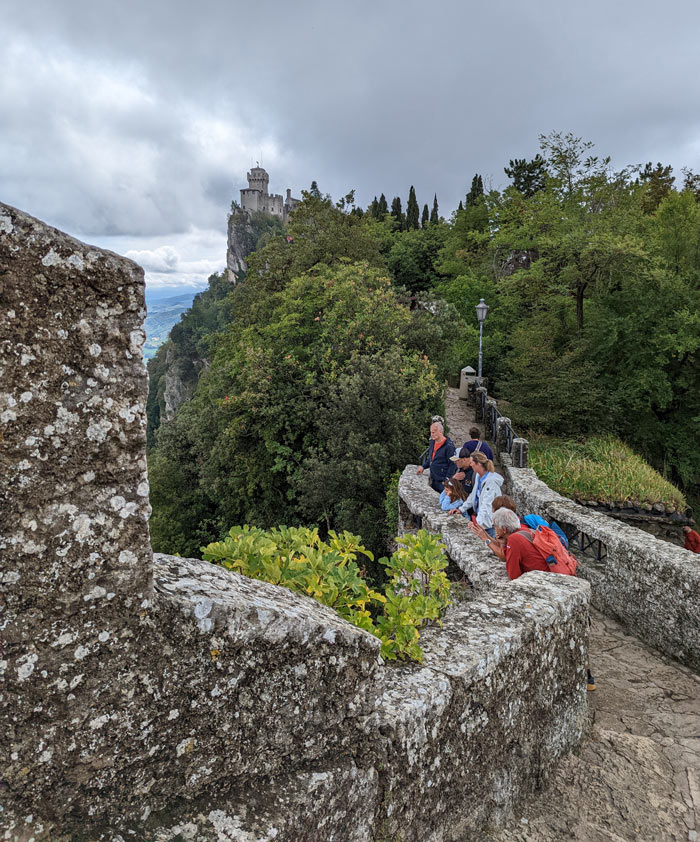 The path is exceptionally beautiful, with stunning views in both directions. If you've seen a gorgeous picture that's made you want to visit San Marino, there's a good chance that it was taken here. Since it is so stunning, it's also very popular with visitors so you might have to wait a while to get your perfect Instagram shot.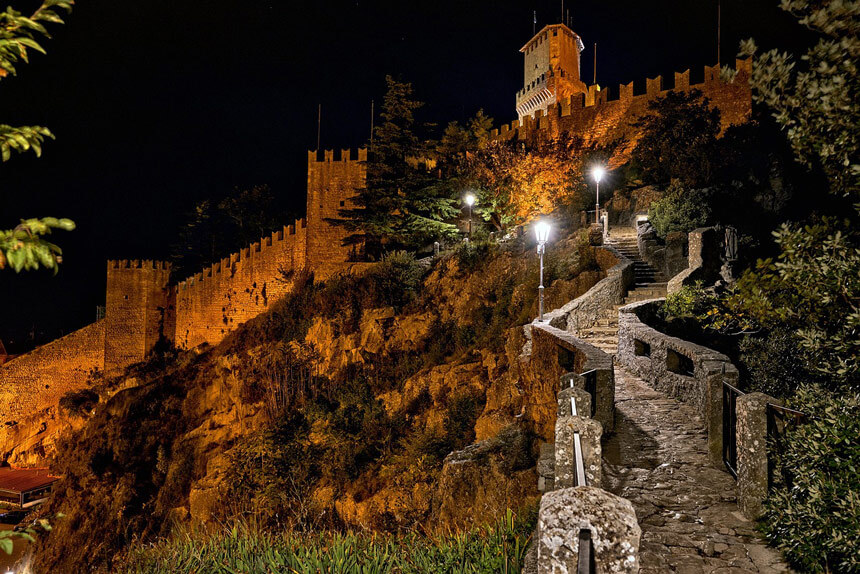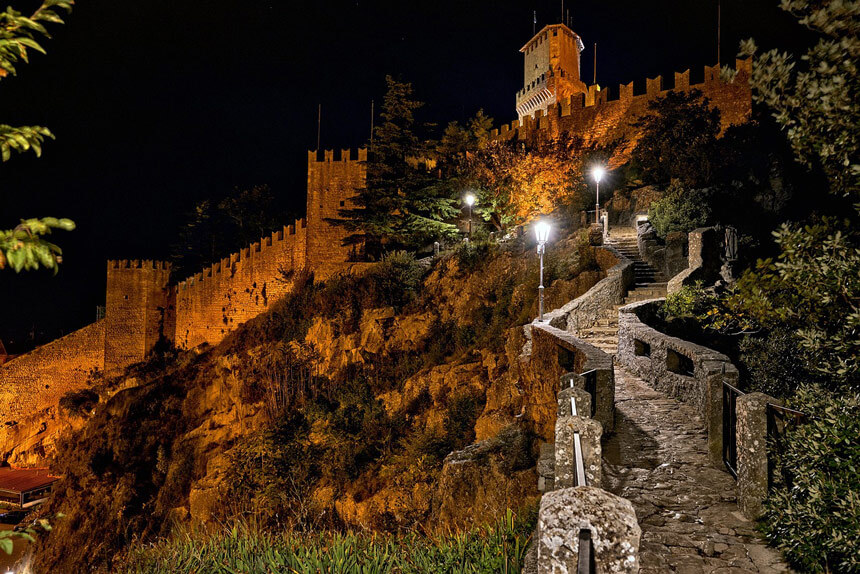 See Piazza della Libertà and the Palazzo Pubblico
A big part of my reason for visiting San Marino was because it is an independent country. The Palazzo Pubblico, on lovely Piazza della Libertà is San Marino's official government building and where official ceremonies take place.
During summer (until mid September), you can watch the changing of the guard here – unfortunately I visited the week after it finished for winter.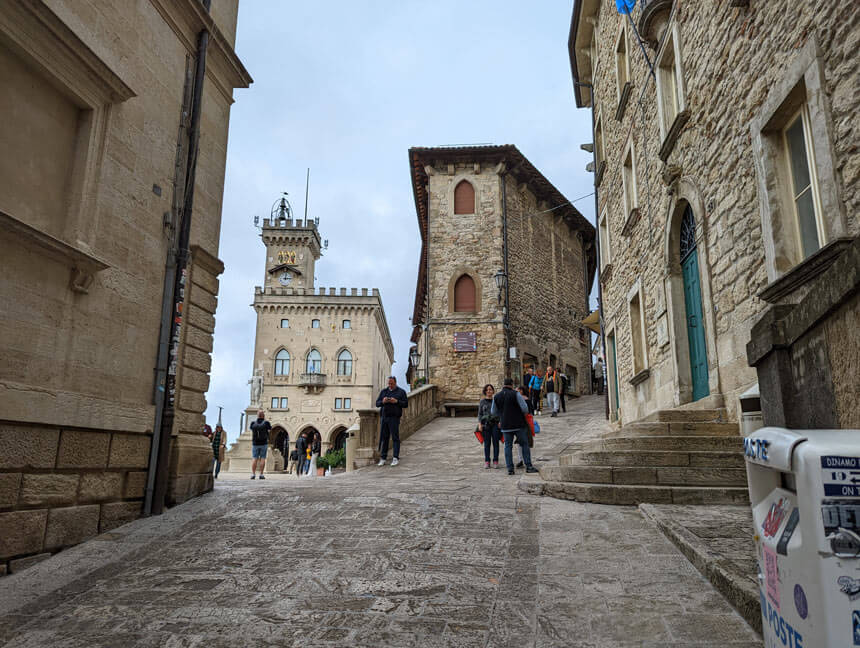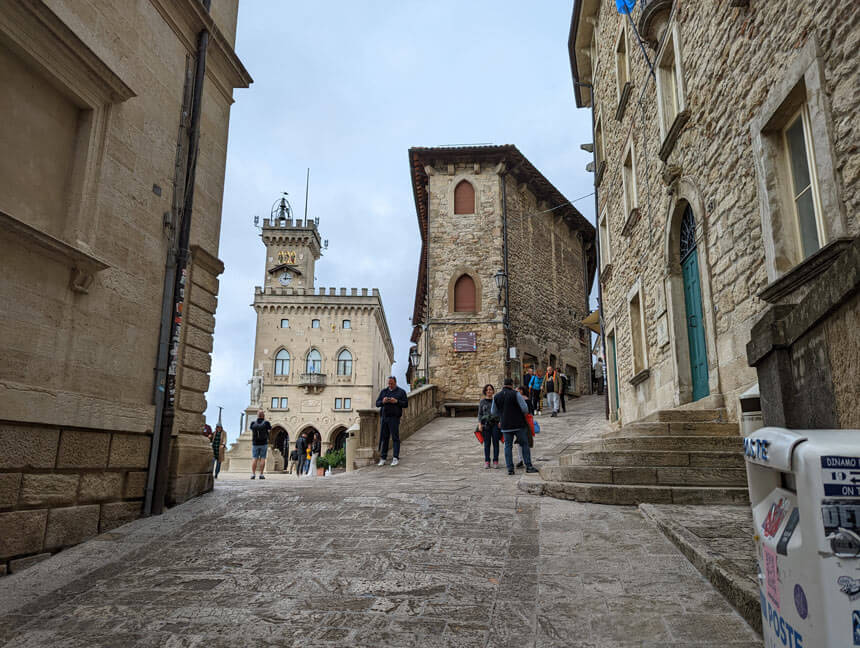 Get your passport stamped
There's no border control entering San Marino from Italy, but you can still make your visit official by getting your passport stamped at the tourist office on Piazzetta Garibaldi. It costs 5 euro and you'll get a carefully-placed San Marino postage stamp and date stamp as a souvenir of your trip.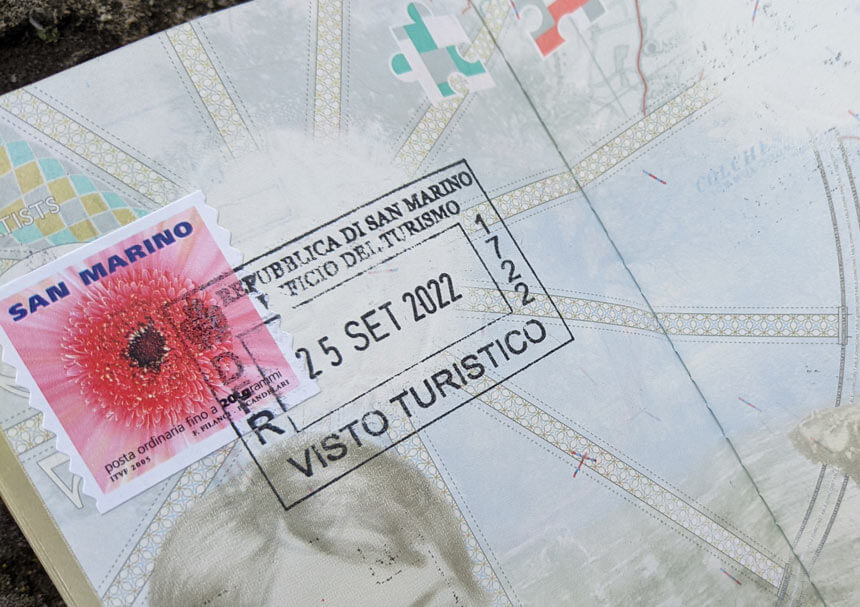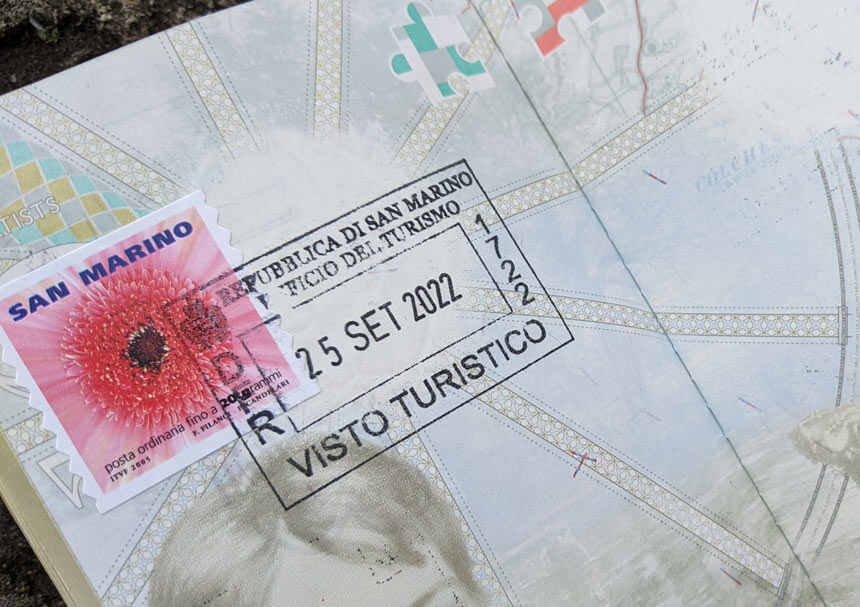 Next door to the tourism office, you'll find San Marino's Museum of Stamps and Coins. San Marino has its own stamps, some of which are highly sought after – it's believed that at one point in history, selling stamps to foreign collectors made up 10% of San Marino's national income.
Ride on the cable car
The cable car that takes you from the lower slopes of Monte Titano at Borgo Maggiore up to the centre of Città di San Marino, behind the Palazzo Pubblico. The ride only takes a couple of minutes but the views are spectacular.
Tip: If you get off the bus from Rimini to San Marino in Borgo Maggiore, you can arrive in the heart of the old town by cable car – much more exciting than the bus!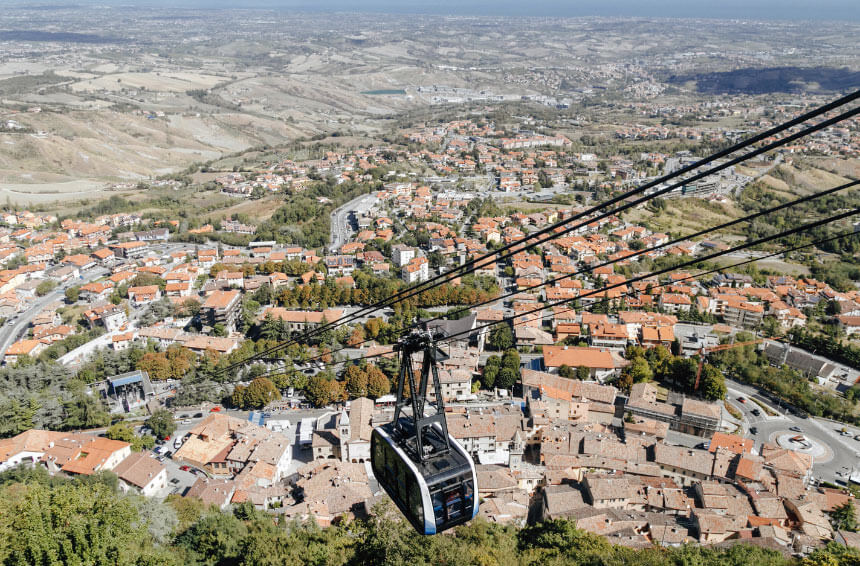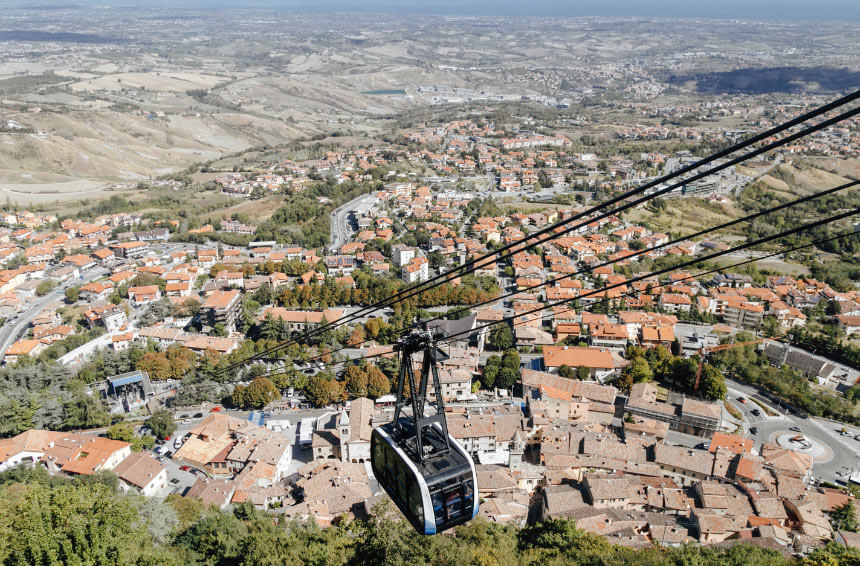 Visit San Marino's unusual museums
San Marino has lots of museums, most of which have a distinctly dark nature! When you visit San Marino you can go to the Museum of Torture, the Museum of Curiosities and the Museum of Creatures of the Night. On a lighter note, you can visit the Museum of Waxworks – it's no Madame Tussauds but it's worth a look if you have the Tutto San Marino card which gets you into all these museums half price.
Check what's on at Cava dei Balestrieri
Cava dei Balestrieri is an old quarry in the centre of San Marino, between the cable car station and Piazza della Libertà and is the setting for lots of San Marino's most exciting events. The annual crossbow competition is held here in September, when you can see representatives of San Marino's 9 regions compete to be named the crossbow champion.
In July, San Marino comes alive with 4 days of medieval parades and pageantry, with evening events featuring jesters, archery, troubadours, duels and flag-waving at Cava dei Balestrieri.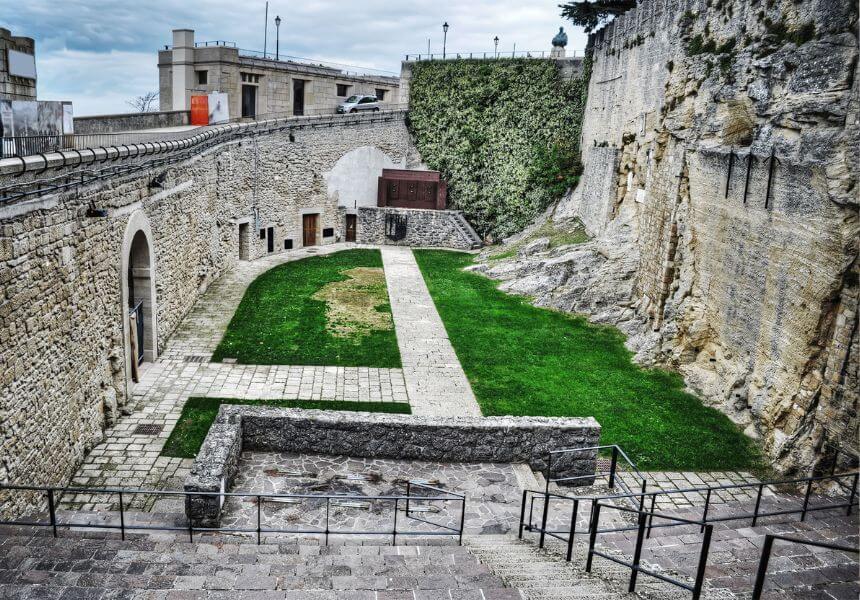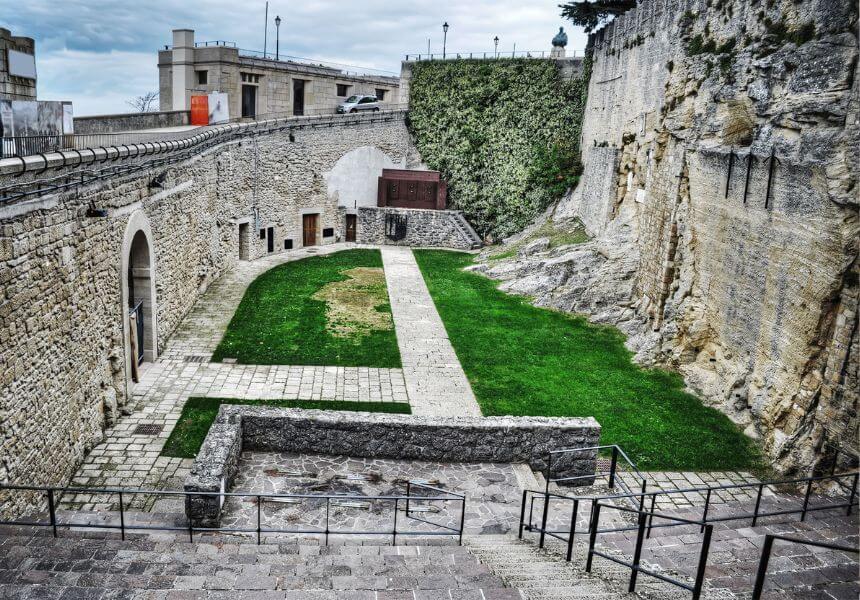 Tip: Check out the events calendar on the San Marino tourism office's website before booking your trip – there are events throughout the year.
See the old train
These days, San Marino's nearest train station is in Rimini, but it did have its own station for a while. The San Marino to Rimini railway opened in 1932 but closed only 12 years later due to the damage caused by bombs and fighting in World War 2. San Marino was neutral during the war but being surrounded by Italy meant that fighting did spill over the border.
I'm really into trains (check out my posts about my favourite heritage railways and a vintage market in Madrid's railway museum) so after I saw The Tim Traveller's video about San Marino's railway I had to go and see it.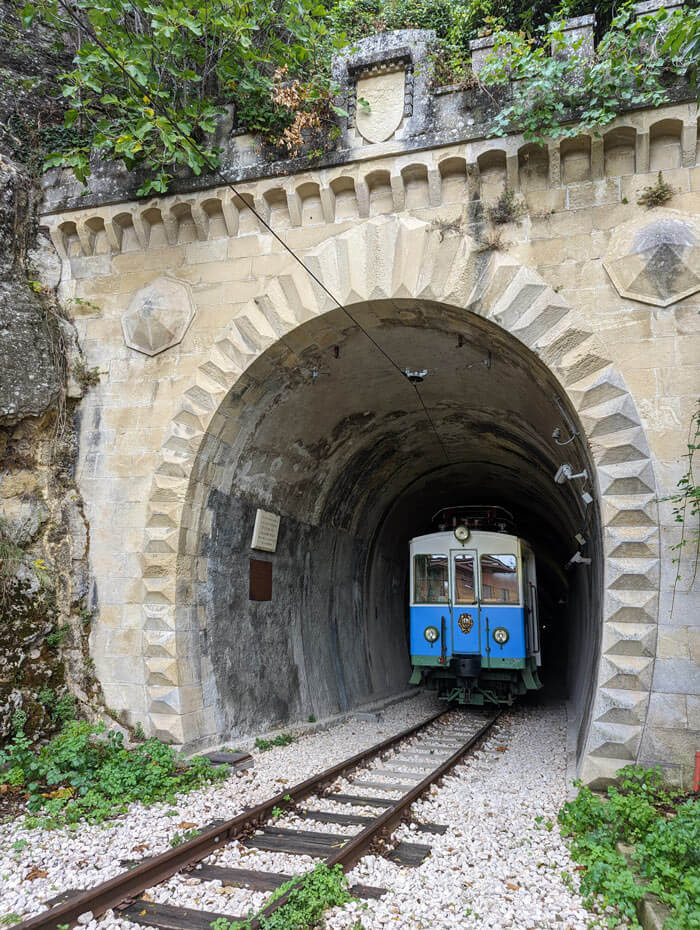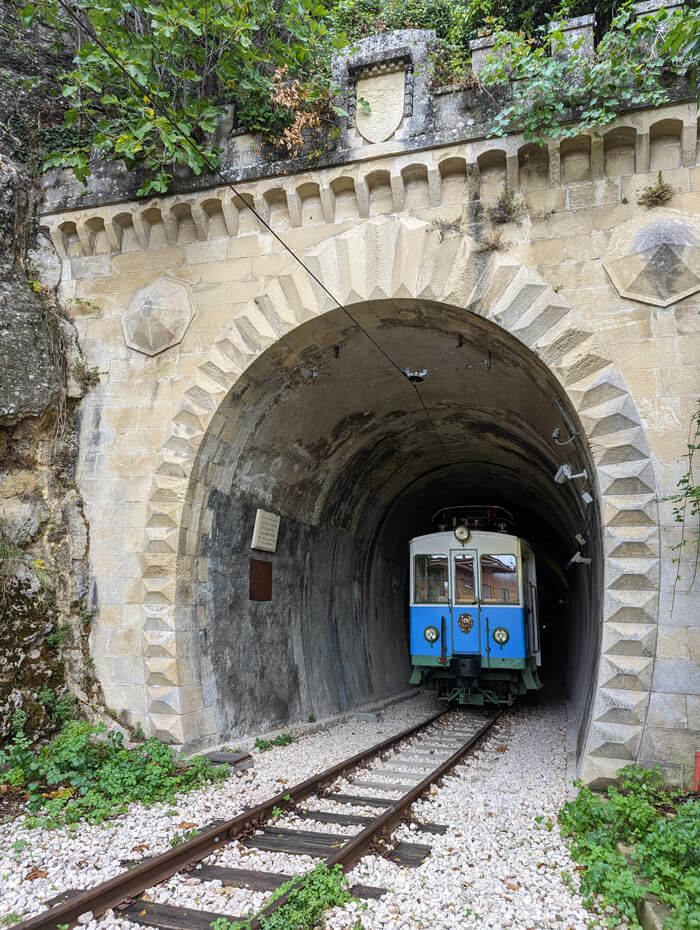 There's nothing left of the railway station in San Marino (it's underneath the P2 bus park and the roundabout) but if you walk a little way down Via del Voltone you'll see a stretch of track, a tunnel entrance and inside it, one of the old trains. You can walk down the tunnel as far as you dare; when I visited there was an art installation further inside the tunnel and there's apparently a great viewpoint where the tunnel briefly emerges on the side of the mountain, but it was a bit spooky for me. If you do go in, please let me know what it's like in the comments!

(Niche) tip: If you watch carefully, you can spot bits of the old railway line when you're on the bus from Rimini to San Marino. The old Cerasolo station is right by the side of the road, next door to Federici Sofà.
Where to stay in San Marino
Choosing the best place to stay in San Marino will depend on how you're getting to San Marino and how much luggage you're bringing with you.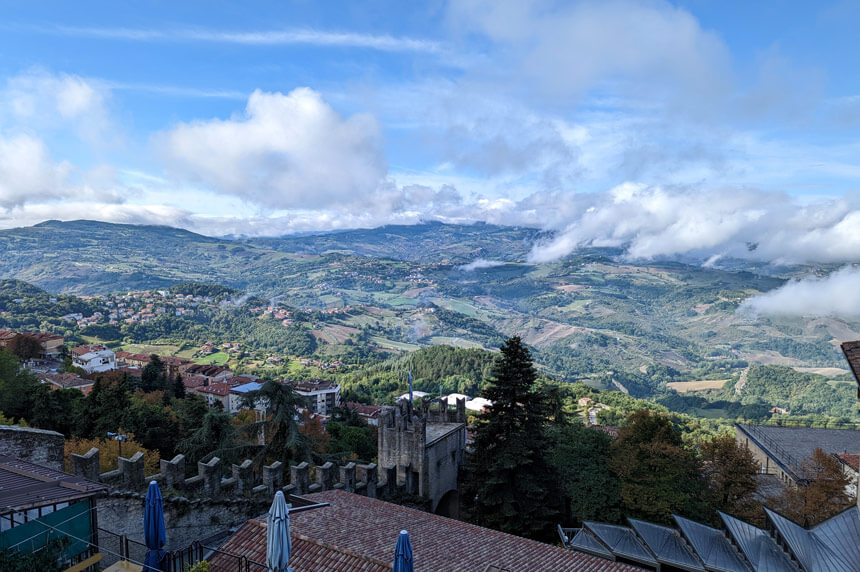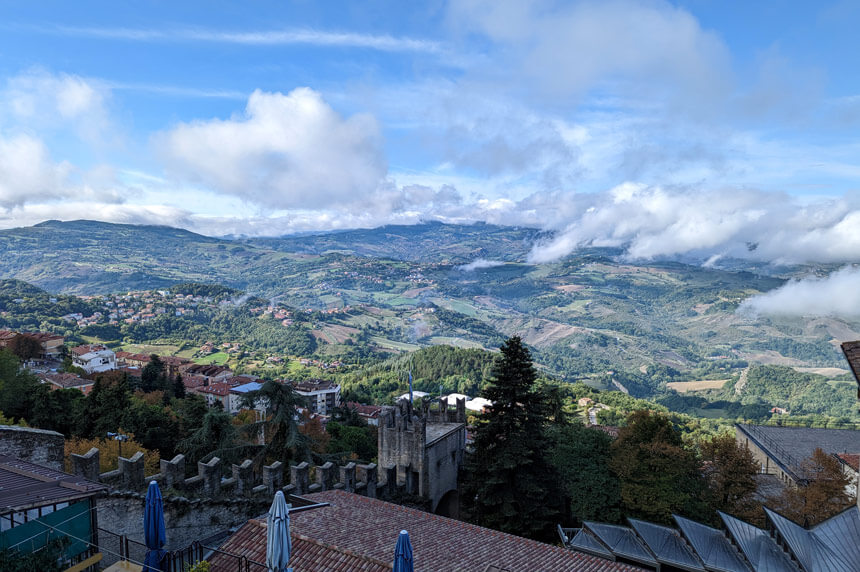 I stayed at Hotel Rosa, which is near the top of the mountain and in a prime position just underneath Guaita Tower. The views from our hotel terrace were absolutely amazing, and some rooms at Hotel Rosa have these incredible views from their windows. Breakfast was included, and the hotel had its own small car park. We arrived by bus, and it was a long way up a lot of steps from the bus stop. Luckily we'd packed light with just one small backpack each – I'm not sure I would have fancied the walk up with a lot of luggage!
Tip: For an extra-special stay, choose a hotel room with a view; the morning light over San Marino's rolling hills as you open the curtains will take your breath away.
The best-reviewed hotel in San Marino is Hotel La Grotta. While it doesn't quite have the views that you get further up the mountain, it does have some rooms with views across the valley. It's right in the middle of the historic centre and easy walking distance to the bus stop and all the top sights you'll want to see when visiting San Marino.
If you're arriving by bus and you do have a lot of luggage, it's worth looking at hotels at around the same level as the bus stop. Hotel Joli is up either a short slope or up in a lift to the next street up, and from there's it's a nice level walk to the hotel.
If you're arriving by car, Grand Hotel San Marino could be a good option. It's right in front of one of the largest car parks in the city and a short, gently sloping walk from Piazzetta Garibaldi where the tourist office is.
Related posts
If you enjoyed this post, you might find these other posts interesting:
Search for hotels in San Marino using the map below.
Are you planning to visit San Marino?