If you're planning a trip to Ischia, choosing the best place to stay on the island is key to get the most out of your time here. While Ischia is only around 6 miles wide, its charming towns and villages all have something a little different to offer visitors. To help you decide where to base yourself for your visit, here are the best places to stay in Ischia.
This post contains affiliate links – all that means is that if you buy something as a result of clicking on a link in the post, I'll receive a small commission that helps me with the costs of running this site. Thanks!
Ischia Porto
Best for: Convenience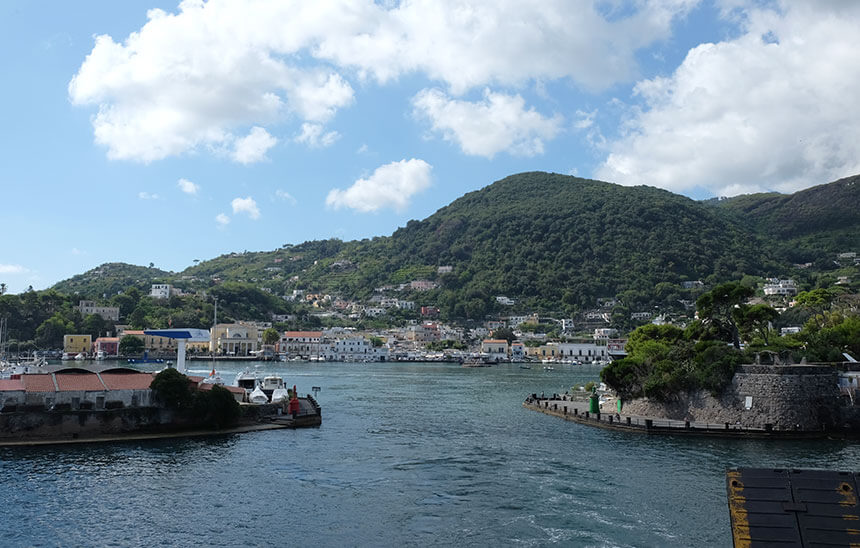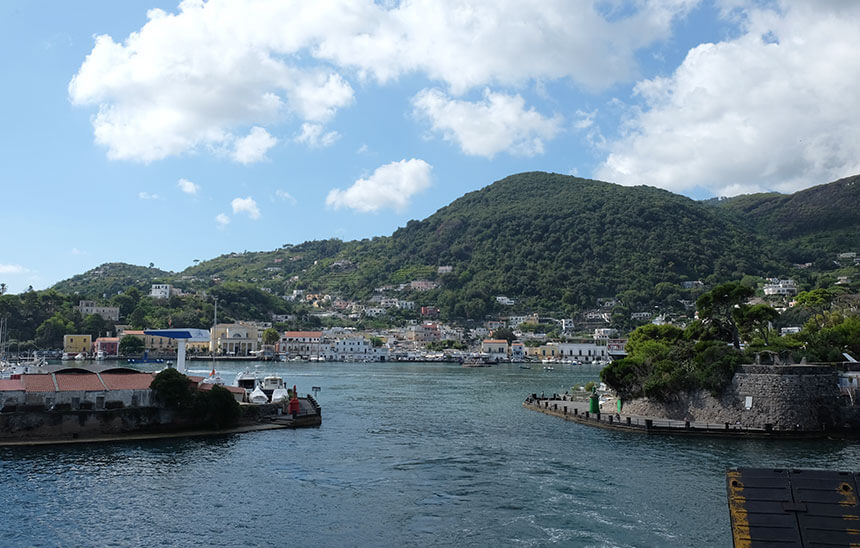 About Ischia Porto
If you're looking for convenience then Ischia Porto is the best place to stay. Hotels in Ischia Porto are close to the ferry terminal for ferries between Ischia and Naples, and the bus station for days out around the island. While Ischia Porto isn't quite as charming as some other towns in Ischia and is probably the most bustling place on the island, it's still an attractive area. If you're planning to explore the island by bus, Ischia Porto is an excellent base.
Restaurants and shops in Ischia Porto
Ischia Porto has a range of restaurants around the right hand side of the harbour, and some nice bars overlooking the water.
Ischia Porto also probably has the best range of shopping on the island, along the northern part of Corso Vittorio Colonna. You'll find a greengrocer, small supermarkets and cheese shops, along with clothes shops, shoe shops, stores selling beauty products (many of them made with Ischia's famous volcanic water), galleries and souvenir shops. There are several banks and pharmacists in this part of Ischia; I particularly recommend Pharmacia del Porto.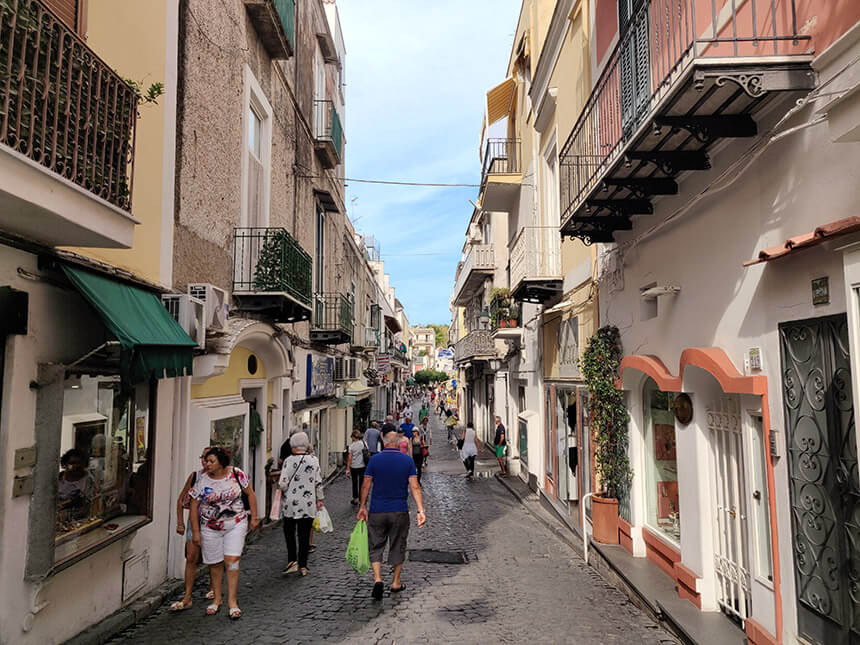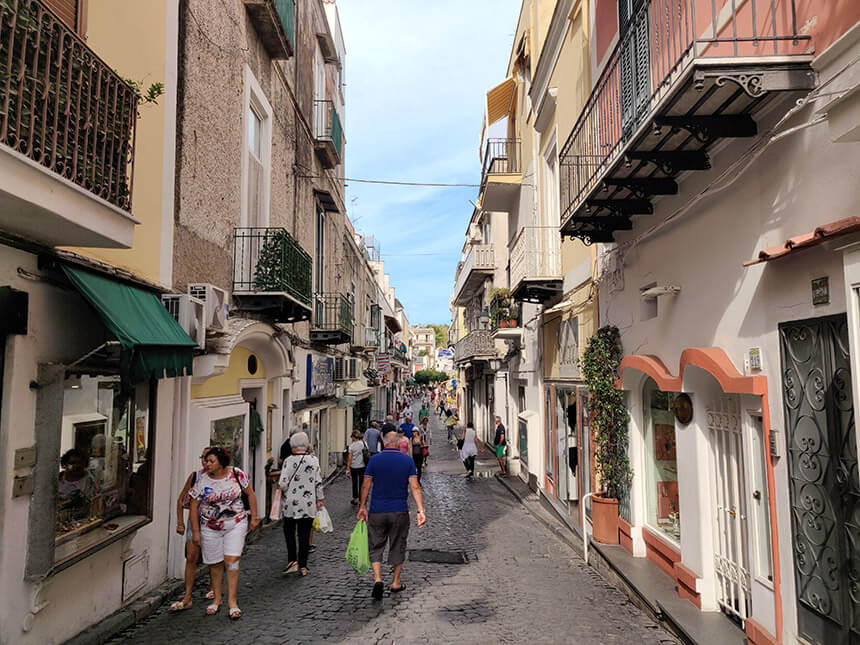 Beaches in Ischia Porto
Ischia Porto has some good beaches, stretching out along the coast between the other side of the harbour towards Ischia Ponte. Spiaggia di San Pietro is a wide, sandy beach just to the right of the harbour headland. There's both a free section and areas where you can rent a sun lounger and umbrella, and plenty of beach bars selling light meals.
Best hotels in Ischia Porto
There are lots of hotels between Ischia Porto and Ischia Ponte. It's a very popular area on the island for visitors looking for the best places to stay in Ischia.
I stayed in Ischia for a week, and because I knew I wanted to do lots of day trips by bus and spend a day on Procida, I chose to stay within 10-15 minutes' walk of the bus station in Ischia Ponte.
I stayed at the Hotel Rivamare, a good value, 3-star hotel on the beach but very close to the main shopping street which has lots of bars and restaurants. It was really lovely to have our breakfast every morning overlooking the sea and watching the ferries go past on their way to and from Naples. The one thing that the Rivamare didn't have was its own thermal spa, and I think if I went back to Ischia I'd spend a little more per night and look for a hotel with some kind of spa facilities.
If you're also looking for a hotel with thermal baths and some extra facilities, then Hotel Il Moresco could be the one for you. Set in lovely gardens, the 5-star Il Moresco is a medium-sized hotel with a large thermal swimming pool, a grotto-like indoor thermal pool and a beach club. The spa offers lots of treatments including wine therapy using Ischian wine, which sounds like the perfect way to relax!
Set a little further from the beach, the Hotel Vittoria is a lower budget option that still offers a thermal pool. There's a lush garden where you can have breakfast, and you're still only a short walk from the shore.
There are also a lot of apartments and villas available to rent in and around Ischia Porto – some of them can be up steep hills so if you'll be getting around on foot and by public transport it's best to check the location and reviews carefully.
Search and compare hotels in Ischia Porto on Booking.com
Ischia Ponte
Best for: Dramatic castle views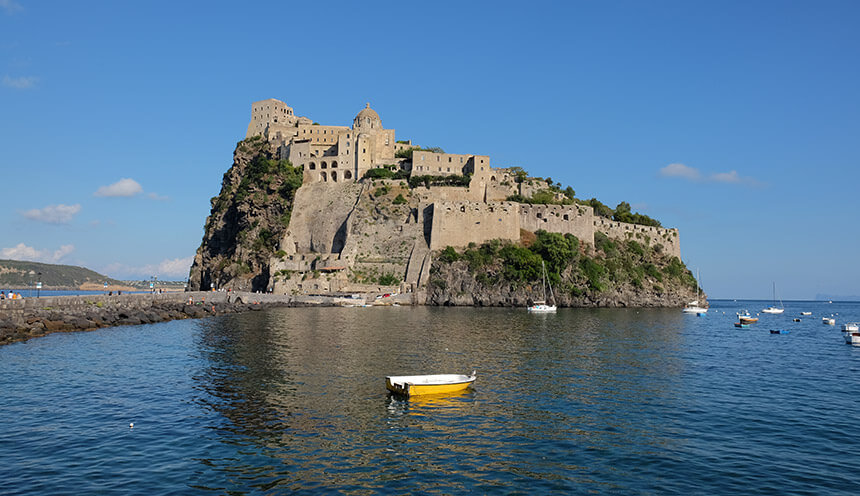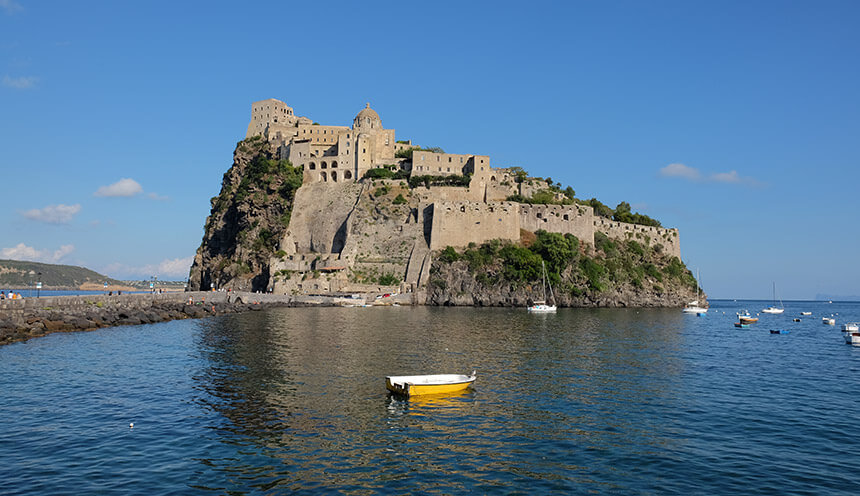 About Ischia Ponte
Ischia Ponte is a charming place to stay in Ischia. This town is where you'll find Castello Aragonese, the medieval castle with a creepy secret that's one of the top attractions in Ischia. The town at the end of the bridge to the castle (Ponte means bridge in Italian) is small but pretty – especially streets with that view over the castle.
If you're planning to travel around the island by bus, Ischia Ponte may not be the most convenient location for you. The CD and CS buses that circle the island don't come into Ischia Ponte, and you'll need to either walk to the bus station in Ischia Porto or change buses on your way to your destination.
Restaurants and shops in Ischia Ponte
While Ischia Ponte doesn't quite have the range of shops that you'll find in Ischia Porto, it's still very well-served. There are a couple of ATMs and pharmacists in the town centre, and plenty of shops selling Ischia souvenirs to take home with you.
There are lots of restaurants in Ischia Porto, including a couple that specialise in seafood and steaks. Foodies will love the restaurant at Albergo Il Monastero, which is actually inside Castello Aragonese. The hotel restaurant offers a choice of two tasting menus, both featuring locally-sourced meat, fish and seafood, and organic vegetables from the castle garden. For a more casual vibe, and the most delicious tomatoes you'll ever eat, check out Garden Fruit Ischia.
Beaches in Ischia Ponte
While the beaches around Ischia Ponte are small, they're very scenic, with a backdrop of the castle. Spiaggia dei Pescatori (Fisherman's Beach) is the largest, and is sand and shingle with calm waters, suitable for children.
Best hotels in Ischia Ponte
The best hotel in Ischia Ponte is of course the one in the Castello Aragonese, Albergo Il Monastero. While it's only a 3 star hotel, the setting just can't be beaten. Many of the rooms boast terraces with panoramic views of the island and guests can use a further rooftop terrace. The hotel restaurant uses fresh produce from the castle gardens for its tasting menus.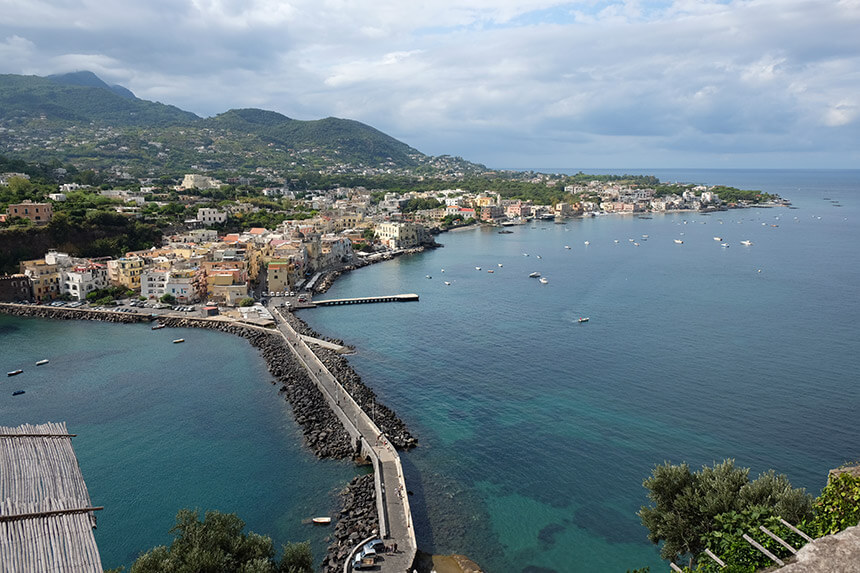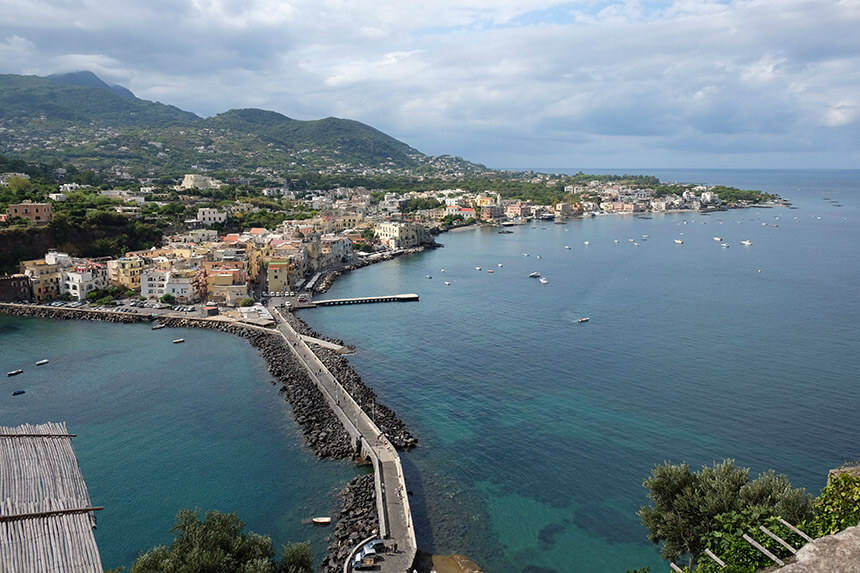 For stunning views of the castle, try the appropriately-named, 5 star Miramare E Castello Hotel. The Miramare E Castello is right on the beach and has a full-service spa. Hotel guests can use the thermal spa at the nearby Terme Mare Blu Hotel.
If you're on a budget, the Hotel Noris is a great place to stay in Ischia Ponte, between Fisherman's Beach and the castle. The rooms are simple but comfortable; some have sea views.
Search and compare hotels in Ischia Ponte on Booking.com
Lacco Ameno
Best for: 5 star luxury and classy self catering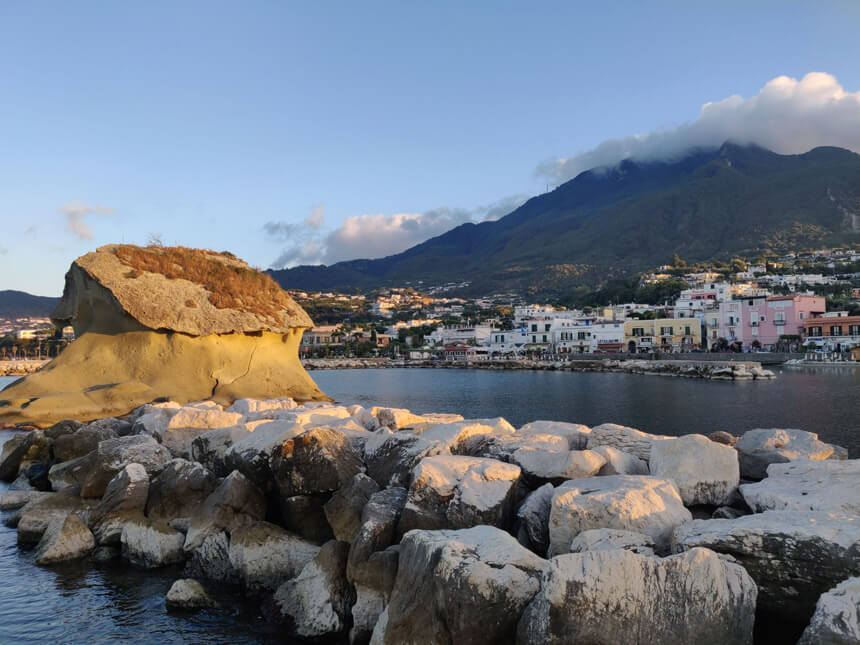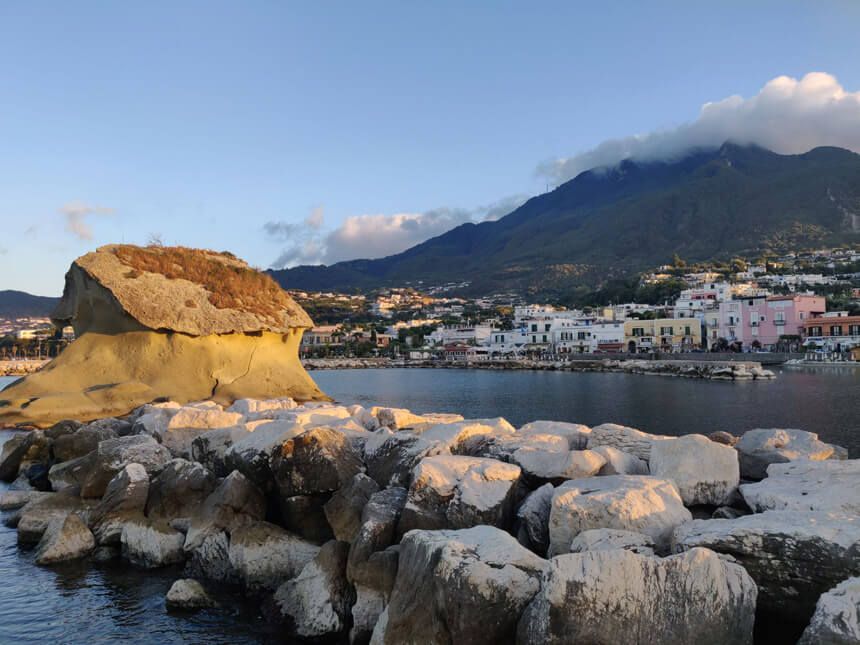 Lacco Ameno is an elegant coastal village on the north west coast of Ischia. The main road skirts away from the sea front here, making the centre of Lacco Ameno pleasantly quiet and laid back. The big attraction here is Il Fungo, a giant, mushroom-shaped rock that sticks out of the water in Lacco Ameno's harbour. If looking at the rock starts to wear thin, you're well-placed for visits to the Negombo thermal spa park and the lovely Giardini La Mortella, both of which are within reasonable walking distance.
Lacco Ameno is served by the main CS and CD bus routes, making getting around the island really easy.
Restaurants and shops in Lacco Ameno
Lacco Ameno has not one, but two restaurants that feature in the Michelin guide. Indaco serves fresh fish and seafood dishes and boasts a coveted Michelin star, while O' Pignattello offers traditional dishes made with local ingredients on their panoramic terrace.
Lacco Ameno has a good-sized supermarket, making it a particularly convenient place to stay in Ischia if you're planning to cook at least some of your own meals. There's a pharmacy for medical emergencies, and a number of elegant fashion and antiques stores.
Beaches in Lacco Ameno
There are a couple of small beaches in Lacco Ameno, but for the best beaches in the area you'll need to travel a little. The best beach nearby is the lovely Spiaggia di San Montano which sits in a gorgeous cove surrounded by pine trees. Much of the beach belongs to the Negombo spa but there's a public section.
The Varulo beach, just to the west of Lacco Ameno used to be a popular and scenic spot, accessible only by taxi boat, but rock slides from the cliffs above have sadly made it too dangerous.
Best hotels in Lacco Ameno
Lacco Ameno has some of the loveliest resort-style hotels in Ischia. In the centre of the village you'll find the Regina Isabella, a 5-star hotel which was built in the 1950s on the site of an ancient thermal bath and attracted stars like Richard Burton, Elizabeth Taylor and Clark Gable. More recently, Matt Damon, Sting and Selena Gomez have all used the hotel for their base in Ischia. The Regina Isabella has three bars and three restaurants, including the Michelin-starred Indaco.
Up on the hill above Lacco Ameno, the San Montano Resort & Spa is a little way out of town but boasts superb views. There's a free shuttle bus to and from the beach and the ferry port. The hotel's thermal spa complex has five pools on the hillside, overlooking the harbour of Lacco Ameno and with the island of Procida in the background.
The Albergo Terme San Lorenzo is a mid-priced resort hotel with a thermal spa and large pool overlooking the village. The Hotel Bristol is even more reasonably priced but still has a pool and thermal water treatments.
If you're looking for self-catering accommodation, there are lots of options in the area, ranging from studio apartments to hillside villas with pools.
Search and compare places to stay in Lacco Ameno on Booking.com
Forio
Best for: Buzzy evenings and sunsets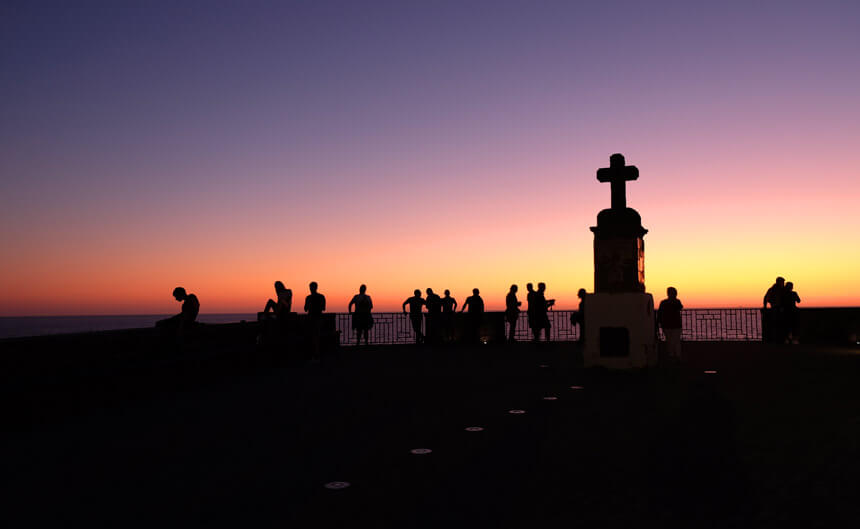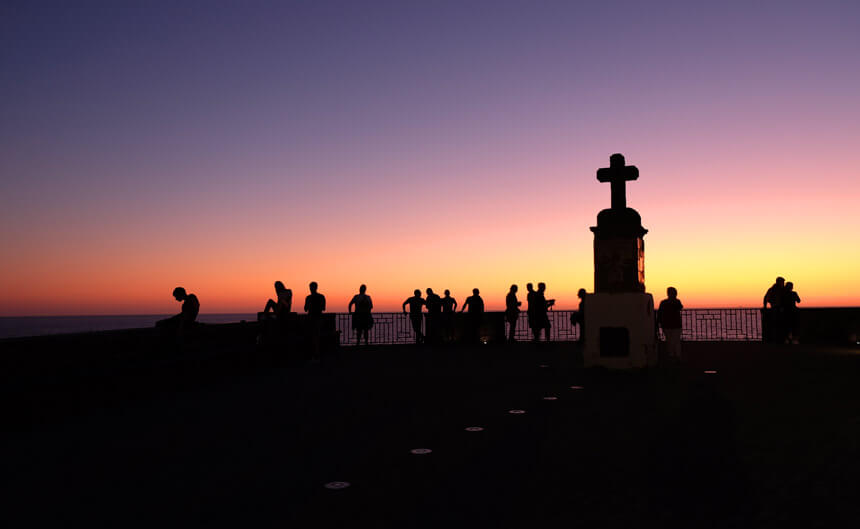 If I hadn't stayed in Ischia Porto, Forio would have been my choice. It's a pretty town with plenty going on – while we were having aperitivo at a cafe a whole convoy of retro mopeds assembled in front of us! The cafes on Corso Francesco Regine are perfect for people watching, and the narrow lanes leading down to the sea are fun to explore.
The other wonderful thing about Forio is the sunsets. The town is on the same latitude and faces the same direction as Ibiza's famous sunset bars and the sunsets in Forio are every bit as stunning. The best place to see them is at the Chiesa del Soccorso, a white church set high on a cliff above the waves.
Forio also benefits from being close to some of Ischia's most popular attractions. The Negombo and Poseidon thermal spa parks are within easy reach, while the Giardini La Mortella are close by. The town is on the CS and CD bus routes, so getting around the island is easy, and there's even a ferry service to Naples, although it isn't as frequent as the one to Ischia Porto.
Restaurants and shops in Forio
Forio is Ischia's second-largest town, so there are plenty of shops, restaurants and other facilities. There's a market hall, which is open every day except Sunday with fruit and veg, fish, meat and cheese stalls.
There are lots of restaurants to choose from in Forio, some with lovely sea views. The Michelin guide-recommended Umberto a Mare is right next to the Chiesa del Soccorso sunset spot. For a quick coffee or leisurely ice cream, the Bar Re del Caffé is popular with both locals and tourists.
Beaches in Forio
Forio has some great sandy beaches. Spiaggia della Centrale Libera is closest to town, but backs onto the main road. If you walk a little further along, Spiaggia della Chiaia is quieter but still has bars and restaurants to enjoy. Further along still, but still within walking distance of central Forio, Spiaggia Arenile di San Francesco is another sandy beach with bars, restaurants, car parking and sweeping views back towards town.
Best hotels in Forio
Forio is a good place to stay in Ischia if you're looking for a mid-priced hotel, as there are lots to choose from. The Hotel Umberto a Mare is the standout for its prime sunset location and rooftop terrace with hot tub – the hotel restaurant is one of the top places to eat in Forio.
In the centre of town, White 1903 has a great location close to shops, restaurants, the port and the beach, but is tucked away on a side street so is still peaceful. Rooms are fuss-free and simple, and there's a rooftop terrace with a plunge pool to cool off after a day exploring the island.
The beach areas of Forio are mostly apartments and villas, some of which can be rented as self-catering accommodation, but there are a few hotels.
Hotel La Scogliera is a bright 4-star hotel on the sea front between the Chiaia and San Francesco beaches. It has three mineral pools, a large, sunny terrace overlooking the sea and a spa, all within a pleasant, level walk of the centre of Forio.
Search and compare places to stay in Forio on Booking.com
Sant'Angelo
Best for: Sea views and car-free charm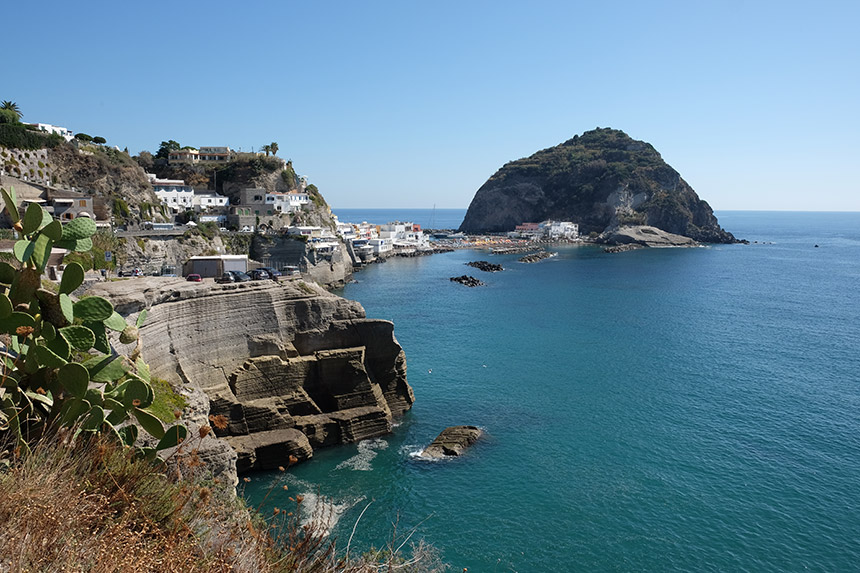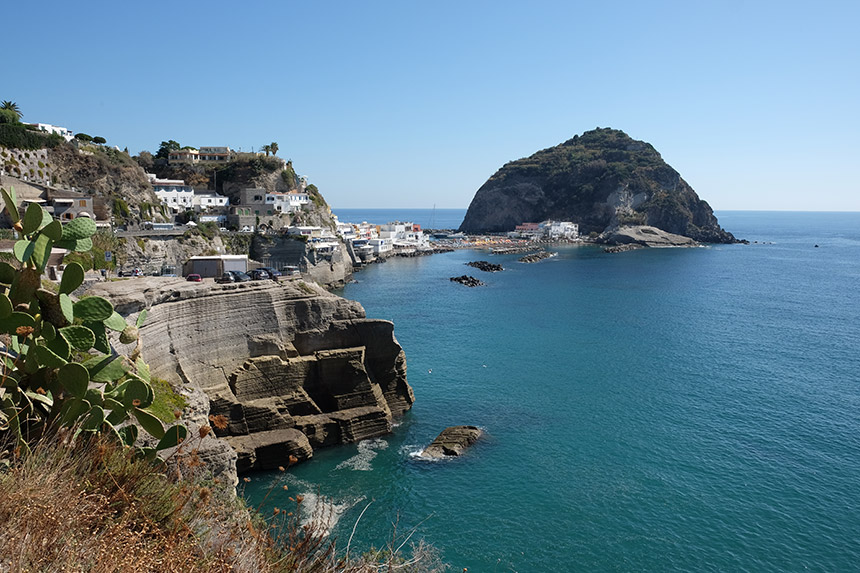 The lovely village of Sant'Angelo is at the southernmost point on the island and is the best place to stay in Ischia if you're looking for a village feel. It's very small, and its narrow streets are entirely car-free. If you have rented a car, you'll need to leave it in one of the car parks at the entrance to the village and make your way down on foot.
Once in the heart of the village, you'll find a pretty central square, interesting small shops and a sandy beach either side of the narrow promenade. Taxi boats leave from the little harbour, heading for other beaches and hotels around the south coast.
Restaurants and shops in Sant'Angelo
Sant'Angelo is a very popular day trip for visitors to Ischia, and quite a few of the restaurants in Sant'Angelo are aimed squarely at tourists who'll never come back – as a consequence it can be more important to choose where you eat a bit more carefully than elsewhere on the island. Villa Sirena is a good option with lovely views over the village, while Deus Neptunus serves local specialities like octopus and rabbit. Booking is recommended for both.
Beaches in Sant'Angelo
There is a small sandy beach in the centre of Sant'Angelo, located either side of the narrow walkway that leads to the great rocky outcrop that makes Sant'Angelo so scenic. There are a number of beach clubs that rent chairs, or there's a free section of beach underneath the rock.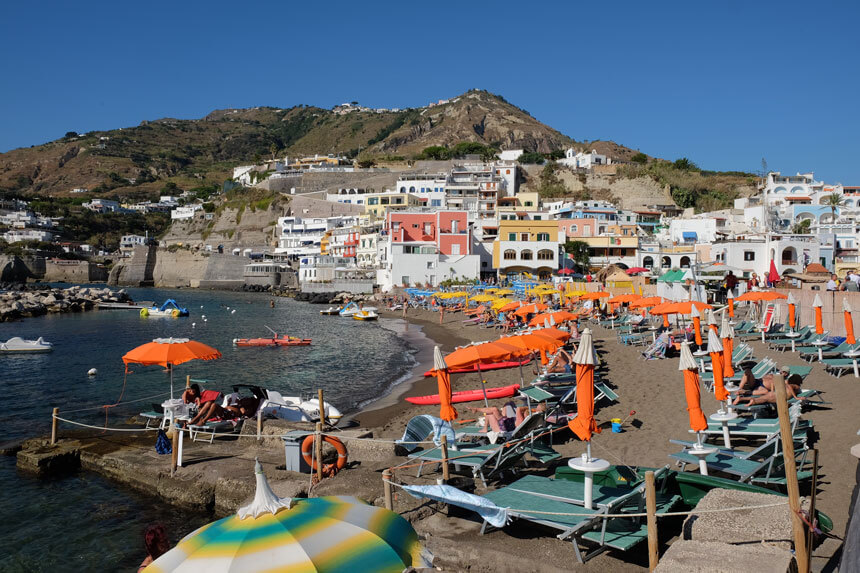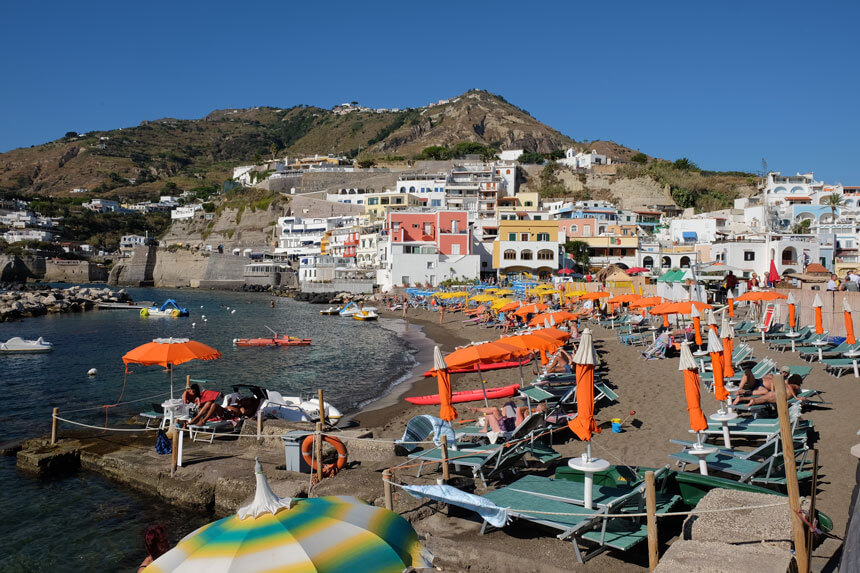 There are a further two small beaches in Sant'Angelo. Lo Scoglio is a small cove with a restaurant and beach club, below the road that leads into the village from the bus stop. Spiaggia di Cava Grado is a little bigger – you'll find it down some steps from the bus terminus.
There are two other notable beaches near Sant'Angelo, both by taxi boat from the village harbour. To the west, Maronti beach is the longest in Ischia (more on staying by Maronti beach later). To the east, Sorgeto beach is more rocky than sandy but is blessed with natural volcanic hot springs that bubble up in the ocean.
Best hotels in Sant'Angelo
If you're looking for elegant luxury in the pedestrianised centre of the village, the 5-star Miramare Sea Resort & Spa might fit the bill. Most rooms have beautiful sea views and as well as salt water, fresh water and thermal pools, there's also a small private beach.
San Michele Hotel & Spa is a 4-star hotel in the upper part of Sant'Angelo village and has views of Maronti beach. The San Michele has a fabulous pool and thermal spa, and many rooms have balconies with sea views. If you find steps or hills difficult, you can rent an electric taxi cart from the car park or bus stop to get you to the hotel.
Casa Assunta is a simple bed and breakfast that just does all the basics really well. There are rooms and apartments, all with either a balcony or terrace – some have sea views while the apartments have cooking facilities and are large enough for a family. It's located a few minutes' walk from the centre of the village.
See more Sant'Angelo hotels on Booking.com
Maronti beach
Best for: Beach lovers and campers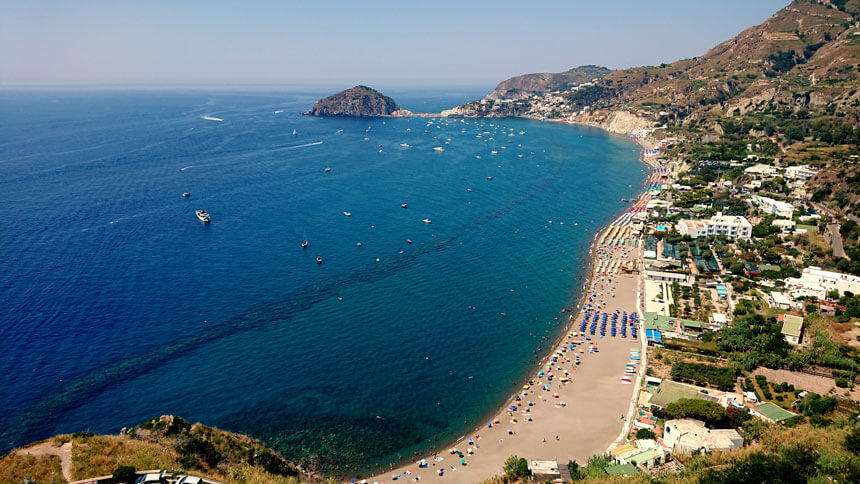 Maronti beach is the longest in Ischia at 3km long, so this stretch of the south coast is ideal if you're looking for some chilled out beach time. It's not on the main CS or CD bus route around the island, so it's a little less convenient for sightseeing, but there is a bus into Barano d'Ischia, where you can catch a bus east to Forio or west to Ischia Porto.
Maronti beach is made of large grains of dark, volcanic sand, backed by steep cliffs. Halfway along the beach is the historic Terme di Cavascura where you can enjoy a thermal spa and mud bath as the Romans did, two thousand years ago. At the western end of the beach, you'll find the fumarole dei Maronti, an area of sand which appears to smoke, thanks to volcanic vapours below the surface. Relaxing here on the hot sand is reputed to have health benefits for conditions like rheumatism.
Restaurants and shops at Maronti beach
There are plenty of beach bars and restaurants along Maronti beach. Bar Ristorante Nettuno has sunbeds for hire and a consistently well-reviewed restaurant serving fresh seafood and pasta with a view of the beach. Perfect for both a relaxed lunch and a romantic evening meal.
The standout shop in this area is Tenuta Don Nicola, a farm shop selling their own organic vegetables along with eggs, honey and jams. Maronti is a really convenient place to stay in Ischia for self caterers – if you tire of delicious local vegetables, there's a Carrefour supermarket just up the hill.
Where to stay at Maronti beach, Ischia
Ischia doesn't have many places where you can camp or park a camper van, and Camping Mirage is the best-reviewed campsite in Ischia. It's right on the beach, close to bars, restaurants, the bus terminus and taxi boats to Sant'Angelo. There are 50 shaded pitches for camper vans, tents and caravans. Facilities include showers, a laundry area, electric hook up facilities and a bar and restaurant.
If you're looking for self-catering accommodation there are lots of apartments to rent in the Maronti beach area and in the surrounding villages like Lido di Maronti and Barano d'Ischia. If you'd prefer a hotel, try the 4-star Hotel San Giorgio Terme which overlooks the beach and has its own private section on the beach. There's a wellness centre with thermal baths and treatments, including beauty treatments with volcanic mud.
Hotel Maronti is a charming 3-star hotel close to Camping Mirage. While it doesn't have a pool, it does have a hot tub and a beautiful garden where the family who run the hotel grow fruit and vegetables for the hotel restaurant. Guests get a free jar of marmalade on check-out.
See more hotels on and around Maronti beach on Booking.com
Tips for choosing where to stay in Ischia
When you're choosing where to stay in Ischia, along with the choices about budget and style of hotel, holiday rental or campsite, there are three key questions to ask yourself.
How will you be getting around?
If you're planning to use public transport to get around the island, and you'll be out and about sightseeing for much of your time on the island, I'd recommend staying either close to Ischia Porto, in Lacco Ameno or in Forio. These three locations are all on the main CS (clockwise) or CD (anticlockwise) bus routes around the island. They're also in the parts of the island with the greatest concentration of places to visit so they're great places to stay in Ischia for sightseers. The buses run frequently but can be extremely busy and hot, so in the height of summer it can be good to have as short a journey as possible.
If you'll be hiring a car or scooter, or using taxis, that gives you a lot more options for where you stay in Ischia. Parking spots may be at a premium depending on the location or accommodation, so it's best to either check in advance whether you'll be able to park easily or in some places, such as Sant'Angelo, whether you can book parking with your accommodation.
Do you want on-site thermal baths?
Because Ischia has so many thermal hot springs, many hotels have their own spas offering thermal treatments, or pools with naturally heated, mineral-rich water. If you're visiting Ischia for the hot springs, it's worth looking for a hotel with these facilities. Choosing a spa hotel needn't cost a fortune either – even many 3-star hotels have thermal pools.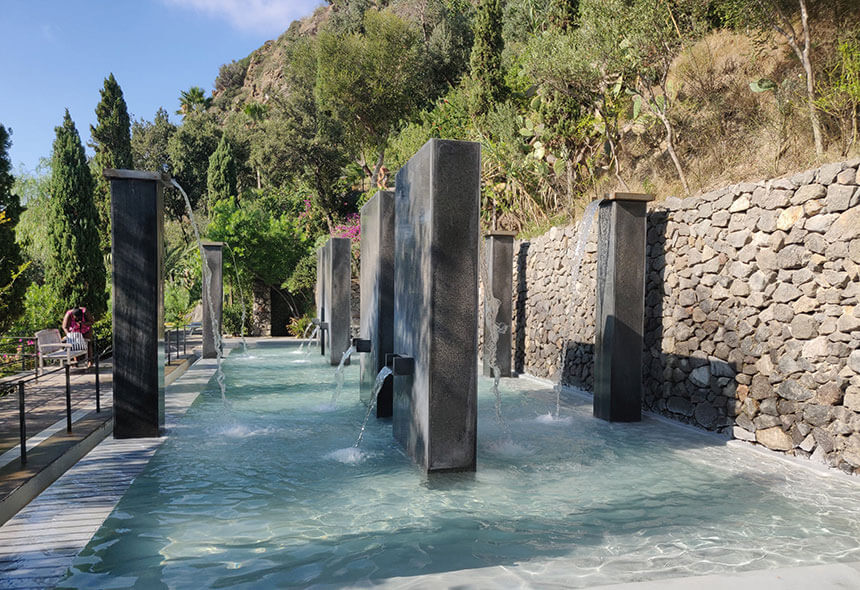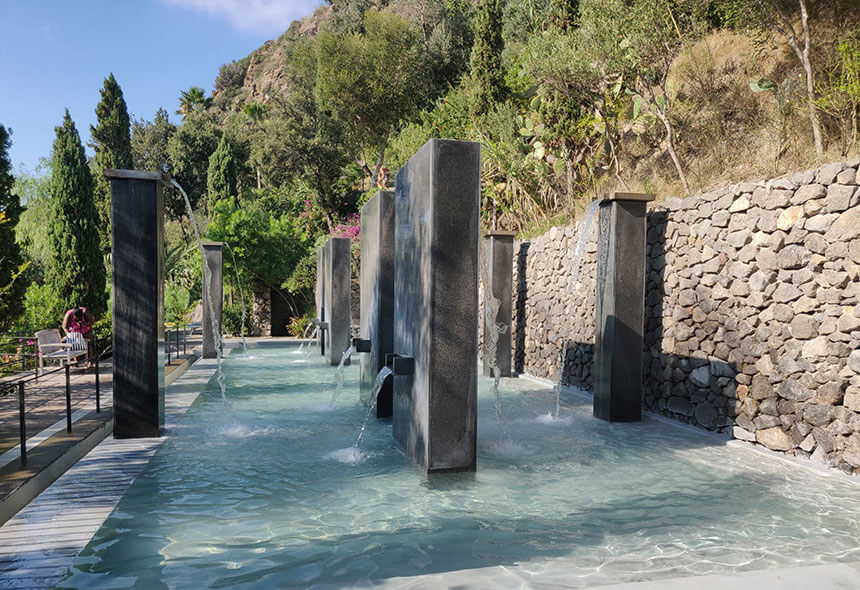 If your hotel doesn't have a spa, or if you're staying in a holiday rental, your hot spa dreams can still come true – you can visit one of the spa parks like Negombo or Poseidon, both near Forio, you can visit the hot spring beach in Sant'Angelo or go to the Roman baths on Maronti beach. Many hotels also offer day spa passes to non-residents.
Will you be eating out or cooking for yourself?
If you're looking for self-catering in Ischia, choosing your location carefully is a must, especially if you won't have a car. We stayed in a hotel between Ischia Porto and Ischia Ponte and if we'd been self-catering we would have struggled to buy food for our meals. There are some small food shops but they don't have much of a range. Forio could be a better location instead, as there are supermarkets and a market for fresh fruit, vegetables, meat and fish.
If you do have your own transport, then you'll find a number of large supermarkets across the island. The produce in Ischia is outstanding so try to choose local products if you can – the local wines are fantastic as well.
Where will you stay in Ischia?
I hope you've found this guide to the best places to stay in Ischia useful. Wherever you stay in Ischia, you'll have a wonderful time on this fantastic island!
Related posts
If you enjoyed this post, you might find my other posts about Ischia and the bay of Naples useful: