When I visited Ischia, one of my main reasons for going to this gorgeous Italian island in the Bay of Naples was its amazing variety of thermal spas, natural hot springs and mineral baths. Ischia has been famous since Roman times for being blessed with over 100 thermal springs, and visiting the Negombo Thermal Spa gardens and water park is one of the top things to do in Ischia.
Here's my full review of the Negombo Thermal Spa; how to get there, descriptions of Negombo's thermal pools and everything you need to know to get the most out of your visit to Negombo.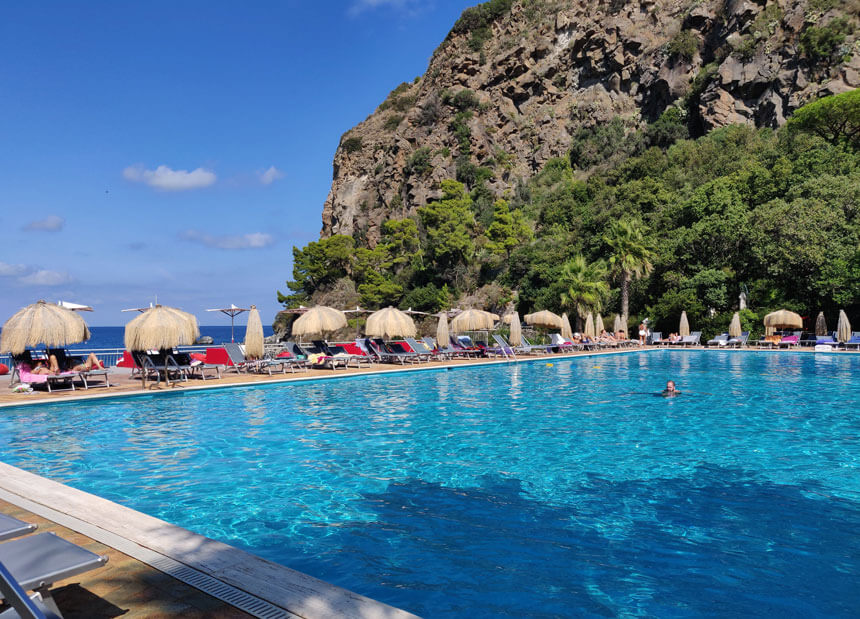 About Negombo Thermal Spa and Gardens
Negombo is a large complex; part lush garden, part grown-up water park, all set in a lovely bay in the north-west corner of Ischia. There's a gorgeous sandy beach, but the main attraction are the 14 separate pools, many of which are filled with naturally warm and mineral-rich water. Visiting Negombo is a wonderfully relaxing experience and a fabulous day out on your trip to Ischia.
The pools at Negombo
Let's get straight to it. For all the lovely gardens, the great beach and the interesting art at Negombo, the main attraction is the 14 thermal spa pools. You can visit the pools in any order you want to, unlike some of the more health-focused thermal spas in Ischia which advise that facilities be used in a particular order.
The first pool you'll see is the large, Olympic-sized swimming pool which has a lovely view across the beach and San Montano bay. There are lots of sun-loungers around the pool and it's one of two pools at Negombo that's suitable for children. The other pool that's suitable for young children is close by, but if you're visiting without children, neither of these pools are particularly noteworthy. Instead, head up to the upper terraces for Negombo's most interesting pools.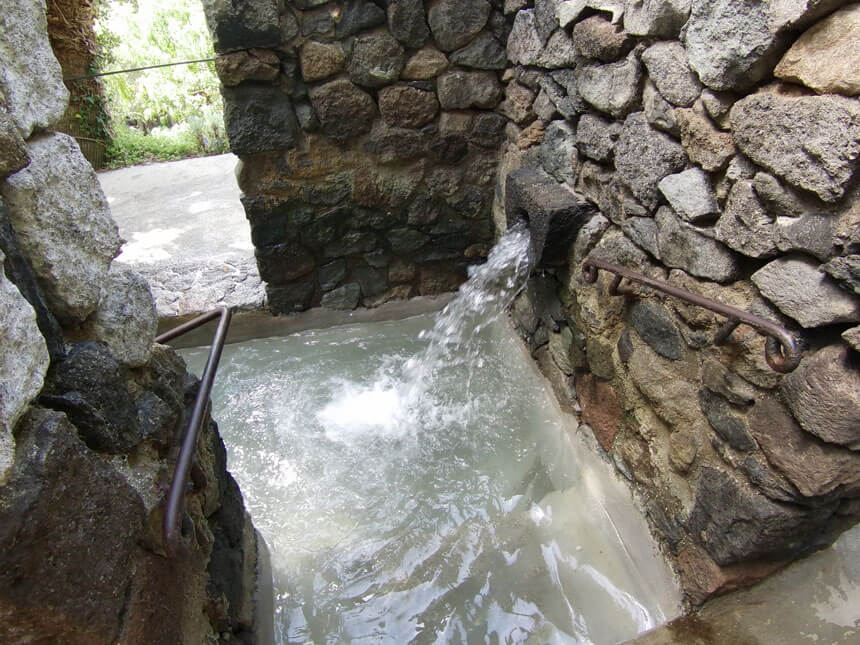 Most visitors' first taste of what Negombo really has to offer will be the Japanese maze bath. To call it a maze is a bit of an overstatement, but it's a lot of fun. You'll step down into a waist-height pool, floored with river pebbles which give your feet a massage. There are two separate zones in the pool, one with hot thermal water at 38°C (lovely) and one at 18°C (flipping freezing). The contrast between warm water and cold water is used a lot in hydrotherapy for its invigorating effects and it's one you'll see elsewhere at Negombo.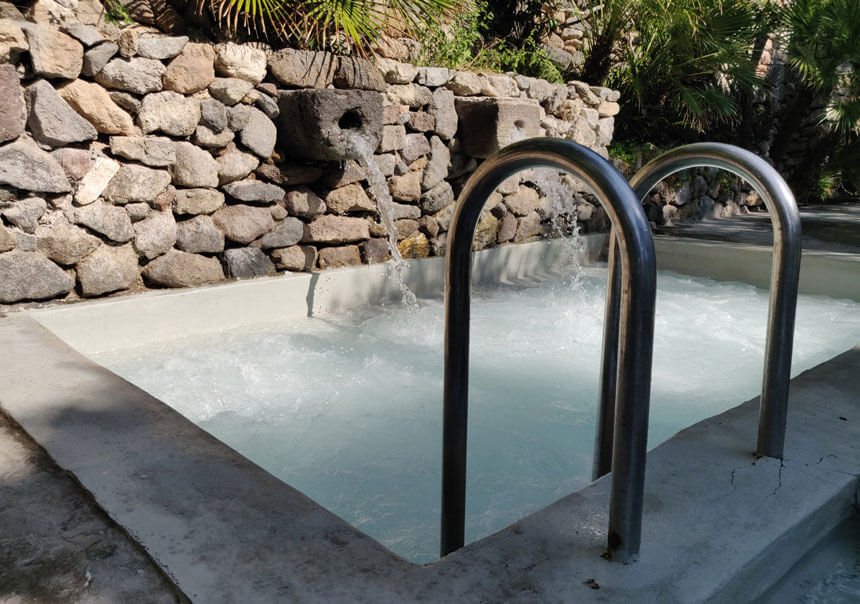 Invigoration is the name of the game at the next pool up the hill, the small seawater pool. This small but deep pool filled with unheated sea water has powerful hydro-massage jets around the edge to give your neck and back a good pummeling.
Just along from the seawater pool you'll find the Maya "Kniepp" pool. Like the Japanese maze bath, this is two separate pools – one filled with 38°C water, the other with cold 18°C water. The idea is that you relax in the warm water pool for a while, then before you get too comfortable, plunge yourself into the cold water pool to give your body a bit of a shock and boost circulation. The Maya bath is one of the prettiest at Negombo and was definitely one of my favourites.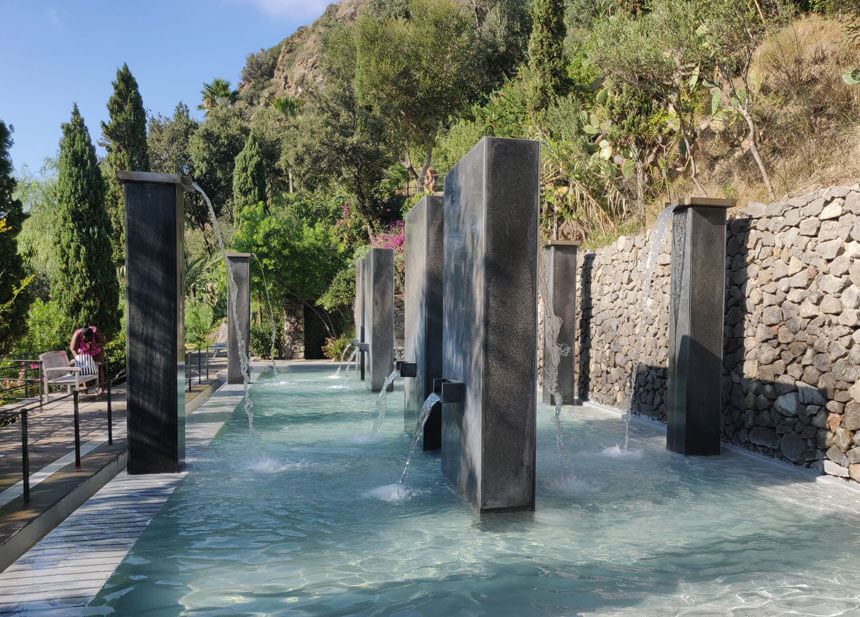 Up another couple of terrace levels is Negombo's most photogenic pool. Templare is a striking collection of pillars with warm thermal water cascading from them. Standing underneath the cascade gives your whole body a natural massage, helping to relieve tension in your neck and shoulders. It feels amazing, and if you've managed to keep your hair dry until this point, this is probably where you'll abandon all caution.
Carry on up the hill to the upper terraces and you'll come to the three most unique and relaxing pools at Negombo.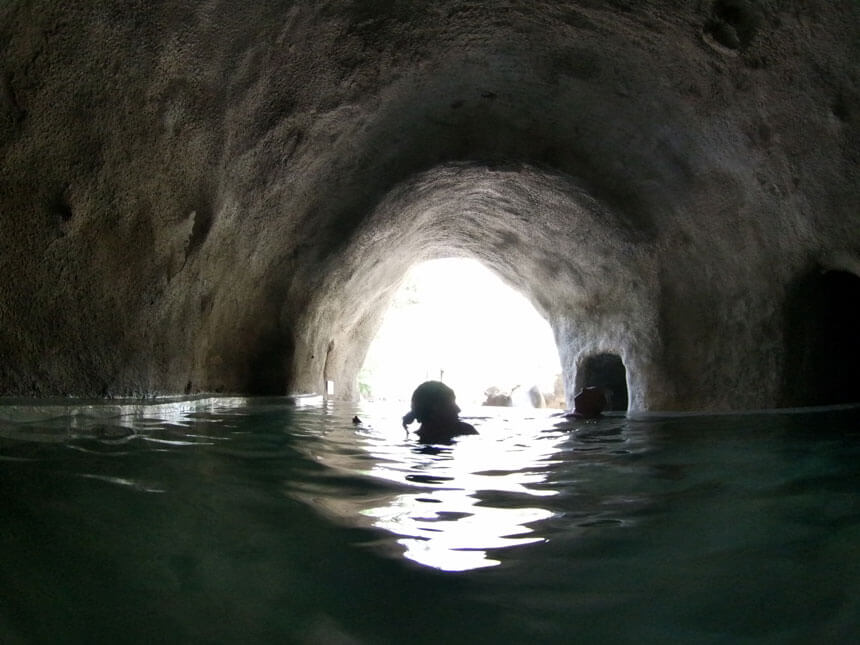 "Onphalos" is described as a "grotto for anthrotherapy". Leave your towel outside and venture into a 30°C relaxation pool inside a cave. The air in here is pleasantly warm and humid, and the darkness is very calming. Inside the cave there's also a sauna cave, cold water well and a deep plunge pool, but without my glasses on I didn't give any of these a try. Back outside in the sunshine there's a refreshing shower with hydro-massage jets.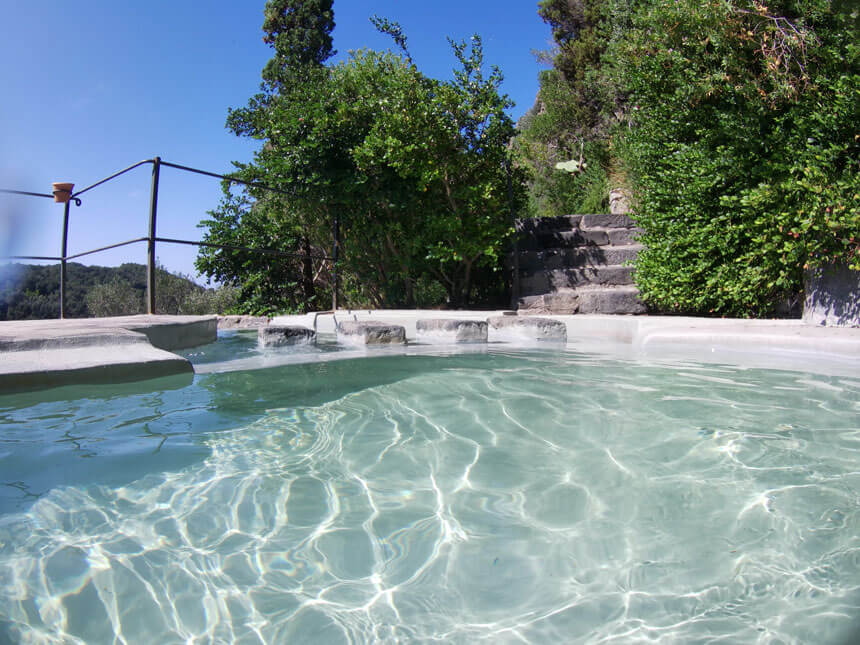 Nesti "Life Source" is a series of three terraced pools which end in a waterfall. These don't claim any particular benefit but are absolutely gorgeous and have a beautiful view over the bay and the turquoise sea below. If you get down low enough in the water (told you you'd have abandoned any hope for keeping your hair dry) then they've got a definite infinity pool vibe.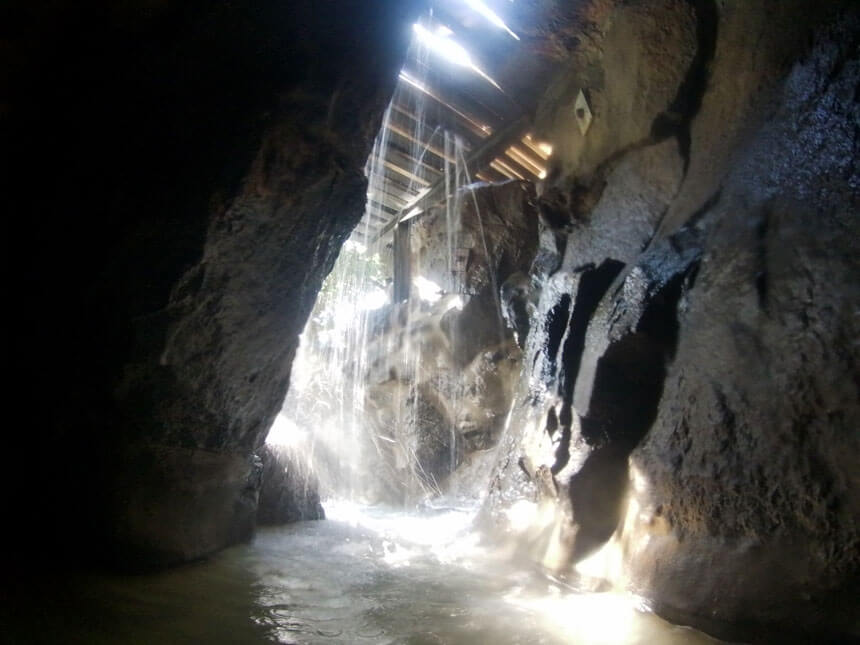 When you get to the Black Grotto you're at the very top of the Negombo park. This pool's unique at Negombo as you can't actually see it from outside. You'll walk through a very Indiana-Jones-y crevice in the rock with water cascading from above, until you reach a secret, volcanic thermal water pool that's completely enclosed in the rock. It's absolutely magical.
All my favourite pools at Negombo were on the right hand side of the park (facing towards the beach and the sea). On the left hand side there are four pools and a thermal bath, but none of these were as interesting or as photogenic as the ones I've described above. They are on level ground though, so if you or someone else you're visiting Negombo with has difficulty with steps, then having these pools means you can still have an enjoyable day out at Negombo.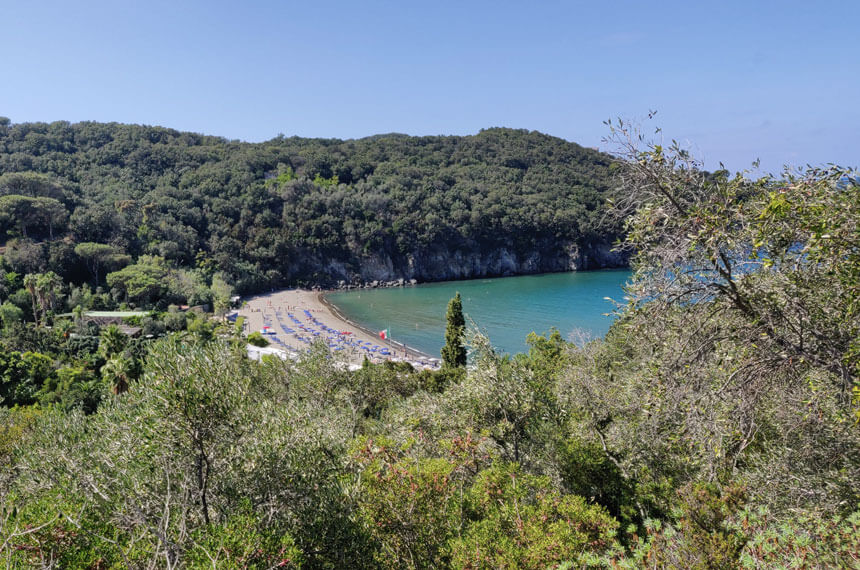 The beach at Negombo
Negombo is right on the San Montano bay and has access to an attractive sandy beach. There's a public beach on the left hand side if you want to come and enjoy the views without paying the Negombo entry free. Visitors to Negombo can use sun loungers, deckchairs and umbrellas on the beach free of charge, and two of Negombo's restaurants are right on the beach with sea views.
Negombo's gardens and art
The owners of Negombo are very proud of the gardens surrounding the thermal baths, and the lush planting is absolutely gorgeous – it really adds to the relaxing feel of the place. There are flowers and other beautiful plants everywhere you look, and secluded corners where you can relax on a lounger or in a hammock with a stunning view of the bay.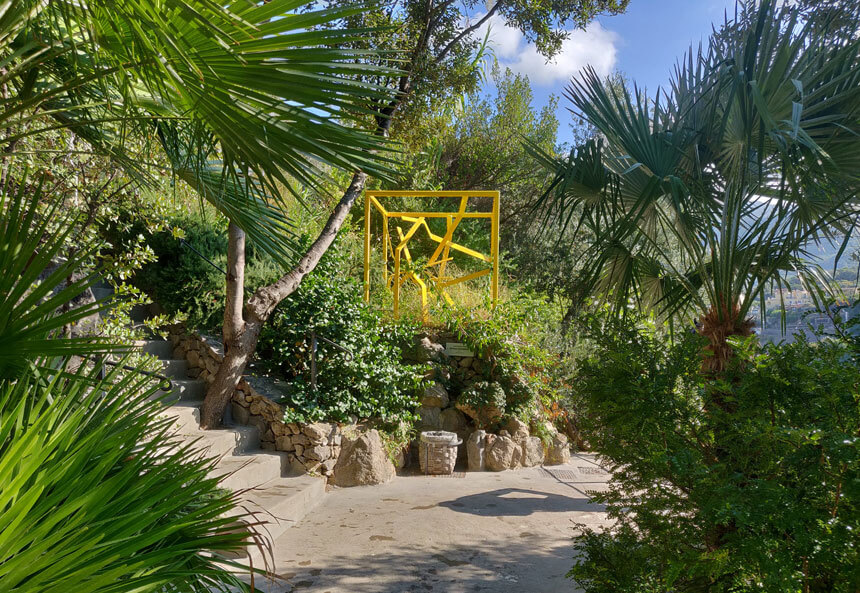 Dotted throughout the gardens you'll find striking sculptures and other works of modern art, which contrast really well with the plants. You can expect to see colourful pieces by Arnaldo Pomodoro, Giuseppe Maraniello, Geianfranco Pardi, Lucio Del Pezzo and Laura Panno as you wander through the gardens on your way to your next relaxing soak.
Restaurants, cafes and bars at Negombo
If you're visiting Negombo for a full day (and you should) then you'll need to get something to eat and drink. You could bring your own food and drink into Negombo in your bag, but if you prefer to buy something in the park there are a few options. The main eating zone is right on the beach, and there are two restaurants there – one that's canteen-style and one that's table service. We opted for the cheaper canteen and found the food ok with a reasonable choice for vegetarians.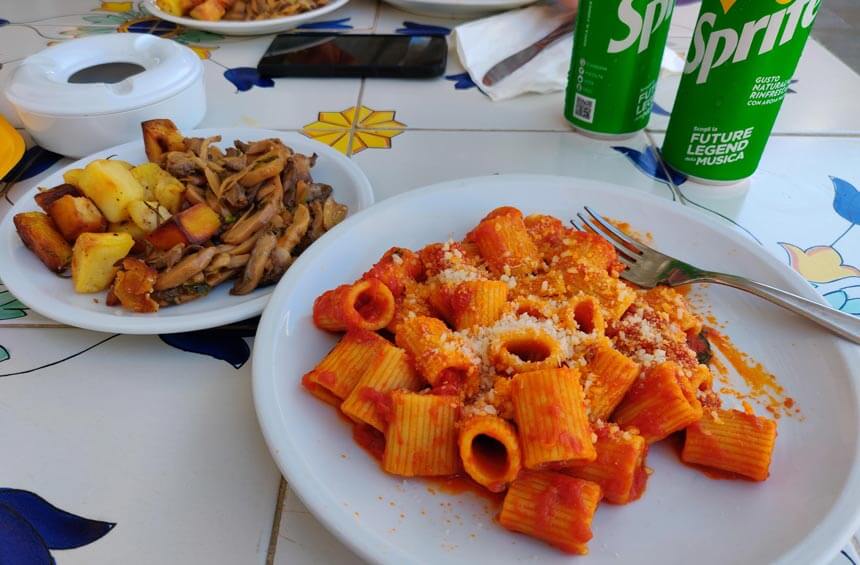 Later in the day after we'd been to all the pools we were thirsty so tried to go back to the canteen, but it was closed. We also tried a little bar we'd seen up on one of the terraces, but that was closed as well. With all the cafes and bars closed, and no vending machines or water fountains anywhere to see, we packed up and went for a drink in Lacco Ameno.
This was my biggest disappointment at Negombo – after a day relaxing in the pools and in the sunshine it would have been really lovely to refresh ourselves and chill out for a bit over a beer.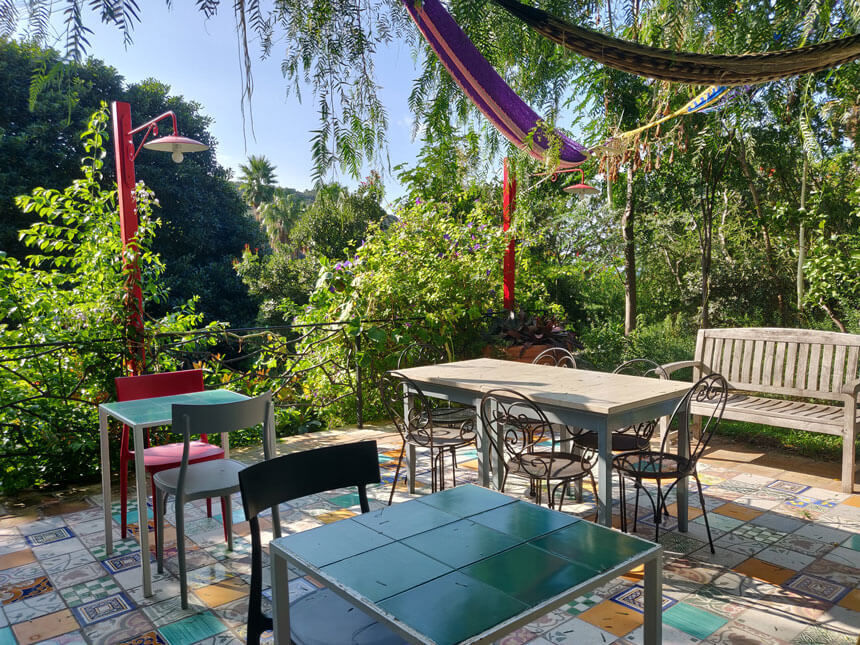 Useful information for your visit to Negombo
I did a load of research before I went to Negombo, so I've brought together everything I would have wanted to know before I visited.
How to get to Negombo
Negombo is in the top north-west corner of Ischia. Ischia itself is in the Bay of Naples, around an hour by hydrofoil from Naples or 90 minutes by ferry. The nearest town to Negombo is Lacco Ameno. Getting to Negombo is easy, either by car or by local bus.
Getting to Negombo by car or scooter
Negombo has on-site parking available for a small fee (around €5 per day), and most spaces are under sun shades which is a nice touch. To get to the car park, take Corso Angelo Rizzoli and then turn onto Via S. Montano. The entrance to the car park is on the right and is clearly signposted.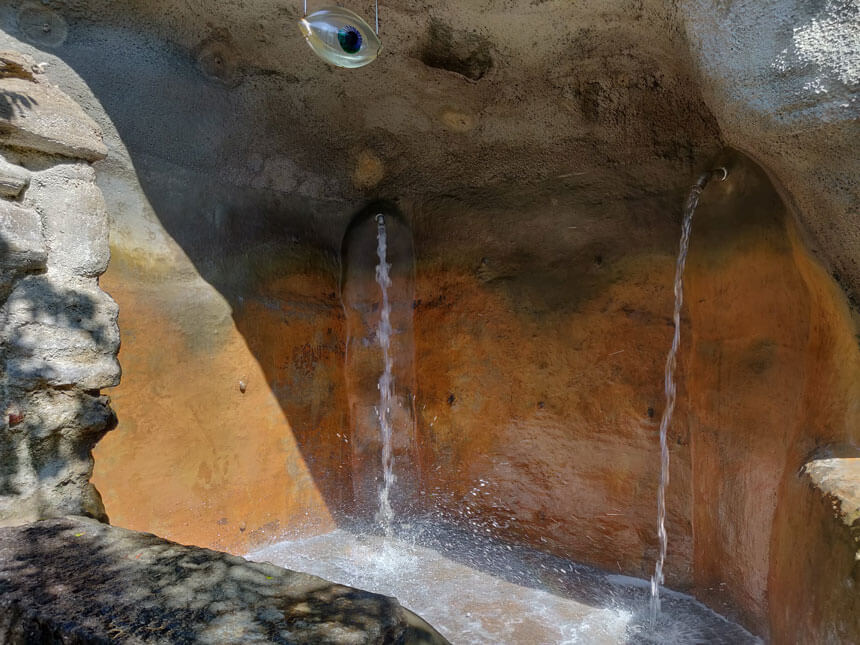 Getting to Negombo by bus
I took the bus to Negombo and this was the part I was most worried about – which bus to take, where to get off and how to get from the bus stop to the park. If you're planning to use the bus to visit Negombo, I hope this next section helps.
Negombo is between Lacco Ameno and Forio, and is served by the CD and CS buses which circle the island, as well as other routes between the two towns. The bus stop is at the top of the hill, around 10 minutes' walk from the entrance to Negombo. The bus stop is called Parco Negombo, but buses on Ischia can be extremely crowded, so it might not be possible to either see when you're coming up to the stop or ask the bus driver to tell you when to get off. There's a garden centre on the right hand side just before the bus stop as you come from Lacco Ameno heading towards Forio.
What I did was load Google Maps on my phone and then track how close we were getting to the bus stop, so I knew when to press the bell to get the bus to stop. You'll probably find that other people on the bus are going to Negombo as well so you may not have to press the bell yourself.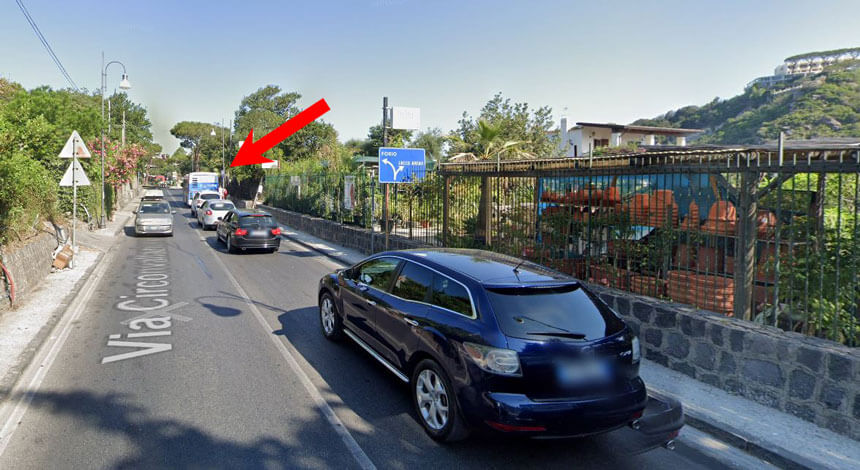 When you've got off the bus, walk a little way alongside the road (towards Forio) until you get to the junction with Corso Angelo Rizzoli (it's almost a T-junction). Turn right onto Corso Angelo Rizzoli, but look out for a little sign on the right-hand side of the road, just after the buildings. This is the entrance to a staircase which forms a short cut down to the road below. If you miss it, don't worry, just follow the road around.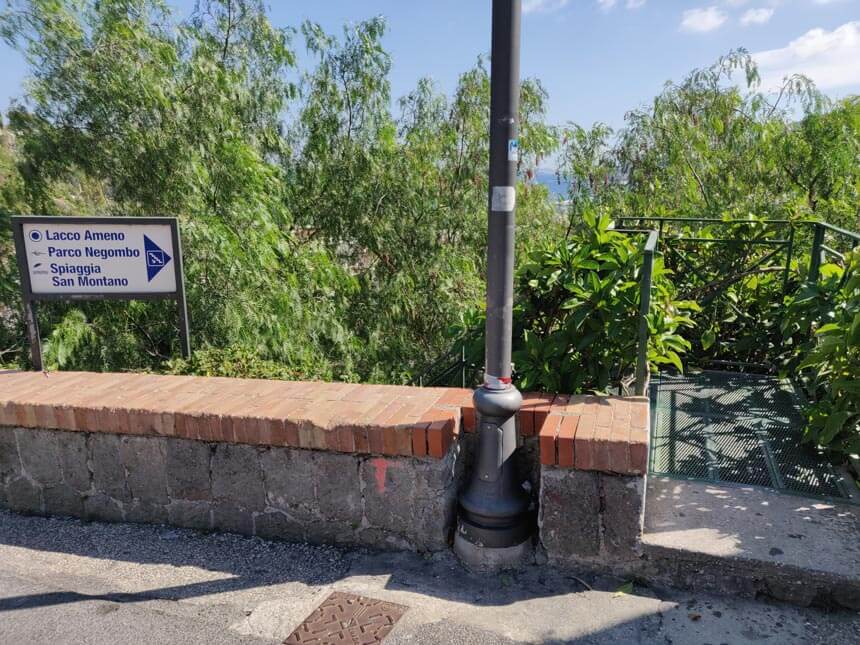 At the bottom of the staircase, walk slightly right to the next street junction and then turn left onto Via S. Montano. Carry on walking for around five minutes, and the entrance to Negombo will be on your right. The entrance for pedestrians is the same one as for cars.
After your visit you could walk back to the bus stop at the top of the hill, but we chose to walk into Lacco Ameno to see the town and get the bus from there.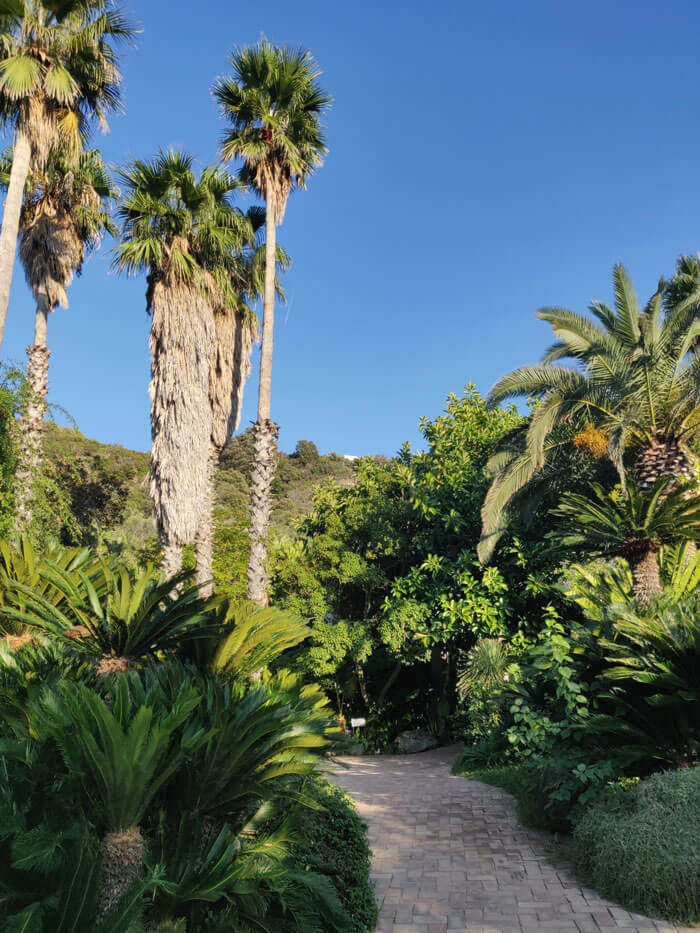 Visiting Negombo on a day trip from Naples
If you're hoping to visit Negombo from Naples, then you have a few options. Negombo is the closest of the large thermal spa parks on Ischia to Ischia Porto, where most ferries and hydrofoils from Naples dock, so it's a good choice for day-trippers.
The cheapest way to visit Negombo from Naples would be to take one of the slow ferries from Napoli Porta di Massa, then the public bus from Ischia Porto. Both the ferries and the buses run frequently, but the journey will take at least two hours. The quickest way to get from Naples to Negombo would be to take a hydrofoil from Napoli Molo Beverello, then a taxi to Negombo. This should take between an hour and 15 minutes to an hour and a half to make the journey. Both ports in Naples are near the cruise ship port.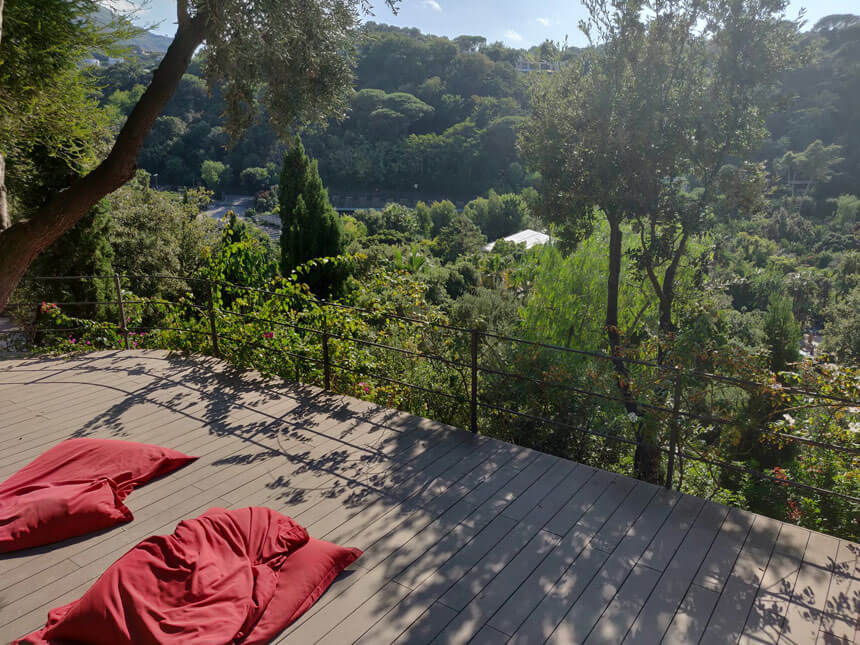 How much do tickets for Negombo cost?
Adult tickets for Negombo in 2019 cost €35 for a full day visit, €27 for a half day (after 1.30pm) and €23 if you arrive after 3.30pm. If you're a true hydrotherapy devotee then you might be interested in one of their multi-day tickets.
If you're staying at a hotel in Ischia it's worth checking if they have any discount coupons for Negombo – many have offers for full day visits that can save you €5 on the entry fee.
The ticket office at Negombo only takes cash – no credit cards or debit cards – so make sure you have enough money to pay for your tickets before you set out. There's no cash machine at Negombo so the nearest ATM is in Lacco Ameno, a good 10-15 minute walk away. You should also make sure you have enough money for food and drink while you're in the park.
It isn't possible to book tickets for Negombo online.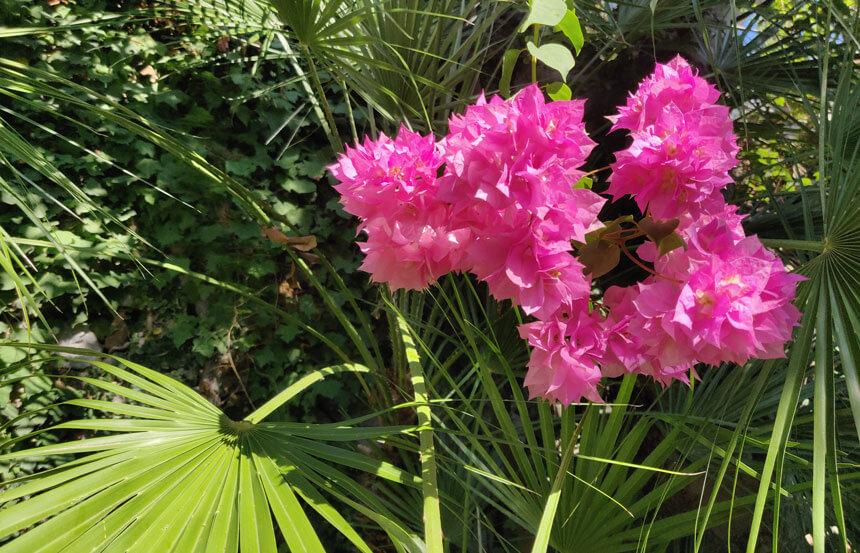 When is Negombo open?
If you're planning a visit to Ischia either in the spring or early autumn, and visiting Negombo is an important part of your trip, then it's definitely worth checking the park's opening dates. In 2019, Negombo opened on April 19th and closed on October 13th. Ticket prices are a little cheaper at the beginning and end of the season.
Changing rooms at Negombo
There are changing rooms at Negombo, but they're by no means flash – just a row of doors, each one with a stool inside. It's all unisex, so wait for one to be free and go in and change, job done. If you're expecting fancy technology with smart bracelets for your locker and payments like the Blue Lagoon in Iceland then you'll be disappointed, but it's perfectly fine. Toilets work in the same way. Some of the toilet cubicles have hairdryers, but the one I tried didn't work.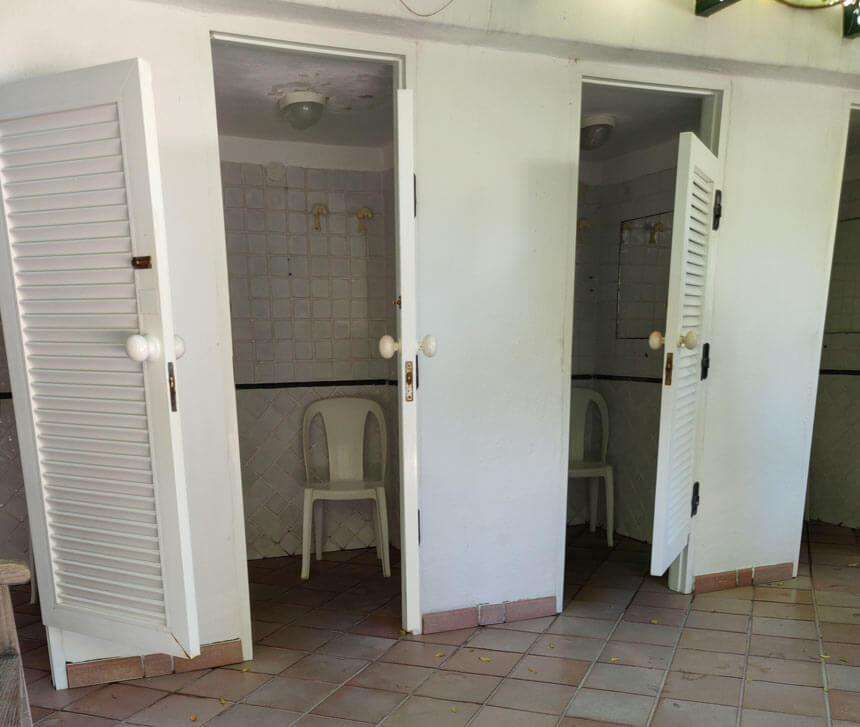 There's a cloakroom where you can leave valuables in a locker for a refundable €20 deposit. You can hire towels (€5) and bathrobes at the same cloakroom. We brought our own but we should have just hired towels when we were there.
What to bring with you to Negombo
Normal swimwear like you'd wear to the beach or the swimming pool is fine to wear at Negombo, although avoid light colours as the minerals in the water may stain your new bikini. You might want to bring some kind of cover-up for lunch. I'd recommend wearing slip-on sandals or flip flops if you have them as you'll be taking your shoes on and off between the pools. The steps on the terraces are too uneven to go barefoot for the day.
The major difference between visiting Negombo and going to its big rival Poseidon is that you have to wear a swimming cap at Poseidon, while swimming caps aren't required at Negombo. I have a massive head so finding a swimming cap to fit is a challenge to start with, and I didn't fancy wearing one all day in the Ischia heat.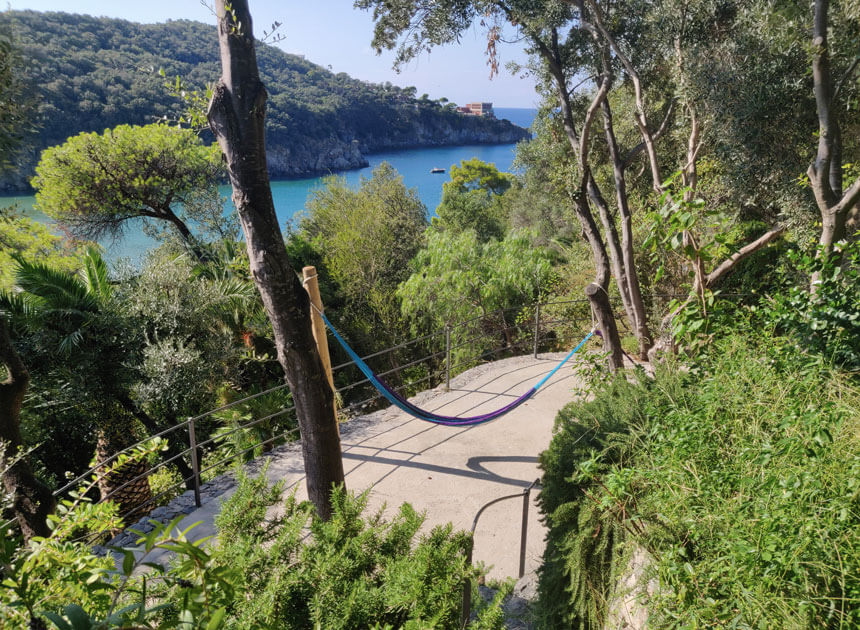 You can take a bag around with you in the park. I'd recommend bringing sunscreen, a water bottle (see above – you may not be able to get a drink later in the afternoon) and a book. If I'd had a book and a drink I'd have very happily stayed until closing time.
At most of the pools there are either sun loungers where you can leave your bag and towel, or there's a handy fence nearby to hang your towel over. There aren't any lockers apart from at the cloakroom, so try not to bring valuables. It's worth noting that at some of the pools you might not be able to maintain eye contact with your bag – another reason not to bring anything too valuable.
How long does a visit to Negombo take?
Depends how much you like relaxing 🙂 You could visit all the pools in 2-3 hours, but to really do a visit to Negombo justice you'll want to spend most of the day there.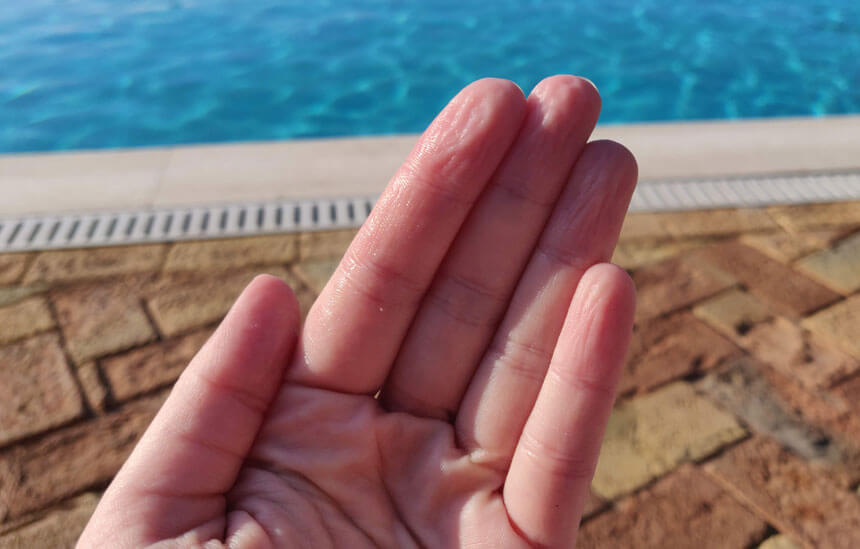 Negombo for babies and children
You can visit Negombo with children or with a baby, but it isn't terribly family-friendly. Only two pools out of 12 are suitable for children, and they're two of the least interesting at the park.  If you have a baby and there are at least two of you, you could take it in turns, but getting a buggy up and down all the steps would be hard going. In my opinion, visiting Negombo is only really worth the entry fee for older children who can go in the pools and enjoy the relaxing experience.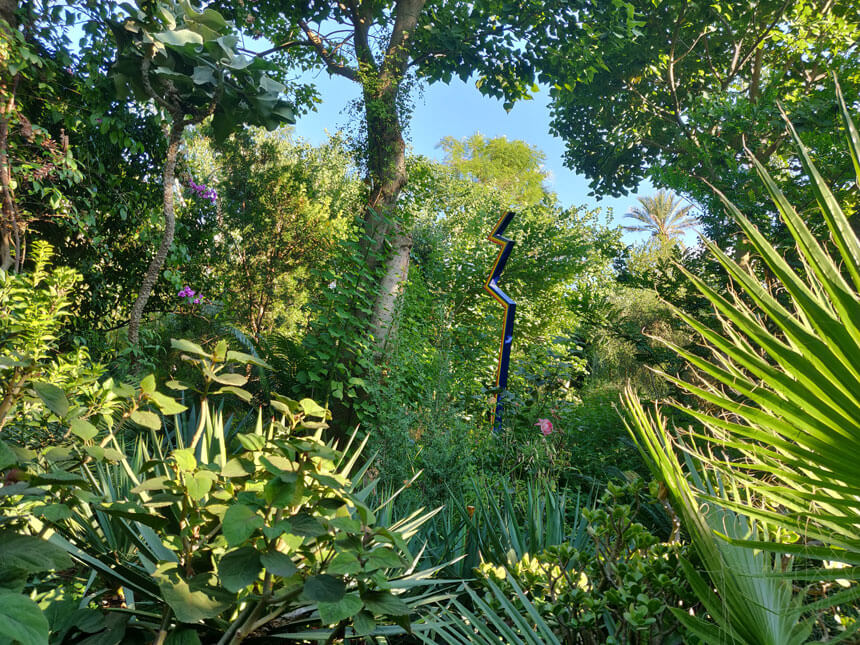 Negombo review – my roundup
Visiting Negombo is an unmissable day out if you're visiting Ischia. The setting is incredibly beautiful and the wide variety of thermal pools keeps things really interesting – it's not like spending all day in a warm swimming pool. My partner was dubious about whether he'd enjoy it but we both ended up having a great time.
For the entry price you do get a full day's worth of relaxation, and if I'd remembered to bring our discount codes from the hotel it would have been better value for money. The quality of the changing room facilities wasn't a big deal really, and the only real niggle I had was not being able to get a drink or snack later in the afternoon.
If you found this Negombo review useful, you may also like my post on the best things to do in Ischia and my guide to visiting Procida.
Pin this Negombo review for later!