Taking a trip to Italy in September is always a good idea! I've been on a few holidays in Italy in September now, and it's a wonderful time to travel to this amazing country.
If you're thinking of visiting Italy in September, then read on for what to expect if you visit during this lovely month, along with the best places to go in Italy in September.
Why holidays in Italy in September are so fantastic
There are 6 great reasons to go on holiday to Italy in September:
The stifling heat of summer is over
But the summer heat has left behind warm seas and a wonderful harvest
There's still plenty of daylight for exploring
Attractions and public transport are still operating on their summer schedule
Popular destinations are less crowded than in the peak summer months
School summer holidays are over for most of Europe, so plane tickets and accommodation are usually a bit cheaper than during July and August
This post contains affiliate links – all that means is that if you buy something as a result of clicking on a link in the post, I'll receive a small commission that helps me with the costs of running this site. Thanks!
Rome in September
To see the city at its most beautiful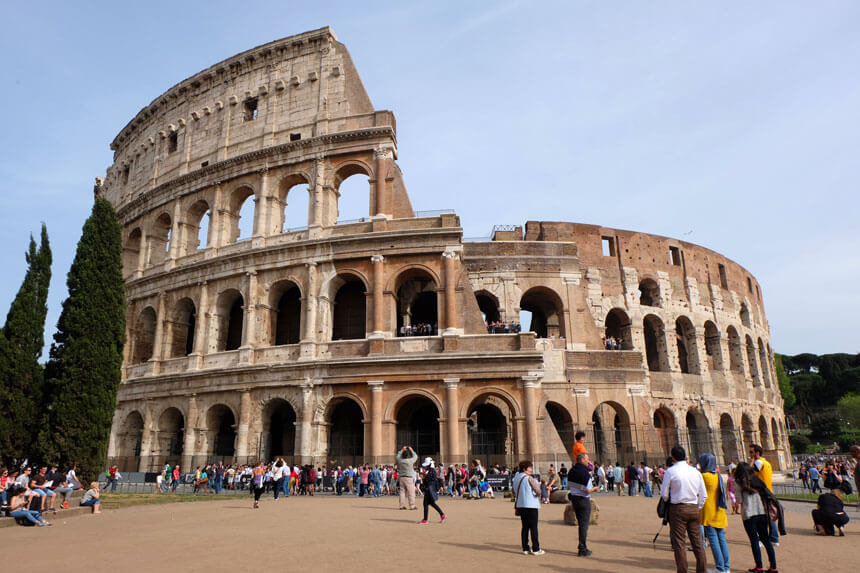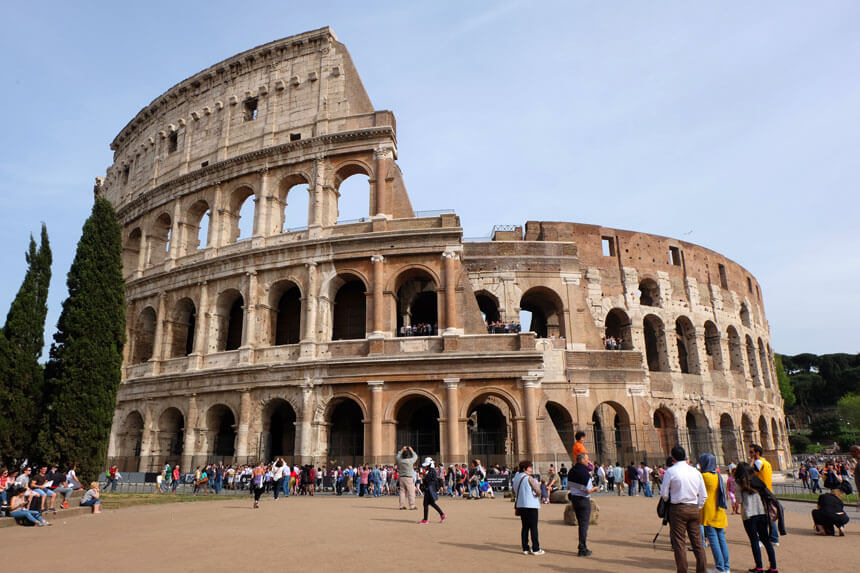 Weather in Rome in September:
Maximum temperature 27°C, 80°F
Minimum temperature 16°C, 61°F
5 days of rain
Rome in September and early October is stunning. It's a beautiful city at any time of year, but as the sun sinks slightly lower, the light becomes absolutely magical and the landmarks just glow. Daytime temperatures have cooled from the heights of July and August, but evenings haven't yet turned cool.
Since September is a great time to visit Rome, it's a very popular time to come and the sights can be busy. This is unlikely to be a problem for most trips to Rome in September, except at the Vatican, where the long corridors leading to the Sistine Chapel can get backed up. You can avoid lots of the queues at the Colusseum, the Forum and the Vatican and make the most of your time in Rome by booking tickets and tours in advance and making sure your accommodation is booked early.
If you do find Rome a little too crowded, why not make the most of the nice weather and combine the city with a beach escape? Ostia is the most convenient beach resort to Rome and has its own archaeological site, Ostia Antica, with a fraction of the visitors of the famous attractions in Rome itself.
Lake Garda in September
For beautiful lakeside villages and mountain air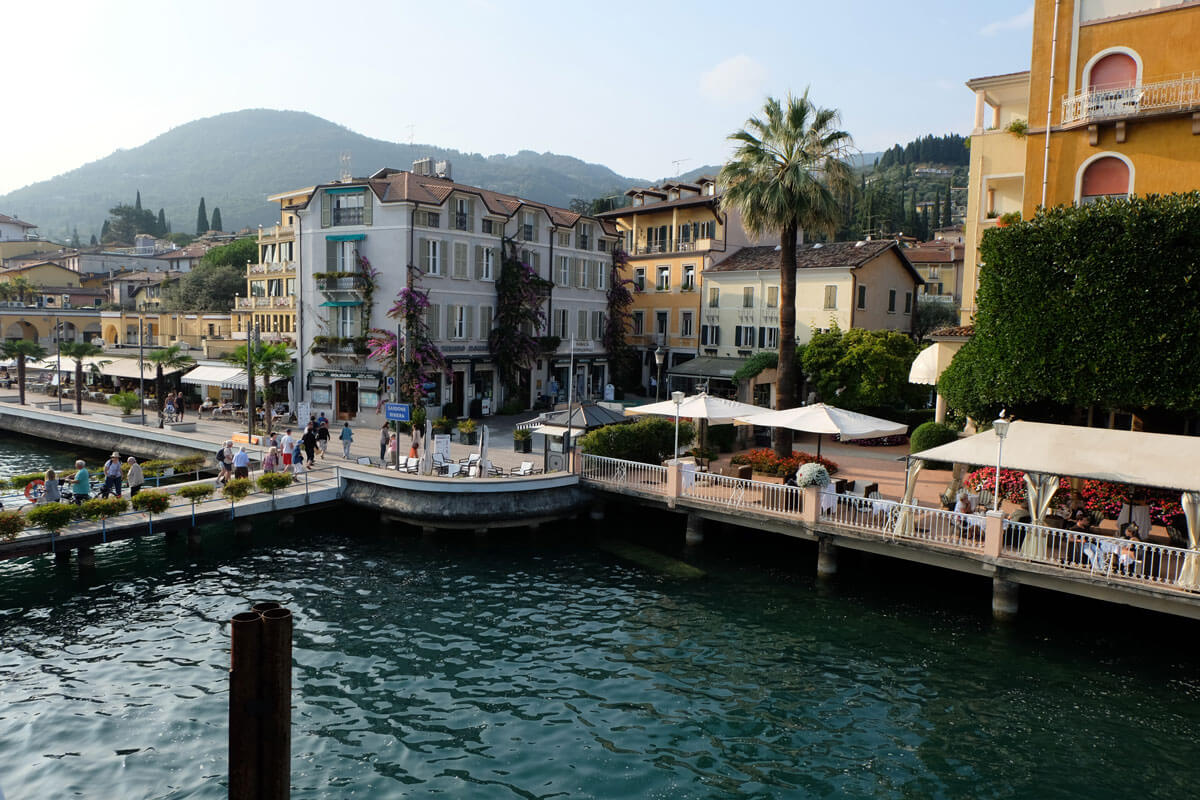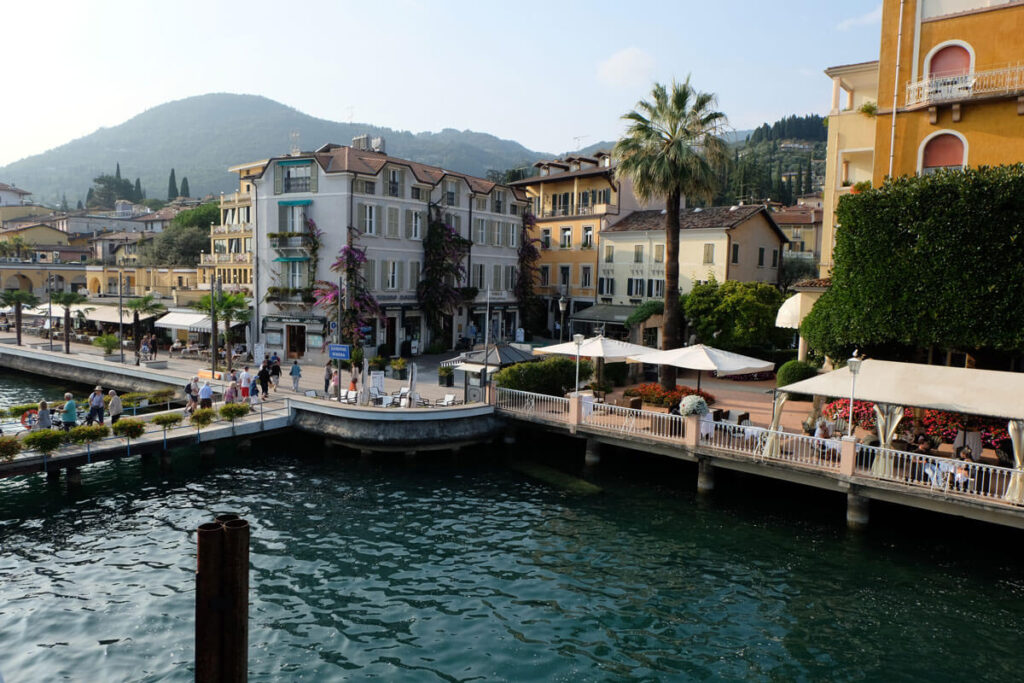 Weather in Lake Garda in September:
Maximum temperature 25°C, 77°F
Minimum temperature 16°C, 61°F
5 days of rain
September is a wonderful time to go to Lake Garda, Lake Como, Lake Maggiore and the other lakes in northern Italy. When I visited Lake Garda in September it still felt like summer, but nowhere was crowded and we managed to get a cheap hotel close to the lake for our 4-night stay.
One of the best things about going to Lake Garda in September rather than October is that the ferries that you'll use to get around are still running on their summer timetable. Lake Garda is huge, with lots of villages dotted along its shores that you'll want to visit. Travelling by ferry is the best way to see it, and with more ferries you can see more places.
The weather during the day was perfect; sunny and in the low 20 degrees celsius, so ideal for both exploring and for sitting at a lakeside cafe with an Aperol spritz. We needed a jumper in the evening and at the top of the Monte Baldo cable car, but it never felt cold. We did have one rainy day during our Lake Garda trip (when we took a day trip to Verona) so it's a good idea to take a light jacket or an umbrella.
Read more: The best Lake Garda villages – where to stay, where to visit
Naples, Amalfi Coast and Ischia in September
For pizza, iconic Roman ruins and thermal spas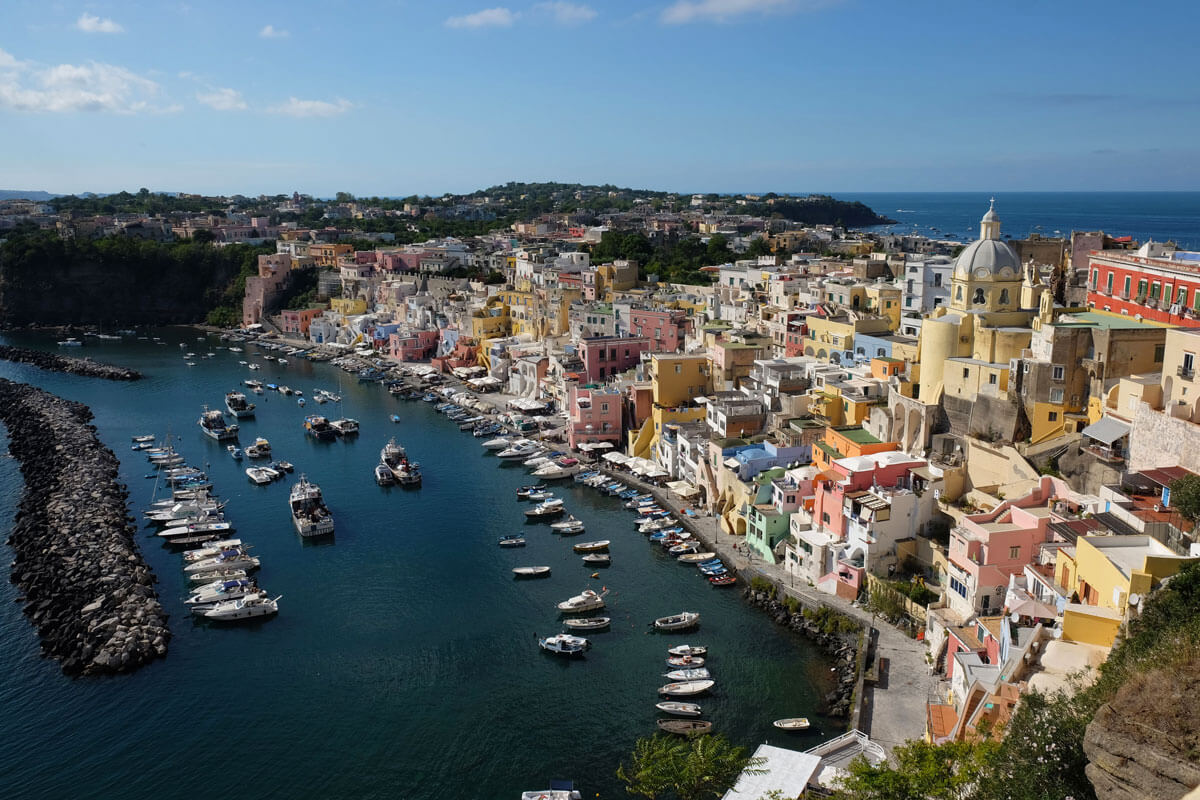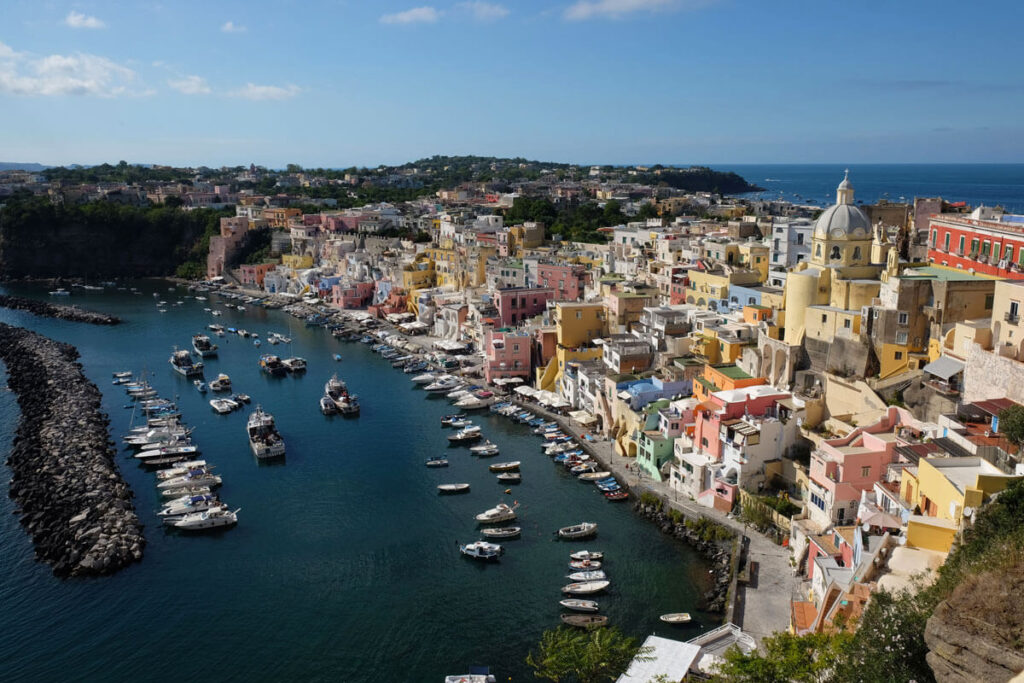 Weather in the bay of Naples in September:
Maximum temperature 27°C, 80°F
Minimum temperature 18°C, 64°F
4 days of rain
The bay of Naples is one of the best places to visit in Italy in September. Down here in Campania, the lovely sunny weather from summer continues into early autumn but the really scorching days have finished for the year.
This part of Italy is one of my favourites. There's so much to do here: amazing food, including the birthplace of pizza; history in spades, including the world-famous UNESCO World Heritage site Pompeii; beautiful towns; beaches; classic sights on the Amalfi Coast and up-and-coming destinations in Ischia and Procida.
Visiting Naples in September is all about timing. If you visit in early September you're likely to still be paying higher prices for your flight and accommodation, but if your visit strays into October, you'll see attractions start to close or reduce their hours. This is particularly important if you're visiting Ischia for its thermal spas, as the lovely Negombo thermal park closes for the winter in very early October. Ferries from Naples to Ischia, Procida and Capri and connections between Sorrento and the Amalfi Coast also reduce their frequency or stop entirely in October.
Venice in September
For buzzing festivals and the first hints of autumn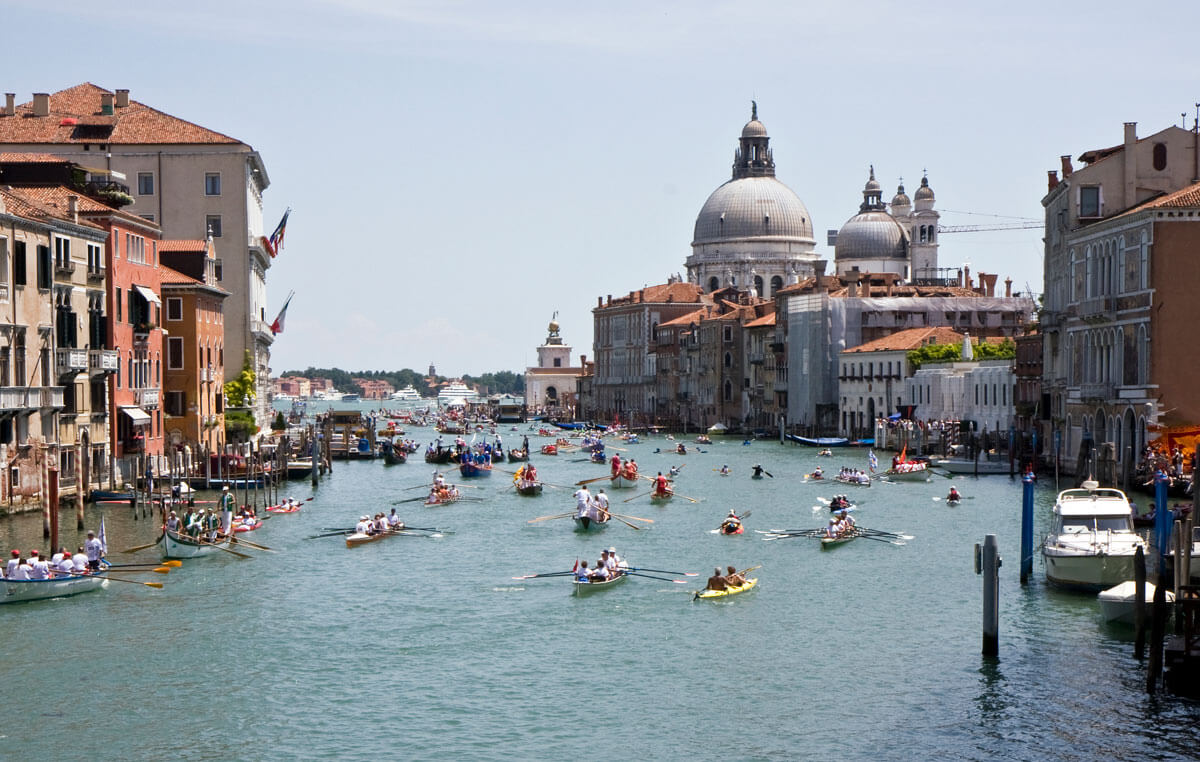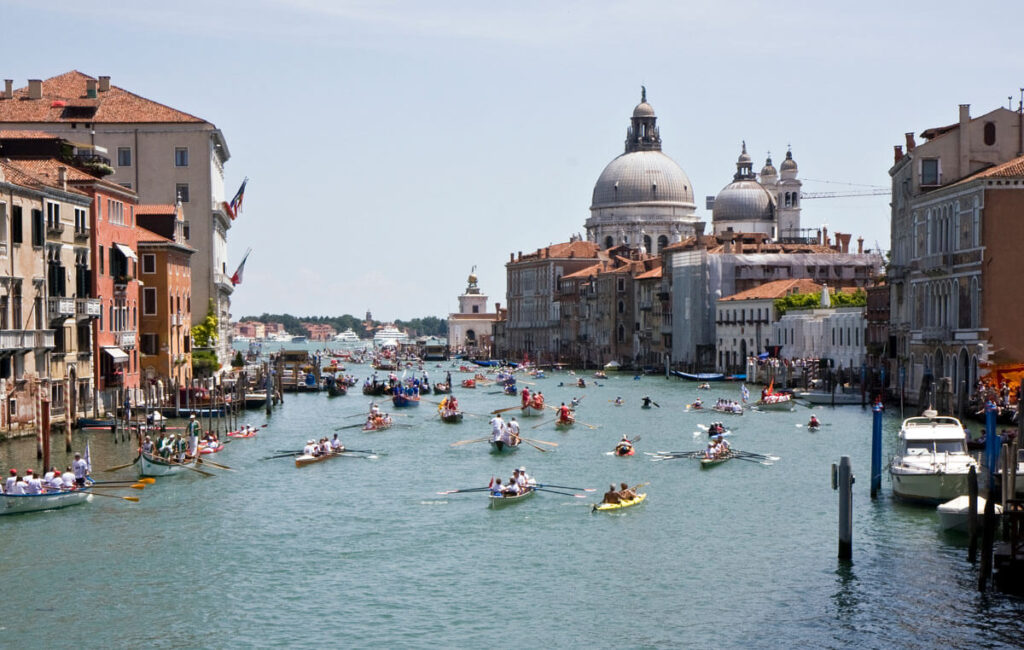 Weather in Venice in September:
Maximum temperature 25°C, 77°F
Minimum temperature 14°C, 57°F
5 days of rain
Visiting Venice in September is a tale of two cities. In early to mid September the city is alive with festivals and events, including the Venice Film Festival (30 August to 9 September 2023), the historic annual Regata Storica floating procession and boat race (3 September 2023), Venice Glass Week (9 to 17 September 2023), the Festival of the Triumph of the Cross (14 September 2023) and the exhibitions, shows and events of the Venice Biennale.
After the excitement of all these festivals, Venice quietens down for the second part of the month. Darker evenings and the first hints of autumn mists on the Grand Canal give this amazing city a mysterious air, best appreciated by staying overnight in the heart of the city itself. I loved my trip to Venice in September, and my favourite thing was just wandering through the narrow streets in the evening, after all the people visiting on day trips had left for the day.
Florence in September
For outstanding art, the traditional lantern festival and the grape harvest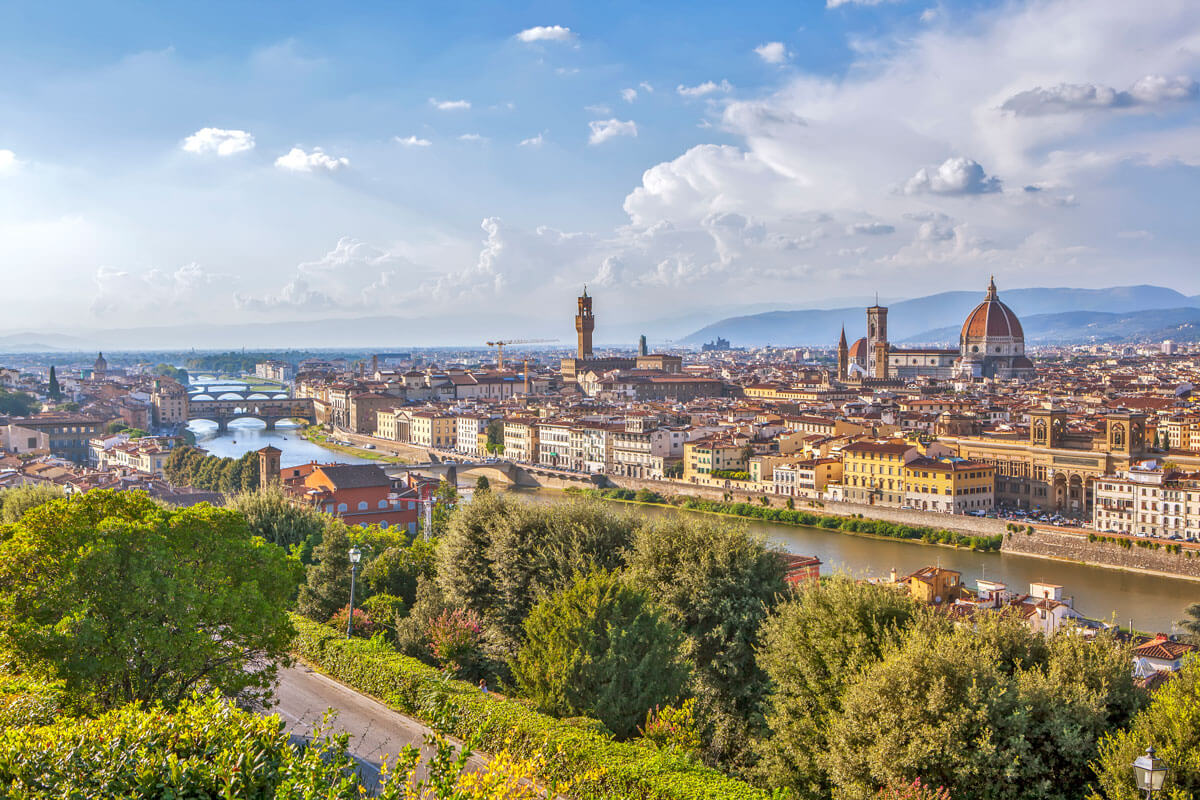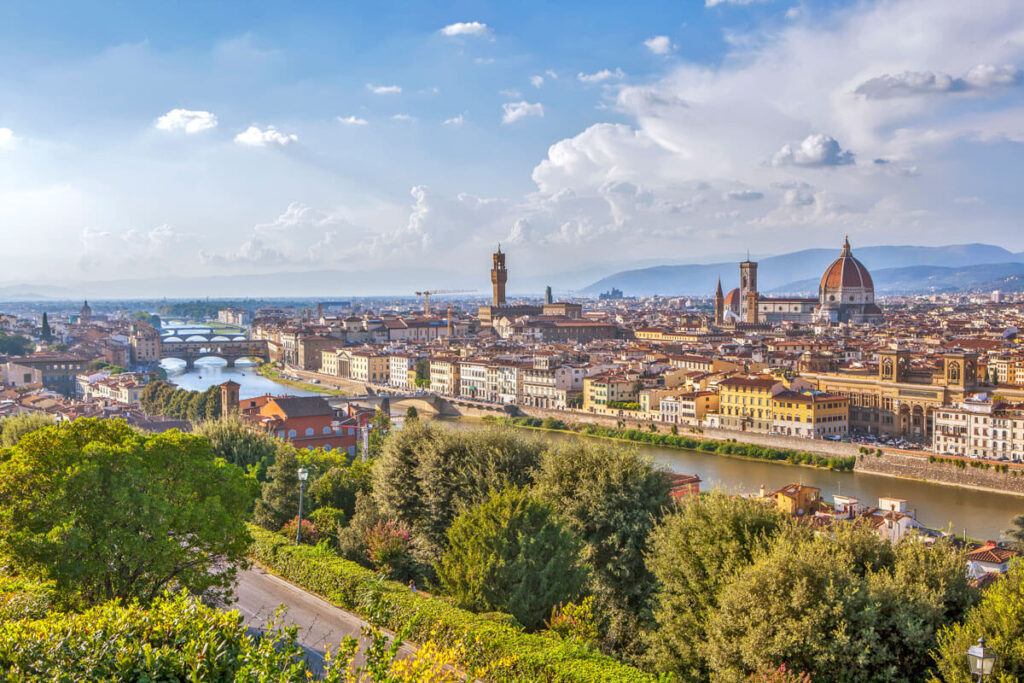 Weather in Florence in September:
Maximum temperature 27°C, 81°F
Minimum temperature 15°C, 59°F
6 days of rain
September is an incredible time to visit the most beautiful of all Italy's major cities. A trip to Florence in September will reward you with pleasant weather for seeing Florence's iconic Duomo and lingering in the beautiful Boboli, Bardini, Rose and Iris Gardens, while if it's unseasonably hot, cold or rainy, you can explore Florence's unmatched museums and galleries.
On September 7 every year you can take part in a traditional local holiday, the Festa della Rificolona, when residents and visitors alike gather in the streets with paper lanterns. One of the large churches in Florence is dedicated to the Virgin Mary, whose birth is celebrated on September 8. On the evening of September 7, people from the countryside around Florence would come into the city for the celebrations the next day, lighting their way with lanterns. Today, the religious celebrations are less important, but Florence's lantern festival is still one of the city's most popular holidays.
If you love music, then you'll love Florence in September. The Fortissimissimo classical music series has concerts across the city in September, while the Decibel open air electronic music festival takes place over the weekend of 9 and 10 September.
In the Tuscan hills outside Florence, the summer grapes are ready for the vendemmia, or grape harvest. Lots of vineyards welcome visitors during the harvest and there are a wide range of small group food and wine tours from Florence to vineyards in the Chianti region. Some guided tours also include other historic towns, such as Siena, Montepulciano, San Gimignano and Volterra.
Bologna in September
For day trips and tasting the best of the autumn harvest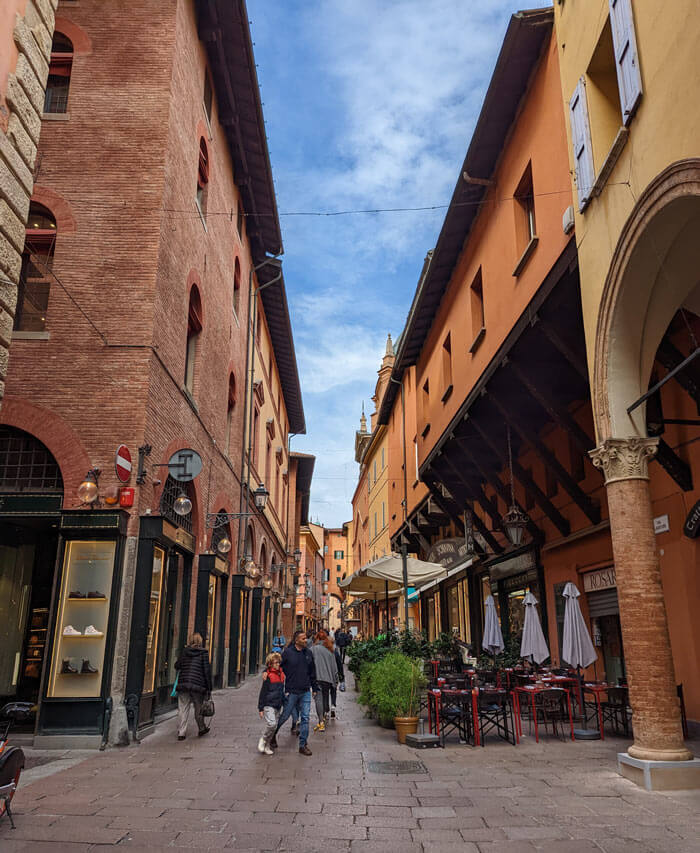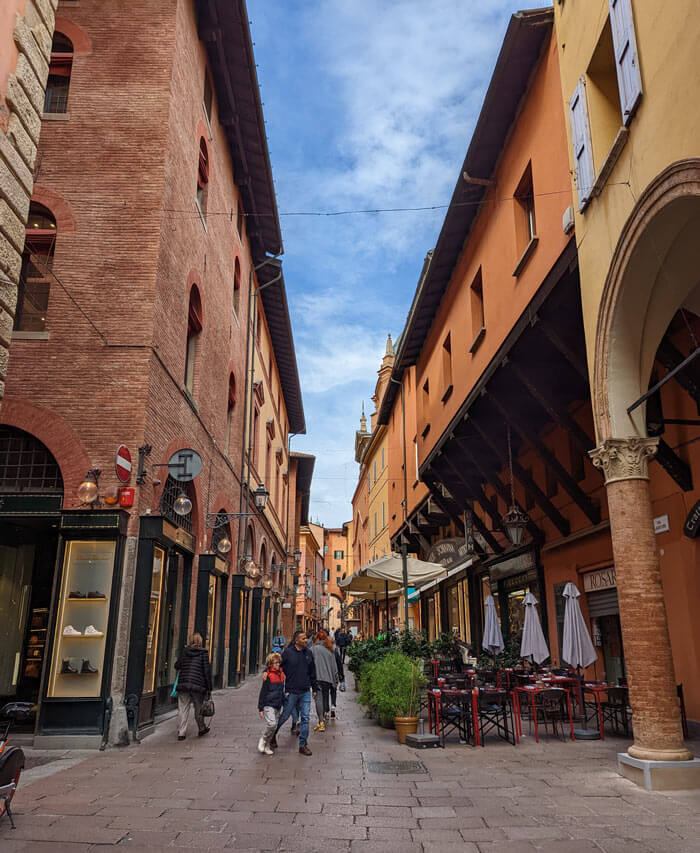 Weather in Bologna in September:
Maximum temperature 25°C, 77°F
Minimum temperature 16°C, 61°F
5 days of rain
Bologna is a great place to visit at any time of year, but September is a particularly good time to travel to the capital of Emilia-Romagna. Bologna is nicknamed as La Dotta, La Grassa, La Rossa (the learned, for its historic university), La Grassa (the fat, for the variety and quality of its amazing local food) and La Rossa (the red, for its red rooftops and pink stone). September is the perfect month to experience all of these things; the university area is feeling lively again after the summer break, the city's amazing market is full of seasonal produce and the early autumn light makes the red city look incredibly beautiful.
When I visited Bologna in September, I really loved how easy it is to do day trips from the city. Parma, Modena and Imola are all easy day trips by train, and you could even take a quick trip to one of Italy's favourite beach resorts, Rimini. We took an overnight trip to San Marino, the tiny country that's completely surrounded by Italy, but it is possible to get there and back in a single day.
Sicily in September
For perfect beach weather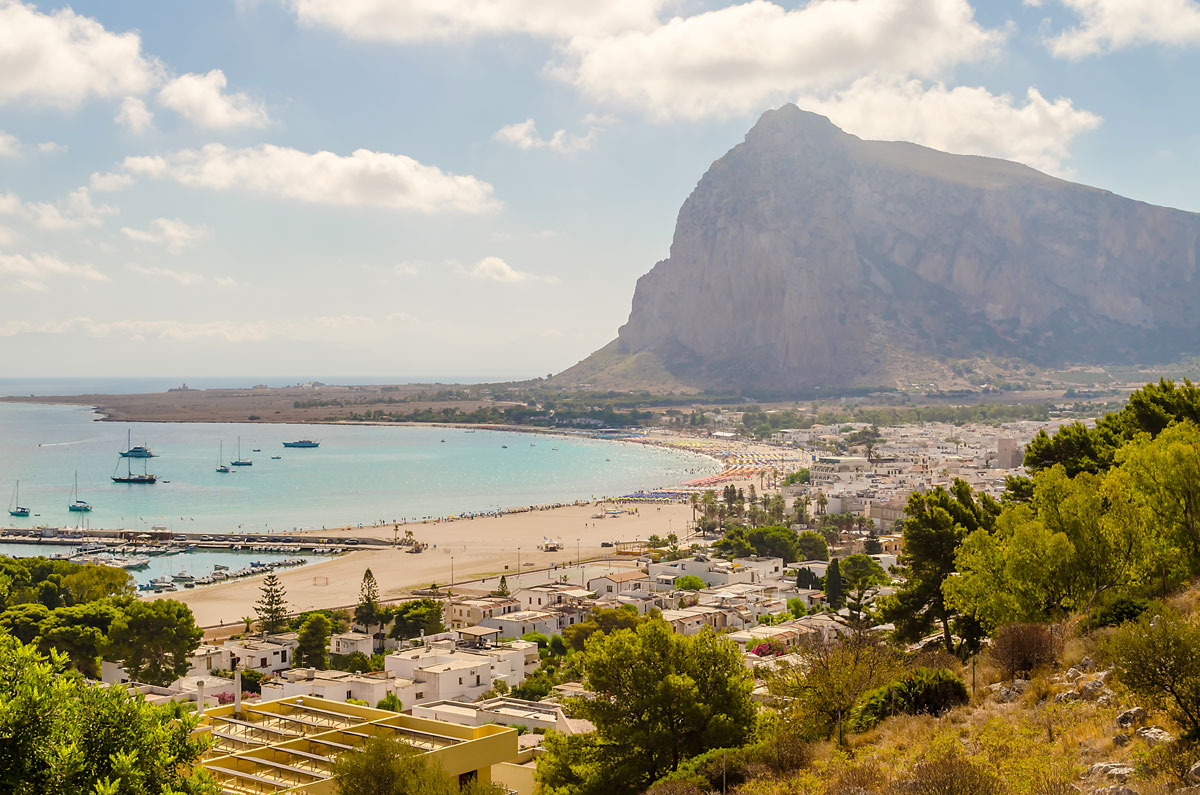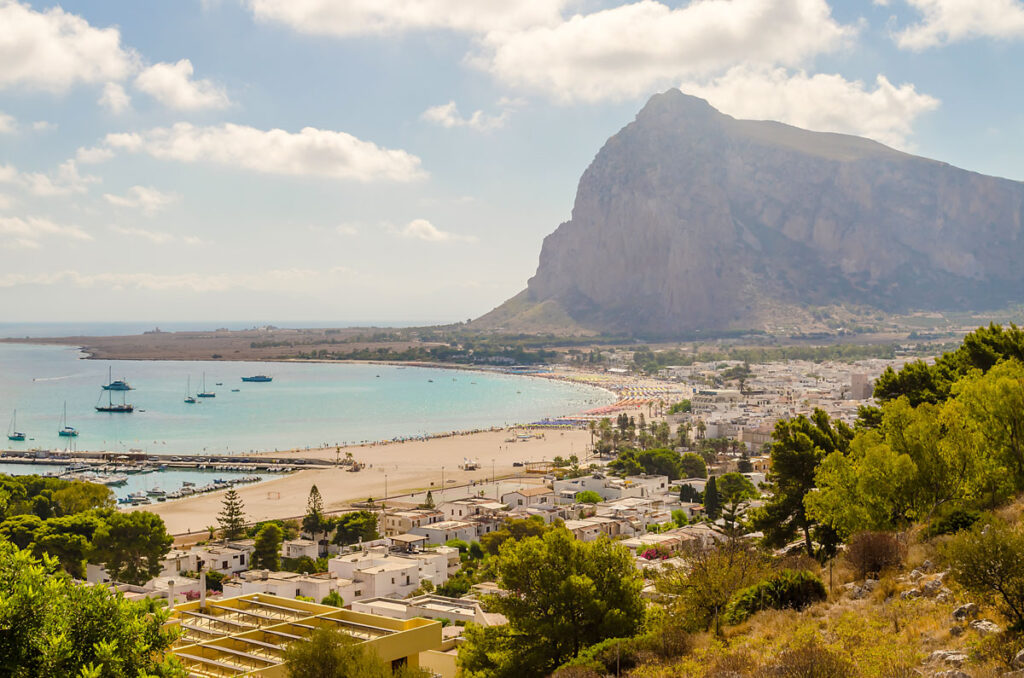 Weather in Sicily in September:
Maximum temperature 28°C, 82°F
Minimum temperature 21°C, 70°F
4 days of rain
If you're looking for the perfect Italian beach holiday in September, then head to Sicily. The large island off the "toe" of the Italian peninsula boasts lots of lovely beaches, and if you get tired of the seaside, there are archaeological sites, historic cities and walking trails to enjoy. Inland, you can expect milder temperatures the higher you go into the island's mountain ranges.
As in Tuscany and Italy's other wine-producing regions, the grape harvest is a big deal in and around the month of September. In Sicily, the Festa della Vendemmia in Piedimonte Etneo celebrates the harvest with Sicilian wine, food, and a weekend of parades, music and dancing. Food with a more international flavour comes to Sicily later in September at the Couscous festival, which sees chefs and couscous fans from all over the Mediterranean and beyond descend on San Vito Lo Capo, a small seaside destination in the north west corner of Sicily.
Public holidays in Italy in September
While your trip to Italy in September won't coincide with a national holiday, Italy also has festa del santo patrono, when towns, cities and regions celebrate their patron saint's day. These patronal festivals are usually regional holidays; if you visit on the saint's day you can expect to see processions, public celebrations and fireworks.
Festival of San Gennaro, Naples, September 19
There is one major patronal festival in September, the festival of San Gennaro which is celebrated in Naples on September 19. San Gennaro, also known as Saint Januarius, was a Christian bishop who lived around 300AD and was sentenced to death while visiting persecuted Christians in Pozzuoli, just north of Naples.
A vial of San Gennaro's blood is kept in the Cathedral of Naples. On September 19, people wait for the "miracle" of the blood becoming liquid. If the miracle doesn't happen, it's a bad omen for the area, but fortunately this is a rare occurrence, and over the years locals believe San Gennaro has saved the city from several disasters, including a potentially catastrophic Vesuvius eruption in 1631. The blood is kept on display for the next eight days, during which the city celebrates with concerts, special lemon biscuits and pastries in the shape of Gennaro's bishop's hat or Mount Vesuvius.
If you've been to New York in September, you might already be familiar with the Feast of San Gennaro – the holiday is also celebrated in NYC's Little Italy as a festival of Italian culture.
What to wear in Italy in September
Since the average temperature in Italy in September is mild in the north and warm to hot in the south, you'll only need your big coat if you're spending lots of time high in the mountains.
Northern Italy
I visited Lake Garda at the very end of September and we had wonderfully warm days and mild nights. I swapped my skirt for trousers at the top of Monte Baldo and needed a raincoat in Verona but apart from that we had fantastic late summer weather.
In Venice we had a bit of rain on the first day of our trip, which I hadn't packed for, but the rest of the time it was sunny during the day and relatively mild in the evening.
Central Italy
For my trip to Bologna and San Marino, I wore jeans, a tshirt and a sweatshirt, with a raincoat over the top. It was unusually rainy and cold in San Marino and I was glad of all my layers, plus an umbrella.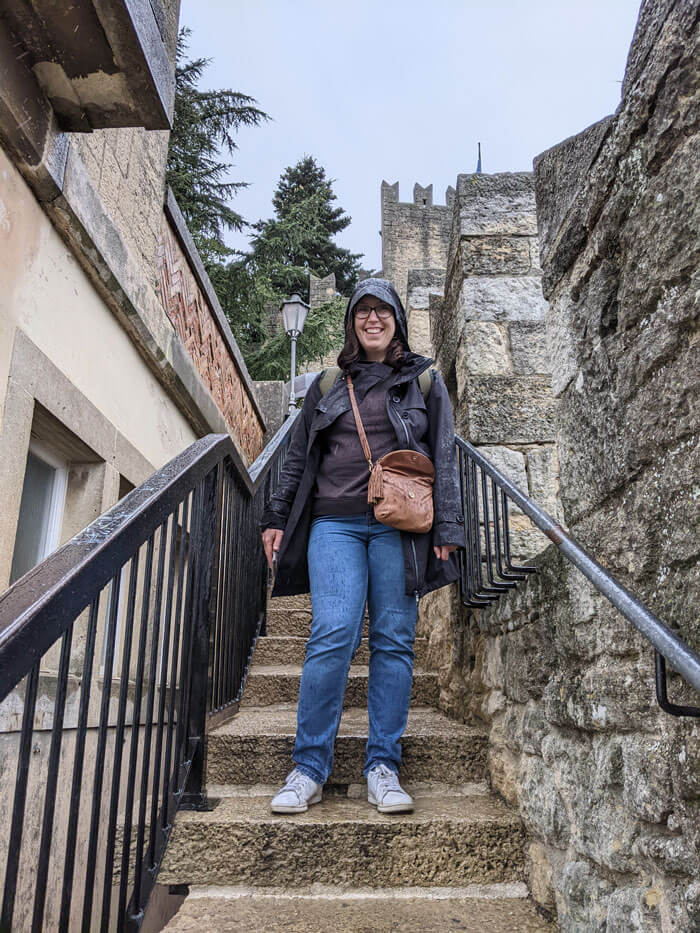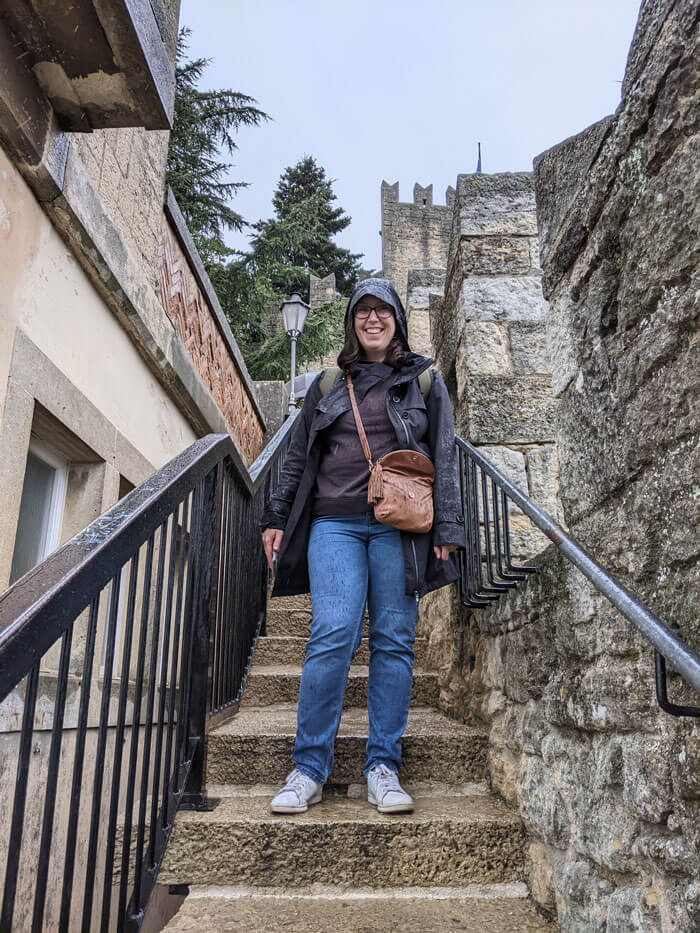 In Rome, I only needed a jumper in the evenings and it was lovely and warm during the day with no rain at all – perfect weather for exploring the city.
Southern Italy
We went to Naples at the very end of September too and it was still very much summer, with hot, sunny days and warm nights. We had a few clouds but no rain whatsoever. Don't forget your swimwear for the Amalfi Coast's beaches and Ischia's thermal spas.
Where do you recommend for holidays in Italy in September?
Pin it for later!